NFC West:

Jacksonville Jaguars
October, 6, 2013
10/06/13
10:00
AM ET
By
ESPN.com staff
| ESPN.com
Join our ESPN.com NFL experts as they break down the Jacksonville Jaguars' visit to the St. Louis Rams. Contribute your thoughts and questions beginning at 1 p.m. ET. And, be sure to visit our
NFL Nation Blitz page
for commentary from every game, as well as fan photos and the latest buzz from Twitter. See you there.
October, 3, 2013
10/03/13
12:00
PM ET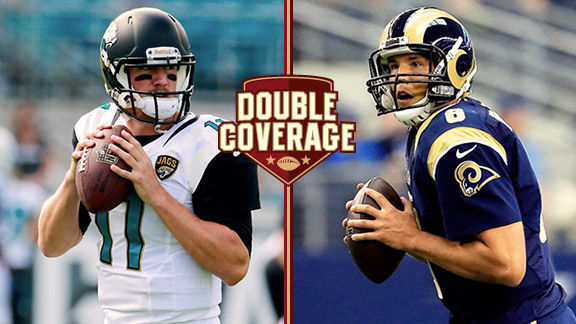 Getty ImagesBlaine Gabbert, left, and Sam Bradford both look to get their teams on the winning track on Sunday.
The
St. Louis Rams
and
Jacksonville Jaguars
have a lot in common. Unfortunately, most of their commonalities aren't things their fans can appreciate. Both teams are struggling mightily heading into this game at Edward Jones Dome.
There are, however, plenty of interesting storylines in this one. Jacksonville owner Shahid Khan was once the front-runner to be the Rams' majority owner before Stan Kroenke exercised an option to purchase the team.
Jacksonville quarterback
Blaine Gabbert
is a St. Louis native and returning for his first game in his hometown as the much maligned starter.
Those are just a couple of the topics to watch heading into this week. ESPN.com Rams reporter Nick Wagoner and Jaguars reporter Michael DiRocco break down the matchup.
Wagoner:
Well, Mike, it looks like there may not be two teams struggling more right now than the Rams and Jaguars. Jacksonville is losing by an average of 24.5 points a game and the Rams have lost their past two by an average of 24. It's a bit of a broad question because everything seems to go hand-in-hand in this league, but what would you say is the main thing causing the Jags to struggle so much through the first quarter of the season?
DiRocco:
Like you said, it's hard to list just one reason, but if I had to pick one, it would be that some of the veteran offensive players the team had counted on haven't performed. The defense has issues but it's serviceable. The interior of the offensive line --
Brad Meester
,
Uche Nwaneri
and
Will Rackley
-- has not played well, and that has pretty much doomed the running game. Left tackle Eugene Monroe wasn't playing that well, either, but he is one of the better young tackles in the league and his departure via trade to Baltimore will affect the stability of a line that already has given up 18 sacks.
Maurice Jones-Drew
doesn't look the same, but he has had very little room to maneuver. With
Justin Blackmon
suspended for the first four games, third-year receiver
Cecil Shorts
wasn't able to be the playmaker the offense needs and has compiled most of his catches in the second half when the games have been out of reach. Plus, tight end
Marcedes Lewis
has played just two snaps this year because of a calf injury.
Speaking of not performing, what is the Rams' stance on
Sam Bradford
? Is he in their long-term plans or are they getting ready to move in a different direction since he hasn't developed the way they expected?
Wagoner:
The Rams insist Bradford is their guy. As recently as last week, there were reports that they'd sign him to an extension were he willing to do it now. That was before last week's game against San Francisco but that one game surely didn't change their mind. Bradford had some good moments in the first two games but has struggled the past two weeks, but it's not all on him. The offensive line has been battered, the Rams have no run game to speak of and there aren't many receivers making plays after the catch.
While we're on the subject of quarterbacks, Blaine Gabbert is coming home to St. Louis this week and it looks like the Jaguars are sticking with him. What has held him back from developing and how much longer do you expect Jacksonville to keep him as starter?
DiRocco:
Several things. He's had three head coaches, three offensive coordinators and three offensive systems to learn in his three seasons. That would be tough for anyone to handle, but consider that Gabbert was only 20 years old when he entered the league. Plus, he's had some injuries (toe, shoulder, forearm, ankle, thumb, hand) that have cost him eight games. He hasn't exactly had an all-star lineup of receivers at his disposal, either. All that being said, Gabbert still has some of the same issues he had as a rookie: He's hesitant to take shots down the field, he makes questionable decisions with the ball and he rarely steps up into the pocket to avoid pressure and make throws. The 2013 season will be his chance to prove to new coach Gus Bradley and new GM Dave Caldwell that he can be a franchise quarterback. If he struggles again, the Jaguars will almost certainly go quarterback with their first-round pick in the 2014 draft, which is looking more and more like the No. 1 overall selection.
Jeff Fisher's
Tennessee Titans
teams were tough teams that popped you in the mouth again and again, even on offense. Has he gotten the Rams to that point yet?
Wagoner:
I thought that he had; last year's team was as tough and feisty as any in the league. Save for one or two games, they battled tooth and nail to the very end. So far this year, there has been a clear regression in all areas, including that toughness. They brought linebacker
Jo-Lonn Dunbar
back this week and he should at least give them a boost in that regard. There are a lot of tough players in that locker room, but for whatever reason, it's not coming through on Sundays. You mention the idea of popping a team in the mouth on offense. Most of that is predicated on the run game. The Rams have none to speak of right now; certainly no
Steven Jackson
or
Eddie George
or any other backs that have had success under Fisher.
Of course, it seems if the Rams were going to ever get a running game going, this would be the week for it. It looks like teams have been able to run all over the Jaguars this year. How much of an issue is that in terms of opening up everything else and allowing offenses to do pretty much whatever they want?
DiRocco:
The biggest problem with the Jaguars' run defense is it has given up too many big runs. The Jaguars gave up seven runs of 20 or more yards against Oakland, one against Seattle and one against Indianapolis. It's mainly due to blown assignments. For example, defensive end
Jason Babin
got caught inside on
Terrelle Pryor
's long run off a read-option play. Those big plays are one of the reasons the Jaguars have given up the most yards rushing in the NFL (657, 164.3 per game), but it's also partly due to the fact teams have been up big on the Jaguars and are trying to run clock. Opponents are able to take advantage of play-action and make plays over the top, which is compounded by the fact that the Jaguars are starting a pair of rookie safeties.
The Rams are obviously in a division that includes two powerhouse teams in Seattle and San Francisco. We know the Jaguars are not even close to being able to contend for a playoff spot, but how far away are the Rams?
Wagoner:
Further away than most everybody thought entering the season, at least in their current form. The Rams raised hopes around here last year, going 7-8-1 and posting a 4-1-1 record in the NFC West. They then went out and had an offseason that drew critical acclaim for their moves in free agency and the draft. Right now, none of the things that needed to come together to push the Seahawks or Niners have come to fruition and one could argue that Arizona is at least even with the Rams in its rebuild. This is again the youngest team in the league and it should be better in November than it is right now, but the youth is no excuse for the backward steps we've seen to this point.
.
September, 22, 2013
9/22/13
2:30
PM ET
By
ESPN.com staff
| ESPN.com
Join our ESPN.com NFL experts as they break down the Jacksonville Jaguars' visit to the Seattle Seahawks. Contribute your thoughts and questions beginning at 4 p.m. ET. And, be sure to visit our
NFL Nation Blitz page
for commentary from every game, as well as fan photos and the latest buzz from Twitter. See you there.
April, 18, 2009
4/18/09
7:54
PM ET
Posted by ESPN.com's Mike Sando
If Torry Holt signs with Jacksonville, it would add some intrigue to the Rams-Jaguars game Oct. 18.

The game, scheduled for Jacksonville Municipal Stadium, would give Holt an opportunity he would surely welcome.
Holt had hoped for the Rams to release him earlier in free agency. Jacksonville could serve as a good fit for Holt if David Garrard regains the form he showed in 2007. Getting a shot at his former team would represent a bonus.
December, 15, 2008
12/15/08
4:55
PM ET
Posted by ESPN.com's Mike Sando
The Seahawks' victory over the Rams leaves St. Louis in the lead for the No. 2 overall choice in the 2009 draft.
The next two weeks will probably affect the eventual order at the top of the draft, but here's how the top 10 would shake out at present, according to the league:
1. Detroit (0-14)
2. St. Louis (2-12): The last five players drafted second overall were Chris Long (Rams), Calvin Johnson (Lions), Reggie Bush (Saints), Ronnie Brown (Dolphins) and Robert Gallery (Raiders).
3. Kansas City (2-12)
4. Cincinnati (2-11-1)
5. Seattle (3-11). The last five players drafted fifth overall were Glenn Dorsey (Chiefs), Levi Brown (Cardinals), A.J. Hawk (Packers), Cadillac Williams (Bucs) and Sean Taylor (Redskins).
6. Oakland (3-11)
7. Cleveland (4-9)
8. San Francisco (5-9): The last five players drafted eighth overall were Derrick Harvey (Jaguars), Jamaal Anderson (Falcons), Donte Whitner (Bills), Antrel Rolle (Cardinals) and DeAngelo Hall (Falcons).
9. Jacksonville (5-9)
10. Green Bay (5-9)

The Rams would be picking second overall for the second year in a row. They've addressed the defensive line early in recent drafts. This might be time to help the offensive line. Orlando Pace certainly worked out well for them as an early pick.
The Seahawks haven't picked in the top five since selecting Shawn Springs third in 1997. They also picked up Walter Jones (sixth overall) that year.
The 49ers last picked among the top eight when they selected tight end Vernon Davis sixth overall in 2006.
October, 28, 2008
10/28/08
11:25
AM ET
Posted by ESPN.com's Mike Sando
The power rankings I submitted last week lent themselves to a slight degree of criticism. The Jaguars were too high, the Falcons were too low, etc.
I sat back, took it all in and basically agreed with a lot of the criticisms. Those were the weakest rankings I've submitted. A new approach was in order. And so I spent some airport time Monday doing some self-scouting, as the coaches sometimes say.
The conclusion went along these lines: We're deep enough into the season to put less weight behind what we expected a team to do, or what we expect the team to do in the future. The Jaguars or Chargers might seemingly have more talent than teams ranked ahead of them, but that can't be a pivotal factor at this point.
The Jaguars provided a classic case for me. I liked their chances very much coming into the season. Injuries hurt their offensive line, but this was still going to be a tough team because Jack Del Rio really doesn't field any other kind, particularly now that he has a good quarterback.
When the Jaguars won three of four heading into their bye, I boldly moved them into the top five. The ensuing laughter and derision appears wholly justified after the Browns' victory at Jacksonville in Week 8.
And so I started fresh on the power rankings. Jacksonville took a huge fall. The Falcons moved higher than I had them, even after their defeat. I'll make sense of the full breakdown when the latest power rankings come out in a few hours.
By the way, where would you rank the NFC West teams this week? How far would you knock down the Rams after losing at New England?
September, 10, 2008
9/10/08
5:07
PM ET
Posted by ESPN.com's Mike Sando
It's early in the season, but injuries are already affecting offensive lines in the division. A quick look at those situations on a team-by-team basis:
As bad as NFC West lines have it, things could be worse. Jacksonville lost both starting guards to season-ending injuries.
August, 16, 2008
8/16/08
8:57
PM ET
Posted by ESPN.com's Mike Sando

S

EATTLE -- The Seahawks and Bears have left the field for the locker rooms one last time before their exhibition game tonight at Qwest Field. The temperature in Seattle is 86 degrees with 34 percent humidity, warm for these parts. Winds are from the northwest at 10 miles per hour. Skies are clear but a little hazier than usual. Sideline mist machines are blowing moisture onto the bench areas, but both sidelines are in the shade.
Scouts representing the 49ers, Chargers, Steelers, Raiders, Saints, Jets, Eagles, Jaguars, Cowboys, Browns and Bills have secured credentials to watch this game from the pressbox. They'll be watching for bubble players who might become available when teams reduce roster sizes.
Seattle has some difficult decisions to make because the Seahawks are deep at a few positions. A dozen members of Seattle's 80-man roster will not play tonight. They are: punter Ryan Plackemeier, receiver Joel Filani, defensive back Jordan Babineaux, snapper Tyler Schmitt, linebacker Will Herring, center Chris Spencer, defensive tackle Red Bryant, receiver Deion Branch, receiver Bobby Engram, defensive lineman Chris Cooper, defensive tackle Larry Tripplett and defensive end Patrick Kerney.
Charlie Frye will start at quarterback for the Seahawks. The team wants to get a long look at him tonight, the hope being that Frye will play well enough for coach Mike Holmgren to feel better about using No. 2 quarterback Seneca Wallace as a receiver and/or punt returner.
Nate Burleson and Courtney Taylor are starting at receiver for Seattle. Julius Jones starts at running back. He'll be looking to answer Maurice Morris' strong showing in the first exhibition game. Morris and Jones are fighting for a starting spot. Both are expeted to play extensively this season. Rookie first-round choice Lawrence Jackson is starting at right defensive end, with Darryl Tapp starting in Kerney's usual spot on the left side. Jackson has a shot at beating out Tapp for the starting job on the right side.