May, 16, 2013
5/16/13
11:30
AM ET
Rolando McClain
's early
retirement from the NFL
comes three years after the
Oakland Raiders
made him the eighth overall choice in the 2010 draft.
While McClain is inviting derision, I wondered whether he was even the most disappointing choice from the first round of that 2010 class. He would fit right in with
the 2009 group
, for sure.
A quick check of games started by 2010 first-rounders showed four players with 48 starts in 48 possible regular-season games. Three of those four players were from the NFC West: Mike Iupati and Anthony Davis of the
San Francisco 49ers
, and Earl Thomas of the
Seattle Seahawks
.
Tyson Alualu, the player Jacksonville controversially selected 10th overall, rounds out the quartet.
St. Louis Rams
quarterback Sam Bradford (42) and Seattle Seahawks left tackle Russell Okung (37) were relatively close behind. Dan Williams, chosen 26th overall by the
Arizona Cardinals
that year, ranked 26th on the list with 21 starts over the past three seasons.
All starts aren't quality starts, of course. McClain ranks relatively high on the list with 38 starts despite his bust status. Anyone familiar with the NFL would rather have
Denver Broncos
receiver Demaryius Thomas (23 starts) than Alualu, who has
struggled with knee trouble
and generally been just OK.
First-round picks from 2010 have combined for 21 Pro Bowl honors.
Maurkice Pouncey leads the way with three. Thomas is one of five players with two. Ndamukong Suh, Jason Pierre-Paul, Eric Berry and Jermaine Gresham are the others.
Iupati and Okung are part of an eight-man grouping with one Pro Bowl. Ryan Mathews, Thomas, Devin McCourty, Gerald McCoy, C.J. Spiller and Trent Williams are the others.
Iupati, Pouncey, Suh, Thomas and Pierre-Paul have been first-team Associated Press All-Pro once apiece.
Bradford was offensive rookie of the year. Suh won defensive rookie of the year.
June, 13, 2012
6/13/12
8:26
PM ET
Mikel Leshoure
's two-game
suspension
from the
Detroit Lions
takes him off the field for games against the
St. Louis Rams
and
San Francisco 49ers
.
The second-year running back missed the 2011 season with an injury, but he's expected to start in 2012. The Lions open at home against the Rams before traveling to face the 49ers.
Jahvid Best
could be the starter in Leshoure's absence. He would face a revamped Rams run defense expecting to show significant improvement from last season. Best would then face one of the toughest matchups for any running back.
Best suffered a concussion against the 49ers last season. San Francisco's run defense generally dominated, allowing only three rushing touchdowns all season. The 49ers also left several backs hurting, as the chart shows.
January, 28, 2012
1/28/12
8:00
AM ET
The
San Francisco 49ers
have become the hunted in the NFC West.
Having already
take aim
at their 2011 turnover differential, let us consider another reason for a potential 2012 regression from 13-3.
"Repeating the 2011 relative lack of injuries on the 49ers may be as hard as replicating the turnover ratio,"
Michael Rally contended via Twitter
.
Injuries did slow and/or sideline some of the 49ers' most important players, including running back
Frank Gore
and linebacker
Patrick Willis
. Starting receiver
Josh Morgan
missed most of the season. A freak jaw injury sidelined tight end
Delanie Walker
late in the season. A hamstring injury slowed defensive end
Ray McDonald
.
But in looking at injured-reserve lists, the 49ers definitely fared better than their division rivals. They finished the regular season with five players on IR. The other three NFC West teams had a combined 39.
I've broken out the IR lists by team and position, based on where teams stood after Week 17. In some cases, teams released and/or reached injury settlements with players placed on IR previously. Teams usually keep on IR the players they value the most, however. The players listed below are the most relevant ones.
St. Louis Rams (16)

Fullback:
Brit Miller
Receiver:
Danny Amendola
,
Mark Clayton
,
Greg Salas
Tight end:
Mike Hoomanawanui
Offensive line: guard
Jacob Bell
,
Rodger Saffold
,
Jason Smith
Defensive line:
Jermelle Cudjo
Linebacker:
Josh Hull
Cornerback:
Ron Bartell
,
Bradley Fletcher
,
Al Harris
,
Brian Jackson
,
Marquis Johnson
,
Jerome Murphy
Comment:
Quarterback
Sam Bradford
was injured much of the year without landing on IR. The Rams ran through several unlisted cornerbacks as well. That position was hit hard. Losing both starting offensive tackles is never good, but Smith wasn't a huge positive factor on the right side. The team was arguably better off without him in the lineup.
Seattle Seahawks (15)

Receiver:
Kris Durham
,
Mike Williams
,
Sidney Rice
Tight end:
John Carlson
Offensive line:
John Moffitt
,
James Carpenter
,
Russell Okung
Defensive line:
Jimmy Wilkerson
Linebacker:
Jameson Konz
,
Matt McCoy
,
David Vobora
,
Dexter Davis
Cornerback:
Marcus Trufant
,
Walter Thurmond
,
Ron Parker
Comment:
The Seahawks remained strong against the run largely because their line was healthier this season. Losing three-fifths of the starting offensive line could not stop
Marshawn Lynch
from producing at a high level. Rookie
Richard Sherman
capitalized on injuries at cornerback. Good, young depth helped Seattle weather injuries well.
Arizona Cardinals (8)

Quarterback:
Max Hall
Running back:
Ryan Williams
Offensive line:
Brandon Keith
,
Floyd Womack
Defensive line:
Dan Williams
Linebacker:
Joey Porter
Cornerback:
Crezdon Butler
,
Greg Toler
Comment:
Ryan Williams' knee injury affected the team significantly. The injury situation was worse overall than the list would indicate. Quarterback
Kevin Kolb
missed seven starts with foot and concussion problems. Running back
Beanie Wells
played hurt much of the year and had a hard time producing late in the season.
Adrian Wilson
played through a torn biceps and got better as the season progressed.
San Francisco 49ers (5)

Receiver:
Dontavia Bogan
, Josh Morgan
Tight end:
Nate Byham
Defensive line:
Will Tukuafu
Cornerback:
Curtis Holcomb
Comment:
Byham was a solid blocking tight end. The team missed Morgan, especially late in the year. Gore's production diminished after he suffered an apparent knee injury in Week 10. Overall, though, the 49ers were healthy. They inflicted more injuries than they suffered,
knocking out
several opposing runners, including
Felix Jones
,
LeGarrette Blount
,
Jahvid Best
,
Steven Jackson
and
Pierre Thomas
.
January, 16, 2012
1/16/12
4:07
PM ET
The hit
San Francisco 49ers
safety
Donte Whitner
put on New Orleans'
Pierre Thomas
set a physical tone for one of the NFL's best defenses Saturday.
It also knocked Thomas from the game with a concussion.
Tough break? Yes, but not entirely unexpected. Thomas became the seventh starting running back to leave a game against the 49ers after suffering an injury. One of them, Philadelphia's
LeSean McCoy
, returned a short time later. He was slow to get up after blocking the 49ers'
Ray McDonald
in pass protection.
The chart shows how starting runners have fared against the 49ers this season. The two highest rushing totals came when
Patrick Willis
was either sidelined by injury (Week 16) or rusty following a month-long layoff (Week 17). Overall, opposing starters averaged about 12 carries for 41 yards against the 49ers this season.
The
New York Giants
will have starter
Ahmad Bradshaw
when they visit San Francisco in the NFC title game Sunday. Bradshaw missed the teams' game at Candlestick Park during the regular season. He missed four games overall.
.
October, 20, 2011
10/20/11
7:24
PM ET
Beware, opposing running backs. The
San Francisco 49ers
are coming to hurt you -- not with overly aggressive handshakes, either.
Five Ring Circus
gets credit/blame for this entry after setting off a discussion in the comments section of the
Chat Wrap
earlier. His boast about the 49ers' run defense included enough supporting evidence to spark a mini-investigation.
"Niners have ruined several fantasy seasons,"
Five Ring Circus
mused, exhibiting the swagger a 5-1 record affords a fan. "Maybe Sando can keep a running total of RBs knocked out for significant period:
Arian Foster
,
Felix Jones
,
LeGarrette Blount
,
Jahvid Best
."
To be sure, San Francisco and Seattle run defenses have done the NFC West proud this season. The 49ers rank second in rushing yards allowed per game. The Seahawks rank first in yards per carry allowed.
Back to the claim about the 49ers knocking out running backs.
Foster tweaked a hamstring against the 49ers during preseason, and some fans insist a hit by the 49ers'
Patrick Willis
played a role. I'm not certain of that, but play-by-play records show Willis tackling Foster on what turned out to be
his final play in the game
.
The Cowboys' Jones suffered a separated shoulder when Willis and fellow linebacker
NaVorro Bowman
tackled him in Week 2. Willis made the primary tackle, with Bowman landing on Jones as the running back went to the ground.
Tampa Bay's Blount suffered a leg injury against the 49ers in Week 5. He came up limping after taking a big hit to the legs from free safety
Dashon Goldson
following a 29-yard reception midway through the third quarter. He did not touch the ball again during that game.
Best suffered a concussion against the 49ers last week. I'm not sure when.
For the regular season, the 49ers have injured three of their six opponents' starting backs. Next up:
Peyton Hillis
and the
Cleveland Browns
in Week 8. Hillis has missed one game already. He missed practice Thursday with a hamstring injury. If he plays in Week 7, he'll have to get through Seattle's run defense before facing the 49ers.
Update:
Hey, great minds think alike. Nice job by
Cam Inman writing about this
earlier Thursday. Thanks for the
heads up
, Cam!
.
October, 19, 2011
10/19/11
8:49
AM ET
Losing an established veteran player unexpectedly can hurt. It can also help.
Marcus Trufant's season-ending back injury could fall into both categories. It hurts because the Seattle Seahawks, like most teams, could always use another starting-caliber cornerback. It helps because it clears the way for the team to develop younger players, including Walter Thurmond.

The situation with Takeo Spikes in San Francisco comes to mind. Spikes was a valued veteran leader in 2010. His departure to San Diego in free agency seemed like a setback at the time, but without him, young replacement NaVorro Bowman has grown into one of the better young linebackers in the league. He's been much better than Spikes, actually.
Dynamics tend to be different in the secondary, where there's enough playing time to go around given the need to play more than two cornerbacks a high percentage of the time. Thurmond was going to develop with or without Trufant, but the process accelerates now that Thurmond is starting.
Eric D. Williams of the Tacoma News Tribune
checks in with Thurmond, who started one game as a rookie from Oregon last season. Williams: "The University of Oregon product is part of a young starting secondary that, although inexperienced, has the potential to make big plays. The Seahawks have five interceptions and have given up just six passing touchdowns this season, tied for fourth overall. Seattle gave up 31 passing touchdowns last year, third-worst in the league."
Danny O'Neil of the Seattle Times
says the Seahawks' low-key approach to the quarterback position continued Tuesday when the team remained on the sideline while Oakland paid a huge price for Carson Palmer.

Matt Maiocco of CSNBayArea.com
says this about guard Adam Snyder during his player-by-player review for the 49ers in Week 6: "Started at right guard, and played the first three quarters before exiting with a right shoulder stinger. . . Had block on defensive tackle Nick Fairley on 8-yard run for [Kendall] Hunter in first quarter. . . . Had a holding penalty called on him in the third quarter that was declined. . . . During his time in the game, he held his own against Ndamukong Suh, who lined up over him most of the time."
Also from Maiocco
: the defensive player review. On Bowman: "Started at inside linebacker and played every snap in the game. After a film review, the coaches adjusted Bowman's tackle total from 13 to 17 tackles. . . Had good position on third-and-goal incomplete pass intended for Jahvid Best to hold Lions to field goal in the first quarter. . . Overran Best on 13-yard gain late in first quarter. . . . Avoided attempted block of tight end Will Heller and stopped Best for 1-yard gain in third quarter. . . . Broke up third-and-5 pass to [Brandon] Pettigrew with 1:19 remaining."

Kent Somers of the Arizona Republic
counts the Cardinals among NFL teams no longer able to claim lockout-related relief given the success Jim Harbaugh and the 49ers are enjoying. Defensive end Vonnie Holliday: "The 49ers are separating themselves and we have to have a sense of urgency. It's not like maybe in years past in this division where everybody is right there together. We're chasing them, and we have to start now. We can't wait."
Bob McManaman of the Arizona Republic
checks in with Cardinals running back Beanie Wells, who played Little League with LeBron James and spent his bye week overseeing construction of an add-on room at his mother's home.
Dan Bickley of the Arizona Republic
says the Cardinals are paying for letting Steve Breaston get away, making life tougher for Larry Fitzgerald.
Noted:
I think the Cardinals have plenty of talent at receiver. The 49ers don't have anyone approaching Fitzgerald's ability level. They recently lost starting receiver Josh Morgan to a season-ending injury. Braylon Edwards has been out for weeks. The team is 5-1 anyway. The Cardinals need better play at quarterback and better play on defense more than they need another receiver, in my view. Early Doucet is performing pretty well on third down as it is. Something for Bickley and I to discuss during our weekly radio conversation Friday.
Darren Urban of azcardinals.com
says new labor rules might prevent teams from getting as much out of a bye week.

Jim Thomas of the St. Louis Post-Dispatch
offers thoughts during a chat on what's wrong with the Rams' pass-rush this season. Thomas: "The Rams have trailed by at least 14 points at halftime in four of their five games. They have led for a grand total of 6 minutes 28 seconds all season. It's a lot easier to rush the passer with a lead, and when the opposing team is in obvious passing situations. I think this has as much to do with it as anything."
Tony Softli of 101ESPN St. Louis
says the Rams' acquisition of Brandon Lloyd was a risk worth taking. Softli: "The hope is Lloyd can accomplish more than just leadership, because the Rams don't need leadership. They are getting that from Steven Jackson, Sam Bradford, James Hall, James Laurinaitis and Quintin Mikell. They need more Blue players (playmakers and difference-makers). Ones that show up every day, play consistently at a high level and bring a ton of production in every game. As we know, history will repeat itself, but the question is which Brandon Lloyd did the Rams trade for, last season's Pro Bowler or the journeyman that several teams didn't want on their roster?"
October, 13, 2011
10/13/11
5:18
PM ET
The
San Francisco 49ers
' defense likely will not see another offense quite like the one Detroit will field during the teams' matchup Sunday.
The same might be true in reverse.
The Lions don't even try to establish a conventional ground game. They frequently run and pass from the shotgun formation. ESPN's
Trent Dilfer
explained the Lions' approach for
his latest Insider column
, noting that he could not recall another team "running a system closer to what, say, Kevin Wilson was running for years at Oklahoma, producing a run of great quarterbacks."
The 49ers' nickel defense should give the Lions problems in pass protection, at least in theory. The matchups along the lines favor the 49ers. But as the chart shows, Detroit ranks second in fewest sacks allowed per pass attempt. That means quarterback Matt Stafford, armed with favorable sight lines available to quarterbacks in the shotgun, has consistently identified pressure and gotten rid of the ball.
How the 49ers defend the Lions'
Calvin Johnson
will be key, of course. They'll likely have to double-team him. The Lions have completed 6 of 9 attempts to Johnson in the red zone, producing five touchdowns on the six completions. The 49ers' defense leads the NFL in red zone touchdown percentage allowed. Opponents have five touchdowns in 15 possessions there. The Lions have scored three touchdowns in their past seven red zone possessions after scoring seven in 10 chances over their first two games.
But the Lions can also hurt defenses with shorter passes to running back
Jahvid Best
, who ranks third among NFL running backs in pass targets (32).
The 49ers' inside linebackers,
Patrick Willis
and
NaVorro Bowman
, need to contain Best on handoffs and short passes. Both have speed and arrive at ball carriers with bad intentions. They are tone-setters. I think it's important for the 49ers to establish themselves early as the more violent team. They have done that in every game so far this season, including in the secondary, where
Dashon Goldson
and
Carlos Rogers
have been playing with attitude.
Back in a bit with some comparisons between the 49ers' offense and the Lions' defense.
April, 27, 2011
4/27/11
1:45
PM ET
Colleague Kevin Seifert showed
some daring
by sending TCU quarterback
Andy Dalton
to the
Minnesota Vikings
at No. 12 in a recent
ESPN.com mock draft
.
He wasn't arguing for Dalton's value so much as saying the Vikings' need for a quarterback might compel them to take one there.
[+] Enlarge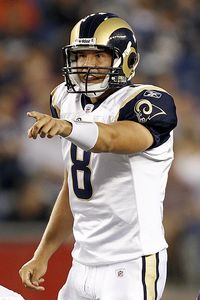 AP Photo/Winslow TownsonDid the Rams "reach" to get quarterback Sam Bradford in the first round last year?
"To me,"
Seifert later wrote
with first-year Vikings coach Leslie Frazier in mind, "there is no better time to jump to the other side than in a coach's first year, giving him a building block for the rest of his program."
The key, of course, is not mistaking anchors for building blocks.
Steve Mariucci was the
San Francisco 49ers
' first-year coach when the team used a 1997 first-rounder for
Jim Druckenmiller
, a blunder softened only by
Steve Young
's presence on the roster. That experience should not directly influence the 49ers' thinking as they consider first-round quarterbacks for new coach Jim Harbaugh, but it's a reference point.
With Harbaugh and the 49ers in mind, I went through recent drafts to see which teams with first-year head coaches used first-round selections for quarterbacks. More precisely, I looked at all first-round quarterbacks since 2000 to see which ones had first-year head coaches.
Six of the last eight first-round quarterbacks --
Matthew Stafford
,
Mark Sanchez
,
Josh Freeman
,
Matt Ryan
,
Joe Flacco
and
JaMarcus Russell
-- joined teams with first-year head coaches. All but Russell remain franchise quarterbacks in their teams' eyes. All but Russell are still playing for their original head coaches. Four of the six had winning records in 2010.
For most of those franchises, value and need lined up pretty well, and first-year coaches benefited.
"If you don't have a quarterback, you're drafting maybe a different kind of running back, maybe a different kind of offensive lineman, than if you have somebody," Lions coach Jim Schwartz told reporters at the scouting combine. "We had
Calvin Johnson
, but our ability to get
Jahvid Best
,
Nate Burleson
in free agency, to draft
Brandon Pettigrew
-- those pieces were because of the quarterback that we have."
We could also argue that the
St. Louis Rams
were better off building their offensive line and other areas of their roster before making
Sam Bradford
the first overall choice in 2010. They could have drafted Sanchez or Freeman instead of defensive end
Chris Long
in 2009, then spent subsequent selections on players to build around one of those quarterbacks.
Bradford and Denver's
Tim Tebow
were the "other" first-round quarterbacks in the eight-man group featuring Stafford, Sanchez, Freeman, Ryan, Flacco and Russell.
In general, getting the right quarterback for a first-year head coach puts a franchise in strong position for the long term. There's no sense forcing the issue, however, because the wrong quarterback can drag down any coach, regardless of tenure.
A coach such as the Vikings' Frazier might have a harder time waiting. His contract runs only three seasons and ownership expects quick results. Harbaugh has a five-year deal with the 49ers. Expectations are high, but there's less urgency for immediate results.
The first chart shows the 14 first-round quarterbacks since 2000 that landed with returning head coaches.
The second chart shows the 14 first-round quarterbacks since 2000 that landed with first-year head coaches.
September, 22, 2010
9/22/10
1:12
PM ET
We're up to more than 3,200 entrants in the
ESPN.com Blog Network Gridiron Challenge
after more people discovered how easy it would be to defeat the NFC West guy.
I might make you work a little bit.
The "
Mike Sando (NFC West)
" entry came through with 146 points in Week 2 after an embarrassing Week 1 showing had left my team in the 12.7th percentile.
Respect is earned grudgingly around here, however. My wife taunted me this morning when pointing out that
her team
leads mine by a few points in the overall standings. This gives me license to mock her team when my team restores order on the fantasy football home front.
It'll take longer to catch
AFC North blogger James Walker
, a promising Gridiron Challenge rookie currently inhabiting the 99.2 percentile. The
AFC East's Tim Graham
is pacing himself.
Frank Gore's performance Monday night helped Alex.Levy take the top spot on the Blog Network leaderboard.
Ironman2131_8
had the highest Week 2 total -- 185 points -- in our competition thanks to this lineup: Peyton Manning (22), Jay Cutler (23), Jahvid Best (40), Frank Gore (28), Andre Johnson (21), Randy Moss (9), Antonio Gates (17), Mason Crosby (10) and the Denver defense (15). Well played.
April, 20, 2010
4/20/10
8:55
AM ET

Matt Barrows of the Sacramento Bee
runs through the 49ers' needs heading into the draft. Barrows: "The 49ers must open up their attack and use the perimeter more often in 2010. That means improving the overall speed on offense. The team took a step in that direction by acquiring Ted Ginn Jr. from Miami. Ginn was one of the fastest players in the 2007 draft. If they pass on speedy running backs such as Clemson's C.J. Spiller and Cal's Jahvid Best in the first two rounds, someone such as Ole Miss' Dexter McCluster or USC's Joe McKnight could bring pizazz to the running game in later rounds."
Matt Maiocco of the Santa Rosa Press-Democrat
sends Joe Haden and Anthony Davis to the 49ers in his latest mock draft. He has Maurkice Pouncey going to Arizona at No. 26, although the Cardinals are on the record saying they don't want to select offensive linemen early. Russell Okung and Earl Thomas are the choices for Seattle. Sam Bradford is the choice for St. Louis. Maiocco: "What about C.J. Spiller? I don't think the 49ers would take him at 13 or 17. And if my mock miraculously falls the way I diagram, we won't find out."
Also from Maiocco
: A scout familiar with the 49ers said he thought the team would be wise to select quarterback Jimmy Clausen because the 49ers are presently working on a year-to-year basis at quarterback.
Tom Abate of the San Francisco Chronicle
details the kicking battle between the 49ers' Joe Nedney and a robot. Abate: "The lighthearted contest, a stunt to highlight the three-day RoboGames competition that opens Friday at the San Mateo County Fairgrounds, ended when Nedney easily kicked a football 45 yards while his mechanical adversary twice failed to clear the goalposts at that distance."

Danny O'Neil of the Seattle Times
says the Seahawks have not drafted an offensive tackle since selecting Ray Willis back in 2005. Chris McIntosh was the last tackle Seattle drafted in the first round. Those streaks should end this year.
Greg Johns of seattlepi.com
says draft analyst Rob Rang expects the Seahawks to select an offensive tackle -- probably Russell Okung -- with the sixth overall choice. A personnel person familiar with Seattle line coach Alex Gibbs told me he thought Gibbs might prefer Bryan Bulaga over Okung, but it's tough to know for certain how much input Gibbs will have if Seattle does take a tackle in that spot.
Eric D. Williams of the Tacoma News Tribune
thinks Georgia Tech's Derrick Morgan could make sense for Seattle with the 14th overall choice. Williams: "Seattle's tentative starting defensive front line, defensive ends Lawrence Jackson and Chris Clemons, who came to Seattle in the (Darryl) Tapp trade, and defensive tackles Colin Cole and Brandon Mebane, combined for nine sacks last season."
Also from Williams
: defensive linemen and linebackers the Seahawks could consider on a round-by-round basis, according to Rang.

Kent Somers of the Arizona Republic
considers options at nose tackle for Arizona heading into the draft. Somers: "Weight is a problem for Alabama nose tackle Terrence Cody, who is listed at 360 pounds. Tennessee's Dan Williams likely will be gone by the time the Cardinals pick. The club could decide to gamble and hope that someone such as North Carolina's Cam Thomas or East Carolina's Linval Joseph is available in the second round."
Also from Somers
: a chat transcript featuring thoughts on Deuce Lutui, among other Cardinals subjects.
Darren Urban of azcardinals.com
says he thinks the Cardinals could be more likely to move back in the draft than move up, even though general manager Rod Graves sounded more excited about using the team's extra third-round choice as ammunition.
Also from Urban
: The proliferation of 3-4 defenses in the NFL makes it tougher for Arizona to find a nose tackle. Urban: "A player like Alabama's Terrence Cody is considered by many best-suited for the second or even the third round because of ongoing weight issues. Others, like East Carolina's Linval Joseph or North Carolina's Cam Thomas, can be had after the first round as well."
Jim Thomas of the St. Louis Post-Dispatch
says sources close to Rams minority owner Stan Kroenke say the billionaire remains focused on acquiring full ownership of the team, independent of whatever dealings Kroenke might have had with bidder Shahid Khan. Thomas: "Meanwhile, a backlash continues to grow over the absence of comments or statements by Kroenke about a commitment to keeping the Rams in St. Louis. The controversy began when Kroenke did not mention St. Louis in his April 12 announcement that he was exercising his right of first refusal. Radio personality McGraw Milhaven, who hosts a morning drive show on KTRS (550 AM), is asking fans to boycott Rams games if Kroenke doesn't make some kind of statement about keeping the team in St. Louis by the start of Thursday's draft."
Also from Thomas
: Defensive tackle Gary Gibson has re-signed with the Rams.

Bryan Burwell of the St. Louis Post-Dispatch
says fans should not trust Kroenke. Burwell: "As far as I can tell, what we have learned about Kroenke is that every move he makes is straight out of a Machiavellian playbook. From his cunning 11th hour maneuver to gain complete financial control of the franchise, to this latest reported strategy to seek an eight-figure 'compensation' from would-be buyer Shahid Khan to step out of the buying process, his actions reek of cold-blooded duplicity."
Bernie Miklasz of the St. Louis Post-Dispatch
says the Rams' ownership uncertainty is hurting the team with fans. Miklasz: "So the Rams' ownership saga gets crazier and more confusing by the day, which only creates distraction and frustration at a time when Rams fans would like to be in a happier mood, looking forward to this week's NFL Draft. By the time this nasty ownership mess is sorted out, there may be about 248 Rams fans left in St. Louis."
Howard Balzer of the St. Louis Globe-Democrat
says Kroenke's reported dealings raise questions about what kind of owner he might become. Balzer: "No one can convince me that the fingerprints of Rams senior adviser John Shaw aren't all over Kroenke's tactics. Remember, it was Shaw who orchestrated the move of the Rams to St. Louis in 1995 and then, at the 11th hour, with the papers ready to be signed, suddenly demanded the controversial 25-percent clause be included in the lease that could end up allowing the Rams to move after the 2014 season. What choice did we have but to acquiesce?"
Also from Balzer
: The Rams and player agents don't think it's necessary to begin early negotiations with the future No. 1 choice in the draft.
April, 10, 2010
4/10/10
10:00
AM ET
S.L. from Tulsa writes:
Your blog item
on Pro Bowl players versus draft position was quite interesting. Because the Pro Bowl selects all 22 positions, I would expect certain positions (kicker, center, guard, safety) to have far fewer very high picks than, say, quarterback, defensive end or cornerback. If you filter for position and apply this standard, it might show that the top choices at each position produce even more Pro Bowlers. I would like to see this extra detail to prove or disprove the apparent value of early picks. It could give you a followup column.
Mike Sando:
Good idea. I did have a positional filter at my disposal. The filter lumped all defensive backs together, and some positional designations changed or could use updating (
Leonard Davis
was listed at tackle coming out of college, for instance, but he has gone to Pro Bowls as a guard).
I toyed with a couple ways to answer your question. In the end, I created categories for players with no Pro Bowls, one to two Pro Bowls and three-plus Pro Bowls. I then set up a table showing average draft positions for these players, sorted from earliest to latest. The chart shows defensive ends were drafted about 120th on average, with punters and kickers drafted in the 160s on average. This information covered the 2000 through 2009 draft classes.
Check out the row for players listed as offensive tackles. They were drafted 126th overall on average from 2000 to 2009, but the averages changed dramatically based on Pro Bowl appearances (134th for tackle with no Pro Bowls, about 39th for tackles with one or two Pro Bowls and about third overall for tackles with three-plus Pro Bowls). The latter group featured Davis,
Joe Thomas
and
Chris Samuels
.
---
Nick from Tampa writes:
Mike, with the state of QBs in this year's draft and the need by the Rams to hit the nail on the head with this pick, how does this senario fare for you:
Pick up Jason Campbell from Washington with possibly a third- or fourth-round pick;
Use your first-rounder on Ndamukong Suh or Gerald McCoy to help give immediate improvement to the defensive line.
I see the QB pool in this year's draft to be extrememly slim, with the top three prospects coming off injuries. Instead of taking a big-money and possibly not fully healed guy in this draft and thowing him head first to be eaten alive, pick up Campbell, who still has gas in the tank, draft your QB in the second round, or wait until the pool inproves. Additionally, there is a large chance that you can get
Colt McCoy
or another project QB at the No. 33 spot, making the No. 1 pick a greater chance of success.
Mike Sando:
It depends wholly on what you think of
Sam Bradford
relative to Jason Campbell. The Rams want a face-of-the-franchise guy, someone to lead the team and rouse the fan base. I don't think Campbell would be that guy. The book on Campbell says he's not much of a leader. That was the read on him coming out of Auburn in 2005. For the Rams, drafting a quarterback first overall would provide some needed sizzle. Now, does that mean Bradford will be any good? Not necessarily.
Your idea has some appeal.
Trent Dilfer
, speaking on 101ESPN St. Louis,
suggested
the Rams go that route. It makes sense if the Rams aren't sold on Bradford. But if they think Bradford is the franchise quarterback they want to build around, picking him is pretty easy to do.
---
Doug from Washington, D.C., writes:
Hey Mike, big fan of the blog and the Seahawks. I was just wondering why no one is talking about the Seahawks being interested in
Jared Gaither
? I understand that he's likely to fetch a high second-rounder, but couldn't the Hawks package their late second-rounder and a fourth- or fifth-round pick to grab a young left tackle with lots of upside?
Mike Sando:
Thanks, Doug. Gaither is 6-foot-9 and 340 pounds. The Seahawks won't want someone that massive for their zone blocking scheme. Also, a young left tackle on the rise should be worth more than the price you outlined. Something isn't right with the Gaither picture. Any young starting tackle available for that price must have some drawbacks.
---
Kenny from Spokane writes:
It doesn't seem like Pete Carroll is making any major moves yet. In fact, it seems like he's getting rid of more players than he's adding. A lot of his deals so far haven't made any sense. One of the theories I have is that Carroll really wants Washington quarterback
Jake Locker
as the future of the Seahawks franchise, even if it means throwing away a season. Do you think this is on the back of Carroll's mind?
Mike Sando:
No. New coaches identify players they do not want before they can add players they do want. Free agency doesn't provide many good opportunities for upgrades. The Seahawks will probably go young and build through the draft. This is a long-term rebuild.
---
Lon from Okanogan, Wash., writes:
Why does it seem like most people don't trust Pete Carroll and (general manager) John Schneider? Why are they so impatient about letting them have a chance to get something done? It seems to me that they deserve a chance to at least put a team on the field before people look to have them canned.
Mike Sando:
Some people want immediate results. They want to feel as though the team is making progress every day of the offseason. It's not realistic. Of course, you can't single out only the fans. The Seahawks themselves fired Jim Mora after only one season.
---
Travis from Socorro, N.M. writes:
I can't help but think that the dethroning of Ndamukong Suh at No. 1 is, in some part, due to the 24/7 sports news cycle. Having the No. 1 pick pegged so early just doesn't build a story. I'm vaguely reminded of the
Mario Williams
/
Reggie Bush
'controversy' -- which surprisingly went the 'safe' route, which would be a case where management diverged from the media as opposed to this draft, where there seems to be convergence between management and media. Thoughts?
Mike Sando:
The Rams have hardly discouraged the Bradford talk. They've made roster moves suggesting they'll add a franchise quarterback. If they wanted to discourage the Bradford talk, they could have floated concerns about Bradford's health.
---
Kevin from Sylmar, Calif., writes:
Hey, Mike, I've seen you say that it is a good possibility that all the top-tier tackle prospects could be gone by the 13th pick. If you're right and C.J Spiller is gone as well, and let's say that the 49ers pick up someone like Joe Haden with the 13th pick and Sergio Kindle with the 17th pick, do you think that they go with a tackle in the second round? Or do you think that's too early for the second-tier of tackles and they should go with someone like
Jahvid Best
from Cal, who would be a change-of-pace that they could really use?
Mike Sando:
I have wondered what would happen if the top four tackles were gone by No. 13. It does seem like a possibility. You're probably right in thinking there might not be a tackle worth the risk in the second round. A general manager I trust told me he thinks Rodger Saffold will also be part of the first-round group. At running back, Best could go in the first round if a team feels OK about his medical. They'll have a value judgment to make at tackle in the first round, I think. Someone will be there for them, but will the value line up?
---
Spenser from Danville, Calif., writes:
Hey Sando, with the release of
Flozell Adams
from the
Dallas Cowboys
, and the growing concern that there won't be a top-tier tackle available at pick No. 13 of the draft, why haven't the 49ers considered signing Flozell Adams? This team seems primed for a playoff run this year, and I think they could benefit from having a proven starter, like Adams. What do you think?
Mike Sando:
That could be a move best left for after the draft. If the 49ers draft a tackle at No. 13 or even No. 17, Adams might not be worth what he would otherwise command.
March, 1, 2010
3/01/10
5:33
PM ET
Rolando from Clovis, Calif., says
the 49ers should pursue
Antrel Rolle
in free agency, draft an offensive tackle and linebacker in the first round -- Alabama's Rolando McClain or Michigan's Brandon Graham were suggestions -- before using a second-round choice for
Jahvid Best
or
Ryan Mathews
. He says the 49ers could then field a top-three defense.
Mike Sando:
Mathews is more of a power runner, so I might question the fit. Best has some concussion concerns that could be troubling.
Rolle is a good player, but I don't think he'll be appealing enough to the 49ers for them to depart from their stated intention, which is to cultivate their own talent. Rolle could have more value to the Cardinals than he has to another team. Remember, the 49ers found safety
Dashon Goldson
in the fourth round a few years ago and they seem pretty happy with his first season as a starting safety. This draft has some promising safeties. Perhaps the 49ers can draft one to pair with Goldson. Also, they might want more of a strong safety, although the distinction has become less important in general.
I'll need some convincing before thinking McClain would be a great investment for the 49ers in the first round. Yes, McClain appears to be a good fit as an inside linebacker in the 3-4 defense. Yes, the 49ers could use another inside linebacker to pair with
Patrick Willis
(
Takeo Spikes
is winding down). But one of those inside linebackers is coming off the field on passing downs and it's not going to be Willis. Just something to consider when determining how much to value a player drafted in the first round.
March, 1, 2010
3/01/10
9:59
AM ET

Kent Somers of the Arizona Republic
says the Cardinals could be more motivated to trade Anquan Boldin as the receiver enters the final year of his contract. Somers: "A contract extension doesn't appear part of that plan. With a year to go until free agency, it's doubtful that Boldin would re-sign, although the club could use the franchise tag in 2011, provided such a designation exists under a new collective-bargaining agreement. Identifying suitors for Boldin is guesswork. It's doubtful the Bears would be interested because they already are lacking picks in the first and second rounds. The Titans likely wouldn't have interest, considering the sterling performance last year of rookie Kenny Britt. The Dolphins, it seems, have been rumored to have interest in every player available via trade or free agency and need a receiver. The Chiefs are an intriguing possibility, because they have a need at receiver, possess two second-round picks, and former Cardinals offensive coordinator Todd Haley is the head coach."
Also from Somers
: a look at the rookie deal Arizona signed with safety Antrel Rolle, a deal that is blowing up in the team's face and giving Rolle a chance to hit the market, most likely. My understanding is that St. Louis-based agent Ben Dogra negotiated that rookie deal, only to lose Rolle, who is from Miami, to Miami-based agent Drew Rosenhaus. Somers: "The Cardinals could have avoided this by making the last year of Rolle's deal voidable. Rolle could have exercised that clause, but the Cardinals could have used the franchise or transition tags to maintain his rights. That option isn't available to them now. It's not the last time we'll be talking about such deals. Quarterback Matt Leinart's salary is due to climb nearly $5 million in 2011, the last year of his deal. He's also due a $5.5 million roster bonus. A year from now, the Cardinals could be in the same position with Leinart as they now are in with Dansby." Background info
here
.
Darren Urban of azcardinals.com
says the Cardinals have until Thursday to pay a $4 million bonus to Rolle. Rolle had previously said the deadline was March 1.

Jim Thomas of the St. Louis Post-Dispatch
says the Rams' planned restricted free-agent tender for Alex Barron would return a second-round choice if another team signed him, an indication the team would like to trade him. I don't think another team would give up a second-round choice for the right to pay Barron on a long-term deal, though. Thomas: "It's another deep year for offensive tackles in the draft. Early indications point to Jason Smith, the No. 2 overall pick in last year's draft, moving to left tackle next season. Some of the Rams' best right tackles since the team moved to St. Louis were middle-round picks. Ryan Tucker was a fourth-rounder; Fred Miller, a fifth-rounder."
Also from Thomas
: Most NFL people seem to rate Gerald McCoy slightly higher than Ndamukong Suh, although the Rams aren't saying much.
More from Thomas
: Medical reports on quarterbacks Sam Bradford and Jimmy Clausen mean a great deal to the Rams. Thomas: "Rams general manager Billy Devaney said Friday that besides Rams doctors and Dr. James Andrews (who performed the surgery), the Rams want a third opinion on Bradford's shoulder from an independent doctor."
Bryan Burwell of the St. Louis Post-Dispatch
thinks the Rams have to choose between Suh and Oklahoma quarterback Sam Bradford. Burwell: "When it comes to first-round picks, I want great almost immediately, or at the very least a strong beacon of potential greatness in that first season. And in a year when the NFL draft class is particularly strong at so many other positions, I don't understand why it is a smart move to draft a quarterback who barely played at all last season and is coming off of surgery and hasn't been cleared by anyone's medical staff or played in a pro-style offense in two years of college ball when the alternative is a monster defensive tackle who every NFL personnel department has listed as a once-in-a-generation beast (Suh)."
Jim Rodenbush of the St. Louis Globe-Democrat
says Rams coach Steve Spagnuolo doesn't want the defensive label, even though he was a coordinator on that side of the ball.
Howard Balzer of the St. Louis Globe-Democrat
says the Rams and Marc Bulger's representatives are working to resolve the quarterback's fate in St. Louis sooner rather than later, although there is no hard deadline in the short term. Balzer: "Because no trade can be consummated until March 5, the Rams would only release him prior to that date if they have exhausted all potential efforts to deal him. While a trade can't be official until Friday, teams can have deals in place prior to then. Any team looking to trade for Bulger would likely be looking for him to accept a pay cut. Coach Steve Spagnuolo said Saturday that even though the Rams' offseason program begins March 15, it's not necessary that a decision on Bulger be made by then."

Matt Barrows of the Sacramento Bee
says the 49ers are in good shape because the 2010 draft is strong in the areas San Francisco would like to address. Barrows also thinks the 49ers should strongly consider a certain speedy running back. Barrows: "If I was banging the drum for Clemson's C.J. Spiller before the combine, I'm pounding it with both fists afterward. He and Jahvid Best put on a show Sunday. The difference between the two is that Best has been injury prone; Spiller has not. I can't get past the fact that simply having this guy on the field makes the offense better because defenses must account for his speed."
Matt Maiocco of the Santa Rosa Press-Democrat
checks in from the airport on his way home from the combine. Maiocco: "My initial thoughts are the 49ers would select Russell Okung and Trent Williams, for sure, with the No. 13 pick. They'd probably go with Bryan Bulaga and Anthony Davis, too. Bruce Campbell seems way too risky in the top half of the first round. I'd probably even place Charles Brown ahead of him."

Clare Farnsworth of seahawks.com
says USC safety Taylor Mays enjoyed seeing Seahawks coach Pete Carroll at the combine. Mays: "It's like seeing your dad, kind of."
Also from Farnsworth
: Clausen chose Notre Dame over USC so he wouldn't have to play behind Mark Sanchez, Carroll notes.
More from Farnsworth
: The Seahawks seek to upgrade their pass rush this offseason. Farnsworth: "The scavenger hunt for help has moved into high gear at the combine. It's fitting that the event is being held at the Lucas Oil Stadium, because it was in Week 4 last season that the Colts' Peyton Manning victimized the Seahawks in this very building. Unable to generate enough pressure with a four-man rush, the Seahawks were forced to blitz. Almost every time they did, Manning beat it by throwing to the vacated area."
Danny O'Neil of the Seattle Times
says the "vote of confidence" the Seahawks paid to Deion Branch could be designed to enhance the receiver's trade value.
Eric Williams of the Tacoma News Tribune
provides a transcript to an interview with Carroll and Seahawks general manager John Schneider. Schneider on Nate Burleson: "We've talked to him. We totally understand he's going to explore free agency. We're just going to stay in touch. Nobody really knows where this market is going to go in free agency. We sure don't. He needs to do what's best for himself and for his family. We like Nate and we're going to stay in touch with him the whole way. And that was expressed to him."