NFC West:

Jamaal Anderson
March, 25, 2011
3/25/11
12:20
PM ET
Ken Whisenhunt is right when he says
Levi Brown
takes more criticism as a high draft choice than he would take as someone selected later in the process.
That's the way it works. The highest picks in a draft class should outperform their peers.
[+] Enlarge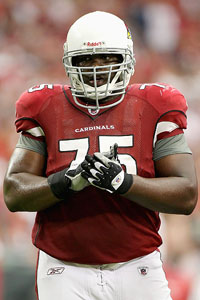 Christian Petersen/Getty ImagesLevi Brown, drafted fifth overall in 2007, can still become an "outstanding" player according to Ken Whisenhunt.
The
Arizona Cardinals
don't need anyone to remind them that they selected Brown over some All-Pro performers, including
Adrian Peterson
and
Patrick Willis
. But it's not as though Brown, a player with 56 consecutive regular-season starts, qualifies as a flat-out bust, either. He moved to left tackle from the right side last season and will stay there.
"He improved last year," Whisenhunt said this week from the NFL owners meeting in New Orleans. "As a left tackle, it's not an easy position to move from right tackle. He will continue to get better. He is a talented football player. The biggest thing he has struggled with is the consistency of his play. But a lot of times you are under the microscope more because you were the fifth pick in the draft."
I would rank Brown, chosen fifth overall in 2007, somewhere around 20th out of 32 first-round picks that year.
Brown has obviously or arguably outperformed the following first-round selections from 2007:
JaMarcus Russell
,
Jamaal Anderson
,
Ted Ginn Jr
.,
Amobi Okoye
,
Adam Carriker
,
Justin Harrell
,
Jarvis Moss
,
Aaron Ross
,
Reggie Nelson
,
Brady Quinn
,
Anthony Gonzalez
and Craig Davis.
Gaines Adams
, chosen fourth that year, passed away after Tampa Bay traded him to Chicago.
The following first-rounders from 2007 have obviously or arguably outperformed Brown:
Calvin Johnson
,
Joe Thomas
,
LaRon Landry
, Adrian Peterson, Patrick Willis,
Marshawn Lynch
,
Darrelle Revis
,
Lawrence Timmons
,
Leon Hall
,
Michael Griffin
,
Dwayne Bowe
,
Brandon Meriweather
,
Jon Beason
,
Anthony Spencer
,
Robert Meachem
,
Joe Staley
,
Ben Grubbs
and
Greg Olsen
.
"The reason we drafted Levi where we did was because we had him rated high enough to go in that position, but we also felt like we had to develop our offensive line and defensive line at that point, because that is where the most critical component of your team," Whisenhunt said. "That is the only way you are going to have a chance to compete. Levi has been a good player. He is often criticized, but I think that comes with being the fifth pick, and I don't understand how you evaluate offensive linemen, because they are not catching passes or running touchdowns in."
Whisenhunt said he thought Brown can and will become an "outstanding" player.
"Any time an offensive lineman gets drafted that high, especially in a fantasy football world where people want you to get dynamic playmakers, you are going to face some kind of criticism," Whisenhunt said. "I have to give Levi some credit. As tough as it's been, he hasn't let it affect him. He has continued to work and get better and I think this will be a big year for him. This is a chance for him to show that he can play this position very well."
December, 21, 2010
12/21/10
1:00
PM ET
»
NFC Decisive Moments
:
East
|
West
|
North
|
South
»
AFC
:
East
|
West
|
North
|
South
Seattle Seahawks
quarterback
Matt Hasselbeck
would later say he had receiver
Ben Obomanu
open for a possible 96-yard touchdown.

Instead, the
Atlanta Falcons
scored on a pivotal third-quarter play, stretching a 17-10 lead into double digits on their way to a 34-18 victory that threatened to end Hasselbeck's run as the Seahawks' starting quarterback.
Hasselbeck took the snap from center and rolled to his right on first-and-10 from the Seattle 4, but Falcons defensive end
Jamaal Anderson
was on him before Hasselbeck could set his feet, let alone throw the ball. Anderson knocked the ball free. He also might have committed a facemask penalty -- Hasselbeck lobbied for a call, to no avail. Falcons defensive tackle
Jonathan Babineaux
recovered in the end zone.
"If I make the guy miss -- there's an 'if' there, I guess -- but that's a 14-point swing, and as much as we preach about turnovers, turning the ball over is unacceptable," Hasselbeck told reporters after the game.
Down by two touchdowns after the Babineaux recovery, Hasselbeck admittedly began pressing. He threw interceptions on the Seahawks' next two drives. That was enough for coach Pete Carroll to send in backup quarterback
Charlie Whitehurst
to finish the game. It was also enough to doom Seattle to its eighth double-digit defeat of the season when a victory would have left the Seahawks alone atop the NFC West with two games remaining.
"We realize how we fought really hard in this game, had a chance to kind of be involved with a really good football team well into this game," Carroll told reporters Monday. "Our third-quarter play just put us behind too far to catch up on a good squad."
December, 19, 2010
12/19/10
7:21
PM ET
Thoughts on the
Seattle Seahawks
'
34-18 loss
to the
Atlanta Falcons
at Qwest Field in Week 15:


What it means:
The Seahawks lost no ground in the NFC West race while falling to 6-8, but questions persist at quarterback after coach Pete Carroll benched
Matt Hasselbeck
. Hasselbeck completed 10 of 17 passes for 71 yards, two interceptions and a critical lost fumble. Hasselbeck's interceptions on consecutive third-quarter possessions precipitated the change.
Charlie Whitehurst
completed 8 of 16 passes for 83 yards in relief.
What I liked:
The Seahawks started quickly. They scored a touchdown on their first possession and tied the score 10-10 after Atlanta took the lead. Seattle's shaky run defense held firm against the Falcons'
Michael Turner
, even when the Seahawks fell behind.
What I didn't like:
The three third-quarter turnovers helped turn a 17-10 deficit into a 34-10 blowout before the fourth quarter. The Falcons'
Jamaal Anderson
sacked Hasselbeck in the end zone. The ball came out and
Jonathan Babineaux
recovered for Atlanta. The Falcons led, 24-10, and Hasselbeck followed with two picks. Interceptions have become a problem for Hasselbeck when Seattle falls too far behind. Seattle also got little from its usually productive return game.
Tomorrow's Talker:
Is Hasselbeck finished in Seattle? Even if Hasselbeck remains the starter heading into Week 17, is there any way the team will re-sign him after such a rough late-season stretch? Hasselbeck has four touchdowns and 16 interceptions in his previous five December games dating to last season.
Williams' returns:
Top receiver
Mike Williams
returned for Seattle. He caught eight passes for 66 yards.
What's next:
The Seahawks head to Tampa Bay for a Week 16 game against the Bucs.
March, 25, 2010
3/25/10
6:59
PM ET
Sam Bradford
, Ndamukong Suh and Gerald McCoy would fit the college conference profile for first-round choices taken by Billy Devaney's teams over the last two decades.
All three are from the Big 12 and all three could be candidates for the
St. Louis Rams
to draft first overall.
Devaney, the Rams' general manager, has been with teams that drafted 11 players in the first round. The chart breaks down those picks by conference and decade.
Five of the 11 were from the Pac-10, with two apiece from the SEC, ACC and Big 12 (using current conference affiliations).
Devaney's teams have not drafted a Big Ten player in the first round since he entered the NFL with San Diego in 1990. The rest of the league has drafted 119 from the ACC, 110 from the SEC, 100 from the Big Ten, 79 from the Pac-10 and 66 from the Big 12. Again, those numbers reflect current conference affiliations.
I'll break down Devaney's teams' first-round choices by conference:
After the first round, Devaney's teams have favored the SEC (22), ACC (20), Big Ten (16) and Big 12 (15).
August, 22, 2009
8/22/09
3:35
AM ET
Posted by ESPN.com's Mike Sando
Things I noticed watching the first half of the Rams' game against the Falcons in St. Louis' second exhibition game under coach Steve Spagnuolo:
I'll take a look at the rest of the game as time permits. The first half wasn't all bad for the Rams. Laurinaitis did pick off a pass. Robinson, as noted, made a positive impression at receiver. Overall, though, the first-team offense and defense struggled.
December, 15, 2008
12/15/08
4:55
PM ET
Posted by ESPN.com's Mike Sando
The Seahawks' victory over the Rams leaves St. Louis in the lead for the No. 2 overall choice in the 2009 draft.
The next two weeks will probably affect the eventual order at the top of the draft, but here's how the top 10 would shake out at present, according to the league:
1. Detroit (0-14)
2. St. Louis (2-12): The last five players drafted second overall were Chris Long (Rams), Calvin Johnson (Lions), Reggie Bush (Saints), Ronnie Brown (Dolphins) and Robert Gallery (Raiders).
3. Kansas City (2-12)
4. Cincinnati (2-11-1)
5. Seattle (3-11). The last five players drafted fifth overall were Glenn Dorsey (Chiefs), Levi Brown (Cardinals), A.J. Hawk (Packers), Cadillac Williams (Bucs) and Sean Taylor (Redskins).
6. Oakland (3-11)
7. Cleveland (4-9)
8. San Francisco (5-9): The last five players drafted eighth overall were Derrick Harvey (Jaguars), Jamaal Anderson (Falcons), Donte Whitner (Bills), Antrel Rolle (Cardinals) and DeAngelo Hall (Falcons).
9. Jacksonville (5-9)
10. Green Bay (5-9)

The Rams would be picking second overall for the second year in a row. They've addressed the defensive line early in recent drafts. This might be time to help the offensive line. Orlando Pace certainly worked out well for them as an early pick.
The Seahawks haven't picked in the top five since selecting Shawn Springs third in 1997. They also picked up Walter Jones (sixth overall) that year.
The 49ers last picked among the top eight when they selected tight end Vernon Davis sixth overall in 2006.