October, 31, 2012
10/31/12
4:20
PM ET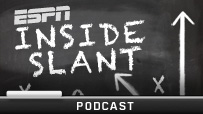 After appearing on
MVP Watch
and before visiting the
Seattle Seahawks
in Week 9,
Adrian Peterson
dominated much of the "
Inside Slant" podcast
discussion Wednesday.
The
Minnesota Vikings
running back is challenging what we've thought about serious knee injuries by disregarding standard timetables for rehabilitation.
Peyton Manning
, another player thriving improbably following career-altering surgery, also stars in this podcast.
Russell Wilson
, Romeo Crennel,
Brett Favre
,
Jamal Lewis
,
Terry Allen
, Norv Turner, Leslie Frazier,
Titus Young
,
Richard Sherman
,
Alex Smith
, Joe Namath and Johnny Unitas surface at various points.
Listeners also receive special Halloween access to a photo showing a certain NFC West blogger in costume as though right off the set for
that John Clayton commercial
.
September, 8, 2010
9/08/10
10:44
AM ET
Chris Johnson
is up,
Brett Favre
is down and
Donovan McNabb
is out since
the final MVP Watch
from last season.
[+] Enlarge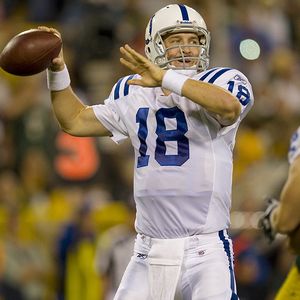 Jeff Hanisch/US PresswirePeyton Manning has thrown for 4,000 yards in 10 of his 12 NFL seasons.
The initial list for 2010 overlooks defense entirely, with good reason. Lawrence Taylor was the last defensive player to win the award and that was 24 years ago. Some of the leading defensive candidates from last season --
Elvis Dumervil
and
Darren Sharper
come to mind -- are dealing with injuries.
Peyton Manning
could win the award every season. There isn't a surer bet in the league. He's reached 4,000 yards passing nine times in the past 10 seasons and his teams have averaged 12.7 victories over the past seven. What more could anyone want from an MVP candidate?
Answer: another 2,000-yard rushing season from Johnson, this time with a winning record for the
Tennessee Titans
.
Johnson was the sixth player in NFL history to reach the milestone, but the first to do so for a team with a non-winning record. O.J. Simpson (1973), Barry Sanders (1997) Terrell Davis (1998) won MVP awards (Sanders shared his with Favre). Eric Dickerson (1984) lost out to Dan Marino. Jamal Lewis (2003) watched Manning and Steve McNair share the award. Manning beat out Johnson last season.
A look at some of the favorites heading into the 2010 season ...
February, 23, 2010
2/23/10
5:23
PM ET
August, 13, 2009
8/13/09
12:00
PM ET
| | |
| --- | --- |
| | |
| | AP Photo/Jeff Roberson |
| | St. Louis coach Steve Spagnuolo has taken control of the Rams' locker room. |
Posted by ESPN.com's Mike Sando
EARTH CITY, Mo. -- Steve Spagnuolo has much to prove as a first-time NFL head coach.
Winning over the St. Louis Rams' locker room is no longer one of them.
"Just the way he came in and took control of this building was impressive," quarterback Marc Bulger said in lauding the way Spagnuolo "captivates the team and has everyone focused on one goal."
Players tend to say nice things about their bosses, or else, but Rams players aren't just paying lip service as they work through an unusually physical training camp complete with live tackling.
Steven Jackson, a harsh critic of Rams dysfunction under previous leadership, nearly interrupted an important family matter in Las Vegas just to attend a voluntary March practice (Spagnuolo ultimately told Jackson not to worry about it). If Jackson weren't buying into Spagnuolo, we'd know it.
While others used Memorial Day Weekend as a respite during the ever-shrinking NFL offseason, new Rams center Jason Brown rented a U-haul and made the 13-hour drive from North Carolina to St. Louis. It was about the only time Brown could make the move without jeopardizing his perfect attendance in the Rams' offseason program.
Franchise player Oshiomogho Atogwe practiced with the team all offseason even though he remained unsigned until July, hoping to score a long-term deal.
Fantasy Football: 32 Questions
Ken Daube examines whether Steven Jackson should be selected among the top five in fantasy drafts. Story

"I thought he was very classy in the way (Atogwe) handled the franchise tag and I thank him almost every other day," Spagnuolo said. "That tells me a lot about him."
It might reveal plenty about Spagnuolo as well. The no-nonsense approach he adapted from mentors Tom Coughlin and Andy Reid has brought structure to a floundering organization. Brown, signed from the Baltimore Ravens in free agency, says he sees parallels to John Harbaugh.
Spagnuolo has gotten the Rams' attention and held it through the first two weeks of training camp. The vibe is unmistakably positive.
"The hiring of Coach Spagnuolo is definitely the biggest move this offseason, the right step for us," Bulger said. "You are either onboard or you are not. I respect that approach and I think everyone has bought into it."
June, 3, 2009
6/03/09
3:01
PM ET
Posted by ESPN.com's Mike Sando
Greg from Arkansas writes: Mike, Does either 49ers quarterback have an edge yet? How has Nate Davis looked? Do you expect Glenn Coffee to get much work during the regular season (8-12 touches per game)? And who do you expect to start at WR now that Bruce is back? Thanks.
Mike Sando: Shaun Hill has the advantage based on his performance last season. Coach Mike Singletary said the players will know which quarterback should be the starter, and that Singletary would only affirm that decision. Hill would be that player unless Alex Smith really comes on strong. That hasn't happened yet and it realistically won't happen until these players learn the offense and get into training camp.
At running back, I expect Frank Gore to be the workhorse back in San Francisco. They'll get some carries for Coffee, but I'd be surprised if they gave him the ball 8 to 12 times per game. Gore's health would be the key variable there. One thing to keep in mind is that Gore and Coffee are somewhat similar in style. This won't be a situation where they play the backup as a change-of-pace guy. Both are physical backs. Coffee will play, but Gore should be the man.
---
Mike from Seattle writes: Sando, do you know the NFL rules regarding owners? I remember hearing something about Paul Allen being granted an exemption for ownership because he already owned a sports team in another town [the Blazers] and they market to the same audience as the Seahawks. You recently posted from the St. Louis Post-Dispatch an article noting how the Blues' Dave Checketts was a potential buyer for the Rams. Again, I thought this was not allowed due to NFL marketing rules/regulations. Can you clarify the ownership rules by any chance? Thanks again!
Mike Sando: NFL rules against cross-ownership apply to teams outside the market in question. Checketts owns the Blues. He could own the Rams. However, Rams minority owner Stan Kroenke would have to divest in the Avalanche and Nuggets because the NFL has a team in those teams' market [Denver].
Paul Allen did receive an exemption since he owned the Blazers while purchasing an NFL team in the Sonics' market. The league waived the rule in that instance, determining that adding Allen as an owner was in the best interests' of the league.
---
Tim from Napa, Calif., writes: Mike, first the gratuitous cheek kissing, love the blog and the Facebook stuff is perfect; I'm really enjoying the back and forth that can happen on it.
I don't really have a question for you but a hope for when you report your findings at Niner Camp. I don't know how much this camp will cover Jimmy Raye's scheme, but I personally think that this is the concept that the entire season hinges upon. The Niners look very good in both double-tight sets as well as a very exciting team spread out with their youth at WR and Frank Gore's ability to be a quick hitter especially in a zone blocking scheme. So the hope is you'll be able to report back at least some insight into what sets Raye likes to work out of.
Mike Sando: Thanks, Tim. I'm also enjoying Facebook as another place to discuss these teams, while also mixing in a few personal asides every so often.
I expect Raye to lean on double-tight groupings with two receivers and one back. We should also expect to see three receivers and one back. Vernon Davis has a chance to have a much better season as a receiver in this offense.
The 49ers will need to see how quickly Michael Crabtree -- and to an extent, fellow receivers Josh Morgan and Jason Hill -- develop in this offense. If the 49ers need to get three receivers on the field together, I expect Raye to adjust. The bigger question at that point is whether the offense would open up enough to change the demands Raye is currently placing on the quarterback. That would not necessarily be great for Shaun Hill.
---
Tanner from California writes: Sando! Long time, no question, I know. But, here I am. You have expressed your lack of confidence for Seattle's depth at running back. What will happen if Julius Jones suffers a serious injury? I think we should add an experienced player who is familiar with the zone blocking system. What do you think about Warrick Dunn? Is he a viable option? Thanks man!
Mike Sando: Terrific player in his day. I think his day as a starter has passed. Dunn is 34 years old. He would be a stopgap at this point. Fred Taylor and Jamal Lewis might be the only projected starting halfbacks in their 30s. The market for 34-year-old running backs doesn't really exist (there are zero halfbacks in the league aged 34 or older). Using Dunn for a few carries here and there sounds better than relying upon him.
May, 12, 2009
5/12/09
12:47
PM ET
Posted by ESPN.com's Mike Sando
Mackay from Pleasant Grove, Utah writes: Sandman, I always appreciate the time you spend on your blog. It helps me keep up on my team, as well as get excited about the rest of the teams in the division. My question I have for you is directed to the Cardinals' first-round draft pick, Beanie Wells. I have read multiple times that he is injured too easily, or that he was pampered in the NCAA. How do you feel? Do you think that he may have been cautious because he didn't want anything to happen to sacrific a spot in the NFL? Didn't the same sort of information come out on Adrian Peterson? I don't know. I also want to know your opinion on if it is a good idea to start rookies running backs, or have them play backup for a while.
Mike Sando: Thanks, Mackman. Younger backs can certainly have success. Edgerrin James rushed for 1,709 yards at age 22. Clinton Portis topped 1,500 yards at age 21 and again at age 22. Jamal Lewis, Adrian Peterson, LaDainian Tomlinson, Kevin Jones, Marshawn Lynch, Dominic Rhodes and Steven Jackson all had 1,000-yard seasons this decade at age 21 or 22. I see no reason to withhold Wells from the lineup simply because he's a rookie. It's not as though the Cardinals have an established veteran at the position.
As for whether Wells protected an injury in college, I couldn't make that assessment because I did not study him. The people who did study him said things about him that could have been consistent with a player protecting injuries, but that doesn't necessarily make it so.
Steve Muench of Scouts Inc. had this to say about Wells before the draft:
"Everyone in the world has him in the first round, but I am worried about him. He is softer than people say he is -- not soft, but softer than people say he is. And I'm also not convinced he is going to be quick and agile enough. He is a big back with good speed, but I'm worried about his quickness and his wiggle."
Once the Cardinals made the pick, Muench offered this assessment:
"Wells is a big back, but he does not have great toughness. There's a clip you'll see against Michigan where he is 20 yards downfield and one on one against a back and he steps out of bounds. Not encouraging.

"When he hurt his foot this year, the fact that he threw the ball on the ground when he got hurt was not good. His first instinct was to throw the ball down [while the play was live]. Talent-wise, he would be the most talented back on the roster. He is a steal this late in the first round if you can get the light to come on for him.

"It's such a good value and it's such a need. I'm sure they sat down with him and got a feel and if they are comfortable with that, then it's a good fit for them right there. When you can look that kid in the eye and see what kind of player he is going to be, that is important."

NFC WEST SCOREBOARD
Thursday, 9/4
Sunday, 9/7
Monday, 9/8