March, 14, 2014
3/14/14
9:00
AM ET
Let's look deeper into the San Francisco 49ers'
interest in free-agent
receivers
Julian Edelman
of New England and
Hakeem Nicks
of the
New York Giants
.
Odds of landing them:
There is competition. The Patriots want Edelman back and Cleveland has been connected to him as well. Nicks is visiting Indianapolis on Friday. Carolina is also interested. The 49ers don't have a ton of salary-cap room, so they have to get creative in a deal with either player.

Nicks
Edelman
Who else is out there if Edelman and Nicks don't end up with 49ers:
The top available receivers include
Steve Smith
,
James Jones
,
Santonio Holmes
,
Sidney Rice
,
Emmanuel Sanders
and
Jerome Simpson
.
Who is the best fit?
Probably Nicks because he is an outside receiver. Landing him on a short-term deal to see if he can become a top-notch player again could be smart. Don't get me wrong; Edelman is good as well. You don't catch 105 balls in a season if you're not talented. But
Anquan Boldin
is essentially a slot guy as well. Still, I'm sure the 49ers could find ways to make it work.
How Crabtree, Boldin and the draft figure:
Crabtree is a free agent next year and Boldin is 33. So, even if the 49ers sign Edelman or Nicks, I can still see them taking a receiver early in the draft.
Kaepernick factor:
I'm sure quarterback
Colin Kaepernick
is paying attention. This passing offense could be nasty with Boldin, Crabtree, tight end
Vernon Davis
and Nicks or Edelman. It would open it up. It could also behoove Kaepernick to wait to get his contract done until next year. He could put up big numbers with another top weapon.
Should Seattle worry?
Yes. The 49ers must get better on offense to beat Seattle. That was the reason why the 49ers couldn't overtake Seattle in 2013. A big-time offensive weapon could even the playing field.
Scout's thoughts:
"I was a little surprised to be honest, especially after the re-signing of Boldin.
Quinton Patton
also shows some promise, but this would be a heck of a receiver corps if is Patton is your No. 4. I would think if they were in the market for WR though, that they would be looking for a pure speed guy, which isn't Nicks or Edelman." -- ESPN analyst Matt Williamson
March, 12, 2014
3/12/14
9:55
PM ET
The
San Francisco 49ers
likely aren't going to spend much more money in free agency, but I would not be surprised if they consider adding a veteran receiver to help with their depth.
While the 49ers will surely address the position early in the draft, there has been enough whispers around the league to suggest they are not averse to bringing in a receiver earlier.
Golden Tate
told a Seattle radio station, after he signed with Detroit, that the 49ers showed interest. It is doubtful they were willing to pay big dollars, though. Tate reportedly received $31 million over five years from the Lions.
The 49ers also had some interest in
Dexter McCluster
before he signed with the Titans and there has been some interest in Minnesota's
Jerome Simpson
.
There could be some decent receivers available over the next several days. Among the top receivers who could potentially be signed at a reasonable price include
Hakeem Nicks
,
James Jones
,
Santonio Holmes
,
Sidney Rice
and
Emmanuel Sanders
. Then there's the possibility
Steve Smith
could
soon be free.
Again, the 49ers may not be big free-agent players at a position they will address in the draft, but they have been looking. And if the price is right, there could possibly be a connection.
September, 6, 2013
9/06/13
12:00
PM ET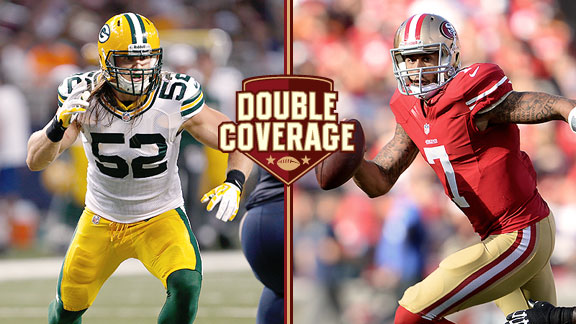 AP PhotoClay Matthews and Green Bay had all offseason to digest what Colin Kaepernick did to them in January.
The final season at venerable Candlestick Park begins in style as the
San Francisco 49ers
host the
Green Bay Packers
on Sunday.
It is a rematch of an NFC divisional playoff game in the same building. The 49ers completely outclassed the Packers on Jan. 12, as first-year starting quarterback
Colin Kaepernick
and crew had their way with a defense that looked slow and lost in a 45-31 San Francisco victory.
Packers team reporter Rob Demovsky and 49ers team reporter Bill Williamson have plenty to discuss. To the questions:
Williamson:
Rob, I think we have to start this off with this simple query: Can the Packers stop the read-option of a Kaepernick-led offense?
Demovsky:
Bill, that's what everyone has wanted to know since Kaepernick rushed for 181 yards against them in the playoff game. The number 579 -- the total yards of offense the 49ers piled up that day -- has been burned into the brains of the Packers' defensive players. Almost every day in practice during training camp, the defense went off to one end of the field by itself and worked against the read-option. But the Packers haven't seen any of it in live action since that playoff game, so at this point, there's no way to know whether they're any better equipped to handle it now.
Williamson:
That's the thing. Green Bay will be coming into this game nervous. The read-option has been on the minds of this coaching staff and its players all offseason, yet the Packers don't know for sure if they can handle it any better than they did the last time they saw Kaepernick. Kaepernick and his coach, the always-confident Jim Harbaugh, believe in their system and their personnel. They are going to challenge the Packers right away. I fully expect Kaepernick to come out gunning to make a statement -- a full-tilt San Francisco offense. If Kaepernick has early success, it could open the offensive floodgates. Now, if the Green Bay defense holds Kaepernick early, the Packers will get a confidence boost and should hang around all day.
Rob, just how confident do you think the Packers will be if they get a ton of read-option right away?
Demovsky:
Clay Matthews
said this week that the Packers know they have to take their shots at the quarterback when he tries to get outside the pocket, and if they do, perhaps they can get Kaepernick to sit in the pocket more, which ultimately is their goal. They want to make him a pocket passer if at all possible. That's their best chance for success.
There are other issues to this game, of course. Bill, considering the fact that the Packers will start a rookie,
David Bakhtiari
, at left tackle and a former undrafted free agent,
Don Barclay
, at right tackle, how big of an advantage does a pass-rusher like
Aldon Smith
have against Green Bay?
Williamson:
Other than Kaepernick and
Aaron Rodgers
, Smith might be the most important player on the field Sunday. He can change the game by himself, as his 33.5 sacks in two NFL seasons attests. Bakhtiari and Barclay have an incredible challenge ahead of them. It is also bad news for Green Bay that 49ers defensive tackle
Justin Smith
is healed from a triceps surgery. Aldon Smith had all 19.5 of his sacks in the regular season with Justin Smith playing with him, and none in 2012 without him. Having the Smith & Smith show together could mean a long day for Rodgers.
Demovsky:
But won't the 49ers have to respect the Packers' running game a little bit more with the addition of rookie
Eddie Lacy
? He looks like their first legitimate running back since Ryan Grant in 2009. If the Packers can establish Lacy on first down, they might be able to keep themselves out of obvious passing situations, and then Aldon Smith wouldn't be able to tee off and jet-rush up the field on every second and third down.
Williamson:
That is certainly the Packers' hope. It is clear that getting their ground game back on track was a focal point of the offseason. This is a passer's league, but getting yardage on the ground and keeping Kaepernick off the field will surely help Green Bay's cause as much the relief that it would give Rodgers. But here's the rub -- San Francisco is a monster against the run. The 49ers allowed just 3.7 yards per rush last season, third-best in the NFL. The Packers will be hard-pressed to break their streak of 43 regular-season games without a 100-yard rusher.
Demovsky:
Bill, we've spent a lot of time talking about how the Packers are going to defend Kaepernick & Co., but don't forget that January's playoff game was tied 24-24 midway through the third quarter, and the Packers' offense was having a decent day -- Rodgers throwing for 257 yards, two touchdowns and an interception. Can the 49ers secondary hold up against Rodgers and the likes of
Randall Cobb
,
James Jones
and
Jordy Nelson
?
Williamson:
A fine point. Look, the Packers are legitimate. They will not be embarrassed in this game. Rodgers is the best player on the planet. He and his receivers must be accounted for. If the 49ers are vulnerable on defense, it might be in the secondary, where they have the oldest defensive backs in the league. Can older players like
Carlos Rogers
and
Nnamdi Asomugha
(who may be slowed by a collarbone injury) keep the Green Bay passing game honest? If Green Bay is going to win this game, it's going to be because Rodgers is unstoppable. That's possible.
Rob, as we have discussed the major talking points of this anticipated matchup, an intriguing side story has developed. The Packers have brought in a pair of former 49ers backup quarterbacks in
Seneca Wallace
and
Scott Tolzien
. Do you think they can help Green Bay pull out a victory from the meeting room?
Demovsky:
I doubt Wallace can. He wasn't even with the 49ers for a full week. But you'd better believe they've grilled Tolzien about the 49ers. In fact, I wouldn't be surprised if that's the biggest reason they brought him in, and if they end up cutting him from the practice squad in a week or two. Now, Tolzien probably won't know much about the 49ers' game plan for this week, but considering he was with them for both meetings against the Packers last season, he likely has a good working knowledge of how Harbaugh wants to go after Green Bay.
Williamson:
I'm with you. These moves add some strategy elements, but this is going to be a big-boy game pitting two of the NFL's finest teams against one another. Once the game starts, this thing is going to all about
Patrick Willis
,
Vernon Davis
, Kaepernick, Rodgers and Matthews.
February, 2, 2013
2/02/13
1:00
PM ET
»
Super Bowl XLVII Final Word
:
Ravens
|
49ers
Five nuggets of knowledge about the San Francisco 49ers in Super Bowl XLVII:
Vernon Davis can be an unstoppable postseason force
: The seventh-year tight end has averaged 27.6 yards per reception in four playoff games over the past two seasons. He has 16 catches for 442 yards and five touchdowns in those games. That includes a five-catch, 106-yard performance against Atlanta in the NFC Championship Game.
Since Davis entered the NFL in 2006, no other tight end with even half as many postseason receptions has averaged better than 17.8 yards per catch on them. Davis' five postseason scoring catches are two more than any other tight end since 2006. He faces a Ravens defense that allowed two touchdowns, picked off five passes and ranked second in Total QBR allowed (39.9) when opposing quarterbacks targeted tight ends.
[+] Enlarge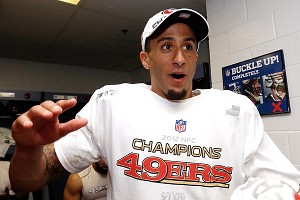 AP Photo/Dave Martin49ers quarterback Colin Kaepernick has a passer rating of 101.2 over his first nine NFL starts.
San Francisco quarterback Colin Kaepernick
: Through nine career starts, his production has put him in elite company. No quarterback making his first nine starts over the past five seasons ranks higher than Kaepernick in winning percentage (77.8), yards per pass attempt (8.6), passer rating (101.2), or Total QBR (84.0).
Andrew Luck
,
Matt Ryan
,
Robert Griffin III
,
Russell Wilson
,
Cam Newton
,
Aaron Rodgers
and
Joe Flacco
are among the quarterbacks ranking lower than Kaepernick in those categories through nine career starts since 2008. Although Flacco has come on strong in the playoffs this season, he trails Kaepernick in those key statistical categories even over his nine most recent starts (55.6 win percentage, 7.7 YPA, 97.4 passer rating and 47.0 QBR).
Turnovers
: Teams winning the turnover battle have a 7-1 record in the past 10 Super Bowls. The 2005
Seattle Seahawks
were the only team in that span to lose a Super Bowl with a positive turnover margin in the game. Baltimore is plus-5 in turnover differential in the playoffs, best in the NFL. The 49ers are tied for second at plus-2. The Ravens are averaging eight points off turnovers per playoff game, best in this postseason. The 49ers are tied for second at seven points per game off turnovers.
The 49ers' pass defense could be vulnerable
: Counting regular season and playoffs, Baltimore has completed 40 passes on throws traveling more than 20 yards past the line of scrimmage. That is nine more than any other team has completed. The Ravens are averaging an NFL-best 2.1 such completions per game, a figure that has risen to 3.3 per game in the playoffs. The 49ers have allowed two in each of their two playoff games, giving them up to
Julio Jones
(twice),
Greg Jennings
and
James Jones
. They had allowed two or more in a game just six times in the regular season, never in back-to-back games. Ravens receivers
Torrey Smith
and
Anquan Boldin
each have four such receptions in the playoffs, most in the NFL. The 49ers' Davis ranks second with three.
The 49ers' option running game is in focus
: San Francisco has averaged 8.4 yards per carry with four touchdowns on 29 option rushes in the playoffs. That is up from 5.4 yards per carry with three touchdowns on 26 option rushes in Kaepernick's seven regular-season starts. As the chart shows,
Frank Gore
already has more yards on option rushes in the playoffs than he had in the full regular season. Kaepernick gained 99 yards on option rushes against Green Bay in the divisional round. The Ravens faced 15 option runs this season, all against Washington in Week 14. The Redskins finished that game with 93 yards and a 6.2-yard average on those plays.
Prediction
: 49ers 27-23: The 49ers have the advantage in weaponry without much question. And although Flacco has never been hotter, Kaepernick has been the tougher quarterback to defend. There's a good chance that will be the case again Sunday.
ESPN Stats & Information contributed to this item.
December, 14, 2012
12/14/12
1:30
PM ET
»
NFC Final Word
:
East
|
West
|
North
|
South
»
AFC
:
East
|
West
|
North
|
South
Five nuggets of knowledge about Week 14:
Chasing Brady, record:
San Francisco 49ers
outside linebacker
Aldon Smith
needs three sacks to tie the NFL's single-season record since 1982, when sacks became an official NFL stat.
While Smith will be matching up primarily against the
New England Patriots
' offensive tackles Sunday night, quarterback
Tom Brady
looks like his toughest adversary. Brady has taken 20 sacks on 517 dropbacks this season. He has held the ball three or fewer seconds on 70 percent of pass attempts. That means Smith and the 49ers' pass-rushers need to work quickly.
The 49ers have collected 24 of their 32 sacks this season after three seconds. That included all five of their sacks against New Orleans'
Drew Brees
, another tough-to-sack quarterback. San Francisco beat Brees thanks largely to a pair of interception returns for touchdowns. While Brady has thrown only four picks all season, he threw three of them during defeats to NFC West teams (Seattle, Arizona).
49ers scoreboard watching:
The 49ers have scored at least 27 points in two of their past three games. That looks good on paper, but the offense hasn't always been functioning at optimum efficiency. Interception returns accounted for 14 of 31 points against New Orleans. Then, after a 16-13 defeat at St. Louis, the 49ers scored only six first-half points against the
Miami Dolphins
before pulling away to win 27-13.
New England has held its past three opponents beneath 20 points, the Patriots' best three-game stretch since 2009. The 49ers are 1-3 when failing to score 20 points.
Waiting game:
Coaches generally instruct their quarterbacks to deliver the football in timely fashion. The sooner the better, sometimes. There are still times when good things come to those who wait.
Seattle Seahawks
receiver Sidney Rice ranks tied for the NFL lead with four touchdown receptions on throws delivered at least four seconds after the snap.
Week 15 opponent Buffalo has allowed eight such touchdown passes, most in the NFL. Quarterback
Russell Wilson
's willingness to hold onto the ball is one key variable. One question this week is whether a foot injury will sideline Rice or limit his effectiveness. Rice has avoided concussions the past two weeks despite taking huge hits. He's unsure when he suffered the foot injury, but it has kept him from practicing.
Third-down prowess:
The
St. Louis Rams
' Week 15 opponent, Minnesota, has surrendered first downs on 44 percent of third-down pass attempts, the highest rate in the league.
Can the Rams take advantage? Quarterback
Sam Bradford
has been outstanding on third down during fourth quarters and overtime. His 86.9 Total QBR in those situations ranks fifth in the NFL. Unfortunately for the Rams, Bradford ranks 35th out of 36 qualifying quarterbacks in third-down QBR during the first three quarters of games. He's at 7.6, ahead of only Arizona's recently benched
John Skelton
.
Ben Roethlisberger
(92.2), Brady (89.6) and
Aaron Rodgers
(84.8) lead the NFL in third-down QBR across all quarters. Bradford ranks 29th at 20.1. He has three touchdowns, three interceptions, 16 sacks and a 54.8 completion percentage on third down this season.
Third-down improvement could be key as the Rams try to follow through on coach
Jeff Fisher's stated priority
: keeping Vikings running back
Adrian Peterson
off the field.
Where Fitz stands:
Arizona Cardinals
quarterback
Ryan Lindley
has completed six of 30 attempts when targeting top receiver
Larry Fitzgerald
. That is one reason Fitzgerald ranks only fourth in receiving yardage among NFC West players this season.
Fitzgerald ranks second on his own team behind
Andre Roberts
even though Roberts has 42 fewer targets (126-84) and one fewer game played.
Michael Crabtree
(761), Roberts (675) and Rice (658) have more receiving yardage than Fitzgerald (652) this season. The Rams'
Chris Givens
(584),
Danny Amendola
(576) and
Brandon Gibson
(537) have a chance to overtake Fitzgerald.
ESPN Stats & Information contributed to this item.
December, 8, 2012
12/08/12
12:00
PM ET
Our Friday look
at the
St. Louis Rams
' deep passing game required sorting quarterback production by how far passes traveled past the line of scrimmage.
The Rams'
Sam Bradford
was more effective than most on passes traveling more than 35 yards past the line, for example.
In filtering passes by distance, I noticed a sweet spot for Seattle's
Russell Wilson
between 16 and 25 yards downfield.
Wilson leads the NFL in passer rating and Total QBR on passes traveling that distance. He attempted only one of them against Arizona in Week 1, completing it for a 27-yard gain while going into two-minute mode shortly before halftime. The Seahawks were conservative in
their handling of the rookie quarterback
in that game. They're giving him more of the playbook heading into a Week 14 rematch with Arizona.
Arizona's defense ranks second in passer rating allowed and fourth in QBR allowed. The team Wilson dissected last week, Chicago, ranks higher in both. And as the chart shows, the Cardinals' defense has had problems defending passes thrown in the 16-25 range where Wilson has flourished. Arizona has allowed pass plays of 25-plus yards on these throws to
Tom Crabtree
,
Roddy White
,
Lance Kendricks
,
Wes Welker
,
Brent Celek
,
James Jones
,
Zach Miller
,
Harry Douglas
and
Vernon Davis
.
Sidney Rice
leads the Seahawks with 10 receptions for 222 yards and a touchdown on these throws. Miller has seven catches for 165 yards on them, followed by
Golden Tate
with three for 93 yards,
Doug Baldwin
with three for 62 yards,
Ben Obomanu
with two for 52 yards and
Anthony McCoy
with two for 42.
Rice had four catches for 36 yards and a touchdown against Arizona in Week 1.
July, 27, 2010
7/27/10
8:04
AM ET

Darren Urban of azcardinals.com
says some Cardinals players think Cowboys rookie Dez Bryant shouldn't resist carrying shoulder pads for veteran receiver Roy Williams as a rite of passage. Running back Jason Wright: "You can say it's hazing or messing with the young guys, but really what it is in my opinion is, it's an invitation to be a part of the team, to be part of the family. This is how you get into the family." Darnell Dockett offered an interesting take, noting that former Cardinals defensive tackle Russell Davis was the one player he wouldn't submit to as a rookie. If Bryant didn't want to carry pads for Williams, that could make sense to Dockett. Dockett: "But if [Bryant] treats all the receivers like that, then, I'd make it miserable for him."
Also from Urban
: Cardinals receiver Ed Gant, facing a four-game suspension, knows he'll have a tough time earning a roster spot.
Revenge of the Birds' Andrew602
says the Cardinals' options at inside linebacker are limited. The list of free-agent linebackers includes Jeremiah Trotter, Adalius Thomas, Angelo Crowell and Junior Seau.
Kent Somers of the Arizona Republic
checks in with agents for some of the Cardinals' unsigned draft choices. Sounds like the agents expect to get deals done relatively soon.
Clark Judge of CBSSports.com
ranks the Arizona Cardinals' training camp venue as best in the league, with the Seattle Seahawks' venue third. Judge has this to say about the quarterback situation in Seattle: "Pete Carroll proclaimed Matt Hasselbeck as his starter, which is great. Except he also said he loves competition at positions, which is not so great for Hasselbeck and his future in Seattle. Carroll didn't trade for Hasselbeck; he traded for Charlie Whitehurst and paid a steep price to acquire him. So he has a conviction about him, which means he sees him as a future starter. The question, then, is: When does that future begin?" That depends upon Hasselbeck's performance.

Jim Thomas of the St. Louis Post-Dispatch
expects NFL owners to vote Aug. 25 on Stan Kroenke's bid to purchase the Rams. Thomas: "Barring the unexpected, club owners will vote on Kroenke's bid at the Atlanta meeting. There are details still to be worked out, but all signs point to league approval of Kroenke, the Missouri businessman who already owns 40 percent of the team." Kroenke's bid has appeared strong from the beginning. His familiarity with NFL owners and procedures gave him a tremendous advantage over other potential bidders.
Ron Clements of the Alton Telegraph
says the Rams set high goals despite low expectations from the outside. Coach Steve Spagnuolo: "We've talked a lot about winning the NFC West and beating our NFC West opponents. You've got to do that first before you can get anywhere in this league. You've got to beat your divisional opponents." The Rams have won one division game over the past three seasons.

Matt Maiocco of CSNBayArea.com
breaks down the 49ers' roster and declares Nate Clements a clear choice to start at cornerback after an impressive showing at mandatory minicamp practices. Maiocco: "Clements might have a big contract, but when he took the field for the mandatory minicamp, the first-team defense looked a lot better. There's no question he's a starter." Clements has much to prove this season. That's good for the 49ers.
Matt Barrows of the Sacramento Bee
expects the 49ers to stick with Moran Norris as their starting fullback despite issues in the running game last season, with Brit Miller as the likely backup. Barrows: "Michael Robinson and Jehuu Caulcrick also are listed at the position. Robinson is a far better pass catcher (and runner after the catch) than he is a lead blocker, and his role on offense is on third downs. Caulcrick, meanwhile, has the size of a fullback but has yet to acquire the mentality. He was a gifted runner at Michigan State, but the 49ers are trying to train him to seek out tacklers rather than avoid them."
Phil Barber of the Santa Rosa Press-Democrat
singles out 49ers players facing pressure as training camp nears. Barber on Manny Lawson: "He didn't express any bitterness when he arrived for the mandatory minicamp in June, but it's no secret that Lawson is unhappy with his contract, a deal that calls for a salary of $625,000 in its final season. The linebacker would love to prove that he is worth much more than that; his campaign begins next week."
Lowell Cohn of the Santa Rosa Press-Democrat
likes the 49ers' chances in the NFC West. Cohn: "They are loaded. The NFC West is weak and there for the taking. For heaven's sake, Matt Leinart is the starting quarterback in Arizona. So, what's the problem? For all their progress, the 49ers have unknowns at the two most important positions. Quarterback Alex Smith still is an unknown. He began last season on the bench behind Shaun Hill. He has improved, but no one is sure of him. He could be terrific or he could be average or he could be bad. All that is to be determined. Yet the 49ers have hitched their fate to his star, such as it is, and he must prove himself or they all will go down in flames."

Ben Malcolmson of seahawks.com
says the Seahawks' minority coaching interns this year will be former NFL safety Lance Schulters, former defensive tackle Joe Salave'a, former running back James Jones and former receiver Reginald Moore.
Clare Farnsworth of seahawks.com
says Tod Leiweke's voice cracked several times while the Seahawks' CEO explained his decision to become CEO and minority owner of the Tampa Bay Lightning. Leiweke: "I've given this place everything that we had and we've built something special here. Walking away from that, those are the things that keep you awake at night. So there's no way to resolve those asterisks other than to say that this is a dream come true and this place is in good shape."
Jerry Brewer of the Seattle Times
says the Seahawks and owner Paul Allen will miss Leiweke. Brewer: "Allen can replace Leiweke's talent, as difficult as that will be. But he will have a hard time finding an executive to commit to the cause with as much humility, sincerity and flat-out toughness as Leiweke did."
Danny O'Neil of the Seattle Times
calls Leiweke the public face for the very private Allen. O'Neil: "Leiweke not only grew the Seahawks into the Cadillac of the city's sports scene, he then repaired the relationship between Allen's Trail Blazers and the city of Portland and ushered the Seattle Sounders FC into Major League Soccer."
Greg Johns of seattlepi.com
says the Seahawks should have an easier time setting Golden Tate's value after other second-round choices reached agreements.
Dave Boling of the Tacoma News Tribune
praises Leiweke for always putting the fan first. Leiweke: "One of the first things I did was I bought season tickets and I lived life as a fan. It wasn't so easy, even in that beautiful stadium. There were things that, as a fan, I didn't like. I bought seats up the Hawks' Nest, and I sat in the stands, and I made it a point not to sit in a suite."
Michael Lombardi of NFL.com
ranks players by position across the league, creating values for every roster in the league. The Seahawks' roster came in 32nd with five points. Lombardi: "Only having five points looks bad for Seattle, but there is a silver lining. They have many players coming back from injuries and their point total could increase into the 50s, quickly assuming they can stay healthy. The rebuilding has started in Seattle."
July, 20, 2010
7/20/10
12:48
PM ET
ESPN fantasy guru Matthew Berry is all over
Frank Gore
specifically and the 2010
San Francisco 49ers
in general.
"Gore, (Michael) Crabtree, (Vernon) Davis,
Josh Morgan
and (Alex) Smith are all on my love list this year,"
Berry proclaims
. "I think Davis might regress a little bit, but he'll still be an elite tight end."
Berry ranks Gore fourth overall among all NFL fantasy prospects. He likes the other San Francisco players largely in relation to where he thinks others will value them in fantasy drafts. Berry likes the
Seattle Seahawks
'
Justin Forsett
in the later rounds, but he doesn't like the team in general from a fantasy standpoint because too much remains unknown.
One thing I'm not sure about regarding the 49ers is to what degree Crabtree will get into the touchdown mix. Gore and Davis were the primary scorers for San Francisco last season. Crabtree scored only two receiving touchdowns. That number should climb, but by how much?
I'll be organizing a fantasy league on the blog again this season. It'll likely be a
Gridiron Challenge
league again. We'll have a hard salary cap and the ability to change rosters from week to week, with players' prices changing based on how they perform.
Back to Gore. He was a solid producer last season in terms of final numbers, but his week-to-week production was sporadic. The chart shows the top 30 touchdown scorers in the NFL -- make that the NFC -- last season. Three of the top four were in the
mighty NFC West
.