November, 4, 2012
11/04/12
4:19
PM ET
Thoughts on the
Arizona Cardinals
'
31-17 defeat
to the
Green Bay Packers
at Lambeau Field in Week 9:


What it means:
The Cardinals fell to 4-5 with their fifth consecutive defeat. The slope appears to get more slippery following a Week 10 bye. The team visits the
Atlanta Falcons
to kick off a four-game stretch featuring three road games. Running back
Beanie Wells
is expected to return Nov. 25, but the Cardinals' troubles go beyond one player. Even their defense is sagging. Arizona has allowed 17, 19, 21, 24 and 31 points during its slide.
What I liked:
Arizona's defense held the Packers to a three-and-out and missed field goal after Green Bay opened its first possession from the Cardinals' 20-yard line. Defensive ends
Calais Campbell
and
Darnell Dockett
shared a sack to set back the Packers on that drive. Receiver
Larry Fitzgerald
's diving effort to cap his 31-yard scoring reception gave Arizona life in the second half.
Andre Roberts
had a 40-yard reception,
Michael Floyd
had a 37-yarder and
Rob Housler
had a 22-yarder. The Cardinals downed four of
Dave Zastudil
's punts inside the Green Bay 20-yard line. The coaching staff gave rookie
Nate Potter
a chance at left tackle. Potter had issues, but this was a good time to give him reps. Quarterback
John Skelton
took only two sacks, a low number for Arizona.
What I didn't like:
The Cardinals gave up four touchdown passes to
Aaron Rodgers
, including two to
Randall Cobb
. And when
Tom Crabtree
slipped behind inside linebacker
Paris Lenon
for a 72-yard scoring grab in the second half, the Cardinals were pretty much finished. The Arizona ground game continued to struggle without Wells and
Ryan Williams
.
LaRod Stephens-Howling
and
William Powell
found little room to run.
Early Doucet
continued to struggle with dropped passes. The two he dropped gave him six drops for the season, twice his total for 2011. Outside linebacker
O'Brien Schofield
suffered an injured ankle.
Patrick Peterson
averaged only 4.8 yards per punt return. He has zero returns for touchdowns after getting four as a rookie in 2011. The Cardinals, meanwhile, allowed a 28-yard return and 15.3-yard average to Cobb.
What's next:
The Cardinals have a bye before visiting the Falcons in Week 11.
September, 28, 2012
9/28/12
5:58
PM ET
The NFL handed down only one fine from 16 personal fouls stemming from NFC West teams' final games using replacement officials.
The low number was telling.
Commissioner Roger Goodell usually metes out fines for such penalties when the league feels as though the flags were thrown for good reason.
In this case, Seattle's
Brandon Browner
was the only player receiving a fine for Week 4 flags from NFC West teams' games. He'll pay $7,875 for unnecessary roughness committed against
Green Bay Packers
receiver
Greg Jennings
. Officials flagged Jennings, too, but they did not fine him.
The chart shows all Week 4 personal fouls against individual NFC West players or their opponents, sorted by team and shaded for your viewing pleasure.
The NFL did levy a $15,750 fine against Philadelphia's
Jason Babin
for a horse-collar tackle against Arizona's
LaRod Stephens-Howling
. Officials did not flag Babin on the play, although the penalty appeared to be blatant.
March, 20, 2012
3/20/12
2:41
PM ET
Free agency has slowed considerably now that the quarterback market has settled out, save for
Alex Smith
's unresolved status in San Francisco.
I've put together a chart showing what happened to free agents known to have visited NFC West teams since the signing period opened one week ago.
Demetrius Bell
showed promise at left tackle for Buffalo last season and would seem to make sense for Arizona.
New Orleans Saints
free-agent corner
Tracy Porter
is not listed, but he remains one of the few young starting-caliber players at the position, and he has ties to the
St. Louis Rams
' coaching staff.
I've ordered the chart by how many starts each player made in 2011, an attempt to add a qualitative element to the listings.
Note:
The 49ers brought in a long list of players for tryouts recently. I've focused on unrestricted free agents making visits. I have added
Jacob Tamme
,
Corey Graham
and
Visanthe Shiancoe
to the list. All three visited the Seahawks recently.
March, 19, 2012
3/19/12
10:53
AM ET
The earlier item
assessing what's next for Seattle in free agency brought quick responses from
Arizona Cardinals
fans.
"What's 1st for Cards?"
Gabe asked
.
Another, Carmine, was
less delicate
.
Last we heard, the Cardinals had lost the
Peyton Manning
sweepstakes, which meant
Kevin Kolb
won the Arizona lottery -- a $7 million bonus enabled by Manning's withdrawal from consideration.
In response to Gabe and others, I've put together what qualifies as an overly detailed report on free-agent defensive back
Jarrett Bush
, a corner/safety type scheduled to visit the Cardinals, according to
Aaron Wilson of scout.com
.
The Cardinals will likely need another defensive back after losing versatile veteran corner
Richard Marshall
to the
Miami Dolphins
. Bush, who played about a quarter of the defensive snaps for Green Bay last season, is one name to consider.
Unlike Bush, Marshall had been a regular starter for Carolina when the Cardinals signed him last offseason. Marshall started only nine games for Arizona, but he played better than 70 percent of the defensive snaps.
Special teams would be a significant consideration as well.
While Marshall was a regular contributor to the Cardinals in that regard, Bush was a mainstay special-teamer for Green Bay. He challenged Patrick Lee and
Ryan Taylor
for the most special-teams snaps of any Packer in 2011.
Bush, 27 and an undrafted free agent in 2006, has started five games over the past three seasons, all with Green Bay. He has missed only two games in six NFL seasons, and none since 2007. He's valued more for his size (6 feet and 200 pounds) than for his speed.
"Bush has good size and athleticism with improved strength, giving him versatility,"
the Scouts Inc. report

reads in part. "He plays with good instincts and recognition skills to leverage the ball effectively. He can turn and run from a press position, keeping pace against vertical routes."
Will that get you by, Gabe? What about you, Carmine?
January, 3, 2010
1/03/10
10:50
PM ET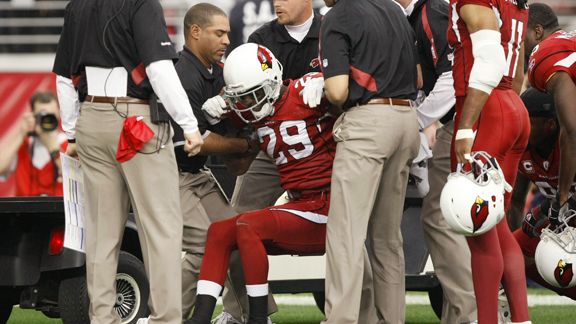 AP Photo/Matt YorkAn injury to Dominique Rodgers-Cromartie worried the Cardinals more than Sunday's result.
GLENDALE, Ariz. -- Sly grins bordering on smirks flashed across Ken Whisenhunt's face more than once during his postgame news conference Sunday.
The
Arizona Cardinals
' coach seemed to know something the scoreboard failed to reveal at University of Phoenix Stadium.
Whisenhunt dismissed suggestions a
33-7
defeat to Green Bay would mean anything when the teams meet again in the wild-card round.
"I think our team is ready to play in the playoffs," Whisenhunt said.
The Cardinals were not ready to play Sunday even before Whisenhunt removed key starters. Green Bay led 14-0 when Cardinals quarterback
Kurt Warner
played his final snap late in the first quarter. Back in August, the Packers led the Cardinals 38-10 at halftime when both teams played their starters in the third exhibition game.
"We're not worried about that," receiver
Larry Fitzgerald
said. "When we come to play and are playing on all cylinders, we can play with anybody. I'm confident of that and I know everybody else in this locker room feels the same way."
As in August, Arizona didn't do much game planning. The Packers presumably didn't do much, either, but they left QB
Aaron Rodgers
in the game through their final possession of the third quarter. The Cardinals played vanilla defense and failed to get much pressure. They never sacked Rodgers.
"That was difficult," Whisenhunt said, "but our hope is that will pay off for us next week."
It should.
The Cardinals rely heavily on scheming to succeed with a 38-year-old quarterback and a defense without a dominant outside pass-rusher. Warner sets up opponents and beats them by anticipating throws. Few quarterbacks look better when everything is working. Few look as bad on a rough day.
Warner didn't play long enough Sunday for anyone to say anything meaningful about how he might perform in a week. He completed 4 of 6 passes for 31 yards.
On defense, 13 players contributed to the Cardinals' 42-sack total during the regular season. Those are the marks of a team that must prepare well to win.
Unlike last season, when the unproven Cardinals limped into the playoffs after a rough December, this team entered Week 17 with three victories in its past four games and a Super Bowl experience on its résumé. The Packers were the upstart team looking to keep their momentum.
"I'm not going to say we didn't try to win," nose tackle
Bryan Robinson
said, "but we are looking at the big picture. If this happens next week, then bring that same question to me and I will try to dissect it for you."
Watching Pro Bowl CB
Dominique Rodgers-Cromartie
leave the field on a cart less than 2 minutes into the game surely didn't help the Cardinals' mindset. By then, Arizona already knew the Vikings had beaten the Giants, ending Arizona's outside shot at securing the No. 2 seed and a first-round bye in the NFC playoffs.
"We didn't give our best effort today and that probably had something to do with it," Warner said.
Injuries worried the Cardinals more than their performance.
Rodgers-Cromartie suffered a bruised kneecap. Receiver
Anquan Boldin
suffered knee and ankle injuries after surpassing 1,000 yards for the fifth time in his career. Defensive end
Calais Campbell
suffered a thumb injury.
The Cardinals did not yet know the status of any of the players for the playoffs. They need all three.
Rodgers-Cromartie gives them a chance against
Donald Driver
,
Greg Jennings
and the Packers' explosive passing attack. Boldin gives Arizona the best chance to target Packers nickelback
Jarrett Bush
, who has struggled. Campbell, tied for the team lead with 7.0 sacks, gives Arizona its best chance at pressuring Rodgers.
Take away any one of those players and the Cardinals could have problems. They could have problems anyway.
Green Bay has won seven of its final eight games. Rodgers has played at a higher level than Warner, throwing four more touchdown passes and seven fewer interceptions. Driver and Jennings have combined for 11 receptions covering at least 40 yards, 10 more than Boldin and Larry Fitzgerald.
Unlike Fitzgerald, who stayed in the game to pad his stats, Boldin said he wanted out of the game one series earlier. Such was the conflicted nature of this performance all the way around.
"We were impressed with their team," Cardinals defensive tackle
Darnell Dockett
said. "Hopefully, we can keep up with them this weekend and hopefully we do a lot of studying and a lot of things so we can try to keep the game close."
Those final eight words told us Dockett was facetious. Like Whisenhunt, he wasn't reading anything into what happened Sunday.
Were the Cardinals disappointed?
"I guess, a tad bit," Dockett said. "But the game didn't really mean anything. I think they played their starters a little more than intended. At the end of the day, if they want to celebrate it, they can go ahead. We know we have some work to do and our main focus is [wild-card] weekend."
Drawing hard conclusions from any single Cardinals performance has proven futile in the recent past.
The Cardinals made it through the 2009 season without suffering back-to-back defeats, a first for the organization since 1975.
Expect this Arizona team to bounce back.
January, 3, 2010
1/03/10
8:19
PM ET
Three things to know about the Packers-Cardinals wild-card game:


1. The Cardinals have a few injury concerns.
The knee injury Pro Bowl cornerback
Dominique Rodgers-Cromartie
suffered Sunday appeared serious at first, but the team called it only a contusion, listing his return as questionable. That suggests Rodgers-Cromartie could be OK for the playoffs. The Cardinals will need him against the Packers' talented receivers.
Ankle and knee injuries forced receiver
Anquan Boldin
from the game. A thumb injury could affect defensive end
Calais Campbell
's status.
Arizona removed some starters early in the game Sunday. Others did not play.
Antrel Rolle
,
Dan Kreider
,
Ben Patrick
,
Sean Morey
and
Bertrand Berry
were not even active.
Adrian Wilson
,
Darnell Dockett
,
Karlos Dansby
,
Kurt Warner
and other key players did not stay in the game long.
Berry had 3.0 sacks in his previous four games. He is 34 years old, though, and has not played at a high level consistently this season. The time off Sunday should help the Cardinals' pass rush, which will be a critical element against the Packers. Green Bay significantly reduced sacks allowed in the second half of the season.
2. For Arizona, this matchup beats one alternative.
The Cardinals could have faced Dallas in the first round under one scenario. That matchup could have been tough for Arizona because the Cowboys'
Jay Ratliff
and
DeMarcus Ware
can be so disruptive.
The Packers are very good on defense as well and they can win one-on-one matchups against the Cardinals' offensive line. But Green Bay is less dynamic in its front seven after
Aaron Kampman
's season-ending injury.
Green Bay has a game-changing defensive back in
Charles Woodson
(a shoulder injury he suffered Sunday could affect his status). The Packers could be vulnerable against three- and four-receiver personnel, however, because nickel back
Jarrett Bush
has struggled in an expanded role since
Al Harris
' season-ending injury. Arizona can spread the field with three receivers even if Boldin is limited.
Warner and his deep fleet of receivers have a chance to exploit that matchup.
3. The Week 17 result means what?
Arizona is an all-or-nothing team. The Cardinals have often been at their best when the stakes were highest. They had little to nothing on the line Sunday and it showed. They'll hear about it all week. Expect a much better effort when it matters.
That doesn't necessarily mean the Cardinals will prevail. Their starters struggled against the Packers in the third week of the exhibition season, falling behind 38-10 at halftime. The Cardinals fell behind right away Sunday when both teams still had quite a few starters on the field.
Arizona has something to prove.