March, 25, 2011
3/25/11
12:20
PM ET
Ken Whisenhunt is right when he says
Levi Brown
takes more criticism as a high draft choice than he would take as someone selected later in the process.
That's the way it works. The highest picks in a draft class should outperform their peers.
[+] Enlarge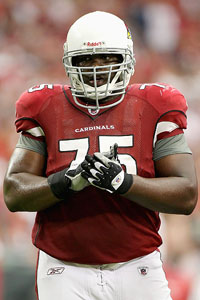 Christian Petersen/Getty ImagesLevi Brown, drafted fifth overall in 2007, can still become an "outstanding" player according to Ken Whisenhunt.
The
Arizona Cardinals
don't need anyone to remind them that they selected Brown over some All-Pro performers, including
Adrian Peterson
and
Patrick Willis
. But it's not as though Brown, a player with 56 consecutive regular-season starts, qualifies as a flat-out bust, either. He moved to left tackle from the right side last season and will stay there.
"He improved last year," Whisenhunt said this week from the NFL owners meeting in New Orleans. "As a left tackle, it's not an easy position to move from right tackle. He will continue to get better. He is a talented football player. The biggest thing he has struggled with is the consistency of his play. But a lot of times you are under the microscope more because you were the fifth pick in the draft."
I would rank Brown, chosen fifth overall in 2007, somewhere around 20th out of 32 first-round picks that year.
Brown has obviously or arguably outperformed the following first-round selections from 2007:
JaMarcus Russell
,
Jamaal Anderson
,
Ted Ginn Jr
.,
Amobi Okoye
,
Adam Carriker
,
Justin Harrell
,
Jarvis Moss
,
Aaron Ross
,
Reggie Nelson
,
Brady Quinn
,
Anthony Gonzalez
and Craig Davis.
Gaines Adams
, chosen fourth that year, passed away after Tampa Bay traded him to Chicago.
The following first-rounders from 2007 have obviously or arguably outperformed Brown:
Calvin Johnson
,
Joe Thomas
,
LaRon Landry
, Adrian Peterson, Patrick Willis,
Marshawn Lynch
,
Darrelle Revis
,
Lawrence Timmons
,
Leon Hall
,
Michael Griffin
,
Dwayne Bowe
,
Brandon Meriweather
,
Jon Beason
,
Anthony Spencer
,
Robert Meachem
,
Joe Staley
,
Ben Grubbs
and
Greg Olsen
.
"The reason we drafted Levi where we did was because we had him rated high enough to go in that position, but we also felt like we had to develop our offensive line and defensive line at that point, because that is where the most critical component of your team," Whisenhunt said. "That is the only way you are going to have a chance to compete. Levi has been a good player. He is often criticized, but I think that comes with being the fifth pick, and I don't understand how you evaluate offensive linemen, because they are not catching passes or running touchdowns in."
Whisenhunt said he thought Brown can and will become an "outstanding" player.
"Any time an offensive lineman gets drafted that high, especially in a fantasy football world where people want you to get dynamic playmakers, you are going to face some kind of criticism," Whisenhunt said. "I have to give Levi some credit. As tough as it's been, he hasn't let it affect him. He has continued to work and get better and I think this will be a big year for him. This is a chance for him to show that he can play this position very well."
March, 18, 2011
3/18/11
7:45
AM ET

Dan Caesar of the St. Louis Post-Dispatch
says former Rams tackle
Orlando Pace
has invested in a company that owns sports media properties in St. Louis. Pace's involvement could lead to an on-air radio role periodically. Pace had previously made an hour-long appearance that went better than expected, according to the company president: "I jokingly told him he hadn't said a word in his Rams days, so we were surprised when he had so much to say. Nothing really came of our meeting and then we reconnected through our mutual friendship with (former Ram)
Roland Williams
. ... We met again and really found mutual passion for sports and for media and the more we talked the more we realized what a great fit he could be as a partner in the company."
Tony Softli of 101ESPN St. Louis
offers a detailed scouting report from Missouri's pro day featuring
Blaine Gabbert
and
Aldon Smith
. 49ers coach Jim Harbaugh was among those in attendance. Softli on Gabbert: "In my top 32 regardless of position, Gabbert is ranked 9th and will remain there because I don't move players up and down the draft rankings based on a spring workout. But, he did solidify himself as a top-five pick in a lot of minds of those NFL coaches and general managers that were in attendance yesterday. When asked by several coaches, scouts and media if this quarterback compares to
Sam Bradford
, I paused and said no. The grade I put on Sam Bradford, my last draft class with the
St. Louis Rams
, was second only to
Peyton Manning
, who is the highest graded quarterback in my 15-year tenure as a personnel man in the NFL."
Howard Balzer of 101ESPN St. Louis
passes along thoughts on the Rams from general manager Billy Devaney, plus a note about the Rams' chances of appearing in the NFL exhibition opener in Canton. Devaney on the 2011 draft's depth of defensive linemen: "Yeah. Outside guys, defensive ends, it looks like it's really deep. In fact, it looks like it's deep in 3-4 ends. We're a 4-3 team and we think there's some really quality depth as pass-rushers at defensive end, that goes into the second round. So we're excited about that."

Jeff Legwold of the Denver Post
blames
Aaron Curry
's underwhelming first two NFL seasons on forces largely beyond the Seattle lienbacker's control: injuries, injuries to teammates and coaching/scheme changes. He expects more from 2011 draft prospect
Von Miller
. Legwold: "Defensive players who can get to the quarterback in college, especially at the Division I-A level, usually find a way to get to the quarterback in the NFL. Miller led the nation in sacks with 17 in 2009 and had 10.5 sacks in 2010, when he faced a lot of double-team blocks. He plays well outside and inside and should be a high pick in the April 28-30 draft. Pass-rushers who struggle in the NFL usually are pass-rushers who have trouble working inside, like former Broncos first-round draft pack
Jarvis Moss
." Curry's instincts haven't come through to the degree I would have expected. That could be his fault or the fault of factors Legwold cited, or a combination.

Darren Urban of azcardinals.com
isn't convinced the Cardinals will draft a quarterback in the first round, but if they had to choose between Blaine Gabbert and
Cam Newton
, he thinks Gabbert would be the choice. Urban: "There's just something about everything that swirls around Newton off the field that I think they think Gabbert would be a safer pick." That is my sense as well, based in part on comments the team has made about needing to make sure a quarterback drafted that early has no question marks.
Also from Urban
: A look at how the Cardinals' video department puts technology to use. One example: When the team hired Ray Horton as defensive coordinator, several players asked for Steelers video, the better to help them learn the defense Horton is bringing from Pittsburgh.

Matt Barrows of the Sacramento Bee
says multiple 49ers coaches attended Stanford's pro day, no surprise given proximity and those assistants' history at the university. Barrows: "Among the coaches making the short drive up Highway 101 were defensive coordinator Vic Fangio, offensive coordinator Greg Roman, offensive line coach Tim Drevno and running backs coach
Tom Rathman
, who put Stanford fullback
Owen Marecic
through cone drills and then spent more than a half hour chatting with Marecic in a corner of the practice field." Rathman was not at Stanford last season, so this workout was probably more helpful for him.
September, 4, 2009
9/04/09
10:08
AM ET

Posted by ESPN.com's Mike Sando
Thoughts and observations from the Cardinals' exhibition game Thursday night against the Broncos:
Fitzgerald cares. The Cardinals' first-team offense made little apparent progress following an "embarrassing" effort a week earlier, but receiver Larry Fitzgerald showed the unwavering focus and professionalism that help maximize his talents. He ran after the catch the way he would have in a Super Bowl. Receiver Steve Breaston, meanwhile, couldn't even get lined up properly, drawing two penalties for illegal formations. This is a recurring issue for Breaston and one that gets annoying if you watch enough Cardinals games. He committed three such penalties during the 2008 regular season. Details matter.
Action for Toler. I was a little surprised to read coach Ken Whisenhunt's comments about how the Cardinals' rookie defensive backs, including cornerback Greg Toler, have a long ways to go. Toler competes. He battled hard against Broncos receiver Brandon Lloyd, closing hard on the ball to break up a sideline pass. Lloyd did beat Toler for a long completion to the Arizona 1-yard line, but Lloyd used his left arm to push Toler past the play. It was a veteran move and one that worked, but Toler was there all the way. Officials flagged him for illegal contact on a deep pass in the third quarter. The contact was came early in the route as an act of aggressiveness, not panic. Toler was there all the way and nearly picked off the pass.
Updating Long. Receiver Lance Long didn't seem to make an emphatic statement in his quest to earn one of the final spots at receiver. Only Jerheme Urban played more than Long among Arizona receivers in the first half. Long finished the game with one reception for 9 yards. Officials flagged him for holding deep in Cardinals territory and it was a good call.
Playing time. First-half snap counts for the Cardinals' skill players broke down this way: Urban 20, Long 14, Warner 12, Stephen Spach 10, Breaston 10, Fitzgerald 10, Jason Wright 9, Beanie Wells 9, Sean Morey 8, Anthony Becht 7, Dan Kreider 6, Tim Hightower 6, Matt Leinart 6, Tyler Palko 6, Ben Patrick 4, Onrea Jones 4, Reagan Maui'a 2 and Tim Castille 1.
Wells catches naturally. The Cardinals' first-round choice made a reception out of the backfield for 12 yards, gathering the ball naturally and gaining several yards after the catch. It wasn't much to go on, but nothing about Wells seems to stand out as negative or limiting. We haven't seen enough to know for sure how he'll hold up in pass protection, a key variable for playing time.
Losing Pope. Tight end Leonard Pope's long-term future with the team appears shaky. The team could keep an extra player at the position while Ben Patrick serves a four-game suspension to open the season. Even that might not be enough for Pope, who did not play in the first half. When Pope finally got a chance, he showed zero tenacity while missing a block against Broncos defensive end Jarvis Moss. The early third-quarter play allowed Moss to tackle running back Chris Vincent for a loss.
Hobson shows. Cardinals linebacker Victor Hobson made a positive impression on a few plays. He was aggressive and put a big hit on the quarterback in the third quarter.