September, 2, 2014
Sep 2
8:00
AM ET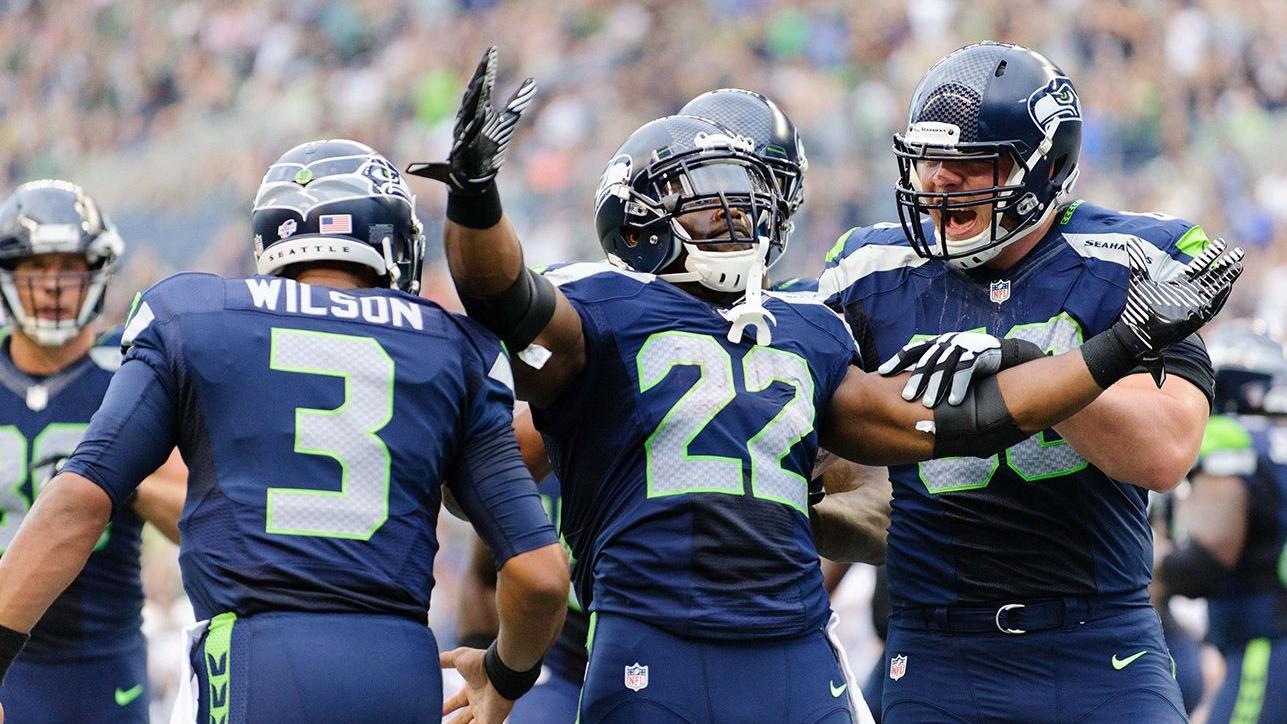 ESPN.com
Seattle Seahawks
reporter Terry Blount makes his game-by-game picks for the 2014 season.
Week 1: Green Bay Packers
All the pregame hype will center around the so-called Inaccurate Reception, the controversial Hail Mary catch by Golden Tate two years ago that won the game over the Packers at Seattle on a Monday night. Tate has moved on to Detroit, but the Seahawks now have too many weapons for the Packers to stop, no Hail Mary required. Prediction: Win
---
Week 2: at San Diego Chargers
The Chargers better hope they play a lot better than they did in the preseason game at Seattle, a 41-14 victory for the Seahawks on Aug. 15. San Diego will play better, but not good enough to beat a much better team. Prediction: Win
---
Week 3: Denver Broncos
The Broncos and their fans got a tiny bit of meaningless Super Bowl revenge in the preseason opener with a 21-16 victory over the Seahawks in Denver. Enjoy it while it lasts, boys. Repeating that outcome in Seattle is not an option. Prediction: Win
---
Week 5: at Washington Redskins
Traveling coast to coast to play on the road for a Monday night game is a tough task against any NFL opponent, and even tougher against quarterback Robert Griffin III. But the Seahawks catch a break in this one by coming off a bye week with plenty of time to prepare and be fresh for the journey. Prediction: Win
---
Week 6: Dallas Cowboys
Cowboys owner Jerry Jones gave Seattle a little bulletin-board material last month when he said the Seahawks were to blame for the increase in penalty flags during the preseason. There won't be near enough flags against Seattle for the Cowboys to win this one. Prediction: Win
---
Week 7: at St. Louis Rams
Any division game in the NFC West is a rugged battle. The Rams have a defensive line that gave the Seahawks problems a year ago. But they aren't strong enough overall to beat Seattle, even at home in their out-of-date dome. Prediction: Win
---
Week 8: at Carolina Panthers
The Seahawks were fortunate to win the season opener at Charlotte a year ago. That Panthers team was better than this one, but back-to-back road games against very physical defensive teams will end the Seattle winning streak. Prediction: Loss
---
Week 9: Oakland Raiders
Coming off their first loss of the season and returning home against an outmanned opponent, is there any doubt? Prediction: Win
---
Week 10: New York Giants
The Seahawks easily defeated the Giants 23-0 last year in New Jersey, a dress rehearsal for their Super Bowl victory at the same location -- MetLife Stadium. The Seahawks won't need a rehearsal to roll past the Giants in this one. Prediction: Win
---
Week 11: at Kansas City Chiefs
This likely will be a low-scoring game between two strong defensive teams. Odds are against any team that has to try to win by matching its defense against the Seahawks' D. Prediction: Win
---
Week 12: Arizona Cardinals
The last time the Cardinals played at CenturyLink Field was last December when they handed the Seahawks a 17-10 loss. That won't happen again unless the Seahawks get caught looking ahead to the 49ers game. The Seahawks don't look ahead. Prediction: Win
---
Week 13: at San Francisco 49ers
It's a Thanksgiving night, national TV game in the 49ers' shiny new stadium against the hated Seahawks. If San Francisco can't win this one, its time as a championship contender is over. Prediction: Loss
---
Week 14: at Philadelphia Eagles
This is the toughest part of the season for the Seahawks with back-to-back road games against likely playoff contenders. But the 10 days between games will help and be enough of a cushion to keep Seattle from losing two in a row. Prediction: Win
---
Week 15: San Francisco 49ers
This is a game that could decide which team wins the NFC West. No way the Seahawks lose to the 49ers twice in three weeks, especially not in front of a rabid full house of 12s. Prediction: Win
---
Week 16: at Arizona Cardinals
The Cardinals probably will be fighting for a playoff spot, and the Seahawks already will be in at 12-2. That difference will be just enough for Arizona to win at home in the same stadium where the Seahawks will win the Super Bowl a few weeks later. Prediction: Loss
---
Week 17: St. Louis Rams
For the second consecutive year, the Rams close the regular season in Seattle. And for the second consecutive year, the Seahawks will beat them without much trouble. Prediction: Win
---
Predicted Record: 13-3
August, 19, 2013
8/19/13
12:32
PM ET
Last week, we considered
whether 35 offensive snaps and 16 pass routes were enough
for the
San Francisco 49ers
to fully assess second-year wide receiver
A.J. Jenkins
.
Turns out it was enough.
The 49ers traded Jenkins to the
Kansas City Chiefs
for receiver
Jon Baldwin
, another disappointing first-round draft choice. This move is good for the 49ers in that it shows they'll move on from a disappointing player without carrying him on their roster just to keep up appearances. The move is also bad for the 49ers in that Jenkins' departure after making zero regular-season receptions reflects poorly on the team's decision to draft him.
Baldwin, chosen 26th overall in 2011 by the Chiefs' previous leadership, has 41 receptions for 579 yards and two touchdowns in 26 regular-season games. Jenkins, the 30th overall choice in 2012, played in three games without making a reception. He becomes the 49ers' highest-profile personnel misfire since Trent Baalke became general manager and Jim Harbaugh became head coach.
The 49ers had hoped Jenkins would provide a needed vertical speed element to their offense. They could seemingly still use that element as they look to create better matchups for receiver
Anquan Boldin
, who beats defenses with strength, not speed. Tight end
Vernon Davis
does provide the 49ers with a deep threat and he has gotten practice reps at wide receiver, but Jenkins was seen as a key player the team hoped to develop this offseason.
Baldwin is a different type of player. He stands 6-foot-4 and weighs 230 pounds and had a 40-yard dash time in the 4.5-second range. Jenkins is 6-0 and 192 pounds with a 40-yard time in the 4.4-range.
The 49ers and Chiefs played one another in a preseason game Friday night. The Chiefs' big and physical starting corner,
Sean Smith
, roughed up Jenkins and shut him down. The 49ers will face similar cornerbacks in NFC West play. Jenkins was not going to match up well against them unless he could get off the line of scrimmage and put his speed to use.
Davis, safety
Donte Whitner
and other 49ers players polled this offseason said they thought Jenkins would be the young wide receiver to emerge as the preseason unfolded. Jenkins lost a fumble after his lone reception against Denver in the preseason opener. A penalty against an offensive lineman for holding wiped out a 21-yard reception Jenkins made against the Chiefs' backups.
LaMichael James
,
Joe Looney
,
Darius Fleming
,
Trenton Robinson
,
Jason Slowey
and
Cam Johnson
were the other players San Francisco drafted in 2012. Fleming suffered a season-ending injury this offseason. Slowey is no longer with the team. James is fighting for playing time at running back. Looney, Robinson and Johnson are backups.
Last offseason, Harbaugh defended Jenkins from media criticism. The defending appeared justified, in my view, because Jenkins was just getting started. One training camp generally isn't enough to evaluate a player. Thirty-five regular-season snaps generally isn't enough, either. This move by the 49ers validates outside criticisms of Jenkins. The team wouldn't be moving on from a 2012 first-round draft choice if it thought Jenkins would have factored.
April, 3, 2013
4/03/13
5:10
PM ET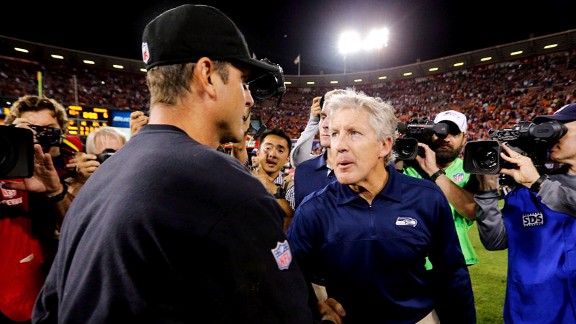 Ric Tapia/Icon SMIPete Carroll's Seahawks and Jim Harbaugh's 49ers have continued their rivalry into the offseason.
The 2012 battle for NFC West supremacy between the
San Francisco 49ers
' and
Seattle Seahawks
' has turned into
a perceived battle
this offseason.
"It just feels like the Seahawks make a move, then the Niners make a move," former NFL quarterback Damon Huard said Wednesday during
our conversation

on 710 ESPN Seattle. "The Seahawks sign
Percy Harvin
, then the Niners go get
Anquan Boldin
. The Niners just signed
Nnamdi Asomugha
, they signed
Colt McCoy
, and now it's the Seahawks' turn to sign a quarterback. It really feels like this competition that was so fun to watch last fall has carried over into the offseason between the Niners and the Seahawks."
That's what it feels like from this angle, too. So, when ESPN's Bill Polian listed 49ers general manager Trent Baalke among his
top six executives

without a mention of Seattle counterpart John Schneider, I knew some Seahawks fans would take offense.
"Schneider should be on there," SamW9801 wrote in commenting on the Polian piece.
I'm going to ratchet up the discussion with
an assist
from Tony Villiotti of draftmetrics.com. Tony identified
ranges of picks
by how frequently teams have found five-year starters within those ranges.
Using those general ranges, displayed at right, I've put together a chart at the bottom of this item comparing the 49ers' and Seahawks' draft choices since 2010.
Baalke took over the 49ers' draft room roughly a month before the 2010 draft. Schneider became the Seahawks' GM that offseason. The 49ers then underwent a coaching change after the 2010 season, at which point Baalke assumed the GM title officially. We might cut Baalke some slack for selecting
Taylor Mays
, a player then-coach Mike Singletary valued. There were surely other times when both GMs followed their coaches' input, for better or worse.
Seattle has drafted 28 players during this period, three more than San Francisco has drafted. The Seahawks had more to work with from a qualitative point as well. Their median choice was No. 130 overall, compared to No. 165 for the 49ers.
It's pretty clear both teams know what they are doing in the draft.
Aldon Smith
,
Anthony Davis
,
Mike Iupati
and
NaVorro Bowman
have earned Pro Bowl and/or All-Pro honors for the 49ers.
Russell Okung
,
Earl Thomas
,
Russell Wilson
,
Kam Chancellor
and
Richard Sherman
have done so for the Seahawks.
Both teams have found franchise quarterbacks after the first round.
Colin Kaepernick
was chosen 36th overall in 2011. Wilson went to Seattle at No. 75 last year.
Neither team has missed in that first category, which includes players taken among the top 13 overall picks. Smith and Okung are elite players at premium positions.
Both teams have unanswered questions in that 14-40 range. The 49ers are waiting on receiver
A.J. Jenkins
to produce. The Seahawks haven't gotten much from guard
James Carpenter
. But in Iupati and Thomas, the 49ers and Seahawks, respectively, found players among the very best at their positions. Kaepernick's selection puts this group over the top for San Francisco. Seattle got eight sacks from
Bruce Irvin
as a rookie in 2012, so the Seahawks aren't far behind. It's just impossible to overlook the value a franchise quarterback provides.
Seattle has the edge in the 41-66 range. Mays is long gone from the 49ers. That leaves
LaMichael James
for the 49ers against
Bobby Wagner
and
Golden Tate
for Seattle. Wagner was an instant starter at middle linebacker and a three-down player who commanded consideration for defensive rookie of the year. Tate blossomed with Wilson at quarterback.
The Seahawks also have an edge in that 67-86 range, having selected Wilson.
Seattle holds a 7-3 lead in number of picks used between the 87th and 149th choices, a range producing five-year starters 16 percent of the time, according to Villiotti.
Both teams used picks in that range for players whose injury situations dragged down their draft status:
Joe Looney
in San Francisco,
Walter Thurmond
in Seattle. Both teams found starting linebackers in this range: Bowman to the 49ers,
K.J. Wright
to the Seahawks. Both teams found developmental running backs in that range:
Kendall Hunter
to the 49ers,
Robert Turbin
to the Seahawks. Both teams found Pro Bowl players: Bowman in San Francisco, Chancellor in Seattle.
Sherman, arguably the NFL's best cornerback, gives Seattle an edge in the 150 through 189 range of picks. Both teams found backup tight ends there.
Anthony Dixon
(49ers) and
Jeremy Lane
(Seahawks) have the potential to expand their roles.
The 49ers found starting fullback
Bruce Miller
in the final pick range, which runs from 190 to the end of the draft. Seattle found a projected starting guard there in
J.R. Sweezy
.
Malcolm Smith
is a candidate to start at linebacker for Seattle. Miller and Sweezy both played defense in college. Miller already has successfully transitioned to offense. Seattle believes Sweezy will do the same.
Summing it up:
Both teams can feel good about their draft performance in the past three seasons. I doubt either team would trade its picks for the other team's. That makes sense. Teams draft the players they like best. The 49ers have six projected 2013 starters to show for their choices. The number is eight for the Seahawks, not counting Irvin or Tate. Seattle has had more choices and higher choices, and more openings in the lineup to accommodate those players. I think that shows in the results.
October, 16, 2012
10/16/12
7:45
PM ET
San Francisco 49ers
fans periodically ask when the team's 2012 draft class might begin contributing on the field.
Like other top teams, the 49ers drafted late in the order. Their roster was already quite strong. That combination has made it tougher for the 49ers' rookies to earn playing time. It doesn't necessarily mean their draft choices are falling short. It just means they're not playing yet.
With an assist from Hank Gargiulo of ESPN Stats & Information, I've put together charts showing games played, games started and offensive/defensive snap counts for every 2012 NFC West draft choice through Week 6.
The 49ers are the only team in the league with zero snaps from their 2012 class. The 6-0
Atlanta Falcons
' draft choices have played 25 snaps, the second-lowest total. The 30 remaining teams have gotten at least 215 snaps and an average of more than 700.
Seattle ranks fifth with 1,092 snaps from 2012 draft choices, followed immediately by St. Louis at 988. Arizona ranks 14th with 806. Right tackle
Bobby Massie
has played 424 of those, more than any team has gotten from its fourth-round choices. Seattle leads the league in snaps from seventh-rounders while ranking second in snaps from third-rounders. The Rams are second in snaps from second- and seventh-rounders.
Arizona Cardinals

Quick notes:
Michael Floyd
is getting work as the fourth receiver. He had a 24-yard reception Sunday. He has seven catches for 84 yards and a touchdown. ... Massie is getting valuable experience. He's been a liability in pass protection against some opponents. That was to be expected. ... Cornerback
Jamell Fleming
's playing time has fluctuated based on
Greg Toler
's availability. ...
Ryan Lindley
becomes the No. 2 quarterback behind
John Skelton
now that
Kevin Kolb
is injured. The team could conceivably re-sign
Rich Bartel
in the future. The Cardinals do like Lindlely's potential, however.
Seattle Seahawks

Quick notes:
Bruce Irvin has 4.5 sacks, including one to help preserve a victory at Carolina. ... Second-round choice
Bobby Wagner
has provided a significant upgrade at middle linebacker. He opened the season as a starter and member of the base defense. His has become an every-down player over the past two weeks, with positive results, including when he ran down
Cam Newton
for a loss. ...
Russell Wilson
owns two fourth-quarter comeback victories in his first six starts, two more than Seattle managed last season. He is the first rookie since the 1970 merger to throw winning touchdown passes in the final two minutes of two games. ... Robert Turbin's speed and power have impressed. ... J.R. Sweezy impressed in camp and started the opener, but he wasn't ready. ... Greg Scruggs is healthy again and figuring into the pass-rush rotation.
San Francisco 49ers

Quick notes:
Trenton Robinson has played on special teams, but he has been inactive recently. A.J. Jenkins has been active without playing. The 49ers have established players ahead of him at wide receiver. They also use two backs and/or two tight ends frequently, diminishing opportunities for wideouts to get on the field.
Michael Crabtree
,
Mario Manningham
,
Kyle Williams
and
Randy Moss
are competing for those limited snaps. ... LaMichael James' arrival provided incentive for
Kendall Hunter
, who has met the challenge. Might there be a role for James later in the season? So far, the 49ers haven't even activated veteran
Brandon Jacobs
. ... Joe Looney projects as a potential future starter at guard, but there might not be an opening if
Alex Boone
continues playing well. Boone seized the job while Looney was recovering from foot surgery. ...
Darius Fleming
suffered a knee injury and remains on the physically unable to perform (PUP) list. ... The team released sixth-rounder Jason Slowey. ... Seventh-rounder Cam Johnson is on the practice squad.
St. Louis Rams

Quick notes:
First-round defensive tackle
Michael Brockers
has recovered from an ankle injury well enough to become a big part of the Rams improving run defense. ...
Brian Quick
made a key reception over the middle to help the Rams beat the Seahawks, but fourth-rounder
Chris Givens
has made a bigger impact among the Rams' rookie wideouts. Givens has a reception of at least 50 yards in each of the Rams' last three games. That is a first for any NFL rookie since
Willie Gault
in 1983. ...
Janoris Jenkins
has been a playmaker at cornerback all season. He suffered a significant lapse in coverage at Miami, but overall, Jenkins has shined. ... Fifth-rounder
Rokevious Watkins
reported out of shape and landed on injured reserve. ... Sixth-rounder
Greg Zuerlein
has transformed the Rams' offense with his extended field-goal range, although he struggled some in Week 6. ... Seventh-rounder
Daryl Richardson
has a 5.2-yard average per carry and 246 yards rushing. He has won playing time from second-rounder
Isaiah Pead
, who has not been a factor.
July, 2, 2012
7/02/12
6:00
PM ET
Our two-day look at NFC West rosters continues with projections for the San Francisco 49ers' offense.
Quarterbacks (4)
Average number kept since 2003:
3.1

Safest bets:
Alex Smith
,
Colin Kaepernick
,
Josh Johnson
Leading contenders:
none
Longer odds:
Scott Tolzien
Comment:
Johnson has more experience than Kaepernick and could project as the No. 2 quarterback if an injury forced Smith from the lineup on short notice. Johnson's history with coach Jim Harbaugh at the University of San Diego probably helps his chances in that regard. Kaepernick gets a chance this summer to prove he's ready to take the next step following a more regular offseason. Tolzien could project for the practice squad.
Running backs (9)
Average number kept since 2003:
4.9
Safest bets:
Frank Gore
,
LaMichael James
,
Kendall Hunter
,
Brandon Jacobs
,
Bruce Miller
Leading contenders:
Rock Cartwright
,
Anthony Dixon
Longer odds:
Jewel Hampton
,
Cameron Bell
Comment:
Moran Norris
is out after spending five of the past six seasons as a 49ers fullback. That was one of many changes in the backfield this offseason. Jacobs' arrival suggests Dixon must step up his game significantly to stick on the roster -- and will probably have to demonstrate special-teams value as well. He won't be able to compete with Miller or Cartwright in that regard. If the 49ers find a way to keep six running backs, Cartwright would likely be in the picture almost exclusively for his special-teams value. Hampton could be a candidate for the practice squad.
Wide receivers (11)
Average number kept since 2003:
5.7
Safest bets:
Michael Crabtree
,
Randy Moss
,
Mario Manningham
,
A.J. Jenkins
Leading contenders:
Kyle Williams
,
Ted Ginn Jr.
Longer odds:
Brett Swain
,
Joe Hastings
,
Nathan Palmer
,
Chris Owusu
,
Brian Tyms
Comment:
The first four appear set as long as Moss continues on his current trajectory. The 49ers kept five at the position in Week 1 last season. Despite talk of opening up the offense, the team could have a hard time justifying six roster spots for wideouts for a coaching staff that seems to relish using multiple tight ends. Williams and Ginn carry obvious special-teams value in the return game, a huge consideration. I have a hard time envisioning the 49ers, stung by Williams' miscues in the NFC Championship Game, taking undue chances in the return game at Green Bay in the opener. Ginn is the most proven return specialist on the team and a game-breaker when healthy. Owusu could be a candidate for the practice squad.
Tight ends (5)
Average number kept since 2003:
2.9
Safest bets:
Vernon Davis
,
Delanie Walker
Leading contenders:
Nate Byham
,
Konrad Reuland
Longer odds:
Garrett Celek
Comment:
Byham was emerging as a top-flight blocking tight end before a knee injury ended his 2011 season during training camp. Reuland, then an undrafted rookie, had a chance to gain ground while spending last season on the practice squad. Reuland played for Harbaugh and staff at Stanford.
Offensive linemen (15)
Average number kept since 2003:
9.0
Safest bets:
Joe Staley
,
Mike Iupati
,
Jonathan Goodwin
,
Alex Boone
,
Anthony Davis
,
Daniel Kilgore
,
Joe Looney
Leading contenders:
Mike Person
,
Jason Slowey
Longer odds:
Derek Hall
,
David Gonzales
,
Garrett Chisolm
,
Chase Beeler
,
Kenny Wiggins
,
Al Netter
Comment:
Boone has become the prohibitive favorite to start at right guard even though he remains in the early stages of a conversion from tackle. Boone could move back to tackle if the 49ers were to lose Staley or Davis to injury. Boone remains the third-best tackle on the team. Kilgore once stood as a candidate at right guard, but he now projects as Goodwin's eventual successor at center. Looney, a rookie fourth-round choice, could be the long-term right guard, but he's recovering from foot surgery.
April, 28, 2012
4/28/12
7:26
PM ET
The 2012 NFL draft has finished.
I've put together a chart showing all the NFC West picks.
Seattle drafted an NFL-high eight players on defense. One, defensive tackle
J.R. Sweezy
, projects as a guard. No other team drafted more than six defensive players, by my count.
Total draft picks: Rams 10, Seahawks 10,
Arizona Cardinals
7,
San Francisco 49ers
7.