April, 10, 2014
Apr 10
10:00
AM ET
By
ESPN.com staff
| ESPN.com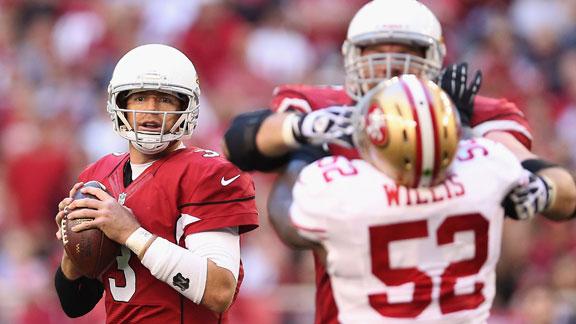 Catch us if you can.
That's a message the
Seattle Seahawks
could send out to the rest of the NFC West.
It is also something the
San Francisco 49ers
might say to the
Arizona Cardinals
and the
St. Louis Rams
. But the Cardinals and Rams might have a statement of their own: We're coming for you.
By almost everyone's estimation, the NFC West is the best division in the NFL. It includes a Super Bowl champion in Seattle along with a team in San Francisco that, arguably, came up one play short of reaching its second consecutive Super Bowl.
It also includes a team in Arizona that won 10 games, one of which was a victory at Seattle -- the Seahawks' only home loss in 2013. And there's a team in St. Louis that won two of its last three games to finish 7-9 while playing most of the season without starting quarterback
Sam Bradford
.
So the question heading into 2014 is whether the Cardinals and Rams are in position to catch the Seahawks and 49ers. Have Arizona and St. Louis closed the gap on what might be the NFL's two best teams?
The Cardinals have been active in free agency, signing cornerback
Antonio Cromartie
, offensive tackle
Jared Veldheer
, tight end
John Carlson
, receiver/kick returner
Ted Ginn
, running back
Jonathan Dwyer
and offensive lineman
Ted Larsen
.
Clearly, the competition in this division keeps getting better.
The four writers who cover the division for ESPN.com's NFL Nation -- Terry Blount in Seattle, Bill Williamson in San Francisco, Josh Weinfuss in Arizona and Nick Wagoner in St. Louis -- take a look at where things stand in the NFC West on four key topics. We also polled our Twitter followers to find how they viewed the issues.

The Cardinals have made significant moves in free agency. The Rams, aside from keeping Rodger Saffold, have mostly stood pat. Which is closer to the playoffs?
Terry Blount: This is a no-brainer for me. The Cardinals are a team on the rise with one of the NFL's best coaches in Bruce Arians. He took a 5-11 team and transformed it to 10-6 in one season. He was 9-3 at Indianapolis in 2012 while filling in for Chuck Pagano. Arizona was 7-2 in its last nine games and won three of the last four, with the only loss being 23-20 to the 49ers in the season finale. The Cardinals could become a serious challenger to the two-team stronghold of Seattle and San Francisco. However, I do believe the Rams will have a winning season if they can hold their own in the division games.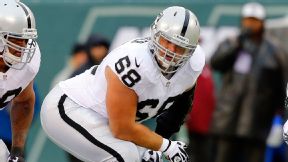 Nick Wagoner: It's hard to evaluate this without seeing what happens in the draft, especially with the Rams having two premium picks. Even then it would be unfair to judge right away. Still, I have to go with the Cardinals. They were trending up at the end of the season and patched a big hole with offensive tackle Jared Veldheer. Losing Karlos Dansby was a blow, but adding cornerback Antonio Cromartie to a talented stable at the position makes them better. The Rams, meanwhile, are clearly counting on a whole lot of in-house improvement and a big draft. Keeping Saffold was important (and lucky), but it seems risky to pin all hopes on a leap to the playoffs on a group of young players all making a jump at the same time.
Josh Weinfuss: Arizona is the easy answer, and that's not because I cover them. The Cardinals were 10-6 last season and the first team kept out of the postseason. All the Cardinals have done this offseason is fix deficiencies and plug holes. Their offensive line got markedly better with the addition of left tackle Jared Veldheer. Their wide receiver corps and kick return game were solidified with Ted Ginn, and they now have one of the best cornerback tandems in the league with Antonio Cromartie coming on board. General manager Steve Keim looked at what went wrong in 2013 and went to work on fixes. It should put the Cardinals over the playoff hump.
Bill Williamson: It has to be Arizona. The Cardinals were so close to making the playoffs last season. They would have likely been dangerous in the postseason too. I like the way this franchise is shaping up. It seems like it is well run and well coached. The roster is also getting deep. Carson Palmer will have to be replaced sooner or later, but the Cardinals are on to something. The Rams certainly have some nice pieces and are probably the best fourth-place team in the NFL, but they aren't close to matching what Arizona has going for it.
@joshweinfuss With the offseason the @AZCardinals have had I'd go with them. The rams are a solid offense away but AZ got the pieces needed.

- Joshua Bodrero (@JBodrero) March 25, 2014
---

The Seahawks and 49ers played for the NFC title in January. Any reason to believe either won't return to the postseason?
Blount: They were the two best teams in the NFL last season, and there's no legitimate reason to think they won't be among the best in 2014. Seattle has lost 10 players who were on the Super Bowl roster, but other than wide receiver Golden Tate, none of them were on the team's priority list to keep. The 49ers move into a shiny new stadium. The only question for San Francisco is the precarious relationship between coach Jim Harbaugh and team executives. Who knows what the future holds there, but it shouldn't matter on game day.
Wagoner: Aside from some debilitating injuries, it's hard to see how either team has taken a major step back. The Seahawks have lost some good players in free agency, but even those players seemingly already had replacements in place. Nobody does a better job of developing talent than Seattle. The Seahawks still have holes to patch on the offensive line and losing receiver Golden Tate is a blow, so there could be some hope the offense will regress. But the defense makes it all go, and it doesn't look like it's going to lose any of its most prized components. As for the Niners, they are the more likely of the two to take a step back, but it's hard to see them taking enough of one to fall out of the postseason. For most of their key free-agent losses they were able to quickly come up with a replacement as good or better than the player lost, and retaining Anquan Boldin says they are looking to make another run at the Super Bowl. Plus, they will have a fully healthy Michael Crabtree ready for the season. Until proven otherwise, these two teams remain the class of the NFC and probably the NFL.
Weinfuss: The only reason either of them won't make the playoffs in 2014 is because the Cardinals or Rams will take their place. The gap between the top and bottom of the NFC West has closed significantly this offseason, making the West much like the Southeastern Conference in college football; everybody will beat up on each other. It's likely the West, if it's anything like last season, can see three teams in the playoffs -- its champion and the two wild cards. If one of the teams between Seattle and San Francisco were not to make it, it's tough, but I think Seattle might slip. The Seahawks lost a significant part of their defensive line and will be going through a Super Bowl hangover. That's risky to deal with and still make the playoffs. On the other hand, San Francisco will be hungry from losing to Seattle in the NFC Championship Game.
Williamson: I believe these are the two best teams in the NFL. So it's difficult to fathom that either team won't find its way into the playoffs, barring major injuries. Arizona, though, could create an issue for the Seahawks and 49ers. The Cardinals are going to win a lot of games, so both Seattle and San Francisco have to be careful or things could get tricky. In the end, I can see all three teams making the playoffs. This is the reason this division is so intriguing and so fun: Every game is critical. There is just not much room for error. Look at the 49ers last year. They went 12-4, but a 1-2 start hamstrung them. They could never fully recover despite having a great overall regular season. The same intensity will be a factor in 2014 in the NFC West.
@TerryBlountESPN The Cards and Rams are pretty good. They'll be fighting for 2nd place behind the Seahawks.

- Danny ®" (@Dah_knee) March 26, 2014
---

Will Rams quarterback Sam Bradford come back strong from an ACL injury, and what effect will he have on St. Louis having its coveted breakthrough year?
Blount: I think Bradford will be fine as far as the ACL goes, but this is a make-or-break year for him in my view. Bradford was playing pretty well before his injury last year, but the verdict still is out whether he can be an elite quarterback. He enters this season with the best supporting cast he's ever had, but playing in this division with teams that emphasize physical defensive play makes it difficult to show improvement.
Wagoner: All indications from the Rams are that Bradford's rehab is coming along well and he's on schedule to make his return in plenty of time for the start of the regular season. He apparently had a clean tear of the ACL, but he has been rehabbing for a handful of months and should resume throwing soon. Bradford's healthy return means everything to the Rams' chances in 2014. Believe it or not, this is his fifth season in the NFL and, much like the team, this is the time to make some noise. The Rams attempted to open up the offense in the first quarter of 2013 with Bradford to miserable results. They switched to a more run-oriented attack in Week 5 and the offense performed better. Bradford also played better as the run game opened up play-action opportunities in the passing game. It will be interesting to see if the Rams choose to go a bit more balanced with Bradford at the controls or if they continue at the same run-heavy pace they played with backup Kellen Clemens. Either way, Bradford's contract has two years left on it. If he wants a lucrative extension, this is the time to prove he's worth it.
Weinfuss: Short answer, yes, Bradford will come back strong. Just look at how he started in 2013. He was on pace for a massive year statistically before he got hurt. If he can pick up where he left off, Bradford will return with a bang and show he's still one of the better quarterbacks in the league. As we've seen, a top-tier quarterback can be the difference between sitting idle in the standings and having a breakthrough year. With the talent that surrounds the Rams, with tight end Jared Cook, running back Zac Stacy and wide receivers Tavon Austin, Chris Givens and Austin Pettis, among others, Bradford may singlehandedly help close the gap between the Rams and the top of the NFC West.
Williamson: I have to be honest: I'm not a big Sam Bradford guy. I think he's just OK. Just OK doesn't cut it in this division, especially considering the defenses he has to play six times a season in the NFC West. He's serviceable, but he's not the answer. Given the state of this division, I cannot envision a scenario where Bradford is the reason the Rams become the class of the NFC West. I think they can get by with Bradford for the short term, but the Rams are going to have to start thinking about the future at this position much earlier than expected when Bradford was the No. 1 overall pick of the 2010 draft.
@nwagoner @Ryan_STL1 he's going to be the reason whether they go to the playoffs or not. If it doesn't happen this year it's time to give up

- Nick Green (@duttynick) March 24, 2014
---

If you had to start a team with either Seahawks QB Russell Wilson or 49ers QB Colin Kaepernick, whom would you choose?
Blount: You must be kidding. Give me Wilson every time, every day in every situation. Yes, Kaepernick is 5 inches taller than Wilson. Is there really anyone left who thinks Wilson's lack of height matters? Wilson also is at his best in pressure situations. He lives for it. And he is a more polished person on the field, and off it, than Kaepernick. That's not an observation. It's a fact. But this isn't a rip on Kaepernick. You would be hard-pressed to find any 25-year-old as polished as Wilson. The 49ers can win a Super Bowl with Kaepernick, and probably will soon. But if I'm starting a team, whether it is in football or almost any other life endeavor, I'll take Wilson without a doubt.
Wagoner: Wilson. For those of us covering other teams in the division, it's hard not to admire what he brings to the table. He presents himself as the consummate professional, and even opponents praise him for his work habits, intelligence and ability. He's already got the Super Bowl ring, and it's easy to see how he could add a few more. He's not all the way there in terms of his potential either, and it's probably safe to assume he's just going to keep getting better as his career goes along. That's nothing against Kaepernick, who is a unique talent in his own right, but there aren't many young quarterbacks in the league worth choosing over Wilson.
Weinfuss: Russell Wilson would be my pick, mainly because of his poise and maturity behind center. Colin Kaepernick is undoubtedly talented, but I get the sense he still has a lot of growing to do as a quarterback. He's tough to bring down, especially in the open field, but when he's pressured in the pocket, Kaepernick seems to panic and I wouldn't want that in a quarterback. I also think Wilson, despite his physical stature, is built to last. He's heady enough to stay out of harm's way, and his poise in the huddle will go a long way in leading a team.
Williamson: I'd take Kaepernick. I know it's a tough sell right now, since Wilson's team has beaten Kaepernick and the 49ers three of the past four times they've met, including the NFC title game, and the fact that Wilson has won a Super Bowl. I respect the value of Super Bowl wins and believe quarterback is the most critical position in sports. I'm sure I will smell like a homer with the Kaepernick pick. But moving forward, I just think Kaepernick has a higher ceiling. I think he can take over games more than Wilson can at a higher rate. Players built like Kaepernick and as athletic as Kaepernick just don't exist. He is special. He works extremely hard at his craft and is well coached. I'd take him, and I wouldn't look back. This isn't a knock on Wilson. He is proven and is going to be great. But if I'm starting a team, I'm taking Kaepernick, and I bet more general managers would agree than would disagree.
@BWilliamsonESPN Wilson. Controls the game & makes all the plays. Kaeps athletic advantage will fade overtime as Wilson's mental edge grows.

- HTB (@HoldenTyler) March 25, 2014
February, 14, 2013
2/14/13
10:19
AM ET
By
ESPN.com staff
| ESPN.com
Arizona Cardinals
Cardinals running back
Javarris James has been suspended
for the first four games of the 2013 season for violating the NFL's policy and program for substance abuse, a league spokesman told NFL.com's Ian Rapoport.
Say cheese, Bruce Arians
. The Cardinals' new coach takes his official headshot.
Two Cardinals -- Calais Campbell and Dave Zastudil -- make the cut for USA TODAY Sports'
21st annual All-Joe team
.
San Francisco 49ers
Which team is more popular in the San Francisco area -- 49ers or Giants? Ann Killion discovers there's a passionate
group of fans who feel strongly about their Niners
.
"I'm not just a pass-rusher, I'm an all-around player. What I'm trying to do is establish myself as one the best players, not just the best pass-rusher," said Aldon Smith,
who told 49ers.com's Alex Espinoza that he expects bigger and better things
for San Francisco in 2013.
Tom Gamble, the 49ers' director of player personnel, accepted a similar position Wednesday with the Philadelphia Eagles, and the
San Francisco Chronicle's Eric Branch says the timing of Gamble's departure
isn't ideal for the Niners.
Seattle Seahawks
The Seahawks have hired
Travis Jones as the team's new defensive line coach
.
Monte Kiffin knows an aggressive secondary when he sees one, and the new Cowboys defensive coordinator
plans to use Seattle's defensive scheme
as a teaching tool in Dallas. On the offensive side, the Tennessee Titans
will examine Seattle's offense
for ideas to help out quarterback Jake Locker on zone reads.
St. Louis Rams
At age 41,
Tim Walton is on the fast track
, but the Rams' new defensive coordinator is not an overnight sensation, says Jim Thomas of the St. Louis Post-Dispatch. Columnist Jeff Gordon
says Walton is an "excellent fit"
for coach Jeff Fisher's team.
December, 11, 2012
12/11/12
5:29
PM ET
Jeff Fisher's addition as head coach has surely helped the St. Louis Rams become more competitive this season. The team's current three-game winning streak is its longest since 2006.
Here is something else to consider beyond coaching: The Rams have zero established starters on their injured reserve list heading into the final three weeks of the season. That is down from as many as six at this point last season, although some of those players were on their way out for reasons related to performance.
There are three Rams players on IR at present, down from 12 following Week 14 last season.
The current injury situation in St. Louis more closely approximates 2010, when the Rams were hurting at wide receiver but healthy enough elsewhere to have a 6-7 record at this point. The current team is 6-6-1 heading into Week 15.
Many other variables beyond injuries differentiate a team from season to season, of course. But in looking at the chart, we can see why Arizona is having a hard time snapping what is now a nine-game losing streak.
The Cardinals have been the most injured team in the NFC West this season and it's not close. Their most significant injury, to quarterback
Kevin Kolb
, doesn't even show up in the chart. Kolb has not played since Week 6. The team has continued to carry him on its active roster in case he can return.
The numbers next to players' names in the chart show how many estimated starts each will have missed by season's end. I assumed Arizona's Ryan Williams would have started at running back until
Beanie Wells
' return. I also assumed Rams rookie Rokevious Watkins would have started at left guard if available for the final 15 games. That might be overestimating his role, but the situation appeared dire early in the season.
July, 28, 2012
7/28/12
7:09
PM ET
The
Arizona Cardinals
were pleased when
more than 10,000 fans turned out
for their 2009 camp scrimmage, held six months after the team's Super Bowl appearance.

Drawing an
estimated 14,500 fans
on Saturday appears more impressive after two less inspiring seasons.
The trend is heading in the right direction, for sure.
"Back in 2004, we had to pay people to watch us," receiver
Larry Fitzgerald
said,
according to the team
.
The Cardinals could joke after getting through practice with no reported injuries to key players, notably second-year running back
Ryan Williams
, whose
44-yard run
signaled a milestone in his return from a torn patella. Backup
Javarris James
will miss time after
injuring an abductor muscle
, further depleting the ranks at running back while
Beanie Wells
rests his surgically repaired knee. But Williams' continued progress is key.
Williams, one of the Cardinals' most exciting players in camp a year ago when the injury struck him down, passed another test Saturday when he absorbed a hit from strong safety
Adrian Wilson
and came away OK.
The injury Williams suffered during an exhibition game against Green Bay last Aug. 19 was an unusual one.
Cadillac Williams
provides
the recent precedent
for an NFL running back. He suffered a torn patella during a 2007 game. About 14 months -- 420 days, to be precise -- elapsed before he played in another game. If Ryan Williams followed the same timeline, he would return for an Oct. 14 matchup against Buffalo, 422 days following his injury.
The timetable for Ryan Williams appears ahead of that pace.
Cadillac Williams provides the precedent for an accelerated pace as well. He suffered a second torn patella, this one to the other knee, during the final game of the 2008 season. He returned in time to start the 2009 opener, a span of only 259 days. At that pace, Ryan Williams would have been ready for game action in early May. Instead, he continued to rehab all offseason, participating in minicamps on a limited basis.
Williams has said he hopes to return for Week 1. The Cardinals haven't set a date. I'd be surprised if they hurried him onto the field during the first couple exhibition games.
Note:
The Cardinals generally hold their scrimmage later in camp, but with the team playing in the Hall of Fame Game next week, that wasn't feasible. Scrimmaging with only a few practices could explain why the offense seemed sloppy, according to
initial reports
.
Kevin Kolb
tossed the only touchdown pass. He also threw two interceptions.
July, 23, 2012
7/23/12
8:00
AM ET
Good morning. I'm looking forward to renewing acquaintances in the comments section after a couple weeks away.
First, let's throw out a few subjects for conversation.

Brian McIntyre of NFL.com
says Seahawks defensive end Chris Clemons saw his 2012 base salary shrink from $4 million to $3 million after skipping a mandatory minicamp last month. McIntyre: "Knowing that his failure to appear for the minicamp would result in a loss of 2012 income, either through forfeiture or fines, can be taken as a sign of how serious Clemons is about receiving a new contract."
Noted:
I question whether Clemons knew so much salary would be at stake. Not many players sacrifice 25 percent in potential income over a three-day non-contact camp. Clemons can be difficult to read, however. Clemons changed his mind after initially informing coach Pete Carroll that he planned to attend that camp. I'd expect Clemons to report in time for training camp. The Seahawks practice Saturday.
Clare Farnsworth of seahawks.com
says assistant coach Brian Schneider is pleased with his special-teams units.
Noted:
Analysts will measure first-round draft choice Bruce Irvin more by his sack total than anything else, but he could be a player to watch on special teams. We've seen other first-round picks around the division make impact plays in that area. First-round defensive end Robert Quinn was a threat to block punts for the Rams last season. Irvin should have similar capabilities based on his speed.

Kent Somers of the Arizona Republic
points to O'Brien Schofield as the key variable for the Cardinals at linebacker this season. Somers: "If Schofield has a breakout season, the Cardinals linebacking corps is set up for years to come. If he doesn't, they will need Clark Haggans to play like he's 25 instead of 35, or for Quentin Groves to step up."
Darren Urban of azcardinals.com
lays out 10 questions for the team heading into training camp.
Noted:
Urban raises all the good ones. The quarterback situation is obviously primary, but health at running back stands out as one to watch. The team needs Beanie Wells to hold up long enough for Ryan Williams to make what the Cardinals hope will be a complete recovery from a torn patella. Urban: "The reality is that the Cards expect both to be ready for the regular season, enough so that the only veteran added in the offseason was Javarris James -– a longshot to make the team at best. LaRod Stephens-Howling and Alfonso Smith are the other two backs who will have a role, but the Cards need Williams and Wells. If they are ready to play, it's a very nice tandem to have."

Bryan Burwell of the St. Louis Post-Dispatch
raises five Rams-related questions heading toward camp.
Noted:
The first three questions directly or indirectly relate to quarterback Sam Bradford. That's appropriate.
Also from Burwell
: serious questions about alcohol-related driving arrests involving athletes in St. Louis and elsewhere. Burwell: "This is the very thing that NFL commissioner Roger Goodell recently warned all 32 teams to be on guard for as their players headed off into the short break between the end of organized offseason workouts in June and the start of training camps at the end of July. Last month, Goodell sent out a league-wide memo specifically warning front offices to reinforce to their players about the dangers of driving while impaired."
Noted:
This one is worth expanding on separately. More to come.

Matt Maiocco of CSNBayArea.com
sees potential parallels between current San Francisco 49ers franchise player Dashon Goldson and former one Aubrayo Franklin. Maiocco: "This could serve as a cautionary tale for all franchise players. Franklin was entering his eighth NFL season when the 49ers tagged him. Goldson is entering his sixth season. Goldson wants to earn the kind of long-term contract that never came for Franklin. ... Goldson must do whatever he believes will give him the best opportunity to have a strong season. Because if he does not have a strong season, he may never get a long-term contract."
Noted:
The 49ers lack proven alternatives at safety beyond Goldson and Donte Whitner, but they know Goldson will almost certainly report in time for the season. And they know Goldson will have ample incentive to perform in the absence of long-term security. This situation favors the 49ers.
Also from Maiocco
: It's no sure thing the 49ers will give a long-term extension to any current players before or during the 2012 season.
Cam Inman of the San Jose Mercury News
raises five 49ers-related questions heading into camp.
Matt Barrows of the Sacramento Bee
expects Joe Looney and Darius Fleming to open 49ers camp on the physically unable to perform list.
Kevin Lynch of the San Francisco Chronicle
explains why Football Outsiders' Aaron Schatz expects the 49ers' win total to plummet in 2012. More on this later in the week.
July, 2, 2012
7/02/12
11:30
AM ET
Our two-day look at NFC West rosters continues with projections for the Arizona Cardinals' offense.
Quarterbacks (4)
Average number kept since 2003:
3.0

Safest bets:
Kevin Kolb
,
John Skelton
Leading contenders:
Ryan Lindley
,
Rich Bartel
Longer odds:
none
Comment:
Coach Ken Whisenhunt was ready with a quip when asked to pinpoint when the team would like to have its quarterback competition settled. Two years ago, he said. Instead, Kolb and Skelton figure to battle deep into the exhibition season. The Cardinals have five preseason games to use for evaluation. Bartel's grip on the No. 3 job could be ending after Arizona used a sixth-round pick for Lindley.
Running backs (8)
Average number kept since 2003:
5.2
Safest bets:
Beanie Wells
,
Ryan Williams
,
Anthony Sherman
,
LaRod Stephens-Howling
Leading contenders:
Alfonso Smith
Longer odds:
William Powell
,
Javarris James
,
Jared Crank
Comment:
The Cardinals have been banking on Wells and Williams returning from knee injuries. Neither participated fully in offseason workouts or practices. Wells' agent said the team was playing it safe with his client to maximize Wells' availability in 2012. The team did not make lineup contingency plans in case Wells or Williams isn't ready or suffers additional injuries. It's Wells and Williams or bust at this point. Sherman is developing into a first-rate fullback. Stephens-Howling has been one of the better special-teams players around. Smith also has value on special teams if the Cardinals decide to keep a fifth back in Week 1, as they have done for the past four seasons.
Wide receivers (12)
Average number kept since 2003:
6.1
Safest bets:
Larry Fitzgerald
,
Michael Floyd
,
Andre Roberts
,
Early Doucet
Leading contenders:
Isaiah Williams
,
Stephen Williams
,
DeMarco Sampson
,
Jaymar Johnson
Longer odds:
LaRon Byrd
,
Stanley Arukwe
,
Tre Gray
,
Gino Crump
Comment:
The Cardinals have never kept fewer than six wideouts on their Week 1 roster since Whisenhunt became coach. They kept seven in 2009. Arizona appears to have excellent quality through its top four options at the position. Fitzgerald is an all-time great and in his prime. His presence should help free Floyd to produce as a rookie first-round draft choice, provided the team's quarterbacks do a better job finding open receivers. Floyd's arrival signals Roberts' move to the slot, where the Cardinals think he's ideally suited. Doucet was productive from the slot on third down last season.
Tight ends (6)
Average number kept since 2003:
3.2
Safest bets:
Todd Heap
,
Jeff King
,
Rob Housler
Leading contenders:
Jim Dray
,
Steve Skelton
Longer odds:
Martell Webb
Comment:
This position should become a strength with Housler's expected emergence as a fast, athletic receiving threat. Again, the Cardinals are counting on Kolb and/or Skelton to find the open receivers they missed too frequently last season. Age and injury concerns follow the 32-year-old Heap into his 12th season and second with the Cardinals. His $2 million salary would not appear to put him at significant risk, provided Heap bounces back this season. King exceeded expectations as a receiver last season. The Cardinals had never kept more than three tight ends on their Week 1 roster until last season, when they kept four.
Offensive linemen (15)
Average number kept since 2003:
8.7
Safest bets:
Levi Brown
,
Daryn Colledge
,
Lyle Sendlein
,
Adam Snyder
,
Jeremy Bridges
,
Bobby Massie
Leading contenders:
Senio Kelemete
,
D'Anthony Batiste
,
Nate Potter
Longer odds:
D.J. Young
,
Braeden Clayson
,
Ryan Bartholomew
,
Scott Wedige
,
Chris Stewart
,
Blake DeChristopher
Comment:
Sendlein and Colledge give the Cardinals two solid contributors on the perimeter. The team is counting on Brown to build upon the improvement he showed at left tackle late last season. Brown does appear determined to shake his negative reputation. Questions abound on the right side of the line. Snyder appeared headed for a backup job somewhere when the Cardinals gave him $3.5 million per season, including $5 million up front, to start at right guard. Pairing Snyder with Bridges or Massie on the right side would seem to invite trouble. Perhaps the Cardinals know something others do not. Can line coach Russ Grimm develop the young talent Arizona added through the draft?
June, 7, 2012
6/07/12
10:25
PM ET
NFC West fans had running backs in mind during
our chat Thursday
.
We had
Joe C. from Fort Worth
asking for projected carry breakdowns in Arizona if the Cardinals'
Beanie Wells
and
Ryan Williams
are both healthy.
k1joyce from Massachusetts
, fearful over what would happen if Seattle lost
Marshawn Lynch
to injury, pointed to the "seldom-talked-about lack of depth" at the position for the Seahawks.
Jim from California
wondered which running backs the
San Francisco 49ers
would keep.
I didn't get to all those questions, but in an attempt to size up the position for each NFC West team, I've put together potential depth charts for running backs in the division. Every team has six halfbacks, so the chart balances. The order will shake out during training camp, of course. I've got an eraser handy.
Every team in the division but Seattle has used a second-round choice for a running back in the past two drafts. Arizona did so with Williams in 2011. San Francisco (
LaMichael James
) and St. Louis (
Isaiah Pead
) used second-rounders for runners this year.
Seattle used a 2012 fourth-round choice for
Robert Turbin
. The team also added
Kregg Lumpkin
in free agency. Both are bigger than former backup
Justin Forsett
. That was by design. The Seahawks now have multiple backs with the size to carry the ball on early downs, but it's too early to know whether the team could maintain its physical approach on offense without Lynch. It wasn't possible last season. Now, it's possible, but no sure thing.
Wells will probably get more carries than Williams this season even though Williams, when healthy, excites the Cardinals at least as much. Both backs are coming off knee surgeries. Wells figures to be healthier first. He will presumably get most of the carries early in the season. We still don't know when Williams will resume full participation or how well he'll perform upon returning. The injury he suffered (torn patella) was serious. The Cardinals are optimistic, but there's still uncertainty.
The situation behind
Frank Gore
in San Francisco is more confusing. The 49ers wanted to upgrade their backups while preparing for life after Gore.
Anthony Dixon
faces an uphill fight for a roster spot, it appears. He played five percent of the snaps last season.
Kendall Hunter
played 28 percent, a figure that also appears likely to fall.
The Rams finally have some youth behind
Steven Jackson
. I could see them using another relatively early pick on a back in 2013. Jackson is scheduled to earn $7 million in each of the next two seasons. He turns 29 next month and will be looking to reach 1,000 yards for an eighth consecutive season.
May, 14, 2012
5/14/12
8:00
AM ET
Russell Wilson served notice over the weekend that he'll factor into the Seattle Seahawks' quarterback competition right away.
That was easily the No. 1 development from NFC West rookie camps.
"He showed us enough," coach Pete Carroll told reporters Sunday. "He's in the competition. That is going to tax us, as we know, and it was already going to be taxing with two. But he's showed us enough that we need to see where he fits in with these guys."
Matt Flynn and Tarvaris Jackson are the other candidates to start. The contract Flynn signed makes him the early favorite. Wilson, as a third-round draft choice this year, was going to factor into the equation. While there was very little chance Carroll was going to rule out anyone as a candidate so early in the process, Wilson did show enough during the rookie camp to justify inclusion. Carroll wasn't blowing smoke, in other words.

Wilson demonstrated during this camp an ability to throw open receivers by anticipating with his passes. That was not a strength for Jackson, the starter last season. Jackson was more apt to see a receiver open and then use his strong arm to rifle the ball to the target. Wilson also appears to have a strong arm (Carroll used the word "terrific" to describe it).
Some coaches prefer a quick resolution to a quarterback competition. I would expect Carroll to keep alive this one well into the summer.
"It's going to take us a long time to do this," he said. "It's going to be frustrating for you guys. You're going tokeep asking and wanting to know and I'm just going to be more patient than you can imagine as we go through this process and we'll just figure it out when we do."
Clare Farnsworth of seahawks.com
offers highlights from the Seahawks' three-day camp.
Dave Boling of the Tacoma News Tribune
says the Seahawks' 2011 injury problems on the offensive line could put them in position to have greater depth this season. Line coach Tom Cable: "We know we have a group, top to bottom, where your eighth or ninth guy can go in and win for you. So our depth got taken to a new level."

Kent Somers of the Arizona Republic
offers notes on some of the players participating in Cardinals rookie camp on a tryout basis. Former Rams receiver Keenan Burton was one of them. Somers: "The Cardinals' positional needs, as well as a player's talent, will factor into the decisions to sign any of the tryout players. The Cardinals, for instance, might need an extra running back in organized-team activities because starter Beanie Wells is coming off a postseason arthroscopic knee surgery, and backup Ryan Williams isn't expected to participate much as he rehabilitates from a torn patellar tendon. So that helps the chances for tryout running backs such as Javarris James and Keola Antolin, a rookie from Arizona."
Also from Somers
: Cornerback Jamell Fleming made an immediate positive impression on Cardinals defensive coordinator Ray Horton. Horton: "I don't remember (Fleming) making a mental mistake, which was great. We're going to start throwing more things at him, but he has the demeanor of an NFL guy. He reminds me of Patrick (Peterson). He came in and said, 'OK, this is what I am. I'm a pro football player.'"
Darren Urban of azcardinals.com
looks at the Cardinals' approach to developmental quarterback Ryan Lindley. Coach Ken Whisenhunt: "After a couple of years ago, I hope we've learned you can never have enough at that position."

Jim Thomas of the St. Louis Post-Dispatch
says Rams rookie linebacker Sammy Brown, signed as a free agent, is hoping to prove critics wrong after going undrafted. Questions about the consistency of Brown's effort hurt his stock. Brown on watching the draft: "When it got to the sixth and seventh round, I just said, 'Man, I don't even want to watch it no more.' I was mad. I see other people going. I see them picking punters, kickers. Am I that sorry? What have I got to do?"
Bryan Burwell of the St. Louis Post-Dispatch
offers his take on the Rams' willingness to take chances on some players. Burwell: "If this plan works, the reward will be so much greater than the risk. Better yet, if it turns out these high-risk, high-reward guys can really play -- and if the plan of Jeff Fisher and Les Snead plan keeps most of them on the right path -- no one in St. Louis will care about anything else. The coach and the GM are smart enough and bold enough to know that."

Barry Bolton of cougfan.com
says former Washington State head coach Paul Wulff has joined the San Francisco 49ers as an offensive assistant.
Noted:
Wulff competed against Jim Harbaugh and several 49ers assistants in the Pac-10 Conference. Wulff and 49ers assistant Michael Christianson both worked under Mike Kramer at Big Sky programs. Kramer worked on Wulff's staff in 2010.
Matt Barrows of the Sacramento Bee
updates scouting changes involving the 49ers. Barrows: "The 49ers parted ways with Todd Brunner, their Northeast Area scout who had been with the team for 12 years, and he promptly was hired by his former boss, Scot McCloughan, with the Seahawks. Brunner handled most of the area scouting on the east coast and was the point man on recent picks like Anthony Davis and Cam Johnson."
Eric Branch of the San Francisco Chronicle
examines why Cameron Johnson fell to the seventh round, where the 49ers selected him, after analysts suggested the outside linebacker would be chosen much earlier.
Matt Maiocco of CSNBayArea.com
offers thoughts on the 49ers' receiver situation and rookie A.J. Jenkins in particular. Conditioning was a concern initially. Maiocco: "But in the afternoon, Jenkins rebounded nicely and put together a pretty solid showing."