September, 2, 2014
Sep 2
8:00
AM ET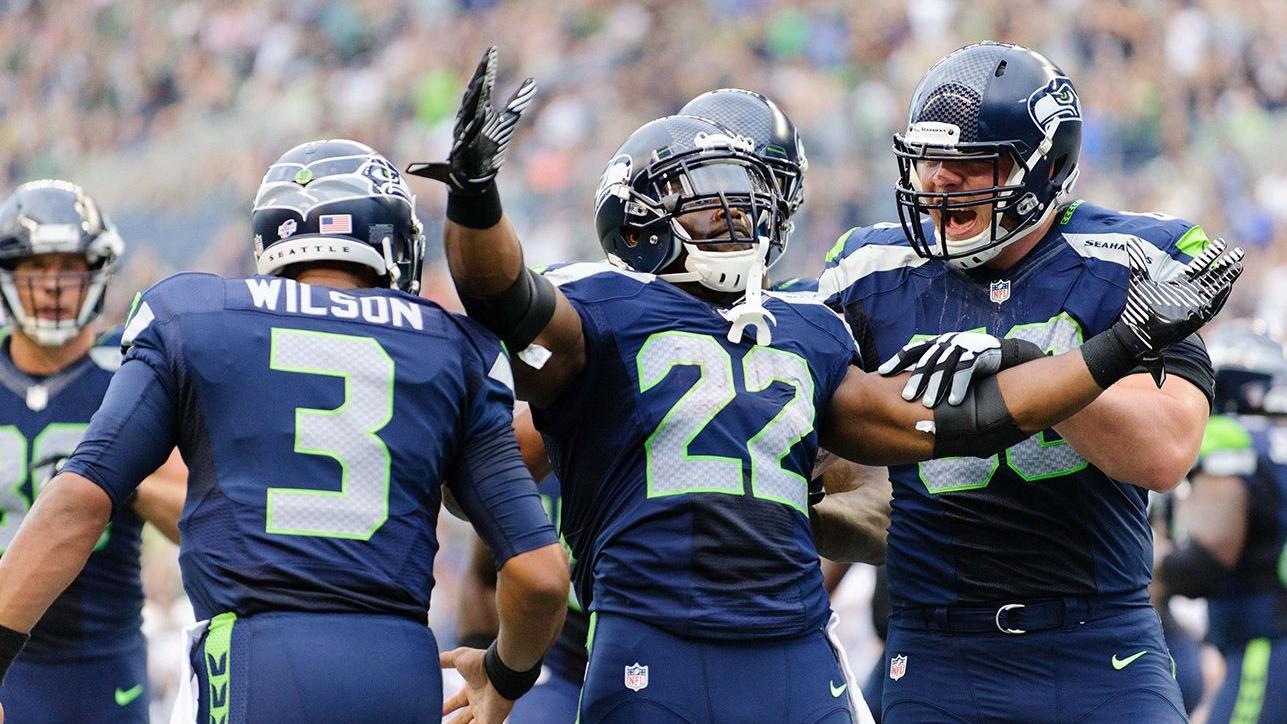 ESPN.com
Seattle Seahawks
reporter Terry Blount makes his game-by-game picks for the 2014 season.
Week 1: Green Bay Packers
All the pregame hype will center around the so-called Inaccurate Reception, the controversial Hail Mary catch by Golden Tate two years ago that won the game over the Packers at Seattle on a Monday night. Tate has moved on to Detroit, but the Seahawks now have too many weapons for the Packers to stop, no Hail Mary required. Prediction: Win
---
Week 2: at San Diego Chargers
The Chargers better hope they play a lot better than they did in the preseason game at Seattle, a 41-14 victory for the Seahawks on Aug. 15. San Diego will play better, but not good enough to beat a much better team. Prediction: Win
---
Week 3: Denver Broncos
The Broncos and their fans got a tiny bit of meaningless Super Bowl revenge in the preseason opener with a 21-16 victory over the Seahawks in Denver. Enjoy it while it lasts, boys. Repeating that outcome in Seattle is not an option. Prediction: Win
---
Week 5: at Washington Redskins
Traveling coast to coast to play on the road for a Monday night game is a tough task against any NFL opponent, and even tougher against quarterback Robert Griffin III. But the Seahawks catch a break in this one by coming off a bye week with plenty of time to prepare and be fresh for the journey. Prediction: Win
---
Week 6: Dallas Cowboys
Cowboys owner Jerry Jones gave Seattle a little bulletin-board material last month when he said the Seahawks were to blame for the increase in penalty flags during the preseason. There won't be near enough flags against Seattle for the Cowboys to win this one. Prediction: Win
---
Week 7: at St. Louis Rams
Any division game in the NFC West is a rugged battle. The Rams have a defensive line that gave the Seahawks problems a year ago. But they aren't strong enough overall to beat Seattle, even at home in their out-of-date dome. Prediction: Win
---
Week 8: at Carolina Panthers
The Seahawks were fortunate to win the season opener at Charlotte a year ago. That Panthers team was better than this one, but back-to-back road games against very physical defensive teams will end the Seattle winning streak. Prediction: Loss
---
Week 9: Oakland Raiders
Coming off their first loss of the season and returning home against an outmanned opponent, is there any doubt? Prediction: Win
---
Week 10: New York Giants
The Seahawks easily defeated the Giants 23-0 last year in New Jersey, a dress rehearsal for their Super Bowl victory at the same location -- MetLife Stadium. The Seahawks won't need a rehearsal to roll past the Giants in this one. Prediction: Win
---
Week 11: at Kansas City Chiefs
This likely will be a low-scoring game between two strong defensive teams. Odds are against any team that has to try to win by matching its defense against the Seahawks' D. Prediction: Win
---
Week 12: Arizona Cardinals
The last time the Cardinals played at CenturyLink Field was last December when they handed the Seahawks a 17-10 loss. That won't happen again unless the Seahawks get caught looking ahead to the 49ers game. The Seahawks don't look ahead. Prediction: Win
---
Week 13: at San Francisco 49ers
It's a Thanksgiving night, national TV game in the 49ers' shiny new stadium against the hated Seahawks. If San Francisco can't win this one, its time as a championship contender is over. Prediction: Loss
---
Week 14: at Philadelphia Eagles
This is the toughest part of the season for the Seahawks with back-to-back road games against likely playoff contenders. But the 10 days between games will help and be enough of a cushion to keep Seattle from losing two in a row. Prediction: Win
---
Week 15: San Francisco 49ers
This is a game that could decide which team wins the NFC West. No way the Seahawks lose to the 49ers twice in three weeks, especially not in front of a rabid full house of 12s. Prediction: Win
---
Week 16: at Arizona Cardinals
The Cardinals probably will be fighting for a playoff spot, and the Seahawks already will be in at 12-2. That difference will be just enough for Arizona to win at home in the same stadium where the Seahawks will win the Super Bowl a few weeks later. Prediction: Loss
---
Week 17: St. Louis Rams
For the second consecutive year, the Rams close the regular season in Seattle. And for the second consecutive year, the Seahawks will beat them without much trouble. Prediction: Win
---
Predicted Record: 13-3
April, 26, 2011
4/26/11
7:59
PM ET
Drafting Texas A&M linebacker
Von Miller
fifth overall would help the
Arizona Cardinals
catch up with their division rivals in at least one category.
Since 2005, linebackers drafted by Arizona have combined to start only 16 games for the team, with 2010 second-round choice
Daryl Washington
starting 11 of them.
Cody Brown
(2009),
Buster Davis
(2007) and
Darryl Blackstock
(2005) combined to start two games for the team, both by Blackstock, despite entering the NFL as second- or third-round selections. Only Brown remains in the NFL.
The
Seattle Seahawks
have gotten 145 starts from second- and third-round linebackers during the same span. Overall, linebackers drafted by NFC West teams since 2005 have combined to start 423 games for their original teams: 180 for Seattle, 173 for San Francisco, 54 for St. Louis and 16 for Arizona.
Washington showed last season he's likely to help Arizona close the gap. The 49ers could lose 57-game starter
Manny Lawson
in free agency. Seattle could move on without 61-game starter
Leroy Hill
while teammate
Lofa Tatupu
, a three-time Pro Bowl choice with 84 starts, is coming off surgeries on both knees.
With that in mind, I'll continue our
position-by-position series
on relatively recent NFC West draft choices with a look at linebackers.
Italics identify what teams might have been thinking as they entered various stages of the draft.
In the charts, I've used the term "not active" to describe, in most cases, players who weren't on regular-season rosters recently, including
Jon Alston
, recently cut by Tampa Bay.
Some players described as "starters" or "backups" could see their roles change pending free agency, roster changes and other dynamics.
We'd better find perennial Pro Bowlers in this range ...
Feeling safe drafting linebackers in this range ...
Not really sure what we're getting here ...
More questions than answers, but worth a shot ...
Not too late to find special-teams contributors, and possibly more ...
September, 1, 2010
9/01/10
8:12
AM ET

Jim Thomas of the St. Louis Post-Dispatch
thinks former Tampa Bay running back Derrick Ward could make sense as a backup with the Rams. Ward and Rams coach Steve Spagnuolo were with the Giants years ago. Thomas: "To me, this one makes a lot of sense, particularly since Spags has a history with the guy. Keep in mind, during the free agency period following the '08 season -- Spags' first offseason with the team -- he called Ward during free agency to see if he'd be interested in coming here. Now maybe Ward still won't want to come here to back up Jackson, but it's better than not having a job."
Also from Thomas
: Troy Aikman speaks from experience when he says the Rams need to upgrade Sam Bradford's supporting cast. Aikman: "You know, Sam, he's going to get hit. That's a (Rams) team that hasn't been very good. They've got to get better players around him. You want to protect him. You don't want to see him get banged up. But yet if he goes through this experience with a team that isn't very good, then he can take at least some consolation in knowing that, 'OK, I'm learning. I'm figuring this thing out. And I'm not holding back a team that has high expectations.' I think that's a positive. But I think you've got to kind of monitor that thing as a coach and make sure that you're not losing this kid because it can happen if he's not having some successes along the way."
Matt Maiocco of CSNBayArea.com
expects Vernon Davis and Michael Crabtree to be ready for the regular-season opener after both participated in practice at full speed Tuesday following injury rehabs.
Also from Maiocco
: 49ers quarterback Alex Smith feels empowered by the fact that he has earned his place in the starting lineup. Maiocco: "His body language has been different this offseason. He is much more assertive."
More from Maiocco
: He would be surprised if the 49ers released Nate Davis. I would put Davis on the bubble given how strongly coach Mike Singletary criticized Davis' work ethic, particularly if the 49ers can find another player more likely to contribute in 2010.
Phil Barber of the Santa Rosa Press-Democrat
says Singletary is more comfortable with Smith than with his backups. Singletary: "I feel good about Alex Smith. I feel very good about where he's at. I think we have to do a great job of protecting our starting quarterback. When it comes to David Carr, I think David Carr is a guy that I could grow to feel comfortable with. I think he's a guy that has a good command of the offense. I think he understands, I just think that he's still thinking a lot and he's still having to get the rhythm and all the other things, but I think David Carr, I could grow to feel comfortable with him."
Dan Brown of the San Jose Mercury News
says Smith showed anger during a recent practice, another indication the quarterback is more comfortable. Smith: "When I was young and kind of thrown out there, I felt like I still had to earn it," Smith said. "Even though I was the starting quarterback, I still felt like I had to earn my place. There's no hesitation for me now. I've gone through a lot. This is the opportunity I've been waiting for and I'm going to take advantage of it."
Kevin Lynch of Niner Insider
says the 49ers' coaches have high praise for rookie linebacker NaVorro Bowman. Lynch: "Defensive coordinator Greg Manusky said the Penn State grad can correct a mistake almost instantly, and Bowman, with his resonate voice and strong demeanor, seems to possess a wisdom well beyond his years."

Clare Farnsworth of seahawks.com
says former Seahawks cornerback Josh Wilson is happy to be heading home to Maryland as a member of the Baltimore Ravens. Wilson: "I was shocked. It's a business decision. But for me, it's the best business decision I could have gotten."
Also from Farnsworth
: notes from Seahawks practice, including one about veteran safety Lawyer Milloy singing "Kumbaya" on the sideline after an on-field fight.
Rod Mar of seahawks.com
offers photos from the team's recent trip to Minnesota, including one of Matt Hasselbeck and Brett Favre catching up before the game.
Danny O'Neil of the Seattle Times
says Leroy Hill's paycut with Seattle represented a best-case scenario for the linebacker because the team would have released him pending additional league sanction for off-field troubles.
Also from O'Neil
: Roy Lewis could be the big winner for Seattle after the team traded Wilson.
Percy Allen of the Seattle Times
passes along comments from Seahawks coach Pete Carroll and general manager John Schneider regarding the team's recent moves. They said the Wilson trade came down to the Ravens' need for a cornerback and the Seahawks' belief in some of their young corners, notably Walter Thurmond. Schneider also pointed to the fact that Wilson has the potential to leave as a free agent after the 2010 season. Left unsaid: why the Seahawks weren't interested in paying Wilson beyond 2010, and why they were willing to part with a starter for nothing in return this season. Looks like Leon Washington could be returning kicks.
John Morgan of Field Gulls
sees no upside to the Wilson trade. Morgan: "Seattle just turned what every team hopes a second-round pick can become into a fifth-round pick. The Seahawks secondary is young and deep. The recovery of Walter Thurmond and emergence of Roy Lewis means Seattle is dealing from a position of strength. That, Wilson's looming contract, and a narrow commitment to 'building through the draft' is the justification for this move. A realistic evaluation of Wilson's talent and the true value of a fifth-round pick is the damning reality. Seattle is worse today than it was yesterday. Much worse. And for what? Another Owen Schmitt, Will Herring, David Kirtman or Jeb Huckeba?" I also have trouble seeing how the Seahawks improved by subtracting one of their better corners.

Kent Somers of the Arizona Republic
says 2009 second-round draft choice Cody Brown has much to prove heading into the Cardinals' final exhibition game of 2010. Somers: "One high draft pick who need to show something is outside linebacker Cody Brown, a second-round pick in 2009. Brown missed his rookie year with a dislocated wrist and hasn't made an impact this preseason."
Bob McManaman of the Arizona Republic
says undrafted free agent Stephen Williams is looking like a potential steal for the Cardinals. McManaman: "The Cardinals had him rated as a potential third-round pick, but they didn't draft him, either. Instead, they were the one team that reached out and offered him a free-agent contract with a chance to make the team. And it appears he has done that."
Also from McManaman
: Derek Anderson will start at quarterback for the Cardinals on Thursday night, leaving Matt Leinart as the backup again. Also: "Tight end Ben Patrick practiced for a second consecutive day and did well in his return from a dislocated kneecap suffered early in training camp. (Coach Ken) Whisenhunt said Patrick will get limited playing time Thursday but he's encouraged by what he's seen from Patrick."
Darren Urban of azcardinals.com
says the Cardinals are making Greg Toler work for the starting job at right cornerback. Toler: "They just don't want you to be complacent. They don't want you just thinking you're going to come in and slide into the position because then you might just slide back on what you do."
Also from Urban
: Whisenhunt has long wanted an indoor practice facility, but for now he'll have to settle for holding occasional practices at Arizona State University.
August, 24, 2009
8/24/09
3:53
PM ET
| | | | |
| --- | --- | --- | --- |
| 2005 NFL Draft Round | Players on Active Rosters | Total Players | Percent on Active Rosters |
| 1 | 27 | 32 | 84.4% |
| 2 | 25 | 32 | 78.1% |
| 3 | 26 | 37 | 70.3% |
| 4 | 23 | 35 | 65.7% |
| 5 | 14 | 38 | 36.8% |
| 6 | 18 | 40 | 45.0% |
| 7 | 16 | 41 | 39.0% |
| Totals | 149 | 255 | 58.4% |
Posted by ESPN.com's Mike Sando
The quadriceps injury threatening Chris Spencer's future with the Seahawks sent me back through his 2005 draft class.
The first six players NFC West teams selected that year have not met expectations: quarterback Alex Smith (49ers), cornerback-turned-safety Antrel Rolle (Cardinals), tackle Alex Barron (Rams), Spencer, guard David Baas (49ers) and running back J.J. Arrington (Cardinals).
The next four players NFC West players selected -- Lofa Tatupu (Seahawks), Ron Bartell (Rams), Frank Gore (49ers) and Oshiomogho Atogwe (Rams) -- have either achieved Pro Bowl status or become front-line starters.
The Seahawks, Rams and 49ers each have four members of their 2005 draft classes on their active rosters. The Cardinals have two.
Even with Spencer out, the Seahawks arguably had the best 2005 draft of any team in the division, landing Tatupu, Leroy Hill, Ray Willis and Spencer.
The Rams found four current starters in Barron, Bartell, Atogwe and third-rounder Richie Incognito.
The 49ers found Gore and right tackle Adam Snyder, while Baas and Smith could wind up starting this season.
The Cardinals have only Rolle and backup guard Elton Brown to show for that 2005 class.
Tatupu and Gore are the only Pro Bowl players from the 2005 NFC West draft class.