January, 18, 2011
1/18/11
11:06
AM ET
Frequent coaching turnover is part of life in the NFL.
The
Seattle Seahawks
,
St. Louis Rams
and
San Francisco 49ers
have had 10 head coaches, interim or otherwise, since Arizona hired Ken Whisenhunt for the 2007 season.
Pete Carroll, Steve Spagnuolo and Jim Harbaugh remain from a group that has included Mike Holmgren, Jim Mora, Scott Linehan, Jim Haslett, Mike Nolan, Mike Singletary and Jim Tomsula. NFC West head coaches are set for 2011, but all four teams have staff openings.
As Qwest12thMan noted in the comments of
an earlier item
, the Seahawks are losing another high-profile assistant coach.
Jerry Gray is leaving
his job coaching the secondary to become assistant head coach and secondary coach at Texas, his alma mater.
Seattle has now lost offensive line coach Alex Gibbs, quarterbacks coach Jedd Fisch, defensive line coach Dan Quinn and Gray from Carroll's inaugural Seattle staff. Gibbs' departure affected the Seahawks' commitment to the specific zone-blocking scheme he promoted. The team wants a more consistent approach from training camp through the season, and coaching continuity should allow that to happen.
St. Louis remains without an offensive coordinator after
interviewing
former
Denver Broncos
head coach Josh McDaniels for the role. The Rams' staff could face additional changes if the team hires a coordinator from the outside. NFL Network suggests
McDaniels could be headed to the Rams
.
The 49ers have
multiple positions open
.
Arizona remains without a defensive coordinator, an indication Whisenhunt could be waiting for a candidate to become available following the playoffs. Whisenhunt's history with the Steelers makes Pittsburgh a logical place for him to turn, but linebackers coach Keith Butler
might be off-limits
. Ray Horton coaches the Steeler's secondary. Their line coach, John Mitchell, is also assistant head coach.
January, 13, 2011
1/13/11
6:27
PM ET
RENTON, Wash. --
Matt Hasselbeck
was at his best for the
Seattle Seahawks
against New Orleans in the wild-card round Saturday.
The quarterback might have been better during his weekly media session Thursday.
Loose and reflective, Hasselbeck congratulated quarterbacks coach Jedd Fisch on landing a job at "Miami of Ohio" -- it was the University of Miami -- and deadpanned that he hugged coach Pete Carroll for saying the team wanted Hasselbeck to return next season.
The laid-back image Carroll projected when he
answered a reporter's phone
during a news conference Wednesday mirrors the tone he sets internally. That marks a change from former coach Mike Holmgren, who was more of a taskmaster behind the scenes.
"I can remember before some playoff games, myself feeling the need to break the ice, lighten the mood a little bit," Hasselbeck said. "Now, if anything, I'm feeling the desire to really get everybody to focus in a little bit more and just tighten screws a little bit."
Hasselbeck pointed to potential distractions surrounding a road playoff game in a major city. The team will arrive Friday, a day earlier than usual. Players will have free time.
"It's not a shopping trip, it's a business trip," Hasselbeck said.
The Seahawks have a good mix of personalities on their coaching staff, Hasselbeck said. He described offensive coordinator Jeremy Bates as having the demeanor of an old-school line coach, whereas Fisch is more relaxed. Carroll is ... Carroll.
"His style works with the group of coaches we have," Hasselbeck said.
A few other highlights from Hasselbeck's media session:
Hasselbeck doesn't like wearing long sleeves, even in cold weather. Holmgren once tried to change his mind by saying, "Hey, John Wayne, put some sleeves on." What about Sunday in chilly Chicago? Hasselbeck: "The sun hasn't been out here in a long time, so we'll see. I've got the Jon Ryan look going right now."
Hasselbeck, as a veteran late-round pick, wouldn't give too much credit, at least in public, to rookie first-round tackle Russell Okung for fighting through ankle trouble. Hasselbeck: "Expectations are high for him. As far as the limping, I don't know. I think that is just how he walks. He's been doing that since he got here. Maybe it's a strut. He has done a good job. He held out, so that slowed down the process, but we were counting on him Day 1."
On periodically crediting Bates and Fisch by name: "They give me a dollar every time I do that."
On Carroll's comments about wanting him back: "I went and gave him a hug." Hasselbeck paused. Reporters laughed. "No. I mean, I'm very focused on this year. We have talked all year, even from last year, Pete and me and everyone here. We've been very open about everything. I would love to be back, absolutely, no doubt about that, but my focus isn't really there. My focus is on getting this team to win games, trying to play well. Just like in a football game, if you focus on doing things right, the score takes care of itself. That is my mindset with what happens beyond this year."
January, 13, 2011
1/13/11
11:21
AM ET
Thoughts upon hearing a report from ESPN's Adam Schefter regarding Seattle quarterbacks coach Jedd Fisch leaving to become offensive coordinator and quarterbacks coach at the University of Miami:
Seahawks quarterback Matt Hasselbeck likes working with Fisch. He mentions Fisch and coordinator Jeremy Bates by name when he would not have to do so.
Seattle has run through quarterbacks coaches since Jim Zorn left following the 2007 season. Bill Lazor and Fisch stayed for relatively short stints.
We're seeing more NFL assistants taking college jobs, it seems, and that could reflect concerns over a potential lockout. Seattle defensive line coach Dan Quinn is also headed for the college ranks, having accepted a job as defensive coordinator at Florida.
Pete Carroll's inaugural Seahawks staff is suffering some key losses. Alex Gibbs, Quinn and Fisch are either gone or leaving.
Carroll's background on defense makes losses on the offensive side potentially more damaging. It's more important for a defensive-minded head coach to hire the right assistants on the offensive side.
Fisch and Quinn will continue coaching with the Seahawks until the team is finished playing this season.
Speaking of Zorn, who now coaches with Baltimore, some have suggested to me that he would fit well as offensive coordinator in St. Louis if the Rams lost Pat Shurmur to the Browns? The team could keep the same basic offensive system, and Zorn could coach quarterback
Sam Bradford
, too. Not a bad thought.
December, 24, 2010
12/24/10
9:08
AM ET

Clare Farnsworth of seahawks.com
says Seattle offensive coordinator Jeremy Bates rode to
Matt Hasselbeck
's defense following a string of shaky starts from the veteran quarterback. Bates: "It's still a team game. It's very easy to just sit back and write a story about the quarterback. That's pretty easy. It's a team sport. It takes 11. This isn't basketball, where Michael Jordan can dominate a game. It's not baseball, where Randy Johnson can pitch a no-hitter." Hasselbeck mentioned Bates and quarterbacks coach Jedd Fisch by name repeatedly and in a positive light early in the season, an indication he liked they way they were handling their jobs. The rapport between those three -- and Hasselbeck's relationship with coach Pete Carroll -- appear to be serving the quarterback well at this point in the season.
Also from Farnsworth
: The tactics that worked against
Michael Turner
apply when Seattle faces the Bucs'
LeGarrette Blount
. Coach Pete Carroll: "Blount has that same kind of factor, in that he'll run right through tackles. He'll make you look like you're not even trying if you don't really have a dedicated effort in how to get him wrapped up and how to get him down."
Danny O'Neil of the Seattle Times
passes along this quote from Hasselbeck: "Looking back I think I've got to get less frustrated during the games, bottom line, really. Because when you get frustrated you try to do too much, you try to make stuff up that's not there, and you play outside yourself."
Christian Caple of seattlepi.com
says Hasselbeck feels good about the team's plan against Tampa Bay. Hasselbeck: "The coaches have been very specific about how we can win this game and what we want to do, what we can do, what we need to do. So it's all right there. It's just a matter of doing it."
Liz Mathews of 710ESPN Seattle
says Hasselbeck is "fired up" about the team's opportunity Sunday.
Art Thiel of Sportspress Northwest
says the Seahawks would be better off starting
Charlie Whitehurst
at quarterback. Thiel: "Hasselbeck is 35, at the end of his contract and floundering. Many of the reasons for his downward spiral are beyond his control -- third set of head coaches and offensive coordinators in three seasons, no one good to cover his blind side, receivers that can't stay healthy, a defense that can't get off the field, etc. But he's also done enough on his own to bring into serious question his fitness for another season."

Bill Coats of the St. Louis Post-Dispatch
says Rams running back
Steven Jackson
is anxious to carry the offense against the 49ers. Jackson: "It's a game that we all know is a must-win. And these kinds of games, these kinds of pressure situations are what I live for. It's something that I thrive in, I believe. I have all the confidence in the world in me and the offensive line -- I know I can't do it alone. But when it comes to these situations, I would like to just ... Let's go back to old Steven: I think the best player should have the ball."
Also from Coats
:
Daniel Fells
has caught a pass in 16 consecutive games for the Rams. That is good for Fells, but also an indication the team could use a primary receiver.
Bryan Burwell of the St. Louis Post-Dispatch
says the Rams will learn plenty about themselves Sunday. Burwell: "This is the biggest opportunity in nearly a decade for this franchise, and arguably the biggest moment in the professional lives of most of the men in that Rams locker room, too. Some people wonder if the green-but-growing Rams may have grown up a bit too fast, maybe even gotten an accelerated boost toward postseason exposure by virtue of being in the weakest division in pro football."
Roger Hensley of the St. Louis Post-Dispatch
asks colleagues whether the Rams should be more concerned about
Troy Smith
or
Alex Smith
when it comes to facing the 49ers' offense Sunday. Thomas: "Troy Smith has the confidence of knowing he threw for 356 yard the last time these guys met – a high yardage total against the Rams this season. His mobility creates problems for the Rams, and although he's not as accurate as Alex Smith, he throws a better deep ball. So I would say Troy Smith's the bigger challenge. But at least the Rams have seen him."
Brian Stull of 101ESPN St. Louis
says the hard-count tactics that worked for the Rams in San Francisco should have a better chance of working in St. Louis, according to Rams quarterback
Sam Bradford
.
Nick Wagoner of stlouisrams.com
examines reasons for
James Laurinaitis
' success as the Rams' middle linebacker.
Also from Wagoner
: more on Jackson's playoff quest.
More from Wagoner
: Rams tackle
Jason Smith
is expected to play Sunday despite rolling an ankle in practice.

Matt Barrows of the Sacramento Bee
says a familiar football adage applies to the 49ers' quarterback situation. A team with two starting quarterbacks usually has no legitimate starting quarterback. Barrows: "The vacillating between Alex Smith and Troy Smith this season has kept fans, the media and -- Singletary hopes -- his opponents guessing. But it also underscores the fact that the 49ers don't have a true starter on their roster and that they likely will spend the offseason looking for one. Neither Smith is signed beyond this season, although Troy Smith could be a restricted free agent depending on the next collective bargaining agreement. Alex Smith is scheduled to be an unrestricted free agent."
The
San Francisco 49ers
say they've reached a tentative agreement to make Candlestick Park more palatable in the coming years.
Daniel Brown of the San Jose Mercury News
says veteran 49ers linebacker
Takeo Spikes
is hoping to reach postseason for the first time since entering the NFL as a first-round pick in 1998. Spikes: "I like it. I love it. All the attention is right here. Everyone is watching to see what you're going to do. And that's all you ever want. That's all I ever wanted. That's all I ever asked for as a player: Just give me the opportunity."
Also from Brown
: Troy Smith is looking to "showcase his talents" Sunday.
Eric Branch of the Santa Rosa Press-Democrat
says the 49ers could use two quarterbacks against the Rams.
Kevin Lynch of the San Francisco Chronicle
says some of the 49ers' young talent hasn't performed to expectations. Lynch: "Specifically, quarterback Alex Smith, wide receiver
Michael Crabtree
, pass rusher
Ahmad Brooks
and safety
Dashon Goldson
were expected to build on their promising 2009 seasons to become established and respected players, not to mention carry their team to a winning season. However, none of these players took that next step, and, in fact, some of them regressed at ages when they're supposed to be hitting their prime."

Kent Somers of the Arizona Republic
offers a scouting report on the Cardinals' game against Dallas. Somers: "The Cardinals tackles,
Levi Brown
and
Jeremy Bridges
, have been inconsistent this season, and Bridges is coming off a poor game in Carolina. In outside linebacker
DeMarcus Ware
, the Cowboys have one of the NFL's elite pass rushers. Ware had two sacks last week against the Redskins, and he could create problems for rookie quarterback
John Skelton
."
Also from Somers, with Bob McManaman
: The Cardinals want more from third-year defensive end
Calais Campbell
, who says an ankle injury suffered in November has held him back.
More from Somers
: Cardinals coach Ken Whisenhunt says it's tough giving up play-calling duties even some of the time. Whisenhunt: "There's a lot of things on game day that you have to be on top of, and fortunately we have a number of good coaches on this staff to help with that. But there is a lot of personal satisfaction from calling good plays or calling a game where you have success. That's part of what I've done successfully for a number of years, and it's hard to step away from that."
Darren Urban of azcardinals.com
says backup quarterback
Derek Anderson
, recently cleared to return from a concussion, missed practice with an illness. Whisenhunt: "It wasn't reported like
Tom Brady
was, when he was out with the flu, but it's a similar situation."
Also from Urban
: Campbell projects a positive attitude.
September, 4, 2010
9/04/10
11:38
AM ET
Matt Leinart
's future with the
Arizona Cardinals
is but one quarterback drama in the NFC West.
The
Seattle Seahawks
have interest in
Patrick Ramsey
,
ESPN's Adam Schefter reports
, and signing Ramsey might indicate the team isn't waiting around for Leinart.
Why Ramsey? He was with Seahawks offensive coordinator Jeremy Bates and quarterbacks coach Jedd Fisch in Denver for the 2008 season. Bates coached the Broncos' quarterbacks. Fisch coached their receivers.
The
Washington Redskins
drafted Ramsey in 2002, one year after Seahawks general manager John Schneider and assistant pro personnel director Trent Kirchner were with the team.
Ramsey's strong arm and gunslinger's mentality makes him a fit for the Seahawks in their new offense.
Charlie Whitehurst
, acquired from San Diego this offseason, also has a strong arm and more freewheeling style than the quarterbacks Seattle targeted previously during the Mike Holmgren years.
Signing Ramsey would presumably spell the end for
J.P. Losman
in Seattle.
Update:
Losman is out
, and Schefter says the plan now is to go with two quarterbacks.
In Arizona, meanwhile, the Cardinals are carrying four quarterbacks and coach Ken Whisenhunt has said the team must name its starter and decide whether Leinart could remain in a No. 2 role. Lesser quarterback dramas are percolating in St. Louis and San Francisco. The Rams have not yet named
Sam Bradford
their Week 1 starter, while 49ers coach Mike Singletary told reporters he wasn't playing motivational games with
Nate Davis
when he questioned the third-string quarterback's preparation.
July, 12, 2010
7/12/10
8:00
AM ET

Bernie Miklasz of the St. Louis Post-Dispatch
says he expects the St. Louis Rams' contract talks with first-round draft choice Sam Bradford to begin this week. Miklasz: "Rams chief operating officer Kevin Demoff, who will return from a brief vacation early next week, plans to get together with Bradford's agent, the Clayton-based Tom Condon." Condon has lots of experience representing highly drafted quarterbacks. Seems to me he and the Rams will find a way to get Bradford into camp on time or close to it. Having Bradford there from Day 1 benefits all parties. Everything we've seen from Bradford suggests he'll be eager to get into camp on time. And it's the player who can ultimately determine when he gets into camp. Players tend to have their breaking points. The San Francisco 49ers' Michael Crabtree was an exception last offseason. In Seattle, 2009 first-round choice Aaron Curry reached his breaking point about one week into camp. A deal then got done quickly. The issues that delayed Crabtree's arrival -- namely his contention that he should have been drafted earlier and valued at a higher level than Darrius Heyward-Bey -- do not apply to Bradford's situation.

Matt Maiocco of CSNBayArea.com
says during a chat he thinks the NBA's recent experience with Lebron James pretty much ensures the return of the franchise tag in the NFL, which will pretty much prevent someone such as Tom Brady from signing with the 49ers or anyone else. Maiocco: "No player is going to be bigger than the NFL. The Patriots will have the chance to place the franchise tag on Brady to retain his services. Now, if he's so disgruntled, he could demand a trade. But, I'd still say, there's a very slim chance Brady will be playing for the 49ers while he's still among the game's elite quarterbacks." Peyton Manning is probably the closest thing the NFL has to a player who is bigger than even his team, but his value is also highest to the Colts based on what all parties have invested over the years. Pro football is so much more a team sport than pro basketball. That is one reason why pro football players have a harder time commanding as much guaranteed money. An All-Star basketball player is generally worth more to his team than a Pro Bowl football player.

Greg Johns of seattlepi.com
explains how to register for Seahawks practices at training camp. Johns: "Fans interested in attending Seahawks' training camp practices this summer will be able to pre-register on the team's website starting Monday at 10 a.m. Open practices at the team's Virginia Mason Athletic Center in Renton will be held from July 31 through Aug. 16, but will be available only to those who sign up in advance at seahawks.com. The team will also host an open practice at Husky Stadium on Sunday, Aug. 8 that will not require preregistration since the stadium has plenty of seating. Registration for the VMAC practices will be available on a first-come, first-serve basis and fans 15 years or younger must be accompanied by an adult. A $5 transportation fee will be charged per person, as fans will be required to park at an off-site location and be shuttled to the VMAC before and after each practice."
John Morgan of Field Gulls
says the Seahawks' Olindo Mare will probably remain underappreciated even though the Seahawks named him their franchise player.
Ben Malcolmson of seahawks.com
profiles quarterbacks coach Jedd Fisch, whose coaching career began improbably with Steve Spurrier at the University of Florida. Malcolmson: "Fisch blindly and ambitiously packed up and went to school in Gainesville, with no connections to Spurrier or the program. He tried being an equipment manager for the team his freshman year, but that didn't pan out. Then he decided to get back to hands-on coaching by volunteering at a high school just off campus. ... But then fortune struck and Fisch's hard work began to pay off with a glimmer of hope. An assistant coach for the Gators was recruiting one of the players on Fisch's high school team, and before long, he had invited Fisch to do odd jobs around the football office. (Fisch) spent a year quietly laboring before another assistant started giving Fisch higher-profile tasks."
Sam Farmer of the Los Angeles Times
lists three NFC West players -- Justin Forsett, Dashon Goldson and Calais Campbell -- among his potential breakout players for 2010. I thought Campbell broke out last season with 7.0 sacks, a high number for a 3-4 defensive end. Farmer on Forsett: "Forsett, in his third season out of Cal, is everything LenDale White wasn't — undersized, dedicated, productive, and an instant Pete Carroll favorite. The Seahawks had the league's 26th-ranked running game last season, but they might have been much more effective had they put the ball in Forsett's hands. The 5-foot-8, 194-pound back averaged 5.4 yards in 114 carries with four touchdowns, and caught 41 balls out of the backfield. He was far more explosive than Julius Jones, who was limited to fewer than 50 yards in more than half of his starts last season."

Darren Urban of azcardinals.com
thinks the Cardinals should be ranked higher than ESPN had them recently. He also wonders how Adrian Wilson's name could elude a CBS list of top NFL safeties. Urban: "Wilson isn't better than Brian Dawkins these days? And even if you feel that strongly about Bernard Pollard or Nick Collins, Wilson has to be in the discussion, right?" Yes.
Also from Urban
: The Cardinals' top five draft choices remain unsigned after the team reached agreement with sixth-round choice Jorrick Calvin, a potential return specialist. Urban: "Calvin, a cornerback who did not play his senior season at Troy because he was academically ineligible, is trying to find a spot in the team's secondary. But his most likely avenue to the active roster would be on returns, after averaging 10 yards a punt return and 25.7 yards a kick return in 2008."
April, 18, 2010
4/18/10
11:44
AM ET
Mike from Phoenix writes:
Being how Ken Whisenhunt was a tight end, do you see him taking advantage of someone at that position falling to him in the second or third round? Maybe even
Jermaine Gresham
in the first? I don't think he would take one with injury concerns in the first, but I wonder when coach 'Wiz' will add a reliable tight end threat. I do wish we grabbed
Benjamin Watson
from New England. Also, do you think there is a chance that
Bruce Campbell
would fall to the 26th spot? I'd love to see him go to the Cards, but I don't think such a player would fall that far.
Mike Sando:
I could see Bruce Campbell being there, sure. I also think tackle is more of a need than the Cardinals seem to be acknowledging, at least publicly. They have a lot of confidence in line coach Russ Grimm, and rightfully so, but a tackle more skilled in pass protection would help them, I think.
Kurt Warner
could beat pressure with quick throws. He also proved he could take punishment and keep coming back.
Matt Leinart
still has to prove he can do those things.
The Cardinals also seem to be OK with the situation at tight end.
Ben Patrick
gives them a decent starter.
Anthony Becht
has done pretty well -- better than expected, probably -- as a second tight end for blocking purposes. The defensive front seven is where I expect Arizona to invest the most draft capital this year unless a highly talented player at another position falls to them unexpectedly. I can't argue with that strategy.
---
Alex from Seattle writes:
With the addition of Mike Williams and
Reggie Williams
, and after hearing what coach Pete Carroll said, do you think the Seahawks will still look at adding another big-name receiver? The Hawks will have some very big guys measuring 6-foot-5 (Mike Williams), 6-4 (Reggie Williams) and 6-2 (
T.J. Houshmandzadeh
). What about adding a deep threat with insane speed?
Deion Branch
just isnt cutting it.
Mike Sando:
Yes, a speed threat would help. Finding one early in the draft might be a bit of a luxury for this team unless things fall just right.
While the current Seattle staff likes bigger receivers, Carroll has expressed happiness with Deion Branch to this point. Branch had a very strong minicamp. He appears to be responding well to receivers coach Kippy Brown and the new staff. Branch doesn't fit the Carroll mold physically, but the staff appears flexible enough to embrace what he offers (when healthy, of course). I was skeptical about Carroll's praise for Branch until this minicamp. It appears to be real.
Mike Williams outperformed Reggie Williams during the three-day minicamp. It's largely about conditioning for Mike Williams. I think he showed he has a chance to make a run at a roster spot and become a contributor. He just has to stay on track. The talent is still there. He's a young player. He just hasn't put it together and there are real questions about whether he can show consistency of effort and performance. He has a long road ahead.
I wonder about
Deon Butler
's future with the team. Not sure how he fits yet. It's too early to say, but his slight frame, average height and inexperience raise questions. Branch might not fit the mold, but he's a finished product and proven productive receiver when healthy. Butler is not those things.
The Seahawks could certainly add an impact receiver in the draft. Their needs are varied enough to justify heading in multiple directions, though, so I can't say they'll definitely target the position early. They could need two starting offensive linemen, one starting safety, a starting defensive end and a starting running back, plus a receiver. Good luck finding all those things in one draft. They can always sign a veteran guard such as
Ben Hamilton
to address one of the openings on the line.
---
Bob from Toa Baja, Puerto Rico writes:
How can you suggest that
Marshawn Lynch
is a higher risk than
Brandon Marshall
? Lynch has been convicted of one misdemeanor, for an unloaded gun in the back of his vehicle, and was sentenced to community service. Other than that, he had a minor traffic accident, when two drunk women staggered into the road at night and Lynch, who had not been drinking, avoided the first, but did not see the second. It is likely that he did not even realize the woman had bumped his vehicle and then he followed his lawyer's advice and received essentially a traffic ticket.
That is it, unless you count the claim by a policeman's wife that Lynch tried to steal $20 from her. I have seen reports suggesting that her phone number was on the $20. So we have one misdemeanor and one traffic ticket. Compare that to Marshall. As Tim Graham recently reported, he was charged with assaulting an off duty officer and DUI. He was involved in seven cases of alleged domestic violence. He was involved in the altercation that led to the shooting death of
Darrent Williams
. Compared to Marshall, Lynch is a saint.
Mike Sando:
Rap sheets aren't the only factors when considering risk. I thought the Seahawks' familiarity with Brandon Marshall gave them an advantage that the Dolphins will not enjoy. Offensive coordinator Jeremy Bates and quarterbacks coach Jedd Fisch were with Marshall in Denver. They knew him. That made Marshall a lower-risk acquisition than Lynch specifically for Seattle, in my view.
---
Evan from Seattle writes:
Is there any chance now that
Donovan McNabb
is in Washington that the 49ers trade for
Jason Campbell
? He would fit the 49ers' run-oriented offense because he has the big arm to throw the deep pass off of play action.
Mike Sando:
Cannot see it happening. Can we say for sure that Campbell would mark a significant upgrade over what the 49ers already have at the position? Continuity has been a big thing for the 49ers. They want to finally have continuity on offense. That means they wouldn't change quarterbacks without making an obvious, significant upgrade, in my view.
---
Chris from Smithville, Mo., writes:
Just a curious fan here, but if I were the Rams, I would switch first-round picks with Washington for Jason Campbell. Why not? I would end up with a proven NFL QB and I could use the other pick and get an outstanding offensive lineman or a big defense threat. What does everybody think?
Mike Sando:
The Redskins lack the draft capital to seriously consider that type of move, even if the Rams overvalued Campbell as part of a deal. That is my opinion, anyway. Campbell would fit in terms of having experience in a West Coast offense. But the Rams are seeking leadership from that position and Campbell is not known for being strong in that area. I also think the Rams are pretty good on the offensive line, particularly relative to the rest of their roster. They have bigger needs elsewhere.
April, 12, 2010
4/12/10
8:15
AM ET

Dan Bickley of the Arizona Republic
says Beanie Wells is looking forward to getting more playing time in his second season with the Cardinals. Bickley: "Wells won't reveal any specific goals for the 2010 season. But you can hear the excitement in his voice. He's preparing like never before, and eager to climb a different mountain. He is the perfect beast to usher in a new era of power football in Arizona. If he can hang onto the ball, he can carry this team a long way."
Kent Somers of the Arizona Republic
does not expect the Cardinals to sign Kendall Simmons or Mike Brown before the draft, though both players visited Arizona recently. Brown played high school ball in the Phoenix area, as noted in the next item.
Darren Urban of azcardinals.com
says Joey Porter will wear No. 55 for Arizona, with Reggie Walker changing to No. 56.

Jim Thomas of the St. Louis Post-Dispatch
says the Rams are focusing as much on intangibles as physical ability when assessing quarterbacks. Coach Steve Spagnuolo: "The teams that have been successful lately, it seems to me they have those leadership-type guys. Guys that can get the job done in a pinch. Certainly you want all the other things that go with [playing quarterback] -- a guy that can throw the football, all the physical qualities. But leadership to me is really important at that position."
Also from Thomas
: The time has come for Rams part-owner Stan Kroenke to declare his intentions. Thomas: "On Feb. 12, Urbana, Ill., businessman Shahid Kahn reached a sales agreement to purchase 60 percent of the Rams from Chip Rosenbloom and sister Lucia Rodriguez. As part of that agreement, Kroenke was given 60 days to either: Stand pat and keep his current 40 percent share of the team, sell his 40 percent of the team or attempt to exercise matching rights to purchase the full 100 percent of the franchise."
Bryan Burwell of the St. Louis Post-Dispatch
says potential Rams No. 1 draft choice Sam Bradford has pursued varied interests without pressure from his parents. Burwell: "There was the cello and golf. There was football and there was basketball. There was hockey and just about anything else he could find a way to try, and there was no overly obsessive parent trying to redirect him into choosing one sport over the other and becoming some specialized athletic fanatic. Sam Bradford's life would not become a carefully orchestrated, force-fed extension of his parents. This rare athletic journey never became Kent and Martha Bradford's vicarious thrill ride."

Gil Brandt of NFL.com
says the Seahawks put Notre Dame quarterback Jimmy Clausen through a three-hour workout Friday. Offensive coordinator Jeremy Bates and quarterbacks coach Jedd Fisch represented the Seahawks. The Rams' Billy Devaney, Steve Spagnuolo and Pat Shurmur attended Clausen's pro day.
Adam Caplan of scout.com
expects Bucs free-agent defensive lineman Jimmy Wilkerson to visit the Seahawks this week.
Greg Johns of seattlepi.com
checks in with draft analyst Rob Rang for thoughts on the Seahawks. Rang hasn't seen a stronger safety class in the draft over the past 10 years, but he isn't convinced Seattle would use the sixth overall choice for Eric Berry, based on how teams value the position.
Eric Williams of the Tacoma News Tribune
also checks in with Rang for Seahawks thoughts. Rang points to South Florida's Nate Allen, Utah's Robert Johnson and Vanderbilt's Myron Lewis among safeties Seattle could consider in the later rounds.

Matt Barrows of the Sacramento Bee
isn't expecting the 49ers to draft Bay Area running backs Jahvid Best or Toby Gerhardt. Barrows: "Best would be an excellent complement at running back, and he would be a shot of adrenaline to the return game. But given his injury history, pick 17 is too early for Best and pick 49 probably is too late."
Matt Maiocco of the Santa Rosa Press-Democrat
says wide receiver ranks well down the list of priorities for San Francisco in part because the team likes Josh Morgan. Maiocco: "The 49ers are very happy with Morgan as the No. 2 man. He appears to be a good counterbalance to Michael Crabtree, who's expected to be the team's top wideout for a long time - at least through the remaining five years of his contract. It's surprising to anyone who's been around the 49ers that Morgan's stock fell leading up to the 2008 draft because of so-called 'character concerns' from his time at Virginia Tech. He has been great in the locker room, and a tremendous team player."
March, 24, 2010
3/24/10
12:18
PM ET
The earlier item
on the Seattle Seahawks' interest in Denver Broncos receiver
Brandon Marshall
provides background for this one.
Seahawks coach Pete Carroll, speaking at the NFL owners meetings, said his offensive coordinator, Jeremy Bates, had a "great" relationship with Marshall in Denver. Marshall, a restricted free agent, visited Seahawks headquarters early in free agency.
"We enjoyed the visit," Carroll told reporters at the NFL owners meetings. "We have a lot of information and background with him because of Jeremy. Jeremy Bates had a very good relationship with him in Denver."
Seahawks assistants Jedd Fisch and Pat McPherson were also in Denver with Marshall.
"Those guys all know him, so they give us unique insights, I think, to understanding how he could fit into the offense and what he could do in helping us," Carroll said.
Carroll's comments affirm the Seahawks' continued interest in Marshall even though there's no urgency to acquire him this far out from draft day.
February, 4, 2010
2/04/10
3:33
PM ET
MIAMI -- With the Seahawks announcing their 2010 coaching staff, I went through every NFC West team's staff to produce a chart allowing for easy comparison.

It's pretty clear the Cardinals do more with less than the other teams in the division. They have fewer assistants than the other teams in the NFC West.

In most cases, I have recreated official titles for each assistant coach. That explains why the Cardinals have no offensive coordinator listed (Russ Grimm coordinates the running game, Mike Miller coordinates the passing game and Ken Whisenhunt calls the plays). I did not create a special category for 49ers receivers coach Jerry Sullivan (he also carries the title senior assistant). Seattle's Carroll is also executive vice president. I did not create an extra category to reflect that title.

I have listed no offensive line coach for the Cardinals. Grimm handles those duties. The 49ers do not list a defensive quality control coach, but clearly someone must break down the upcoming opponents' offensive video (I am checking to see which assistant handles those duties). Update: Outside linebackers coach Jason Tarver handles those duties. Also, I updated the chart to reflect Curtis Modkins' departure from the Cardinals to become Buffalo's offensive coordinator. Ray Brown is the new assistant offensive line coach in San Francisco.

The Rams are expected to hire a receivers coach after Charlie Baggett left. They could hire an assistant offensive line coach to replace Art Valero, who took the same job with Seattle. The 49ers might need to find a new offensive quality-control coach (Shane Day is interviewing with the Bears to coach quarterbacks for Mike Martz).

The Rams and Seahawks list special assistants to the head coach. These are largely administrative positions.

January, 20, 2010
1/20/10
2:34
PM ET
RENTON, Wash. -- Thoughts and observations from the Seahawks' news conference to introduce new general manager John Schneider, hired away from the Packers: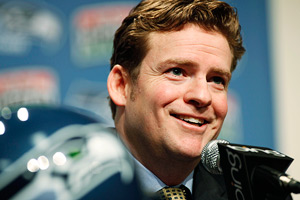 AP Photo/John FroschauerJohn Schneider was introduced as the new Seahawks general manager Wednesday.
This is all about fit. Specifically, it's about Schneider fitting with coach Pete Carroll and helping to find players that fit precisely what Carroll wants. The Seahawks didn't do this as well in recent seasons when former GM Tim Ruskell was identifying players to fit his long-range plans while the team tried to win with Mike Holmgren's offense. Seattle should get more from its personnel this way.
Carroll holds the authority over personnel, CEO Tod Leiweke said, noting that Carroll would win any coin tosses. Schneider then said he would never try to cram a certain player into his head coach's roster, regardless of who had ultimate control of personnel. The structure arguably makes Schneider a better candidate than GM finalist Floyd Reese, who is older and more established in his ways. I got the sense Schneider and Carroll would work well together. It's in Schneider's nature to make this work. I sense he's a pure personnel guy, not someone who cares about getting the credit.
The Seahawks will not be making sweeping changes to their front office or scouting staff. Schneider knows quite a few of the people already in place. Ruston Webster, John Idzik and Will Lewis will remain with the organization, Leiweke indicated. Lewis and Schneider worked together in Seattle previously. The team's salary cap and contract negotiating arm -- headed by Idzik -- will report to Schneider. Carroll wants to pick players, but he doesn't want to be a GM or cap guy.
The Seahawks will become younger not by design but through an effort to encourage competition. The Packers have been one of the NFL's two youngest teams (along with the Colts) in recent seasons. Carroll was opposed to playing rookies during his past incarnation as a head coach. His outlook changed after coaching in college (Carroll compared that experience to being coach and GM, with the GM part changing his view). Personnel guys love to play young players. Seattle was the NFL's eighth-oldest team this week, not counting players signed to future contracts. That ranking will fall, no doubt.
The Seahawks are better off now than they were a few weeks ago. I do think the front office has a better chance to function without the infighting and competing agendas that marked previous regimes in recent seasons. That can help the Seahawks regain credibility lost over the last couple seasons.
Carroll addressed a few hires relating to his coaching staff. Jeremy Bates (offensive coordinator), Alex Gibbs (offensive line), Jedd Fisch (quarterbacks), Pat McPherson (tight ends), Gus Bradley (defensive coordinator), Dan Quinn (defensive line), Jerry Gray (secondary), Ken Norton Jr. (linebackers) and Brian Schneider (special teams) are in place.
The Seahawks are weighing the possibility of trying a 3-4 defensive alignment, but it's early.
Those were a few highlights. Heading home now.