September, 2, 2014
Sep 2
8:00
AM ET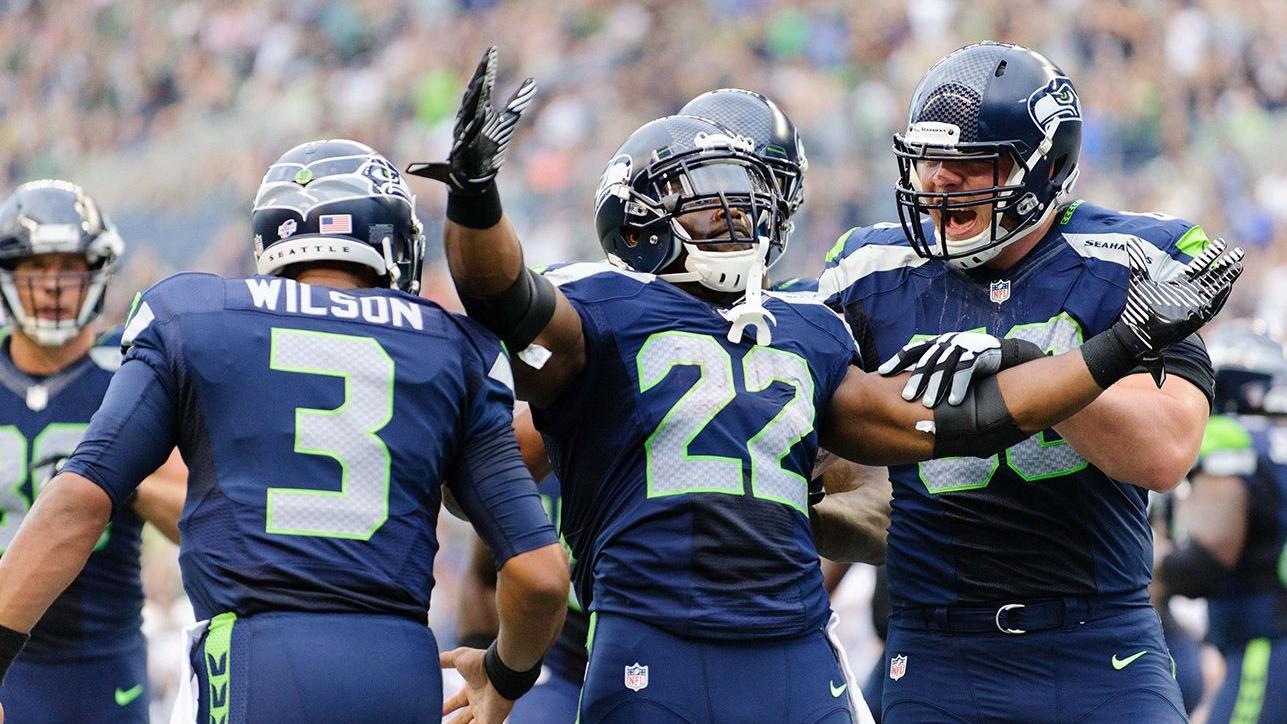 ESPN.com
Seattle Seahawks
reporter Terry Blount makes his game-by-game picks for the 2014 season.
Week 1: Green Bay Packers
All the pregame hype will center around the so-called Inaccurate Reception, the controversial Hail Mary catch by Golden Tate two years ago that won the game over the Packers at Seattle on a Monday night. Tate has moved on to Detroit, but the Seahawks now have too many weapons for the Packers to stop, no Hail Mary required. Prediction: Win
---
Week 2: at San Diego Chargers
The Chargers better hope they play a lot better than they did in the preseason game at Seattle, a 41-14 victory for the Seahawks on Aug. 15. San Diego will play better, but not good enough to beat a much better team. Prediction: Win
---
Week 3: Denver Broncos
The Broncos and their fans got a tiny bit of meaningless Super Bowl revenge in the preseason opener with a 21-16 victory over the Seahawks in Denver. Enjoy it while it lasts, boys. Repeating that outcome in Seattle is not an option. Prediction: Win
---
Week 5: at Washington Redskins
Traveling coast to coast to play on the road for a Monday night game is a tough task against any NFL opponent, and even tougher against quarterback Robert Griffin III. But the Seahawks catch a break in this one by coming off a bye week with plenty of time to prepare and be fresh for the journey. Prediction: Win
---
Week 6: Dallas Cowboys
Cowboys owner Jerry Jones gave Seattle a little bulletin-board material last month when he said the Seahawks were to blame for the increase in penalty flags during the preseason. There won't be near enough flags against Seattle for the Cowboys to win this one. Prediction: Win
---
Week 7: at St. Louis Rams
Any division game in the NFC West is a rugged battle. The Rams have a defensive line that gave the Seahawks problems a year ago. But they aren't strong enough overall to beat Seattle, even at home in their out-of-date dome. Prediction: Win
---
Week 8: at Carolina Panthers
The Seahawks were fortunate to win the season opener at Charlotte a year ago. That Panthers team was better than this one, but back-to-back road games against very physical defensive teams will end the Seattle winning streak. Prediction: Loss
---
Week 9: Oakland Raiders
Coming off their first loss of the season and returning home against an outmanned opponent, is there any doubt? Prediction: Win
---
Week 10: New York Giants
The Seahawks easily defeated the Giants 23-0 last year in New Jersey, a dress rehearsal for their Super Bowl victory at the same location -- MetLife Stadium. The Seahawks won't need a rehearsal to roll past the Giants in this one. Prediction: Win
---
Week 11: at Kansas City Chiefs
This likely will be a low-scoring game between two strong defensive teams. Odds are against any team that has to try to win by matching its defense against the Seahawks' D. Prediction: Win
---
Week 12: Arizona Cardinals
The last time the Cardinals played at CenturyLink Field was last December when they handed the Seahawks a 17-10 loss. That won't happen again unless the Seahawks get caught looking ahead to the 49ers game. The Seahawks don't look ahead. Prediction: Win
---
Week 13: at San Francisco 49ers
It's a Thanksgiving night, national TV game in the 49ers' shiny new stadium against the hated Seahawks. If San Francisco can't win this one, its time as a championship contender is over. Prediction: Loss
---
Week 14: at Philadelphia Eagles
This is the toughest part of the season for the Seahawks with back-to-back road games against likely playoff contenders. But the 10 days between games will help and be enough of a cushion to keep Seattle from losing two in a row. Prediction: Win
---
Week 15: San Francisco 49ers
This is a game that could decide which team wins the NFC West. No way the Seahawks lose to the 49ers twice in three weeks, especially not in front of a rabid full house of 12s. Prediction: Win
---
Week 16: at Arizona Cardinals
The Cardinals probably will be fighting for a playoff spot, and the Seahawks already will be in at 12-2. That difference will be just enough for Arizona to win at home in the same stadium where the Seahawks will win the Super Bowl a few weeks later. Prediction: Loss
---
Week 17: St. Louis Rams
For the second consecutive year, the Rams close the regular season in Seattle. And for the second consecutive year, the Seahawks will beat them without much trouble. Prediction: Win
---
Predicted Record: 13-3
August, 28, 2013
8/28/13
8:00
AM ET
The hits keep coming for San Francisco 49ers backup guard Joe Looney after his low block left Minnesota Vikings defensive tackle Kevin Williams with an injured knee.
We discussed the block Monday and I concluded that
Looney did not violate playing rules
when he struck Williams in the knee during the third quarter of an exhibition game Sunday night. There was no penalty flag on the play. The NFL has no plans to fine Looney.
The question was whether Looney had violated unwritten rules. Williams' teammates are predictably
standing up for their guy
. Looney is predictably saying he meant no harm. I give more credence to what retired offensive lineman Jeff Saturday said while serving in his role as NFL analyst for ESPN. We might normally expect one offensive lineman to stand up for another, but Saturday did not do that in this situation.
"It's definitely a cheap shot," Saturday said. "There was no reason to go low on a guy whose back is turned toward you. ... I've pulled off many a day on a cut block or when you think it's even questionable. You just don't do it. Everybody knows we're here to earn a living for our families and represent more than barbaric play on the field. As a player and as a man you have to have higher principles than even sometimes the rules."
49ers coach Jim Harbaugh used the word "unfortunate" to describe the play.
"I don't think it was a dirty play, don't think it was intentional, don't think there is any malice in the heart of Joe Looney," Harbaugh told reporters.
Williams suffered a hyperextended knee with a bone bruise and postular capsular strain, but no ligament damage. It's not yet clear how quickly he might return.
February, 7, 2010
2/07/10
3:04
PM ET
MIAMI -- Let's stretch our imaginations and pretend, for the sake of discussion, that each NFC West team had advanced to face the Colts in the Super Bowl.
If the Rams made it here, for example, the big story might be
Peyton Manning
vs.
Keith Null
.
(Please hold your laughter until the end.)
I've broken out the Colts' offensive starters and compared them to those for the Cardinals, 49ers, Seahawks and Rams. In the Rams' case, I wasn't sure who would start at left guard after
Roger Allen
suffered a serious knee injury in Week 17, so I've brought back usual starter
Jacob Bell
from injured reserve.
Putting together something similar for the defenses would be tough because the 49ers and Cardinals play 3-4 schemes, so the positions would not line up.
Enjoy the imaginary games.
February, 23, 2009
2/23/09
5:31
PM ET
Posted by ESPN.com's Mike Sando
Josh from North Carolina writes: The Cardinals aren't offering Kurt Warner the same money as other Top QBs, and are clearly not intent on re-signing Anquan Boldin. Are they really about to put their stock in Matt Leinart and Steve Breaston as opposed to the guys who got them to a Super Bowl? Maybe we're about to see why the Cardinals have not been a successful organization.
Mike Sando: Life in Arizona would indeed become interesting if Kurt Warner signed with another team in free agency. The assumption has been that Warner wants to stay in Arizona and that he would probably take less money from the Cardinals before he would uproot his family and play elsewhere.
What if that assumption were false? What if Warner decided the Cardinals weren't showing him the respect he had earned by carrying that offense and taking all those hits while playing under a relatively modest contract? What if Warner hit the market, took a visit, liked what he heard and signed a contract without looking back?
With or without Warner, the 2009 Cardinals will be measured against the way they finished the 2008 season. That will be unrealistic -- 2008 was a special season -- but it will be reality. If the Cardinals were to fall off dramatically with Matt Leinart at quarterback and Warner in another uniform, the organization would surely hear about it.
The Cardinals still have time to get a deal done. I've felt all along a deal would get done to keep Warner in Arizona.
As for Anquan Boldin, his situation is a little different because he has two years remaining on his deal and the team did offer him a contract before re-signing Larry Fitzgerald.
---
Paco from Hermosillo, Mexico writes: Hello Sando, very intersting article, as a Cardinals fan I love what Kurt Warner has done for our team, however, this negotiation has deteriorated some his image, he said that it wasn't about the money, and I don't think he will act like Randy Jhonson, yet his agent is asking for a lot of money, as much as the Cardinals need Warner in my opinion Warner needs the Cardinals more.
He gets to play with a very talented group of receivers that help him hide his deficiencies. He is really slow with his feet and his arm is not that strong, he likes to take sometimes unnecessary risks and sometimes holds to the ball too long. He is very accurate and makes excellent reads, but I think Mat Leinart's time is coming soon, and I completely agree that no other place would be a good fit. Minnesota sounds the most interesting, but they don't have the talent at WR to exploit Kurt's abilities and it won't be easy for him to start over in a new offense this late in his career (see Brett Favre).
Of course, I want him back, and I am sure he will be back, but I don't like his agent's position. As good as he is, he is too old to receive the money he is asking for. His arm strength is not what it used to be and it will be very difficult for him to stay healthy for the whole season (even more difficult for the 2 years he is asking for). Bring him back but for the right price so that we can take care of other need we have as a team.
Mike Sando: The Cardinals have enough salary-cap space to pay Warner top dollar and still fill their other needs. I can see both sides in this negotiation. It's all good if Warner re-signs with Arizona. If he leaves and Arizona struggles without him, the Cardinals will have a hard time explaining what went wrong. What are the odds of that happening? Only Warner knows.
August, 28, 2008
8/28/08
10:15
AM ET
Posted by ESPN.com's Mike Sando
A good veteran center can ease the mind of any NFL quarterback by reading defenses and adjusting blocking schemes. As the Colts deal with Jeff Saturday's injury, three of the four NFC West teams also face the possibility of life without an established starting center.
Arizona: A knee injury will likely sideline starter Al Johnson into the regular season. Johnson, 29, has 45 starts over the last four seasons. His replacement, 24-year-old Lyle Sendlein, has two starts, both last season. A sore knee has slowed Sendlein recently, leaving Pat Ross to man the position.
St. Louis: A hand injury has sidelined projected starter Brett Romberg recently. Romberg, 28, has 12 starts over the last two seasons. His replacement, 26-year-old Nick Leckey, might represent an upgrade. Leckey has 22 starts over the last four seasons. He might keep the job. Guard Richie Incognito has also worked at center this summer.

Seattle: A back injury sidelined incumbent starter Chris Spencer until this week. Spencer, 26, was a first-round draft choice in 2005. He has started 29 games over the last two seasons. Replacement Steve Vallos, 24, has never started a regular-season game. Vallos has played better than expected this summer, easing concerns.
The 49ers have no such issues. Eric Heitmann has brought stability to the position. The Cardinals should be able to weather Johnson's injury if Sendlein is available. Going with Ross would present more challenges. I was watching the Cardinals-Raiders game Saturday night when Ross suddenly went flying backward. Big No. 90 for the Raiders, Terdell Sands, simply overpowered him.