NFC West:

Jeremy Newberry
January, 31, 2011
1/31/11
5:04
PM ET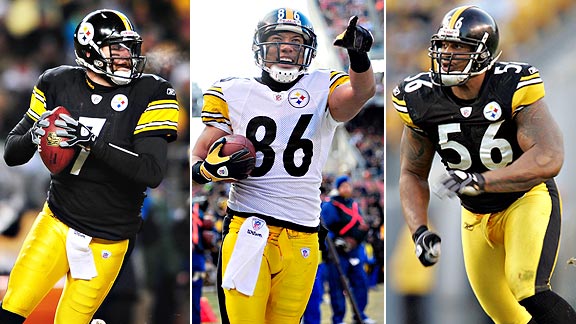 US PresswirePittsburgh's Ben Roethlisberger, Hines Ward and LaMarr Woodley are all playing in Super Bowl XLV, but could they have ended up in the NFC West coming out of college?
FORT WORTH, Texas -- The
Pittsburgh Steelers
appeared loose and comfortable during their first Super Bowl 45 media session.
They've been in big games before, and frequently, thanks largely to shrewd drafting.
This is the Steelers' third Super Bowl appearance in the last six seasons.
The team made available
James Farrior
,
Flozell Adams
,
Hines Ward
,
Brett Keisel
,
Ben Roethlisberger
and
LaMarr Woodley
during its initial media session Monday -- just the opportunity I needed to produce an item corresponding to the one titled, "
Draft hindsight: Aaron Rodgers and beyond
".
The idea: to examine a Super Bowl team's featured players -- in this case, the ones made available Monday -- with an emphasis on draft status and the decisions NFC West teams made in the same rounds. Not every team held a choice in every featured round.
The
Arizona Cardinals
had a shot at Steelers quarterback Ben Roethlisberger, but they came out OK.
Here goes ...
1997 Draft: James Farrior, LB, Virginia
Round:
First (eighth overall, by the
New York Jets
)
NFC West spin:
Farrior is a two-time Pro Bowl choice, but the NFC West offers no apologies for passing over him.
Orlando Pace
and
Walter Jones
became perennial Pro Bowl tackles. Jones became the best player in Seahawks history, in my view.
Shawn Springs
made one Pro Bowl trip and picked off 33 passes during a 13-year career. The Cardinals had no shot at Farrior. They chose Tommy Knight one pick later. He started 54 games in six NFL seasons. Rumor says the 49ers selected a quarterback in the first round of this draft.
First-round selections in the division:
1998 Draft: Flozell Adams, T, Michigan State
Round:
Second (38th overall, by Dallas)
NFC West spin:
Adams became a five-time Pro Bowl choice with Dallas. His career appeared finished, or close to it, until injuries led the Steelers to call on him this season. Arizona passed on Adams twice. Safety
Corey Chavous
, chosen five spots before Adams, went to a Pro Bowl with Minnesota. He was a productive player for roughly a decade. Tackle
Anthony Clement
, chosen two spots before Adams, started more than 100 games for three teams.
Second-round selections in the division:
1998 Draft: Hines Ward, WR, Georgia
Round:
Third (92nd overall, by Pittsburgh)
NFC West spin:
The Rams and Seahawks found Pro Bowl-caliber players when they passed over Ward in the third round. Seattle gave up on
Ahman Green
prematurely, however, after coach Mike Holmgren grew weary of early fumble problems. The 49ers missed on tackle
Chris Ruhman
three choices before Ward went to Pittsburgh. Ruhman played in six games with the 49ers, starting none. He played in 11 NFL games with two starts overall. The 49ers passed on Ward even though
Jerry Rice
had suffered a devastating knee injury in the 1997 opener.
Third-round selections in the division:
2002 Draft: Brett Keisel, DE, BYU
Round:
Seventh (242nd overall, by Pittsburgh)
NFC West spin:
The 49ers drafted longtime starting guard and center
Eric Heitmann
three spots before the Steelers found Keisel. Pittsburgh could use Heitmann this week after the Steelers' starting center,
Maurkice Pouncey
, suffered a severely sprained ankle during the AFC Championship Game. Keisel became a Pro Bowl choice for the first time this season, distinguishing him from 2002 NFC West seventh-rounders. The Rams found their mainstay snapper in this draft. Keisel was gone when the 49ers found guard
Kyle Kosier
, who started 29 games for them and remains a starter with Dallas.
Seventh-round selections in the division:
2004 Draft: Ben Roethlisberger, QB, Miami of Ohio
Round:
First (11th overall, by Pittsburgh)
NFC West spin:
The Cardinals passed over Roethlisberger and came away with a potential Hall of Fame receiver. No complaints there, even though quarterbacks are more valuable than receivers. None of the other NFC West teams had a shot at Roethlisberger. Seattle and St. Louis were set at quarterback, anyway.
First-round selections in the division:
2007 Draft: LaMarr Woodley, OLB, Michigan
Round:
Second (46th overall, by Pittsburgh)
NFC West spin:
The Cardinals could certainly use Woodley now, and badly, but they had already invested millions in the position heading into the 2007 draft. Free-agent additions
Chike Okeafor
and
Bertrand Berry
had combined for 14.5 sacks during the 2006 season. Unfortunately for the Cardinals, they haven't gotten enough from their second-round investment in
Alan Branch
.
Second-round selections in the division:
OK, all done, and just in time. ESPN.com teammates Mike Reiss, Kevin Seifert and I are heading out to the Packers' media session next. Seifert is driving and he doesn't wait for anyone. Gotta jam.
January, 27, 2011
1/27/11
9:42
AM ET

Darren Urban of azcardinals.com
says Larry Fitzgerald's offer to fly Cardinals fans to the Pro Bowl produced a result more meaningful than anticipated. The winner, like Fitzgerald's late mother, had battled cancer. Fitzgerald: "I was touched after he told me how much weight he lost and the battle to stay alive and how his wife was there every step in the way helping him to get back to health. That's how we supported my mother as a family. God is good."
Dan Bickley of the Arizona Republic
checks in with former Cardinals quarterback Josh McCown, who somewhat inexplicably turned down the Bears to remain with a UFL franchise. McCown: "There were times when I wondered what the heck I was thinking, and I don't know too many people who would've done something like this. But I made my decision, I stuck with it, and I believe in my heart I'm a better person and a better player. Does that mean I'll get another opportunity? I don't know."

Danny O'Neil of the Seattle Times
checks in with former NFL center Jeremy Newberry for thoughts on new Seahawks line coach Tom Cable. Newberry: "These guys are in for a rude awakening as far as the tempo of practice and how they're going to work under him. The guy is intense as hell. He cares about what he does. He loves his players, but it's going to be a rude awakening because the tempo, you can't wait to go to team drills and 9-on-7 just to get a break from individual with that guy."
Dave Boling of the Tacoma News Tribune
says Seahawks players aren't excited about extending the regular season to 18 games. Boling: "The Seahawks finished the 16-game regular season with 15 players out for the season on the injured-reserve list. Of players expected to be starters, only eight made it through all 16 games … and just one of those (center Chris Spencer) was on offense. And Spencer played much of the season with a broken hand. Will the quality of the product be enhanced? Hardly. Besides, did anybody really need to see the race for the NFC West title go an extra two weeks?"

Jim Thomas of the St. Louis Post-Dispatch
says the Rams aren't rushing to hire a quarterbacks coach. New offensive coordinator Josh McDaniels will work closely with quarterback Sam Bradford. McDaniels remained in St. Louis while coach Steve Spagnuolo and others headed to the Senior Bowl. Spagnuolo: "I want to get back there and sit down with Josh. We've got to hone in on [the quarterback coach]. Josh has done it both ways as a coordinator. Josh has had a quarterback coach, and has not had one. He'll still have a lot to do with the quarterback even if we do have a quarterback coach."
Also from Thomas
: Drafting a receiver might mean finding one after the first round for the Rams. Thomas: "Besides (Leonard) Hankerson, there are several other wideouts here who could go in Rounds 2 through 4. Among them are: San Diego State's Vincent Brown, who had a breakout year in 2010; Nebraska's speedy Niles Paul, who also had kickoff return value; and the talented Boise State tandem of Titus Young and Austin Pettis."
Nick Wagoner of stlouisrams.com
continues his game-by game look at the Rams' 2011 season.

Matt Maiocco of CSNBayArea.com
says 2011 marks the first time in recent memory a 49ers coaching staff has not attended Senior Bowl practices. General manager Trent Baalke: "Well, there's nothing to that. If the coaches would've been on staff and ready to go, they'd certainly be down here. The reason they're not down here is because most of them just came in as of Monday and coach [Jim Harbaugh] just felt it was a better opportunity to get them all together, get them working on the schedule for the offseason."
Also from Maiocco
: Frank Gore's agent says the running back is "feeling great" during his recovery from a hip injury and on pace to play in 2011 without restriction.
Matt Barrows of the Sacramento Bee
says former 49ers defensive coordinator Greg Manusky would not have moved Taylor Mays into the starting lineup if the decision had been his to make. According to Manusky, most safeties need three offseasons to grow into the role.
Eric Branch of the Santa Rosa Press-Democrat
offers 49ers notes, including one about assistant offensive line coach Ray Brown taking a job with the Panthers.
March, 25, 2010
3/25/10
12:29
PM ET
Any poker player could relate to the 49ers.
They started with what seemed like a promising hand. They placed a significant amount of chips toward the center and stuck it out even when the hand appeared less promising. They finally realized there was little sense in folding based on how much they had already invested and how little more they stood to lose.
[+] Enlarge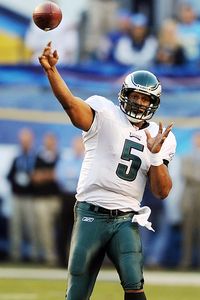 Christopher Hanewinckel/US PresswireA quaterback with Donovan McNabb's career record (92-49-1) would be a refreshing change in San Francisco.
They were pot-committed.
Quarterback
Alex Smith
is that once-promising hand. There's little sense in folding at this point. If anything, the odds for success improved after Smith finished last season with 18 touchdown passes and 12 interceptions playing basically half the season.
But what if the 49ers could ditch this hand in favor of a more proven one? What if the price were not prohibitive? What if they could acquire
Donovan McNabb
from the Eagles for, say, a second-round choice in the 2010 draft?
The 49ers already have two first-round choices. They could draft the offensive tackle they need and still get a potential starter at another position. The Eagles already have an extra third-round choice. An additional second-rounder would leave them with five choices in the first three rounds, tied with the Browns for the most in the league.
Let's look at this deal from an NFC West perspective. Would the Cardinals, Seahawks and Rams rather face the 49ers with McNabb or the 49ers with Smith and whichever player San Francisco drafted in the second round? I think they'd rather take their chances with Smith and the 2010 second-rounder.
Take a look at the last 10 players the 49ers have drafted in the second round:
Chilo Rachal
,
David Baas
,
Justin Smiley
,
Shawntae Spencer
,
Anthony Adams
,
Jamie Winborn
,
John Engelberger
,
Jason Webster
,
Jeremy Newberry
and
Marc Edwards
.
Some became good players. None could affect games the way good quarterbacks affect games.
Some Eagles fans are tired of McNabb. They think Philadelphia has gotten as far as McNabb can take them. They're ready for a change. The 49ers can have no such complaints. They haven't been a playoff team since 2002. They would gladly "settle" for multiple playoff appearances and a quarterback with a 92-49-1 (.651) regular-season starting record, according to Pro Football Reference.
January, 2, 2010
1/02/10
1:32
PM ET
The Seahawks'
Walter Jones
was probably the best offensive lineman in the NFL during the first decade of the 2000s.
That made him an easy choice as the best in the NFC West during that time.
Jones was an eight-time Pro Bowl choice and four-time first-team All-Pro selection while making 136 starts for Seattle from 2000 through this season.
The chart, put together with information from Pro Football Reference, lists every NFC West offensive lineman named to a Pro Bowl since 2000. None of the nine players listed appeared in a game for an NFC West team this season.
The 49ers had
four
, more than any team in the division. Seattle had
three
. The Rams had
two
. The Cardinals had none.
July, 8, 2009
7/08/09
12:11
PM ET
Posted by ESPN.com's Mike Sando
Former Rams receivers Torry Holt and Isaac Bruce commanded spots on my NFC West all-decade team after leading one of the most-dynamic offenses in NFL history.
Larry Fitzgerald also seemed worthy after posting three 1,400-yard seasons and staking the Cardinals into a late lead with a dramatic 64-yard touchdown reception in Super Bowl XLIII.
With at least three worthy candidates for two spots -- and with receivers Anquan Boldin, Bobby Engram and Terrell Owens more deserving than any of the available tight ends -- something had to give.
"I'm hard pressed to come up with [a tight end] better than Vernon Davis," wrote regular blog contributor Mind of no mind. "But if there is nobody better, then maybe we should drop the TE from the team and go with 3 WR with Bruce."
Done deal.
Holt, Bruce and Fitzgerald became the receivers. That made more sense than adding Davis, Eric Johnson, Jerramy Stevens, Itula Mili or some other relatively unaccomplished tight end to the squad.
Such was the give and take as I sifted through nominations left on the blog and on my Facebook page. One request I couldn't quite accommodate: finding a spot for the legendary Kim Il Zong, a ka The Zonger.
A position-by position look at my NFC West all-decade team follows. Thanks to Adam from Mesa, Ariz., for getting the conversation started (download his suggested team here).
July, 7, 2009
7/07/09
2:45
PM ET
Posted by ESPN.com's Mike Sando
How convenient of me to skip out on vacation after filing all-decade packages to run in my absence. The all-decade defense entry has more than 1,200 comments. The all-decade teams entry has nearly 600. The most recent entry, ranking the top 25 players of the decade, has nearly 3,000 comments and counting.
In the interests of time, I'll have to assume every comment agreed with every aspect of every item. How gratifying. I'd like your help in the next endeavor: naming an all-decade team for the NFC West based on what we've seen from 2000 through last season.
Blog contributor Adam from Mesa, Ariz., has offered his version, which I'll include below. That should help get the discussion running. We can discuss the dilemmas on the blog. I'll put together my own choices in an item for Wednesday.
I've converted into PDF format and made available for download Adam's fully researched document, complete with charts. I'll summarize his choices below:
August, 31, 2008
8/31/08
9:56
AM ET
Posted by ESPN.com's Mike Sando
Kent Somers of the Arizona Republic
gives an overview of the Cardinals heading into the season. A line about Antrel Rolle stood out to me: "Rolle has moved from corner and looks like he'll be a solid player at the other [free] safety spot."
Also from Somers: The Cardinals' coordinators single out Tim Hightower, Clark Haggans and Travis LaBoy as players to watch this season.
More from Somers: Travis LaBoy starts over Bert Berry. Deuce Lutui starts over Elton Brown. Reggie Wells and Elton Brown are candidates to play center if something happens to Lyle Sendlein before Al Johnson returns from injury.
And this from Somers: optimism abounding in Tempe.
Darren Urban of azcardinals.com checks in with Kurt Warner after the Cardinals named him their starting quarterback. On a related topic, Matt Leinart was unavailable to reporters.
Mike Tulumello of the East Valley Tribune circles the Cardinals' Nov. 16 game at Seattle as one that could send Arizona on its way.
Clare Farnsworth of the Seattle Post-Intelligencer says Craig Terrill and Josh Wilson will likely replace Rocky Bernard and Jordan Babineaux during the season opener. Bernard and Babineaux will be serving suspensions.
Frank Hughes of the Tacoma News Tribune expects Deion Branch back on the field for the Seahawks sooner rather than later. Otherwise, Branch might have landed on the physically unable to perform list.
Jim Thomas of the St. Louis Post-Dispatch revisits the exhibition season to see what the Rams learned about themselves. Improved red-zone defense was evident.
Also from Thomas: No surprises among the Rams' roster cuts. That in itself is no surprise. Most cuts around the league could have been predicted five or six weeks ago.
And this from Thomas: Chris Long faces a difficult adjustment going from a 3-4 scheme in college to a 4-3 scheme in the NFL. Long: "The overwhelming thing is not the physicality of it. It's the technique. You have to work on that every day. I'm doing OK. I've just got to keep chipping away every day."
Bill Coats of the St. Louis Post-Dispatch
says Nick Leckey will open the regular season as the Rams' starting center.
Daniel Brown of the San Jose Mercury News says Ashley Lelie has the highest yards-per-catch average of any active NFL receiver. That didn't mean much in the training room.
Tom FitzGerald of the San Francisco Chronicle channels Frank Gore's sheer delight at the 49ers' offensive capabilities this season. The realist in me expects mixed results. I expect to see weeks when the offense flourishes, and others when little goes right.
Kevin Lynch of Niner Insider blames former 49ers center Jeremy Newberry, now with San Diego, for injuring current 49ers defensive lineman Aubrayo Franklin.
Matt Maiocco of Instant 49ers provides Mike Nolan's reasoning for various cuts. He also notes that Jeff Ulbrich remains the starting "Ted" linebacker ahead of Takeo Spikes. The 49ers would like another receiver, but they viewed Ashley Lelie as a durability issue. I wonder if they'll feel so strongly after the opener, when teams can re-sign veterans without guaranteeing their salaries for the season.
Also from Maiocco: Gone are the days when the 49ers ran low on defensive backs. The team kept 11 on the initial cut to 53 -- 12 if you count return man Allen Rossum.
Tony Bizjak of the Sacramento Bee tells a tragic story of a 49ers fan killed at Candlestick Park when a runaway police horse named "Seattle" ran over him. Eugene "Bud" Caldwell was 78 and had recently overcome a severe heart attack. Caldwell was a longtime 49ers season-ticket holder.

NFC WEST SCOREBOARD
Thursday, 9/4
Sunday, 9/7
Monday, 9/8