July, 30, 2012
7/30/12
11:45
AM ET
Chris Long
's new four-year extension with the
St. Louis Rams
puts him in strong company among top NFL draft choices from the 2008 class.
Long joins New England's
Jerod Mayo
as players among the top 10 choices to re-sign with their drafting teams. That group was pretty strong overall, as the chart indicates. A few more players, notably
Jake Long
and
Matt Ryan
, figure to cash in at some point in the not-too-distant future.
That the Rams and Patriots moved quickly to get deals done reflects well on Long and Mayo. They're young, rising players to build around.
February, 1, 2012
2/01/12
9:56
AM ET
INDIANAPOLIS -- Bill Belichick seemed to weigh his options carefully when asked about
Aaron Rodgers
' complaints about the Pro Bowl lacking a certain competitive zeal.
"Um, what I'm going to say wouldn't be probably what I should say," the
New England Patriots
' coach said Wednesday during his Super Bowl news conference.
Belichick paused.
"I'm going to let that one go," he said.
Another pause.
"What it was and what it is now is a lot different," he added.
What the Pro Bowl was long ago -- a marginally competitive all-star game featuring final scores such as 10-6, 23-21 and 23-10 -- has turned into a game where the losing team routinely has 30-plus points. Rodgers, the
Green Bay Packers
' Pro Bowl quarterback, lamented the NFC squad's
lack of competitiveness
during a 59-41 defeat Sunday. He said some players from the NFC squad embarrassed themselves with their lack of effort.
Rodgers did not name guilty parties, of course. NFC West teams had 17 Pro Bowlers this season, including some who withdrew from the game.
Once Belichick's news conference finished, I went across the hall to poll New England players on the subject during their daily media session.
"I tried to go hard in the game," said linebacker
Jerod Mayo
, a Pro Bowl selection in 2010. "The harder you go, the less likely you are to get injured. You try to tempo it a little bit, you're probably going to get hurt."
Nose tackle
Vince Wilfork
, a four-time Pro Bowl choice, advocates caution.
"Guys play a full season, they play physical through a full season, and you get rewarded," Wilfork said. "The last thing you want to do is go out in a game like that and hurt yourself. That is not good for the individual or for the organization."
Guard
Logan Mankins
, also a four-time Pro Bowl selection, said he doubts there's a realistic way to ramp up competitiveness.
"I don't know how you fix it," Mankins said. "You're going to give a little effort, but you're not going to get out of control. Some guys are free agents over there. You get hurt in a Pro Bowl and it's going to affect that contract with another team. Who would want to get hurt in a Pro Bowl and not be able to play the next season?"
April, 12, 2011
4/12/11
1:00
PM ET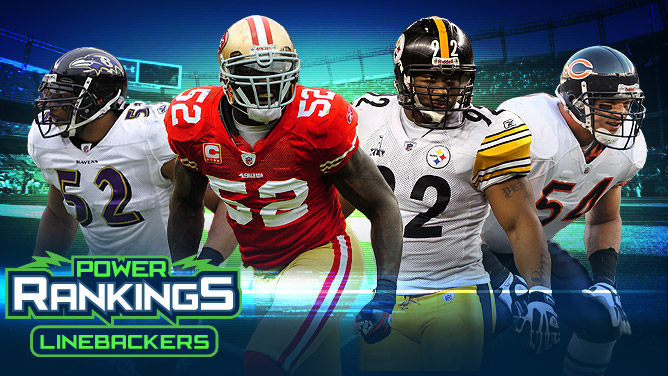 ESPN.com IllustrationSan Francisco's Patrick Willis ran away from the field in our voting for the NFL's best linebacker.
ESPN.com's NFL writers rank the top 10 linebackers in the league today. Next week: Top 10 cornerbacks.
San Francisco 49ers
linebacker
Patrick Willis
beat out a strong and diverse field for top billing in ESPN.com's latest positional power rankings.
All eight panelists ranked Willis among their top three, elevating the 26-year-old perennial Pro Bowler above
James Harrison
and
DeMarcus Ware
as our No. 1 linebacker in the NFL.
Even 12-time Pro Bowler
Ray Lewis
, the dominant linebacker of his era, pointed to Willis as
a worthy successor
to his undisputed reign. Not that Lewis is finished just yet. He placed fifth in the rankings behind Willis, Harrison, Ware and the
Green Bay Packers
'
Clay Matthews
. But there was no more complete linebacker than Willis.
"Nobody in the NFL plays their position better than Patrick Willis, and that is saying a lot," said Matt Williamson of Scouts Inc., whose insights helped shape my ballot. "He is as good a linebacker as
Peyton Manning
is a quarterback, as
Andre Johnson
is a receiver, as
Adrian Peterson
is a running back. He has no weaknesses."
Willis, a three-time Associated Press All-Pro first-team selection, is the first 49ers player since
Ronnie Lott
to earn Pro Bowl honors in each of his first four seasons.
Joe Thomas
and Peterson are the only other 2007 draft choices with four Pro Bowls.
Apples and oranges:
Comparing linebackers from 3-4 schemes to their 4-3 counterparts proved problematic for some panelists. AFC East blogger Tim Graham ranked Ware
first among pass-rushers
three weeks ago, but only ninth among linebackers.
"Patrick Willis,
Brian Urlacher
and Ray Lewis would be great linebackers in a 3-4 or a 4-3," Graham explained. "DeMarcus Ware and
Cameron Wake
might not even be linebackers if they played in Indianapolis, Tennessee or Minnesota. At some point, I had to value elite pass-rushing abilities on my list even though those players aren't universal-type linebackers."
There was room for differing views. ESPN.com's John Clayton and AFC North blogger James Walker ranked Ware first among linebackers and first among pass-rushers. AFC South blogger Paul Kuharsky ranked Ware first among linebackers and second among pass-rushers.
"Separating Ware, Willis and Harrison is like splitting hairs, because it really depends on what you want in a linebacker," said Walker, who went with Ware, Willis and Harrison atop his ballot. "Ware is a slightly better pass-rusher than Harrison, and Willis is a future Hall of Famer in his prime. Age also has to be a consideration if you're building a defense, and Harrison will be 33 in May. But they're all great."
First things first:
Graham and NFC North blogger Kevin Seifert joined me in ranking Willis first. AFC West blogger Bill Williamson had Willis second only to Harrison.
"When I think of linebacker play in the current day, James Harrison pops out," Bill Williamson said. "I think he's the gold standard of complete linebacker play. Look at
his signature play
in the Super Bowl against Arizona. That play will forever be part of NFL lore. Patrick Willis, who is also a great player, doesn't have that play on his résumé. Plus, Harrison is an ornery cuss on the field. The man was born to be a 'backer."
Willis can't match Harrison in Super Bowl memories -- he could use a quarterback, for starters -- but he's not hurting for signature plays:
Lewis pointed to Willis when ESPN's Dana Jacobson recently asked him which young linebacker reminded Lewis of himself.
"I just love the way he plays the game," Lewis said. "He plays the game with a fire. He reminds me of myself -- a lot, a lot, a lot."
Unanimous decisions:
The top five finishers received votes from all eight panelists. The gaps between highest and lowest votes fell between four and seven places for all but Willis, who ranked no lower than third.
Seifert ranked Lewis third. I had Lewis 10th and feared I might be measuring him against himself. No list of top linebackers would be complete without him, I thought, but a younger generation is taking over.
Hugs for Suggs:
Lewis' teammate,
Terrell Suggs
, finished just out of our top 10 despite getting a No. 5 ranking from Kuharsky.
[+] Enlarge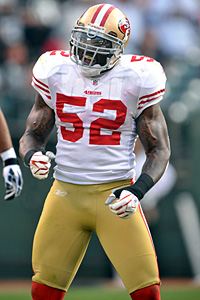 Kirby Lee/Image of Sport/US PresswirePatrick Willis has averaged nearly 149 tackles per season since joining the league in 2007.
"I unabashedly love Suggs, and frankly would have placed him higher if I thought there was any way he needed help to crack the top 10," Kuharsky said. "To me, there is a great deal of subjectivity in ranking this position when mixing guys from 4-3s and 3-4s, so I did a lot of know-them-when-I-see-them ranking. Suggs is absolutely a top-10 guy to me."
Clayton, Seifert, Graham and I did not list Suggs on our ballots while searching for the right mix of 3-4 and 4-3 talent.
Fit to be tied:
The players tied for ninth on our list illustrate the varied criteria for the position. Kansas City's
Tamba Hali
is a pure pass-rusher in the Chiefs' 3-4 defense. Carolina's
Jon Beason
is a traditional 4-3 linebacker with the versatility to play multiple spots. He changed positions twice in 2010.
Beason peaked at No. 5 on my ballot. NFC South blogger Pat Yasinskas had Beason sixth and considered ranking him higher.
"There was a time when I would have ranked Beason in the same echelon as Willis," Yasinskas said. "I think he has a chance to re-emerge if Carolina can put a better team on the field, particularly by getting better at defensive tackle and keeping blockers off Beason. If that happens, I think Beason can be as good as any linebacker in the league."
Youth on his side:
New England's
Jerod Mayo
appeared on six of eight ballots, ranking sixth overall between Lewis and Urlacher. At 25, Mayo was one of two linebackers younger than Willis to earn a spot among the top 10. Matthews, 24, was the other. Graham ranked Mayo third.
"Nose tackle
Vince Wilfork
might be the anchor of the Patriots' defense, but Mayo is the one who ties their defense together," Graham said. "Mayo is a tackling machine who compensates for shortcomings at outside linebacker and injuries along the defensive line. He would be a star in any system."
On an island:
Four linebackers received a single vote. That list featured
Brian Orakpo
(Clayton),
Lance Briggs
(Seifert),
London Fletcher
(Walker) and Wake (Graham).
Best doesn't mean most valuable:
Matt Williamson called linebacker the toughest position to evaluate. I'll close by passing along a few of his thoughts:
"Willis is so exceptional it would be a coin flip with Ware. Willis has no weaknesses, but if I were a general manager, I would take Ware because pass-rushers are so hard to find. You can get away with a C-level middle linebacker and still have a good defense. You can have a two-down run-stopper and pull him out in nickel."

"Ray Lewis would not be in my top five at this point. For his age, he is still exceptional and a borderline Pro Bowler, but he doesn't run like he did. I remember when I was with the Browns, I looked at every report the team had written since 1999 and Lewis had the highest grade ever given out. He was nearly perfect."

"Hali is a one-trick pony, a pass-rusher, but he is great at it -- as good as any pass-rusher in the league."

"Beason is like Patrick Willis, but he is 95 percent of him. He can play outside, inside, he's smart -- but there is so little around him that people don't realize how good he is."

"Pass rushing is Clay Matthews' greatest gift, but he is the prototypical outside linebacker. He's a great technician and way more explosive and athletic than people realize. He's good in coverage, not great, but they line him up all over."

"London Fletcher is underrated, but not in this conversation. How Beason is to Willis, Fletcher is to Lewis. He is smaller and slower than Lewis, good among older guys."

"Brian Urlacher is still a really good player, but the top 10 might be a stretch. I would take him ahead of Lewis, behind Beason and Willis among 'Mike' 'backers. He is good in coverage. People forget that he was a safety at New Mexico. He doesn't run like he used to and is just not as dynamic as he was in the day."

"The Steelers have the best linebackers in the league. LaMarr Woodley is very strong and in that conversation too. Definitely top 15. Harrison is great against the run, extremely strong and one of the few linebackers in the league that is a difference-maker from an attitude standpoint. He brings attitude to the table like a Jack Lambert or a Dick Butkus or a Ray Lewis type. He is feared. He is one of the best leverage players in the league, great in pursuit, tenacious as hell. The other guy to know about is Lawrence Timmons. He will be spectacular."
March, 14, 2011
3/14/11
10:45
AM ET
This is the second in a series of items revisiting relatively recent NFL trades involving first-round draft choices in the slots NFC West teams occupy this year.
The ongoing NFL lockout prevents trades involving players, but teams can still trade draft choices. Primarily for that reason, I've excluded from consideration trades involving picks and veteran players.
The seventh pick boasts a colorful recent history featuring three of the four teams currently in the NFC West. My apologies in advance if any of these trades revive painful memories.
The pick:
Seventh overall
Held by:
San Francisco 49ers
Most recent trade involving only picks:
2008. The
New England Patriots
sent the seventh and 164th choice to the
New Orleans Saints
for the 10th and 78th selections. This trade was close to even on paper, according to the
draft-value chart
. The seventh and 164th choices add up to 1,526.8 points. The 10th and 78th selections add up to 1,500. The Saints used the seventh choice, which
originated with San Francisco
, for defensive tackle
Sedrick Ellis
. They drafted guard
Carl Nicks
with the 164th choice. New England came away with linebackers
Jerod Mayo
(10th) and
Shawn Crable
(78th).
Bill Walsh, Mike Holmgren and the 2001 draft:
The
Seattle Seahawks
were one year away from joining the NFC West when the Walsh-run 49ers acquired the seventh overall choice from Holmgren's Seahawks. The value chart agreed with the deal. Seattle gave up picks worth 1,516 points for picks worth 1,533.6 points, a wash. The 49ers drafted defensive end
Andre Carter
in the seventh slot and defensive tackle Menson Holloway at No. 191. The Seahawks drafted receiver Koren Robinson ninth, fullback
Heath Evans
82nd and center
Dennis Norman
222nd. Carter, Evans and Norman remain active for different teams. Robinson flamed out prematurely. Holloway never played.
Mamula, Sapp and the 1995 draft:
The
Philadelphia Eagles
moved up five spots to draft linebacker Mike Mamula seventh overall. This was bad move for the Eagles even if Tampa Bay hadn't drafted defensive tackle Warren Sapp with one of the picks from Philly. The Bucs did get Sapp, however, and Mamula didn't last. The trade-value chart says the Eagles gave up picks worth 1,946 points for picks worth 1,730 points. Philadelphia got the 72nd pick, used for defensive tackle Greg Jefferson, who became a starter. Beyond Sapp, the Bucs received the 43rd choice, used for safety Melvin Johnson, and the 63rd choice, used for guard Shane Hannah. Johnson became a starter.
The Bryant Young deal:
The Los Angeles Rams were in full retreat during the 1994 draft. Having already traded back two spots into the seventh overall slot, they moved back eight more spots to No. 15 in a deal that helped the 49ers' defensive line. San Francisco used the seventh choice for Young, who became a second-team all-decade selection for the 1990s. The Rams landed the 15th choice, used for durable offensive tackle Wayne Gandy, plus the 56th (defensive end Brad Ottis) and 100th (linebacker Ernest Jones) picks. The trade chart says the Rams gave up 1,500 points for picks worth 1,490 points -- pretty much a wash. Gandy was a starter in 14 of his 15 NFL seasons.
The price of an elite cornerback:
The 49ers could be in the market for a cornerback with the seventh overall choice this year. They'll be fortunate to fare as well as the
Washington Redskins
fared in the 1999 draft when they moved up five spots to No. 7 and drafted
Champ Bailey
. Chicago commanded the 12th (quarterback
Cade McNown
), 71st (receiver
D'Wayne Bates
), 106th (linebacker
Warrick Holdman
) and 143rd (tackle
Jerry Wisne
) choices, worth 51.5 points more than the seventh choice on the value chart. The Redskins also threw in a third-rounder in the 2000 draft (tight end
Dustin Lyman
). Quality trumped quantity in this exchange, something the 49ers will have to weigh if one of the top cornerbacks is available in the seventh slot this year.
Moving on up:
Cleveland sent the seventh and 37th choices in the 2004 draft to Detroit for the sixth pick, which the Browns used for tight end Kellen Winslow. The Lions drafted receiver Roy Williams seventh and linebacker Teddy Lehman at No. 37. The value chart says the Browns spent 2,030 points to receive a pick worth 1,600 points. The 430-point difference equated to the 47th overall choice. A decade earlier, Indianapolis sent the seventh and 83rd choices to the Rams for the fifth pick, a wash on the value chart. The Colts took linebacker Trev Alberts fifth. The Rams kept dealing.
April, 8, 2010
4/08/10
4:43
PM ET
Let's say the top of the NFL draft goes pretty much as expected.
The Rams take
Sam Bradford
first. The Lions and Bucs go with defensive tackles. The Redskins take an offensive tackle.
That leaves Kansas City as a pivotal wild card at No. 5, one pick before Seattle.
If the Chiefs take a tackle and Seattle also wants one, the Seahawks would have to weigh whether to use the sixth overall choice on what could be their third-rated tackle. Under this scenario, the Seahawks would have better options if Kansas City drafted for defense.
What might the Chiefs do?
Their general manager, Scott Pioli, has a close association with Iowa coach Kirk Ferentz, leading to speculation that the Chiefs could draft Hawkeyes tackle
Bryan Bulaga
. Perhaps not.
A chat question
from Taylor in Salt Lake City offered an opportunity to address Pioli's draft history -- more specifically, the draft histories of his teams. My answer:
I think KC goes defense. I was looking at the picks Scott Pioli's teams have made since he entered the NFL and noticed this: His teams have taken nine players in the top 13 overall picks and seven were defensive players, including five from the SEC. Four were defensive linemen and three of those were from the SEC. I think they go with Eric Berry if available. Then Seattle could probably get the second tackle. I'm thinking it would be Williams or Okung. It's a guessing game with the tackles that early, to an extent.
Pioli's teams have drafted seven players among the top 13 since 2000. All seven played defense:
Tyson Jackson
,
Richard Seymour
,
Jerod Mayo
,
Shaun Ellis
,
John Abraham
and
Ty Warren
. That gives us a pretty good feel for how things might play out (even if the Chiefs do not take Berry, a safety).
May, 24, 2009
5/24/09
12:27
PM ET
Posted by ESPN.com's Mike Sando
Paul from the United Kingdom
asks whether the 49ers might have come out better than expected in their 2007 draft-day trade with the Patriots. San Francisco sent its 2007 fourth-round choice [110th overall] and its 2008 first-round choice [seventh overall] to New England for the 28th overall choice in the 2007 draft, which the 49ers used for tackle Joe Staley.
Paul also notes that the 49ers acquired the Colts' 2008 first-round choice [29th overall, used for
Kentwan Balmer
] and a 2007 fourth-rounder [used for
Dashon Goldson
] from Indianapolis. Those moves gave the 49ers picks in the rounds of the choices they traded to New England.
"Using your value
chart
," Paul writes, "the trades cost the 49ers an equivalent of 708 points because the 1st rounder they gave up turned out to be so high. Adding that deficit to the value of the 28th pick used to select Staley, that would equate to a selection at 9 or 10. That would still seem like good value to me for an OT that has been a starter virtually since his selection and looks like he can be very productive for a number of years at either left or right tackle."
Mike Sando:
I understand your math -- the 49ers sent the seventh choice (1,500 points) plus the 110th choice (74 points) to the Patriots for the 28th choice (660), and the difference would be 708 points -- but the trade chart doesn't come into play at face value in this situation. That is because current-year choices carry more value than future-year choices. In other words, a first-round pick this year is worth more than a first-rounder next year.
Staley started 16 games at offensive tackle for the 49ers before the Patriots were able to exercise the first-round choice they received in return. Those 16 starts represented immediate return on the 49ers' investment. That value offsets some of the 708-point imbalance.
The 49ers come out OK as long as Staley enjoys the long, productive career he seems likely to enjoy. But the Patriots came out even better. They used the 49ers' choices to help land linebacker Jerod Mayo and receiver Randy Moss. Not bad.
April, 22, 2009
4/22/09
1:40
PM ET
Posted by ESPN.com's Mike Sando
Sensing the shortage of mock drafts this time of year, I joined ESPN.com's other divisional bloggers in putting together our own version.
A confession: I sent Virginia tackle Eugene Monroe to the Rams at No. 2 knowing the decision helped avert a dilemma with Seattle at No. 4.
Sending another player to the Rams -- specifically receiver Michael Crabtree -- might have complicated the choice I was facing two picks later.
If Crabtree disappeared from the available pool at No. 2 and my AFC West counterpart, Bill Williamson, snagged Wake Forest linebacker Aaron Curry for the Chiefs at No. 3, then what for Seattle? I wasn't ready to join the Mark Sanchez-to-Seattle hype machine, but the possibility seemed more realistic without Crabtree and Curry available as alternatives.
The Rams need a tackle more than Seattle needs one, the thinking goes, so it's convenient for St. Louis to take one, leaving the Seahawks with more palatable options two picks later.
Alas, these are all theories built on assumptions. Reality figures to diverge significantly.
Four of Scouts Inc.'s 32 highest-ranked players -- Tennessee defensive end Robert Ayers, Florida receiver Percy Harvin, Western Michigan safety Louis Delmas and Connecticut cornerback Darius Butler -- failed to find their way into our divisional bloggers' mock. Two players appearing on our mock -- Rutgers receiver Kenny Britt and Wake Forest cornerback Alphonso Smith -- did not earn spots on the Scouts Inc. top 32.
I doubt whether any two NFL teams share the same rankings for the top 32 players.
There is no consensus, in other words.
With that, I'll break down where each of my projected NFC West projections could break down.
April, 4, 2009
4/04/09
3:50
PM ET
Posted by ESPN.com's Mike Sando
The 49ers hold the 10th, 43rd, 74th, 111th, 146th, 171st, 184th, 219th and 244th choices in the 2009 draft. For perspective, I've singled out the last four players chosen in those spots.
The Lions' selection of USC receiver Mike Williams with the 10th overall choice is enough to raise those familiar red flags for receivers drafted in that range. The last 10 receivers drafted between seventh and 10th overall were Ted Ginn Jr., Troy Williamson, the aforementioned Mike Williams, Roy Williams, Reggie Williams, David Terrell, Koren Robinson, Plaxico Burress, Travis Taylor and David Boston.
How many of those once-highly regarded wideouts would you want on your team right now? Not many. Only four have NFL jobs. For those hoping the 49ers might draft a USC quarterback [Mark Sanchez] in the first round instead, it's been done at No. 10 recently and with unconvincing results.
Justin Tuck at No. 74 in 2005 stands out as a terrific value, but I also credit the Giants for developing him.
The 49ers could use a young prospect at safety. They could do worse than the Ravens did when they made Dawan Landry the 146th player chosen in 2006. Landry became a starter as a rookie.