NFC West:

Jerome Harrison
September, 30, 2011
9/30/11
3:40
PM ET
The
San Francisco 49ers
are 2-1 and leading the NFC West heading into Week 4. Does that suddenly make them division favorites with the
St. Louis Rams
sitting 0-3?
"I guess I'm leaning toward San Francisco, but I don't feel confident," Matt Williamson of Scouts Inc. said this week. "The Rams could finish strong. I can't see Seattle doing it. And I think Arizona is a six-win team, but they are all kind of six-win teams."
The 49ers won six of their final 11 games last season. That makes them 8-6 over their last 14 regular-season games. The Rams and Seahawks are 5-9 during the regular season over the same span. The Cardinals are 3-11.
With that, a closer look at the 49ers from Williamson's perspective:
[+] Enlarge

Jamie Sabau/Getty ImagesRunning room has been harder to come by for Frank Gore this season.

On the struggling ground game: "Frank Gore doesn't look good. He is not attacking things. Gore looks like he is playing hurt. He has run so competitively in the past. He would not just go in the tank. I think Kendall Hunter is very interesting. He looks like he is playing at a different speed when he goes in there. I don't know if Gore has lost a step, but there is no running room for him. You can see where Gore is frustrated. Their line is abysmal. It is amazing."

On quarterback Alex Smith: "Smith has exceeded my expectations. He does not make a lot of mistakes. You can grind out some wins. I give Jim Harbaugh credit. He is manufacturing offense. It is a real test for Harbaugh because Smith is so limited. I just don't think he throws the football very well. He is a good athlete, but he is not big and strong, doesn't make difficult throws, doesn't handle the rush real well, doesn't anticipate things real well. But he is smart and I do think he has some ability. I thought Harbaugh could turn him into a serviceable West Coast guy if he is all he is cracked up to be."

On the offense overall: "They finally got Vernon Davis involved. They use a lot of double tight end sets. Delanie Walker is a nice player, but too often those guys have had to help the offensive line, especially Davis. I would like to see what the offense can do with both Braylon Edwards and Michael Crabtree healthy for a game or two. Those guys have obvious inconsistencies, but they also have obvious talent. They might be able to open up room for one another, for Davis, for the run game, make life easier for Smith. Overall, if they turn the ball over, they are done."

On the defense: "Their front seven is fantastic. I don't know if everyone knows how good Justin Smith is, but he is one of the 10 best players in the league on defense. Patrick Willis is, to me, the best second-level defender in football. I'm not saying best linebacker because it's not fair to compare him to DeMarcus Ware, Clay Matthews, those guys. But Willis is the best second-level defender and it's not even close. They have two other guys, NaVorro Bowman and Ray McDonald, playing out of this world. Bowman is a big-time find. The 49ers are tough on all down-and-distances. Not only is the nose tackle (Isaac Sopoaga) playing well, but then he comes off the field and Smith and McDonald go inside, and then the outside guys are a handful, too. Aldon Smith has flashed, Parys Haralson, Ahmad Brooks. I don't love Donte Whitner, but he is an upgrade. They are a corner short even though Carlos Rogers has played very well."
That completes our
four-team checkup
with Williamson. You can reach him
on Twitter
as well.
July, 28, 2011
7/28/11
9:50
AM ET
The trade agreement
that would send
Reggie Bush
to the
Miami Dolphins
affirms once again the
St. Louis Rams
' apparent preference for lower-profile transactions in free agency.
Bush would have fit nicely, at least in theory, as a third-down back and change of pace for Rams starter
Steven Jackson
.
Adding Bush also would have qualified as a flashy move. St. Louis does not appear preoccupied with flashy moves at the moment.
The Rams have holes in their roster, but generally not at key positions. They're set with young starters or future starters at quarterback, offensive tackle, defensive end, middle linebacker and cornerback. They have numbers at wide receiver, but could still use an elite target at the position. They were mentioned as a possible suitor for
Sidney Rice
, who signed with Seattle, but how serious were the Rams? They could also use a right guard, backup running back and outside linebackers.
The team's reported preference for
Jason Snelling
and
Jerome Harrison
over Bush or
Darren Sproles
also shows the Rams want their backup running back to bring more to the table than specialized skills suited for a limited role. Snelling carried 24 times for 129 yards against Arizona last season, carrying the load effectively for Atlanta after the Falcons lost
Michael Turner
to injury. Snelling has three career games with at least 24 carries. Harrison has four career games with at least 29 attempts. Bush has never carried more than 21 times in a game.
Snelling or Harrison would provide insurance should an injury sideline Jackson for entire games. Bush would have given the Rams a player to supplement Jackson situationally.
July, 28, 2011
7/28/11
9:18
AM ET

Kent Somers of the Arizona Republic
expects the Cardinals to part with Dominique Rodgers-Cromartie and a 2012 second-round selection for quarterback Kevin Kolb. Somers: "The Cardinals and Eagles have negotiated for the better part of two days, so it's logical to think they have agreed on compensation and that the Cardinals are talking to Kolb's agent, Jeff Nalley, about a new contract. Kolb has a year left on his contract. Nalley did not return phone messages." The price will not matter if Kolb is the right quarterback for the Cardinals. Adding Patrick Peterson in the draft made Rodgers-Cromartie somewhat expendable, particularly with a new scheme emphasizing sound tackling from the position.
Also from Somers
: Daryn Colledge is an option for the Cardinals in free agency.
Bob Young of the Arizona Republic
sizes up quarterback options for the Cardinals. On Kolb: "Big arm, young and very mobile. Still unproven, and he lost his job to Michael Vick. Heck, Kolb might just be an A.J. Feeley redux. Plus, he's expensive. Reportedly, the Cardinals might have to part with cornerback Dominique Rodgers-Cromartie, which is pricey enough. Asking for a draft pick too, let alone a first-rounder, amounts to extortion. If you believe all the pundits, this deal has been done for weeks, but the Cardinals are wise to explore other options for leverage purposes if nothing else. Since Tavaris Jackson is headed to Seattle, according to reports on Tuesday, Philadelphia already has lost some leverage."
Darren Urban of azcardinals.com
will miss Steve Breaston, who has agreed to terms on a deal with Kansas City. Urban: "Personally, he's a guy I would have liked to stick around (and until he signs another deal elsewhere, I guess the hope remains). But if this offseason hasn't driven home the point enough, business is business, and that includes the NFL."
Also from Urban
: a look at the Cardinals' schedule for training camp.

Ben Malcolmson of seahawks.com
passes along photos from Rod Mar showing the Seahawks returning to work.
Danny O'Neil of the Seattle Times
says linebacker Matt McCoy will re-sign with the Seahawks after the team lost Will Herring to New Orleans.
Also from O'Neil
: thoughts on Seattle's contract agreement with Sidney Rice. O'Neil: "It's a big-budget deal, but not all that much bigger than the $40 million deal Seattle gave T.J. Houshmandzadeh in 2009. Of course, Houshmandzadeh was 31 then, Rice is 24. Houshmandzadeh's yards per reception declined in three successive seasons before coming to Seattle while Rice is just two years removed from a Pro Bowl season with more than 1,300 yards receiving."
Jerry Brewer of the Seattle Times
says Rice's addition is consistent with the Seahawks' plans under coach Pete Carroll and general manager John Schneider. Brewer: "Their goal is to build a championship team with mostly young, athletic 20-something players who possess prototypical size. They want to be an attacking defense-centered team with a mobile quarterback guiding an offense that makes opponents choke on the running game. And they want to build from within, using the draft as their primary resource and filling out the roster with smart free-agency moves that help them acquire players who still have an upside. To be certain, it's not a revolutionary plan. But the entire front office's commitment to it, how it permeates every tactic, is special."
Dave Boling of the Tacoma News Tribune
checks in with Seahawks center Max Unger, who is returning from a toe injury.
Jacob Thorpe of 710ESPN Seattle
passes along Brad Childress' thoughts on Tarvaris Jackson. Childress: "He's got plenty of arm, I think he can command a football. I've always believed that an NFL quarterback, it ought to be like a yo-yo on a string. If they say put it on the front shoulder, put it on the front shoulder, if they say put it on the back shoulder, put it on the back shoulder. I wouldn't say anything about his accuracy; I think it's improved over the course of time."
Liz Mathews of 710ESPN Seattle
provides thoughts on Matt Hasselbeck from the quarterback's former Seahawks teammates. John Carlson: "We knew that was a possibility all along. I wish him the best, I wish he was here, because he's a good friend of mine and he's a leader for this team and this organization. He's beloved in this city for what he does on the field but also what he does off the field, so he will be greatly missed. But this is football and there's a business side to football, as we all saw in this lockout, and he's going to be playing football somewhere else. I wish him luck. Wherever he ends up I wish him luck and wish him well except for when he's playing against us. Matt's a great guy and he's such a tremendous asset in the locker room, but there's been a lot of turnover over the last couple of years. I'm going into my fourth year here and I've had three head coaches and four offensive coordinators, and a lot of turnover in the locker room and the front office, so that's just kind of the way football is, at least in my experience. That's just how it works."

Jim Thomas of the St. Louis Post-Dispatch
lists rookie free-agent additions for the Rams.
Also from Thomas
: Josh McDaniels has much work to do as the Rams' new offensive coordinator. McDaniels: "I'm trying to meet as many of the guys as I can, whether they be new to the building, or guys that were here last year. I haven't met every player yet."
More from Thomas
: Jason Snelling and possibly Jerome Harrison are running backs the Rams will consider in free agency.
More yet from Thomas
: a look at the Rams' camp schedule.
Roger Hensley of the St. Louis Post-Dispatch
polls colleagues for thoughts on how the lockout will affect the Rams. Jeff Gordon: "Installing a new offense will be a process. I'm sure quarterback Sam Bradford will adapt easily enough after getting a head start on the playbook, but the the team will add rookies and other newcomers to the personnel mix under a new coordinator. Many teams are in similar situations after missing all the work time, but this training camp will become a crash course in the Air McD scheme."
D'Marco Farr of 101ESPN St. Louis
says Quintin Mikell will impress Rams fans. Farr: "Oshiomogho Atogwe was more than adequate in this role, but I believe Mikell will be an upgrade. His familiarity with the scheme should allow him to have more leeway to become a playmaker once the opposing offense calls an audible when they smell the blitz coming. Last season this was a major flaw in the Rams defense as teams routinely exposed the holes in the secondary when trying to pressure the quarterback. Seattle backup quarterback Charlie Whitehurst had a career day hitting multiple open hot reads in the flats or over the middle once the Rams committed more than four rushers to get after the quarterback. The disguise often worked against the Rams and the Seahawks were able to pick up key first downs that extended drives and bleed valuable clock time."
Nick Wagoner of stlouisrams.com
says the Rams appear mostly healthy heading into camp.

Matt Maiocco of CSNBayArea.com
says the 49ers could levy $30,000 daily fines against Frank Gore if the running back does not report for training camp. Also: "The only veteran quarterback on the roster, David Carr, was informed Wednesday that he would be released. Teams are allowed to release players Thursday, beginning at 1:01 p.m. (PT)."
Also from Maiocco
: The 49ers have signed two draft choices and 18 undrafted free agents.
More from Maiocco
: Ray McDonald is getting "starter money" from the 49ers as the team shuffles its line prior to the expected departure of nose tackle Aubrayo Franklin.
Matt Barrows of the Sacramento Bee
thinks Eric Weddle's deal with San Diego will affect what Dashon Goldson gets in free agency. Barrows: "He is being pursued by multiple teams, including the 49ers. Earlier in the day, the Chargers re-signed one of their safeties, Eric Weddle, to a contract that will pay him $40 million over five years, including $19 million guaranteed. That's the highest contract ever for a safety and one that should serve as a basis for Goldson's deal."
Also from Barrows
: Jim Harbaugh's affinity for the tight end position.
Daniel Brown of the San Jose Mercury News
says Jeremiah Masoli had a feeling the 49ers would sign him.
Kevin Lynch of the San Francisco Chronicle
rounds up 49ers-related news, with notes on Gore, Nnamdi Asomugha and more.
May, 12, 2011
5/12/11
8:55
AM ET

Kent Somers of the Arizona Republic
thinks Kevin Kolb tops the Cardinals' list of quarterbacks to pursue this offseason. Somers: "There is no question the Cardinals are interested, and I get the feeling Kolb is their first choice to be their starter in 2011. The Cardinals liked Kolb when he was coming out of the University of Houston, and he has the type of personality (gym rat) that Cardinals coach Ken Whisenhunt likes in a quarterback. The Cardinals are leery, however, of what the Eagles might want for Kolb." Somers says the Cardinals would likely go along with a trade similar to
the one Houston orchestrated
for acquiring Matt Schaub from the Falcons. I don't recall any reporter from the Arizona market previously saying without qualification that Arizona has more interest in Kolb than it has in other options, and enough interest in Kolb to trade for him. Might be time to update the
Cardinals' QB timeline
.

Nick Wagoner of stlouisrams.com
passes along initial jersey numbers for the Rams' 2011 draft class. First-round choice Robert Quinn gets No. 94. Second-rounder Lance Kendricks gets No. 88. Wagoner: "No player on the active roster wore 94 last year. DT Jimmy Saddler-McQueen wore it on the practice squad. Victor Adeyanju had it previously. Tight End Derek Schouman wore 88 last year. He is not under contract for 2011."
Tony Softli of 101ESPN St. Louis
looks at DeAngelo Williams, Ahmad Bradshaw, Michael Bush, Darren Sproles, Tim Hightower, Ronnie Brown, Jerome Harrison and Mewelde Moore as running backs for the Rams to consider in free agency.

Matt Maiocco of CSNBayArea.com
says the 49ers have fired Lal Henhegan, their executive vice president of football administration since 2006. Maiocco: "The departure of Heneghan is not believed to be related to any hiring in the team's personnel department. When Heneghan was hired in March 2006, owner John York cited the valuable experience he would bring to a youthful front office and coaching staff. Heneghan was vice president of football operations and general counsel for the Cleveland Browns from 1998 to 2004 prior to joining the 49ers. Heneghan spent seven years with the NFL Management Council as director of labor relations. He supervised the daily operation and interpretation of the NFL salary cap." The 49ers continue to tweak their front office. Henhegan had always worked in the background. I cannot recall hearing his name associated with any decision regarding the 53-man roster, the draft or free agency.
Eric Branch of the Santa Rosa Press-Democrat
takes a closer look at Bruce Miller, the player San Francisco is projecting as a fullback. Miller played defensive end at Central Florida. One of the defensive assistants there, John Skladany, had this to say about Miller: "The biggest thing is he's just relentless. He really enjoys that part of the game. He goes and looks for the contact. He just keeps going and going and going. You're going to have to shoot him to stop him. If he's going to be blocking, some linebacker is going to have a long day."

Clare Farnsworth of seahawks.com
says defensive tackle Craig Terrill is headlining a concert in the Seattle area Saturday night. Farnsworth: "Terrill's previous musical adventures have included singing the National Anthem prior to the Seahawks' wild-card playoff game against the Dallas Cowboys in 2007 and a show-stopping performance at the team party in Detroit after the loss to the Pittsburgh Steelers in Super Bowl XL. He also has played the House of Blues in Chicago and Orlando, as well as several venues in Seattle."
Also from Farnsworth
: Seahawks draft choice Kris Durham was working out with quarterback Charlie Whitehurst before the draft. Farnsworth: "It was a revelation that slipped through the cracks on a very busy third day of the draft for the Seahawks -- when they selected seven prospects in the final four rounds and also held an introductory news conference with first-round pick James Carpenter, a tackle from Alabama. But the Whitehurst-to-Durham connection definitely is worth revisiting. Whitehurst was born in Green Bay, when his father, David, was playing for the Packers. But he grew up in the Atlanta area and went to Clemson. He spends time there in the offseason."
Brady Henderson of 710ESPN Seattle
says there's a better than 50-50 chance Matt Hasselbeck will re-sign with Seattle, according to ESPN.com's John Clayton. Henderson: "Clayton thinks the market shrunk for Hasselbeck when Tennessee and Minnesota, the two teams with the "most urgent" quarterback needs, filled those vacancies by drafting quarterbacks in the first round. Arizona, which didn't draft a quarterback and has a clear need at the position, would seemingly have at least some interest in Hasselbeck. But Clayton believes Marc Bulger would be the Cardinals' preference over Hasselbeck."
Scott Wolf of the Los Angeles Daily News
says Matt Leinart could be an option for the Seahawks. Wolf says the Seahawks spoke with Leinart about joining the team next season. I'm not sure when this would have happened, given that there has not yet been a free-agent signing period. It's also worth noting that Seattle has shown no apparent interest in Leinart previously. Seahawks coach Pete Carroll has been selective in pursuing his former players at USC. He placed strict conditions on receiver Mike Williams. He quickly released running back LenDale White after determining White wasn't serious enough in his approach. He traded defensive end Lawrence Jackson to Detroit, where Jackson appears to be a much better fit.
October, 22, 2010
10/22/10
4:00
PM ET
»
NFC Final Word
:
East
|
West
|
North
|
South
»
AFC
:
East
|
West
|
North
|
South
Five nuggets of knowledge about the NFC West in Week 7:
1. Look, over here, a marquee matchup.
Three NFL games this week feature two teams with winning records. One of them, Arizona at Seattle, takes place right here in the NFC West. Don't tell anyone, though. Let's keep the focus on the truly attractive matchups. Much of the country's television audience gets Washington at Chicago in the early game, and who wouldn't want to watch teams with a combined 0-2 record against St. Louis and Seattle? Don't forget to watch New England's game against San Diego later in the day. Hey, the Chargers did keep the final score close against the Rams after falling behind 17-0 by halftime. OK, enough provincial sarcasm for one blog entry. Time to charge forward with a straighter face.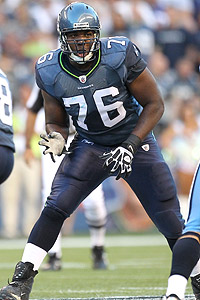 Otto Greule Jr/Getty ImagesRookie Russell Okung has solidified the left tackle position for the Seahawks.
2. The Seahawks have a left tackle.
Russell Okung
is his name. Unlike four of the left tackles Seattle either used or wanted to use last season, Okung remains employed by an NFL team. Okung's presence in the lineup against Arizona spares the Seahawks from the nightmare that befell them against the Cardinals about this time last season. Seattle's projected starting left tackle for 2009,
Walter Jones
, was unavailable and headed for retirement.
Sean Locklear
and
Brandon Frye
had taken turns manning the left tackle spot early in the season, but injuries forced
Kyle Williams
into the lineup for the Arizona game.
Calais Campbell
had 1.5 sacks for the Cardinals in that game and Seattle's offense struggled to function. The Seahawks would later use
Damion McIntosh
as their starter at the position. Jones, Frye, Williams and McIntosh are out of the league.
3. Steven Jackson, for the record.
The Rams' Pro Bowl running back needs 32 yards to pass
Eric Dickerson
as the franchise rushing leader. Seven players have rushed for at least 32 yards in a game against Week 7 opponent Tampa Bay this season: New Orleans'
Chris Ivory
(158), Cincinnati's
Cedric Benson
(144), Pittsburgh's
Rashard Mendenhall
(143), Carolina's
DeAngelo Williams
(54), Cleveland's
Jerome Harrison
(52), Carolina's
Jonathan Stewart
(43) and Cleveland's
Peyton Hillis
(41). The Steelers'
Isaac Redman
came close with 31 yards. In other words, Jackson gets the record one way or another unless he suffers an injury.
4. The 49ers' formula.
Alex Smith
has thrown a league-high nine interceptions this season, but he tossed none last week against Oakland in the 49ers' first victory of the season. Week 7 opponent Carolina lags in just about every statistical category, but the winless Panthers' defense has picked off nine passes, tied for fourth most in the league. Related note: The Rams'
Sam Bradford
has thrown eight interceptions, tied for second most in the league, and the Bucs' defense has picked off 10, one fewer pass than league-leading Atlanta has intercepted.
5. Rookie Qwest.
The Cardinals'
Max Hall
becomes the fifth rookie quarterback to start a game against Seattle at Qwest Field. The previous four --
Josh Freeman
(2009),
Matthew Stafford
(2009),
Troy Smith
(2007) and Alex Smith (2005) -- posted a 1-3 record and combined 57.7 passer rating. Freeman was most impressive, completing 16 of 26 passes for 205 yards, two touchdowns and a 95.8 rating during a 24-7 Bucs victory. Stafford tossed five picks. The two Smiths, Troy and Alex, led offenses that combined for nine points.