September, 26, 2010
9/26/10
11:00
PM ET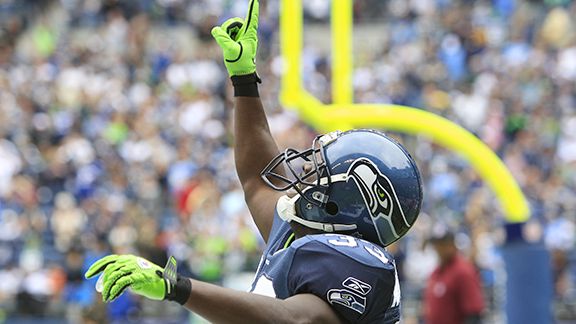 AP Photo/Elaine ThompsonLeon Washington's two kickoff returns for touchdowns was the difference in the game.
SEATTLE --
Leon Washington
is back. So is the "12th Man" at Qwest Field.
The
Seattle Seahawks
are back, too -- not all the way or even most of the way, but enough of the way to win home games and contend for the NFC West title in a flawed division that nonetheless went 3-1 Sunday.
The hard part after the Seahawks'
27-20 victory
over the
San Diego Chargers
was finding players in the winning locker room with enough roster tenure to remember what it was like the last time this team was good enough to make its crowd a decisive factor.
Quarterback
Matt Hasselbeck
remembers. He was there when Seattle was going 7-1 at home in 2007 and 8-0 there in 2005. Those teams were better, but this team doesn't need to be as good.
"For years we have dominated at home and people hated to come up here," Hasselbeck said after Washington's two return touchdowns helped deliver Seattle's second victory in three games this season. "Because we weren't a very good team for two years, we sort of lost that. It's going to be real important to get that back."
It might be back already.
The Seahawks have beaten two division favorites in two home games thus far in 2010. The
San Francisco 49ers
fell first, committing delay penalties and generally imploding on offense amid the noise. The Chargers succumbed Sunday, their offense jumping early and failing to beat the play clock in critical situations.
"I heard all kinds of glowing comments about what it's like to play here," first-year Seahawks coach Pete Carroll said. "Then I was surprised on the first time out against the Niners. This game goes beyond expectation."
[+] Enlarge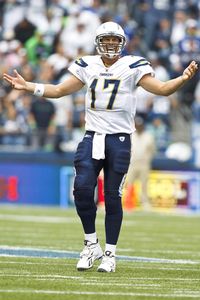 Jason O. Watson/US PresswirePhilip Rivers and the San Diego Chargers were plagued by delay of game penalties.
Chargers quarterback
Philip Rivers
takes
more delay penalties
than any quarterback in the league. The one he took on third-and-10 from the Seattle 12-yard line with 21 seconds left diminished the Chargers' chances. San Diego's previous drive ended with a fourth-and-15 incomplete pass after officials flagged right tackle
Jeromey Clary
and left tackle
Brandyn Dombrowski
for a false-start penalties on consecutive plays.
"That is good to see," said Seahawks safety
Jordan Babineaux
, who has been with the team since 2004.
Babineaux didn't need his Southern Arkansas University education to do the math.
"You sweep home, you could split on the road and that is a 12-4 season," he said. "That's a good year. The biggest challenge for us now is playing the way we play at home on the road. We have to."
Not necessarily. Not in this division.
The preseason favorite 49ers are 0-3 heading into a Week 4 game against Atlanta, their third road trip in four games this season. The
Arizona Cardinals
are tied with Seattle atop the division, but they barely beat St. Louis and Oakland in getting to 2-1. And in listening to the Cardinals-Raiders broadcast Sunday, there were times when fans supporting the Raiders seemed to make the most noise.
Hasselbeck complained of seeing Chargers jerseys in the stands Sunday.
"Our fans are still amazing," he said. "It's probably that stupid ticket-exchange commercial."
If San Diego fans made any noise of consequence, I couldn't hear it. While Hasselbeck's voice resonated during his postgame news conference, Rivers sounded hoarse.
"Most of the screaming is in the huddle and at the line of scrimmage because it's' definitely loud," he said. "It's like most road games."
Like most road games, times two. Seattle opponents had committed 96 false-start penalties at Qwest Field since 2005. Minnesota's Metrodome was second at 86, followed by stadiums in Tennessee (78) and Chicago (70).
Babineaux was at least partly right when he said the Seahawks need to figure out a way to win on the road. Beating the 1-2
St. Louis Rams
at the Edward Jones Dome in Week 4 would give Seattle one of the precious road victories it might need to post a winning season for the first time since 2007.
Crowds cannot win games by themselves. The home crowd matters again in Seattle because the Seahawks have improved almost across the board. Their draft-day trade with the
New York Jets
for Washington paid for itself, and then some, when Washington returned kickoffs 101 and 99 yards against the Chargers. He nearly had another return touchdown, but he slipped while trying to elude the last defender.
Washington's team-record two kickoff returns for touchdowns were the difference. Those returns left Seattle's defense on the field and the Chargers finished with 518 yards, but with rookie safety
Earl Thomas
picking off two passes, including one at the Seattle 5 with 6 seconds remaining, it felt like old times at Qwest Field.
"When you have a returner that has faith in the guys in front of him, he can hit it hard and fast and like I did in New York," Washington said.
A player from another NFL team asked Hasselbeck about Washington during the week.
"I talked about how great he's been and how we love him and he's going to break out here," Hasselbeck said. "I don't think anyone imagined that it could have been like that."
Washington now has six kickoff returns for touchdowns during his career, tied for second in league history with Ollie Matson, Gale Sayers,
Travis Williams
,
Mel Gray
and
Dante Hall
. Only
Josh Cribbs
has more, with eight. Washington's 101- and 99-yarders rank first and second in Seahawks history.
Seattle turned over its roster more than any team during the 2010 offseason.
The changes produced questions. We're starting to get some answers.
The Seahawks' special-teams units are hitting harder than they have in my memory covering the team (since 1998). That reflects improved personnel. Rookie fifth-round choice
Kam Chancellor
forced a fumble during a Chargers return. Rookie seventh-rounder
Dexter Davis
recovered. Rookie second-rounder
Golden Tate
, chosen 60th overall with a pick acquired from San Diego, had a 31-yard punt return and caught all four passes thrown his way.
Most improbably to me, the Seahawks are playing well enough on their offensive line to give Hasselbeck a chance -- even with rookie first-round left tackle
Russell Okung
sidelined by injury for the first three games.
The offense remains in its formative stages, sometimes appearing lost. But Seattle was very close to scoring at least two more touchdowns. The Chargers forced
Deion Branch
to fumble at the 1 after a 41-yard gain. The Seahawks inexplicably let the game clock expire after driving to the San Diego 2 right before halftime.
"I'm not going to overlook that," Carroll said of how close Seattle came to a first-half rout.
There can be no more overlooking the Seahawks at Qwest, either. Their remaining home opponents -- Arizona, the
New York Giants
, Kansas City, Carolina, Atlanta and St. Louis -- will have a hard time winning here.
That's what we've learned about Seattle in the first three weeks.
August, 17, 2008
8/17/08
4:42
PM ET
Posted by ESPN.com's Mike Sando
St. Louis' first-team offense continues to mystify, but watching the Rams' 7-6 victory over San Diego last night provided a few clues. A few observations:
First and foremost, quarterback Marc Bulger was not in sync with his receivers. He is a much better quarterback than what we saw in this game. His protection was good enough. Bulger appeared to throw early and behind his intended targets.
Bulger and Drew Bennett appeared to be reading from different playbooks at times. This can happen when the quarterback and receiver are interpreting blitzes and coverages differently. The Sporting News examined this in a 2000 story about the Rams' offense (current offensive coordinator Al Saunders was the receivers coach at the time).
The Redskins' quarterbacks also put up shaky numbers when starting out in Saunders' offense. I pulled up the stats from an Aug. 13, 2006 exhibition game between the Redskins and Bengals.

Saunders, the Rams' new offensive coordinator, was in his first year with the Redskins at the time. Jason Campbell, Todd Collins and Mark Brunell combined to complete barely half of their passes with no touchdowns and three interceptions in that game. The Redskins also lost Clinton Portis to injury when the running back made a tackle on an interception return (perhaps Steven Jackson's holdout spared the Rams last night).
Rams left tackle Orlando Pace needs the preseason work. Chargers backup Jyles Tucker threw Pace aside before drilling Bulger as the quarterback threw right before halftime. Bulger was shaken up. He's not accustomed to getting blasted in the back when Pace is in the lineup.
Leonard Little's return to health gives the Rams an active defensive front. Little gave starting Chargers tackle Jeromey Clary problems. Adam Carriker also brought pressure up the middle after pushing aside Chargers left guard Kris Dielman. I spoke with Little a few days ago. "I'm going to be productive," he said. "That is my whole thing this year."
The Chargers rested defensive starters Jamal Williams, Luis Castillo, Shawne Merriman, Stephen Cooper, Quentin Jammer and Antonio Cromartie. That's why I would have expected more from the Rams' passing offense, even without Torry Holt. The communication between quarterback and receiver must improve.
This was not a case of the Rams failing to hold up physically. Their starting units held up reasonably well while working against lots of San Diego backups.
Darren Sproles, the Chargers' 181-pound running back, took out Rams defensive end Chris Long with a block at the knees. Sproles appeared to be the only blocker assigned to Long on the play.
Long makes hustle plays. He accelerated out of the backfield to take down a runner after an 8-yard gain. We are not seeing Long making big plays yet. Without regard for draft status or paycheck values, it's tough to say the Rams are better right now with Long on the field. Backup James Hall appears somewhat rejuvenated this summer. I expect Long to improve as he plays more.
Those are a few things that stood out while watching the first half of this game. I'm going to take a look at the Packers-49ers game next.