August, 4, 2011
8/04/11
8:54
AM ET

Bryan Burwell of the St. Louis Post-Dispatch
points to running back Marshall Faulk as the key figure on the Rams' Greatest Show on Turf offenses. Burwell: "I am sure that some folks would love to have me put all sorts of qualifiers behind this comment that Faulk was the hands-down most valuable player of the Rams championship era. But I feel no need to break up the sentence with words like 'arguably.' This is a flat-out, dead-on, simple as can be fact of football life."
Bernie Miklasz of the St. Louis Post-Dispatch
says Faulk had no equal as an all-around running back. Miklasz: "Of the 27 modern-era backs to reach Canton before Faulk, only six rushed for more yards: Emmitt Smith, Walter Payton, Barry Sanders, Eric Dickerson, Tony Dorsett and Jim Brown. But among the 27 modern-day backs, only Smith and Payton had more yards from scrimmage than Faulk (12,279.) And this is what separates Faulk from the others: He has the most receptions (767) and the most receiving yards (6,587) of any Hall of Fame running back. Faulk, in fact, has more catches than 17 Hall of Fame wide receivers."
Jim Thomas of the St. Louis Post-Dispatch
assesses how Cadillac Williams' addition will affect the Rams. Thomas: "The search for a backup to Pro Bowler Steven Jackson has been an ongoing saga for three offseasons. Because of the lockout, it spilled into training camp this year. But the addition of Williams, plus the arrival of Atlanta free agent Jerious Norwood on Tuesday, gives the Rams sudden depth and flexibility in the backfield."
Also from Thomas
: Rams executive Kevin Demoff negotiates rookie salaries that are palindromes, according to Mac's Football Blog. Demoff has been doing this for at least a couple years, toying with the system.
Nick Wagoner of stlouisrams.com
looks at how the team's free-agent additions will fit. On Justin Bannan: "In hopes of getting better against the run, the Rams brought in this big body to help occupy blockers. Bannan will probably be plugged right into the starting lineup as well, holding down the position next to Fred Robbins on first and second down."

Matt Maiocco of CSNBayArea.com
has this to say about newly signed center Jonathan Goodwin: "Goodwin (6-foot-3, 318) is expected to start at center for the 49ers this season. The club appeared satisfied with the play of Adam Snyder at center through the first week of camp after David Baas left the organization to sign a lucrative free-agent contract with the New York Giants. The 49ers signed Goodwin, in part, because of his familiarity with the scheme and the same blocking techniques. Now, the versatile Snyder can serve as a backup at each of the team's offensive line positions."
Taylor Price of 49ers.com
says rookie Aldon Smith is making a positive impression. Price: "In his first week of practices with the 49ers, Smith's work in one-on-one pass rushing drills has been impressive so far. There, he's flashed pass-rushing moves that utilize his propeller-like, 83 and 7/8-inch wingspan. Smith also spends time in seven-on-seven periods covering tight ends in passing routes sometimes 20 yards down the field."
Grant Cohn of the Santa Rosa Press-Democrat
passes along a transcript from 49ers offensive coordinator Greg Roman's interview session. Roman on working with Vernon Davis: "Tight ends are something I hold near and dear to my heart and I just love giving them tips, and we talk through things and Vernon is a very, very professionally minded guy, very impressive work ethic and loves to pick up little tidbits. It's just something else he can add to his game, so we throw things back and forth and work on drills and we just spend a little extra time refining things. He's a real pleasure to work with, real pleasure to work with."
Cam Inman of the San Jose Mercury News
has this to say about the 49ers' stadium plans: "To refresh your browser in terms of the 49ers' stadium, it offers a C-shape bowl with a west-side suite tower, in a relatively tight space. To drop the bowl lower to the field, there are no club-level suites, per the request of 49ers owner John York at the project's onset. That is intended to create a college-stadium atmosphere (although Lambeau Field's redesign offers that, too)."

Scott Bordow of the Arizona Republic
says the Cardinals deserve credit for spending wisely in free agency.
Kent Somers of the Arizona Republic
says the Cardinals hope guard Deuce Lutui will do a better job controlling his weight after meeting an unfriendly fate during free agency. Somers: "For the second consecutive year, Lutui has cost himself millions by failing to control his weight. It's the main reason the Cardinals didn't sign him to a multiyear deal last year. It's the reason the Bengals cut him this week after agreeing to terms on a two-year, $8 million deal. So Lutui, who is from Mesa, returned home to the team that drafted him, signing a one-year deal worth far less than the $5 million he would have made this year in Cincinnati."
Also from Somers
: Veteran safety Adrian Wilson likes what he sees from rookie cornerback Patrick Peterson. Wilson: "I love the kid, honestly. His confidence level makes me confident. He knows the playbook. He knows the things we want him to do. He doesn't talk back, which is great. You can tell he's very well-rounded and he wants to be great."
Darren Urban of azcardinals.com
passes along a story from the Pittsburgh Post-Gazette detailing a generous move by defensive coordinator Ray Horton. Horton sold for $20 a prized vehicle.
Also from Urban
: Veteran defensive lineman Vonnie Holliday shares his mindset heading into his 14th season in the NFL.
More from Urban
: Will Beanie Wells bounce back from a down season? Coach Ken Whisenhunt, alluding to Wells' draft status: "You have to understand Beanie's makeup. That was tough for Beanie. Quite frankly, he didn't handle it as well as he probably could have, and that's part of maturity. He's a different player from that standpoint this year. I don't question Beanie's toughness. I have seen Beanie do things when he was nicked up. What Beanie has had to learn is you have to adapt to whatever you are faced with."

Clare Farnsworth of seahawks.com
looks at changes to the team's roster. There have been many.
Danny O'Neil of the Seattle Times
runs through a few roster moves for Seattle. The Seahwks signed Kelly Jennings, Michael Johnson, Zach Miller, Jeff Reed, Chase Reynolds and Jimmy Wilkerson. The team released Ladi Ajiboye, Wes Byrum, Michael Huey, Zac Lee and Blake Sorensen.
Also from O'Neil
: a look at the Seahawks in free agency. O'Neil: "Seattle had 22 players entering unrestricted free agency, tied for second-most in the league. Seven of those free agents have been re-signed, but only defensive tackle Brandon Mebane came with what could be considered a sizeable deal."
More from O'Neil
: Former Seahawks quarterback Matt Hasselbeck has hit the ground running in Tennessee. O'Neil: "Hasselbeck was off to Nashville without getting a chance to really say goodbye. The Seahawks took out a half-page newspaper ad on Sunday, thanking Hasselbeck, his wife Sarah and their children Annabelle, Mallory and Henry for their contributions to the community. Hasselbeck said he appreciated the gesture. During his trip east, he wrote a letter summarizing his feelings to the man who shared so many of his experiences -- both the successes and failures -- during Hasselbeck's decade with the team. That's how Hasselbeck wound up emailing Seahawks owner Paul Allen for the first time. He got a response, too."
Brady Henderson of 710ESPN Seattle
says the Seahawks have interest in Viking linebacker Ben Leber, according to John Clayton.
March, 8, 2011
3/08/11
4:52
PM ET
Tiki Barber
's
comeback hopes
at age 35 cannot touch the time Jim Brown threatened to come back in his late 40s, when an aging Franco Harris was challenging his rushing record.
Brown was 29 when he played his final snap, then retired while still dominant. He had the right idea.
Very few backs have remained productive into their 30s. The chart below shows running backs from current NFC West franchises who carried at least 50 times in a season past age 31, according to Pro Football Reference. I limited the search to the past 35 seasons (the newest current NFC West franchise, Seattle, entered the NFL in 1976).
It's a short list featuring seven players, including three legends finishing their careers wearing unfamiliar uniforms (
Emmitt Smith
in Arizona, O.J. Simpson in San Francisco and Franco Harris in Seattle).
None gained 1,000 yards in a season even though all played in the 16-game schedule era -- an era Brown ridiculed for this marvelous
1983 Sports Illustrated piece
discussing his comeback threat. In it, Brown said Harris might break his record if he kept running out of bounds frequently enough to prolong his career. The best quote from Brown, by far, makes me wonder what Brown must think of the current NFL game:
"Where has the danger in the game gone? I can't accept quarterbacks sliding and running backs running out of bounds. Ever since the merger in 1966 and the creation of the Super Bowl, the owners have been more concerned with ratings than the level of the game. Coaches put up with players waving into TV cameras, giving high fives and spiking the ball. That sells. The Monday Night Football broadcasters have become bigger than the game. Who is kidding whom? Who's to say a 47-year-old can't do it? I'm not talking about being Jim Brown of 1965. I'm talking about being Jim Brown of 1984. If Franco Harris is gonna creep to my record, I might as well come back and creep, too."
Barber, for the record, ranks 22nd on the NFL's all-time rushing list. He's within 200 yards of passing Watters for the 20th spot. Watters rushed for 1,242 yards at age 31 and still appeared to have quite a bit left, but the Seahawks had drafted
Shaun Alexander
and Watters wasn't interested in a situational role.
February, 4, 2010
2/04/10
10:59
AM ET
MIAMI -- We're approaching 1,700 comments on
the piece
about Jerry Rice's potential standing as the greatest player in NFL history. I have also heard from people through the NFC West mailbag. Those comments and my responses follow.
Greg from Carlisle, Pa., writes:
Hey there Mike, Jim Thorpe should probably be on any football great list. I guess it was NFL though. Jerry Rice is an all-time great, but best ever? Please! The man played with two Hall of Fame quarterbacks and a great offensive line. Not to mention the great mind of Bill Walsh. Rice benefited from these tremendously. Put him on a terrible team, and he looks like a normal great receiver like an Issac Bruce.
There are more than 10 players that are better than Jerry Rice, and that is with no doubt. Probably 10 or 20 more. Of course that is only my opinion. Even a guy like
Brett Favre
is an all-around better player than Jerry Rice. Mark it down! Wide receivers aren't even involved in a lot of the game. Rice had Joe Montana and Steve Young to make him involved. Watching Rice his last few years was painful. Best WR ever? YES. Best player ever, not even close.
Mike Sando:
I think the most accurate way to put it is that Rice had the best career. Lots of factors go into that, including enjoying team success thanks to having great teammates. Rice made his quarterbacks look good, too. People questioning
Kurt Warner
's credentials often point out how he played with great wide receivers. I always counter by asking what those receivers ever won without Warner as their quarterback. Warner wasn't the only reason those teams won, but he was a big reason.
Rice was a big reason for the 49ers' success. We did cover some of the ground you alluded to through the comments Aeneas Williams made about what it's like playing on good teams.
---
James from Baytown, Texas, writes:
I think Barry Sanders is the best running back of all time, because of what he accomplished and who he did it with. Now, I really don't like comparing different eras, because for one, the players' skill sets have changed and rules have changed. Like today we have defensive ends, defensive tackles and linebackers running faster than running backs. If that would have happened back then, the players would have been assumed to be taking steroids.
This is the same reason you can't compare quarterbackss from different eras. The rules are set up for a QB to stand upright in the pocket and pick a defense apart. Defensive backs can't even touch a reciever now, when back in the day, the reciever had to fight the DB all the way up the field. So, comparing the Bradys and Mannings to the Montanas and Elways would not be fair, because their eras are totally different. It's still a fun barber shop argument, though, we just love to have.
Mike Sando:
Great points, James. Some have said we should look at where players ranked when they retired. For example, Steve Largent ranked first in all-time receptions when he retired. Those numbers reflected NFL history to that point. Where he ranked, not how many catches he had, should stand as the more telling indicator.
The rules changes and corresponding styles of play definitely affect production. John Elway had a career passer rating of 79.9. Brian Griese has a career passer rating of 82.7. Those figures seem comparable, but there is absolutely nothing similar about how they played, what the accomplished or what they meant to the league.
---
Dan from Duluth, Minn., writes:
Why is
Emmitt Smith
not at least in the discussion? You've got Walter Payton and not Emmitt? Come on, there is more to his game than just longevity and even still you gotta give him props for being an indestructible beast at a position with a ridiculously short career span. You Cowboys haters will do anything to keep a Cowboy out of any discussion about the greatest -- apparently even exclude the NFL's all-time leading rusher. Wow.
Mike Sando:
It's a positional thing to a degree. I loved the way Smith played the game and wouldn't have a problem with him being in the discussion. Remember the way he ran against the Giants in that playoff game despite a pretty serious injury? I won't forget it. Great, great player. My thinking was that Sanders, Brown and Payton were better runners, and that is why I left off Smith. Perhaps I was wrong there. The Cowboys conspiracy theory is admittedly more fun, though.
---
Matt from parts unknown writes:
Greatest of all time? Rice surely is ... but Tim Brown's stats put him in the Carter, Harrison, Owens comment you stated.
Mike Sando:
Brown was one of my favorite players to watch. I remember the touchdown he scored to win at Buffalo in 1993. Rich Stadium was such a tough place to play back then. The Bills could be dominant there. Buffalo had hammered the Raiders, 51-0, in the AFC title game after the 1990 season. Brown caught 10 passes for 183 yards in that 1993 game, a
25-24 Raiders victory
. Brown provided the winning 29-yard touchdown reception in the fourth quarter. That is one of my lasting memories of him.
Go ahead and include Brown in any discussion about all-time great receivers.
---
Ray from Hannibal, Mo., writes:
Mike, I'm a huge Niners fan and love your blog. I don't know if you ever caught
this Ralph Wiley column
comparing Rice to Jordan, but it is a neat read.
Mike Sando:
Thanks for that. Jordan was more dominant as a basketball player than Rice was as a football player, I think, but that also has a lot to do with the nature of their sports. Basketball definitely highlights the individual more than football. That worked against Rice because the ball wasn't in his hands all the time. Jordan probably touched the ball on the vast majority of offensive plays. He also played great defense, impractical for an NFL wide receiver.
---
George from Buffalo writes:
How do you have a list of greatest players ever and not have the all-time sack leader on the list, Bruce Smith. What a bogus list without it!
Mike Sando:
Sacks became a stat in 1980, so I would not base a list of all-time greats solely on that category. However, it's true that Smith was a great, great player.
---
Steve from Odenton, Md., writes:
I believe Rice playing for the Niners played a large impact on being voted to so many Pro Bowls. Don't agree? Look at
London Fletcher
. Identical stats to
Ray Lewis
, but Fletcher makes one Pro Bowl as an alternate! If Ray Lewis had played for St. Louis, would he have gone to so many Pro Bowls and be in the same conversation as the best ever?
Mike Sando:
Ray Lewis was much more of a force at linebacker than Fletcher, and that is no knock on Fletcher. Lewis was the heart, soul and fists for one of the NFL's all-time great defenses. He dominated games physically and emotionally. Fletcher might be underrated. He probably should have gone to more Pro Bowls. But that has nothing to do with Lewis or Rice.
Rice put up historically great numbers. Remember, too, that when he went to the Raiders late in his career, he put up big numbers for two seasons and Rich Gannon became league MVP.
---
Tom from parts unknown writes:
Johnny Unitas had a career rating of 78.2 Was that good for that era? Even so, why is he called one of the best ever? I don't think above average play coupled with longevity should get you in the talk of best ever.
Mike Sando:
See earlier item referencing Elway. And please do brush up on NFL history. Unitas topped
our list of greatest quarterbacks
.
---
Nick from Littleton, Colo., writes:
Jerry Rice is great no doubt. But a better story would be how an organization can be a six-time winner of AFC championships and have only two players in the hall. The
Denver Broncos
have consistently, since 1976, won games and conference championships. The Chargers have seven Hall of Fame players and one AFC championship. Please help spread the word. Rod Smith, Shannon Sharpe, Randy Gradishar, Tom Jackson, Louis Wright, Steve Atwater, Floyd Little, Dennis Smith, Tom Nalen, etc. These are all great football players that get no respect. How does the best tight end ever not make the hall on the first ballot.
Mike Sando:
I have
written that story
, Nick. Shannon Sharpe will make it in. The only question is whether it happens right away given the other players ahead of him in line.
---
Bob from Winter Garden, Fla., writes:
Mike, I am sure that you are a bright young man and a good writer, but you quote statistics like they are indisputable proof. You should remember that statistics are for losers.What you should be thinking about when deciding who was the best ever, the proof should be who dominated the game, league, etc., more than anyone during the time that they played. There is only one answer and that is Jimmy Brown. If you had ever seen him play, you would be convinced. He was bigger, faster, stronger than any linebackers in the league. He describes his talent as "strength, power, speed, vision and balance". He is the best football player that ever lived.
Mike Sando:
I do not dispute what you are saying. I offered the case for Rice while acknowledging that statistics are not everything. The basic conclusion was that it's tough to make a case against Rice.
February, 3, 2010
2/03/10
11:11
AM ET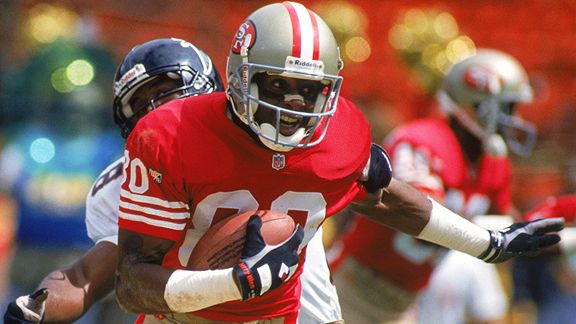 George Rose/Getty ImagesWide receiver Jerry Rice retired with his name all over the National Football League record book.
MIAMI -- Anyone advocating Jerry Rice as the greatest player in NFL history can bury the opposition in statistics.
Rice averaged 1,145 yards receiving and more than 10 total touchdowns per season -- for 20 NFL seasons.
Rice caught 69 touchdown passes -- more than the career totals for Art Monk, Michael Irvin, Charlie Joiner, John Stallworth and numerous other Hall of Fame receivers -- during a five-season span ending in 1993. Rice then caught 28 touchdown passes over the next two seasons, more than half the career total for Hall of Famer Lynn Swann.
He retired holding NFL records for:
Touchdowns (208), receiving TDs (197), receiving TDs in a season (22), consecutive games with a TD reception (13), TDs in Super Bowls (8), receiving TDs in a single Super Bowl (3) and postseason TDs (22).

Receptions (1,549), consecutive games with a reception (274), receptions in Super Bowls (33) and postseason receptions (151).

Receiving yards (22,895), receiving yards in a season (1,848), receiving yards in Super Bowls (589), receiving yards in a Super Bowl (215), postseason receiving yards (2,245) and seasons with at least 1,000 yards receiving (14).
Rice, whose selection to the Pro Football Hall of Fame is a formality Saturday, probably enjoyed the greatest NFL career. He was probably the greatest wide receiver despite some arguments for Don Hutson. But was he the greatest player, period?
"Oh, yeah," Hall of Fame defensive back Rod Woodson said almost reflexively during Super Bowl media day.
Woodson, perhaps mindful of history as a member of the NFL's 75th Anniversary team, then showed he could still backpedal a bit.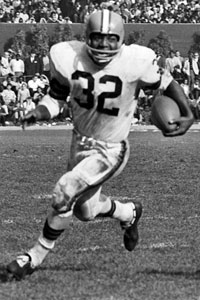 Getty ImagesWhen talking about the greatest players ever, Jim Brown needs to be in the conversation.
"I mean, he is definitely up there," he said. "I don't think one player is the greatest player ever, but he is in that water-cooler conversation. Now, if you say greatest receiver, absolutely. But the greatest player, to make him the most dominant player ever in NFL history or just say pro football history, that is a profound statement. But I can say that he will be in that argument time in and time out."
The conversation might include Otto Graham, Jim Brown, Sammy Baugh, Lawrence Taylor, Joe Montana, Johnny Unitas, Hutson, Walter Payton and Barry Sanders among players no longer active. And that list is probably shortchanging defensive greats such as Deacon Jones and Dick Butkus.
But
Ray Lewis
, arguably the greatest defensive player of the current era, didn't hesitate in singling out Rice.
"I don't know what argument you are going to make why he is not," Lewis said.
And that might be what separates Rice from the rest. There really isn't a great case against him. No one played at such a high level for as long with such grace.
"Jerry Rice doesn't
rank
in the all-time greats," said Saints safety
Darren Sharper
, a five-time Pro Bowl choice and member of the 2000s All-Decade team. "He
is
the greatest receiver and maybe the greatest football player of all time."
Maybe?
"I can't comment on eras that I didn't perform in," retired cornerback Deion Sanders said, "but the era I performed in, Jerry Rice is the best football player to play in that era."
On what grounds beyond the numbers?
"Work ethic, precision, routes, physical toughness, awareness, that hunger," Sanders said. "Jerry stayed hungry until the day he retired."
December, 21, 2009
12/21/09
5:34
PM ET
Reading
this story
about Browns great Jim Brown weighing in regarding Eric Mangini could be instructive for Mike Holmgren.
We've heard about how Holmgren
could have concerns
about too many "
layers
" between himself and Seattle owner Paul Allen.
How direct would the line be to Browns owner Randy Lerner, who has consulted with
Brown and others
over the years?
Seems like a fair question.
August, 26, 2009
8/26/09
12:15
PM ET
Posted by ESPN.com's Mike Sando


Former NFL linebacker Dave Wyman explains why he thinks the Seahawks are making a wise move in adding Edgerrin James. Wyman: "The things that I like about Edgerrin James are the things that I didn't like about Shaun Alexander. Edgerrin James is a football player that happens to be a running back whereas Shaun Alexander was just a running back." Wyman offers a player's perspective on what matters to the Seahawks about this addition.


Dave Boling of the Tacoma News Tribune says the Seahawks could use help on th
e offensive line more than they could use an upgrade at running back.


John Morgan of Field Gulls offers thoughts on James. Among them: "James is quick to the hole, quick through the hole, sets up his blockers and falls forward. He makes small cuts that are effective and undemanding of the offensive line. Like [T.J.] Duckett, his low yards per carry mask his effectiveness. His third gear is gone, but his first and second seem very intact. He gets through the hole and he gains positive yardage."


Rod Mar of seahawks.com provides photographic evidence of Olindo Mare's closest-to-the-pin victory over Brian Russell and other teammates during an informal golf challenge at team headquarters.


Clare Farnsworth of seahawks.com says James' signing took a while because the team wanted to give the veteran runner an extensive physical examination.



Matt Maiocco of the Santa Rosa Press-Democrat says the 49ers have not decided on a No. 3 quarterback. Announcing a winner between Damon Huard and Nate Davis would tell both players -- and the rest of the league -- which player the team plans to release. The team would only lose by declaring a winner in that race.


Matt Barrows of the Sacramento Bee quotes 49ers offensive coordinator Jimmy Raye on the team's decision to start incumbent Shaun Hill over challenger Alex Smith. Raye: "It's just like the champion. You've got to knock him out. You can't fight to a draw and expect to unseat the guy."


Also from Barrows: Is the 49ers' pledge to run the ball too old-fashioned?


Daniel Brown of the San Jose Mercury News says the 49ers are building their offense around Frank Gore, not the quarterback. That sounds good until you're trailing by 6 points with 2 minutes left in the game. Then it's up to the quarterback.


Also from Brown: 49ers punter Andy Lee says he won't purposely hit the giant video board at the Cowboys' new stadium. Also, the 49ers have three of the top nine rushers during the exhibition season this summer.


More from Brown: 49ers rookie Glen Coffee welcomes a chance to meet Hall of Famer Jim Brown.


49ers Midwest Area Scout Ethan Waugh checks in with the team's Web site for a look at his upcoming schedule. Murray State and Louisville were among his destinations.


Bill Coats of the St. Louis Post-Dispatch says the Rams' specialists share a camaraderie complete with an ability to laugh at one another. One restaurant named a sushi roll after kicker Josh Brown. Coats: "Still, when Brown first asked him to sample the 'Josh Brown Roll' at Tani Sushi Bistro, [kicker Donnie] Jones hesitated. According to restaurant owner Eric Heckman, it consists of a snow crab mixture, avocado and thinly sliced octopus inside, with a spicy tuna mixture on top, all drizzled with eel sauce."


Jim Thomas of the St. Louis Post-Dispatch answers Rams-related questions during his weekly chat. Thomas says he would be "astounded" if the Rams' starting offensive line did not feature rookie first-round choice Jason Smith. Also, he could see linebacker Larry Grant getting some work in blitzing situations. Thomas also found it interesting that Adam Carriker was working with the third team upon his return from an ankle injury, and that some at Rams Park were frustrated by the injury.


Also from Thomas: A broken left foot was no match for Rams receiver Donnie Avery.



Kent Somers of the Arizona Republic says the Cardinals aren't worried about their offensive failures in the red zone this preseason. Coach Ken Whisenhunt says the team will be much more effective once it starts game-planning for opponents.


Also from Somers: Whisenhunt has good things to say about backup quarterback Matt Leinart. Whisenhunt: "It would be easy for me to sit up here and say one day it will pay off for him, but I really believe that when Matt gets his opportunity to play -- and it's coming -- he's going to do very well. And I've seen a number of signs in the first two preseason games that have kind of solidified that. He hasn't had a lot to say. He's just focused on what he needs to do and it's really good when you start seeing results on the field."


More from Somers: Kurt Warner says his surgically repaired hip feels much better. Warner: "I feel probably twice as good as I felt at any point since I injured my hip. It's exciting for me that I'm seeing strides being made. I'm feeling more comfortable, and I don't have to worry about trying to manage the pain. I'm definitely feeling better than I have in a long time."


Darren Urban of azcardinals.com says the dynamics at running back have changed in Arizona, leaving Tim Hightower in a new role. James and J.J. Arrington are gone. Beanie Wells and Jason Wright are new. Wright: "It's a talented running backs room, but they say talent and 50 cents gets you a cup of coffee. That's what my old running backs coach used to say, and it's true. Yes we have talent, but we have to keep working."


Also from Urban: Wells looks to avoid additional injuries. Also, the team worked out free-agent outside linebacker Angelo Craig.


Revenge of the Birds' Andrew602 sizes up the greatest safeties in Cardinals history. It's gotta be the Wilsons -- Adrian and Larry.