February, 29, 2012
2/29/12
12:39
PM ET
A Seahawks fan I know emailed to say he "fell out of his chair" after hearing how strongly Mike Greenberg was advocating
Peyton Manning
for the Seahawks.
The thought of a national radio host bringing up the NFC West without prompting did seem far-fetched (I kid, but only a little). This, I had to hear for myself.
Arizona Cardinals
fans will want to listen in, too, as Greenberg and Herm Edwards considered the possibilities during "
Mike & Mike in the Morning
"

on Wednesday morning, not quite 90 minutes into the show.
I'll break out one of the more pertinent exchanges below. First, though, I'll link to audio featuring my thoughts on Manning and Seattle after Sports 620 KTAR's
Ron Wolfley
asked with some skepticism why Manning would consider the Seahawks at all. You'll find that exchange at about the 27:24 mark of
this clip
.
Now, on with the exchange between Edwards and Greenberg.
Edwards:
I think the spot, personally, it's going to be Miami.
Greenberg:
Miami. What makes you say that?
Edwards:
The situation they are in, I think he's walking into a situation where the fan base will be excited, he has a good wide receiver in
Brandon Marshall
, a pretty good tight end, a runner in
Reggie Bush
, defense pretty consistent. A team that maybe has a chance to win, to compete in that division. To me, that is the logical spot. You got a new head coach, you got an owner who wants to bring star power in there. They haven't had a consistent quarterback since Dan Marino. I just think it would be a nice landing spot.
Greenberg:
I don't see it. I disagree with you and I'll tell you why. I think Manning, at this stage in his career, there was probably a point in his career when Manning could basically run an organization. He played most of his career under Tony Dungy. Jim Caldwell slides in, it felt like it was an extension of Dungy on the staff and everything else, but Manning could run the show. If I am a GM, the one thing I am looking for more than anything is an established situation to walk into. You're going to go play for a guy who has never been a head coach before in his life in Joe Philbin. If you are Peyton, you don't get two chances to make this decision. This is it. It would be a disaster if he goes somewhere and after one year, he is looking for a new team like what happened with Donovan (McNabb). That is not what Peyton is looking for. He is looking for one more place to go, like (Joe) Montana did in Kansas City and take one more shot at this thing. I think it would be a real roll of the dice to go play for a coach who has never head coached the game before in his life. No disrespect to Joe Philbin. Maybe he'll wind up being the next Lombardi. But he has never been a head coach before. As much as I respect the Dolphins for hanging in there and fighting and scratching and clawing as they did last year and not giving up on the season, that season was hopelessly lost in October. It's not like they are knocking on the door. If I am Peyton, I am looking for a team where I feel like they are real close and may just be a quarterback away. I'll tell you where I would go.
Edwards:
Where are you going to go?
Greenberg:
I would give some serious thought to Seattle. I think Seattle has a lot of pieces in place. They've got a coach that everybody out there likes playing for, Pete Carroll. I know he hasn't won much in the NFL, but he is firmly in place.
Edwards:
Yeah.
Greenberg:
I think if they would have had Peyton Manning last year, they would have been the goods. That division isn't as bad as people like to make it out because San Francisco is as good as anybody. Arizona was on the come late last year. I think I'd give some serious thought to Seattle and I know I would give some serious thought to Arizona. I would definitely give some serious though to that situation.
Edwards:
Arizona is another place. You've got Kenny Whisenhunt, that understands veteran quarterbacks. They had
Kurt Warner
down there.
Greenberg:
Look how well that worked.
Edwards:
It worked out well.
Greenberg:
Play with
Larry Fitzgerald
. You want to talk about a dream situation.
Edwards:
That is a good spot. Seattle is a good spot.
Greenberg:
Seattle is not bad.
Edwards:
No, not bad. For some reason, I've just got a feeling it's Miami. Those two spots you just mentioned, those are good spots.
February, 14, 2011
2/14/11
11:06
AM ET
The
Seattle Seahawks
' upset playoff victory over New Orleans let Pete Carroll join the club of NFL head coaches with at least one playoff victory in their current roles.
Jim Harbaugh will be looking to match the feat in his first season with the
San Francisco 49ers
.
The chart breaks down current NFL head coaches by playoff victories with their current teams.
January, 13, 2010
1/13/10
5:12
PM ET
Jim Mora's firing after one season as Seahawks coach sent me back through records for the other NFL coaches new to their roles in 2009.

Two of them -- Mike Singletary and Tom Cable -- took over as interim coaches during the 2008 season.

The 10 new head coaches combined to win one more game than their predecessors.

Coaches probably get too much credit and too much blame for how their teams fare. Season records fluctuate regardless of coaching changes.


July, 3, 2009
7/03/09
7:51
AM ET
ESPN's Mike Golic discusses some of the new coaches heading into the 2009 season.
April, 4, 2009
4/04/09
12:30
PM ET
Posted by ESPN.com's Mike Sando
K.C. from Wenatchee, Wash., writes: Hi Mike. I have a research question for you =)
With everything that went on with Jay Cutler in Denver it got me thinking … Bill Belicheck's former assistants haven't been faring too well out there.
Romeo Crennel was fired from Cleveland. Eric Mangini was fired from the Jets (and picked up by Cleveland). Charlie Weiss has been on the hot seat at Notre Dame since he got there. And now Josh McDaniels is losing his star QB because he was too eager to get his former star QB.
So what I'm wondering: Is there a Head Coaching family tree out there somewhere that would show us which coaches came from which coaches? Which of the current Head coaches has had the most success in developing other head coaches?
I'm measuring success by longevity in job, W-L record, and playoff experience, but feel free to throw in anything else that makes sense. Thanks in advance as always!
Oh, and Corey Redding's new deal only means one thing to me. The Hawks are playing to win this year and are looking to rebuild next year. New QB, new LT, new RB, new DL, and new DBs.
Mike Sando: This will come as a great shock to the regulars here, but my roster database does include 30 columns of information for each head coach. I added the 30th column under the heading "coaching tree" in response to your question. Thanks for the idea.
In some cases it's hard to tell which branches lead to which trees. It's not like every head coach owes his advancement to a single mentor. Some coaches spent one or more seasons under multiple head coaches early in their NFL careers.
That said, I went through and assigned mentors to every head coach, based on my judgment.
In keeping with the tree analogy, Bill Parcells leads the way with five branches: Bill Belichick, Sean Payton, Tony Sparano, Todd Haley and Tom Coughlin.
Brian Billick has four: Jack Del Rio, Mike Smith, Mike Singletary and Rex Ryan.
Tony Dungy has three: Lovie Smith, Mike Tomlin and Jim Caldwell.
Mike Holmgren has three: Andy Reid, Dick Jauron and Jim Zorn (although Jauron worked with both of Holmgren's predecessors in Green Bay, and he was with Tom Coughlin in Jacksonville).
Reid has three: Brad Childress, John Harbaugh and Steve Spagnuolo.
Bill Cowher has two: Marvin Lewis and Ken Whisenhunt (although Whisenhunt spent four years as an NFL assistant to three head coaches before joining Cowher's staff).
Belichick has two: Eric Mangini and Josh McDaniels.
The Parcells tree is holding up quite well. Six current coaches led their current teams to a combined nine Super Bowls. Belichick went to four of them. Coughlin went to a fifth. That gives the Parcells tree five of the nine Super Bowl appearances by coaches with their current teams. Belichick and Coughlin are the only current coaches to have led their current teams to Super Bowl victories.
As for your thought about the Seahawks rebuilding in 2010, that might happen, but the deal with Cory Redding wouldn't necessarily be an indication, in my view. The Seahawks saved only $1.55 million on the new deal. Redding's salary in 2010 would have been manageable.
Note: I'll be responding to mailbag submissions throughout the weekend. Thanks much for getting in touch through the comments, the mailbag, our Facebook profile and Twitter account.
February, 19, 2009
2/19/09
9:15
AM ET
Posted by ESPN.com's Mike Sando
INDIANAPOLIS -- Kevin Seifert, Paul Kuharsky, Tim Graham, John Clayton and I are among the first reporters set up inside Lucas Oil Stadium for the first media-accessible combine day.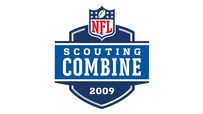 The setup is different from past combines and less conducive to tracking down various team personnel. Coaches and scouts are entering from another side of the stadium. They do not walk past the media area while heading to and from the field area. Frigid, windy conditions outside the stadium make NFL personnel less interested in stopping to chat, and I cannot blame them. It's brutally cold outside.
In past years, team personnel walked past the media area in the warmth of the convention center, which led directly to the since-demolished RCA Dome. Stopping to chat was much easier under those conditions. I'll spend quite a bit of time speaking with NFL people and agents in various hotel lobbies and restaurants this week, always a valuable way to renew contacts and make new ones. That aspect is what makes the combine so valuable beyond the scheduled interviews and news conferences.
The NFL has scheduled Thursday news conferences for Lions coach Jim Schwartz, Colts coach Jim Caldwell, Falcons coach Mike Smith, Steelers director of football operations Kevin Colbert, Saints coach Sean Payton, Dolphins coach Tony Sparano, Redskins coach Jim Zorn and Raiders coach Tom Cable. We will also have access to select offensive linemen, tight ends and specialists.
What does this mean from an NFC West perspective? We'll probably focus on offensive linemen given division teams' obvious needs on the line. The Cardinals could also use a tight end.
The media schedule for Friday is not yet firm, but the league has tentatively scheduled availability for 49ers coach Mike Singletary, 49ers general manager Scot McCloughan, former Cardinals offensive coordinator Todd Haley and Rams coach Steve Spagnuolo. Cardinals coach Ken Whisenhunt and Cardinals GM Rod Graves are expected to answer questions Saturday.
October, 25, 2008
10/25/08
4:39
PM ET
Posted by ESPN.com's Mike Sando
ATLANTA -- A plane change between Seattle and Charlotte provides an opportunity to make sense of the NFL's decision to void Jim Haslett's contract with the Rams.
The ruling does nothing to prevent Haslett and the Rams from reaching agreement after the season if both parties remain interested at that time. The Rams will have to interview a minority candidate to fulfill requirements associated with the Rooney Rule. That's the process every team must follow under these circumstances.
Here is the key point to understand: NFL teams are allowed to promote their next head coach from within -- without regard for minority candidates -- as long as the future coach has an agreement in writing while the current coach remains employed. Once the job comes open -- as it did when the Rams fired Scott Linehan -- it's too late to quickly hire a candidate without opening the process to minorities.
The Rams were able to name Mike Martz their next coach before Dick Vermeil stepped down. The Seahawks were able to name Jim Mora their next head coach before Mike Holmgren departed. The Colts named Jim Caldwell their next coach while Tony Dungy was still in charge (a different situation because interviewing Caldwell, who is black, would fulfill the Rooney Rule anyway).
A question: Let's say the Rams finish strong and Haslett becomes the obvious choice for the job. If you are a minority candidate, do you submit to an interview if you know Haslett is a slam dunk for the job?
NFC WEST SCOREBOARD
Saturday, 12/20
Sunday, 12/21