September, 2, 2014
Sep 2
8:00
AM ET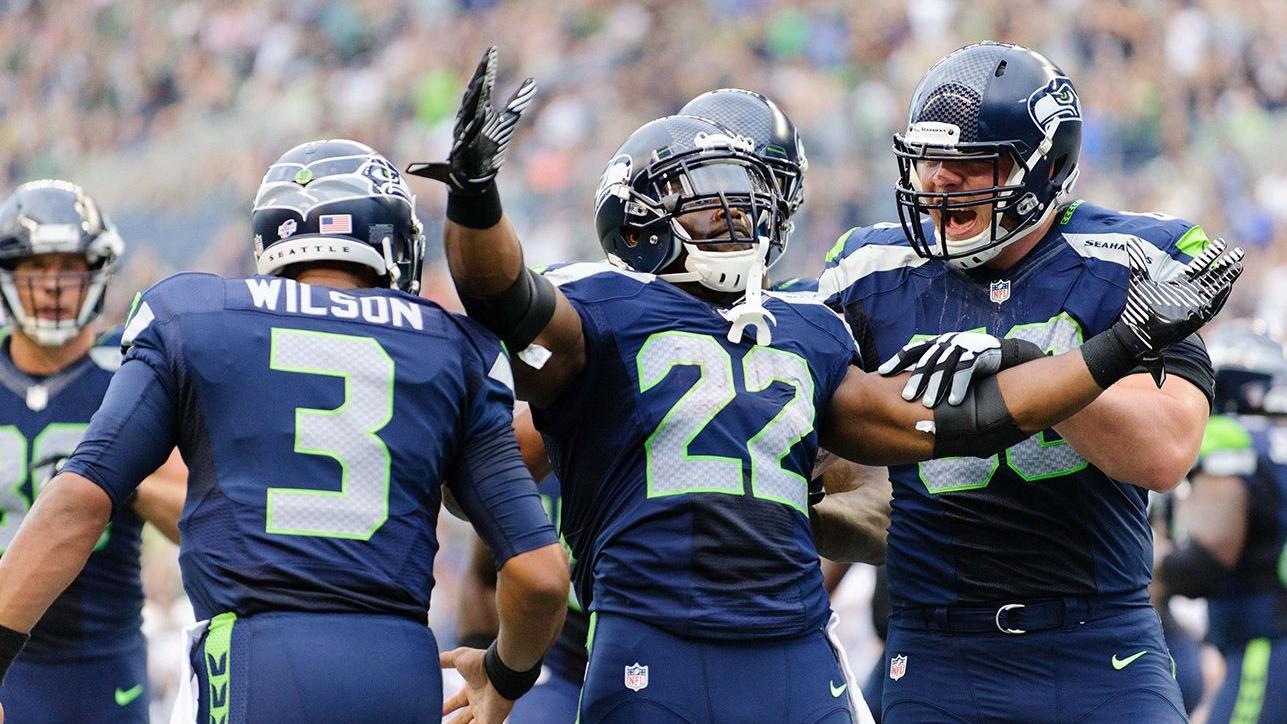 ESPN.com
Seattle Seahawks
reporter Terry Blount makes his game-by-game picks for the 2014 season.
Week 1: Green Bay Packers
All the pregame hype will center around the so-called Inaccurate Reception, the controversial Hail Mary catch by Golden Tate two years ago that won the game over the Packers at Seattle on a Monday night. Tate has moved on to Detroit, but the Seahawks now have too many weapons for the Packers to stop, no Hail Mary required. Prediction: Win
---
Week 2: at San Diego Chargers
The Chargers better hope they play a lot better than they did in the preseason game at Seattle, a 41-14 victory for the Seahawks on Aug. 15. San Diego will play better, but not good enough to beat a much better team. Prediction: Win
---
Week 3: Denver Broncos
The Broncos and their fans got a tiny bit of meaningless Super Bowl revenge in the preseason opener with a 21-16 victory over the Seahawks in Denver. Enjoy it while it lasts, boys. Repeating that outcome in Seattle is not an option. Prediction: Win
---
Week 5: at Washington Redskins
Traveling coast to coast to play on the road for a Monday night game is a tough task against any NFL opponent, and even tougher against quarterback Robert Griffin III. But the Seahawks catch a break in this one by coming off a bye week with plenty of time to prepare and be fresh for the journey. Prediction: Win
---
Week 6: Dallas Cowboys
Cowboys owner Jerry Jones gave Seattle a little bulletin-board material last month when he said the Seahawks were to blame for the increase in penalty flags during the preseason. There won't be near enough flags against Seattle for the Cowboys to win this one. Prediction: Win
---
Week 7: at St. Louis Rams
Any division game in the NFC West is a rugged battle. The Rams have a defensive line that gave the Seahawks problems a year ago. But they aren't strong enough overall to beat Seattle, even at home in their out-of-date dome. Prediction: Win
---
Week 8: at Carolina Panthers
The Seahawks were fortunate to win the season opener at Charlotte a year ago. That Panthers team was better than this one, but back-to-back road games against very physical defensive teams will end the Seattle winning streak. Prediction: Loss
---
Week 9: Oakland Raiders
Coming off their first loss of the season and returning home against an outmanned opponent, is there any doubt? Prediction: Win
---
Week 10: New York Giants
The Seahawks easily defeated the Giants 23-0 last year in New Jersey, a dress rehearsal for their Super Bowl victory at the same location -- MetLife Stadium. The Seahawks won't need a rehearsal to roll past the Giants in this one. Prediction: Win
---
Week 11: at Kansas City Chiefs
This likely will be a low-scoring game between two strong defensive teams. Odds are against any team that has to try to win by matching its defense against the Seahawks' D. Prediction: Win
---
Week 12: Arizona Cardinals
The last time the Cardinals played at CenturyLink Field was last December when they handed the Seahawks a 17-10 loss. That won't happen again unless the Seahawks get caught looking ahead to the 49ers game. The Seahawks don't look ahead. Prediction: Win
---
Week 13: at San Francisco 49ers
It's a Thanksgiving night, national TV game in the 49ers' shiny new stadium against the hated Seahawks. If San Francisco can't win this one, its time as a championship contender is over. Prediction: Loss
---
Week 14: at Philadelphia Eagles
This is the toughest part of the season for the Seahawks with back-to-back road games against likely playoff contenders. But the 10 days between games will help and be enough of a cushion to keep Seattle from losing two in a row. Prediction: Win
---
Week 15: San Francisco 49ers
This is a game that could decide which team wins the NFC West. No way the Seahawks lose to the 49ers twice in three weeks, especially not in front of a rabid full house of 12s. Prediction: Win
---
Week 16: at Arizona Cardinals
The Cardinals probably will be fighting for a playoff spot, and the Seahawks already will be in at 12-2. That difference will be just enough for Arizona to win at home in the same stadium where the Seahawks will win the Super Bowl a few weeks later. Prediction: Loss
---
Week 17: St. Louis Rams
For the second consecutive year, the Rams close the regular season in Seattle. And for the second consecutive year, the Seahawks will beat them without much trouble. Prediction: Win
---
Predicted Record: 13-3
January, 1, 2009
1/01/09
9:45
AM ET
Posted by ESPN.com's Mike Sando

John Crumpacker of the San Francisco Chronicle outlines the philosophical differences that led to Mike Martz's ouster from the 49ers. Also, Mike Singletary says the team needs to upgrade at offensive tackle, safety and pass-rusher.
Kevin Lynch of Niner Insider says there's confusion over who has control of the 49ers' roster after Singletary suggested he would have control despite reporting to general manager Scot McCloughan.
Matt Maiocco of the Santa Rosa Press-Democrat provides a transcript from Singletary's end-of-season news conference. Singletary says the 49ers sneaked up on a few opponents this season.
Also from Maiocco: The 49ers admittedly are taking another step backward in an effort to move forward, but Singletary saw no other way.
Lowell Cohn of the Santa Rosa Press-Democrat says the 49ers need more than just a power running game to succeed.
Matt Barrows of the Sacramento Bee lists Scott Linehan, Jim Fassel and Norm Chow as potential offensive coordinators for the 49ers. Note: Link updated thanks to a tip from base2bass.
Ann Killion of the San Jose Mercury News raises questions about the 49ers' power structure after a team spokesman suggested Singletary and McCloughan would share control of the roster.
Daniel Brown of the San Jose Mercury News says Singletary will favor an experienced offensive coordinator without ruling out inexperienced candidates.

Kent Somers of the Arizona Republic looks at pivotal moments in the Cardinals' season, including the contract awarded to receiver Larry Fitzgerald.
Also from Somers: Cardinals offensive coordinator Todd Haley thinks the team's performance against Seattle in Week 17 was critical in re-establishing a running game.
More from Somers, with Bob McManaman: a notebook with items on the Falcons and Cardinals, with a look at key matchups.
Paola Boivin of the Arizona Republic profiles a Cardinals fan with 61 years experience rooting for the team. Richard Hayden remembers attending the team's previous home playoff game -- in 1947.
Darren Urban of azcardinals.com checks in with the Cardlinals' longest-tenured players. Six have spent six or more seasons with the team, starting with Adrian Wilson.
Also from Urban: The Falcons' Matt Ryan was in high school the last time Cardinals quarterback Kurt Warner started a playoff game.
Mike Tulumello of the East Valley Tribune questions whether the Cardinals' defense can hold up against the Falcons.
Mike Sakal of the East Valley Tribune says Fitzgerald's longtime girlfriend has obtained a protection order against the Pro Bowl receiver. Fitzgerald is not facing criminal charges.

Jim Thomas of the St. Louis Post-Dispatch says Rams coach Jim Haslett, under contract until Feb. 15, is going about his business as usual while the team searches for a head coach.
Also from Thomas: Rams assistants Jim Chaney and Keith Murphy are taking jobs at the college level.
Bernie Miklasz of the St. Louis Post-Dispatch defends St. Louis as a football town by ripping Arizona and Minnesota for failing to sell out playoff games.

Greg Johns of the Seattle Post-Intelligencer says Seahawks rookie Lawrence Jackson expects improvement in 2009 after a humbling rookie season.
Danny O'Neil of the Seattle Times sizes up the Seahawks' projected strength of schedule for 2009, drawing comparisons to recent seasons.
December, 31, 2008
12/31/08
6:36
PM ET
Posted by ESPN.com's Mike Sando
Jim Chaney is leaving his job coaching the Rams' tight ends to join Lane Kiffin's staff at Tennessee as offensive coordinator.
This is a no-brainer move for Chaney given that the Rams will shake up their coaching staff even if Jim Haslett remains.
In San Francisco, the 49ers have dismissed quarterbacks coach and assistant head coach Ted Tollner and runnings backs coach Tony Nathan.