June, 6, 2011
6/06/11
7:56
AM ET

Vittorio Tafur and Dwight Chapin of the San Francisco Chronicle
pass along remembrances for John Henry Johnson, famed member of the San Francisco 49ers' Million Dollar Backfield of the 1950s. Johnson died Friday. Tafur and Chapin: "In a 1955 exhibition game, Mr. Johnson smashed into Chicago Cardinals star Charley Trippi so hard that Trippi sustained multiple face fractures. That blow -- and other hard hits -- gained Mr. Johnson a reputation in some quarters as a dirty player, and might have delayed his being voted into the Pro Football Hall of Fame. But Mr. Johnson always maintained that he had only a 'do unto others' philosophy, noting his own lasting football injuries."
Matt Maiocco of CSNBayArea.com
thinks 49ers quarterback Alex Smith could benefit from reaching out to former quarterback Steve Young during the lockout. Maiocco: "I'm not sure how much Young could have assisted Smith. After all, the playbook authored by new 49ers coach Jim Harbaugh and offensive coordinator Greg Roman might look and sound completely different than the one Young used more than a decade ago. But it's a question worth asking." I'd be interested in knowing what dynamics exist between the players. Have they spent much time together? Do they have much of a rapport? I've never heard Young take shots at Smith when providing commentary during his radio show on KNBR.
Steve Corkran of Bay Area News Group
puts into perspective Johnson's impact on the San Francisco sports scene. Johnson, who
passed away
Friday at age 81, was part of the 49ers' Million Dollar Backfield of the 1950s.
Eric Branch of the Santa Rosa Press-Democrat
profiles 49ers offensive coordinator Greg Roman, whose status as an overachiever makes him a good fit for Harbaugh. Branch: "Roman's rugged ethos was born out of his childhood in Ventnor, N.J. The youngest of three brothers, Roman's parents divorced before he was born and he never had a relationship with his father, who is deceased. His mom, Carol, was a reading specialist who worked baby-sitting jobs after school to support the family."
Also from Branch
: Roman and the Rams' Josh McDaniels both hail from John Carroll University.
Matt Barrows of the Sacramento Bee
expects most of the 49ers' rookie draft choices to participate in upcoming player-organized workouts.

Danny O'Neil of the Seattle Times
checks in with Seahawks quarterback Charlie Whitehurst, who steered clear of making strong comments regarding his standing with the team. Whitehurst: "Well, luckily I'm not going through the free-agent stuff like some guys are going through. I know I'm the only quarterback that's on the roster right now, and I'm sure that will change eventually when we get it figured. I look at it like I'm going to get the chance to be the starter, and I think I can do it. That's what I plan to do. Whenever we figure it out, I'll compete as hard as I can to make that happen."
Christian Caple of seattlepi.com
says the strength coach at the University of Washington has been writing offseason workout plans for Seattle players during the lockout. The coach formerly worked under Pete Carroll at USC. Quarterback Matt Hasselbeck: "He wrote a workout for the offensive line, for the quarterbacks, for all the different guys. It's just been real good. We're creatures of habit that way. We're used to getting world class coaching in the weight room and we don't get that right now because we're not allowed to talk to our coaches, so Ivan has really come through and really saved the day for us that way."
Liz Mathews of 710ESPN Seattle
offers highlights from Seahawks fullback Michael Robinson's recent appearance on John Clayton's radio show. Robinson says players should qualify for unrestricted free agency earlier in their careers based on relatively short average career lengths. Robinson: "I don't know if many fans understand the average playing career is 2.2 years. I've beat the odds by going into year six and personally believe that that rule needs to be changed. After four years you should be able to go anywhere you want to and be a free agent. But like I said, I'm in limbo, and if we go back to the 2010 rules, I'll be tendered with the Seahawks. I love playing for the Seahawks. Love being out there. Love playing in front of the 12th Man. Love Pete Carroll and the whole system he has going out there. But at the same time, you want to be compensated for what you do and I think a tendered offer is some dollars less than what I even made last year. So I'm kinda stuck and just waiting to see what comes out of these court proceedings and what come out of this mediation and hopefully we have a new deal." The NFL has said careers last longer on average. The discrepancy could reflect which careers are taken into account, those for all players or just those who earn spots on 53-man rosters.

Kent Somers of the Arizona Republic
says the Cardinals' coaches weren't aware of the NFL Coaches Association's legal filing against the lockout. Somers: "Unlike some teams, such as the Jets, the Cardinals haven't issued any public statements about it. But I'm told Coach Ken Whisenhunt and his assistants knew nothing about the brief prior to its filing. Coaches are sensitive to any perception that they are siding with the players in the dispute. Most assistants that I've talked to just want to stay out of the whole affair. Like most of us, they just want to know when football will be played."
Darren Urban of azcardinals.com
understands why Football Outsiders ranked Jim Hart over Kurt Warner as the top quarterback in franchise history. Urban: "Interesting that Hart would be above Warner, but their reasoning is a longer resume for Hart, and that's not unfair. Kurt was great in 2008 and 2009. In 2007, he had good stats, but I would tend to agree with FO, it didn't always seem to totally translate that season, at least not as well as the next two years. And pre-Whiz, Warner's years under Denny Green were like everything else under Green -- all over the map (plus, in 2006, Warner played poorly and was benched most of the season)."
Also from Urban
: How play designs come to be.

Reid Laymance of the St. Louis Post-Dispatch
catches up with former Dolphins coach Don Shula for thoughts on how the lockout is affecting the Rams and other teams. Laymance: "It really puts coaches in a tough spot. On the one hand, they are your players and you want to be with them, but it's the owner who signs your check."
D'Marco Farr of 101ESPN St. Louis
expects McDaniels, the Rams' new offensive coordinator, to value players differently than former coordinator Pat Shurmur valued them. Farr: "Most former head coaches-turned-offensive coordinators usually are seeking a temporary opportunity somewhere to regain credibility for another shot at a head coaching job somewhere else. I don't see why McDaniels would be any different. Historically speaking, new coordinators aren't really all that concerned about ruffling the feathers of key players from someone else's offensive strategy, from the season prior to their hiring. So, in the Rams' case, what may have been acceptable for Pat Shurmur may not even come close to what McDaniels will demand of his guys."
June, 24, 2010
6/24/10
9:00
AM ET
Notable players:
Charley Trippi, Elmer Angsman, Paul Christman, Pat Harder, Stan Mauldin, Chet Bulger, Billy Dewell, Mal Kutner, Boris "Babe" Dimancheff, Jeff Burkett, Marshall Goldberg
[+] Enlarge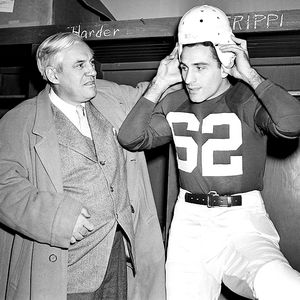 AP PhotoCharley Trippi, right, signed a four-year contract to play for Jimmy Conzelman before the season began.
Analysis:
The Pro Football Hall of Fame describes Jimmy Conzelman as a "newspaper publisher, playwright, author, orator, actor" -- and the only head coach to win an NFL championship with the Cardinals. (The team was based in Chicago from 1920-59. It played in St. Louis from 1960-87.)
Conzelman's brilliance as a coach shined through before and during the Cardinals' 28-21 victory over the
Philadelphia Eagles
in the 1947 NFL championship game. Conzelman initially refrained from reporting the Eagles for illegally filing down their cleats to better cope with the icy conditions at Comiskey Park. Conzelman instead reported the Eagles on a player-by-player basis, and only after Philadelphia had made significant gains. Officials wiped out the gains and penalized the Eagles, forcing players to leave the field to replace their equipment.
The Cardinals had addressed the footing issue by changing into sneakers before the game. Angsman scored twice on 70-yard runs. Trippi scored on a 44-yard run and 75-yard punt return.
Conzelman's resourcefulness reflected his varied background. His playing career included stints with Decatur, Rock Island, Milwaukee, Detroit and Providence. He had even owned the Lions for a couple of seasons in the 1920s, supposedly paying $100 for the franchise before returning it to the league. He retired as a player in 1930 and returned as a coach a decade later. But his record in three seasons with the Cardinals was only 8-22 when he stepped away following the 1942 season. The Cardinals brought back Conzelman four years later and he rewarded them by winning 27 of 37 games, counting playoffs and the only league title in franchise history.
The 1947 season produced tragedy in addition to triumph. A plane crash killed punter Jeff Burkett as he tried to rejoin the team following an appendicitis. Charles Bidwill, the team's owner since 1933, had died in April before the season.
Most impressive win:
The 1947 team needed a victory over the
Chicago Bears
in the final regular-season game to win the Western Division title. The Cardinals picked off Bears quarterback Sid Luckman four times in the 30-21 victory, but the offense might have provided the most important contribution. Christman's touchdown pass to Dimancheff on the first play of the game set a winning tone for the Cardinals. Dimancheff had missed every practice during the week while tending to his expectant wife, preventing him from practicing a play Conzelman was eager to run. No matter. The Cardinals isolated Dimancheff against Bears linebacker Mike Holovak, a speed mismatch Dimancheff used to his advantage.
Free-spending Cardinals:
The team landed Trippi before the season with a four-year contract worth a then-staggering $100,000. Trippi had been a Maxwell Award winner and Rose Bowl MVP at the University of Georgia, which retired his No. 62 jersey after a college career that later
landed Trippi a spot
on ESPN's list of 25 greatest college players. The move helped put the Cardinals over the top in 1947. Trippi ranked second on the team that season with 641 yards from scrimmage.
Honorable mention
2008:
The Cardinals came within a defensive stop of winning the Super Bowl against Pittsburgh after
Kurt Warner
found
Larry Fitzgerald
for the go-ahead touchdown pass late in the game. This team delighted in disproving skeptics and redefining an organization known for decades of futility.
1948:
A defeat in the championship game prevented this Cardinals team from challenging and probably overtaking the 1947 team as the best in team history. The 1948 team went 11-1 during the regular season as Trippi became a bigger threat.
1975:
Coach Don Coryell produced an 11-3 record thanks to an offense featuring Pro Bowl players in quarterback Jim Hart, receiver Mel Gray, running back Terry Metcalf, fullback Jim Otis and offensive linemen Dan Dierdorf and Conrad Dobler.
March, 17, 2010
3/17/10
10:04
AM ET
The Rams haven't always drafted well, as
noted
, but few teams have
un-drafted
better.
Former Rams
Kurt Warner
and Dick "Night Train" Lane took the top two spots in
Gil Brandt's ranking
of the 75 best undrafted players in NFL history.
The chart breaks out the 12 players on Brandt's list from current NFC West teams (showing only players discovered by those teams; Jim Zorn, for instance, made the list but was initially with Dallas). I've added a comment for each player.
Anyone else deserving?
December, 28, 2008
12/28/08
8:10
AM ET
Posted by ESPN.com's Mike Sando

Matt Maiocco of the Santa Rosa Press-Democrat questions the 49ers' focus heading into their final regular-season game. Mike Singletary's future has commanded plenty of attention. More here.
Gwen Knapp of the San Francisco Chronicle celebrates Joe Starkey's career as radio voice of the 49ers. Starkey gave up a stable job to pursue his announcing dreams. Now he's walking away on his own terms, albeit wistfully.
John Crumpacker of the San Francisco Chronicle says the 49ers' simplified approach to defense has led to significant improvement under Singletary.
Matt Barrows of the Sacramento Bee thinks the 49ers owe their good health in part to former coach Mike Nolan, who reorganized the team's strength and conditioning program.
Daniel Brown of the San Jose Mercury News says Singletary wants more from the 49ers' pass rush.

Bob McManaman of the Arizona Republic puts the Cardinals' current efforts in context. He checks in with current and former Cardinals, from Jim Hart to Vince Tobin to Kurt Warner.
Carrie Waters of the Arizona Republic profiles Cardinals president Michael Bidwill, who ties team success to the construction of a new stadium.
Darren Urban of azcardinals.com wonders if the Seahawks can bring out the best in the Cardinals' passing game. Warner put up big numbers in Seattle last month. Also, Cardinals receiver Anquan Boldin says it is "vitally important" for him to enter the playoffs healthy.
Mike Tulumello of the East Valley Tribune says the Cardinals have nothing but credibility at stake against Seattle.

Jim Thomas of the St. Louis Post-Dispatch says Rams players have signed a petition supporting Jim Haslett as head coach beyond this season. Said one player: "They don't pay us to make decisions on head coaches. But it's good for [Haslett] to know that we've got his back. All 53 players may not agree with it, but I think the vast majority wants this to happen."
Also from Thomas: He profiles new Rams general manager Billy Devaney, a former luggage loader at the airport in Newark.
More from Thomas, with Bill Coats: A Rams notebook with Torry Holt's thoughts on Marshall Faulk as a possible NFL coach.

Jose Romero of the Seattle Times says a Seahawks victory might send a competitive message about the division race next season.
Frank Hughes of the Tacoma News Tribune
looks at Mike Holmgren's options once the Seahawks' season ends. Sleeping in is one of them.