August, 22, 2012
8/22/12
8:00
PM ET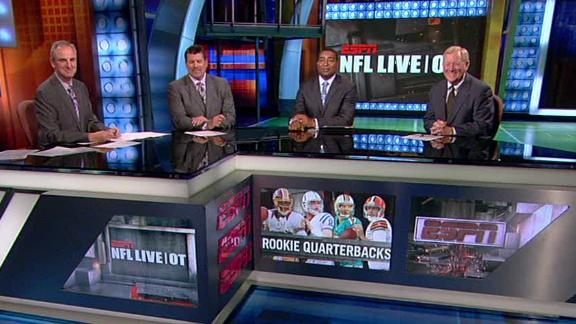 The first four NFL quarterbacks drafted in 2012 have already won starting jobs as rookies.
Seattle's
Russell Wilson
, third-round choice from Wisconsin, has a chance to make it five of the top six. He'll get a chance to work with recently cleared receiver
Sidney Rice
when the Seahawks visit Kansas City for their third exhibition game, set for Friday night.
We can excuse Denver's
Brock Osweiler
, the only second-round quarterback this year, for failing to crack the lineup. He'll get time to develop behind
Peyton Manning
.
"What it tells you that this is probably the most talented class since the '83 Marino-O'Brien-Kelly class," ESPN's Bill Polian said on NFL Live.
But there was also a word of caution from Polian, the former
Indianapolis Colts
exec, regarding the current crop of rookies: "Let's take a look three years from now. Then we'll know."
Recent history backs up the cautionary tone.
Three of the first four quarterbacks from the 2010 class have lost their starting jobs (
Tim Tebow
,
Jimmy Clausen
and
Colt McCoy
). St. Louis'
Sam Bradford
is the exception among the four. The sixth quarterback drafted that year, fifth-rounder
John Skelton
, could start in Arizona. None of the eight quarterbacks drafted later than Skelton holds a starting job.
The first five quarterbacks drafted in 2011 are starters now that
Jake Locker
, chosen eighth overall by Tennessee, has ascended into the Titans' lineup over
Matt Hasselbeck
.
Cam Newton
,
Blaine Gabbert
,
Christian Ponder
and
Andy Dalton
are the others. Locker, Gabbert and Ponder have the most to prove.
San Francisco backup
Colin Kaepernick
was the sixth quarterback drafted in 2011, ahead of
Ryan Mallett
,
Ricky Stanzi
,
T.J. Yates
,
Nathan Enderle
,
Tyrod Taylor
and
Greg McElroy
. Kaepernick might be starting by now if
Alex Smith
hadn't put together a career-best season.
Twenty-three of the named 30 starters for 2012 entered the NFL as first-round draft choices. Dalton and
Drew Brees
were second-rounders.
Matt Schaub
, like Wilson, was a third-round pick.
Tom Brady
(sixth),
Ryan Fitzpatrick
(seventh) and
Matt Cassel
(seventh) were late-round picks.
Tony Romo
was the only one undrafted.
October, 17, 2011
10/17/11
11:12
AM ET
When
San Francisco 49ers
coach Jim Harbaugh challenged a first-quarter play that was not subject for review Sunday, cameras caught
Detroit Lions
coach Jim Schwartz mouthing what appeared to be, "Know the rules, Harbaugh!"
Good thing Schwartz didn't call Harbaugh a baby or question his toughness, as former
Buffalo Bills
quarterback Jim Kelly did back when Harbaugh was playing.
Back then, Harbaugh reportedly
tracked down and punched
Kelly, suffering a hand injury that sidelined him for weeks. Kelly
denied
punches were thrown, but clearly something happened.
"I regret throwing the punch, but I felt I had to do something since my toughness was being questioned," Harbaugh said at the time. "I regret that I have a crack in one of my bones in my hand."
The admittedly over-the-top handshake/back slap combo Harbaugh unleashed on Schwartz following the 49ers' 25-19 victory Sunday did not seem particularly calculated, even if it did violate unwritten rules for postgame comportment among competing coaches.
The 49ers' first-year head coach has a certain, uh, competitive zeal, shall we say. Niners fans have to love the guy. He's passionate, bright, capable and leading the team's revival well ahead of any realistic schedule.
Regarding the postgame incident Sunday, I contend Harbaugh handled the situation without sufficient grace, but Schwartz handled it worse --
much worse
. Those keeping score should add this Harbaugh encounter to
the list
Ernest Tolden of ESPN Stats & Information put together.
September, 12, 2010
9/12/10
11:08
AM ET
The latest in our periodic spin around the NFC West radio dials:
Rams

XTRA910 Phoenix: fullback Mike Karney
101ESPN St. Louis: receiver Mark Clayton
101ESPN St. Louis: Chris Miller on Sam Bradford
101ESPN St. Louis: Jim Kelly on Bradford
101ESPN St. Louis: Marshall Faulk on Bradford
101ESPN St. Louis: linebacker James Laurinaitis
101ESPN St. Louis: Rams executive Kevin Demoff
101ESPN St. Louis: Ron Wolfley on Bradford
101ESPN St. Louis: reporter Jim Thomas
XTRA910 Phoenix: Thomas
710ESPN Seattle: John Clayton Show with Thomas as guest



---

49ers
KNBR680 San Francisco: left tackle Joe Staley
KNBR680 San Francisco: reporter Matt Maiocco
KNBR680 San Francisco: reporter Matt Barrows
KNBR680 San Francisco: Ronnie Lott
KNBR680 San Francisco: linebacker Manny Lawson
KNBR680 San Francisco: snapper Brian Jennings
KNBR680 San Francisco: coach Mike Singletary
950KJR Seattle: Gary Plummer



---

Cardinals
XTRA910 Phoenix: coach Ken Whisenhunt
XTRA910 Phoenix: running back Tim Hightower
XTRA910 Phoenix: safety Adrian Wilson
KTAR620 Phoenix: receiver Stephen Williams
KTAR620 Phoenix: ex-quarterback Matt Leinart
KTAR620 Phoenix: line coach Russ Grimm
101ESPN St. Louis: reporter Kent Somers
101ESPN St. Louis: defensive end Calais Campbell
101ESPN St. Louis: president Michael Bidwill
azcardinals.com: Cardinals Underground
azcardinals.com: Whisenhunt (video)



---

Seahawks
KJR950 Seattle: nose tackle Colin Cole
KJR950 Seattle: safety Jordan Babineaux
KJR950 Seattle: former coach Jim Mora
KJR950 Seattle: Seahawks Round Table
KJR950 Seattle: Mike Holmgren
710ESPN Seattle: Matt Hasselbeck (partway through hour)
710ESPN Seattle: Huddle Show with Deion Branch, Lofa Tatupu, John Carlson
That should get us caught up, and help pass the time before kickoff. I'll be heading to the Edward Jones Dome shortly. Always nice to get there early.
January, 15, 2010
1/15/10
11:56
AM ET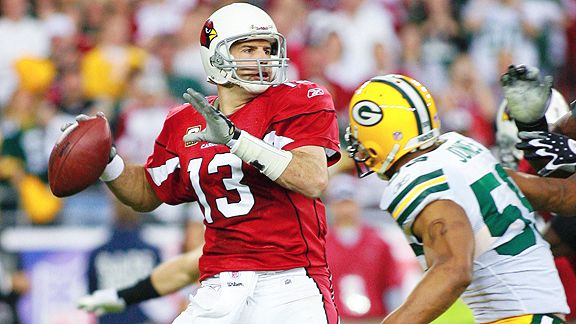 Chris Morrison-US PRESSWIRE
Arizona quarterback Kurt Warner is making a strong case to get into Canton.
Arizona Cardinals
coach Ken Whisenhunt announced a fateful decision Aug. 30, 2008.
Kurt Warner
had beaten out
Matt Leinart
as the starting quarterback. It was big news at the time.
"If you look at just our (2007) season where we ended up playing three (quarterbacks), I think it is a pretty high percentage that Matt is going to play this year at some point for us," Whisenhunt said heading into that 2008 season.
At that stage of his career, Warner was still convincing coaches he could limit turnovers well enough to make all those touchdown passes matter more. Though he had led the NFL in touchdowns over the second half of the 2007 season, he was still breaking free from a five-year period featuring 27 touchdowns, 30 interceptions and questions about his viability.
Seventeen months since Whisenhunt chose his starting quarterback, Warner has helped his coach
rank among the greats
in postseason winning percentage. Counting playoffs, Warner has thrown 72 touchdown passes with 31 interceptions and a 23-13 starting record over the past two seasons.
Instead of debating whether Warner should start over Leinart, the more relevant question has become whether Warner deserves Hall of Fame induction once his career is finished. The case is getting stronger by the week.
An updated look at his Canton credentials:
1. Longevity.
The great quarterbacks had staying power. Warner has played in 124 regular-season games, about 60 fewer than the average for the 14 quarterbacks enshrined over the last 25 years. This is one of the few categories where Warner doesn't measure up.
On the other hand, Roger Staubach played only seven more games. Like Warner, he was an elite big-game quarterback. No one questions Staubach's Hall of Fame credentials. And Warner, playing in a pass-happy era he helped christen, certainly has better stats.
2. Production.
Here is where Warner's relatively short game log works to his advantage. He has put up Hall of Fame-caliber numbers in less time than players already enshrined. His offenses in St. Louis scored 526, 540 and 503 points in consecutive seasons, setting a standard that holds up well across any era.
Of those 14 quarterbacks enshrined since 1985, none could match Warner in completion percentage, yards per attempt or yards per game. Steve Young is the only one with a higher passer rating than Warner. Dan Marino is the only one with more 300-yard games (Warner has 52, twice as many as Jim Kelly, who played in 36 additional games).
3. Postseason success.
Only Bart Starr (104.8) has a higher postseason passer rating than Warner (104.6) among NFL quarterbacks all time. Warner closed the gap to within a couple tenths of a rating point with his five-touchdown, zero-interception performance against the Packers in the wild-card round.
Warner has averaged 312.3 yards per postseason game, most in league history. And unlike the other four players in the top five on that list, Warner has won a Super Bowl. He has played in three of them, posting the three highest yardage totals in the game's history.
Joe Montana,
Tom Brady
, Terry Bradshaw, John Elway,
Brett Favre
, Troy Aikman and Staubach are the only quarterbacks with more postseason victories than Warner.
Warner, with a 9-3 record in postseason, needs two more victories to match Aikman and Staubach on the all-time list. Beating the Saints in the divisional round Saturday would move Warner out of a tie with Starr (9-1),
Donovan McNabb
(9-7) and Kelly (9-8) for sole possession of eighth place on the list.
Warner has passed for at least 365 yards in half his 12 playoff starts. No other quarterback has hit that mark more than three times in postseason (
Peyton Manning
). Warner owns three of the 23 postseason performances in which a quarterback threw at least four touchdown passes (Montana, Manning and Daryle Lamonica each did it twice).
4. Unique legacy.
Warner's rise from supermarket shelf stocker to Super Bowl hero gives his legacy another dimension. Leading two previously dormant franchises to the Super Bowl also separates Warner from the typical Hall of Fame candidate.
Not many Hall of Famers would lose jobs to
Marc Bulger
and a young
Eli Manning
before working feverishly to beat out Leinart. A thumb injury doomed Warner in St. Louis. The Giants and Cardinals weren't going to leave a first-round choices on the bench (Warner's passer rating with New York, by the way, was higher than any Manning posted until this season).
It's been a strange career for Warner, no question.
"Regardless of how it happened, I just think Kurt has done things that I don't know anyone else has done," Young told Bernie Miklasz during a
recent radio interview
.
It's tough to write the history of the game without sharing Warner's remarkable story.
January, 13, 2010
1/13/10
11:52
AM ET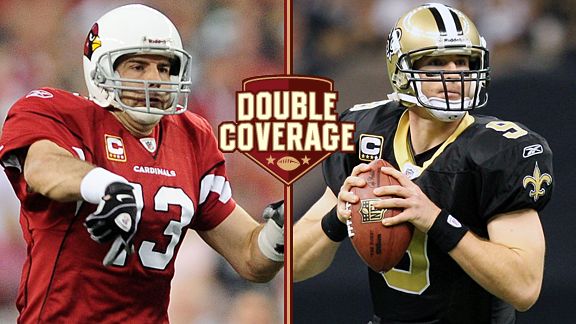 US PresswireKurt Warner, left, and Drew Brees will square off Saturday in the Superdome.
The
Arizona Cardinals
won the
highest-scoring playoff game in NFL history
Sunday. The
New Orleans Saints
are coming off the highest-scoring season in franchise history.
The Cardinals and Saints aren't the only ones putting points on the board this week.
NFC West blogger Mike Sando and NFC South counterpart Pat Yasinskas scored a few of their own while breaking down the Cardinals-Saints divisional playoff game set for Saturday in the Superdome.
Mike Sando:
Ken Whisenhunt has a 4-1 postseason record as Cardinals coach. He has been to a Super Bowl. Sean Payton seems to be the coach with the most at stake in this one.
Pat Yasinskas:
There's a lot at stake for Payton and a lot of pressure on him. He has the potential to go from being considered a very good offensive mind to being considered a very good head coach. He has been in the playoffs only once before and that was 2006. They split a pair of games. Getting to 13 wins this season was a huge step for Payton, but the way the season ended, with three losses, sets up the scenario where a playoff loss would be extremely disappointing.
Fans in new Orleans were talking about a Super Bowl when this team was undefeated. Not getting even a playoff victory would open Payton to criticism. Having the bye week has also upped the pressure and panic among fans in New Orleans, but I think Payton used the time wisely as far as game-planning offensively and getting his banged-up defense healthy.
Mike Sando:
Watching the Saints from afar, quarterback
Drew Brees
seemed unusually disappointed when New Orleans lost for the first time this season against Dallas. It was only one game. I wondered if that was the right reaction. Seems to me the Saints should have been focused on the bigger picture. Was I reading too much into that or was there something to it?
Pat Yasinskas:
The Saints sincerely believed they had a shot at going undefeated. Their confidence was sky high because at times they were steamrolling opponents. Even in games when they were not playing their best, they always seemed able to pull it out in the fourth quarter. All that changed with the loss to Dallas. I think the Saints know deep down that they are a good team still, but their momentum took a hit and they haven't been able to get back on course in the regular season. Getting that on the upswing will be a real test of Payton's motivational skills.
Mike Sando:
The Saints' defense seems to be at its best when playing with a lead. The Cardinals jumped to a 31-10 lead against the Packers in the wild-card round. Arizona has scored at least 14 points in seven second quarters this season and postseason, same as the Saints. As poorly as the Arizona defense played against Green Bay, the Cardinals did force turnovers early (and late, of course). I think New Orleans could be in trouble defensively if
Kurt Warner
gets going early and Arizona takes a big lead.
Pat Yasinskas:
Absolutely. The Gregg Williams defense counts on playing aggressively and basically their phrase back in camp was something like, "We set the tone." They are all about playing aggressively. Williams likes to blitz. The other big thing is
Darren Sharper
early in the season was looking like a true center fielder and was a turnover machine. In the second half of the season, when
Tracy Porter
and
Jabari Greer
got hurt, they couldn't let Sharper roam any more. He was playing more like a Cover 2 safety. He was not freed up to make plays. I do think having Greer back at full strength is going to help tremendously.
I'm not saying they are going to shut down Arizona. But they can play. Let's face it. This is probably going to be a high-scoring game, but defense will be a factor. Whichever defense can force a turnover or two can decide this game.
Mike Sando:
The Saints pressured with five or more rushers 49.4 percent of the time this season, trailing only the Jets. Warner can be tough to blitz because he knows where to go with the football quickly. He also benefits from an improved running game. The quarterbacks will win or lose this game, most likely, but
Beanie Wells
was the player I singled out as
a potential X factor
. Wells has become a bigger part of the Arizona offense. He had 14 carries for 91 yards against the Packers. The Saints' run defense hasn't been all that great this season.
Pat Yasinskas:
The Arizona running game is a concern for that defense. It has been a problem area and
Sedrick Ellis
has been the key there. He has been in and out with injuries. When he is in, they are OK against the run. When he is out, it changes everything. Having
Charles Grant
out helps their pass rush because
Bobby McCray
is better, but Grant was good against the run. The Cardinals might try to exploit that. McCray could be more of a pass-rush situational guy.
Anthony Hargrove
, who has played inside a fair amount, may move outside on running downs.
Mike Sando:
The Saints' pass defense ranked third among NFL teams in holding opposing quarterbacks to low passer ratings. Here's the thing, though. The Saints faced
Matthew Stafford
,
Mark Sanchez
,
Josh Freeman
(twice),
Jake Delhomme
(twice) and
Chad Henne
.
Marc Bulger
had 298 yards against them and nearly won the game. Kurt Warner is in another class, particularly in the playoffs. Warner already has more playoff victories in fewer games than
Steve Young
,
Jim Kelly
,
Dan Marino
and
Peyton Manning
. He had more touchdown passes (five) than incompletions (four) Sunday.
Pat Yasinskas:
Warner has the track record and has been there many times. For Brees, much like Sean Payton, this is a big game to show he truly is one of the elite. Brees has been so precise, not only this year but the last couple of years, that I think he is more than ready to take the next step. Despite the way the season ended, I think the Saints will rebound. This is too talented a team to waste a 13-win season. More important, they lost their last two games in the Superdome and I don't see them losing there again because their fans will not let them.
Mike Sando:
The Cardinals have to love their chances. They hammered a 12-4 Panthers team on the road in the divisional round last season. They have Warner, one of the best big-game quarterbacks ever. These Saints are so much more dynamic offensively than Carolina was last season, though. New Orleans was too good during the regular season to go quietly. A few injuries and a short week will work against the Cardinals. An upset would not shock me, and if the Cardinals win this game, it's one of their finest victories.
June, 10, 2009
6/10/09
11:47
AM ET
Posted by ESPN.com's Mike Sando
Todd asks via Facebook what happened the following season to quarterbacks who started all 20 games in a season for their teams. The Cardinals' Kurt Warner joined the list last season.
Mike Sando: Very good question. Jim Kelly started all 20 games for the Bills in 1992. He started all 16 the following season (update: Scratch that. He missed a couple games in the playoffs after the 1992 season, setting up Frank Reich's legendary performance). John Elway started 12 games for the 1998 Broncos after starting all 20 games the previous season. Eli Manning started 16 games for the 2008 Giants after starting all 20 games for their Super Bowl team.