January, 12, 2010
1/12/10
3:38
PM ET
RENTON, Wash. -- Seahawks CEO Tod Leiweke was referencing the league-high number of procedural penalties against visitors to Qwest Field when a voice cut through the auditorium loud and clear.
"Yeah, baby!"
It was new coach Pete Carroll, waiting for his turn at the podium on the day Seattle introduced its newest head coach.
Carroll, highly successful at USC, paced along the auditorium's perimeter like a prize fighter waiting to approach the ring. The excitement he felt was palpable and presumably genuine. I say "presumably" because what fans have seen hasn't matched what they've gotten from the organization in recent years.
[+] Enlarge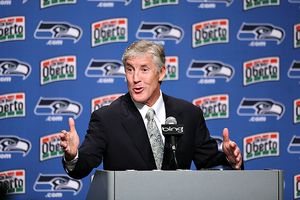 Otto Greule Jr./Getty ImagesThe Seahawks on Tuesday introduced Pete Carroll as their new head coach.
And even though Carroll is in place, quite a few important questions persist.
1. How much power will Carroll wield?
Lots. Everyone associated with Carroll knew he would likely never take an NFL job without being the No. 1 decision maker within the organization.
Carroll referred to the organization having one door and one voice, both belonging to him.
Leiweke referred to "collaboration" as his top priority. It's clear that collaboration will be done on Carroll's terms. Carroll will sit in on interviews with general manager candidates. That means the team will hire a GM on Carroll's terms. That will define the relationship in a way that assures Carroll's power ultimately.
The Seahawks will have a strong leader and it will be Carroll.
Keep an eye on Seahawks general counsel Lance Lopes. He helped broker the deal for Carroll through his brother, who works at USC. Lopes' profile could rise as a result.
Former president Tim Ruskell and former coach Jim Mora were Leiweke guys. Leiweke spoke fondly of both and said he apologized to Mora for the way the organization handled the coach's final days.
2. What type of staff will Carroll put together?
It could be a good one. Carroll expressed hope that he would hire veteran offensive line coach Alex Gibbs, one of the few people in the NFL who might qualify as an upgrade over Mike Solari. Gibbs will presumably have another title such as assistant head coach.
If Carroll can make it happen, good for him and good for the Seahawks.
The defensive philosophy will remain somewhat the same, Carroll said. His system shares a similar coaching lineage as the one Jim Mora and staff installed last season. That should help.
Expect a new system on offense with an emphasis on running the football.
3. What does Carroll's arrival mean for key players?
Carroll endorsed quarterback
Matt Hasselbeck
as the starting quarterback.
That was about as far as he was willing to go without spending more time analyzing the roster.
4. Does the organization have a clear vision of its preferred structure?
Not really. The front-office structure could vary depending on which GM candidate the team hires, Leiweke said.
This favors Carroll, obviously. He's the one already on the job.
[+] Enlarge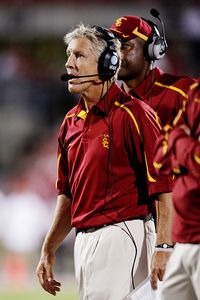 Andy Lyons/Getty ImagesPete Carroll was 97-19 in his nine years coaching at USC.
"We have some interesting young guys who are GM candidates," Leiweke said. "We've also got some guys who have done it before. Some of this final structure will depend on the ultimate candidate."
Again, Carroll is the top dog.
5. What about Leslie Frazier and the Rooney Rule?
The Seahawks' interview with Vikings assistant Leslie Frazier took place after reports said a deal with Carroll was all but done. This raised
questions about the Rooney Rule
, which requires NFL teams to interview minority candidates.
My question for Leiweke was this: "Everyone knew from Pete's background that he wasn't going to take an NFL job unless he had enough control for himself. So, all the reports when he was hired were that he is going to be that man. Then we hear from the head of the Fritz Pollard Alliance that, 'Hey, this is the same job that Leslie Frazier would be going to.' Then we see Pete today say there is one door to knock on. So, where are we at?"
Leiweke: "Well, the fact is, it wouldn't have been the same job that we talked to Leslie about. I don't think so. Leslie was a heckuva candidate. At the end of the day, we are going to build a highly collaborative model and I learned lessons from how this was working over the last two or three years, and it was hard. I'm highly confident. There could be three doors. There could be a cap/contract door, a general manager door and Pete will have his own unique door. But one of the things that attracted Pete here is that we said, 'Look, you are going to sit in on these GM interviews. You are going to help us select a guy. We are going to make sure you are 100 percent comfortable with where we ultimately end up.
"Leslie Frazier is going to be a head coach in this league. He is a super impressive guy. I went to Minnesota not knowing if we would get it done with Pete. There were some significant issues and I spent the better part of the day and an evening watching football with a guy who I just came away hugely impressed with. As I flew to L.A., I knew if it didn't work out with Pete, there were some excellent candidates out there, specifically Leslie."
Carroll was the guy Seattle wanted all along. The "significant issues" Seattle had to overcome with Carroll had to do with putting together a staff and which people Carroll would bring from USC.
6. Has Carroll changed since his previous NFL coaching jobs?
Yes and no. Carroll said his approach to players will remain the same. He wants to maximize communication with players so coaches can find the best way to use their talents.
The difference between the 2010 Carroll and the one who coached the Jets and Patriots in the 1990s?
The new Carroll has a much better idea how to articulate his philosophy.
Carroll said he was "embarrassed to say" that he didn't really find himself as a coach until leaving the Patriots. The vision he has now is much clearer and more defined. Expect the Seahawks to adopt Carroll's vision, not the other way around.
January, 9, 2010
1/09/10
2:52
PM ET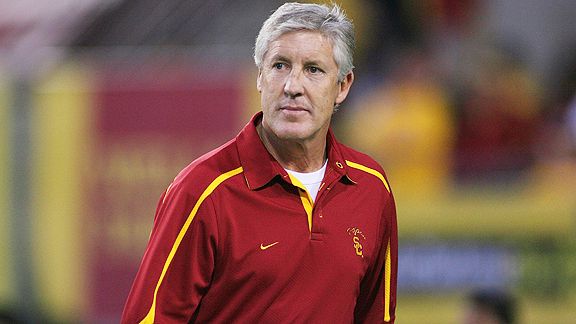 Jeff Golden/Getty ImagesAlthough Pete Carroll's previous NFL incarnations are widely viewed as failures, he did have an overall record of 33-31 in his four seasons as an NFL head coach.
Five questions as the Seahawks appear
poised to introduce USC coach Pete Carroll
as their next head coach:
1. Why Pete Carroll?
The Seahawks view Carroll as a coach with the gravitas to succeed Mike Holmgren.
They might be right even if they are possibly entering into the relationship for the wrong reasons.
This looks like the classic rebound relationship. The Seahawks clearly are not over their breakup with Holmgren. They tried to bring him back as general manager, only to watch him head to Cleveland instead, and so they ran out and attached themselves to the most attractive alternative they could find.
Carroll is one of the two or three biggest names in college coaching. He lacks the same cachet among NFL people, but the Seahawks' top leadership people and owner Paul Allen might not know this. There do not appear to be many football people advising Allen.
2. Why not Jim Mora?
The Seahawks were 4-12 in Holmgren's final season and 5-11 in Mora's first season. I'm not sure the Seahawks would have done any better had Holmgren stuck around another season. The primary problems facing this team appear to be personnel-related, even if the coaching wasn't perfect.
No matter.
Mora had to live up to the best of Holmgren -- a mythical, perfect Holmgren, even -- and that meant he had to win more quickly than anyone could have realized.
The way the season spiraled out of control late, with some players regressing, made him more vulnerable yet.
Mora and Carroll are both energetic, rah-rah type coaches. Only one of them has to succeed Holmgren.
Advantage, Carroll.
3. How is Carroll different from the last big-name college head coach Seattle hired?
[+] Enlarge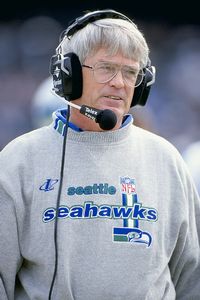 Otto Greule Jr./Getty ImagesDennis Erickson, the last big-name college coach to take the Seattle job, was 31-33 in four seasons.
Unlike Dennis Erickson, who coached the Seahawks for four seasons ending in 1998, Carroll knows what he's getting into because he coached in the NFL previously.
That should give Carroll an edge.
And while Carroll's previous NFL incarnations are widely viewed as failures, he did have a winning overall record -- 33-31 -- in his four seasons as an NFL head coach. His teams qualified for the postseason twice.
He certainly wasn't a total bust in the role, even if there were legitimate questions about whether his style suited the NFL.
Carroll's four-year record was better than the 31-33 mark Holmgren posted in his first four years with the Seahawks.
4. Does Carroll have total control of football operations?
The owner has the final say if you want to push the issue, but the Seahawks' Allen tends to let his people do their jobs.
Carroll will surely have lots of power in Seattle. He probably wouldn't have left USC otherwise.
But if the Seahawks have armed Carroll with powers similar to the ones Holmgren wielded in his first four years with Seattle, it will be critical for Carroll to hire the right people to do the scouting work.
Carroll is a very good defensive coach. His focus should be on the field, not on contracts or free agency or scouting.
Seattle learned the hard way with Holmgren, stripping him of the GM title after four seasons. There's no excuse if Allen makes the same mistake twice, this time with a coach lacking Holmgren's NFL credentials.
5. What kind of coaching staff can Carroll put together?
Carroll's USC staff has some good coaches, but the success he enjoyed with the Trojans created opportunities elsewhere for some of his brightest assistants.
Steve Sarkisian is coaching at Washington, for instance.
Erickson's tenure with the Seahawks failed to produce the desired results in part because Erickson was too loyal to some of his longtime staffers.
The Seahawks already have some excellent coaches left over from Mora's staff. No one Carroll brings aboard is likely to have anything on current Seattle offensive line coach Mike Solari, for example. I have a hard time envisioning former Seahawks cornerback Kris Richard, now Carroll's secondary coach, commanding respect in a meeting room featuring former teammate Marcus Trufant.
It's unclear to me whether Allen or CEO Tod Leiweke will have the football sense or credibility to hold Carroll accountable when it comes to naming a staff.
Carroll might be a terrific coach, but he'll need the right people around him.
January, 8, 2010
1/08/10
11:47
PM ET
The Seahawks' attempts to court USC coach Pete Carroll without violating the Rooney Rule appears awkward, as outlined in
this report
from SI.com's Jim Trotter.
John Wooten, chair of the Fritz Pollard Alliance promoting diversity in NFL hiring, sheds light on the Seahawks' attempts to interview Vikings defensive coordinator Leslie Frazier, a move that would satisfy the Rooney Rule requiring teams to consider minority candidates.
It's a tough sell when everyone knows -- or at least thinks -- Carroll is the man Seattle wants for the job.
According to Wooten, Seahawks CEO Tod Leiweke told him the Seahawks would not be willing to give Carroll as much control as Mike Holmgren wielded as coach and general manager from 1999 to 2002. That assurance was apparently a signal to Frazier that the Seahawks were not willing to hire Carroll unconditionally.
Compliance with the Rooney Rule in this case seems tricky. The Seahawks might not have been willing to fire Mora until they were reasonably sure they could get the coach they wanted, presumably Carroll. They couldn't know whether they could get Carroll without approaching him and exploring possibilities.
The team could not have fulfilled the Rooney Rule while Mora was still the head coach.
Frazier shouldn't be expected to play along just to help Seattle get through the process. As Trotter noted in
a followup tweet
, "Leslie Frazier will back out of interview with Seahawks on [Saturday] unless he 1st receives assurances that Pete Carroll WON'T have total control."
The Seahawks cannot allow another candidate to dictate terms of any future agreements, but they also cannot comply with the Rooney Rule without interviewing Frazier or another minority candidate.
Fun times for Leiweke.
January, 8, 2010
1/08/10
5:56
PM ET
The earlier item
questioning whether the Seahawks could satisfy the Rooney Rule if they hired Pete Carroll might have an answer.
Judd Zulgad of the Minneapolis Star Tribune says
the team will interview
Vikings defensive coordinator Leslie Frazier after all.
The situation is so fluid that the picture can change by the minute.
Frazier has nothing to gain from interviewing if the Seahawks view his candidacy as merely one way to satisfy the Rooney Rule. He also has nothing to lose if there's even an outside chance the team could hire him -- either now or sometime down the road.
Carroll still appears to be the focus of the Seahawks' attention as the team lines up a replacement for Jim Mora.
January, 8, 2010
1/08/10
5:13
PM ET
News that the Seahawks are pursuing Pete Carroll as their head coach broke not long after the team fired Jim Mora.
In between, word came out that Seattle was interested in interviewing Vikings assistant Leslie Frazier.
If Carroll had been the choice all along, Frazier's candidacy would have done little beyond satisfying the Rooney Rule requiring teams to interview a minority candidate.
It's tough to imagine a minority coach agreeing to an interview just to satisfy a process.
The Rooney Rule
did not apply
to the Seahawks when they signed Mora to a five-year deal while Mike Holmgren was still head coach, just as the Rams were allowed to name Mike Martz as Dick Vermeil's successor years ago. The NFL backed the Redskins' quick hiring of Mike Shanahan amid
questions about Rooney Rule compliance
.
Seahawks CEO Tod Leiweke has expressed sensitivity to process and compliance over the years while others, including Ravens general manager Ozzie Newsome, have said the Rooney Rule has
outlived its usefulness
.
Also on the Carroll front:
ESPN Pac-10 blogger Ted Miller's take
on why the timing might be right for Carroll to rejoin the NFL.
January, 8, 2010
1/08/10
4:17
PM ET
The Seahawks'
interest in Pete Carroll
as head coach raises a big question.
Who would the team consider as general manager?
Carroll hasn't coached in the NFL since the 1999 season. He was with the Jets, Vikings and Bills before he was with the Patriots.
Pat Kirwan would be a logical person to consider. His name has come up in association with Carroll before, including when
talk emerged last year
that the 49ers might have interest in Carroll. Kirwan and Carroll have been described as "
best friends
" over the years. Kirwan helped the Jets hire Carroll nearly 20 years ago and he
consulted with the Patriots
before they hired Carroll in 1997. Kirwan has experience in personnel and salary-cap matters.
Kirwan has built a following in recent years with his insights on NFL.com and Sirius Satellite Radio. He was with the Jets from 1989 to 1997, according to
his NFL.com bio
. The Seahawks wouldn't need permission from another NFL team to speak with him.
January, 8, 2010
1/08/10
3:25
PM ET
The wheels are spinning fast after Seattle fired coach Jim Mora.
ESPN's John Clayton says the Seahawks have shown interest in Vikings defensive coordinator Leslie Frazier.
Chris Mortensen has identified USC coach Pete Carroll as
the top candidate
.
Update: Mortensen reports that Frazier has declined the Seahawks' request. This item has been updated to condense the section dealing with Frazier's possible candidacy.
The Seahawks could use a bold move right about now. It's been a couple rough seasons for the organization.
Frazier's name has come up in previous head coaching searches around the NFL. His connection to former Colts coach Tony Dungy interested me because another former Dungy associate, Ruston Webster, happens to be the Seahawks' interim general manager.
How good would the Seahawks look if they could somehow land Dungy in an advisory role, lending immediate credibility, with Webster as GM and Frazier as head coach? It's an idea that requires some connecting of the dots. I've had no indication from anyone that such an arrangement has been considered, would be considered or would even be practical.
Do you fire Mora to hire Frazier? Is that an obvious upgrade?
Carroll is a much bigger name. He's energetic and he's dynamic. He would fit with Leiweke, for sure.
Would he be the right choice? I recently watched an NFL Network show featuring former NFL head coaches who should have stayed at the college level. Former Seahawks coach Dennis Erickson was one of the men featured. Carroll was another.
The program showed locker room footage of Carroll giving sappy rah-rah speeches, with former players saying the NFL was no place for him.
Much time has passed since Carroll left the Patriots after the 1999 season. He would go into his next NFL job a wiser man for the experience.
Should be an interesting next week or so in the NFC West.
January, 8, 2010
1/08/10
2:41
PM ET
The
Seahawks
released the following statements regarding Jim Mora's firing as head coach:
CEO Tod Leiweke: "We've made a tough decision today, It became apparent after conducting an extensive internal audit, that a new direction was needed to provide an opportunity for the organization to be successful. Today's decision, while difficult, is part of the process in building a franchise with a new vision in 2010. ... Jim is truly a stand-up man, who gave his full effort to our franchise. We thank Jim and his family for their commitment to our community and for their contribution to the Seahawks."
Mora: "This team, more importantly this community, means so much to me that it hurts not being able to see this through. I am disappointed I did not get the chance to complete my contract. This is a tough business that sometimes demands immediate gratification."
Sometimes? Most of the time.
January, 8, 2010
1/08/10
2:09
PM ET
[+] Enlarge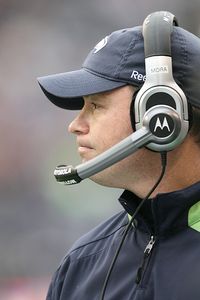 Otto Greule Jr/Getty ImagesJim Mora is the first Seattle coach to last only one season.
Following a legend can be rough.
Ray Rhodes found out when he tried to replace Mike Holmgren with the Packers. Rhodes lasted one season. The team managed to finish 8-8, but quarterback Brett Favre was floundering and Rhodes' leadership style came into question.
Jim Mora became the next Rhodes when the Seattle Seahawks, fresh off a 10-year run with Holmgren,
fired him Friday
after one season.
The organization is making a statement that the Seahawks need a complete makeover after putting together 4-12 and 5-11 seasons, the latter under Mora. A franchise that valued continuity in naming Mora to the job ahead of time has now decided a complete makeover is in order. There's no use in sticking with the wrong plan, the organization seems to be saying.
The Seahawks are a little tough to figure right now. That is understandable to a degree. Owner Paul Allen has been undergoing cancer treatments recently. He certainly has more important things on his mind. His top Seahawks executive, CEO Tod Leiweke, had advocated Mora's continued employment during the early December news conference to announce Tim Ruskell's resignation as general manager. What was Leiweke supposed to say in that situation? Exactly.
Ruskell was the one primarily responsible for landing Mora and installing him as coach-in-waiting. Ruskell's resignation foreshadowed potential trouble for Mora, although the general feeling was that every head coach should have more than one year to establish his program.
Allen, famous for co-founding Microsoft, is basically hitting control-alt-delete to trigger a forced system restart. The move makes Mora the first coach in Seahawks history to last only one season. Tom Flores lasted three. Dennis Erickson lasted four. Jack Patera lasted six and change. Chuck Knox led the team for nine seasons.
Did Mora deserve to be fired? We could make that case after a 5-11 season that saw the team getting worse in some areas. Was firing him fair? Not really. Most head coaches should get more than one season.
Those are not necessarily the most important questions here.
The key question is whether the Seahawks can hire someone demonstrably better, and whether the next coach can field a superior staff.
Finding the next GM should become easier now that it's clear the next GM will have input in hiring the head coach. The Seahawks can now move forward with their front office and coaching staff in chronological alignment for the first time in the better part of a decade. That is important as long as the Seahawks hire the right people.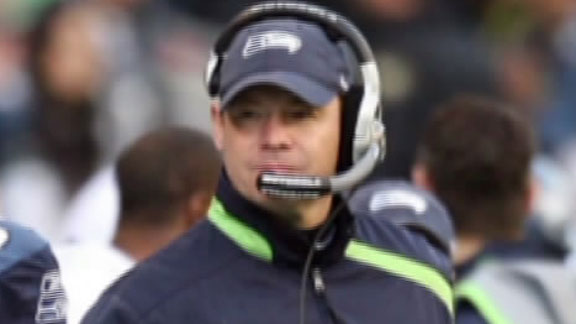 January, 8, 2010
1/08/10
1:35
PM ET
Jim Mora's firing after one season as Seahawks coach
-- confirmed by a member of his staff -- signals changes even more sweeping than might have been anticipated.
The final month of the season clearly was his undoing. The Seahawks got blown out repeatedly. They were getting worse, not better.
I still thought the organization might value continuity enough to give him another year.
Back soon with analysis and discussion.
Thoughts?