NFC West:

Jimmy Conzelman
May, 30, 2013
5/30/13
7:15
PM ET
Any ranking for the 20 greatest coaches in NFL history would leave off at least two of the
22 enshrined
in the Pro Football Hall of Fame.
The ballot I submitted for our "
Greatest Coaches
" project left off eight of them: Guy Chamberlin, Jimmy Conzelman, Weeb Ewbank, Ray Flaherty, Sid Gillman, Bud Grant, Greasy Neale and Hank Stram.
That seems outrageous. However, there were only 20 spots available, and many coaches appeared interchangeable to me outside the top 10 or 12. Current or recently retired head coaches such as Bill Belichick, Tom Coughlin, Mike Holmgren, Mike Shanahan, Tony Dungy, Bill Cowher and Marty Schottenheimer deserved consideration, in my view, but including them meant leaving out others. I also thought Chuck Knox should be in the discussion even though he's long retired and not a Hall of Famer.
Putting together a ballot was difficult. There's really no way to fully analyze the jobs head coaches have done. We must consider won-lost records over time, of course, but little separates some of the coaches further down the list. I figured most panelists would go with Lombardi in the No. 1 spot, but I'm not sure whether that was the case.
Herm Edwards revealed
his ballot

previously. We agreed on George Halas at No. 1. He put Lombardi second. I went with
Paul Brown
and
Curly Lambeau
after Halas, followed by Lombardi, Tom Landry, Bill Walsh, Don Shula, Joe Gibbs, Belichick and Chuck Noll to round out the top 10. The choices got tougher from there.
Edwards had Bud Grant, Dick Vermeil and Marty Schottenheimer in his top 20. He did not have Steve Owen, Holmgren or Cowher. I easily could have justified swapping out some of the coaches toward the bottom of my ballot for others not listed. Edwards and I both had Coughlin at No. 15. Our rankings for Lombardi, Landry, Walsh, Shula, Gibbs, Belichick, Madden and George Allen were within three spots one way or the other. I had Brown and Lambeau quite a bit higher than Edwards had them.
I tried to balance factors such as winning percentage, longevity, championships, team-building and impact on the game. The coaches I listed near the top of my ballot were strong in all those areas. There was room lower on my ballot for coaches whose achievements in some areas offset deficiencies in others.
Halas was a straightforward choice at No. 1 for me. He coached the Chicago Bears for 40 seasons, won six championships and had only six losing seasons. The Hall of Fame credits him as the first coach to use game films for preparation.
"Along with Ralph Jones, his coach from 1930 through 1932, and consultant Clark Shaughnessy, Halas perfected the T-formation attack with the man in motion,"
Halas' Hall of Fame bio
reads. "It was this destructive force that propelled the Bears to their stunning 73-0 NFL title win over Washington in the 1940 NFL Championship Game and sent every other league team scurrying to copy the Halas system."
Brown was my choice at No. 2 because he won seven titles, four of them before the Cleveland Browns joined the NFL in 1950, and he revolutionized strategy while planting a massive coaching tree. Lambeau edged Lombardi in the No. 3 spot on my ballot. He founded the franchise and won with a prolific passing game before it was popular. His teams won six titles during his 31 seasons as coach.
ESPN has revealed the coaches ranking 13th through 20th based on ballots submitted by Chris Berman, Jeffri Chadiha, John Clayton, Colin Cowherd, Mike Ditka, Gregg Easterbrook, Edwards, David Fleming, Ashley Fox, Greg Garber, Mike Golic, Suzy Kolber, Eric Mangini, Chris Mortensen, Sal Paolantonio, Bill Polian, Rick Reilly, Adam Schefter, Ed Werder, Seth Wickersham, Trey Wingo and me.
The eight coaches, beginning at No. 13: Jimmy Johnson, Coughlin, Grant, Stram, Levy, Gillman, Shanahan and Dungy.
Gillman was an interesting one. He spent 10 of his 18 seasons in the AFL and had a 1-5 record in postseason, but there is no denying
his impact on the passing game
. Like other coaches rounding out the top 20, his case for inclusion was strong, but open for debate.
July, 23, 2010
7/23/10
8:04
AM ET

Dan Bickley of the Arizona Republic
says another postseason appearance by the Cardinals could be a sign Ken Whisenhunt is on his way to a Hall of Fame career as a head coach. Whisenhunt: "In my last nine years (coaching) in the league, we've been to two Super Bowls, 5-6 championship games and won the division 6-7 times. That's what drives me. When you get a group of guys to believe in something and actually be successful, when you get a town to respond the way this town has supported us . . . there's nothing else like it. Look at where we were four years ago." Winning Super Bowls, plural, would help the Hall of Fame credentials. Current Hall of Fame coaches: Paul Brown, Jimmy Conzelman, Joe Gibbs, Bud Grant, Curly Lambeau, Tom Landry, John Madden, Bill Walsh, Chuck Noll, Guy Chamberlain, Ray Flaherty, Sid Gillman, Greasy Neale, Steve Owen, Don Shula, Marv Levy, George Halas, Hank Stram, Weeb Ewbank, Vince Lombardi and George Allen.
Darren Urban of azcardinals.com
wonders whether rookie Daryl Washington could get on the field this season while Gerald Hayes recovers from back surgery.
Also from Urban
: Adrian Wilson is replacing Bertrand Berry on the Cardinals' in-house podcast.
Kent Somers of the Arizona Republic
says the Cardinals do not appear close to signing either of their top two draft choices, but there's little reason for alarm. The deals should be relatively straightforward. Somers: "Cardinals General Manager Rod Graves has been traveling and [unavailable] for comment this week, but I'm hearing the Cardinals aren't far along in contract talks with (Dan) Williams or linebacker Daryl (Washington), their second-round pick. That's not unusual, however. Camp is still a week away, and the two deals should not be complicated ones."

Danny O'Neil of the Seattle Times
says Seahawks linebacker Leroy Hill is due in court again Friday. O'Neil: "Hill is in his sixth year with the Seahawks. He was suspended last week for the season-opening game against San Francisco for violating the NFL's policy on substance abuse. Whether he faces additional league punishment for this incident could depend on the outcome."
John Morgan of Field Gulls
says T.J. Houshmandzadeh enjoyed a strong season in 2009. Houshmandzadeh increased his yards per reception, breaking a trend in the other direction. Morgan: "As a player, T.J. was very good in 2009. He is a number one possession receiver, so to speak. He is more of a complementary downfield threat, but so be it. He earns tons of targets and maintains a high catch percentage, and if his stats declined in 2009, I saw no indication that his performance did."

Jim Thomas of the St. Louis Post-Dispatch
provides a Rams overview. Thomas: "Even in this so-called 'baseball' town, and even with all the recent losing by the Rams, the selection of (Sam) Bradford has created a mild buzz in St. Louis. Ticket sales are up over last year, although several games could still be blacked out locally. No one is dreaming of a playoff berth, but improvement is expected."
Also from Thomas
: The Rams could bring in former Missouri receiver Denario Alexander, who was cleared medically this week, according to his agent.
Turf Show Times' Tevin Broner
outlines three keys for the Rams this season: Bradford, the defensive line and the receivers.

Matt Maiocco of CSNBayArea.com
thinks tight end Nate Byham and running back Anthony Dixon could be lesser-known players to watch at 49ers training camp. Maiocco: "Dixon is an impressive-looking player. He has quick feet and nice moves for a big man. But the 49ers want to see less dancing and more north-south running. If he lowers his pads and runs with power, he has a chance to make his way up the depth chart."
Taylor Price of 49ers.com
previews the 49ers' defense heading into camp. Price: "Tthe 49ers' 5-1 record against the NFC West was largely because of a stingy defense which allowed 10.2 points per game against the division, tops by any NFL team against its division in 2009. From top to bottom, the 49ers defense features play-makers and game-changers at all levels of the field."
Dan Brown of the San Jose Mercury News
checks in with 49ers legend Jerry Rice, who spoke with reporters Thursday during a Hall of Fame conference call. Brown: "These days, Rice's preparation involves the speech he'll have to give on induction day, when former 49ers owner Eddie DeBartolo Jr. will present him. Rice was vague about the status of his speech-writing efforts but acknowledged that he's been checking in with other Hall of Famers for advice."
June, 24, 2010
6/24/10
9:00
AM ET
Notable players:
Charley Trippi, Elmer Angsman, Paul Christman, Pat Harder, Stan Mauldin, Chet Bulger, Billy Dewell, Mal Kutner, Boris "Babe" Dimancheff, Jeff Burkett, Marshall Goldberg
[+] Enlarge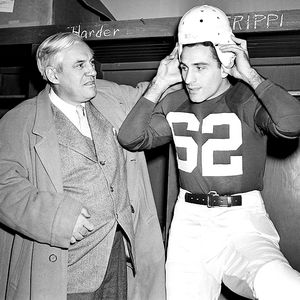 AP PhotoCharley Trippi, right, signed a four-year contract to play for Jimmy Conzelman before the season began.
Analysis:
The Pro Football Hall of Fame describes Jimmy Conzelman as a "newspaper publisher, playwright, author, orator, actor" -- and the only head coach to win an NFL championship with the Cardinals. (The team was based in Chicago from 1920-59. It played in St. Louis from 1960-87.)
Conzelman's brilliance as a coach shined through before and during the Cardinals' 28-21 victory over the
Philadelphia Eagles
in the 1947 NFL championship game. Conzelman initially refrained from reporting the Eagles for illegally filing down their cleats to better cope with the icy conditions at Comiskey Park. Conzelman instead reported the Eagles on a player-by-player basis, and only after Philadelphia had made significant gains. Officials wiped out the gains and penalized the Eagles, forcing players to leave the field to replace their equipment.
The Cardinals had addressed the footing issue by changing into sneakers before the game. Angsman scored twice on 70-yard runs. Trippi scored on a 44-yard run and 75-yard punt return.
Conzelman's resourcefulness reflected his varied background. His playing career included stints with Decatur, Rock Island, Milwaukee, Detroit and Providence. He had even owned the Lions for a couple of seasons in the 1920s, supposedly paying $100 for the franchise before returning it to the league. He retired as a player in 1930 and returned as a coach a decade later. But his record in three seasons with the Cardinals was only 8-22 when he stepped away following the 1942 season. The Cardinals brought back Conzelman four years later and he rewarded them by winning 27 of 37 games, counting playoffs and the only league title in franchise history.
The 1947 season produced tragedy in addition to triumph. A plane crash killed punter Jeff Burkett as he tried to rejoin the team following an appendicitis. Charles Bidwill, the team's owner since 1933, had died in April before the season.
Most impressive win:
The 1947 team needed a victory over the
Chicago Bears
in the final regular-season game to win the Western Division title. The Cardinals picked off Bears quarterback Sid Luckman four times in the 30-21 victory, but the offense might have provided the most important contribution. Christman's touchdown pass to Dimancheff on the first play of the game set a winning tone for the Cardinals. Dimancheff had missed every practice during the week while tending to his expectant wife, preventing him from practicing a play Conzelman was eager to run. No matter. The Cardinals isolated Dimancheff against Bears linebacker Mike Holovak, a speed mismatch Dimancheff used to his advantage.
Free-spending Cardinals:
The team landed Trippi before the season with a four-year contract worth a then-staggering $100,000. Trippi had been a Maxwell Award winner and Rose Bowl MVP at the University of Georgia, which retired his No. 62 jersey after a college career that later
landed Trippi a spot
on ESPN's list of 25 greatest college players. The move helped put the Cardinals over the top in 1947. Trippi ranked second on the team that season with 641 yards from scrimmage.
Honorable mention
2008:
The Cardinals came within a defensive stop of winning the Super Bowl against Pittsburgh after
Kurt Warner
found
Larry Fitzgerald
for the go-ahead touchdown pass late in the game. This team delighted in disproving skeptics and redefining an organization known for decades of futility.
1948:
A defeat in the championship game prevented this Cardinals team from challenging and probably overtaking the 1947 team as the best in team history. The 1948 team went 11-1 during the regular season as Trippi became a bigger threat.
1975:
Coach Don Coryell produced an 11-3 record thanks to an offense featuring Pro Bowl players in quarterback Jim Hart, receiver Mel Gray, running back Terry Metcalf, fullback Jim Otis and offensive linemen Dan Dierdorf and Conrad Dobler.