September, 19, 2014
Sep 19
2:00
PM ET
EARTH CITY, Mo. -- Despite the lingering stench from the
St. Louis Rams
' Week 3 loss to the
Dallas Cowboys
last year, the team's run defense turned out to be much better than it showed after running back
DeMarco Murray
ran all over them.
By the end of the season, the Rams were ninth in the NFL in average rushing yards allowed per game (102.8) and third in the league in yards allowed per attempt (3.7).
With all 11 defensive starters returning this year and coordinator Gregg Williams taking over, that group figured only to improve against the run. Through two weeks, that hasn't been the case.
It's a small sample size, of course, but in games against Minnesota and Tampa Bay, the Rams have allowed 171 yards per game on the ground, which ranks 30th in the NFL. They're also coughing up 5.5 yards per carry, which also ranks 30th.
The reasons for the early regression are many, but the defense to this point has looked more like a group of individuals out to do it all more than handling individual responsibilities for the greater good.
[+] Enlarge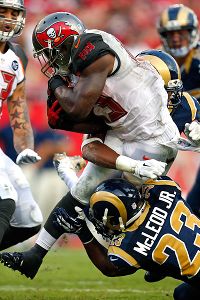 Jeff Haynes/AP Images for PaniniTampa Bay's Bobby Rainey gained 144 yards on 22 carries against the Rams.
"It's just a lot of guys trying to make plays," Dunbar said. "We talked about it this past week. It wasn't a scheme thing, it was just everybody taking their turn... we're not fitting it right. Somebody took their turn here and there."
In other words, there have been many examples of players not playing sound assignment football and freelancing from play to play. As Dunbar points out, there isn't any single culprit and, in fact, the film shows that almost everyone on the defense has been guilty at some point.
Perhaps most surprising, the young secondary has actually been the most consistent group from down to down.
"I think really the front seven just has to play better," linebacker
James Laurinaitis
said. "There's no excuses. Missed tackles are no excuse. When we have the opportunity to go and trigger and make plays, we've got to make those plays. I like the way that the front seven has been humbled this week."
Missed run fits and blown assignments aren't the only issues. Through two weeks, Pro Football Focus counted 27 missed tackles for the Rams. They had 18 in the opener against Minnesota, meaning they improved some last week against the Bucs, but not enough to keep little-known back
Bobby Rainey
from gaining 144 yards on 22 carries.
Beyond the tackling, the Rams also found themselves put in some odd positions. Tampa Bay had great success running the ball on second down, many times on second-and-long plays when Williams would dial up a blitz or Rams defenders would be anticipating a pass and get a run instead. With the line and linebackers a bit frustrated by only making one sack through two weeks, that means anything resembling a passing down has left the front seven a bit undisciplined.
"I think there's a fine line sometimes when you're in certain coverages where you have to say, 'OK, am I going to play for the run here or am I going to play for the pass here?'" Laurinaitis said. "If I play for the run, I'm not leveraging the pass. If I play for the pass, I'm not leveraging the run."
Any improvements or fixes the Rams have attempted this week will be put to their biggest test. After finishing 29th in rush attempts last year, Dallas has the look of an NFC West team with its physical and committed approach to running the ball.
The Cowboys have the fourth-most rushing attempts in the league heading into Sunday and are second in the league in rushing yards per game. Murray is off to his career-best start and has rushed for 428 yards on 51 carries in two previous meetings with the Rams.
For the Rams to have any chance at beating Dallas, they're going to have to sell out to stop the run first and sort everything else out afterward. Until it gets solved, that has to be the plan.
"We have just got to get in sync with it, and I'm confident we will," Laurinaitis said. "But that stuff definitely deserves to be talked about until we put the fire out. You can't sit there, and if you told me before the year we'd have 170 yards averaged against us, I'd be like, 'Get out of here.' But that's where we are right now. I think guys have really swallowed their pride and like, 'Hey, we need to work at this; let's go out and work at it.' No excuses."