June, 10, 2013
6/10/13
12:00
PM ET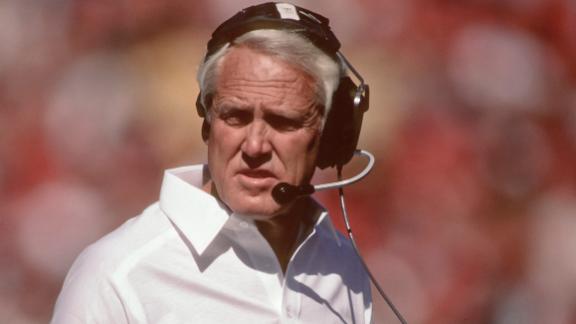 Bill Walsh checks in at No. 2
on ESPN's list of
Greatest Coaches in NFL History
, leaving the as-yet-unnamed Vince Lombardi as the obvious No. 1.
Walsh, of course, led the San Francisco 49ers to three of their five Super Bowl victories. He revived the franchise with a blueprint that became standard operating procedure across the league. He blazed trails in minority hiring and produced a coaching tree with branches still growing in the game today.
I highly recommend checking out
Seth Wickersham's piece on Walsh
from January. Wickersham focused on the coaching guide Walsh wrote.
"[Bill] Belichick once referred to it as football 'literature,' but it's more like a textbook -- 550 pages, 1.8 inches thick, 3.2 pounds, loaded with charts, graphs and bullet points," Wickersham explained. "For example, Walsh includes 57 keys to negotiating contracts ('The negotiator's need for food and sleep can affect his/her ability to function effectively'), 13 pages of sample practices and 108 in-game scenarios."
The video above features Walsh's own thoughts on characteristics great coaches possess. Unpredictability on and off the field is one of them.
The chart below shows won-lost-tied records and number of championships won for the top 20 coaches on ESPN's list, courtesy of Pro Football Reference. The winning percentages listed reflect victories plus one-half ties, divided by total games. For Walsh, that works out to 92.5 victories divided by 152 games, or .609.
June, 21, 2012
6/21/12
3:15
PM ET
Ed from Arrowhead, Calif.,
thinks Eric Dickerson's 248-yard rushing game for the 1985 Los Angeles Rams against Dallas warranted inclusion on our list of
25 top postseason performances
.
"The Rams had no QB and Dallas knew all the Rams could do was run, and they still couldn't stop him," Ed writes. "Dickerson was the only offense for that team. How does John Riggins, with a 100 yards less [Riggins actually had 185 yards in a 1983 playoff game], make it over Dickerson?
"Winslow catches for 166 and can't keep himself hydrated well enough, so he gets the No. 2 spot? Yes, I saw the game on TV as well, but let's get real here. Winslow was NOT the only weapon for the Chargers. Wes Chandler scored, Chuck Muncie scored, James Brooks scored twice. Winslow had one TD and a blocked kick.
"You guys are saying THAT performance out-did Dickerson's 248 yards and two touchdowns? I think not."
Mike Sando:
Statistics played an important role in putting together my ballot, but this was not a ranking of the 25 best stat lines in postseason history. We took into account other factors, including the significance of the games, which favored Super Bowls in some cases.
Steve Young's six-touchdown game against San Diego in the Super Bowl was my No. 1 performance. The six TDs were a big part of that, but so was the fact that the victory gave Young his own championship legacy outside of Joe Montana's shadow. Winslow's performance was second on my ballot even though I was also leery of giving him too much credit for nearly collapsing after the game. That was one of the most memorable games of any kind in NFL history. That mattered to me.
Dickerson's performance came during an otherwise forgettable game. The Rams led 3-0 at halftime. They won the game 20-0. They picked off Danny White three times. For the Rams, that victory set up ... a shutout defeat to Chicago a week later.
Dickerson was indeed all the Rams had going for themselves offensively in those playoffs. Dieter Brock was the quarterback. He completed 6-of-22 passes against the Cowboys in that divisional-round game. Dickerson had scoring runs of 55 and 40 yards. He was sensational. While I could make a case for Dickerson's inclusion on the list, I don't feel as though leaving him off counts as an oversight. The fact that Riggins was 33 years old and willing the Redskins toward their first Super Bowl under Joe Gibbs helped his cause.
April, 27, 2011
4/27/11
1:45
PM ET
Colleague Kevin Seifert showed
some daring
by sending TCU quarterback
Andy Dalton
to the
Minnesota Vikings
at No. 12 in a recent
ESPN.com mock draft
.
He wasn't arguing for Dalton's value so much as saying the Vikings' need for a quarterback might compel them to take one there.
[+] Enlarge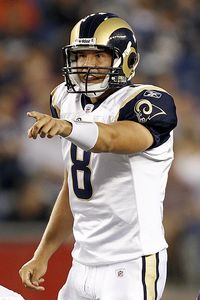 AP Photo/Winslow TownsonDid the Rams "reach" to get quarterback Sam Bradford in the first round last year?
"To me,"
Seifert later wrote
with first-year Vikings coach Leslie Frazier in mind, "there is no better time to jump to the other side than in a coach's first year, giving him a building block for the rest of his program."
The key, of course, is not mistaking anchors for building blocks.
Steve Mariucci was the
San Francisco 49ers
' first-year coach when the team used a 1997 first-rounder for
Jim Druckenmiller
, a blunder softened only by
Steve Young
's presence on the roster. That experience should not directly influence the 49ers' thinking as they consider first-round quarterbacks for new coach Jim Harbaugh, but it's a reference point.
With Harbaugh and the 49ers in mind, I went through recent drafts to see which teams with first-year head coaches used first-round selections for quarterbacks. More precisely, I looked at all first-round quarterbacks since 2000 to see which ones had first-year head coaches.
Six of the last eight first-round quarterbacks --
Matthew Stafford
,
Mark Sanchez
,
Josh Freeman
,
Matt Ryan
,
Joe Flacco
and
JaMarcus Russell
-- joined teams with first-year head coaches. All but Russell remain franchise quarterbacks in their teams' eyes. All but Russell are still playing for their original head coaches. Four of the six had winning records in 2010.
For most of those franchises, value and need lined up pretty well, and first-year coaches benefited.
"If you don't have a quarterback, you're drafting maybe a different kind of running back, maybe a different kind of offensive lineman, than if you have somebody," Lions coach Jim Schwartz told reporters at the scouting combine. "We had
Calvin Johnson
, but our ability to get
Jahvid Best
,
Nate Burleson
in free agency, to draft
Brandon Pettigrew
-- those pieces were because of the quarterback that we have."
We could also argue that the
St. Louis Rams
were better off building their offensive line and other areas of their roster before making
Sam Bradford
the first overall choice in 2010. They could have drafted Sanchez or Freeman instead of defensive end
Chris Long
in 2009, then spent subsequent selections on players to build around one of those quarterbacks.
Bradford and Denver's
Tim Tebow
were the "other" first-round quarterbacks in the eight-man group featuring Stafford, Sanchez, Freeman, Ryan, Flacco and Russell.
In general, getting the right quarterback for a first-year head coach puts a franchise in strong position for the long term. There's no sense forcing the issue, however, because the wrong quarterback can drag down any coach, regardless of tenure.
A coach such as the Vikings' Frazier might have a harder time waiting. His contract runs only three seasons and ownership expects quick results. Harbaugh has a five-year deal with the 49ers. Expectations are high, but there's less urgency for immediate results.
The first chart shows the 14 first-round quarterbacks since 2000 that landed with returning head coaches.
The second chart shows the 14 first-round quarterbacks since 2000 that landed with first-year head coaches.
April, 20, 2011
4/20/11
4:29
PM ET
SANTA CLARA, Calif. -- Highlights from
San Francisco 49ers
general manager Trent Baalke's predraft media session following my quick trip down the West Coast to team headquarters Wednesday morning:
GMs can be compulsive about evaluating talent and other things. Before beginning his interview session with roughly 20 reporters, Baalke arranged into a neat row the 10 audio recorders left before him. "They've never seen my desk," Baalke said to laughter. "They can't put these things all discombobulated."

[+] Enlarge

Jed Jacobsohn/Getty ImagesThe door for Alex Smith to return to the 49ers appears to still be open, as GM Trent Baalke said he's "very comfortable" with Smith.

Baalke dodged early questions about quarterbacks. He opened up more as the session progressed, eventually offering scouting reports on Cam Newton, Blaine Gabbert, Jake Locker and Ryan Mallett. He sees Newton as a highly talented "work in progress" needing time to develop. Gabbert has "rare passing talent" but must adapt from a spread system. Locker comes from a pro-style system but has flourished outside the pocket, an indication he faces an adjustment period. Mallett might have the "best arm talent" in the draft and comes from a pro-style system, but will not fit for every team because of his limited mobility.

If the 49ers do draft a quarterback early, they would prefer to have him get some seasoning before having to start. Baalke pointed to his own experiences working under Bill Belichick, Bill Parcells, Joe Gibbs and Marty Schottenheimer before becoming a GM. "The quarterback position is no different," Baalke said.

Why would the 49ers consider re-signing Alex Smith? Baalke: "There are a lot of reasons. He understands this building. He understands the system that coach is interested in running. [Coach Jim Harbaugh and Smith] obviously hit it off in their discussions. There is a lot of comfort in having somebody, especially when we are in the situation we are in, where there are so many unknowns. Coach is very comfortable with him. I am very comfortable with him. Will Alex choose to come back here? You will have to get him on the phone and ask him that question. But he is certainly a guy that we would like to throw into the mix." Baalke discounted the suggestion that the 49ers could easily acquire a quarterback familiar with the system Harbaugh intends to run.

The 49ers will continue to favor big, physical players. Baalke: "The littler the player, the more special they have to be. They have to have a special trait to overcome their lack of size."
I'll be heading onto the practice field shortly to watch the 49ers' new coaching staff interact with the 50 players invited to a pro day featuring college prospects with ties to the Bay Area. More in a bit.
August, 29, 2010
8/29/10
9:26
PM ET
NFC West teams are making roster moves before the 75-man limit takes effect Tuesday.
Making the moves between the third exhibition game and the next practice prevents affected players from suffering injuries while still on the roster, in which case the team could be responsible for all or part of the players' salaries.
The
St. Louis Rams
will
get to 76 players
by placing receiver
Donnie Avery
on injured reserve and releasing three players: running back Joe McCoy, guard Joe Gibbs and cornerback
Marcus Brown
.
The
San Francisco 49ers
were already at only 78 players when they announced moves getting them to 75: receiver
Bakari Grant
and cornerback
Patrick Stoudamire
were waived, while linebacker Brandon Long was waived/injured.
The chart shows NFC West roster counts by position after the Rams' and 49ers' moves. Teams must reduce to 53 players by Saturday.
July, 23, 2010
7/23/10
8:04
AM ET

Dan Bickley of the Arizona Republic
says another postseason appearance by the Cardinals could be a sign Ken Whisenhunt is on his way to a Hall of Fame career as a head coach. Whisenhunt: "In my last nine years (coaching) in the league, we've been to two Super Bowls, 5-6 championship games and won the division 6-7 times. That's what drives me. When you get a group of guys to believe in something and actually be successful, when you get a town to respond the way this town has supported us . . . there's nothing else like it. Look at where we were four years ago." Winning Super Bowls, plural, would help the Hall of Fame credentials. Current Hall of Fame coaches: Paul Brown, Jimmy Conzelman, Joe Gibbs, Bud Grant, Curly Lambeau, Tom Landry, John Madden, Bill Walsh, Chuck Noll, Guy Chamberlain, Ray Flaherty, Sid Gillman, Greasy Neale, Steve Owen, Don Shula, Marv Levy, George Halas, Hank Stram, Weeb Ewbank, Vince Lombardi and George Allen.
Darren Urban of azcardinals.com
wonders whether rookie Daryl Washington could get on the field this season while Gerald Hayes recovers from back surgery.
Also from Urban
: Adrian Wilson is replacing Bertrand Berry on the Cardinals' in-house podcast.
Kent Somers of the Arizona Republic
says the Cardinals do not appear close to signing either of their top two draft choices, but there's little reason for alarm. The deals should be relatively straightforward. Somers: "Cardinals General Manager Rod Graves has been traveling and [unavailable] for comment this week, but I'm hearing the Cardinals aren't far along in contract talks with (Dan) Williams or linebacker Daryl (Washington), their second-round pick. That's not unusual, however. Camp is still a week away, and the two deals should not be complicated ones."

Danny O'Neil of the Seattle Times
says Seahawks linebacker Leroy Hill is due in court again Friday. O'Neil: "Hill is in his sixth year with the Seahawks. He was suspended last week for the season-opening game against San Francisco for violating the NFL's policy on substance abuse. Whether he faces additional league punishment for this incident could depend on the outcome."
John Morgan of Field Gulls
says T.J. Houshmandzadeh enjoyed a strong season in 2009. Houshmandzadeh increased his yards per reception, breaking a trend in the other direction. Morgan: "As a player, T.J. was very good in 2009. He is a number one possession receiver, so to speak. He is more of a complementary downfield threat, but so be it. He earns tons of targets and maintains a high catch percentage, and if his stats declined in 2009, I saw no indication that his performance did."

Jim Thomas of the St. Louis Post-Dispatch
provides a Rams overview. Thomas: "Even in this so-called 'baseball' town, and even with all the recent losing by the Rams, the selection of (Sam) Bradford has created a mild buzz in St. Louis. Ticket sales are up over last year, although several games could still be blacked out locally. No one is dreaming of a playoff berth, but improvement is expected."
Also from Thomas
: The Rams could bring in former Missouri receiver Denario Alexander, who was cleared medically this week, according to his agent.
Turf Show Times' Tevin Broner
outlines three keys for the Rams this season: Bradford, the defensive line and the receivers.

Matt Maiocco of CSNBayArea.com
thinks tight end Nate Byham and running back Anthony Dixon could be lesser-known players to watch at 49ers training camp. Maiocco: "Dixon is an impressive-looking player. He has quick feet and nice moves for a big man. But the 49ers want to see less dancing and more north-south running. If he lowers his pads and runs with power, he has a chance to make his way up the depth chart."
Taylor Price of 49ers.com
previews the 49ers' defense heading into camp. Price: "Tthe 49ers' 5-1 record against the NFC West was largely because of a stingy defense which allowed 10.2 points per game against the division, tops by any NFL team against its division in 2009. From top to bottom, the 49ers defense features play-makers and game-changers at all levels of the field."
Dan Brown of the San Jose Mercury News
checks in with 49ers legend Jerry Rice, who spoke with reporters Thursday during a Hall of Fame conference call. Brown: "These days, Rice's preparation involves the speech he'll have to give on induction day, when former 49ers owner Eddie DeBartolo Jr. will present him. Rice was vague about the status of his speech-writing efforts but acknowledged that he's been checking in with other Hall of Famers for advice."
February, 6, 2010
2/06/10
5:56
PM ET
FORT LAUDERDALE, Fla. -- Five of the seven members of the 2010 Pro Football Hall of Fame class have ties to current NFC West teams:
49ers receiver Jerry Rice was an obvious choice. There wasn't much discussion in the room because Rice's credentials spoke so loudly.
Cowboys mainstay Emmitt Smith, who finished his career with the Cardinals, was another obvious choice. Again, there wasn't much discussion here.
Former Saints linebacker Rickey Jackson, who finished his career with two strong seasons in San Francisco, broke through as a less obvious choice, beating out several other outside pass-rushers with strong credentials. Jackson started 14 games for the 49ers' 1994 Super Bowl team. He then collected 9.5 sacks in 1995 in his final season. Jackson missed only two games to injury during his 15-year career, and one of those missed games came only after a car wreck. Jackson never wore knee pads or thigh pads and he didn't even tape his ankles. I have no idea how he held up and produced at such a high level for so long.
Defensive tackle John Randle, who earned Pro Bowl honors with Seattle after a long career in Minnesota, earned enshrinement. Randle was arguably one of the most dominant inside pass rushers in NFL history and I suspect voters couldn't ignore his staggering sack numbers in the end.
Cardinals assistant coach Russ Grimm earned enshrinement for his work as the Redskins' best offensive lineman on the teams that won three Super Bowls under Joe Gibbs. Grimm has come close to earning enshrinement in the past. He becomes the first member of the fabled "Hogs" to earn enshrinement.
Seniors-committee nominees Floyd Little and Dick LeBeau also earned enshrinement.
Logjams at certain positions might have split votes for some candidates, particularly among wide receivers and outside pass-rushers.
January, 14, 2010
1/14/10
6:19
PM ET
Let's say you visited the Pro Football Reference
coaching archive
and singled out head coaches with at least five playoff games on their résumés.
Let's say you sorted the qualifying coaches by highest winning percentage.
Vince Lombardi would be at the top. The Cardinals' Ken Whisenhunt would be tied for second.
This goes to show how precious playoff victories can be, even for coaches with long track records. The great Bill Walsh enjoyed 10 playoff victories during his career. Whisenhunt can claim his fifth Saturday.
October, 28, 2009
10/28/09
9:20
AM ET
Posted by ESPN.com's Mike Sando

Dan Bickley of the Arizona Republic
says Cardinals defenders are believing in new coordinator Bill Davis' system. Bickley: "By now, it is clear Davis has a leadership gene that his predecessor didn't. He has galvanized a defense known for its athleticism, swagger, talent and the occasional brain lapse. Davis saw it for himself late Sunday night, on the Giants' final drive of the game, a moment of maturity that might be a milestone around here."
Kent Somers of the Arizona Republic
says the Cardinals benefited from practicing a trick play even though its execution broke down during the game Sunday night.
Darren Urban of azcardinals.com
says coach Ken Whisenhunt wants to keep an aggressive tack. Whisenhunt admits he might have been too aggressive in his play calling against the Giants. Urban: "There has long been an assumption by many that the Cardinals will transform the offense when (Kurt) Warner finally retires. The theory is that Whisenhunt grew up as a player and coach in run-first situations like Gibbs in Washington, Parcells in New York and Cowher in Pittsburgh. Besides, the thinking goes, with Wells on board and Matt Leinart the heir apparent at quarterback, running more makes more sense. But maybe not. Whisenhunt was quick to point out Leinart threw for 360 yards in just two quarters in the preseason comeback against Green Bay. Leinart also had a 405-yard passing performance in Minnesota as a rookie."

Jim Thomas of the St. Louis Post-Dispatch
says the schedule is working
against the Rams
. The Lions are coming off a bye to play the Rams in Week 8. The Colts were coming off a bye to play the Rams in Week 7. The Rams also played four of their first six games on the road.
Also from Thomas
: a chat transcript on all things Rams. Thomas: "I think we all knew this was going to take time, and I don't think we were expecting much. But I think we expected better than 0-7. Let's say [Donnie] Avery doesn't fumble at Washington, the Rams finish off that drive and score and beat the Redskins. Let's say the Rams win the coin toss to start overtime, they drive down for a game-winning field goal and win in Jacksonville. They're 2-5 at this point, and although we all have gripes, it's not all that bad, relatively speaking. But it didn't happen."
More from Thomas
: The Rams signed snapper Ryan Neill to replace the injured Chris Massey.
More yet from Thomas
: Linebacker David Vobora is back.
Jeff Gordon of stltoday.com
says the Rams have kept their composure during their 0-7 start.
Turf Show Times' VanRam
explores whether the Rams' offensive line has improved.

Daniel Brown of the San Jose Mercury News
says 49ers tight end Vernon Davis promised a young leukemia patient he would do something big for him Sunday. Three touchdown receptions later, Davis had more than fulfilled his promise. Brown: "Davis' big game came while wearing a bracelet inscribed with (patient) Joseph's name. The boy lives in Austin, Texas, and drove to Houston to meet his favorite player. Davis met him Saturday at the hotel and then chatted with him again on the field before the game."
Matt Barrows of the Sacramento Bee
runs through the 49ers' recent roster moves. Barrows: "The team signed Chris Patrick from the Chiefs' practice squad to replace him. That means that either Adam Snyder or Barry Sims or Patrick, a former Nebraska Cornhusker, could step in as the new RT. I'm guessing it will be Snyder."
Matt Maiocco of the Santa Rosa Press-Democrat
also expects Snyder to play right tackle. Sims played there quite a bit Sunday.
Tom FitzGerald of the San Francisco Chronicle
checks in with 49ers defensive lineman Justin Smith, who leads the team in quarterback hits.
Kevin Lynch of Niner Insider
breaks out the stopwatch when analyzing 49ers quarterbacks Shaun Hill and Alex Smith. Lynch: "The big difference there was Smith's ability to throw right when he hit the back foot, also Smith is more adept at throwing the ball away, sometimes too adept. When he played every snap in 2006, he threw more balls away than any other quarterback that season. But against Houston, his ability to move around and then possess the arm strength to hurl the ball to the line of scrimmage to avoid intentional grounding, bailed him out twice."

Clare Farnsworth of seahawks.com
says tight ends John Carlson and Jason Witten played major roles the last time Seattle and Dallas played one another.
Also from Farnsworth
: Seattle is seeking more "explosive" plays on offense. Farnsworth: "There are, of course, reasons for the Seahawks' offensive inconsistency. At No. 1 is another capital 'I' -- as in Injuries. Six starters already have missed a combined 19 games, including Hasselbeck and four-fifths of what is supposed to be the starting line. The development of the zone-blocking scheme in the running game has been slowed by the on-going shuffling of the line. The Seahawks likely will use their fifth starting combination -- and fifth option at left tackle -- this week against the Dallas Cowboys."
Danny O'Neil of the Seattle Times
says the Seahawks have lost nine of their last 10 games outside the Pacific time zone. The team plays four of its next five games under those conditions.
Greg Johns of seattlepi.com
says Matt Hasselbeck brought his injured daughter, Mallory, to team headquarters Monday. She recently underwent surgery after a dirt bike struck her during a family vacation. Johns: "Mallory Hasselbeck, 6, suffered injuries to her left arm and mouth and was treated at Central Washington Hospital in Wenatchee as well as Children's Hospital upon her return home."
Eric D. Williams of the Tacoma News Tribune
says Walter Jones will miss another game to injury. How long can the Seahawks reasonably hold open a roster spot for him?
Dave Boling of the Tacoma News Tribune
checks in with Seahawks cornerback Marcus Trufant. Boling: "(Jim) Mora was cautious in his evaluation, saying the Seahawks were going to wait until Saturday or Sunday to decide how much Trufant will play. But Trufant sure looked up to speed in practice."
July, 31, 2008
7/31/08
1:10
PM ET
Posted by ESPN.com's Mike Sando
Brandon from Bellevue, Wash., writes: Am I the only one that can see the Rams having a really good offense in 2008? Al Saunders was the mastermind behind the NFL?s #1 offense from 2002-05. However, he was unable to really get things going with the Redskins from 06 and 07 but that can be directly attributed to the Redskins' QB play. For instance, when the Chiefs were dominating on offense Trent Green had an average QB rating of 92.6. Conversely, Brunell and Campbell had an average rating of 80.2 under Saunders. The only QB in Washington to have success w/Saunders is Collins, who learned the system in 01 w/ the Chiefs. Furthermore, when he took over for Campbell in 07 he helped the Skins to the playoffs w/ a 106.4 rating. On the other hand, Bulger has an 87.8 QB rating over the last 4 years and that is including the disastrous 07 that saw him sacked 37 times. If you remove last year as a fluke his rating jumps to 93.7 (over a full point higher then Green?s when his team was leading the NFL in total offense). W/ improved line play, Jackson in the back field, Holt as a better WR then Saunders has had, and Bulger throwing the ball I can see this offense becoming really, really good. Your thoughts? PS-I am not even a Rams fan. I am just calling it like I see it.
Mike Sando: Saunders also had to work within the Joe Gibbs framework at Washington. I go back and forth on the Rams in my mind. They don't have depth at receiver any longer, and I wonder if Torry Holt's knee can hold up. They do have a top-flight back, one dangerous receiver (when Holt is healthy) and a good tight end. A healthy offensive line could help the Rams make a big jump offensively.

---
Daryl from Alberta, Canada, writes: The standard pub revolves around the leagues stars, as it should, but I'm always far more concerned with how lesser known players are performing and developing. In the NFC West, I'm quite curious to know about Rams DL Clifton Ryan. How has he looked so far and will he be a factor in his second season like he was in his first? Fans can find information about star players almost anywhere, I think you guys should focus more players like Ryan.
Mike Sando: I'll keep an eye out for Ryan when I'm at Rams practices beginning Friday. And I definitely agree with your point about focusing on more than the stars. I've got some roster-related analysis planned, but first I need to finish hitting these NFC West camps.