June, 2, 2013
6/02/13
8:00
AM ET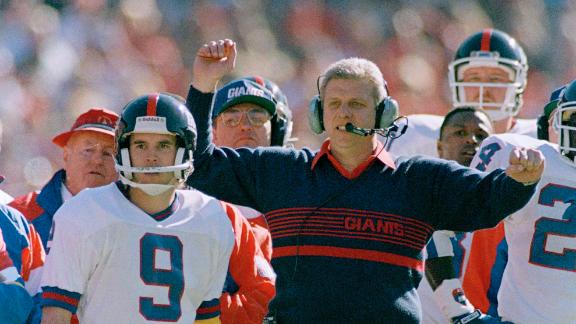 Jim from Albany, Ore.,
had no beefs with the
"Greatest Coaches" ballot
I submitted for the ESPN project. He did question the project itself, however.
"It seems to me that a coach becomes 'great' only after he has a 'great' quarterback," Jim wrote in the NFC West mailbag. "The coaches at the very top of the list might be exceptions, but let's look at some of the others."
The way Jim sees things, Bill Belichick struggled in Cleveland before he had
Tom Brady
in New England. Mike Shanahan struggled without John Elway. Mike Holmgren was considered a great coach in Green Bay, but he had Brett Favre. Tom Landry struggled after Roger Staubach retired. Tom Coughlin was fired by Jacksonville, but once he had
Eli Manning
, he became a great coach. Tony Dungy became great when he had Peyton Manning. Bill Walsh was innovative, of course, but he also had Joe Montana and Steve Young.
"The voting is a fun exercise and I don't mean to dismiss the importance of a coach," Jim writes. "Some are certainly much better than others and some are great, but I think people are overlooking the role that a franchise quarterback plays in how 'great' a coach is considered to be."
There is no doubt quarterbacks make a tremendous difference. Head coaches sometimes play leading roles in acquiring and developing quarterbacks. Let's take a quick run through the coaches Jim mentioned in search of added perspective:
Belichick: We could say the Patriots lucked into Brady in the sixth round, but Belichick was ultimately responsible for drafting him and then sticking with him after Drew Bledsoe's return to health. Also, the Patriots had an 11-5 record when Matt Cassel was their primary quarterback in 2008.
Shanahan: Shanahan deserves credit for getting the most from an aging Elway. The Broncos had six winning seasons, one losing season and one 8-8 season in the eight years immediately following Elway's retirement. The post-Elway Broncos went 91-69 under Shanahan overall. That works out to a .569 winning percentage in Denver after Elway. Bill Parcells was at .570 for his entire career.
Holmgren: Even if we give Favre credit for the Packers' success in Green Bay, we still must account for Holmgren's winning with Matt Hasselbeck and a more run-oriented offense in Seattle. Hasselbeck was a sixth-round pick in Green Bay. Holmgren traded for him and eventually won with him. Hasselbeck went to three Pro Bowls. Holmgren didn't luck into Hasselbeck. He helped develop him.
Landry: The Cowboys enjoyed their greatest postseason success under Landry when Staubach was the quarterback through the 1970s. However, the Cowboys were 31-10 under Landry in the three seasons before Staubach arrived. They were 21-6-1 in Staubach's first two seasons even though Staubach started only three of those games, posting a 2-1 record in his starts. Dallas went 24-8 in its first two seasons after Staubach retired. The Cowboys posted five winning records in their first six seasons of the post-Staubach era, going 61-28 over that span.
Coughlin: Manning wasn't all that great for much of Coughlin's early run with the Giants. Players such as Michael Strahan have credited Coughlin for adapting his gruff personal style in a manner that allowed the Giants to become a championship team. That could be entirely true, or it could be convenient narrative. We can't really know. However, although the Giants might not have won titles without Manning, we can't ignore the role their defense played in defeating Brady's Patriots following the 2007 season in particular. They didn't win disproportionately because of their quarterback.
Dungy: I listed Dungy 20th on my ballot because he won with two completely different types of teams. However, I also think a case can be made that the Colts should have enjoyed greater playoff success during the Peyton Manning years. Ultimately, I point to the success Tampa Bay enjoyed beginning in 1997 with a team built to some degree in Dungy's defensive image. The Buccaneers went 48-32 in their final five seasons under Dungy. That franchise was floundering previously.
I left off Walsh because Jim wasn't challenging his credentials as a great coach. Hopefully, the information above provides some context. I do think it's tough knowing to what degree a coach has facilitated his team's success. We're left to look at success over time, plus whatever contributions a coach seemed to make in terms of strategy, team building, etc.
Joe Gibbs gets credit for winning three Super Bowls with three quarterbacks, none of them Hall of Famers. It's not as if Gibbs had horrible quarterbacks, however. Joe Theismann and Mark Rypien were both two-time Pro Bowl selections. Doug Williams obviously had talent. He was a first-round draft choice, after all.
Perhaps we'll find ways in the future to better measure a coach's contributions. Right now, there's a lot we do not know beyond the results on the field.
January, 10, 2012
1/10/12
8:00
AM ET
The
St. Louis Rams
' owner, Stan Kroenke, has served the league on its Los Angeles Stadium Working Group.
The Rams' top executive, Kevin Demoff, grew up in Los Angeles. So did their top candidate to become head coach, Jeff Fisher. The team itself spent nearly 50 years in Southern California before moving to St. Louis for the 1995 season.
Can anyone fault the locals for wondering whether or not Kroenke might move the team West once the Rams' stadium lease
likely voids
following the 2014 season? The league wants another team in the L.A. market, after all.

Bernie Miklasz of the St. Louis Post-Dispatch
seeks to calm the masses without guaranteeing the Rams will remain put for the long term. Miklasz: "The Rams aren't acting like a franchise that is planning to cut and run. They've been aggressive and dedicated in expanding and deepening their community-wide roots; Rams-related charitable activities and reach-out efforts to fans have have increased. Perfect? Heck, no. But the franchise is much more in touch with the STL community and fans. Another example: with Kroenke's go-ahead, Demoff has taken whatever measures necessary to ensure that home games wouldn't be blacked out locally. And in some instances it meant that Kroenke bought up tickets to keep a home game on free TV."
Noted:
Fisher reportedly would resist a franchise move based on what he experienced when the Houston Oilers moved to Tennessee and became the Titans, but the organization is bigger than any one person below the ownership level.
Jim Thomas of the St. Louis Post-Dispatch
updates the Rams' search for a coach and general manager. Denver's Dennis Allen and Philadelphia's
Ryan Grigson
are both 39 years old.
Nick Wagoner of stlouisrams.com
quotes Demoff on various coaching-search matters. Demoff: "I think it's probably fair to say that if he were excited about coming here, we'd be excited to have him. Obviously, there are a lot of things to work through on both sides. You never know how these things are going to turn out, but he's obviously an impressive coach with an impressive résumé and we are excited about what we've heard so far."
Noted:
The Rams are acting like a team that feels good about its chances. Failing to land Fisher at this point would stand as a bitter disappointment. Does the team have a viable alternative?

Matt Barrows of the Sacramento Bee
says the 49ers have no immediate plans to place
Delanie Walker
on their injured reserve list. They hope Walker could return if the team advanced in the playoffs.
Noted:
The Super Bowl is still nearly four weeks away. If the 49ers do not need the roster spot, there's no advantage in placing Walker on injured reserve. Keeping him on the 53-man roster also shows respect for a player the team has valued greatly.
Matt Maiocco of CSNBayArea.com
checks in with 49ers cornerback
Carlos Rogers
for thoughts on Saints defensive coordinator Gregg Williams. Rogers played for Williams in Washington. Rogers: "We can rush with our front four and get pressure on the guy, so we don't have to blitz a lot. Their front four is -- they're good -- but that's his (Williams') mentality. Your quarterback is going to get that ball out of your hands and they're going to make him throw it quick. If not, they're going to try to hurt him, take him out of the game."

Kent Somers of the Arizona Republic
has this to say about the Cardinals' decision to fire quarterbacks coach
Chris Miller
: "The easy way to fill the job is to hire Todd Haley as a coordinator. Haley has coached quarterbacks before, too. The Cardinals also could shift Mike Miller, the current offensive coordinator, to quarterbacks coach and/or possibly passing game coordinator. But it sounds as if Miller was going to be let go independent of Haley's potential hiring. The Cardinals would like to speak in depth with Haley about returning to the run the offense, but that hasn't happened yet."
Darren Urban of azcardinals.com
passes along a comment from coach Ken Whisenhunt regarding Miller's dismissal. Whisenhunt: "In the analysis of where we are and the progress that's been made, we felt a change at that position was what we needed."

Clare Farnsworth of seahawks.com
looks at the team's slow start and strong finish in the running game. Farnsworth: "It was just before they were preparing to play the
Dallas Cowboys
and
Baltimore Ravens
in back-to-back games that Tom Cable put it on the line and his backs. Against a Cowboys run defense that ranked fourth in the league, allowing an average of 93.9 rushing yards,
Marshawn Lynch
and the Seahawks had 135 and 162, respectively. The following week, against a Ravens defense that ranked third in the league against the run, allowing an average of 86.8 rushing yards, Lynch and the Seahawks went for 109 and 119."
Brady Henderson of 710ESPN Seattle
shares thoughts from Joe Theismann on how the Seahawks should proceed with the 11th or 12th choice in the 2012 draft. Theismann: "I think you make a huge mistake when you go and roll the dice and go after an inexperienced rookie quarterback who's going to have to grow. Don't expect an
Andy Dalton
-type performance next year."
Noted:
Seahawks coach Pete Carroll recently said he's changed his philosophy on young quarterbacks. He thinks more of them can succeed right away. Carroll hasn't been afraid to play youngsters, but neither has he drafted a quarterback since coming to Seattle.
July, 18, 2011
7/18/11
9:15
AM ET
The NFC West's dominance extends beyond
fighter jets
,
croc files
,
athlete award eligibility
,
currency collection
and
retractable playing surfaces
.
A look through the
celebrity golf leaderboard
from Lake Tahoe, Nev., shows Ken Whisenhunt, Jerry Rice and Marshall Faulk finishing among the top 20. Whisenhunt, who grew up around the game in Augusta, Ga., site of the Masters, was tied for 13th with 49 points in Stableford scoring, just ahead of Rice (15th) and Faulk (20th).
These guys need to get NFC West alumnus Trent Green out on the course a little more often. Green, former quarterback for the
St. Louis Rams
and three other teams, finished 80th in the 83-man field, barely beating the
notoriously
swing-challenged
Charles Barkley.
Indeed, golf is a humbling game. It's tough to envision Barkley beating anyone after
watching him swing a club
. The retired NBA great did cruise past musician Jay DeMarcus (minus-83) and Sacramento Kings rookie Jimmer Fredette (minus-88).
Tony Romo
,
Chris Chandler
,
Mark Rypien
,
Billy Joe Tolliver
and
John Elway
finished among the top 15 with at least 47 points. Fellow quarterbacks Joe Theismann,
Trent Dilfer
,
Vinny Testaverde
,
Matt Ryan
,
Aaron Rodgers
,
Jim McMahon
and
Steve Beuerlein
put up respectable or semi-respectable scores.
All quarterbacks do not make for competitive golfers, however.
Green scored minus-65 points.
Arizona Cardinals
linebacker
Joey Porter
finished 78th at minus-61. Chiefs coach Todd Haley, the Cardinals' former offensive coordinator, tied with
New England Patriots
receiver
Wes Welker
for 64th at minus-9.
With any luck, it's about time to
put away the clubs
and tee up another kind of ball.
December, 21, 2010
12/21/10
4:49
PM ET
Bob Papa, Joe Theismann, Matt Millen and Alex Flanagan get the call for NFL Network when the Arizona Cardinals face the Dallas Cowboys at University of Phoenix Stadium in Week 16.
Kickoff is Saturday at 7:30 p.m. ET.
CBS has eight crews. Fox has seven. The networks rank their crews, with higher-ranked ones drawing more attractive assignments such as Super Bowls, playoff games and marquee matchups.
Earlier
:
2008
,
2009
.
December, 14, 2010
12/14/10
3:55
PM ET
Bob Papa, Joe Theismann, Matt Millen and Alex Flanagan get the call for NFL Network when the San Francisco 49ers visit the San Diego Chargers in Week 15. Kickoff is at 8:20 p.m. ET.
This game marks the fourth and final 2010 regular-season game in prime time for the 49ers.
CBS has eight crews. Fox has seven. The networks rank their crews, with higher-ranked ones drawing more attractive assignments such as Super Bowls, playoff games and marquee matchups.
Earlier
:
2008
,
2009
.
July, 14, 2009
7/14/09
9:10
AM ET
Posted by ESPN.com's Mike Sando

Aaron Weinberg of Seahawk Addicts says recent history is against Matt Hasselbeck staying healthy enough to produce at age 34. I looked from 1983 through 2008 for quarterbacks 34 and older who started at least 10 games and finished with passer ratings of 90 or higher. Randall Cunningham, Steve Young, Vinny Testaverde, Rich Gannon, Joe Theismann, Warren Moon, Steve DeBerg, Brett Favre, Trent Green, Jeff Garcia, Steve Beuerlein, John Elway, Brad Johnson, Phil Simms, Dan Marino and Kurt Warner combined to do it 25 times in 26 seasons. Can Hasselbeck join the list?
Carlos Monarrez of the Detroit Free Press checks in with former Seahawks linebacker Julian Peterson. Peterson: "Football is an adverse sport anyway. But coming from 0-16, a lot of people in the sports world, analysts, have written us down as the 32nd team already, knowing that anything can change, subject to change, injuries can happen, anything. But we're not looking upon that and try to say, 'Oh, we're going to be the same old Lions from last year.' It's a whole new year. We've got a whole new coaching staff, whole new players, a whole new mentality. So this is going to be great for all of us."

Gary Plummer of the 49ers' radio team breaks down a Rams-Seahawks play from last season illustrating the experience that helped Walt Harris make an interception. He also points out areas where Rams receiver Donnie Avery could stand to improve.
Kevin Lynch of the San Francisco Chronicle says the 49ers' scouts think fifth-round linebacker Scott McKillop could be a steal. They'll have a much better idea two weeks into training camp.
Matt Maiocco of the Santa Rosa Press-Democrat says rookie draft choices Glen Coffee and Nate Davis are close to signing contracts. Once they sign, first-rounder Michael Crabtree will become the 49ers' only unsigned draft choice.
Matt Barrows of the Sacramento Bee expects the 49ers to sit out the supplemental draft Thursday.

Darren Urban of azcardinals.com says rookies Cody Brown and Will Davis, making the switch from college defensive ends to NFL outside linebackers, aren't the first Cardinals players to change positions. Antrel Rolle did it entering last season. Roy Green and Fred Wakefield also made successful transitions.
Revenge of the Birds' Hawkwind thinks Pat Ross is the favorite by default to back up Lyle Sendlein at center for the Cardinals this season. Seems to me the Cardinals should be looking to upgrade their depth at that position.

Bill Coats of the St. Louis Post-Dispatch says the Rams' contract negotiator would be "shocked" if any of the team's rookies failed to sign in time for training camp. Kevin Demoff also left open the possibility of a deal for safety Oshiomogho Atogwe before the July 15 deadline for franchise players to sign long-term deals. Demoff: "We've been talking with O.J. since January. We value O.J. as a player, and we understand where the market is. ... We're not there on a long-term deal yet, but we could be there by Wednesday."
VanRam of Turf Show Times expresses excitement upon reading Football Outsiders' forecast for the Rams. Not that Rams fans should schedule vacation time for Super Bowl week -- yet.