August, 5, 2013
8/05/13
6:30
PM ET
The
Seattle Seahawks
arguably had the NFL's best secondary even without
Walter Thurmond
factoring as a healthy contributor.

Thurmond's strong performances through training camp and
his work with the first-team defense
Monday make an outstanding secondary even better. But what might a possible Thurmond ascension mean for incumbent starter
Brandon Browner
?
Thurmond, at his healthy best, could be the better corner. Browner's uncommon size (6-foot-4 and 220 pounds) makes him valuable as well, particularly when the Seahawks face physical receivers such as the
San Francisco 49ers
'
Anquan Boldin
. Browner has even covered 49ers tight end
Vernon Davis
at times.
Thurmond also has the ability to defend the slot, where
Antoine Winfield
is currently the first option. Meanwhile, young corners
Jeremy Lane
,
Tharold Simon
,
Byron Maxwell
,
Ron Parker
and
Will Blackmon
are fighting for positioning on the roster. Not all will earn spots.
I see a couple of key considerations for Seattle at this position:
Maintain long-term options: Starting corner Richard Sherman is signed through 2014. He's on track for a massive payday, but the Seahawks have other considerations in their secondary, including re-signing Earl Thomas. They have already paid strong safety Kam Chancellor. They gave Browner a raise without extending his deal past 2013. What if the Seahawks can't realistically re-sign Sherman? They're going to want other young options at a lower price. Thurmond could be one of them.
Maximize short-term value: Seattle won't have room on its roster to keep all its promising young corners. Players further down the depth chart are fighting for roster spots. Perhaps one of them could have trade value near the mandatory reduction to 53-man rosters. Former Seahawks executive John Idzik is the New York Jets' general manager. Former Seahawks defensive coordinator Gus Bradley is the Jacksonville Jaguars' head coach. Might they have interest?
Thurmond's injury problems at the University of Oregon allowed the Seahawks to select him in only the fourth round of the 2010 draft. Subsequent injuries have sidelined him for 24 of 32 games over the past two seasons. At this point, it's a big bonus if Thurmond stays healthy through a full season. So far, though, he's looking good.
Thurmond was a starter in 2011. An injury cleared the way for Sherman to replace him. Sherman became one of the NFL's most productive corners. Browner became a starter as well, giving Seattle two big, rangy and physical corners. The combination worked so well that other teams have sought taller corners.
Injuries figure to make some roster decisions more straightforward as the Aug. 31 reduction to 53-man limits approaches. That hasn't happened for the Seahawks at corner, and if Thurmond stays healthy, the team is going to have difficult decisions -- exactly the kind teams like.
March, 27, 2013
3/27/13
5:05
PM ET
A few thoughts in relation to how much 2013 salary-cap space NFL teams have committed to quarterbacks currently on their rosters:
January, 25, 2013
1/25/13
6:15
PM ET
The
Seattle Seahawks
and
San Francisco 49ers
have shown up as
possible trade destinations
for
New York Jets
cornerback
Darrelle Revis
.
I just don't see it happening, for simple reasons.
The 49ers have not made big-ticket acquisitions in free agency or via trade since the team was rebuilding its roster five-plus years ago. They prefer to reward their own players. Why would the 49ers suddenly depart from this philosophy after reaching the Super Bowl? There is no reason to think they would.
The Seahawks have been more active in trades and free agency recently. But if they acquired Revis and signed him to a lucrative extension, they would eventually have to pay their own top corner,
Richard Sherman
, at least as much money.
Why funnel significant resources into a position of strength when there's no guarantee Revis will be as good as Sherman following knee surgery? Why give up draft compensation for the right to overpay a veteran when the Seahawks have fared so well in the draft? There is no good reason unless the Jets offer Revis at a discounted price.
All of this assumes the Jets are interested in trading Revis. They might not be. Their general manager, John Idzik, is new to the job and has said the team
has work to do
before making significant roster decisions.
Seattle and San Francisco make interesting potential trade partners this offseason because both could be looking to shop quarterbacks. The Seahawks'
Matt Flynn
and the 49ers'
Alex Smith
figure to be available. The Jets need a quarterback, but they also have serious salary cap limitations. It'll take some creativity from Idzik and other teams to reach deals that make sense for all parties.
January, 18, 2013
1/18/13
7:05
PM ET
John Idzik was once a
New York Jets
ballboy. His father was a Jets assistant coach.

In a sense, then, the
Seattle Seahawks
' vice president of football administration is heading home. Idzik, named Friday as the Jets' general manager, spent the past decade in the NFC West, joining the Seahawks from the
Arizona Cardinals
in 2007.
The Jets were projected to be more than
$19 million above the salary cap
. They have no viable starting quarterback. Their head coach, Rex Ryan, is entering what looks like a make-or-break season.
Those impediments made the Jets' GM vacancy less attractive. However, the clock shouldn't start ticking for Idzik until Ryan's situation is resolved following the 2013 season.
Having Idzik leading the Jets' personnel department strengthens the Seahawks' ties with an organization that could be in the market for a quarterback. That thought came to mind from an NFC West standpoint after Seahawks general manager John Schneider publicly confirmed that Seattle would be open to trading quarterback
Matt Flynn
this offseason.
Richi Cimini of ESPNNewYork.com offers
thoughts on Idzik
from a Jets perspective. His general feel is that the Jets went against convention by hiring a candidate better known for salary-cap expertise than the ability to build a roster. That's a fair concern until Idzik proves himself on the personnel side. Idzik does have a football background, however. He played receiver at Dartmouth, coached briefly in the college ranks, worked as a pro personnel assistant for the
Tampa Bay Buccaneers
before moving into the salary-cap realm.
The Seahawks will need to hire someone to negotiate contracts and manage their salary cap. Schneider's ties to Green Bay could come into play. Former Seahawks executive and former
Tennessee Titans
GM Mike Reinfeldt comes to mind as a natural fit, but initial indications are that he has no plans to take such a job.
January, 17, 2013
1/17/13
8:38
AM ET
The Jacksonville Jaguars have hired Seattle Seahawks defensive coordinator Gus Bradley as
their next head coach
.
This move has significant repercussions in the NFC West.
It pushes Seattle into the market for a defensive coordinator while removing what had been considered a likely landing spot for San Francisco 49ers offensive coordinator Greg Roman. And with Arizona having interviewed Seahawks offensive coordinator Darrell Bevell on Wednesday, it's now possible Seattle will lose both coordinators to head coaching jobs. That would stand as a setback for the Seahawks.
Bradley's hiring also makes the St. Louis Rams much more likely to keep offensive coordinator Brian Schottenheimer, who had interviewed for the job in Jacksonville.
The Seahawks had been expecting Bradley to become the next head coach in Philadelphia. Chip Kelly's surprise hiring headed off that scenario. Bradley then interviewed with Jacksonville, but there was still some thought that Roman would get strong consideration. Roman and new Jaguars general manager Dave Caldwell were college teammates and roommates.
The 49ers now appear likely to keep together their coaching staff unless Arizona moves on Roman following the 49ers' NFC Championship Game appearance against Atlanta.
Some have asked whether Seahawks linebackers coach Ken Norton Jr. might become the new defensive coordinator in Seattle. I've never heard Norton's name come up as a candidate for coordinator. Former Seattle defensive line coach and assistant head coach Dan Quinn, now the defensive coordinator at the University of Florida, is one potential candidate. There could be others, for sure.
With Bradley heading for the AFC South, here are a few thoughts on other NFC West names in the news:
John Idzik, Seattle Seahawks vice president of football administration: Idzik is a finalist to become general manager of the New York Jets. He has been most involved in managing the Seahawks' salary cap. The team enters the offseason with more than $18 million in cap space. The Jets' cap situation is problematic. The GM title usually carries expectations for personnel evaluation. Idzik worked for Arizona and Tampa Bay previously. He has been with Seattle since Tim Ruskell hired him in 2007. More recently, Idzik has worked closely with Seahawks general manager John Schneider with an eye toward developing his personnel evaluation. Idzik was a wide receiver at Dartmouth, graduating with honors in 1982.
Darrell Bevell, Seahawks offensive coordinator. Bevell met Wednesday with Cardinals officials regarding their coaching vacancy. There's not much new since we discussed Bevell in relation to the Cardinals earlier in the week. Bevell interviewed with Jacksonville as well. Arizona added Indianapolis Colts offensive coordinator Bruce Arians to its list of candidates. Arians, like Bevell, worked with a successful rookie quarterback in 2012. He also worked previously with Cardinals defensive coordinator Ray Horton when both were with the Pittsburgh Steelers. Horton has interviewed for the head-coaching vacancy, but Arizona has otherwise focused on coaches with backgrounds on offense.
Brian Schottenheimer, St. Louis Rams offensive coordinator. Schottenheimer was a candidate for the Jaguars' job. He was a finalist one year ago. The Rams have had three offensive coordinators over the past three seasons. They would like to keep Schottenheimer and build continuity over time. The team plans to keep its basic offensive system even if Schottenheimer departs. It's now looking highly likely that Schottenheimer will be back.
August, 8, 2011
8/08/11
7:58
AM ET

Matt Barrows of the Sacramento Bee
offers thoughts on the San Francisco 49ers' rookies. On first-round choice Aldon Smith: "Most young pass rushers try to out-quick their offensive tackle opponent by going to the outside, and in doing so they are easily pushed wide of the play. Smith, however, has a wicked inside move in which he uses his long powerful arms like battle axes to club away the offensive tackle's hands. Smith is far more powerful than most rookies, much less those enter the NFL as underclassmen. He's working on his flexibility and on playing in space, which he must do as an outside linebacker."
Matt Maiocco of CSNBayArea.com
looks at potential quarterback options for the 49ers. Maiocco: "I'm told if there's a quarterback who shakes free or becomes available that Jim Harbaugh likes, the club will make an effort to get him. The No. 1 name on everybody's list is Tampa Bay backup quarterback Josh Johnson, who played for Harbaugh at the University of San Diego and greatly desires a chance to play for him again. Johnson enters the final year of his contract, and there are no long-term hopes of being a starter with Josh Freeman firmly entrenched as the Buccaneers' starter. There would be hope for Johnson if he came to the 49ers, as Alex Smith is signed to just a one-year deal and Colin Kaepernick is promising but very raw."
Cam Inman of the Contra Costa Times
checks in with new 49ers center Jonathan Goodwin.
Also from Inman
: a Harbaugh interview transcript.
Kevin Lynch of Niner Insider
sizes up Goodwin and Braylon Edwards.
Grant Cohn of the Santa Rosa Press-Democrat
says the 49ers' changes on defense should help their pass defense. Cohn: "It's fair to say the 49ers have the most talent in the NFC West. If the coaching staff lives up to expectations, the 49ers should win the division. So, all credit to Jed York, who let Trent Baalke do his job unhindered. Baalke said he had a plan, he said he wanted to be patient, and he was true to his word." The quarterback position will come into play as well. Can Alex Smith make it through a season? How ready will Kaepernick be as a rookie if called upon?
Also from Cohn
: The 49ers' quarterbacks like operating from the shotgun.

Bernie Miklasz of the St. Louis Post-Dispatch
says Marshall Faulk shared his Hall of Fame experience with former teammates. Miklasz: "Faulk was more interested in giving credit than taking a bow.Of all the inductees that spoke on Saturday night, Faulk singled out more teammates than anyone at the podium. What does that say about the camaraderie and closeness of the 'Greatest Show' Rams?"
Jim Thomas of the St. Louis Post-Dispatch
says the Hall of Fame experience was a dream come true for Faulk. Thomas: "Faulk was emotional, yet composed; sincere and at times humorous. His eyes moistened and voice quavered at times; he wiped sweat from his brow with towel on a couple of occasions. But just like he did on the football field, Faulk never broke stride. His speech went 33 minutes, 50 seconds, outlasting his talkative predecessor on the stage, tight end Shannon Sharpe, who went 26 minutes. Faulk even outdid the last enshrinee to speak Saturday, the always-gabby cornerback, Deion Sanders, who went 24."
Bill Coats of the St. Louis Post-Dispatch
says Sam Bradford tossed four touchdown passes during the Rams' scrimmage Sunday. Coats: "The defense controlled things early, as the offense struggled with new coordinator Josh McDaniels' system. When the offense went back to more familiar calls, it perked up. It was especially impressive in a red-zone session, scoring touchdowns on four of five opportunities."
Also from Coats
: Mike Sims-Walker stood out at times for the Rams during their scrimmage.

Kent Somers of the Arizona Republic
says third-year running back Beanie Wells is looking to tighten his grip on the job as the Cardinals' starting running back. Coach Ken Whisenhunt: "What Beanie's had to learn is you have to adapt to whatever you're faced with. It seems like Beanie's always been a very good football player, and it seems like dealing with adversity is not something he probably had done a lot of. It's not easy, and when you have to do it for the first time as a young back in a town that's unfamiliar to you, it's tough. Especially with as important as family is to him and they are not all out here (in Arizona)."
Also from Somers
: losing Adrian Wilson to injury would be significant for the Cardinals. Somers: "The loss of Wilson for any amount of time is a huge blow, even though Wilson is coming off a down season. He is expected to thrive in the new scheme installed by coordinator Ray Horton. Even with Wilson, the Cardinals had little depth at safety. Rashad Johnson replaced Wilson after the injury on Saturday. The team also has Hamza Abdullah and now Matt Ware."
Diana C. Nearhos of the Arizona Republic
says rookies face difficulties at Cardinals camp.
Darren Urban of azcardinals.com
says rookie Duke Lemmens is making a name for himself at Cardinals camp. That name is "Kenny G" to this point.

Danny O'Neil of the Seattle Times
offers notes regarding the Seahawks' evolving roster. O'Neil: "The Seahawks took a two-handed approach to recruiting. A scout and a coach were assigned each targeted free agent."
Also from O'Neil
: a look inside the free-agency frenzy. O'Neil: "It was after 1 a.m. on July 28, which meant Thursday night had officially given way to Friday morning, and John Idzik was on the phone with Brandon Mebane's agent. Idzik is Seattle's vice president of football operations and its salary-cap expert. John Schneider and Pete Carroll were in the room, hearing half the conversation and becoming increasingly entertained by Idzik's hair. It was kind of sticking out, fittingly frazzled given the circumstances. Maybe it was the sleep deprivation or perhaps the knowledge Seattle was nearing an agreement to re-sign its starting defensive tackle, but all of a sudden there was a junior-high giddiness hovering around a deal worth millions. Schneider went behind Idzik, further mussing his hair as the coach laughed."
Eric D. Williams of the Tacoma News Tribune
says the Seahawks appear to be making strides with their running game under assistant head coach/offensive line Tom Cable. Williams: "Cable's trying to change the culture of the Seahawks' running game, which finished in the bottom third of the league the past four seasons – including second-worst last season, averaging 89 yards a contest. Cable received help from general manager John Schneider in the talent acquisition department. Three of Seattle's five line starters are first round picks in Gallery (second overall in 2004), left tackle Russell Okung (sixth overall in 2010) and right tackle James Carpenter (25th overall this year)."
Also from Williams
: fullback Michael Robinson showcases his multimedia skills.
More from Williams
: Red Bryant is looking to pick up where he left off before suffering a knee injury last season.
March, 15, 2011
3/15/11
7:59
PM ET
John from Gansevoort, N.Y.,
has no problem with the NFL Players Association encouraging college prospects to skip the televised draft proceedings during a lockout. He says those affiliated with ESPN who
expressed views to the contrary
are toeing the company line in the interests of enhanced television ratings.
Mike Sando:
There's room for multiple views on this one, inside and outside ESPN. Most of the feedback I've heard from the outside lines up with the viewpoint I expressed. Several others used the mailbag to raise questions such as yours.
ESPN Radio's Colin Cowherd supported the NFLPA on this issue during his show Tuesday morning. I was on the show and told him I had no issue with any college prospect deciding on his own to skip the event on principle. The NFLPA would seem petty, in my view, if it pressured prospects to stay away.
My general thought was that the draft should be bigger than a labor dispute. That seems reasonable.
The NFLPA has subsequently
clarified its intentions
, suggesting it could hold an alternate event for players after NFL teams make their selections. Let's see what they have in store.
---
Gregory from San Jose, Calif.,
thinks the NFL draft could be just fine without the top prospects in attendance. He could see them greeting their new teammates someplace off site. After all, he says, the players are the game, not the owners or the commissioner. Who cares about Rodger Goodell welcoming
Cam Newton
and posing for pictures?
Mike Sando:
I'd enjoy watching draft prospects interact with their new teammates right away.
---
Alex from Philadelphia
wants to know how much pressure I feel to "toe the company line" and he wonders whether I would be reluctant to express a viewpoint that "went directly against the fiduciary interests" of ESPN.
Mike Sando:
I have felt no pressure, ever. I have never even thought of these issues in relation to what they might mean for ESPN. In retrospect, it stands to reason that the networks might favor an 18-game regular-season schedule and the opportunity to generate additional revenue. I'm completely
against the 18-game schedule
because I think it would dilute the product and put players -- quarterbacks in particular -- at additional risk.
---
Tom from Winnipeg
thinks NFL owners are doing far more than the NFLPA to hurt players by attempting to extend the schedule, impose a rookie wage scale and skim additional revenue. He thinks there's nothing "petty" about the NFLPA "merely recommending" players skip the draft.
Mike Sando:
I was advocating on behalf of the fans and the players because I thought the draft experience for both would suffer if college prospects skipped the draft.
This doesn't mean the NFLPA is wrong on other issues.
As I noted, "The NFLPA naturally wants to make life tougher for the league in big and small ways during the lockout. That is understandable, but urging players to avoid such a quintessential fan-friendly event would come off as yet another slap in the face for the people paying the bills."
This subject has dominated the mailbag in the last 24 hours or so, but there's room to discuss a football-related question. Here goes ...
---
John from Walla Walla, Wash.,
thinks the
Seattle Seahawks
have too many needs to stand pat in the draft. He thinks they need to trade down for more picks and he wonders about potential trading partners.
Mike Sando:
The Seahawks hold the 25th overall choice. They have shown they're willing to deal with just about anyone. Take a look at the seven teams picking right after Seattle in the first round and you'll see the possibilities:
No. 26: Baltimore. The Seahawks and Ravens swung a trade involving Josh Wilson last season.
No. 27: Atlanta. Seahawks executive John Idzik worked with Falcons executive Rich McKay in Tampa Bay. Neither makes the personnel decisions, but at least there's a connection.
No. 28: New England. The Patriots and Seahawks made the Deion Branch trade last season.
No. 29: Chicago. Former Seahawks president Tim Ruskell works for the Bears now. He worked some current members of Seattle's personnel team.
No. 30: New York Jets. The Seahawks and Jets made the Leon Washington trade during the 2010 draft.
No. 31: Green Bay. Seahawks general manager John Schneider worked under Packers general manager Ted Thompson for years. They are close friends.
No. 32: Pittsburgh. No obvious connections stand out.
The Seahawks' front office has multiple ties to other teams around the league, from Tennessee to San Francisco to Cleveland and beyond.
We know Schneider and coach Pete Carroll aren't afraid to wheel and deal, but it's difficult to project what might happen. How the draft unfolds often dictates the urgency teams feel to move up. Without knowing how the draft will unfold, we cannot know how those pressures will affect trades.
In theory, yes, the Seahawks could use additional picks as they look to upgrade their roster. They are without a third-round choice. They have a long list of potential unrestricted free agents. They have much work to do, in other words, and the lockout could force them to rely more heavily on the draft in getting that work done.
I tend to think we'll have free agency at some point before the season, however.
February, 5, 2010
2/05/10
12:52
PM ET
FORT LAUDERDALE, Fla. -- The Seahawks' decision to hire John Schneider as general manager was a good one for Will Lewis, Tag Ribary and Panthers scout Trent Kirchner.

The team announced Lewis' promotion from pro personnel director to vice president of football operations. Tag Ribary was promoted from pro scout to Lewis' old job as pro personnel director. Kirchner, a Seahawks employee in 2000 and a scout under Schneider with the Redskins in 2001, has been with the Panthers for eight seasons.

These moves maintain continuity in the front office. Lewis, a former Seahawks player, has been with Seattle as pro personnel director since 1999, Mike Holmgren's first season as head coach. Ribary worked for the Seahawks under Randy Mueller throughout the 1990s, working under Schneider in Washington (2001) and then with Kirchner in Carolina before rejoining Seattle last season.

The Seahawks are also retaining Ruston Webster, whose strength is college scouting, and salary-cap administrator John Idzik.

Schneider, Ribary, Kirchner and Lewis worked together in Seattle for the 2000 season. Kirchner is the Seahwaks' assistant director of pro personnel.
January, 20, 2010
1/20/10
2:34
PM ET
RENTON, Wash. -- Thoughts and observations from the Seahawks' news conference to introduce new general manager John Schneider, hired away from the Packers: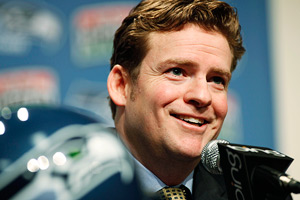 AP Photo/John FroschauerJohn Schneider was introduced as the new Seahawks general manager Wednesday.
This is all about fit. Specifically, it's about Schneider fitting with coach Pete Carroll and helping to find players that fit precisely what Carroll wants. The Seahawks didn't do this as well in recent seasons when former GM Tim Ruskell was identifying players to fit his long-range plans while the team tried to win with Mike Holmgren's offense. Seattle should get more from its personnel this way.
Carroll holds the authority over personnel, CEO Tod Leiweke said, noting that Carroll would win any coin tosses. Schneider then said he would never try to cram a certain player into his head coach's roster, regardless of who had ultimate control of personnel. The structure arguably makes Schneider a better candidate than GM finalist Floyd Reese, who is older and more established in his ways. I got the sense Schneider and Carroll would work well together. It's in Schneider's nature to make this work. I sense he's a pure personnel guy, not someone who cares about getting the credit.
The Seahawks will not be making sweeping changes to their front office or scouting staff. Schneider knows quite a few of the people already in place. Ruston Webster, John Idzik and Will Lewis will remain with the organization, Leiweke indicated. Lewis and Schneider worked together in Seattle previously. The team's salary cap and contract negotiating arm -- headed by Idzik -- will report to Schneider. Carroll wants to pick players, but he doesn't want to be a GM or cap guy.
The Seahawks will become younger not by design but through an effort to encourage competition. The Packers have been one of the NFL's two youngest teams (along with the Colts) in recent seasons. Carroll was opposed to playing rookies during his past incarnation as a head coach. His outlook changed after coaching in college (Carroll compared that experience to being coach and GM, with the GM part changing his view). Personnel guys love to play young players. Seattle was the NFL's eighth-oldest team this week, not counting players signed to future contracts. That ranking will fall, no doubt.
The Seahawks are better off now than they were a few weeks ago. I do think the front office has a better chance to function without the infighting and competing agendas that marked previous regimes in recent seasons. That can help the Seahawks regain credibility lost over the last couple seasons.
Carroll addressed a few hires relating to his coaching staff. Jeremy Bates (offensive coordinator), Alex Gibbs (offensive line), Jedd Fisch (quarterbacks), Pat McPherson (tight ends), Gus Bradley (defensive coordinator), Dan Quinn (defensive line), Jerry Gray (secondary), Ken Norton Jr. (linebackers) and Brian Schneider (special teams) are in place.
The Seahawks are weighing the possibility of trying a 3-4 defensive alignment, but it's early.
Those were a few highlights. Heading home now.
January, 13, 2010
1/13/10
8:08
PM ET
Former coach Mike Holmgren has called Seahawks CEO Tod Leiweke the best thing to happen to the organization.
Quarterback
Matt Hasselbeck
expressed confidence in Leiweke during
a recent radio interview
with 710ESPN Seattle. Leiweke has been the most continuously influential member of the front office since his hiring in 2003.
"Everyone in the building would say, 'I trust Tod Leiweke,' " Hasselbeck told the radio station, "and that says a lot, knowing that he is in charge. I go back to in '04, there was no GM in place (actually early 2005, after the 2004 season). Tim Ruskell wasn't here yet. Mike (Holmgren) wasn't in charge. They had gotten rid of the GM. There was no one was in charge. And we had like 23 unrestricted free agents (actually 16). That was the year Walt (
Walter Jones
) signed back, I signed back, we were able to keep a bunch of guys. But no one was in charge. It seemed like this ship was not being steered by anybody. And Tod Leiweke was there. He was the guy. He had called me and said, 'It might seem there is no plan, but there is a plan. ... I trusted that. Walt trusted that. A lot of us trusted that. It is a similar situation right now where we don't know the direction, we don't know the new GM, we don't need to know. What we have got to say is, 'We trust Tod and the group and that is enough.' "
The situation in early 2005 was similar to the current time in some ways and different in others. The Seahawks were without a team president from Jan. 14 until Feb. 23 of 2005. Two of the top football people in the organization, Ted Thompson and Scot McCloughan, had recently left for jobs elsewhere. A year earlier, vice president Mike Reinfeldt had left the organization amid front-office upheaval.
One big difference in early 2005 was that the organization had brought back Reinfeldt, now the Titans' general manager, to help steer the football side of operations through a time of transition. Reinfeldt, a longtime Holmgren associate, returned to the team as a consultant Feb. 3, 2004. He worked out long-term contracts with Hasselbeck and Jones within three weeks, averting potential disaster. The Seahawks then named Reinfeldt their vice president of football administration March 21, 2004.
The current Seahawks still have contract negotiator John Idzik. It's still only mid-January, not mid-February. There is time to get things settled. The current Seahawks also have fewer key players they need to re-sign. They need to settle on a new GM, figure out their front-office structure and make sure they're in position to navigate what could be an uncapped year.
January, 12, 2010
1/12/10
8:00
AM ET

Danny O'Neil of the Seattle Times
says the Seahawks have been dysfunctional in recent years and that hiring Pete Carroll is a step toward unification, according to CEO Tod Leiweke. Haven't we heard this before? Yes, we have. The team hired Tim Ruskell to work with Mike Holmgren in 2005, putting more distance between the organization and the dysfunction that marked the relationship between Holmgren and former president Bob Whitsitt. The big difference this time is that Seattle is hiring its coach and GM at the same time. That should help them function better together. Leiweke: "To be quite honest, there was not a harmonious relationship between Tim and Mike Holmgren. It's probably neither guy's fault, but we learned a lot there."
Clare Farnsworth of seahawks.com
says Carroll, contract negotiator John Idzik and the as-yet-unhired general manager will report to Leiweke.
Greg Johns of seattlepi.com
says Leiweke wasn't surprised to hear negative reaction following Carroll's hiring. Leiweke: "No, because when you lead with your chin, when you've had two years like we've had, when people see some dysfunction, when you have a legend like Mike Holmgren leave and you let a coach go after one year, it doesn't really set the table for a ticker tape parade for the next guy coming in. But what gets that right is winning. And Mr. Allen gave us the authority to go out and find the best coach we could and we think we have. And now we're going to find the best GM. And I'm confident it's going to result in what our fans most want, which is winning."

Bob McManaman of the Arizona Republic
says the Cardinals' game against the Packers was exciting for a lot of people, but not necessarily coach Ken Whisenhunt. Whisenhunt: "That's funny to say it's entertaining, because it's not entertaining when I'm seeing 88 [Jermichael Finley] and 85 [Greg Jennings] on the other side of the field catching the football and running around with it. It's rewarding when you win a game like that; it's devastating when you lose a game like that. Both teams made enough plays to win the football game. Fortunately, we made one more than them."
Kent Somers of the Arizona Republic
says the NFL stands by the non-call of a potential face mask penalty against Cardinals cornerback Michael Adams on the final play of the game Sunday. Somers: "In a statement, an NFL spokesman pointed out that an 'incidental grasp' of the face mask is allowed. The rule reads that 'no player shall twist, turn, or pull the face mask of an opponent in any direction.'" More
here
.
Dan Bickley of the Arizona Republic
says the Phoenix area is still buzzing over the Cardinals' victory. Bickley: "With an obscene overnight television rating (21.8) that trumped the Eagles-Cowboys on Saturday night, the game will do wonders for the Big Red brand. The relentless pace of the game felt like the historic Wimbledon final between Roger Federer and Andy Roddick, when a single break of serve spelled disaster for both sides. And it made one realize just how blessed we've been since joining the big leagues in 1998, when Arizona first fielded four major professional sports teams."
Darren Urban of azcardinals.com
says Kurt Warner values being part of two organizational turnarounds.

Howard Balzer of the St. Louis Globe-Democrat
says the Rams have signed cornerback Marcus Brown, who had spent time of the practice squad. Balzer: "Brown joins defensive end Sean Conover, guard Mark Lewis and center/guard Drew Miller, who were previously signed after ending the season on the practice squad. Players whose practice-squad contracts expired and haven't been signed are defensive tackle Chris Bradwell, tight end Eric Butler, linebacker Jay Moore and wide receiver Sean Walker."
Also from Balzer
: a case for former St. Louis Cardinals coach Don Coryell as a Hall of Fame inductee. Former tackle Dan Dierdorf: "He simply changed the game. The NFL was a running league when he came to the Cardinals [in 1973]. Teams seemingly ran the ball out of obligation. Don wanted to throw the football, especially on first down."

Matt Barrows of the Sacramento Bee
says the 49ers plan to interview Bobby April as a potential special-teams coach. Also: "The 49ers signed another practice squadder, tight end Joe Jon Finley, to a future contract. Finley essentially beat out Bear Pascoe, a sixth-round pick, to land a spot on the practice squad in the offseason. Coaches felt more confident in Finley should something have happened to either Vernon Davis or Delanie Walker. Given the importance of the tight end in the 49ers' offense, look for them to acquire a tight end who can block in the offseason."
Matt Maiocco of the Santa Rosa Press-Democrat
says April reportedly interviewed with the Steelers recently.