June, 24, 2010
6/24/10
9:30
AM ET
Notable players:
QB
Joe Montana
, QB
Steve Young
, WR
Jerry Rice
, WR
John Taylor
, RB
Roger Craig
, FB
Tom Rathman
, TE
Brent Jones
, G
Guy McIntyre
, FS
Ronnie Lott
, OLB
Charles Haley
, DE
Pierce Holt
, DE
Kevin Fagan
, OLB Keena Turner, LB Matt Millen.
[+] Enlarge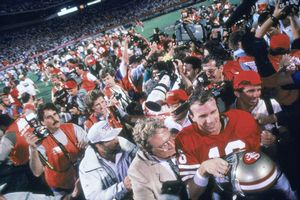 Andy Hayt/Getty ImagesJoe Montana and the 49ers were at the height of their success during the 1989 season.
Analysis:
The
San Francisco 49ers
had multiple teams worthy of consideration as the best in franchise history. I'll take the one that outscored its opponents 126-26 during the postseason, including 55-10 over the
Denver Broncos
in the Super Bowl. Denver led the NFL in scoring defense that season.
The 1989 team featured the 49ers' offense at the peak of its powers.
Joe Montana averaged 9.1 yards per attempt with 13 starts that season. The figure for three-game starter Steve Young -- 10.9 yards per attempt -- was even more ridiculous.
Drew Brees
set a career high at 8.5 yards per attempt last season.
Tom Brady
's average was 8.3 during his historic 2007 season.
Dan Marino
was at 9.0 in his 1984 career season. None could match the 49ers' top two quarterbacks during this special season.
This was the first 49ers team of the 1980s without Bill Walsh, but offensive coordinator Mike Holmgren was still there, as were nearly all of the team's iconic offensive players from the decade. Tight end Brent Jones emerged as a starter. Roger Craig topped 1,000 yards rushing. Fullback Tom Rathman caught 73 passes. Montana set a career high for passer rating at 112.1, completing 70.2 percent with 26 touchdowns and eight interceptions. Rice caught 17 touchdown passes while averaging 18.1 yards per reception.
The defense was typically overlooked except by those forced to play against it.
John Elway
completed only 10 of 26 passes for 108 yards and two interceptions against the 49ers in the Super Bowl.
"Their defense doesn't get enough credit," Broncos coach
Dan Reeves said
afterward. ''I can't say enough about them.''
Walsh later regretted retiring. This team made it easy to see why.
Most impressive win:
Having already touched on the Super Bowl victory, let's focus on the victory that delivered the NFC West title to San Francisco that season. Montana passed for 458 yards, including 286 to receiver John Taylor, and the 49ers twice overcame 17-point deficits to edge the division-rival Rams, 30-27, on the road.
Transcending Walsh:
This 49ers team became the only one in NFL history to win back-to-back Super Bowls with different head coaches. The change from Walsh to George Seifert might have actually helped this team, at least for a season. The offensive-minded Walsh left the defensive-minded Seifert with a veteran offense trained to function at a high level without much big-picture help. Holmgren took the best of what Walsh taught him and made it even better with his own tweaking. In that sense, the 1989 team might have gotten the best of what Walsh and Holmgren had to offer. Montana was also at his best. He never enjoyed a finer season.
Honorable mention
1984:
This was the team that knocked off Marino in the Super Bowl after the quarterback shredded defenses for a then-record 48 touchdown passes. This was a great 49ers team with a franchise-best 15-1 record, but the best group in 49ers history needed to include Rice, I thought. He arrived the next year.
1994:
Proponents of this team will point to a defense featuring
Deion Sanders
,
Rickey Jackson
,
Ken Norton
,
Merton Hanks
,
Eric Davis
,
Tim McDonald
,
Bryant Young
and others. They'll point to Young's record six touchdown passes against the
San Diego Chargers
in the Super Bowl.
1948:
Let's save some recognition for one of the early 49ers teams. This one outscored opponents by more than 17 points per game on its way to a 12-2 record. Frankie Albert put up modern-day numbers with 29 touchdown passes, 10 interceptions and a 102.9 rating.
November, 12, 2009
11/12/09
7:41
PM ET
Sam from Dallas writes:
C'mon Sando, don't be hatin'! Two straight weeks and the Rams have not been on the "Silver Linings" list! How about a little recognition!
Mike Sando:
This might be my favorite mailbag submission of all time. It's certainly understandable for a Rams fan to assume these files were produced every week regardless of the result.
I produce Silver Linings files only after NFC West teams lose. I produced them for 17 consecutive Rams games because the team lost every game. The Rams are not entitled to Silver Linings files when they win or have a bye week, although I did have some
fun with the subject
a while back.
---
Mark from Antioch, Calif., writes:
There aren't a lot of offensive lineman or secondary available for next year's free-agent class, but there are some pass rushers.
Shawne Merriman
,
Elvis Dumervil
and even
Julius Peppers
. The first two are already proven talents in a 3-4 defense, and Peppers would have the entire offseason to adjust to the role of a pass rushing outside linebacker. I see Denver giving an extension to Dumervil before the season is over. Peppers is definetley leaving and Merriman could be gone as well. Peppers is having a better season and is less of a risk, but he'll also probably cost more than Merriman.
Do you see the Niners going after a proven pass rusher in free agency like Peppers or Merriman, or do you see them taking the approach they had last season and continue to build through the draft? If they took one of those two, they could use their picks to address o-line or secondary while worrying less about pass rush early in the draft.
Mike Sando:
The 49ers seem to have moved past the big-ticket signing mentality. They think their talent is good enough to win. Perhaps they will reconsider if the team fares poorly down the stretch. Right now, though, the pass rush doesn't seem to be a limiting factor for this team.
---
Kraig from near Mt. Rainier writes:
The draft discussion about offensive linemen got me thinking of Seahawks general manager Tim Ruskell's tendency not to pick that position in the first round. But what if Ruskell's contract won't be renewed? And in that case, what happens to all the scouting work that's gone on? Does a new GM get to use it, or does he bring all his own stuff with him and have it together in time for draft day? Switching front offices seems like a huge deal. I doubt it'll happen.
Mike Sando:
The new GM often keeps most personnel people around through the draft. The new GM then decides which personnel people to retain. I am not sure how the Seahawks will handle this situation, but any new GM would presumably have to fit with Jim Mora.
The current speculation regarding Seattle's front office is natural when a team struggles and an organization offers no clues about long-term plans. Ruskell's contract as GM runs through this season. The team has previously let executives work through their contracts before offering new ones.
Leaving the GM to dangle in the wind can fuel tension and mistrust within an organization. Is Ruskell coming back? How would a change impact Mora? Is Mike Holmgren really a candidate? You can bet people within the organization are asking those questions. Holmgren's agent, Bob LaMonte, also represents coach Jim Mora. LaMonte attended the Lions-Seahawks game Sunday. He was in the locker room after the game. Say what you want about the decisions Ruskell has made -- that is another discussion worth having -- but having Holmgren's agent around had to be a bit uncomfortable for Ruskell.
---
Adam from Las Cruces writes:
Hey Mike, first of all, I Just want to say that I enjoy reading your blogs near daily. I think you are one of the best writers at ESPN, and your coverage on the division is always well-thought out and fair. My question regards my favorite team, the Cardinals. During the Cardinals' rout of the Bears,
Kurt Warner
was pulled in favor of
Matt Leinart
after the Cardinals pulled ahead with a large lead. Leinart then threw an interception, and this prompted the Cardinals to put Warner back in.
I seem to recall that this happened earlier in the season as well and Warner had to come back in the game to secure the Cardinals victory. Is it fair to say that Leinart is not going to be the future of the franchise? I have to say that I was always a Leinart supporter, but if he can't finish games where the Cardinals already have a huge lead, what is his future like? Thanks in advance for answering.
Mike Sando:
Thanks for the compliments, Adam. The check is in the mail. On your question, the Jaguars rallied a little bit after Leinart replaced Warner, but Leinart finished the game and Arizona won decisively. I think it's tough to evaluate or judge a quarterback when he's thrown into a lopsided game on the road. In both cases, the Cardinals were basically saying they thought they had the game won. The other team then senses an opening and pounces. Leinart may or may not be a good quarterback in the future. I just do not think we can know either way based on what we have seen this season.
---
Adam from Sacramento writes:
Hey, Sando. So, the 49ers have been putting
Delanie Walker
on the field recently, and even though his stats don't show anything special, it seems like the offense moves when he's out there. He used to be a wide receiver in college and still has some of the receiving skills -- you've mentioned that, at least for a tight end, he's a very good route-runner -- and I remember that the 49ers tried him out as a halfback on occasion during preseason games. So why don't they try that out now? He's used primarily as an H-back in the current offense, so he's spending plenty of snaps in the backfield. Wouldn't a little misdirection help take the pressure off of
Frank Gore
? Off of
Alex Smith
? He has to be an upgrade over
Moran Norris
, whether rushing or receiving. Is there no room for his particular skill set in the Jimmy Raye Prevent Offense?
Mike Sando:
Prevent Offense. Very good. I'll assume you wanted to know whether Walker could help at fullback. Playing him at halfback would make no sense because it would likely require taking Frank Gore off the field. Walker is not an excellent blocker. He could not hold up as a blocking fullback. Sometimes a team will take an H-back or tight end and line him up as a fullback in an offset-I formation, but often the player motions out before the snap. Those players generally are not built the way fullbacks are built. Norris is built like a tank. He is one of the more fearsome looking dudes I've seen in the NFL. Really put together. Walker is having a hard time staying healthy in his current role. He would not last in the backfield.
---
Mark from San Jose writes:
The decision not suspend the Bears'
Tommie Harris
is just another example of the NFL front office East Coast bias. This same result that will come out of the 49ers' tampering charges against the NY Jets. The low- to mid-market teams and West Coast teams struggle with receiving fair and impartial treatment from the heavy-weighted East Coast teams within the NFL front office. The West Coast teams must not only beat their game-day competitors but the national media, the referees and the NFL front office to gather the respect that they deserve. Who said life was not a struggle?
Mike Sando:
I know people from NFL teams who agree with your general sentiment. At the same time, East Coast bias seemed a lot less effective when
Joe Montana
was throwing to
Jerry Rice
,
John Taylor
, Dwight Clark,
Freddie Solomon
and those guys.
---
Dennis from Philadelphia writes:
How could you not include
Maurice Jones-Drew
in your MVP Top 10? His stats are great and He's the sole reason the Jags are .500. Without him they win 3 games this season ... tops.
Mike Sando:
I love his game, but I am not so high on the Jaguars. I think they're a bad team. The decision to favor other players over Jones-Drew reflects more on the Jaguars than Jones-Drew. Perhaps he can earn a spot if the Jaguars become a legitimate team down the stretch.
---
Nick from San Diego writes:
Hey, Mike, I was just wondering, shouldn't
Philip Rivers
be in some MVP conversation?
Mike Sando:
Yes, he has been on the list previously this season. I used the bottom five spots on the list to recognize a few non-quarterbacks. I took note of his three-game winning streak, but then recalled him beating the Chiefs and Raiders as part of that, then barely beating a struggling Giants team. Guess I need a little more convincing on the Chargers. There is time.
---
Timothy from McLeansville, N.C., writes:
Why on earth do you have the Panthers 10 spots above the Jaguars and the Titans 5 spots above the Jags. Last time I checked, a 4-4 record is better than 2-6 or 3-5. Yes, the Panthers did decent against the Saints, but Jax only loss by two at INDY. The Titans may have beaten us by 17 the other week, but Jax beat them by 20 in week 4. Your rankings make no sense to me whatsoever and you should be fired for these rankings.
Mike Sando:
The power rankings are not a recitation of the standings. We do not simply rank every team in order of record. We take things into account such as how a team is playing at present. I think the Panthers are playing better than the Jaguars. The Jaguars played the Colts close in Week 1. The Titans blew out the Jaguars in Week 8, then beat the 49ers in Week 9 while the Jaguars were edging the Chiefs.
---
Nick from Portland writes:
Do you think that there is any validity to the link between the 49ers current four-game losing streak and the late arrival of
Michael Crabtree
? I am a Hawks fan, so I don't watch much of the Niners, but it brings back memories of the Seahawks in 1999. It was Mike Holmgren's first year and the team began the season 8-2 without
Joey Galloway
, who was holding out. Galloway finally arrived and it seemed like the presence of a ''me first'' guy took some of the wind out of the team's sails, while
Jon Kitna
tried to force him the ball. They finished 9-7 and barely made the playoffs. Some similarities here?
Mike Sando:
Any similarities ended when Crabtree reported to the team in shape, ready to go and with the right attitude. Veteran embraced him right away once they realized he was prepared and had been working hard while away. Left tackle
Joe Staley
went over to Crabtree's locker after the rookie's first game and shook his hand. Crabtree commanded respect from the beginning. I think the 49ers would have been less competitive during this stretch if Crabtree had stayed away.