NFC West:

Johnathan Joseph
April, 23, 2013
Apr 23
10:05
AM ET
Kam Chancellor
has a new contract with the
Seattle Seahawks
. Defensive teammates
Earl Thomas
,
Richard Sherman
and
K.J. Wright
can become free agents after the 2014 season. Each could be in line for a new deal in the next year or so.
Sherman's name and contractual future came up in conversation Monday when Brock Huard, Danny O'Neil, John Clayton and I got together for
a segment on 710ESPN Seattle

.
How much can a team justify paying a top cornerback? That will be a question for the Seahawks to consider when it comes to paying Sherman. Darrelle Revis, Champ Bailey, Brandon Carr and Cortland Finnegan have all been earning at least $10 million per season. Revis, Carr,
Joe Haden
, Finnegan, Johnathan Joseph and Brandon Flowers have all gotten at least $20 million guaranteed.
The chart shows the NFL cornerbacks with the highest average salaries in the first three years of their contracts. The figures for Revis will be revised once details are known regarding his new deal with the
Tampa Bay Buccaneers
.
Sherman has made it clear he thinks there isn't a cornerback better than him in the NFL. He's been a bargain as a fifth-round draft choice. And while Sherman has sounded grateful over the opportunity Seattle has provided for him, expectations for a new contract should be exceedingly high if Sherman continues to play at a high level. Someone would pay top dollar for what he can provide.
It could be the Seahawks. The next couple drafts will be critical in giving the team cheaper alternatives at a few positions. Cornerback is one of those positions. Wide receiver is another. The team will want to have options at those positions while deciding how much to pay Sherman,
Sidney Rice
and possibly
Golden Tate
for the long term.
July, 29, 2011
7/29/11
12:46
PM ET
OK, so now that the
San Francisco 49ers
are reportedly
out of the running
for free-agent cornerback
Nnamdi Asomugha
, a question: To what degree were the 49ers in the running? And how do we know they're out of it?
Such nettlesome details would be easier to verify during the typical free-agency climate. Not this year. Rules have permitted teams to negotiate with agents most of the week, but unsigned players cannot visit team facilities until the signing period opens Friday at 6 p.m. ET.
In past years, teams pursuing free agents seriously often would fly the players into team headquarters, then try to get deals done before the players departed for another NFL destination. This time, teams are left wondering to a greater degree whether the market for a player is real (fire) or imaginary (smoke).
"With teams not wanting agents to shop agreements, they turned their attention to draft picks, who can start practicing immediately," Howard Balzer of 101ESPN St. Louis
wrote
.
Veteran players signing new deals cannot practice until Aug. 4.
Asomugha remains the highest-profile unrestricted free agent on the market. The 49ers need cornerback help. The No. 2 cornerback in the market,
Johnathan Joseph
, agreed to terms with Houston.
In past years, I would more easily shrug off concerns that teams with clear needs aren't doing enough in free agency. That's tougher to do this offseason given that free agency and training camps are beginning simultaneously. There's less time to let the market shake out. Teams need players in camp.
The smoke should begin clearing in a major way once the signing period finally opens and teams proceed with more verifiable information.
July, 28, 2011
7/28/11
12:43
PM ET
Nate Clements
' long-anticipated release from the
San Francisco 49ers
is finally imminent.
Clements was going to take a pay reduction in 2011 whether or not the 49ers kept him. By refusing to take one now, Clements ensured his entry into the free-agent market. The team told him of its plans to release him Thursday,
ESPN's Adam Schefter notes
.
[+] Enlarge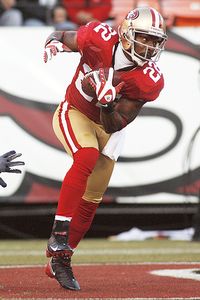 Cary Edmondson/US PresswireNate Clements signed an 8-year, $80 million deal with the 49ers in 2007.
Some
recently expressed
thoughts on Clements remain topical now:
Clements' contract with the 49ers was going to count $17 million against their salary cap. Teams can begin releasing players Thursday. They must do so by Friday to avoid paying workout bonuses in full. Clements' deal included a $500,000 workout bonus this year. Releasing Clements makes the 49ers responsible for only $100,000 of that total.

Clements' deal includes $42.5 million in salaries for the 2011-15 seasons. The 49ers will not have to pay that money after releasing Clements.

The 49ers knew this day was coming from the moment they signed Clements in free agency back in 2007. The deal was heavily back-loaded, but initial reports still focused on the potential $80 million total.

Note all the talk about money so far. This move was all about money and less about how Clements has played on the field. The 49ers would be better with Clements on their roster, just not at this price.

Free-agent cornerback Nnamdi Asomugha remains available. Multiple reports have had the 49ers competing with the New York Jets and Houston Texans for Asomugha's services. Money is almost always the deciding factor in these free-agent signings. I don't think the 49ers will pay to sign Asomugha at any price. Houston is ramping up efforts after finding ways to clear cap space, John McClain reports. There are other cornerback options for San Francisco, including Johnathan Joseph.

The 49ers' defensive coordinator, Vic Fangio, previously sought to build the Texans' defense around a pass-rusher (Jason Babin) and a cornerback (Dunta Robinson). Fangio's current team used the seventh overall choice for outside linebacker Aldon Smith, who reached agreement on a contract Thursday. Will the 49ers get a top-tier cornerback for him this offseason?
The signing period does not open until Friday. I see no reason for Asomugha to rush into a contract agreement. Why not let the bidding continue?
July, 22, 2011
7/22/11
5:21
PM ET
Someone somewhere
(and I apologize for misplacing the note) asked whether the NFL-approved labor agreement would hamstring the
Seattle Seahawks
in free agency under "Final Eight" rules in effect under the old agreement.
Mike Sando:
The previous labor agreement imposed rules limiting free-agency options for playoff winners only in an uncapped year.
So, even if the new deal included "Final Eight" clauses, those clauses would presumably apply only in the absence of a salary cap. The new deal will have, by all accounts, a salary cap for the 2011 season and beyond. Therefore, the Seahawks wouldn't have to operate with "Final Eight" limitations once free agency opened.
That would be my read on the situation. We won't know anything for sure until the players sign off and rules go into effect. Seattle fans should feel optimistic about having plenty of resources in free agency, however.
---
Sam from St. Louis
strongly disagrees with
my push for later kickoff times
when West Coast teams visit teams in later time zones. He despises 3 p.m. CT kickoffs for Rams games in St. Louis and thinks visiting teams should have to deal with disadvantages associated with playing on the road.
Mike Sando:
I'd be interested in hearing why you don't like the later starts for Rams games in St. Louis. The Rams have embraced those games in general because they think more fans are likely to attend. For one, the noon starts make it tougher for the church-going population to attend on Sundays. Early starts on the East Coast begin at 1 p.m. locally, giving parishioners an additional hour. Just a thought.
---
Ray from Corona, Calif.,
was heartened to see me finally support
Nnamdi Asomugha
as a free-agent target for the
San Francisco 49ers
. He also likes
Johnathan Joseph
as an option in free agency.
Mike Sando:
My resistance to Asomugha as an option was more from the perspective of what I thought was likely. And I did not think the evidence suggested the 49ers would go in that direction. The evidence remains strong against such a move, but I do think
going after Asomugha would make sense
for San Francisco. Seattle also could be in the market for a top-flight cornerback. John Clayton has mentioned Joseph as a possibility.
---
Shane from Los Angeles
does not think Asomugha would make sense for the 49ers. He thinks the team would be committing too much cap space to an older player at a position other than quarterback. As a Cardinals fan, he thinks
Larry Fitzgerald
will want more money than an unproven quarterback such as
Kevin Kolb
, and he'd like my thoughts on committing that much to a non-quarterback.
Mike Sando:
I've got no trouble with teams paying the market rate for great players. The Cardinals should keep Fitzgerald because there's a good chance Fitzgerald will remain an elite player throughout his next contract. He's a hugely important part of that team.
I believe the Seahawks named
Steve Hutchinson
their transition player instead of their franchise player in part because he was "only a guard" and not a player at a position of greater perceived value. There's no sense in rehashing what happened in that situation, but franchising Hutchinson certainly would have helped Seattle.
Players at positions other than quarterback should be elite/special for a team to commit an unusually large amount of its resources toward keeping them. Fitzgerald qualifies as that type of player.
---
Brandon from Tacoma
thinks Seattle Seahawks receiver
Golden Tate
was right in questioning the athletic ability of race drivers. Brandon read
the latest item
citing G-forces and breathing difficulties when saying, "Is it possible for anyone to learn how to breath in those situations? I don't believe anyone can learn to hit a fastball or throw a football 60 yards."
Mike Sando:
Some athletes are more talented than others. I feel safe in saying lots of NBA or NFL players could not dominate, succeed or even become mediocre at racing if they dedicated their lives to it.
Different sports require different abilities. Michael Jordan, arguably the greatest basketball player ever, did not become even average among professional baseball players. Was he more athletic than the typical Double-A outfielder? Most of us would say so, but his athletic ability did not translate as well to another sport.
---
Dan from Los Angeles
point to
Frank Gore
's long runs against Seattle in Week 2 of the 2009 season as the likely reason behind
Gore's inflated rushing stats
against defenses with eight or more defenders in the box. Dan even provides a link to
an earlier post
on the subject.
Mike Sando:
Thanks so much for that, Dan! You remembered that previous item better than I did, but you're right. The item lays out how Gore's per-carry averages against eight-man fronts was weak without those 80- and 79-yard touchdown runs in the Seattle game. Now, those runs count, of course, so we shouldn't exclude them entirely. But at least we know Gore wasn't enjoying consistent success against those fronts. He popped a couple long ones against one team.
---
Don from Scotland
thinks the Seahawks should consider re-signing center
Chris Spencer
. He points to
Marshawn Lynch
's run as evidence, noting that Spencer threw key blocks.
Mike Sando:
That was a sensational run in many regards, but not representative of the Seahawks' performance in the running game last season. It didn't validate anything. I'll agree to the extent that I think Spencer has been pretty solid a lot of the time. I also think the Seahawks need a new identity up front with new personalities and new leadership.
---
Patrick asks via Twitter
whether new NFL rules allowing for 46-man rosters on game days and no third quarterback might give 49ers rookie
Colin Kaepernick
a better shot at getting on the field.
Mike Sando:
Kaepernick will likely be the No. 2 or even No. 1 quarterback for the 49ers this season, so the third-QB designation would not apply to him.
---
Jason from Tennessee
thinks the Titans, Eagles and Cardinals should consider a three-way trade sending
Vince Young
and
Cortland Finnegan
to Philadelphia,
Dominique Rodgers-Cromartie
to Tennessee and Kevin Kolb to Arizona.
Mike Sando:
I like your creativity. Young to the Eagles would be an interesting one given Vick's presence, Andy Reid's presence and the overall stability there in Philadelphia. Young's hefty contract would need adjusting. The teams would need Young's cooperation. Young would presumably want to become a free agent.
Arizona would be parting with Rodgers-Cromartie and getting Kolb, a trade some fans have found problematic based on the known (Rodgers-Cromartie's talent) vs. the unknown (Kolb). What the Eagles wind up getting for Kolb stands as one of the more fascinating uncertainties heading toward free agency.
---
Dominic from Santa Clara, Calif.,
asks whether any NFC West teams would go after the
San Diego Chargers
'
Vincent Jackson
.
Mike Sando:
Dominic submitted this question when it appeared as though Jackson might receive unrestricted free agency this offseason. It now appears as though Jackson will return to San Diego as the Chargers' franchise player.
I'll stand by
what I wrote
on the matter back in February: "San Diego's decision to name receiver Vincent Jackson its franchise player would not prevent an NFC West team -- think St. Louis -- from at least considering a trade. I just find it implausible to think the Rams or another team would part with significant draft capital for the right to pay huge sums to a receiver with off-field concerns. Jackson is probably staying in San Diego for another year."
July, 1, 2011
7/01/11
9:35
AM ET

Matt Barrows of the Sacramento Bee
says 49ers center Eric Heitmann suffered his career-threatening neck injury while competing in the "nutcracker" drills former coach Mike Singletary preferred. Barrows: "Despite the controversy around the drill, Singletary revised what he insisted was a safer version last year. Still, at least two players, linebacker Derek Walker and Heitmann, were injured in it. At the time, the 49ers referred to Heitmann's injury as a 'stinger' -- a nerve injury caused by trauma to the head, neck or shoulder. Shortly thereafter Heitmann suffered a broken leg. He recovered from the fracture but could not shake the neck problems and was placed on injured reserve on Nov. 2. Singletary insisted on the nutcracker because he said it taught players the importance of leverage, and it was iconic drill of the coach's tough-guy approach. In 2009 Singletary said he didn't think the drill would cause injuries because the two players facing off didn't take running starts."
Matt Maiocco of CSNBayArea.com
says Singletary refused to comment on the nutcracker story. Singletary: "I have no response to that. I don't really know what Eric's prior situation was, so I'm not going to respond to that." Singletary and the 49ers should have known about "prior situations" regarding injuries. Heitmann had been with the team for years. If he were susceptible to such an injury, why expose him to the obvious heightened risks associated with such drills? A question worth asking if, as Singletary suggests, he did not know Heitmann's prior injury situation.
Also from Maiocco
: The 49ers' skill players have shown up in strong numbers for the most recent player-organized workouts.
Kevin Lynch of Niner Insider
says Michael Crabtree didn't make time for interviews Thursday. Lynch: "The only mystery surrounding him is how hurt he is. Tight end Vernon Davis, in Crabtree's absence, answered the question saying the foot injury [Crabtree] sustained June 9 in Camp Alex No. 1 is far more than just a case of a sore foot brought on by the pinch of new cleats. However, Davis said he should be ready should training camp start on time."
Daniel Brown of the San Jose Mercury News
says the 49ers' offense is tight end-friendly, according to Davis. Davis: "This offense is going to be pretty good for the tight end. We don't just have one way to go. That's good. We've never had that since I've been here." Was Davis alluding to the use of more option routes? That appears to be the case. Davis followed up by saying he'll have the flexibility to run through zones instead of simply settling into them.

Ellen Sherberg of the St. Louis Business Journal
updates the business dealings of former Rams tackle Orlando Pace. Sherberg: "Mr. Pace has partnered with GO Marketing LLC, formed by [KFNS radio owner] Dave Greene and James Oelklaus, founders of Grand Slam Sports that includes KFNS among other holdings, to launch TheTicketBlock.com, a new ticket brokerage."
Tony Softli of 101ESPN St. Louis
expects Sam Bradford to take a significant step forward in 2011. Softli: "The NFL lockout is the only thing delaying the progress of this young quarterback with a new offensive coordinator in Josh McDaniels. When I looked back at the 2010 Rams season, Bradford set the stage for the immediate future and sent a message to all the NFL that the young gun from St. Louis is for real and won't take any prisoners along the way. It's about winning the division, the NFC conference and eventually lifting the Lombardi Trophy."

Darren Urban of azcardinals.com
says first-round draft choice Patrick Peterson spent about 30 minutes speaking with strength-and-conditioning coach John Lott when teams were allowed contact with players during the draft. That meeting could help explain why Peterson decided to drop about 10 pounds. Urban: "Lott famously tells most players when he first gets them in Arizona they should drop a few pounds. Everyone has done it, from Larry Fitzgerald to Kurt Warner to Beanie Wells (pretty much every incoming rookie gets the speech). Peterson figured to be no different." Dominique Rodgers-Cromartie might be one exception to the drop-a-few-pounds mantra. He didn't have any extra weight to lose.
Cecilia Chan of the Arizona Republic
says Glendale is supporting efforts to bring another Super Bowl to University of Phoenix Stadium. Chan: "In return for the prestige of hosting the National Football League game at University of Phoenix Stadium, Glendale must guarantee services such as public safety and sanitation for free and exempt game-day tickets from sales tax for the NFL. When Glendale hosted its first Super Bowl in 2008, it saw $1.2 million boost in sales-tax revenue. But a city-commissioned study showed it cost the city $2.6 million in services. The City Council on a 5-2 vote Tuesday approved the resolution." Good for business, bad for city budgets?

Brady Henderson of 710ESPN Seattle
says Johnathan Joseph could be an attractive free-agent addition for the Seahawks. Henderson: "Clayton thinks the Seahawks could get Joseph for around $8 million a season, which makes him a much cheaper alternative to Nnamdi Asomugha."
Clare Farnsworth of seahawks.com
revisits Steve Largent's final game with the team. An elbow injury suffered on the notorious playing surface in Philadelphia that season left Largent feeling frustrated. Largent: "Dave [Krieg] threw me a post route that I should have been able to catch up to. But I had to dive for that ball. I dove where second base would have been. They had it covered with turf, but there was still a little mound there. I fell and it busted my elbow. That's what I remember about my last year."
June, 15, 2011
6/15/11
9:17
AM ET

Matt Barrows of the Sacramento Bee
does not anticipate the 49ers showing interest in Ohio State's Terrelle Pryor. He thinks Pryor would have to play receiver for the team to have even remote interest. Barrows: "But the 49ers have several younger prospects, including Ronald Johnson, a sixth-round pick in April, and Kyle Williams, a sixth-round pick last year. Furthermore, the supplemental draft likely will occur in early to mid July, which could coincide with the start of free agency. That is, the team could be adding other wide receivers -- especially undrafted college players -- just as the supplemental draft is occurring. Pryor may not be a priority."
Matt Maiocco of CSNBayArea.com
explains why Anthony Dixon does not project to fullback for the 49ers even though he has apparently bulked up to 250 pounds and said he would like to play the position some. Maiocco: "It's not difficult to envision a scenario in which the 49ers try to get Frank Gore and Dixon on the field at the same time in a split-back formation. But a full-time switch to fullback for Dixon is not a good fit. Veteran Moran Norris is under contract and set to return for his 11th NFL season. And the 49ers selected Central Florida defensive end Bruce Miller to convert to fullback. (Miller did not attend the get-together of offensive players last week at San Jose State.) The 49ers also plan to use tight ends Delanie Walker and Nate Byham occasionally out of the backfield."
Taylor Price of 49ers.com
profiles quality control coach Peter Hansen. As a player at Arizona, Hansen blocked seven field goal tries. Price: "At 6-foot-8 with a 39.5-inch vertical leap, Hansen offered his services as a field goal block specialist. The selfless act would pay huge dividends. Hansen would go on to block a combined seven field goals and extra point attempts for the Wildcats. For his efforts, Hansen was named second-team all-conference as a special-teams performer in 2000."

Clare Farnsworth of seahawks.com
says Shaun Alexander was an easy choice for the 35th anniversary team after scoring at least 15 touchdowns in five consecutive seasons. Farnsworth: "After being the 19th pick overall in the 2000 NFL Draft, Alexander grew into his role. He split time with Ricky Watters as a rookie and again in 2001. But in '01, Alexander began a run that would see him become the only player in league history to score 15 or more touchdowns in five consecutive seasons: 16 in 2001; 18 in 2002; 16 in 2003; 20 in 2004; and 28 in '05." As Jim Brown once said: "He's a mystery man to me. I cannot see what he possesses that allows him to do what he does. I look at his results; I just can't look at the methodology."
Danny O'Neil of the Seattle Times
offers thoughts on why the Seahawks selected receiver Kris Durham in the fourth round. They wanted a big receiver.
Brock Huard and Mike Salk of 710ESPN Seattle
project what the Seahawks might do once the lockout ends. Huard points to Robert Gallery, Deuce Lutui, Johnathan Joseph, Sidney Rice and Manny Lawson as players the Seahawks could logically target during the signing period. The team would have to be selective, however, if forced to proceed under Final Eight rules limiting free-agent options for the final eight playoff teams.

Scott Bordow of the Arizona Republic
catches up with former Cardinals linebacker Garth Jax, whose career highlight stemmed from the time he beat Cowboys guard Nate Newton into the backfield and drilled Emmitt Smith in a Christmas game. Jax remains best known for another tackle he made, however. That one was on a fan who ran onto the field. Jax: "That was Buddy Ryan's first home game. I'll never forget it. . . . I was so dehydrated they must have had five IVs in my veins. I was miserable, we were losing, it was not fun, and I was trying to do everything I could to keep a job. There was a lot of anger and frustration -- and out comes a drunk fan and I was like, 'No you don't.' I laid him out. I remember after the game Buddy said we didn't do very much good that night, but the one good thing was the form tackle Garth Jax laid out on the drunk fan. It's funny. When people recognize me or find out who I am and Google my name, that's the one thing that pops up."
Darren Urban of azcardinals.com
reflects on the game when then-Cardinals kicker Bill Gramatica suffered a knee injury during a celebration. Turns out there was quite a bit more to the story.
Also from Urban
: O'Brien Schofield and Daryl Washington are among the young players Arizona is counting on in 2011. Schofield has impressed the coaching staff with his diligence in returning from a serious injury.

ESPN's John Clayton
thinks the Rams should sign Randy Moss once the signing period opens. Clayton: "Why Randy Moss? The answer is speed. Moss may have a reputation of taking a few plays off when things get tough, but he can still get off the line of scrimmage and get downfield. Moss admittedly made the mistake of talking himself off the New England Patriots' roster, but there are still enough big plays left in his 6-foot-4 body to help an offense." I see the question as one of whether the payoff is great enough to justify whatever negatives might come with such an investment. Were three teams wrong on Moss last season, or was Moss the one without enough to offer them? I do think signing Moss under the right terms would make sense. The ability to release Moss without significant financial ramifications would be key if the situation did not work out.
March, 16, 2010
3/16/10
3:30
PM ET
Tye Hill
's release from the Falcons makes him the only 2006 first-round draft choice without a job with an NFL team.
The Rams made Hill the cornerstone of an ill-fated 2006 draft class featuring
Joe Klopfenstein
,
Claude Wroten
,
Jon Alston
and
Dominique Byrd
in the first three rounds. The fate of that class helps explain why the team will be picking first overall in 2010.
Hill, chosen 15th overall, has company among disappointing first-round corners from the 2006 class.
Antonio Cromartie
(19th),
Johnathan Joseph
(24th) and
Kelly Jennings
(31st) were the other first-round corners that year. Cromartie flashed ability early in his career before fading. Joseph has lived up to expectations. Jennings could be on his way out after a tough run in Seattle, particularly with the team's new leadership valuing bigger corners.
The Rams traded Hill to the Falcons for a 2010 seventh-round choice.