April, 10, 2014
Apr 10
10:00
AM ET
By
ESPN.com staff
| ESPN.com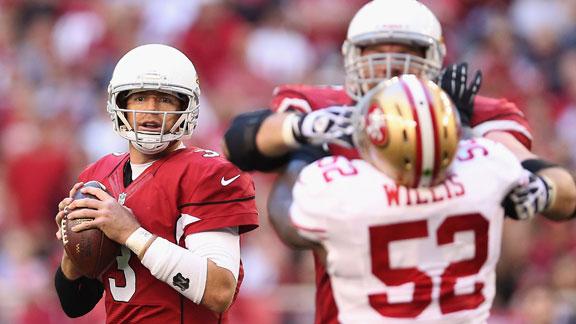 Catch us if you can.
That's a message the
Seattle Seahawks
could send out to the rest of the NFC West.
It is also something the
San Francisco 49ers
might say to the
Arizona Cardinals
and the
St. Louis Rams
. But the Cardinals and Rams might have a statement of their own: We're coming for you.
By almost everyone's estimation, the NFC West is the best division in the NFL. It includes a Super Bowl champion in Seattle along with a team in San Francisco that, arguably, came up one play short of reaching its second consecutive Super Bowl.
It also includes a team in Arizona that won 10 games, one of which was a victory at Seattle -- the Seahawks' only home loss in 2013. And there's a team in St. Louis that won two of its last three games to finish 7-9 while playing most of the season without starting quarterback
Sam Bradford
.
So the question heading into 2014 is whether the Cardinals and Rams are in position to catch the Seahawks and 49ers. Have Arizona and St. Louis closed the gap on what might be the NFL's two best teams?
The Cardinals have been active in free agency, signing cornerback
Antonio Cromartie
, offensive tackle
Jared Veldheer
, tight end
John Carlson
, receiver/kick returner
Ted Ginn
, running back
Jonathan Dwyer
and offensive lineman
Ted Larsen
.
Clearly, the competition in this division keeps getting better.
The four writers who cover the division for ESPN.com's NFL Nation -- Terry Blount in Seattle, Bill Williamson in San Francisco, Josh Weinfuss in Arizona and Nick Wagoner in St. Louis -- take a look at where things stand in the NFC West on four key topics. We also polled our Twitter followers to find how they viewed the issues.

The Cardinals have made significant moves in free agency. The Rams, aside from keeping Rodger Saffold, have mostly stood pat. Which is closer to the playoffs?
Terry Blount: This is a no-brainer for me. The Cardinals are a team on the rise with one of the NFL's best coaches in Bruce Arians. He took a 5-11 team and transformed it to 10-6 in one season. He was 9-3 at Indianapolis in 2012 while filling in for Chuck Pagano. Arizona was 7-2 in its last nine games and won three of the last four, with the only loss being 23-20 to the 49ers in the season finale. The Cardinals could become a serious challenger to the two-team stronghold of Seattle and San Francisco. However, I do believe the Rams will have a winning season if they can hold their own in the division games.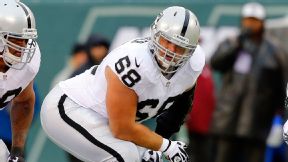 Nick Wagoner: It's hard to evaluate this without seeing what happens in the draft, especially with the Rams having two premium picks. Even then it would be unfair to judge right away. Still, I have to go with the Cardinals. They were trending up at the end of the season and patched a big hole with offensive tackle Jared Veldheer. Losing Karlos Dansby was a blow, but adding cornerback Antonio Cromartie to a talented stable at the position makes them better. The Rams, meanwhile, are clearly counting on a whole lot of in-house improvement and a big draft. Keeping Saffold was important (and lucky), but it seems risky to pin all hopes on a leap to the playoffs on a group of young players all making a jump at the same time.
Josh Weinfuss: Arizona is the easy answer, and that's not because I cover them. The Cardinals were 10-6 last season and the first team kept out of the postseason. All the Cardinals have done this offseason is fix deficiencies and plug holes. Their offensive line got markedly better with the addition of left tackle Jared Veldheer. Their wide receiver corps and kick return game were solidified with Ted Ginn, and they now have one of the best cornerback tandems in the league with Antonio Cromartie coming on board. General manager Steve Keim looked at what went wrong in 2013 and went to work on fixes. It should put the Cardinals over the playoff hump.
Bill Williamson: It has to be Arizona. The Cardinals were so close to making the playoffs last season. They would have likely been dangerous in the postseason too. I like the way this franchise is shaping up. It seems like it is well run and well coached. The roster is also getting deep. Carson Palmer will have to be replaced sooner or later, but the Cardinals are on to something. The Rams certainly have some nice pieces and are probably the best fourth-place team in the NFL, but they aren't close to matching what Arizona has going for it.
@joshweinfuss With the offseason the @AZCardinals have had I'd go with them. The rams are a solid offense away but AZ got the pieces needed.

- Joshua Bodrero (@JBodrero) March 25, 2014
---

The Seahawks and 49ers played for the NFC title in January. Any reason to believe either won't return to the postseason?
Blount: They were the two best teams in the NFL last season, and there's no legitimate reason to think they won't be among the best in 2014. Seattle has lost 10 players who were on the Super Bowl roster, but other than wide receiver Golden Tate, none of them were on the team's priority list to keep. The 49ers move into a shiny new stadium. The only question for San Francisco is the precarious relationship between coach Jim Harbaugh and team executives. Who knows what the future holds there, but it shouldn't matter on game day.
Wagoner: Aside from some debilitating injuries, it's hard to see how either team has taken a major step back. The Seahawks have lost some good players in free agency, but even those players seemingly already had replacements in place. Nobody does a better job of developing talent than Seattle. The Seahawks still have holes to patch on the offensive line and losing receiver Golden Tate is a blow, so there could be some hope the offense will regress. But the defense makes it all go, and it doesn't look like it's going to lose any of its most prized components. As for the Niners, they are the more likely of the two to take a step back, but it's hard to see them taking enough of one to fall out of the postseason. For most of their key free-agent losses they were able to quickly come up with a replacement as good or better than the player lost, and retaining Anquan Boldin says they are looking to make another run at the Super Bowl. Plus, they will have a fully healthy Michael Crabtree ready for the season. Until proven otherwise, these two teams remain the class of the NFC and probably the NFL.
Weinfuss: The only reason either of them won't make the playoffs in 2014 is because the Cardinals or Rams will take their place. The gap between the top and bottom of the NFC West has closed significantly this offseason, making the West much like the Southeastern Conference in college football; everybody will beat up on each other. It's likely the West, if it's anything like last season, can see three teams in the playoffs -- its champion and the two wild cards. If one of the teams between Seattle and San Francisco were not to make it, it's tough, but I think Seattle might slip. The Seahawks lost a significant part of their defensive line and will be going through a Super Bowl hangover. That's risky to deal with and still make the playoffs. On the other hand, San Francisco will be hungry from losing to Seattle in the NFC Championship Game.
Williamson: I believe these are the two best teams in the NFL. So it's difficult to fathom that either team won't find its way into the playoffs, barring major injuries. Arizona, though, could create an issue for the Seahawks and 49ers. The Cardinals are going to win a lot of games, so both Seattle and San Francisco have to be careful or things could get tricky. In the end, I can see all three teams making the playoffs. This is the reason this division is so intriguing and so fun: Every game is critical. There is just not much room for error. Look at the 49ers last year. They went 12-4, but a 1-2 start hamstrung them. They could never fully recover despite having a great overall regular season. The same intensity will be a factor in 2014 in the NFC West.
@TerryBlountESPN The Cards and Rams are pretty good. They'll be fighting for 2nd place behind the Seahawks.

- Danny ®" (@Dah_knee) March 26, 2014
---

Will Rams quarterback Sam Bradford come back strong from an ACL injury, and what effect will he have on St. Louis having its coveted breakthrough year?
Blount: I think Bradford will be fine as far as the ACL goes, but this is a make-or-break year for him in my view. Bradford was playing pretty well before his injury last year, but the verdict still is out whether he can be an elite quarterback. He enters this season with the best supporting cast he's ever had, but playing in this division with teams that emphasize physical defensive play makes it difficult to show improvement.
Wagoner: All indications from the Rams are that Bradford's rehab is coming along well and he's on schedule to make his return in plenty of time for the start of the regular season. He apparently had a clean tear of the ACL, but he has been rehabbing for a handful of months and should resume throwing soon. Bradford's healthy return means everything to the Rams' chances in 2014. Believe it or not, this is his fifth season in the NFL and, much like the team, this is the time to make some noise. The Rams attempted to open up the offense in the first quarter of 2013 with Bradford to miserable results. They switched to a more run-oriented attack in Week 5 and the offense performed better. Bradford also played better as the run game opened up play-action opportunities in the passing game. It will be interesting to see if the Rams choose to go a bit more balanced with Bradford at the controls or if they continue at the same run-heavy pace they played with backup Kellen Clemens. Either way, Bradford's contract has two years left on it. If he wants a lucrative extension, this is the time to prove he's worth it.
Weinfuss: Short answer, yes, Bradford will come back strong. Just look at how he started in 2013. He was on pace for a massive year statistically before he got hurt. If he can pick up where he left off, Bradford will return with a bang and show he's still one of the better quarterbacks in the league. As we've seen, a top-tier quarterback can be the difference between sitting idle in the standings and having a breakthrough year. With the talent that surrounds the Rams, with tight end Jared Cook, running back Zac Stacy and wide receivers Tavon Austin, Chris Givens and Austin Pettis, among others, Bradford may singlehandedly help close the gap between the Rams and the top of the NFC West.
Williamson: I have to be honest: I'm not a big Sam Bradford guy. I think he's just OK. Just OK doesn't cut it in this division, especially considering the defenses he has to play six times a season in the NFC West. He's serviceable, but he's not the answer. Given the state of this division, I cannot envision a scenario where Bradford is the reason the Rams become the class of the NFC West. I think they can get by with Bradford for the short term, but the Rams are going to have to start thinking about the future at this position much earlier than expected when Bradford was the No. 1 overall pick of the 2010 draft.
@nwagoner @Ryan_STL1 he's going to be the reason whether they go to the playoffs or not. If it doesn't happen this year it's time to give up

- Nick Green (@duttynick) March 24, 2014
---

If you had to start a team with either Seahawks QB Russell Wilson or 49ers QB Colin Kaepernick, whom would you choose?
Blount: You must be kidding. Give me Wilson every time, every day in every situation. Yes, Kaepernick is 5 inches taller than Wilson. Is there really anyone left who thinks Wilson's lack of height matters? Wilson also is at his best in pressure situations. He lives for it. And he is a more polished person on the field, and off it, than Kaepernick. That's not an observation. It's a fact. But this isn't a rip on Kaepernick. You would be hard-pressed to find any 25-year-old as polished as Wilson. The 49ers can win a Super Bowl with Kaepernick, and probably will soon. But if I'm starting a team, whether it is in football or almost any other life endeavor, I'll take Wilson without a doubt.
Wagoner: Wilson. For those of us covering other teams in the division, it's hard not to admire what he brings to the table. He presents himself as the consummate professional, and even opponents praise him for his work habits, intelligence and ability. He's already got the Super Bowl ring, and it's easy to see how he could add a few more. He's not all the way there in terms of his potential either, and it's probably safe to assume he's just going to keep getting better as his career goes along. That's nothing against Kaepernick, who is a unique talent in his own right, but there aren't many young quarterbacks in the league worth choosing over Wilson.
Weinfuss: Russell Wilson would be my pick, mainly because of his poise and maturity behind center. Colin Kaepernick is undoubtedly talented, but I get the sense he still has a lot of growing to do as a quarterback. He's tough to bring down, especially in the open field, but when he's pressured in the pocket, Kaepernick seems to panic and I wouldn't want that in a quarterback. I also think Wilson, despite his physical stature, is built to last. He's heady enough to stay out of harm's way, and his poise in the huddle will go a long way in leading a team.
Williamson: I'd take Kaepernick. I know it's a tough sell right now, since Wilson's team has beaten Kaepernick and the 49ers three of the past four times they've met, including the NFC title game, and the fact that Wilson has won a Super Bowl. I respect the value of Super Bowl wins and believe quarterback is the most critical position in sports. I'm sure I will smell like a homer with the Kaepernick pick. But moving forward, I just think Kaepernick has a higher ceiling. I think he can take over games more than Wilson can at a higher rate. Players built like Kaepernick and as athletic as Kaepernick just don't exist. He is special. He works extremely hard at his craft and is well coached. I'd take him, and I wouldn't look back. This isn't a knock on Wilson. He is proven and is going to be great. But if I'm starting a team, I'm taking Kaepernick, and I bet more general managers would agree than would disagree.
@BWilliamsonESPN Wilson. Controls the game & makes all the plays. Kaeps athletic advantage will fade overtime as Wilson's mental edge grows.

- HTB (@HoldenTyler) March 25, 2014
December, 9, 2010
12/09/10
8:56
AM ET

Dave Boling of the Tacoma News Tribune
says there's much to like about Seahawks rookie safety Earl Thomas. Veteran safety Lawyer Milloy: "I'm very happy with his progress, starting with draft day. He's got that frame of mind; he wants to be great. He's a perfectionist, and he gets mad when he doesn't do it the right way. A lot of what separates the great ones from the average is the mental approach, and he's doing everything the right way." I've been struck by Thomas' willingness as a hitter. He's not big by safety standards. He's been shaken up several times this season, but he hasn't missed much time.
John Boyle of the Everett Herald
looks at the Seahawks' recently improved ground game.
Clare Farnsworth of seahawks.com
offers notes from practice Wednesday, including one showing camaraderie among running backs.
Also from Farnsworth
: a look at what Colin Cole's return could mean for the Seattle defense. The team has missed Cole and defensive end Red Bryant. Farnsworth: "Junior Siavii (for Cole) and Kentwan Balmer (for Bryant) have done admirable jobs filling in, but they're lighter and a lot less experienced in the nuances of the Seahawks' defense – since Balmer was acquired in a mid-August trade with the 49ers and Siavii was signed in early September. With Cole's return, Siavii can slide out and help Balmer man the five-technique end spot, as well as rotate with Cole at nose tackle."
Danny O'Neil of the Seattle Times
checks in with Cole, who explains how he suffered an ankle injury against Oakland. Cole: "You want me to go into detail? All right. I was moving to my right, 3 minutes left in the game. They were on their goal line. Really a needless thing to happen. I was going to my right, and a guy basically to my left -- their right guard -- kind of jumped on the side of my leg. I'll say he jumped on the side of my leg. There's a proper way of cut blocks, and he just took it upon himself to kind of jump on the side of my leg. But there's nothing I can do about that now. The only thing I can do is concentrate on moving forward and trying to help the team with the next few games."
Jerry Brewer of the Seattle Times
says Lofa Tatupu is relishing the Seahawks' playoff relevance and exciting developments in his personal life. Tatupu: "It's everything you dream of. Not to sound cliché, but it is. It's magical. In the NFL, when you're in the hunt this time of year, every little thing matters — every practice, every game, every day. It's football at its most intense. I love it. I know it hasn't looked pretty for us this year. But, really, it doesn't matter. We're right there."

Kent Somers of the Arizona Republic
says Cardinals coach Ken Whisenhunt sounds much happier with Dan Williams than with Calais Campbell. Whisenhunt offered specific reasons why he thought Williams was performing well. Here is what he said regarding Campbell: "First of all, I don't like to evaluate players in-season. I don't believe in doing that. I think that, right now, there are a lot of guys on this team who haven't played the way we all thought or expected. Probably a lot of coaches haven't coaches the way we expected. That's something we'll look at after the season and evaluate. The only thing I'll say is I'm not questioning anyone's effort."
Also from Somers
: New Cardinals quarterback Richard Bartel was hunting wild hogs as recently as one week ago.
Paola Boivin of the Arizona Republic
offers thoughts on John Skelton's emergence as the Cardinals' likely starting quarterback. Boivin: "What can Skelton do? How does Larry Fitzgerald feel? Leaving Derek Anderson in, if he's healthy, feels a little bit like pushing Fitzgerald toward the door. His contract expires after the 2011 season and the team would like to begin talks on a new deal no later than the spring. Why not Skelton? His 6-foot-5, 244-pound frame screams NFL prototype. At the combine, he ran a 4.85 40, seventh-best among all quarterbacks. His vertical jump was fourth best. The Cardinals liked him enough to trade cornerback Bryant McFadden and a sixth-round pick to move to the fifth round. We just don't know enough."
Darren Urban of azcardinals.com
says the team appears on the verge of starting three quarterbacks in a season for the sixth time since the franchise moved to Arizona. Urban: "Assuming Anderson doesn't start, the Cardinals will use a third starting quarterback in a season for the sixth time since the franchise moved to Arizona in 1988, although it has only happened once since the Cards' playoff year of 1998. That's when Denny Green, in his first season of 2004, briefly derailed the Josh McCown experiment with two starts for Shaun King and then one for rookie John Navarre before going back to McCown. The other four times were 1989 (Gary Hogeboom 13 starts, Tom Tupa 2; Timm Rosenbach 1), 1991 (Tupa 11, Stan Gelbaugh 3, Chris Chandler 2), 1994 (Steve Beuerlein 7, Jim McMahon 1, Jay Schroeder 8) and 1997 (Kent Graham 6, Stoney Case 1, Jake Plummer 9)."

Doug Farrar of Football Outsiders
offers thoughts on Rams quarterback Sam Bradford. Analyst Greg Cosell: "Because of his accuracy, he will always make his receivers better in the long run. Because he's very compact, and he's very accurate. Believe me, I'm not comparing him to Tom Brady at this point in time, but I think he has attributes like that. Brady had Moss for a few years, and Moss was a certain type of player, but for the most part, Brady has not has what you would call elite receivers. And Bradford is the kind of guy -- because he's so compact and accurate, and he's exhibited such great timing and anticipation -- who can make receivers that you would not say are Top 10, better."
Jim Thomas of the St. Louis Post-Dispatch
says the Rams are scrambling at linebacker after losing Na'il Diggs for the remainder of the season. Thomas: "Rams coaches have two more practice days to sort through their options at the strongside and weakside positions. But at face value, the most logical starting combination would be David Vobora at strongside linebacker — where he started 10 times in '09 — and either Chris Chamberlain or Larry Grant at the weakside position. Chamberlain has better coverage skills than Grant, so he makes more sense against a pass-happy team such as the Saints. But complicating matters is the fact that Chamberlain suffered a right hand injury against Arizona."
Bill Coats of the St. Louis Post-Dispatch
checks in with Rams linebacker David Nixon. Coats: "A former Eagle Scout, Nixon's road to the NFL was interrupted by a two-year Mormon mission to Quito, Ecuador, after his freshman season at BYU."
Also from Coats
: Bradford got advice from Drew Brees regarding shoulder surgery. Bradford said Brees' shoulder injury was far worse, however.
Bernie Miklasz of the St. Louis Post-Dispatch
says rookie left tackle Rodger Saffold has been playing well for the Rams. Saffold and the line face their toughest test of the season to this point when they visit the Superdome in Week 14. Miklasz: "How good is Saffold? Indianapolis Colts president Bill Polian, one of the best talent evaluators in NFL history, volunteered on his radio show Monday night that he made a mistake in not drafting Saffold at the end of the first round. The Rams picked Saffold at the top of the second round. Polian doesn't toss out compliments like that unless he's very, very, impressed. And it takes a lot to impress Polian."
Nick Wagoner of stlouisrams.com
has this to say about the Rams' linebacker situation: "It appears that David Vobora will get the first shot at replacing Diggs at SLB and Chris Chamberlain will work at WIL. Chamberlain is wearing a small cast on his wrist but says no surgery will be required on small fracture. He practiced fully on Wednesday."
Brian Stull of 101ESPN St. Louis
says the Rams' secondary is dealing with quite a few injuries.

Matt Maiocco of CSNBayArea.com
says the 49ers and Seahawks took differing approaches to working new running backs into their offenses. One key difference: The 49ers already had Frank Gore, so there was less incentive to work Brian Westbrook into the offense initially. Seattle did not have a physical running back. Lynch: "Running back is one of those positions where you can come in and make an impact almost immediately. Basically, the protections and the running plays are the same, just worded differently. Just change up the terminology and you have the same playbook."
Matt Barrows of the Sacramento Bee
says Alex Smith knows he needs to be more aggressive. One limiting factor: Smith is not aggressive by nature.
Also from Barrows
: answering questions about the 49ers' quarterback situation.
More from Barrows
: Mike Singletary says the 49ers' offense was limited with Troy Smith at quarterback.
Lowell Cohn of the Santa Rosa Press-Democrat
says it's fitting the 49ers' top two quarterbacks have the same last name. Cohn: "Tweedle Alex allegedly gives the Niners the best opportunity to win because he knows the playbook better than Tweedle Troy, and it's always helpful in the NFL to know the playbook. Of course, Tweedle Alex also knew the playbook better when the 49ers and Tweedle Troy got run out of Green Bay. Why didn't Singletary start Tweedle Alex then? You tell me." Not that the 49ers' floundering ways have invited cynicism.
Eric Branch of the Santa Rosa Press-Democrat
says the departure of longtime assistant coach Johnnie Lynn heading into Week 14 counts as par for the course in San Francisco.
Daniel Brown of the San Jose Mercury News
says Alex Smith feels as though he's a good quarterback. Smith: "Absolutely. I have the ability to make all the throws on the field. [I'm] athletic enough that I think I can make plays with my feet when I need to. I can handle I think any playbook out there, [any] adjustments you have to make. I think I can. Have I done that consistently? To be honest, no. That's what I need to do."
David White of the San Francisco Chronicle
says Singletary was vague when discussing Lynn's departure. Singletary: "I visited with Johnnie before he left. All I'm going to say about that is that is something I will not comment on. But Johnnie and his family will deal with it, and I lose a good friend."
August, 5, 2010
8/05/10
5:36
PM ET
SEASIDE, Calif. -- Observed while watching the
San Francisco 49ers
conduct practice on a cool, breezy Thursday under cloudy skies at California State University-Monterey Bay:
Those are some initial thoughts. Up next: a 60- to 90-minute drive back to Santa Clara. I'm anxious to go through notes and process interviews. The 49ers will not practice this afternoon. They have two scheduled for Friday, with the afternoon practice for special teams.
June, 15, 2010
6/15/10
9:53
AM ET

Phil Barber of the Santa Rosa Press-Democrat
says 49ers fullback Jehuu Caulcrick survived civil war in Liberia before becoming an NFL prospect at Michigan State. Barber: "The worst moment, Caulcrick said, occurred at home. His grandmother's school was alongside the living space, and he and some young relatives drifted there to get out of the heat one day when rebel soldiers opened fire on the building. A bullet pierced two doors and hit Caulcrick's adopted brother, 14, in the neck. The life-long friend died right in front of Caulcrick. The boy saw other things too graphic to mention in a newspaper."
Matt Maiocco of CSNBayArea.com
says the 49ers might hold their first training camp practice Aug. 2, although the team has made no announcement. Also: "Safety Taylor Mays got third-team reps with the 49ers' defense but he had a good vantage point to take part in mental reps when he wasn't one of the 11 49ers' defenders on the field. Interestingly, when the first two units were on the field, Mays was in the hip pocket of Johnnie Lynn, who serves as special assistant to the head coach/secondary, about 35 yards down the field."
Also from Maiocco
: David Carr is getting better results even though his delivery appears a bit unusual.
Matt Barrows of the Sacramento Bee
says authorities clocked 49ers defensive end Ray McDonald traveling 94 miles per hour before arresting him on suspicion of DUI. Barrows: "According to the 49ers, McDonald told the team what happened immediately after his arrest. McDonald took part in this morning's practice, and afterward apologized for becoming a distraction."
Also from Barber
: a look at Patrick Willis' return to practice.
Tom FitzGerald of the San Francisco Chronicle
offers notes from 49ers practice.

Ben Malcolmson of seahawks.com
says kicker Olindo Mare has shocked coaches by making all 104 field-goal tries during offseason practices. Special-teams coach Brian Schneider: "He's incredible. He's so accurate and consistent. It makes you feel confident that you're going to get points when you get the opportunity."
Danny O'Neil of the Seattle Times
says Leroy Hill's return to the Seahawks suggests the team has plans for him this season. O'Neil: "Hill, 27, is still facing that charge at Issaquah Municipal Court. He has pleaded not guilty, and the case is proceeding toward a trial that could begin the final week of July. Hill also faces potential repercussions in Georgia, where he is on probation after pleading guilty to misdemeanor drug possession in April. The charge dated back to a February 2009 incident in suburban Atlanta when he was found with less than an ounce of marijuana in the car, according to the police report."
Eric D. Williams of the Tacoma News Tribune
says the Seahawks' Nick Reed likes the team's new defense. Reed: "I think it's going to give me a better opportunity to get on the field more for this team, and I'm very excited about that. They're not throwing everything at us at once. They are putting it in slowly so we're getting comfortable with everything. I think it's a good spot for me. To be honest it's not a lot different. There's a couple, different variations, but it's the same position with a few tweaks here and there."

Bob McManaman of the Arizona Republic
expects Alan Faneca and Reggie Wells to enter training camp as the Cardinals' starting guards, with the newly re-signed Deuce Lutui trying to make up lost ground.
Darren Urban of azcardinals.com
takes a player-by-player look at the Cardinals on defense. He expects Paris Lenon to start in Karlos Dansby's old spot. Urban: "Replacing Karlos Dansby isn't going to be easy (Thanks, Mr. Obvious). This is eventually Daryl Washington's spot, but maybe not this year and certainly not to start the regular season. I've already talked about the coaches' aversion to giving rookies a lot of time early."

Tim Logan of the St. Louis Post-Dispatch
was there when St. Louis business leaders toured Lucas Oil Stadium in Indianapolis with an eye toward building a new stadium for the Rams eventually. Logan: "In Indy, three years of negotiations led to a deal in which tax dollars covered most of the cost of the $1.1 billion stadium, and in which the Colts get the vast majority of gameday revenue (concessions, signage, etc.). That may not sound like a good deal for the city, but that's not how these people see it. The new stadium, they point out, didn't just help keep the Colts in town for eight football games a year. It also hosts 100 non-football events a year, from fire department conventions to the rehearsal dinner for the wedding of the Indiana governor's daughter. It also enabled Indianapolis to sign a deal with the NCAA to regularly host men's and women's basketball Final Fours for the next 30 years (the stadium is configured to hold big basketball events, in addition to football), and with the NFL for the 2012 Super Bowl And it gave the city room to tear down the old RCA Dome and launch a major expansion of its convention center – a key piece of its downtown economic development strategy."
May, 18, 2010
5/18/10
4:20
PM ET
NFL assistant coaches are some of the best people to know for those looking to learn more about the game.
That has been my experience in covering the NFL since 1998.
I've helped push for better media access to assistants through the Professional Football Writers of America. I've also learned more about some of the issues important to coaches, including some outlined in
this recent story
about the NFL Coaches Association.
The chart shows NFLCA team reps as the association talks about forming a union.
Kevin Spencer (Cardinals), Johnnie Lynn (49ers), Dan Quinn (Seahawks) and Andy Sugarman (Rams) are the reps for NFC West coaching staffs. The 49ers' Jimmy Raye is president of the NFLCA executive committee.
It's not clear yet whether the NFLCA will move to unionize and such an effort would face a challenge even if the association did decide to move in that direction. But as coaches consider their options, these assistants presumably will be active behind the scenes.
February, 4, 2010
2/04/10
3:33
PM ET
MIAMI -- With the Seahawks announcing their 2010 coaching staff, I went through every NFC West team's staff to produce a chart allowing for easy comparison.

It's pretty clear the Cardinals do more with less than the other teams in the division. They have fewer assistants than the other teams in the NFC West.

In most cases, I have recreated official titles for each assistant coach. That explains why the Cardinals have no offensive coordinator listed (Russ Grimm coordinates the running game, Mike Miller coordinates the passing game and Ken Whisenhunt calls the plays). I did not create a special category for 49ers receivers coach Jerry Sullivan (he also carries the title senior assistant). Seattle's Carroll is also executive vice president. I did not create an extra category to reflect that title.

I have listed no offensive line coach for the Cardinals. Grimm handles those duties. The 49ers do not list a defensive quality control coach, but clearly someone must break down the upcoming opponents' offensive video (I am checking to see which assistant handles those duties). Update: Outside linebackers coach Jason Tarver handles those duties. Also, I updated the chart to reflect Curtis Modkins' departure from the Cardinals to become Buffalo's offensive coordinator. Ray Brown is the new assistant offensive line coach in San Francisco.

The Rams are expected to hire a receivers coach after Charlie Baggett left. They could hire an assistant offensive line coach to replace Art Valero, who took the same job with Seattle. The 49ers might need to find a new offensive quality-control coach (Shane Day is interviewing with the Bears to coach quarterbacks for Mike Martz).

The Rams and Seahawks list special assistants to the head coach. These are largely administrative positions.

February, 13, 2009
2/13/09
10:54
AM ET
Posted by ESPN.com's Mike Sando
NFC West coaching staffs are mostly complete after the Rams assigned titles to Frank Leonard, Paul Ferraro, Andre Curtis and Clayton Lopez.
The chart shows which coaches retained their titles from the end of last season (gray shading) and which coaches are new to their current roles (yellow shading). The Cardinals could face additional changes if they fill vacancies from within.
| | | | | |
| --- | --- | --- | --- | --- |
| Title | Cardinals | 49ers | Seahawks | Rams |
| Head Coach | Ken Whisenhunt | Mike Singletary | Jim Mora | Steve Spagnuolo |
| Off. Coord. | (open) | Jimmy Raye | Greg Knapp | Pat Shurmur |
| OL | Russ Grimm | Chris Foerster | Mike Solari | Steve Loney |
| QB | (open) | Mike Johnson | Bill Lazor | Dick Curl |
| WR | Mike Miller | Jerry Sullivan | Robert Prince | Charlie Baggett |
| RB | Maurice Carthon | Tom Rathman | Kasey Dunn | Sylvester Croom |
| TE | Freddie Kitchens | Pete Hoener | Mike DeBord | Frank Leonard |
| Def. Coord. | (open) | Greg Manusky | Gus Bradley | Ken Flajole |
| DL | Ron Aiken | Jim Tomsula | Dan Quinn | Brendan Daly |
| LB | Bill Davis | (shared) | Zerick Rollins | Paul Ferraro |
| DB | Teryl Austin | (shared) | Tim Lewis | (shared) |
| Special Teams | Kevin Spencer | Al Everest | Bruce DeHaven | Tom McMahon |
All four offensive line coaches remain in their roles from last season (subject to change if Russ Grimm becomes the Cardinals' offensive coordinator). Every other core staff position features at least one change in the division.
The 49ers and Rams have the largest staffs with 20 members apiece, counting head coaches. The Seahawks reduced to 18 after moving assistant offensive line coach Mike DeBord to tight ends and eliminating the job of assistant special teams coach John Jamison. The Cardinals have 13 coaches, a number that figures to rise by at least three.
The 49ers and Rams have full-time administrative assistants assigned to their head coaches. The Cardinals do not formally list an assistant strength and conditioning coach, although Pete Alosi does help John Lott in that area.
February, 5, 2009
2/05/09
4:20
PM ET
| | | | | |
| --- | --- | --- | --- | --- |
| Title | Cardinals | 49ers | Seahawks | Rams |
| Head Coach | Ken Whisenhunt | Mike Singletary | Jim Mora | Steve Spagnuolo |
| Off. Coord. | Todd Haley | Jimmy Raye | Greg Knapp | Pat Shurmur |
| OL | Russ Grimm | Chris Foerster | Mike Solari | Steve Loney |
| QB | Jeff Rutledge | Mike Johnson | Bill Lazor | Dick Curl |
| WR | Mike Miller | Jerry Sullivan | Robert Prince | Charlie Baggett |
| RB | Maurice Carthon | Tom Rathman | Kasey Dunn | Sylvester Croom |
| TE | Freddie Kitchens | Pete Hoener | Mike DeBord | (unnamed) |
| Def. Coord. | C. Pendergast | Greg Manusky | Gus Bradley | Ken Flajole |
| DL | Ron Aiken | Jim Tomsula | Dan Quinn | Brendan Daly |
| LB | Bill Davis | (shared) | Zerick Rollins | (unnamed) |
| DB | Teryl Austin | (shared) | Tim Lewis | (unnamed) |
| Special Teams | Kevin Spencer | Al Everest | Bruce DeHaven | Tom McMahon |
Posted by ESPN.com's Mike Sando
NFC West coaching staffs are mostly complete. The chart provides a general overview showing which coaches are primarily overseeing key areas.
Some coaches have fancy titles. I'll list those below. Including those titles in the chart would have served them but not us.
The 49ers have two coaches assigned to linebackers and two assigned to the secondary:
Jason Tarver is a defensive assistant/outside linebackers. Vantz Singletary is coaching inside linebackers. Coach Mike Singletary and defensive coordinator Greg Manusky are former NFL linebackers, so the 49ers have that position covered.

Vance Joseph and Johnnie Lynn are both listed as secondary coaches.

The Rams have not named coaches at tight
end, linebacker or secondary. However, they have hired Andre Curtis and Paul Ferraro as unspecified defensive assistants. They have also hired Frank Leonard as an unspecified offensive assistant.
The Seahawks and Cardinals do not list administrative assistants as part of their staffs. Bill Nayes and Bruce Warwick fill those spots for the 49ers and Rams, respectively.
The following team-by-team list includes all the fancy titles, plus some coaches who did not appear on the chart: