September, 2, 2014
Sep 2
8:00
AM ET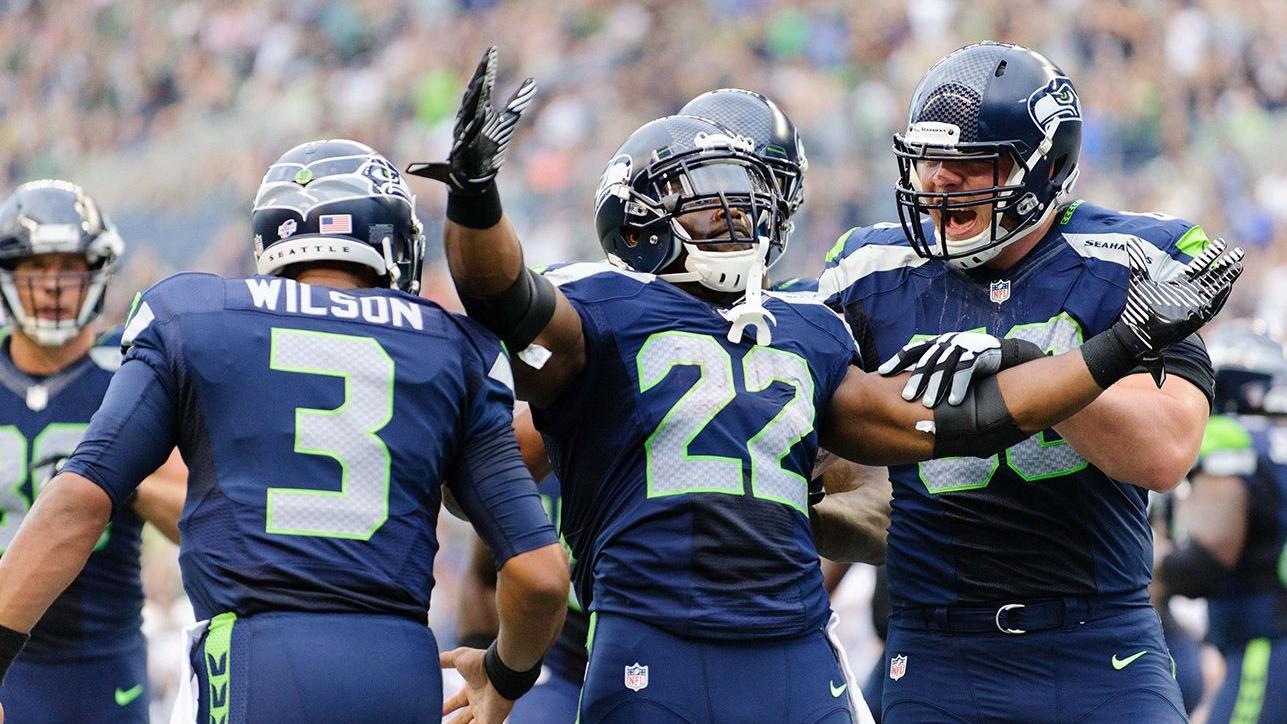 ESPN.com
Seattle Seahawks
reporter Terry Blount makes his game-by-game picks for the 2014 season.
Week 1: Green Bay Packers
All the pregame hype will center around the so-called Inaccurate Reception, the controversial Hail Mary catch by Golden Tate two years ago that won the game over the Packers at Seattle on a Monday night. Tate has moved on to Detroit, but the Seahawks now have too many weapons for the Packers to stop, no Hail Mary required. Prediction: Win
---
Week 2: at San Diego Chargers
The Chargers better hope they play a lot better than they did in the preseason game at Seattle, a 41-14 victory for the Seahawks on Aug. 15. San Diego will play better, but not good enough to beat a much better team. Prediction: Win
---
Week 3: Denver Broncos
The Broncos and their fans got a tiny bit of meaningless Super Bowl revenge in the preseason opener with a 21-16 victory over the Seahawks in Denver. Enjoy it while it lasts, boys. Repeating that outcome in Seattle is not an option. Prediction: Win
---
Week 5: at Washington Redskins
Traveling coast to coast to play on the road for a Monday night game is a tough task against any NFL opponent, and even tougher against quarterback Robert Griffin III. But the Seahawks catch a break in this one by coming off a bye week with plenty of time to prepare and be fresh for the journey. Prediction: Win
---
Week 6: Dallas Cowboys
Cowboys owner Jerry Jones gave Seattle a little bulletin-board material last month when he said the Seahawks were to blame for the increase in penalty flags during the preseason. There won't be near enough flags against Seattle for the Cowboys to win this one. Prediction: Win
---
Week 7: at St. Louis Rams
Any division game in the NFC West is a rugged battle. The Rams have a defensive line that gave the Seahawks problems a year ago. But they aren't strong enough overall to beat Seattle, even at home in their out-of-date dome. Prediction: Win
---
Week 8: at Carolina Panthers
The Seahawks were fortunate to win the season opener at Charlotte a year ago. That Panthers team was better than this one, but back-to-back road games against very physical defensive teams will end the Seattle winning streak. Prediction: Loss
---
Week 9: Oakland Raiders
Coming off their first loss of the season and returning home against an outmanned opponent, is there any doubt? Prediction: Win
---
Week 10: New York Giants
The Seahawks easily defeated the Giants 23-0 last year in New Jersey, a dress rehearsal for their Super Bowl victory at the same location -- MetLife Stadium. The Seahawks won't need a rehearsal to roll past the Giants in this one. Prediction: Win
---
Week 11: at Kansas City Chiefs
This likely will be a low-scoring game between two strong defensive teams. Odds are against any team that has to try to win by matching its defense against the Seahawks' D. Prediction: Win
---
Week 12: Arizona Cardinals
The last time the Cardinals played at CenturyLink Field was last December when they handed the Seahawks a 17-10 loss. That won't happen again unless the Seahawks get caught looking ahead to the 49ers game. The Seahawks don't look ahead. Prediction: Win
---
Week 13: at San Francisco 49ers
It's a Thanksgiving night, national TV game in the 49ers' shiny new stadium against the hated Seahawks. If San Francisco can't win this one, its time as a championship contender is over. Prediction: Loss
---
Week 14: at Philadelphia Eagles
This is the toughest part of the season for the Seahawks with back-to-back road games against likely playoff contenders. But the 10 days between games will help and be enough of a cushion to keep Seattle from losing two in a row. Prediction: Win
---
Week 15: San Francisco 49ers
This is a game that could decide which team wins the NFC West. No way the Seahawks lose to the 49ers twice in three weeks, especially not in front of a rabid full house of 12s. Prediction: Win
---
Week 16: at Arizona Cardinals
The Cardinals probably will be fighting for a playoff spot, and the Seahawks already will be in at 12-2. That difference will be just enough for Arizona to win at home in the same stadium where the Seahawks will win the Super Bowl a few weeks later. Prediction: Loss
---
Week 17: St. Louis Rams
For the second consecutive year, the Rams close the regular season in Seattle. And for the second consecutive year, the Seahawks will beat them without much trouble. Prediction: Win
---
Predicted Record: 13-3
December, 13, 2012
12/13/12
1:10
PM ET
NFC West teams face in Week 15 the two NFL teams with the most rushing attempts and rushing yards against nickel and dime defenses.
That provides an opportunity to show how these teams have fared against the run when using these sub packages.
The first chart shows the
New England Patriots
with a league-high 291 carries for a league-high 1,361 yards and six touchdowns against these lighter defensive personnel packages featuring additional defensive backs. It also shows the
San Francisco 49ers
holding opponents to 3.9 yards per attempt with no rushing touchdowns from their own nickel an dime units.
Matt Barrows of the Sacramento Bee takes
a closer look
at this aspect of the 49ers-Patriots matchup set for Sunday night at Gillette Stadium.
I have excluded quarterback scrambles from the breakdowns.
The second chart shows the corresponding numbers for the
Buffalo Bills
' offense and
Seattle Seahawks
' defense. The teams play in Toronto.
Buffalo ranks second to New England with 1,306 yards rushing against nickel and dime defenses. That is because the Bills, like the Patriots, spend most of their time in pass-oriented personnel groupings, even when they want to run the ball. More traditional teams such as Minnesota, which faces the
St. Louis Rams
in Week 15, do more of their running against base defenses.
The Seahawks' nickel and dime defenses have allowed 4.6 yards per carry this season overall.
Frank Gore
's 37-yard run against Seattle pumped up that average.
As noted, the charts exclude yards gained by quarterback scrambles. That is one area to watch in Week 15.
The Bills rank eighth in scramble yards with 147 on 23 carries, with six first downs. Seattle has allowed 72 yards on seven scrambles.
Aaron Rodgers
had a 16-yard scramble against Seattle.
Ryan Tannehill
and
Cam Newton
had 15-yarders. Note that scrambles differ from designed rushes.
Also in Week 15, Arizona faces a
Detroit Lions
offense that ranks fourth with 920 non-scrambling rush yards against nickel and dime defenses. Detroit ranks second to New England in total non-scramble plays against these defenses. The Lions, like Buffalo and New England, predominantly use pass-oriented personnel groupings.
The Cardinals gave up 33-yard runs to Seattle's
Marshawn Lynch
and Buffalo's
C.J. Spiller
on these plays. Lynch had additinal runs for 20, 15 and 11 yards on them. Spiller also had a 17-yarder.
The Lions'
Joique Bell
had a 67-yard run in Week 13 against Indianapolis' lighter defensive personnel. He had corresponding runs for 26 and 23 yards against Houston a week earlier.
September, 19, 2012
9/19/12
8:11
AM ET
You know times are changing in the NFC West when someone assigned to cover the NFL at large dedicates 824 mostly kind words to the division.
You really know times are changing when some of those words focus on improving play at the quarterback position.

Don Banks of Sports Illustrated
points to the NFC West's 5-1 record outside the division as evidence. Banks: "The division's current success ratio isn't likely to hold up all year, but on the two most important fronts in the game -- quarterbacking and coaching -- the NFC West looks to be in much better shape than it has for quite some time. Rookie quarterback Russell Wilson has been a revelation so far in Seattle, and Rams quarterback Sam Bradford is showing signs of returning to his stellar rookie form of 2010 after the struggles of 2011. San Francisco's Alex Smith, once all but dismissed as a long-term starting option for the 49ers, has become the division's gold standard at the position, and even Arizona's Kevin Kolb has returned to relevancy in the past two weeks after losing his job to John Skelton coming out of the preseason."
Noted:
Kolb's production at New England wasn't all that good, but there were encouraging signs in how he ran the offense. Most striking, I thought, was the way Kolb hung in the pocket. Seems like he can build on that performance.
Darren Urban of azcardinals.com
says outside linebacker Quentin Groves appears to be enjoying a rebirth with the Cardinals after disappointing stops in Jacksonville and Oakland. Groves: "I didn't study as much as I should, not putting in the extra film work as much as I should, not taking care of my body and eating right as much as I should. By the grace of God, I've been an exceptional athlete. To be drafted in the second round and coming into the league, I got complacent. Now I'm back on my grind, doing the little things better. Instead of going home and picking up a video game, I pick up my playbook or pick up my iPad and watch film."
Also from Urban
: The Cardinals' penchant for blocking field goal tries couldn't stop coach Ken Whisenhunt from worrying about New England lining up for the potential game-winning kick Sunday.
Kent Somers of the Arizona Republic
offers observations on the Cardinals' victory at New England. He singles out Darnell Dockett as a key player.

Matt Barrows of the Sacramento Bee
says the 49ers' Aldon Smith avoided serious injuries during a recent car crash in which Smith was a passenger. Smith: "It's life. You can sit here and make it want you want. But really it's life. I'm in a good spot right now. I was able to go out and get seven tackles and two sacks, and now I'm ready for Minnesota and ready for the rest of the season."
Matt Maiocco of CSNBayArea.com
offers thoughts on how each of the 49ers' offensive players performed against Detroit. On left guard Mike Iupati: "Had a much stronger game in run-blocking than pass protection."
Also from Maiocco
: a look at how the 49ers' defensive players performed. On free safety Dashon Goldson: "He started at free safety and played every snap. Made a diving interception of a wobbling Matthew Stafford pass late in the first quarter. He got to his feet and returned it 23 yards to set up a 49ers touchdown. Did a great job of flying up from deep in the secondary to drop Joique Bell for a 2-yard gain early in second quarter. He was very decisive in coming up to support the run and finished his tackles. He was credited with six tackles, an interception and a pass defensed."

Jim Thomas of the St. Louis Post-Dispatch
checks in with newly activated Rams receiver Austin Pettis. Thomas: "To make room for Pettis on the 53-man roster, rookie offensive guard Rokevious Watkins was placed on the injured reserve list. Watkins, a fifth-round pick from South Carolina, suffered what team officials said was a significant ankle injury at the end of the Rams' season-opening loss in Detroit. He was using crutches last week and did not play against Washington. His departure leaves the Rams with two backups on the interior offensive line in guard Shelley Smith and center-guard Tim Barnes."
Jeff Gordon of stltoday.com
looks at the Rams' situation on the offensive line. He credits head coach Jeff Fisher and line coach Paul T. Boudreau for helping the Rams overcome injuries at the position. Gordon: "Boudreau has produced good offensive lines at every NFL stop, including his earlier stint at Rams Park. And Fisher's make-no-excuses mandate has the team seeking solutions rather than dwelling on problems. Every coach preaches a "next man up" philosophy, but Fisher has the gravitas to make the players actually believe it."

Clare Farnsworth of seahawks.com
says the team achieved all 12 of its goals on special teams against Dallas, a first in the career of special-teams coach Brian Schneider. Farnsworth: "Schneider has 12 goals for his units in each game -- from 100 percent effort, to penalty free, to eliminating big plays by the opponent. Achieve one, a Seahawks logo is placed next the category on the large board that hangs in the hallway between the locker room and the training room. Achieve all 12, as Schneider's units did on Sunday at CenturyLink Field, and it's Seahawks logos all around. Unprecedented? It's a first not only for Schneider since he joined Pete Carroll's staff in 2010, it's the first time any of his special teams have pitched a 12 -– including his time with the Oakland Raiders (2007-08) and college stints at USC (2009), Iowa State (2006), UCLA (2003-05) and Colorado State (1994-2002)."
Also from Farnsworth
: Seahawks notes, including one about the team holding the highest winning percentage in the history of "Monday Night Football" telecasts. Seattle is 17-8 (.680). Pittsburgh, San Francisco, Indianapolis and the New York Giants are next.
Also:
Frank Omiyale provided a "credible" performance against DeMarcus Ware while subbing for Russell Okung at left tackle.
Dave Boling of the Tacoma News Tribune
says the Seahawks' current defense might be the best one in franchise history. Boling: "An obvious omission right now, though, is the lack of sacks, as they've registered only two in two games. It was a point of emphasis coming into this season, and -- especially in the Dallas game -- defensive coordinator Gus Bradley put together some creative rush packages. Although sacks didn't result, Pete Carroll said he considered the pressure on the quarterback much improved against Dallas. The other area below standard is stopping third-down conversions. The Hawks have allowed opponents to convert 10 of 23 third downs. The statistics fail to measure the physically intimidating play of this unit, which is its dominant characteristic. And in games at home, it inflames the fans, which, in turn, further energizes the players."