NFC West:

Jonathan Nelson
December, 22, 2011
12/22/11
10:43
AM ET
Rookie draft choices are making strong contributions throughout the NFC West, but less so in St. Louis after the NFL suspended receiver
Austin Pettis
.
More on the Rams' rookie class below. First, a look at how other teams' rookies have fared:
Seattle: Fourth-round linebacker K.J. Wright and fifth-round cornerback Richard Sherman are flourishing as starters for Seattle. First-rounder James Carpenter and third-rounder John Moffitt were starting for the Seahawks until injuries ended their season.
San Francisco: First-rounder Aldon Smith has become a candidate for defensive rookie of the year with 13 sacks in 14 games. Third-rounder Chris Culliver and fourth-rounder Kendall Hunter have become key role players on an 11-3 team. Seventh-rounder Bruce Miller has developed into the starting fullback. The team asked nothing right away from second-round choice Colin Kaepernick, the backup quarterback.
Arizona: The Cardinals' first-round choice, Patrick Peterson, has set records as a return specialist, returning four punts for touchdowns. He has started all season at cornerback and has increasingly made positive contributions to an improving defense. Fourth-round outside linebacker Sam Acho and fifth-round fullback Anthony Sherman have become solid starters. Acho has five sacks. Sixth-rounder David Carter has contributed as part of the rotation on the defensive line.
Back to the Rams. As the chart shows, first-rounder
Robert Quinn
and second-rounder
Lance Kendricks
remain on the 53-man roster. Pettis, a third-round choice, and fourth-rounder
Greg Salas
are out for the season. The Rams drafted four additional players, three in the seventh round, and none remains with the team.
St. Louis had no 2011 sixth-rounder after sending it to Baltimore in the
Mark Clayton
trade. Clayton made an immediate impact last season, but injuries have forced him to miss 24 of 30 games.
.
December, 22, 2011
12/22/11
10:08
AM ET
News that rookie receiver Austin Pettis had been suspended for using performance-enhancing drugs delivered more bad news for the St. Louis Rams' 2011 draft class.
With Pettis out through the first two games in 2011, the Rams have only two of their own rookie draft choice on their 53-man roster.

First-round choice Robert Quinn and second-rounder Lance Kendricks remain active for the Rams from a group that included Pettis (suspended), Greg Salas (injured reserve), Jermale Hines (released, now with Indianapolis), Mikhail Baker (released), Jabara Williams (released, now with Chicago) and Jonathan Nelson (released, now with Carolina).
Jim Thomas of the St. Louis Post-Dispatch
offered details on what the suspension means for Pettis. Thomas: "Pettis is eligible to participate in all offseason and preseason practices and games following the conclusion of this season. But regardless of whether there's a head-coaching change or not, missing the first two contests of the 2012 season will put him behind the other wideouts on the depth chart and in his quest for playing time."
Bernie Miklasz of the St. Louis Post-Dispatch
said Rams coach Steve Spagnuolo and general manager Billy Devaney do not deserve much sympathy. Miklasz: "In a league of parity and close games, the Rams have been outscored 1,110 to 630 overall in Spags' time as head coach, with an average loss of 16 points. This team isn't competitive. Here's the odd thing: The more the Rams lose, the more we seem inclined to make excuses on their behalf or attempt to rationalize their failures. We've become enablers. And I'm not bashing the fans; the media is at fault as much as anyone. ... This isn't high school football. Spagnuolo was hired to win football games. If a coach can't win games, he's fired. He could be a saint or a sinner, but he needs to be a winner. Besides, Spagnuolo has fired trainers, an equipment manager and other employees at Rams Park. A big part of his job is terminating players. It's nothing personal. So why are we so sensitive about Spagnuolo's future?"

Clare Farnsworth of seahawks.com
says Paul McQuistan's use across the Seahawks' offensive line tells a story. Farnsworth: "The trials and tribulations of the Seahawks' injury-ravaged offensive line can he traced by following McQuistan's progression from being a backup; to starting at left guard; to returning to his backup role; to starting at right guard; to starting at left tackle. McQuistan stepped in at left guard because Robert Gallery was out with a groin injury. He moved in at right guard after rookie John Moffitt went down with a season-ending knee injury. He slid over to left tackle when Russell Okung needed season-ending surgery to repair a torn pectoral."
Also from Farnsworth
: Tarvaris Jackson has stepped up his game in second halves recently.
Danny O'Neil of the Seattle Times
says injuries haven't stopped the Seahawks' offensive line from succeeding.
Eric D. Williams of the Tacoma News Tribune
checks in with 49ers coach Jim Harbaugh, who laments not drafting receiver Doug Baldwin. Baldwin and cornerback Richard Sherman are two Seattle players with roots on Harbaugh's former Stanford teams. Harbaugh: "Yeah, I'm kicking myself for not doing that. And at the same time I'm really, really happy for Doug. I've watched him this whole year whenever we're watching crossover tape. Or I've sometimes put on the tape, just to watch him and Richard. And I've seen him really grow the whole season."
Also from Williams
: Marshawn Lynch has become the Seahawks' face.

Kent Somers of the Arizona Republic
updates the Cardinals' quarterback situation heading into Week 16. Sounds like John Skelton might get another start over Kevin Kolb, who remains limited following a concussion. Somers: "On Monday, Whisenhunt said the fairest way to prepare one of the quarterbacks was to give him most of the work in practice. Judging by Wednesday's events, that appears to be Skelton. Kolb was listed as limited in practice, while Skelton is healthy. The Cardinals are 5-1 in games Skelton has either started or taken the majority of the snaps. Skelton has a tendency to start slowly and finish strongly. In four of Skelton's past eight games, the Cardinals have made game-winning drives in the fourth quarter."
Also from Somers, with Jim Gintonio
: Deuce Lutui professes to be a changed man after nearly landing with the Cincinnati Bengals during the offseason. Lutui: "Where I was and where I'm at now, I could have seen it as frustration or I could have seen it as a problem or stated it as an opportunity. I've taken it as an opportunity. I've taken all the help that I can get. I've stuck in with John Lott (strength and conditioning coach), really a credit to him in helping me get in the best shape that I can. ... I also worked with my head, off the field, and went in with a mental coach. I've got a mental coach that's helped me elevate my game and alter the way I think for the next offseason, and so I've put a lot in my mind and body this year.""
Darren Urban of azcardinals.com
has this to say about the quarterback situation in Arizona: "The way the defense has been performing for the Cards would help any quarterback. Skelton has had plenty of rough patches, but Whisenhunt acknowledged he'd rather have a quarterback that can finish than one who starts fast and fades. Skelton, whose beginnings to games have been almost as unimpressive as his finishes impressive, certainly falls into that category."

Matt Barrows of the Sacramento Bee
says Braylon Edwards is anxious to get back on the field for the 49ers. Tight end Vernon Davis tweeted words of support to Edwards, who has struggled and was not active Monday night. Davis: "Just the look on his face is he wants to be out there bad. But I don't know the reason he's not. That's up to the coaches and him and Ferg (head trainer Jeff Ferguson) and the trainers. ... Just saying kind words like that keeps a guy like that level-headed and keeps him hungry and keeps him ready to go at any time. And I just felt that upon my spirit to lay that out there. And he is -- he's a guy that I'm grateful to have on the team. He's a true playmaker, and if given the opportunity I'm sure he'll take advantage of it."
Matt Maiocco of CSNBayArea.com
has this to say about Justin Smith in his defensive player review from Week 15: "Started at right defensive end and had an outstanding all-around game. He had three tackles, a quarterback hurry and a fumble recovery, but he also set up Aldon Smith for a couple of sacks ... Left guard Trai Essex held him for a 10-yard penalty to wipe out a 6-yard gain in the second quarter ... Fought through left side of Steelers line and Rashard Mendenhall to pressure Ben Roethlisberger into second-quarter incompletion. ... Recovered fourth-quarter fumble that directly led to 49ers touchdown ... Generously gave himself up to tie up Essex so that Aldon Smith could record a 6-yard sack ... Justin Smith did the same thing on the next series, resulting in another Aldon Smith sack."
Also from Maiocco
: an offensive player review. On Frank Gore: "Dropped a pass out of the backfield on the first drive ... Missed Cameron Heyward in blitz pickup as Smith was rushed into incompletion on first drive ... Dropped another pass on third-and-7, though it was unlikely he would've picked up first down with defensive lineman Brett Keisel standing between him and the sticks ... Called for chop block on defensive lineman Ziggy Hood, as center Jonathan Goodwin had his left hand on Hood as Gore went low to block Hood. Did not play the final nine minutes after scoring on 5-yard TD."
Grant Cohn of the Santa Rosa Press-Democrat
passes along Steve Young's thoughts on Aldon Smith, expressed recently on KNBR radio. Young compared Smith to a young Charles Haley. Young: "I've got to be honest with you. I've got to apologize to Aldon Smith because I hadn't really seen him in person all year. And I apologize, because I had no idea how great he really was until I saw him in person. And that's what matters. Hearing about it, watching it on TV and then seeing in person -- all different visceral relationships you have with something, and it matters. So around the league when everyone watched the 49ers kind of beat up on Ben Roethlisberger, don't let him score, call a couple big touchdown drives, and they hear about the defense, they've watched Aldon Smith play and (laughs) whoever doesn't think these guys are for real is kidding themselves."
Cam Inman of the San Jose Mercury News
examines Andy Lee's contributions to the 49ers. Lee was the NFC's player of the week for special teams.
September, 3, 2011
9/03/11
9:37
PM ET
The following recently released and waived/injured NFC West players are eligible for practice squads if they clear waivers:
Arizona Cardinals

Jared Campbell, Marshay Green, Sean Jeffcoat, Ricky Lumpkin, Jeremy Navarre, Aaron Nichols, Bryant Nnabuife, Kris O'Dowd, Tom Pestock, William Powell, Steve Skelton, Kendall Smith, Thad Turner, Isaiah Williams, D.J. Young.

St. Louis Rams

Damario Ambrose, Tim Atchison, DeMarco Cosby, Tae Evans, Marlon Favorite, Pete Fleps, Cody Habben, John Henderson, Kevin Hughes, Randall Hunt, Thaddeus Lewis, Greg Mathews, Jeremy McGee, Ryan McKee, Jonathan Nelson, Fendi Onobun, Chase Reynolds, Van Stumon.

San Francisco 49ers

Chase Beeler, McLeod Bethel-Thompson, Brian Bulcke, Jack Corcoran, Phillip Davis, Derek Hall, Joe Hastings, Chris Hogan, Ronald Johnson, Alex Joseph, Chris Maragos, Cory Nelms, Xavier Omon, Konrad Reuland, Kenny Rowe, Sealver Siliga, Monte Simmons, Curtis Taylor, Kenny Wiggins.

Seattle Seahawks

Pierre Allen, Dorson Boyce, Chris Carter, Paul Fanaika, Maurice Fountain, David Howard, Michael Johnson, Jameson Konz, Mark LeGree, Ricardo Lockette, Michael Morgan, Josh Pinkard, William Robinson, Owen Spencer, Vai Taua, Patrick Williams.
A few younger players are not eligible, including former St. Louis Rams receiver
Mardy Gilyard
, who spent 11 games on the game-day roster last season. Players with no accrued seasons or fewer than nine appearances on game-day rosters in their only accrued season are among those eligible. Players can spend a third season on a team's practice squad as long as their team keeps its 53-man roster full at all times.
June, 23, 2011
6/23/11
10:12
AM ET
By
ESPN.com staff
| ESPN.com
Arizona Cardinals
Quarterbacks, free agency and a look back at the draft are topics that are discussed by Paul Calvisi, Darren Urban, and Ron Wolfley in the
latest podcast on the team's website
.
Cardinals safety Kerry Rhodes, in an
in-depth Q&A with FOXSportsArizona.com
, on the Cardinals in 2011: "We're a couple players away from being right back in the mix and contending for a title. We have a nice mix of veterans and young guys, so if we can come out and attack it the way we can, barring any major injuries, we'll be right back in it."
San Francisco 49ers
Linebacker Scott McKillop
appears to be on track to be cleared to practice
if training camp opens at the end of July.
Niners Nation profiles the
kickers who might be available
once free agency starts.
Seattle Seahawks
Seahawks.com
looks back on the 1994 season
, which culminated with Tom Flores being fired.
Art Thiel weighs in on the nickname
that is inevitably going to stick with the renaming of the Seahawks' stadium: the Clink.
St. Louis Rams
Nick Wagoner
breaks down Rams rookie safety Jonathan Nelson
, who says he grew up a Tennessee Titans fan and recalls being upset following the Rams' victory in Super Bowl XXXIV.
Rodger Saffold calls himself a "
new breed of left tackle
. We're almost like bigger tight ends. With defensive ends getting lighter and faster, we have to do the same, but still keep our power."
May, 11, 2011
5/11/11
12:30
PM ET
The
Seattle Seahawks
were on the clock with the 99th overall choice in the 2011 NFL draft when the
Minnesota Vikings
called to inquire about a trade.
Coach Pete Carroll and general manager John Schneider had a decision to make. The team wanted to add more picks, so sliding back into the Vikings' spot at No. 106 carried some appeal. But the Seahawks had not addressed defense to that point in the draft, and Mississippi State outside linebacker
K.J. Wright
was a player they had been targeting.
Seattle decided to
stand pat at No. 99
.
"It is rare that you would find a linebacker with that much length (6-foot-4) and 4.6 speed,"
Carroll said after the draft
. "We need that flexibility."
[+] Enlarge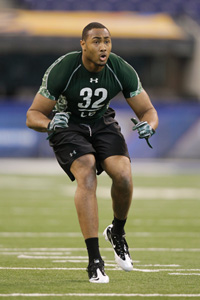 AP Photo/Michael ConroyK.J. Wright, who was drafted by the Seahawks with the No. 99 pick, was the last 4-3 strongside linebacker drafted.
This seemed a bit improbable. After all, teams selected 24 more linebackers over the remaining 155 selections. Surely one of them could have provided what the Seahawks wanted from Wright, right? Not necessarily. The more I studied those selections, the more I understood what Carroll was talking about. Wright was the fourth and final 4-3 strongside linebacker selected in the draft. All were gone among the top 100 selections.
The NFL has become so specialized, particularly on defense, that players are increasingly difficult to categorize. Seeking fresh perspective on the 2011 draft, I reclassified the 254 players chosen into 20 positional categories, based largely on how teams plan to use them. The process was imperfect because teams view players differently, and some players transcend easy categorization. But patterns that emerged were helpful in bringing the big picture into clearer focus.
Breaking down linebackers into five categories across 3-4 and 4-3 schemes was particularly helpful.
Teams selected one 4-3 strongside linebacker in each of the first four rounds, but none thereafter. They selected 12 4-3 weakside linebackers -- none in the first two rounds, five in the sixth and three in the seventh. That position carried less value relative to others based on when the players came off the board.
Nine of 11 4-3 defensive tackles went in the first three rounds, affirming how much teams value that position. Teams selected five 4-3 defensive ends in the first two rounds, then none until taking one in the fifth and four more in the seventh. Teams selected four five-technique defensive ends in the first round and one in the second, but none over the next four rounds.
I ultimately divided players into percentiles based on where they were selected in relation to other players from the same positional categories. Three NFC West players were the first players chosen at their specific positions. They were in the top percentile for their positions. Three, including Wright, were the last players chosen at their specific positions. They were in the bottom percentile.
The percentiles say nothing about whether individual players will succeed in the NFL. In some cases, players with lower percentiles probably carried more value at that moment in the draft based on how few prospects remained available at their positions.
Without categorizing players more specifically, we might not have any idea.
Overall, this draft featured 37 cornerbacks; 28 wide receivers; 24 running backs; 21 interior offensive linemen; 20 offensive tackles; 16 safeties; 13 tight ends; 12 quarterbacks; 12 4-3 weakside linebackers; 11 4-3 defensive tackles; 10 4-3 defensive ends; 10 3-4 outside linebackers; eight five-technique defensive ends; seven 3-4 inside linebackers; seven fullbacks; six 4-3 middle linebackers; four 4-3 strongside linebackers; four nose tackles; and two specialists. Two defensive linemen -- Kansas City's
Allen Bailey
and Baltimore's
Pernell McPhee
-- qualified as nickel pass-rushers.
And now, a look at all 35 NFC West draft choices, listed by how early they were drafted in relation to other players at their specific positions:
First quarter: 75th percentile and higher
Patrick Peterson
, CB,
Arizona Cardinals
: First of 37 cornerbacks selected
Aldon Smith
, OLB,
San Francisco 49ers
: First of 10 3-4 outside linebackers
Robert Quinn
, DE,
St. Louis Rams
: First of 10 4-3 defensive ends
Ryan Williams
, RB, Cardinals: Second of 24 running backs, putting him in the 91.7 percentile for the position (FBs excluded)
Lance Kendricks
, TE, Rams: Second of 13 tight ends (84.6)
James Carpenter
, T, Seattle Seahawks: Fourth of 20 offensive tackles (80.0)
Chris Culliver
, CB, 49ers: Eighth of 37 cornerbacks (78.4)
Rob Housler
, TE, Cardinals: Third of 13 tight ends (76.9)
John Moffitt
, G, Seahawks: Fifth of 21 interior offensive linemen (76.2)
Second quarter: 50th to 74th percentile
Anthony Sherman
, FB, Cardinals: Second of seven fullbacks (71.4)
Austin Pettis
, WR, Rams: Eighth of 28 wide receivers (71.4)
Kendall Hunter
, RB, 49ers: Tenth of 24 running backs (58.3)
Bruce Miller
, FB, 49ers: Third of seven fullbacks (57.1)
Kris Durham
, WR, Seahawks: 12th of 28 wide receivers (57.1)
Daniel Kilgore
, C, 49ers: 10th of 21 interior offensive linemen (52.4)
Sam Acho
, OLB, Cardinals: Fifth of 10 3-4 outside linebackers (50.0)
Colin Kaepernick
, QB, 49ers: Sixth of 12 quarterbacks (50.0)
Greg Salas
, WR, Rams: 14th of 28 wide receivers (50.0)
Third quarter: 25th to 49th percentile
Richard Sherman
, CB, Seahawks: 24th of 37 cornerbacks (35.1)
Mark LeGree
, S, Seahawks: 11th of 16 safeties (31.3)
Quan Sturdivant
, ILB, Cardinals: Fifth of seven 3-4 inside linebackers (28.6)
Byron Maxwell
, CB, Seahawks: 27th of 37 cornerbacks (27.0)
David Carter
, DE, Cardinals: Sixth of eight five-technique defensive ends (25.0)
Jermale Hines
, S, Rams: 12th of 16 safeties (25.0)
Fourth quarter: Zero to 24th percentile
Colin Jones
, S, 49ers: 13th of 16 safeties (18.8)
Jabara Williams
, LB, Rams: 10th of 12 4-3 weakside linebackers (16.7 )
Ronald Johnson
, WR, 49ers: 24th of 28 wide receivers (14.3)
Mikail Baker
, CB, Rams: 32nd of 37 cornerbacks (13.5)
Pep Levingston, DE, Seahawks: Seventh of eight five-technique defensive ends (12.5)
Mike Person
, C, 49ers: 19th of 21 interior offensive linemen (9.5)
Malcolm Smith
, LB, Seahawks. Eleventh of 12 4-3 weakside linebackers (8.3)
Jonathan Nelson
, S, Rams: 15th of 16 safeties (6.3)
K.J. Wright, LB, Seahawks: Fourth of four 4-3 strongside linebackers (0.0)
DeMarco Sampson
, WR, Cardinals: 28th of 28 wide receivers(0.0)
Curtis Holcomb
, CB, 49ers: 37th of 37 cornerbacks (0.0)
May, 5, 2011
5/05/11
9:34
AM ET

Kent Somers of the Arizona Republic
says the Cardinals' recently drafted receiver, DeMarco Sampson, has joined Larry Fitzgerald and other NFL players for workouts at Arizona State University. Somers: "Sampson and Fitzgerald were among about 20 quarterbacks and receivers who threw and caught during a session Wednesday morning. Many other Cardinals players were there, including quarterbacks John Skelton and Rich Bartel, and receivers Steve Breaston, and Stephen Williams. Redskins quarterback Donovan McNabb, who lives in Chandler in the off-season, also threw, and Ravens tight end Todd Heap, a product of Arizona State, was among the receivers. Fitzgerald has tried to keep the workouts low-key."
Dan Bickley of the Arizona Republic
says the Cardinals' decision to draft Ryan Williams in the second round two years after drafting Beanie Wells in the first makes Wells a bust.

Danny O'Neil of the Seattle Times
reproduces quotes from Pete Carroll regarding Matt Hasselbeck. From April 26: "Well, we had good dialogue to get started, and we went up to the time frame that we had available so that's all we could do. Then it ended. We weren't able to get anything done at that time. So when the opportunities arise again where we can get going on it again we'll be right after it again and we'll see where it all fits. Some time has passed now. There could be some things that have changed. We'll just have to see when we start to re-open the conversations." Nothing has changed in terms of the roster. The team did not draft a quarterback.

Nick Wagoner of stlouisrams.com
passes along draft grades for the Rams. On the verdict from Pro Football Weekly's Nolan Nawrocki: "Says the Rams addressed all major needs with the exception of a backup running back and upgraded their speed off the edge with Robert Quinn. Likes the reliability of Lance Kendricks, Austin Pettis and Greg Salas and says the Rams did well for depth and special teams late in the draft. Went so far as to say Jermale Hines and Jonathan Nelson both have 'starter' potential." Guard and outside linebacker also remain potential needs for the Rams once free agency opens.
D'Marco Farr of 101ESPN St. Louis
analyzes the Rams' decision to select tight end Lance Kendricks with the 47th overall choice. Farr: "It's kind of like breaking in a new pair of shoes. Sure, it may hurt for a little while, but eventually shoe leather gives way to the natural curvature of your foot and all is well. I'm sure once I actually get to see the team take the field and run plays on offense, I'll start to appreciate Lance Kendricks in a way I can't understand right now. New offensive coordinator Josh McDaniels wasn't considered the hottest young head coaching prospect in the NFL by being stagnant and antiquated in his offensive philosophy."

Matt Maiocco of CSNBayArea.com
says he's generally skeptical about draft classes and has reason to feel that way again regarding the 49ers' class for 2011. Maiocco: "My biggest issue with the 49ers' draft was, to brazenly quote myself, was that it 'was loaded with players who probably aren't close to being game-ready, except to contribute on special teams. The 49ers invested a lot of picks in players who are being asked to make difficult position changes. In other instances, the 49ers seemed to favor height-weight-speed and potential over college production.' "
Matt Barrows of the Sacramento Bee
lists future free agents who visited 49ers headquarters before the draft. Might the 49ers target them when the signing period opens?
Taylor Price of 49ers.com
offers highlights from general manager Trent Baalke's appearance on Sirius radio. Baalke's description of the 49ers' philosophy heading into the draft is exactly what we thought it would be heading into the draft. Baalke: "Either address the corner position or the pass rush position, whichever we felt we could get the most value from with the first pick, and then circle back and pickup the quarterback."
Kevin Lynch of Niner Insider
looks back at the 49ers' draft from 2009. Only one of the top five picks, Michael Crabtree, has made a significant contribution to the team.
Eric Branch of the Santa Rosa Press-Democrat
says the 49ers wanted to draft Stanford's Owen Marecic.
May, 1, 2011
5/01/11
4:09
PM ET
Mel Kiper Jr. gave the
St. Louis Rams
a
B grade
for their efforts in the 2011 NFL draft.

Everything looks better with a young, ascending quarterback in place.
The Rams used three of their first four picks on weapons for
Sam Bradford
. All three fit the mold for new coordinator Josh McDaniels, who
prefers big receivers
. All three should help the Rams
improve in the red zone
, where they struggled badly last season.
First-round choice
Robert Quinn
added pass-rush help to a defense that wasn't hurting in that area, but still had longer-term concerns. Kiper thought Quinn could have been a No. 1 overall selection on raw talent. Quinn went later after serving a one-year suspension in 2010. A benign brain tumor was another potential concern.
The Rams' calculated gambles went beyond Quinn. Receivers
Austin Pettis
and Greg Salas do not seem to add the speed element the Rams could use on the outside. General manager Billy Devaney cautioned against overvaluing speed at the expense of finding good players. Those warnings are fair. Also, the most dynamically talented receivers tend to go earlier in the draft. Receivers available after the first round tend to have holes in their games. The Rams went for bigger, physical, more reliable targets. They weren't going to get
A.J. Green
or
Julio Jones
.
Later in the draft, the Rams took chances with players carrying injury histories. Seventh-rounders Mikail Baker and
Jonathan Nelson
come to mind. There are no perfect prospects in the seventh round, of course. Teams are making educated guesses and hoping for some luck.
The Rams still have work to do, but it's low-pressure work. While division rivals search for quarterbacks, the Rams can target free agents at defensive tackle, guard and possibly linebacker. Oh, and there's always the now-annual search for a complementary running back. They took tight end
Lance Kendricks
at No. 47, nine spots before McDaniels' former team, New England, took running back
Shane Vereen
. They took Pettis, the receiver, five spots after New England selected another running back,
Stevan Ridley
.
Eleven running backs came off the board between the Rams' fourth- and fifth-round selections.
"It was probably close a couple of times and we didn't force it," Devaney told reporters. "There were running backs that we were thinking about taking and they went before our next pick came up. But we didn't react by saying, 'OK, we lost the back, now we've got to drop down in value in this round and take a back no matter what [even] if he doesn't warrant going there.' It didn't work out."
That was true for teams across the league. The Rams weren't going to fill every need.