March, 10, 2012
3/10/12
9:41
PM ET
Peyton Manning
is
expected to visit
with the
Arizona Cardinals
after leaving the
Denver Broncos
.
That visit could begin Saturday night if suspicions are correct and Manning boarded
this flight from Denver
, as friend of the NFC West blog
Dustin Holmes suspected
.
That's as close to the NFC West as some would like Manning to come.
St. Louis Rams
linebacker
James Laurinaitis
,
speaking recently
with Bernie Miklasz on 101ESPN St. Louis, called Manning "a nightmare to play against" and said he'd prefer to keep the free-agent quarterback out of the division. Laurinaitis also offered insight into one way a healthy Manning can give a defense problems.
"I was unfortunately a rookie trying to audible at the line of scrimmage," Laurinaitis said. "He will let that play clock run down to one second before he snaps it, three plays in a row, and you think the next play he's going to do the same thing, so you go up there, try to disguise and he snaps it with 24 seconds left on the play clock. He just messes with you the whole, entire game."
The chart shows how Manning fared against the NFC West when Indianapolis faced the division in 2009. The
San Francisco 49ers
held Manning without a touchdown pass that year. They took a 14-12 lead into the fourth quarter before the Colts scored the game-winning touchdown on a pass from running back
Joseph Addai
to receiver
Reggie Wayne
.
There are no indications Manning plans to sign with a team in the immediate future. We also do not know whether he plans to visit teams beyond Denver, Arizona and Miami.
.
October, 21, 2011
10/21/11
1:30
PM ET
»
NFC Final Word
:
East
|
West
|
North
|
South
»
AFC
:
East
|
West
|
North
|
South
Five nuggets of knowledge about Week 7:
[+] Enlarge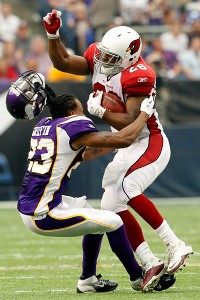 AP Photo/Genevieve RossCardinals RB Beanie Wells is poised to have a breakout game this week against the Pittsburgh Steelers.
Setting the tone with Beanie Wells:
The violent stiff-arm Arizona's running back delivered against Minnesota demonstrated, again, what kind of runner Wells can be. The Cardinals should expect a strong effort from Wells against a
Pittsburgh Steelers
defense that has softened against the run.
Arian Foster
(155 yards),
Ray Rice
(107),
Maurice Jones-Drew
(96) and
Joseph Addai
(86) have combined for 444 yards against the Steelers this season. Pittsburgh has allowed more yards rushing through six games this season (677) than it allowed through 10 games (630) last season. Wells is averaging 95.2 yards per game, fourth-most in the NFL. He ranks tied for second in rushing touchdowns with six, despite missing one game to injury and having a bye week.
Solving Ben Roethlisberger:
The Cardinals' pass defense has been a weakness. Conventional wisdom says defenses are best off keeping the Steelers' quarterback from setting up on the perimeter. So far this season, however, Roethlisberger has completed only five of 14 attempts for 57 yards with two touchdowns and two interceptions from outside the pocket. His Total QBR (7.0) and NFL passer rating (48.8) both rank 28th in the NFL from outside the pocket. Roethlisberger ranks among the top 10 in both categories from inside the pocket. He has been particularly effective on play-action passes (five touchdowns, one interception, 87.9 QBR, 117.7 NFL rating).
The Brandon Lloyd effect:
Lloyd comes to the
St. Louis Rams
having suffered only one dropped pass this season, according to ESPN Stats & Information. The Rams "lead" the NFL with 15 drops. They are one of three teams -- Chicago and Week 7 opponent Dallas are the others -- to have more than seven players drop a pass this season (all three have eight).
Lance Kendricks
(four),
Greg Salas
(three),
Danario Alexander
(two) and the recently cut
Mike Sims-Walker
(two) have more than one drop for St. Louis. Whether or not quarterback
Sam Bradford
plays on a bum ankle, the Rams have to do a better job executing the basics, starting with holding onto the ball.
Seahawks' QB decisions in focus:
Seattle faces
Colt McCoy
and
Andy Dalton
over the next two weeks after bypassing both young quarterbacks in recent drafts. McCoy went to Cleveland as a third-round pick in 2010; the Seahawks had no choice in the round that year after trading up to select receiver
Deon Butler
in 2009. Dalton went to Cincinnati with the 35th pick this year after Seattle used the 25th choice for tackle
James Carpenter
.
No time for Seahawks to relax:
Seattle's road victory over the previously 3-1
New York Giants
gave the team a 2-1 record over its last three games, casting the Seahawks as a young team on the rise. The Browns, meanwhile, have beaten only an 0-6 Indianapolis team and an 0-5 Miami team. Winning on the road was once a bonus for Seattle, but with San Francisco running out to a 5-1 start, including 3-0 away from home, the Seahawks need to beat bad teams on the road just to stay within striking distance. They are seeking victories in back-to-back road games for the first time since 2007.
May, 16, 2011
5/16/11
8:48
AM ET

John E. Hoover of the Tulsa World
checks in with the Rams' Sam Bradford after the University of Oklahoma honored its former quarterback with a statue commemorating his status as a Heisman Trophy winner. Bradford: "I never thought I'd be standing here giving a speech in front of a statue of myself. Pretty cool, though." Hoover: "At the end of the festivities, Bradford pulled a golden rope that dropped a crimson veil from his 10-foot statue. His right leg is planted, his right arm is cocked and his hair is short. Bradford teammate Gerald McCoy, who used to kid Bradford about all the attention he got by calling him 'King Sam', said Bradford's statue was the only one of the five in Heisman Park 'with a crown on it. ... I'm just gonna get me a Gerald McCoy bobblehead doll and glue it onto the bottom. ... Nah, man. Sam definitely deserves it.'"
Jim Thomas of the St. Louis Post-Dispatch
looks at free-agent possibilities for the Rams this offseason. Thomas: "At running back, a crater-size hole remains on the depth chart behind Steven Jackson. There are some interesting names on this list, including Joseph Addai of Indianapolis, Ahmad Bradshaw of the New York Giants and DeAngelo Williams of Carolina. But none of those three would be unrestricted if six-year free agency is in place. However, Cedric Benson of Cincinnati, Ronnie Brown of Miami, Darren Sproles of San Diego and Cadillac Williams of Tampa will be unrestricted whether the required experience level for free agency is four years or six." Adding Sproles in particular would liven up the Rams' offense considerably by diversifying the backfield.
Tony Softli of 101ESPN St. Louis
sizes up potential free-agent guards and projects how they might fit with the Rams. He thinks the Cardinals' Deuce Lutui would fit nicely at right guard. Softli: "Interior blocker that lost mindset in 2010, but has the athletic ability and nasty attitude to compete like a Pro Bowler when focused and is what the Rams need leading the way for Steven Jackson."
D'Marco Farr of 101ESPN St. Louis
says the Rams need improvement from second-year players to realize their potential in 2011.

Eric D. Williams of the Tacoma News Tribune
checks in with Seahawks defensive tackle Brandon Mebane, who says he felt as though the team did not have him in its plans. The sides spoke only generally about a new contract before the lockout. Mebane: "When you go over that stuff, I guess it's time to pack up and put the house up for sale. I feel like I wasn't in their plans. And I feel like I have that right to think that because I got a third-round tender. If they really wanted me, they had plenty of time to do what they had to do. Me personally, from my experience, I don't think I was in their plans. I would love to come back here, but I don't know what their plans are. But it's all good. I'm blessed. I thank God that I haven't had any surgeries. I've had some nagging things here and there. But God put me in a good position." General manager John Schneider used the term "steady pro" to describe Mebane at the scouting combine, an indication the team wasn't planning to break the bank for him. But when Seattle did not address the position in the draft, Schneider indicated that re-signing Mebane could become a higher priority. Mebane also says
his job got tougher
once the team lost Rocky Bernard.
Brock Huard of 710ESPN Seattle
doesn't see Kyle Orton as a good fit for the Seahawks. Huard: "Darrell Bevell's system that he is going to implement is going to be the quick passing game. It's a system that's built, to some extent, on having a mobile, at least athletic quarterback and that is what Kyle Orton is not. Think Ryan Mallett, not quite as big an arm, more accurate. I just think from a fit standpoint from what they want to do schematically, Kyle Orton is not the guy."
Clare Farnsworth of seahawks.com
makes available an audio link to NFL commissioner Roger Goodell's conference call with Seattle season-ticket holders.
Also from Farnsworth
: He catches up with former Seahawks punter Rick Tuten, who relays a funny story about his first game with the team. Tuten had played with Buffalo previously. Tuten: "When I was in Buffalo [he punted for the Bills in 1990], we got our parking tag and you just parked wherever in the players' lot. Well, I come out after my first game as a Seahawk -– feeling pretty good about what I'd just done -– and my car was gone because I didn't park in the right place. It had been towed. So I had to take a taxi to the impound lot to bail my car out. And a rental car, at that."
Danny O'Neil of the Seattle Times
offers a few highlights from Goodell's call with Seattle fans.

Matt Barrows of the Sacramento Bee
says 49ers rookie quarterback Colin Kaepernick underwent "minor" leg surgery after the draft, when Kaepernick finally had time to address an undisclosed injury that bothered him late last season. Barrows: "Agent Scott Smith said NFL teams were aware of Kaepernick's condition prior to the draft. He said Kaepernick could have waited to have the procedure but, given the current labor impasse, decided to get it taken care of now."
Also from Barrows
: thoughts on rookie Chris Culliver's conversion from receiver to safety to cornerback.
Doug Farrar of Yahoo!
offers thoughts on what first-round choice Aldon Smith might add to the 49ers.
Matt Maiocco of CSNBayArea.com
says the 49ers do not see running back Kendall Hunter as only a change-of-pace back. General manager Trent Baalke: "This is a guy we feel can run the power game, can run between the tackles, can get out on the edges, can pass protect, can come out of the backfield and catch the football, can return kicks (and) can play on coverage teams, if we ask him to."
Also from Maiocco
: The 49ers expect the offensive tackles they drafted to play guard and/or center in the NFL.

Kent Somers of the Arizona Republic
says former Cardinals linebacker Seth Joyner is establishing a football camp for kids in Arizona. Joyner: "Ultimately, my goal is to create an Arizona combine that really does something with the young football players in Arizona. We want to teach everything from learning how to tackle properly to avoiding concussions, to just the basic fundamentals."
Also from Somers
: general thoughts on the Cardinals, including one about Orton. Somers: "I think the Cardinals have some interest in Broncos quarterback Kyle Orton, who might be available via trade. Any team trading for Orton, however, has to examine what happened to him and the Broncos offense in the latter part of the season. If the Cardinals think that Orton was a victim of circumstances (coaching change, coach firing, etc.), they will go after him. I still think their first call is to the Eagles, however."
Darren Urban of azcardinals.com
says the team has never adequately replaced former tight end Freddie Mitchell. Rookie third-round choice Rob Housler is the latest prospect. Urban: "Housler will get a chance to show what he has, and there is a chance the Cards also look in free agency. Jim Dray should be back, and Stephen Spach could be too; Ben Patrick may be more iffy depending on who else is signed. The Cards will have at least four tight ends in training camp."
Also from Urban
: The Cardinals' strength-and-conditioning coaches could use some company in the weight room.
October, 31, 2010
10/31/10
9:49
AM ET
Tim Hightower
's fumbling issues this season wouldn't matter so much if, say, most other running backs lost the ball just as frequently.
The reality, however, is that Hightower has put the ball on the ground more times per carry than any NFL running back with at least 50 attempts this season. Hightower also averages more yards per attempt than any of those backs, one reason the
Arizona Cardinals
have been reluctant to take him off the field.
The chart ranks players with at least 50 rushing attempts by most fumbles per carry. The information reflects only fumbles during rushing attempts. The
San Francisco 49ers
'
Frank Gore
ranks tied for 11th on the list with three such fumbles. He also has one fumble following a reception.
Hightower and
Ahmad Bradshaw
, from the
New York Giants
, are the only NFL running backs to lose at least three fumbles this season.
October, 16, 2010
10/16/10
11:30
AM ET
Marc from Arizona writes:
This is what we have heard all season, that the 49ers have a lot of talent, but they keep shooting themselves in the foot. I would like to know what they mean by this. What talent are they talking about and how is it recognized? And, I suppose, what is the NFL's definition of talent? Because most talented people I know don't shoot themselves in the foot. They have actual results that make me recognize and go, "Hmmm that person is talented."
Mike Sando:
Fair question. Talent alone doesn't win games. Teams still need maturity, seasoning, smarts, coordination, coaching, etc. And any team with unsteady quarterback play will have a hard time realizing its potential.
The 49ers have had enough talent to amass more than 400 yards against New Orleans. They had enough talent to lead the
Atlanta Falcons
in the Georgia Dome in the final minutes. They had enough talent to pick off
Matt Ryan
late in that game. Largely the same team had enough talent to be leading a very good Minnesota team in the final seconds at the Metrodome last season. Largely the same team had enough talent to be leading the eventual AFC champion
Indianapolis Colts
in the fourth quarter last season.
I don't think anyone would say the 49ers accomplished those things by outcoaching their opponents or playing over their heads. Their players tend to possess quite a few of the "measurables" scouts value. Those attributes can put teams in position to win, but it takes more than that to win consistently.
For the sake of comparison and because you're from Arizona, go through the Cardinals' roster and tell me how many of their players would definitely start for the 49ers, position by position, based on talent.
Larry Fitzgerald
,
Steve Breaston
and
Deuce Lutui
would start for the 49ers based on talent, in my view.
Darnell Dockett
,
Adrian Wilson
,
Dominique Rodgers-Cromartie
and possibly
Kerry Rhodes
would start for the 49ers based on talent. How many others? There might be a few, but I think the 49ers' raw talent would hold up OK in most cases, and even better when held up against talent from other teams in this division.
---
Darryl from Ft. Riley, Kan., writes:
If A.J. Green or Jonathan Baldwin were available, would you agree with the Rams taking a wide receiver is the first round? I would think that they would do it seeing that we need a true No. 1 receiver. However, I just can't see the Rams taking one of these guys. Right now, I think we should draft based on best player available. Besides, we can get a receiver further on in the draft.
Mike Sando:
It's critical for the Rams to invest in weapons for Bradford. I'd be fine with them drafting a receiver or running back early. Coaches such as Mike Holmgren and Andy Reid have also demonstrated that offenses put together in the Rams' mold can succeed without top-tier talent at receiver. That is fine, but we also know top-tier talent beats lesser talent. The more talent they can put around Bradford, the better chance Bradford will have to make the Rams a championship contender.
Take a look at the Colts' draft strategy since selecting Peyton Manning first overall. Indy could have focused on building its defense, figuring Manning would make the offense better without significant reinforcements. Instead, the Colts have drafted three running backs, two wide receivers and a tight end with the 10 first-round choices they've used since the Manning selection. They drafted
Edgerrin James
, Reggie Wayne,
Dallas Clark
,
Joseph Addai
,
Anthony Gonzalez
and
Donald Brown
even though their defense needed more help most of those years. They also selected
Dwight Freeney
, and the Rams will need to add that type of pass-rush talent if the opportunity presents itself. Overall, though, they're wise if they build up the offense around Bradford.
---
Mister2 from San Jose writes:
Why are people going so crazy about the Niners' issues? They very easily could be 3-2 (like the Colts, Giants, Packers) with correction of only one thing -- turnovers. Not talent, not QB skill, not playmakers, not coaching -- just holding on to the ball. Isn't there any way to call out the media crazies that want to blame one person, or one coach without really giving the issues any thought? Can't we all just be a little more mature?
Mike Sando:
Turnovers have played a large role. Do they happen independent of other factors? Are they random? Or do teams with, say, protection issues tend to
throw interceptions against pressure
? It's a combination of factors. Throw in a tough early schedule, volatile and inexperienced leadership, issues getting plays into the huddle, etc., and bad things are going to happen.
---
Tres from Washington, D.C., writes:
Sando, come on, man. The end of
your article
on the Seahawks' offensive line is over-the-top petty. I understand the media has a job to do, and the Alex Gibbs-taught silence is kind of sophomoric, but really? You'd alluded to feeling jilted by them in an earlier blog post, but I let it pass; those last comments are just trifling. How much did you have to dig til you found the magic post-2002 holding call numbers? The work you do is good, and I understand why you need to skew toward the rest of the NFC West after covering the Seahawks for so long, but sometimes it comes across as just bitter.I wish you all the best, but that was just uncalled for.
Mike Sando:
The piece sought to make two points. One, perspectives from offensive linemen enrich the game. Two, if players as accomplished as
Steve Hutchinson
can follow NFL rules for media cooperation, other players shouldn't have any trouble doing so. In hindsight, the piece might have been better had the final sentence simply read, "Hey, if an all-time great such as Hutchinson can follow the rules, what makes these guys any different?" or something to that effect. I purposely included that penalty information at the end, not earlier, because I didn't want it to be the thrust of the piece. For some, though, it didn't matter.
This issue was different than most I cover because I have an obvious vested interest in the matter (I am treasurer of the Professional Football Writers of America, which has worked with the league to shape the media policy). I was sensitive to how people might react based on the self-serving nature of my viewpoint, but perhaps I was not sensitive enough. It's a discussion worth having and one I engaged through the comments section of that item. I'm the first to admit I can improve.
As far as the penalty information, that took five minutes of my time.
Every week I do an item on
penalties in the division
. ESPN Stats & Information has made available a file with every penalty called in every game since 2001. Some of the information from 2001 is incomplete, so I often sort the file to exclude that year. Also,
Ben Hamilton
and
Chester Pitts
made their NFL debuts in 2002. Back to the penalty file. I've set up pivot tables making it easy to filter penalties by team, position, penalty type, etc. I filter them in those ways every week. Offensive holding is a penalty I follow because the league has changed how it calls those penalties and that can affect scoring. I was surprised to see Hamilton and Pitts rank among the top two for most holding penalties since 2002, but I knew Hutchinson almost never incurred penalties. The goal was to illustrate contrast.
The NFL and the Seahawks stand firmly behind the policy these players were violating. Player contracts include clauses requiring compliance. I'm happy to see coach Pete Carroll enforce the rules.
---
Josh from El Paso, Ill., writes:
Hi Mike, I have
Justin Forsett
on my fantasy football team, and I'm debating two things: One, do I start Forsett, and two, should I start anybody against the Bears' defense? With
Marshawn Lynch
coming aboard, I'm almost certain that Lynch will get carries, thus hurting Forsett's value, but what are your thoughts? Thanks!
Mike Sando
: I would steer away from starting Seattle players at this point. If you are a Seattle fan, you'll be thrilled if they produce at a high level and that will offset any disappointment you might have from not having them in your lineup. But if you start them and the Seahawks' offense continues to struggle on the road, you might be kicking yourself.
---
Andy from Auckland, New Zealand writes:
Hi Mike, longtime reader, first-time questioner. How much difference do you think
Donovan McNabb
would have made to this 49ers team and how much of their problems be down to
Alex Smith
? Would Mcnabb have had the same troubles with communication to the sidelines that Smith has or thrown giveaway INTs? I think there's an argument to be made that despite all of the well-documented issues that Smith has had to face, he should now be showing much more than he is.
Mike Sando:
McNabb is better than Smith, which means the 49ers would be better with him at quarterback, in my view. I don't think we need to complicate the analysis much. Now, would McNabb struggle with some of the issues that have hurt Smith? Sure, but I think he would be better equipped to overcome them.
---
Garrett from Junction City, Kan., writes:
Hey Mike, Seattle seems like it's one of those cities that has a hard time bringing in "big" free-agent players for whatever reasons -- being a smaller media market or location. I have two questions. First, do you agree with that assesment? Second, do you think with Pete Carroll there, that might increase their chances in the future to get some "big" name guys in? I do know that some of it depends on if he has success at this level, but I would like your opinion because you're the expert and I like your blog. I read it every day. You're fair and look at things from all sides. Well, thanks!
Mike Sando:
Thanks, Garrett. I believe money ultimately talks in a high percent of these situations, but geography plays a role when other factors are relatively equal. There's no question in my mind the head coach can help to attract or repel marquee free agents. Everything I've learned about Carroll tells me he's the type of coach veteran players would appreciate. He believes in positive thinking, so he is not a screamer. He structures training camp in a way that prevents players from burning out. He's a laid-back guy. Those things have to appeal when veteran players seek new homes. Every case will be different, though, and some players will not want to move so far away from families on the East Coast or in the South.
---
Ron from Oklahoma City writes:
Don't you think it's a little unfair that
Sam Bradford
is getting criticism for his performance Sunday? Every throw was into an incredibly tight window, and made while under pressure. When watching the Rams, you never see receivers running wide open in the middle of the field like you do for, say, Dallas.
Mike Sando:
It could be unfair. It also probably reflects the respect Bradford has earned. People are already holding him to a high standard. The interceptions he threw came relatively late in the game. Bradford did drive the Rams down the field earlier. It's not his fault
Mark Clayton
got hurt and
Danny Amendola
fumbled inside the 10 when the game was still close.
---
Mike from Costa Mesa, Calif., writes:
Sando, admit it, if it had been known before the season started that Matt Leinart would be replaced as starter after the second exhibition game, that his replacement would only last four regular-season games and that an undrafted rookie would be the Cardinals' starting quarterback in Week 5, no way would you have guessed that Arizona's record going into the bye week would be 3-2. They may be doing it with mirrors, but somehow Ken Whisenhunt has gotten his team still believing and somehow pulling off what seems to me to be one of the most under-reported stories of this NFL season. Given all the challenges due to retirements, free-agent losses, etc., do you agree that if the Cardinals end up winning their division this year and getting into the playoffs for the third straight season, Whisenhunt is the hands-down coach of the year?
Mike Sando:
At 6-10? At 7-9? No on both fronts. If the Cardinals have a winning record, the case becomes a lot stronger. Either way, the weakness of this division will give people an out when deciding how much praise to throw Whisenhunt's way.
We should also realize that Arizona is a 32-yard
Sebastian Janikowski
field goal away from being 2-3. The victory over New Orleans was impressive even though there wasn't much sustainable about becoming the second team in NFL history to score 30-plus points without a rushing or passing touchdown.
Whisenhunt becomes coach-of-the-year material if
Max Hall
develops into a promising starter this season while leading the Cardinals to 9-7 or better. I feel safer framing it that way than using what the Cardinals have accomplished to this point as the basis for his candidacy.
August, 15, 2010
8/15/10
3:16
PM ET
INDIANAPOLIS -- Thoughts and observations after watching the
San Francisco 49ers
' backups help them grab a 20-10 halftime lead against the
Indianapolis Colts
in the 2010 exhibition opener for both teams:
We're midway through the third quarter of this game. I'll post again after heading down to the locker room after the game. Then it's back on the road to Rams camp just up the street (OK, about 240 miles up the street).
February, 7, 2010
2/07/10
3:04
PM ET
MIAMI -- Let's stretch our imaginations and pretend, for the sake of discussion, that each NFC West team had advanced to face the Colts in the Super Bowl.
If the Rams made it here, for example, the big story might be
Peyton Manning
vs.
Keith Null
.
(Please hold your laughter until the end.)
I've broken out the Colts' offensive starters and compared them to those for the Cardinals, 49ers, Seahawks and Rams. In the Rams' case, I wasn't sure who would start at left guard after
Roger Allen
suffered a serious knee injury in Week 17, so I've brought back usual starter
Jacob Bell
from injured reserve.
Putting together something similar for the defenses would be tough because the 49ers and Cardinals play 3-4 schemes, so the positions would not line up.
Enjoy the imaginary games.
December, 10, 2009
12/10/09
11:45
AM ET
The 49ers have done nothing to dispel Steve Young's strong words about their offensive approach.
"It's great, it's great," Young told KNBR last week, "but
Frank Gore
needs to be traded. You can't run the spread with Frank Gore being effective. He's not the guy that is going to catch the ball [like] Marshall Faulk and slash and burn [like]
Joseph Addai
and different guys who have thrived in the spread."
The 49ers' spread offense is
not a literal spread offense
, just as Young was not literally calling for the 49ers to trade one of their best offensive players (tight end
Vernon Davis
might now be the best). But the 49ers have become largely a shotgun passing team instead of a
power running team
. Tight ends are serving as receivers. Gore has been left out.
The 49ers say they want balance. The Seahawks loaded up against the run Sunday, 49ers coach Mike Singletary explained, and that was why San Francisco threw nearly 75 percent of the time on first and second down. This sounds logical. It might take a while for opponents to decide against keying on Gore. The Seahawks, having watched Gore rush for 207 yards against them in Week 2, had reason to fear the run more than the pass.
The 49ers were most successful Sunday throwing from run-oriented personnel. The more wide receivers San Francisco put on the field, the less effective
Alex Smith
became. The 49ers' personnel choice, not the effectiveness of their ground game, dictated to what degree the Seahawks had to respect the run (download full personnel breakdown
here
).
Smith attempted four passes from run-oriented personnel featuring two backs, one wide receiver and two tight ends. The 49ers averaged 18.8 yards per attempt and scored their only touchdowns on these plays. One of these plays produced Davis' 33-yard scoring reception on fourth-and-1. Another produced
Josh Morgan
's 22-yard scoring reception on first-and-10.
These explosive pass plays probably worked in part because the personnel groups forced a Gore-fearing defense to account for the run. The 49ers could have more difficulty passing if opponents realize the run poses little threat. This might partially explain recent struggles on third down, when teams are more certain the pass is coming.
More broadly, the 49ers have provided little evidence suggesting Smith and Gore can flourish in the same offense, or that the 49ers can win consistently as primarily a running or passing team. Smith is improving and that is important. How this all might fit together remains undetermined.
December, 2, 2009
12/02/09
3:35
PM ET
Of course not.
But the 49ers' last great quarterback, Steve Young, used the notion to illustrate another alleged absurdity -- the idea San Francisco should commit to a spread passing game as its primary offense because quarterback
Alex Smith
seems more comfortable that way.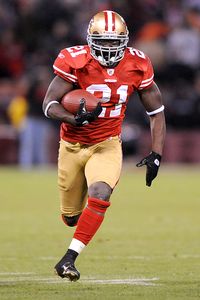 Kirby Lee/US PresswireIf the 49ers switch to a spread offense, they might as well trade running back Frank Gore, according to former quarterback Steve Young.
"It's great, it's great," Young said of the new-look 49ers offense, "but
Frank Gore
needs to be traded. You can't run the spread with Frank Gore being effective. He's not the guy that is going to catch the ball (like)
Marshall Faulk
and slash and burn (like)
Joseph Addai
and different guys who have thrived in the spread."
Young made the comments during
his latest visit
with
Ralph Barbieri and Tom Tolbert on KNBR
. He
addressed the subject
a week ago as well.
Why can't the 49ers have it both ways? Why can't they spread the field with multiple receivers, including their speedy tight ends, and still get production from Gore?
"Frank Gore is an All-Pro running back in a pro formation," Young told KNBR. "There are a lot of ways to skin the cat. And so if we're going to have to run the spread to really be successful and Frank is going to be in the game, then Frank is going to have to first of all suck it up a little bit and decide, 'Look, I'm going to have to change my game and I'm going to have to do some different things. But for the good of everybody, this is what is going to happen, and then I'm going to get mine when I get mine. I don't know how it is going to happen, but I'll wait around for it.' "
Young sounded skeptical.
"If that is how we're going to be successful for the next half-a-decade, then that is how we can kind of get to the promised land of some playoff time, then let's go all in," Young continued. "But that is what the spread does to you. You have to go all in. But I do not believe that Alex needs to have the spread to be successful. If he continues to get better and deal with pro defenses and make plays, then there's no reason why in an offseason we can't take 10,000 snaps from center and figure out a way to get really comfortable with that and then break it out next year and be a more dynamic offense."
I agree completely. Against the Jaguars in Week 12, the 49ers averaged 2.6 yards per carry on nine rushes and 4.5 yards per pass on 26 attempts from their preferred "spread" personnel group featuring Gore,
Michael Crabtree
,
Josh Morgan
,
Vernon Davis
and
Delanie Walker
. They used this grouping on 20 of 22 first-down snaps and 15 of 20 second-down snaps.
The 49ers ran only one play from their base offense and seven plays using two backs. Gore prefers running behind a fullback, but the offense has generally stagnated using that personnel. I'm very curious to see how the 49ers attack the Seahawks in Week 13. A power running game featuring Gore has worked well in the past.
"What offense do you run?" Young asked. "I think you can fiddle around with the spread, but especially with the tight end, if you are going to include the tight end, I think that you are going to have to work at trying to find sets that allow Frank to run from the I a little bit, a pro set, and find other places to get them the football and Alex to get comfortable. You can see if you blur your eyes how this might become something pretty cool."
October, 26, 2009
10/26/09
10:32
AM ET
Posted by ESPN.com's Mike Sando
The facts:
The Rams fell to 0-7 with a 42-6 loss to the Colts in Week 7.

The upside:
Even the worst defeats tend to feature a bright spot or two.
Steven Jackson topped 100 yards rushing for the third time this season. He's on pace for 1,451 yards rushing. Jackson had 95 yards rushing in the third quarter, his largest single-quarter total.
Donnie Avery caught a 50-yard pass on a fleaflicker. Avery caught only two passes, but his per-catch average rose. Avery has averaged 19.0 yards per reception over his last four games after averaging 6.2 yards per catch in the first three.
The Rams downed four punts inside the Colts' 20. Donnie Jones had a 41-yard net average.
The Colts are not on the schedule again this season.
Kicker Josh Brown made two more field-goal tries, extending his streak to five in a row over three games.
The Rams held Colts running back Joseph Addai to 3.2 yards per carry.
Looking ahead:
The Rams visit the Lions in Week 8, another silver lining, come to think of it.
May, 27, 2009
5/27/09
7:40
PM ET
Posted by ESPN.com's Mike Sando
Ben from parts unknown thinks my No. 24 ranking of the Redskins will "expose the fact" that I know very little about football.
Mike Sando: I'm afraid that fact was exposed a long time ago when I thought Jason Campbell might flourish under Jim Zorn. Perhaps he still will.
I don't know the Redskins as well as I know the teams I cover, that is for sure, although I do know some of their coaches quite well. I do know they have the oldest roster in the league at 26.9 years on average, thanks mostly to the fact that they have grown quite old on offense. It would be a great story if Campbell could lead them to a winning record.
---
RC from Colorado Springs wonders why I ranked the Seahawks 20th and not higher.
Mike Sando: Because it's mid-May and the Seahawks still have some health-related questions to answer. I've got plenty of time to move up Seattle in the rankings if those questions become non-issues. That has not happened yet.
---
Brian from Los Angeles is baffled by the Seahawks' low standing in the power rankings. He wonders why people are downgrading the Seahawks and not the Patriots, even though quarterback injuries are key variables for both teams.
Mike Sando: I had the same thoughts about Tom Brady and Matt Hasselbeck. One difference might be that the Patriots went 11-5 last season even though Brady missed 15 games, while Seattle went 4-12 without Hasselbeck, and Brady is recognized as the better quarterback. The Patriots also had lots of injuries last season, but they persevered.
---
Wilson from Doylestown, Pa., thinks my No. 8 ranking for the Eagles was insulting. He demands an explanation.
Mike Sando: I'll assume you wanted them ranked higher. For the record, I was the guy who picked the Eagles for the Super Bowl in our 2008 preseason rankings.
This offseason, I ranked them lower than I ranked the Cardinals based on the teams' meeting in the playoffs. I had the Cardinals seventh. That's the explanation. It's not an air-tight one, but it'll have to suffice.