June, 3, 2013
Jun 3
8:35
PM ET
A look around the NFC West as organized team activities (OTAs) resumed around the NFL on Monday:
March, 20, 2013
Mar 20
6:10
PM ET
PHOENIX -- A few NFC West notes before heading to the airport for a trip home following the NFL owners meeting, which concluded Wednesday:

Arizona Cardinals:
The team is leaving open the door for signing
Cleveland Browns
unrestricted free-agent receiver
Josh Cribbs
, who is recovering from knee surgery. Cribbs visited the Cardinals this week, but he could be weeks away from passing a physical. ... The Cardinals have signed nine players at a combined charge of $12.9 million against the 2013 salary cap after clearing $13 million in space by releasing
Kevin Kolb
and
Kerry Rhodes
. The nine:
Rashard Mendenhall
,
Jerraud Powers
,
Drew Stanton
,
Antoine Cason
,
Jasper Brinkley
,
Lorenzo Alexander
,
Rashad Johnson
,
Matt Shaughnessy
and
Yeremiah Bell
. ... Coach Bruce Arians said he sees six quarterbacks in the 2013 draft with clear potential to stick in the NFL for the long term. Arians also said he thought the Cardinals could win regular-season and playoff games with Stanton as the starter. The team could still add to the position, of course, but Arians plans to name a starter sooner rather than later -- definitely before training camp.

St. Louis Rams:
The Rams expect to add another big running back after parting with
Steven Jackson
. Coach Jeff Fisher wants second-year back
Daryl Richardson
to get more touches, especially as a receiver. He also expects more from 2012 second-round pick
Isaiah Pead
. ... Fisher said he goes strictly by feel with no regard for advanced stats when making in-game decisions such as when to go for it on fourth down. ... The Rams will look to re-sign veteran safety
Quintin Mikell
, who was released with salary-cap savings in mind. The team's other starting safety from last season,
Craig Dahl
, signed with San Francisco last week. ... Fisher sees receiver
Chris Givens
as more than a deep threat, noting that one of Givens' five receptions covering 50-plus yards came on a slant route. ... Fisher, unlike
Pittsburgh Steelers
counterpart Mike Tomlin, thinks the read-option will be around for a while.

San Francisco 49ers:
Coach
Jim Harbaugh
gushed over receiver
Ricardo Lockette
, a physically gifted prospect signed last season after stints on Seattle's practice squad and 53-man roster. "There is something special there -- I can feel it," Harbaugh said. Lockette had 44- and 61-yard receptions for Seattle late in the 2011 season. ...
Colin Kaepernick
is the 49ers' undisputed starting quarterback, but Harbaugh would like to make the position more competitive after
Alex Smith
's departure by trade. Harbaugh said the quarterback position is "no sacred cow" in terms of being immune from competition. ... Harbaugh and his brother, John, spent Sunday afternoon playing in the hotel pool like a couple of kids. "Did you see us breaking all the rules on the slide?" John Harbaugh asked. "It was a race down the slide. Two guys diving at the same time and racing down the slide. The only time we didn't go down [the slides] together was when we had two kids stacked on us."

Seattle Seahawks:
The Seahawks think former Cardinals receiver
Stephen Williams
could have a bright future. ... Defensive end
Cliff Avril
's addition could affect the Seahawks' needs at linebacker. Coach Pete Carroll compared Avril in body type to
Brian Cushing
and
Clay Matthews
, two players Carroll coached at USC. He said Avril could play strongside linebacker at times. That arrangement could work because
K.J. Wright
has the flexibility to play weakside LB, something Wright already does in the nickel defense. Those roles will sort out through training camp. ... Carroll said he "reached out" to
Richard Sherman
after the cornerback's contentious exchange with Skip Bayless on ESPN's "First Take." Carroll said they discussed humility and said Sherman is "working on ways to express himself." Carroll supported Sherman and said the team has no concerns with the All-Pro corner. I'll revisit that one separately.
September, 20, 2012
9/20/12
12:45
PM ET
The
Arizona Cardinals
'
Patrick Peterson
tied an NFL record with four punt returns for touchdowns last season.
Peterson
The
Philadelphia Eagles
held him to a 4.5-yard average on six returns in their November meeting, however. This season, Peterson has yet to break a return longer than 17 yards through two games as the Cardinals prepare to face the Eagles in Week 3.
Peterson, who earned Pro Bowl honors as a rookie returner in 2011, went into this season focused on improving as a cornerback. He has done that. A groin injury made him questionable against New England in Week 2, but Peterson still picked off a pass and provided solid coverage. He wasn't on the injury report Wednesday.
Adam Grigely of ESPN Stats & Information, in
debating Marty Callinan
, points to special teams as one area where the Cardinals should have the advantage Sunday. Arizona blocked a field-goal try against Seattle in Week 1. The Cardinals blocked a punt against New England in Week 2.
Grigely: "In 2012, the Cardinals are tied for fifth in the NFL with a 6.9 Special Teams EPA (total expected points by special teams); the Eagles are 31st in that category. Peterson leads the league with four punt return touchdowns since the start of last season."
The Eagles allowed a 23-yard punt return to Cleveland's
Josh Cribbs
in Week 1.
November, 15, 2011
11/15/11
6:10
PM ET
No NFL play from Week 10 affected win probability more than the one the
Cleveland Browns
and
St. Louis Rams
are still trying to figure out.
The Browns' botched/missed/blocked field-goal try from 22 yards was the
fifth-shorted miss
in the final three minutes of a game since 1983. But it might not have been a miss at all. The Rams are convinced defensive end
James Hall
blocked it. They have sought a scoring change.
Whatever the case, the Browns' missed chance with the Rams holding a 13-12 lead increased St. Louis' win probability from 33.6 percent to 70.9 percent, according to Aloko Pattani of ESPN's analytics team. The 37.3-point swing was the largest for any play from Week 10. It tops our weekly list of pivotal plays from games involving NFC West teams. All five plays helped NFC West teams win, and all four division teams won in the same week for the first time since divisional realignment in 2002.
Clutch pass completions by Arizona's
John Skelton
filled three of the top-five spots this week, led by his 37-yarder to
Larry Fitzgerald
on a third-and-10 play with 2:55 left in the fourth quarter and the Cardinals trailing Philadelphia, 17-14. Skelton's 5-yard scoring pass to
Early Doucet
later in the drive ranked third on the list.
Fitzgerald's 37-yard reception and two for touchdowns helped him earn NFC honors as offensive player of the week. He's averaging 17.6 yards per reception, a five-yard gain over last season and higher than his single-season best of 14.9, set in 2008.
Two of the five plays listed in the chart involved special teams, including
David Nixon
's forced fumble and
Ben Leber
's recovery for the Rams during a
Josh Cribbs
punt return for Cleveland with 10:53 left in the game.
November, 13, 2011
11/13/11
4:02
PM ET
Thoughts on the
St. Louis Rams
'
13-12 road victory
over the
Cleveland Browns
in Week 10:


What it means:
The Rams improved to 2-7 and made it impossible for the
San Francisco 49ers
to clinch the NFC West title with victories in Weeks 10 and 11. Their second victory of the season put them two games ahead of still-winless Indianapolis for those charting whether the Rams could finish with the No. 1 overall pick in the 2012 draft. The Rams' special teams earned some redemption after a rough game last week. The Browns' inability to execute a clean snap for the go-ahead field goal proved costly.
What I liked:
Brandon Lloyd
continued to provide the Rams with the top-shelf receiving threat they've been lacking in recent years. The one-handed grab he made along the sideline comes to mind. The Rams lead the NFL in dropped passes this season and haven't been able to make the spectacular play. Lloyd is changing those dynamics. His touchdown reception helped the Rams take a 10-9 lead into halftime.
Steven Jackson
continued running with authority, plowing over defenders and even teammates when necessary. He topped 100 yards rushing for the third game in a row. Newly signed linebacker
David Nixon
forced
Josh Cribbs
to fumble during a fourth-quarter punt return, setting up the Rams inside the Cleveland 30-yard line.
What I didn't like:
Bradford struggled with tipped passes and had one of them picked off by
Scott Fujita
. With Jackson and Lloyd performing at a high level, Bradford should be more productive even at less than full strength. This was his 12th game in a row with fewer than two touchdown passes. Injuries were also a downer for the Rams in this game. Left tackle
Rodger Saffold
did not return after suffering a blow to the head. Bradford, playing with a bad left ankle, left the game for one play. Safety
Darian Stewart
, one of the team's top young defenders, suffered a neck injury in the second half and left the game. Tight end
Michael Hoomanawanui
left with a knee injury.
What's next:
The Rams are home against the
Seattle Seahawks
in Week 11.
October, 27, 2011
10/27/11
9:02
AM ET
Sam Bradford played every offensive snap for the St. Louis Rams in 2010.
The quarterback has missed 70 snaps so far this season, a total that figures to grow in Week 8.

Jim Thomas of the St. Louis Post-Dispatch
expects Bradford to miss the Rams' game against New Orleans. Bradford has not been able to bounce on his toes since suffering a high-ankle sprain. He tested the ankle during a workout Friday, two days before the team played Dallas. Thomas: "When Bradford woke up the next day following that light workout, the ankle was substantially more sore than it had been during the week. It was then that the decision was made not only to scratch Bradford from the lineup against Dallas, but also to put him in a firmer cast as opposed to the walking boot he had been wearing. The cast helped, Bradford said. But with the ankle feeling better than it did Saturday, the cast was taken off Wednesday and Bradford was back in the boot. He began light strengthening exercises on the ankle Wednesday."
Also from Thomas
: The Rams signed offensive lineman Mark LeVoir after losing right tackle Jason Smith to head and neck injuries. It's unclear when Smith might return.

Matt Maiocco of CSNBayArea.com says
49ers punter Andy Lee and Browns returner Josh Cribbs are renewing a rivalry that took root in 2007, when Cribbs' long return in the final game of the season prevented Lee from setting an NFL single-season record for net average.
Matt Barrows of the Sacramento Bee
says 49ers receiver Braylon Edwards spoke with coach Jim Harbaugh immediately before addressing his injury situation with reporters. Not that the head coach would want to control the message regarding injuries. Edwards, on whether he experienced swelling in his surgically repaired knee after practicing Tuesday: "No. Not swelling. Just making sure everything is right. When you come off an injury like that, you have to make sure the mental matches the physical. Your physical may be ready but your physical may not be. Or your mental may surpass your physical performance. It's just making sure everything is aligned with the stars so that when I go out there, I'm there for the long haul as opposed to a couple of plays."
Dan Brown of the San Jose Mercury News
says Harbaugh's parents will celebrate their 50th wedding anniversary one day after their sons' NFL teams face one another on Thanksgiving. Brown: "Jack and Jackie got married in Ohio on the morning of Nov. 25, 1961. To pass the time before the evening reception, the entire wedding party retreated to Jackie's parents' home to watch the Ohio State-Michigan game on television. The next day, the newlyweds spent their honeymoon -- where else? -- at Cleveland Municipal Stadium, where they watched the New York Giants defeat the Browns 37-21."

Clare Farnsworth of seahawks.com
runs through the injury situation for four offensive starters. Also: "Andy Dalton is a player the Seahawks considered drafting, and the rookie quarterback for the Bengals is showing why. He has the highest completion percentage (.624) and passer rating (84.3) of all the first-year QBs in the league who have thrown at least 100 passes -- not to mention a 4-2 record as the starter."
Eric D. Williams of the Tacoma News Tribune
says Tarvaris Jackson's input will play a role in determining whether the quarterback plays against Cincinnati, according to offensive coordinator Darrell Bevell. Bevell: "It probably comes down to that at this point. Because the injury is something that there's really not a lot of background on, and so we have to go by how he feels, and how he feels he can perform. There's as certain level that you have to be able to meet obviously. And so he'll have to tell us how close he is to that."
Dave Boling of the Tacoma News Tribune
says the Seahawks cannot take the Bengals for granted.

Kent Somers of the Arizona Republic
checks in with former Cardinals receiver Anquan Boldin, who takes a low-keyed approach to facing his former team. Somers: "For me, it's just get back on the field and get a win. Around here, we're all about winning. We're trying to build something, and each week it's the same thing. It's a 16-game schedule. We take it one week at a time."
Darren Urban of azcardinals.com
says first-round draft pick Patrick Peterson has shown improvement and generally played well against the Steelers, but the Cardinals need him to become a star. Urban: "His job was to cover speedy Mike Wallace and he did pretty well. The big play by Wallace, the 95-yard bomb, it was Richard Marshall and not Peterson on Wallace (and, after watching the replay, it looks like Marshall got caught cheating up and thinking about jumping an underneath route — the intended play Ben Roethlisberger talked about afterward — which was too deadly of a start for Marshall to keep up with Wallace). The rest of the day, Wallace didn't make much of an impact."
Noted:
Peterson has made his greatest impact as a punt returner. His 89-yarder was the difference in the one game Arizona won this season. He is averaging 15.9 yards per return. The Cardinals averaged 7.0 yards per return last season. That's a nearly 9-yard improvement in field position every time the Cardinals return a punt. Huge difference.
June, 30, 2011
6/30/11
6:38
PM ET
By
Jason Wright
| ESPN.com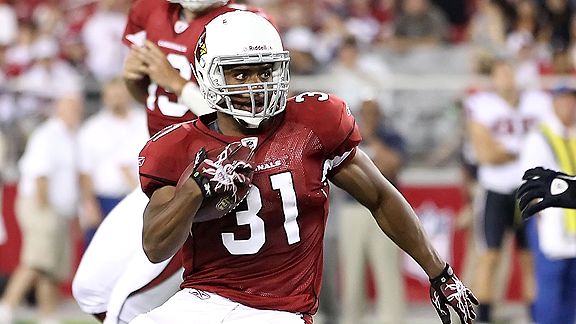 Christian Petersen/Getty ImagesJason Wright is an eight-year veteran of the NFL and was an undrafted free agent out of college.
Arizona Cardinals fullback Jason Wright entered the NFL as an undrafted free agent with the San Francisco 49ers in 2004. He played for the Atlanta Falcons and Cleveland Browns before signing with Arizona for the 2009 season. His lockout-related thoughts follow:
We are all glad that consistent discussions are happening between the NFL Players Association and league ownership. Especially because it means that resolution is on its way, and resolution is the only news any of us really wants to hear at this point.
By now, we've all read far too many stories about secret meetings and court-ordered mediation. It's so nauseating that if I see another story promoting some obscure piece of information from some "source" I will likely vomit. There's been so much coverage that even non-sports enthusiasts feel like they can confidently wax philosophic on the situation. The inevitable result is the frustrated cynicism that comes from information overload. Last week, Cardinals wide receiver
Steve Breaston
captured the sentiments shared by fans, players, coaches, and even some owners in
a witty spoken word
. He breathed life back into the story by providing a fresh perspective. Here, I endeavor to do the same.
As the lockout has dragged on through the last few months, a common phrase has come to express the annoyance of the general public with CBA disagreements: "It's millionaires versus billionaires." This is obviously an oversimplification, but the gist is this: Most of America is struggling financially, and a group of people whose "poorest" make well into six figures should NOT make waves. Again, this argument lacks nuance, but I get it. Everyone gets it. There is, however, a group of guys that everyone can feel for. They are the group that suffers the truest "irreparable harm" from the NFL lockout. They are the undrafted college free agents.
I was still in school at Northwestern when the San Francisco 49ers signed me as an undrafted free agent in 2004. I decided to stay in school and finish my degree instead of participating in the offseason program. I had NO IDEA what a disadvantage I placed myself at from a football standpoint.
I am admittedly not the most talented guy to ever come through the league, but my play was terrible during that first training camp. I couldn't understand why a guy as smart as I considered myself to be was struggling to understand the offense. Well, the other guys had spent a minimum of four months doing nothing but studying the playbook and repeating plays! My play on special teams was probably the worst part, which is ironic considering that's what ended up defining my seven-year career.
The 49ers cut me at the first opportunity. By God's grace, I landed on Atlanta's practice squad under Jim Mora and finally had a chance to catch up. That following offseason, I was able to rapidly improve through the Falcons' offseason program. I was able to make the necessary gains in physical strength. I became supremely comfortable in the offense. And, probably most importantly, I gained the foundations of being a good special-teams player. I performed very well that next preseason, but still fell prey to the numbers game. The difference was that I had a fair shot that time. And in the long run, I landed in Cleveland with the ability to actually compete at the NFL level and enjoyed four great years with the Browns.
None of it would have been possible without my full participation in an offseason program during my second year. Staying away that first offseason nearly cost me my career (although I'd risk it again to secure my degree). The lockout threatens to put the current undrafted free agents at risk.
Undrafted college free agents are some of the best NFL success stories because they are also the most unlikely.
Josh Cribbs
, Cleveland's superstar utility man, started off as a rookie tryout for the Browns.
Tony Romo
went from "cap-and-clipboard" unknown to the face of the NFL's most popular franchise. And the Steelers'
James Harrison
was cut numerous times before becoming the Defensive MVP.
There are too many others to mention. We love these stories because we can relate. At one point or another, almost all of us have felt forgotten or insignificant. These stories tell us that our small beginnings are not the final word. They say that a combination of hard work, opportunity and providence can improve our standing. They are odds-defying, feel-good narratives that make us feel like there might really be something redeeming in watching hours of sports.
The lockout has lengthened the odds against this newest crop of undrafted free agents. The lack of an organized offseason makes the road toughest for all rookies, in fact. All but the very best will be hard-pressed to make a mark in their first season. For many it will be difficult to even make the team. They won't get the valuable repetitions of minicamps and organized team activities. They'll miss valuable classroom time with the coaching staffs. Linemen won't have time to adjust to the significant speed difference of the NFL line of scrimmage. Skill players will only have a few days to become great on special teams in order to secure jobs.
The drafted guys, at least, know what team they will be on and have had a chance to see what's in that team's playbook. The undrafted guys will likely see the playbook only moments before having to physically compete with the best players in the world! The steep hike these guys take to NFL success has become a vertical climb.
So, let's remember that these guys are innocent victims of this litigious offseason, along with the fans. Let's also keep our eyes on this year's crop of college free agents because those that make it may have the best stories yet. The seemingly insurmountable odds stacked against them may very well produce an inspiring story to rival Kurt Warner's rise from the grocery store to the Super Bowl. I certainly hope they do. We all need the encouragement that no obstacle is too great to alter a destiny. And as life inevitably throws crappy circumstances our way, it's great to be reminded that the guy who starts out with nothing can sometimes end up with everything.
May, 17, 2011
5/17/11
9:17
AM ET

Chris McPherson of philadelphiaeagles.com
quotes former NFL general manager Charley Casserly on Kevin Kolb's trade value and which teams would be most interested. Casserly: "Clearly Arizona is at the top of the list, Seattle is a close second ... Arizona was in the playoffs two years ago with a veteran quarterback and they have a Hall of Fame wide receiver in Larry Fitzgerald." McPherson: "Casserly, a two-time Super Bowl-champion general manager, believes that with the NFL Draft now in the rear-view mirror Kolb's trade value has only increased. Casserly believes the Eagles should receive more than a first-round pick for the veteran quarterback." We've gone from wondering whether the Eagles might be trying to pump up Kolb's value through back channels to seeing their website promote the idea openly. I'm not sure how much Kolb's value has increased after six teams selected quarterbacks among the first 36 choices of the recent draft. The market for Kolb has become more defined, but also more limited -- particularly if the Eagles insist upon charging a high price.
Jim Corbett of USA Today
takes an in-depth look at the Cardinals, with analysis from former quarterback Kurt Warner. Corbett: "Question is, will normally conservative owner Bill Bidwill dig that deep to get Ken Whisenhunt the best quarterback available in the post-lockout market? One reason to think so is that with Bidwill and his son, Michael, the team president, extending the contracts of Rod Graves and Whisenhunt through 2013, Kevin Kolb would represent a franchise quarterback to grow around."

Tony Softli of 101ESPN St. Louis
sizes up the Rams' secondary and considers potential free-agent options at safety. Softli on Quintin Mikell of the Eagles: "A safety that has lost a step despite Pro-Bowl accolades. Might be the most complete safety on my board. He excels both in run support and pass coverage. Good tackler in both open and tight space with collision tackling skills and production. His football instincts put him in position with good coverage skills and he still has range to help corners on edge. His age knocks him down a notch."
Nate Ulrich of Ohio.com
checks in with former Rams offensive coordinator Pat Shurmur, now coach of the Cleveland Browns. The report says Browns receiver Josh Cribbs is studying the Rams' offense from last season to get a better feel for what awaits once the lockout ends. Shurmur: "The players are curious about what (our new offense is) going to look like, so they go back and look at the place you've been. The players are sports fans. They're fans of the other teams. They know a lot of the players so they communicate behind the scenes quite a bit, and I'm sure that's what's happening."

Clare Farnsworth of seahawks.com
passes along the full quote from NFL commissioner Roger Goodell regarding 10 a.m. PT kickoffs for West Coast teams. Goodell: "It's something that we're looking at to see how we can address when a team comes back from the West Coast and plays in an early time slot -- 10 o'clock on their clock, if you will. It's something we try to address as best we can in the scheduling format. ... It's difficult to do, because we have a lot of factors that go into that scheduling, including the broadcast patterns. But it is something we've got to try to find a way to deal with. We've been working with the clubs. The Seahawks in particular, and the 49ers, have raised this issue with me. I actually have a memo sitting right here on my desk on that front."
Also from Farnsworth
: Seattle running backs coach Sherman Smith meets with teachers.

Matt Maiocco of CSNBayArea.com
offers thoughts on Glen Coffee's decision to quit football amid
news
that Coffee is playing recreational football. Coffee: "A lot of people think that because I quit, I don't like football or I have something against it. It's not like that. As a recreational sport, I still dig it. It's just not what I wanted to do with my life. I just enjoy recreational sports. I figured it would just be another fun thing to do."
Also from Maiocco
: The 49ers drafted players based in part on their passion for the game. Coffee's situation came to mind when reading this one. General manager Trent Baalke on receiver Ronald Johnson: "He's very passionate. Everybody we talked to at USC talked about his passion for the game. He lives in the weight room, lives in the building. He has always wanted to be a pro."
Matt Barrows of the Sacramento Bee
discusses the 49ers' lockout contingency plans. Barrows: "Jim Harbaugh said that the 49ers coaches have created several contingency plans based on how long they have between the end of the lockout and the first regular-season game. He said it ranged from 10 days to several months. Once the lockout is over, the 49ers will roll with one of their plans. Of course, longer is better. New Cowboys coach Jason Garrett has said he needs a minimum of three weeks to prepare his team before full contact begins."
Eric Branch of the Santa Rosa Press-Democrat
says leadership appealed to the 49ers when they selected Curtis Holcomb in the seventh round. Holcomb, a cornerback, was a four-time team captain at Florida A&M. Baalke: "You want to talk about wired right? I don't think anyone in our building had ever heard of that."
January, 21, 2011
1/21/11
9:51
AM ET

Kent Somers of the Arizona Republic
sets odds for which quarterback will start for Arizona next season. He puts Marc Bulger at 2-1 and then Kyle Orton at 8-1. Somers on Bulger: "The former Rams starter was the backup in Baltimore last season. The Cardinals showed interest when Bulger was on the market last spring, but already had Derek Anderson under contract. Bulger turns 34 in April and hasn't had a good season since 2006. But he's smart, hasn't been hit in more than a year, and could provide a nice bridge to the future, whoever that might be."
Also from Somers
: Ken Whisenhunt's thoughts on the Cardinals' search for a defensive coordinator. Somers: "Whisenhunt confirmed that he had several conversations with former Atlanta Falcons and Seattle Seahawks head coach Jim Mora, and an interview was scheduled for this week. Mora, however, pulled out of consideration, telling Whisenhunt he did not want to coach in 2011. Mora is still being paid by the Seahawks. Mora also pulled out of consideration for the coordinator's position with Cleveland and Philadelphia. Whisenhunt has asked for permission to interview assistants from other teams and expects those discussions to take place next week in Mobile, Ala., between Senior Bowl practices."
Darren Urban of azcardinals.com
passes along this thought from Whisenhunt on possibly losing quarterbacks coach Chris Miller: "He's an energetic coach who has had a very good career as a player, good career as a high school coach and has done a good job with us coaching the quarterbacks. He has a unique perspective. I admire his desire to have something where he can have an impact on young man's lives. I don't want to lose him but I wish him success."

Clare Farnsworth of seahawks.com
names Chris Clemons the team's best defensive player for 2010 while passing out awards across multiple categories. Farnsworth: "No one was quite sure what to expect from Clemons after he was acquired in a March trade with the Philadelphia Eagles, because he never had been a full-time player in his previous five NFL seasons -- with three other teams. But Clemons exceeded expectations by delivering a career-high 12 sacks, a team-high 22 QB hits and also finishing first among the D-linemen in tackles (48). Honorable mention to David Hawthorne, who moved to weak-side linebacker and led the team in tackles (105) for the second consecutive season."
Danny O'Neil of the Seattle Times
has this to say about new Seahawks offensive coordinator Darrell Bevell: "Bevell has more of a Holmgren pedigree, though he never worked for the man. Bevell came to Green Bay in 2000 under Mike Sherman, a Holmgren protégé. In 2006, Bevell went to work in Minnesota under Brad Childress, who coached under Andy Reid — another of Holmgren's direct coaching descendants."
John Morgan of Field Gulls
expects big changes for the Seahawks' offense with Bevell and Tom Cable on staff. Morgan: "Which makes the marriage of Bevell and offensive line coach Tom Cable make a lot of sense. Both want to run the ball, running the ball will be the foundation of the offense, and the pass will work from that. Maybe we should call Bevell a passing game coordinator. Whatever you want to call it, expect Seattle to invest resources into improving the run game and judge its offensive success in 2011 by the performance of that run game."

Bernie Miklasz of the St. Louis Post-Dispatch
examines whether Sam Bradford might regress some while learning a new system. Miklasz: "If Bradford can settle into the McDaniels offense for two or three seasons (at least), then he should be able to settle in without calamity. I also think we have to acknowledge another obvious thing: Bradford is a smart guy. He learns quickly. He'd never run the West Coast offense before, and knew nothing about it. But after being expertly prepped by Pat Shurmur and QBs coach Dick Curl, Bradford made a swift acclimation, passing for 3,512 yards, completing 60 percent, and throwing 18 TDs with 15 interceptions. And Bradford achieved this without the benefit of elite receivers."
Jeff Gordon of stltoday.com
says the Rams are turning heads with the new ways they are operating. Brian Baldinger: "The Rams are in the league now. They were a second-class citizen for a long time. Nobody took them seriously, nobody, and the players knew it. It was really frustrating to be a pro, to be an O.J. Atogwe. You can see this team has life, it has direction."

Matt Barrows of the Sacramento Bee
says this about the 49ers potential hiring of Brad Seely as special-teams coach: "If that's the case, Jim Harbaugh has reeled in one of the top special teams coordinators in the league and one with 22 years of NFL coaching experience. Seely and the Browns won the Morning News' award for the 2009 season, one in which Cleveland finished with the worst offense in the league and the 31st-ranked defense. The special teams unit, led by return man Josh Cribbs, was outstanding and was a big factor in three of the team's five wins that season. Gosselin's rankings for 2010 have not been released."
The 49ers' website
offers thoughts from linebacker Thaddeus Gibson. Gibson: "Not playing, it kind of reminded me of my redshirt year at Ohio State in the sense that I was sitting back and trying to learn as much as I could. I've just worked out hard, stayed in the film room, learned as much as I could from the guys who have been doing it for years, and every day I just tried to get better as the season went on. I think I'm a much better football player now than I was a year ago."
Kevin Lynch of Niner Insider
expects 49ers coach Jim Harbaugh to emphasize the running game even though Harbaugh played quarterback in the NFL. Lynch: "Harbaugh, along with new offensive coordinator Greg Roman will also be completely run orientated based on Roman's background and Stanford's recent history. Roman's background has been varied, including a two-year stint in Houston as a quarterbacks coach. Under Roman in 2004, David Carr had his best season, throwing for 3,531 yards and compiling a 83.1 passer rating."
January, 14, 2010
1/14/10
3:17
PM ET
The recently announced 2009 NFL All-Pro team has as many former Seahawks (two) as current NFC West players.
The Cardinals'
Adrian Wilson
and the 49ers'
Patrick Willis
made the team, as did former Seahawks
Steve Hutchinson
and
Leonard Weaver
.
Niners tight end
Vernon Davis
appears capable of making a serious run at the tight end spot next season.
January, 10, 2010
1/10/10
9:13
AM ET

Kent Somers of the Arizona Republic
says it's time to trade pregame storylines for the real thing when Green Bay visits the Cardinals in the wild-card round. Coach Ken Whisenhunt: "I think we showed last year our potential and what we can do, but I think we've done it more consistently this year, which, to me, makes you a better football team. When you can show up and win in all facets and do it more consistently, that shows a better football team."
Also from Somers
: Anquan Boldin appears likely to test his injured ankle in pregame warm-ups before the team decides whether he can play.
More from Somers
: a look at key stats and variables in the Packers-Cardinals game. The Packers are plus-24 in turnovers this season. Somers: "It's an astounding number, keyed by 30 interceptions. The Packers don't commit many turnovers themselves, just eight fumbles and eight interceptions. The running backs have carried 374 times without losing a fumble. The Packers don't beat themselves much, in other words, so the Cardinals can't afford to be careless with the ball. If so, the Packers offensive will capitalize and this game could turn ugly."
Dan Bickley of the Arizona Republic
raises questions about how long Kurt Warner will continue playing. Bickley: "As kickoff nears, Cardinals fans will become jittery, nervous. There's a lot on the line, maybe even a window of opportunity. But most will take great comfort in their quarterback and wouldn't trade him for anybody in the NFC. Warner has the experience. He has proven himself over and over in pressure situations. He has been to three Super Bowls, and delivered each time. He rates a big edge over the blossoming Aaron Rodgers, who never has participated in a playoff game."
Darren Urban of azcardinals.com
suggests injuries were bound to strike the Cardinals at some point.

Brian Jennings of the 49ers
picks the Packers to beat the Cardinals in a game that could be a blowout, he thinks, if Green Bay can force a couple of turnovers. Jennings: "If the Cardinals can win the turnover battle, they could win this game. Another thing I can't overlook is Ken Whisenhunt and his coaching staff. They do a great job of preparing their team for the playoffs. But in the end, I'm going to go with Green Bay. I like the Packers to win 27-23. The game is being played indoors, so I think both teams will probably be able to score a lot of points. If the Packers get a couple of turnovers, it could be a blowout. I think the Packers are really the only team out of the wild-card round that can play in the Super Bowl this year."
Matt Maiocco of the Santa Rosa Press-Democrat
says the 49ers and Browns talked about a potential Josh Cribbs deal before the trading deadline, but the sides could not agree on compensation. Maiocco: "Would the 49ers be interested if Cribbs hit the trade market? I'm sure they would. But at what price, I do not know. But let's not get too carried away with disgruntled Cribbs' trade demands. Heck, the trade period does not open until March."
Matt Barrows of the Sacramento Bee
says the 49ers have spoken with Larry MacDuff about their opening for special-teams coach. MacDuff coached for the 49ers from 2003 to 2006. Bobby April could be another candidate to coach the 49ers' special teams after Al Everest's firing.

Danny O'Neil of the Seattle Times
says the Seahawks have indicated "president" is not one of the titles "in play" for Pete Carroll. O'Neil: "Carroll will not have final say over all football decisions as it relates to personnel. The Seahawks have told the Fritz Pollard Alliance that -- if Carroll is hired -- he's not the ultimate authority on draft choices and trades. Carroll is going to serve as final authority on the 53-man roster. The Seahawks specified this to the Fritz Pollard Alliance as well."
Also from O'Neil
: Drew Bledsoe, Lawyer Milloy and Lawrence Jackson vouch for Carroll. Bledsoe: "I can't speak highly enough of Pete as a coach and as a person. I really would have loved to have played for the guy for a bunch of my career."
Dave Boling of the Tacoma News Tribune
isn't convinced Carroll would be the right person for the job in Seattle. Boling: "If a deal comes together as reported, five years for as high as $35 million, with possible dual titles of head coach and franchise president, Carroll has two immediate requisites: 1) Put together an all-star staff of assistants, most with NFL experience, and 2) hire an indefatigable GM with a track record of personnel success in the NFL."
Sam Farmer of the Los Angeles Times
says the Seahawks could promote pro personnel director Will Lewis to be their general manager.

Jim Thomas of the St. Louis Post-Dispatch
says the Rams' special teams showed progress under Tom McMahon. Thomas: "The Rams' league-wide rankings in net punting (second), punt coverage (fourth) and kickoff coverage (22nd) were the highest for the team in the decade. (That's right, a No. 22 ranking on kickoff coverage was a single-season best for the Rams from 2000 through 2009.) The Rams' ranking in kickoff returns (11th) was their second-highest ranking of the decade; gross punting (fourth) was third-best; and punt returns (eighth) was fourth-best."
Also from Thomas
: Rams cornerback Ron Bartell says he knew the Rams were not going to succeed right away. Bartell: "I got into it for the long haul. So I knew it was going to take time. ... We still have the right people in place. I totally, firmly believe that. I think I made the best decision for me. I still think we can get this thing turned around."