NFC West:

Justice Cunningham
November, 26, 2014
11/26/14
1:00
PM ET
EARTH CITY, Mo. -- The
St. Louis Rams
made a small roster tweak Tuesday evening, adding another body at tight end and cutting ties with a wide receiver.
Williams
On his way out is
Damian Williams
, the veteran wideout the Rams signed a few weeks ago. Williams played one game for the Rams but had been inactive the past couple weeks because of a hamstring injury.
Tight end Justice Cunningham replaced Williams on the active roster, earning the promotion from the practice squad. Cunningham had received interest from another team looking to add him to its active roster, but the Rams made the move to help prevent Cunningham from leaving.
With the addition of Cunningham and subtraction of Williams, the Rams now have five tight ends and four receivers on the 53-man roster. The five tight ends --
Jared Cook
,
Lance Kendricks
,
Cory Harkey
,
Alex Bayer
and Cunningham -- comprise the same group that made the team's initial 53-man roster out of training camp.
The Rams will have to make another roster move this week to add defensive end
Chris Long
to the roster from the injured reserve/designated to return list. Long has been practicing the past two weeks, and it's expected he'll be ready to go this week against the
Oakland Raiders
, barring a setback.
August, 27, 2014
8/27/14
4:30
PM ET
EARTH CITY, Mo. -- Only the
St. Louis Rams
know exactly how many players they plan to keep at each position. Therein lies the difficulty in attempting to project a 53-man roster.
But that doesn't mean we can't take a quick spin around the roster and offer a look at some of the decisions the Rams might have to make when Saturday's 4 p.m. ET final cuts arrive.
For the players listed here, the opportunity to make a strong closing argument comes Thursday night against Miami in the preseason finale.
Quarterback:
The question here is whether the Rams will keep two or three.
Austin Davis
is probably locked in as the second quarterback, at least until or if the Rams find a veteran option they prefer after the available signal-callers crystallize. Rookie
Garrett Gilbert
hasn't done much in preseason and would stick mostly because the Rams wouldn't want to be short in the event of an injury. But they could probably get Gilbert through to the practice squad with relative ease.
Running back:
There are three locked in here, leaving two questions: will the Rams keep four or five? And if not, who wins between
Chase Reynolds
and
Trey Watts
? Reynolds is a core special teams player but Watts is working on that part of his game and is a better, more versatile contributor to the offense. Keep an eye on Watts against the Dolphins.
Tight end:
The Rams will probably keep four here and it's no secret the battle likely comes down to blocking specialist
Justice Cunningham
vs. pass catcher
Alex Bayer
. This is truly a "pick your flavor" situation. Cunningham might have a slight edge because his blocking can also translate to special teams but a big performance from Bayer against Miami might make it tough to allow him to leave.
Offensive line:
It's not unusual for the Rams to keep as many as 10 here, however, it doesn't look like there are that many worthy this year. The Rams have more positional versatility with guys who will make the team, which might mean they only keep eight or nine. There are probably seven spots accounted for at this point. The battle for the final spots will likely come down to picking one or two from a group that includes
Brandon Washington
,
Travis Bond
,
Mike Person
and
Sean Hooey
. They also must figure out what to do with
Barrett Jones
, who is out with a back injury and doesn't have a timetable for return.
Defensive end:
This one is well documented. The Rams will keep nine, perhaps even 10 though nine seems more likely. It's
Michael Sam
vs.
Ethan Westbrooks
. It's hard to envision a scenario in which Westbrooks doesn't make the team, especially given his versatility. Sam has been more productive as a pass-rusher in preseason games but doesn't have the ability to move along the line. One thing to keep an eye on in Miami is whether current backups
Eugene Sims
and
William Hayes
play. Sims hasn't practiced this week and Hayes still hasn't played in a preseason game. If those injuries are a little more extensive, maybe it opens the door for both Sam and Westbrooks.
Linebacker:
There are five in solid shape here but the Rams don't really have a sixth who has stood out.
Phillip Steward
has played a lot on special teams and that could be a sign he's well positioned, but don't be surprised if the Rams go searching for a sixth linebacker on the waiver wire.
Aaron Hill
,
Lawrence Wilson
and
Etienne Sabino
will get one more shot to prove they're worthy.
Cornerback:
With starter
Trumaine Johnson
expected to miss four-to-six weeks with a sprained MCL, the Rams will likely have to keep an extra body here behind
Janoris Jenkins
,
Lamarcus Joyner
,
Brandon McGee
and
E.J. Gaines
. That leaves a fight amongst
Marcus Roberson
,
Greg Reid
and
Darren Woodard
for a potential sixth spot. Roberson is the best in coverage, Reid the best tackler and Woodard something of a happy medium. Keep an eye outside the hashes in the second half Thursday night.
August, 14, 2014
8/14/14
8:00
PM ET
EARTH CITY, Mo. -- A daily review of the hot topics coming out of
St. Louis Rams
training camp:
The Rams continued to turn up the dial on the physical approach to practice Thursday as coach Jeff Fisher indicated they would earlier this week. Fisher said his team needs work on the run game and they certainly got that work in this practice. That's been a familiar sight in the past two weeks as the Rams try to turn it up before the regular season arrives.
Some quick injury news. ... Fisher said left tackle Jake Long will not play this week against Green Bay but they are targeting next week against Cleveland to get him some game action. That falls in line with the plan for him from the beginning. ... Cornerback Janoris Jenkins got back to work Thursday and though he might not play this week, he went through team drills and is close to ready. ... Rookie center Demetrius Rhaney had the scariest moment of the day when he stayed down after his knee buckled on a field goal drill. Rhaney had to be taken off on a golf cart. Fisher said the initial indication was that Rhaney's injury wasn't as serious as first feared but he would still need an MRI. ... Fisher also said right guard Rodger Saffold is "close" to returning from a stinger injury.
On the field, there were some big plays and plenty of heavy collisions. Tight end Justice Cunningham continues to find himself in some of the bigger collisions in running drills. Lining up at fullback, Cunningham and end Eugene Sims had a train wreck during one drill in which the pads could be heard from about 100 yards away. Cunningham is certainly making his presence felt as a blocker. Quarterback Sam Bradford had a couple of nice hookups on deep balls, one down the sideline to receiver Brian Quick and another, better throw to tight end Lance Kendricks down the seam. Tight end Brad Smelley, who just joined the team earlier this week went up for a tough over the shoulder catch for a touchdown in the corner of the end zone.
Former NFL quarterback Jeff Blake, father of Rams receiver Emory Blake, attended Thursday's practice. He had to be a proud papa when he saw the younger Blake rise up for the catch of the day, snatching a touchdown out of a Cody Davis and Marcus Roberson double team. Linebacker Ray-Ray Armstrong was quick to voice his displeasure with the defense's inability to stop Blake.
Funny moment of the day: Quick tipped a ball to himself on a pass to the corner but came down out of bounds as the defense closed in around him. Tight end Jared Cook was nearby and quickly chastised Quick for not tipping the ball back to him. He was joking, of course but the delivery was perfect deadpan. Maybe you had to be there.
The Rams have no practice Friday as they finished preparations for Saturday's preseason game against the Green Bay Packers.
August, 12, 2014
8/12/14
9:30
PM ET
EARTH CITY, Mo. -- A daily review of the hot topics coming out of
St. Louis Rams
training camp:
The Rams followed a sluggish Monday practice with a physical Tuesday workout with plenty of work on the run game, some big collisions, and even a small skirmish. For the second time in this camp, defensive end Michael Sam found himself exchanging shoves with a teammate, this time offensive tackle Joe Barksdale. During a run blocking drill late in practice, Barksdale blocked Sam to the ground after the whistle. Sam took exception and went after Barksdale. The two were separated quickly.
Perhaps more entertaining than that is watching rookie Greg Robinson take part in the run blocking drills. You can tell the big man just feels at home when he gets to move downhill and wipe out a defender. One of the unfortunate souls in his way Tuesday was linebacker Johnny Millard. Robinson buried Millard after a short head start with the sound of impressed teammates serving as the sound track. We haven't really seen Robinson cut it loose yet in part because he's still learning but drills like that should certainly help open things up a bit.
Tight end Justice Cunningham is another one who drew some oohs and aahs from his teammates for his blocking in the run drills. Cunningham, working out of a fullback spot, came down hill and dropped the hammer a couple of times. He's battling Alex Bayer for a potential fourth tight end spot. Bayer has the leg up on the receiving side but Cunningham is ahead as a blocker. Should be an interesting battle.
Receivers Austin Franklin and Stedman Bailey had strong outings in the one-on-one passing drills. Franklin caught back-to-back touchdowns against Rodney McLeod with some sharp route running. Bailey continues to consistently get open and make plays when the opportunity arises.
On the flip side, cornerbacks Brandon McGee and Greg Reid had some impressive pass breakups in seven-on-seven. McGee climbed the ladder on a deep ball to receiver Brian Quick and though it appeared Quick had him beat, McGee stuck with it and jarred the ball loose for an incompletion. He's battled an ankle injury in camp but seems to be rounding back to form.
The funniest moment of the day came after the veterans departed practice, leaving only the rookies on the field. Running back Tre Mason ran into the flat where a pass was thrown to him but apparently the sun got in his eyes and it hit Mason in the chest. Problem was, Mason never saw it, so it hit him in the chest and fell to the ground. The miscue brought chuckles from coaches and teammates.
CB Janoris Jenkins, CB Darren Woodard, S Matt Daniels, FB Kadeem Jones, LB James Laurinaitis, OL Barrett Jones, OL Brandon Washington, OL Rodger Saffold, DT Michael Brockers and DL William Hayes did not participate in Tuesday's practice.
The Rams have an afternoon special teams practice scheduled for Wednesday at 3 p.m. local time. That workout is closed to the public.
August, 4, 2014
8/04/14
7:45
PM ET
ST. LOUIS -- A daily review of the hot topics coming out of
St. Louis Rams
training camp:
Now THAT was a football practice. There's no doubt the Rams want to be an aggressive, physical team unafraid to hit opponents in the mouth. At Monday's workout, they weren't afraid to hit one another in the mouth, either. In what was the most physical practice of this training camp, the Rams got after it all afternoon with shoulder pads on and run game drills aplenty. The defining moment came when receiver Austin Pettis felt like cornerback Lamarcus Joyner was a little too over the top in his pursuit of the ball after a play and threw it at Joyner. Joyner wasn't pleased with that response and went after Pettis. Before they were separated, both players threw punches and most of the team intervened to pull them apart. It wasn't the only moment of the day where the feisty Joyner got under someone's skin. A handful of plays before the skirmish, Joyner got tangled with receiver Kenny Britt and ended up with Britt's helmet in his hands. Britt later repaid the favor with a crushing downfield block. Joyner might be small but it's quite clear he doesn't back down.
As for the run-game work, the Rams emphasized that in today's practice. They did a period of run-blocking only drills early in the practice and made it a point to do even more during the team portion. They didn't tackle but there was plenty of "thud" tempo. That might not do it justice but think of these thuds as the kind that used to show up on the old Batman TV show where the word is in all caps with 18 exclamation points behind it. Starting running back Zac Stacy brought the hammer repeatedly, dropping his shoulder into safety Rodney McLeod multiple times and doing the same to linebacker Ray Ray Armstrong. Tight end Cory Harkey did the same after a couple of catches, including one that drew some not-fit-for-print words from Armstrong.
A couple of others who showed up when the contact increased: tight end Justice Cunningham and safety Maurice Alexander. After Alexander came up with a run stuff in one period, defensive coordinator Gregg Williams could be heard yelling "Look who finally showed up." Cunningham came with some big blocks during run plays in team as well, drawing praise from his offensive teammates and coaches.
The walking wounded list is still extensive but none of the injuries appear serious. Among the key names not practicing were linebacker James Laurinaitis, defensive tackles Michael Brockers and Kendall Langford, wide receiver Brian Quick, cornerbacks Janoris Jenkins and Brandon McGee and offensive lineman Barrett Jones. Laurinaitis, Brockers and McGee are battling ankle issues and Saffold has a stinger. One player who did practice was safety Christian Bryant. He's been stuck on the non-football injury list since his arrival and Monday's workout was his first with the Rams.
The Rams return to practice Tuesday with the workout scheduled for 6:30 p.m. ET. That practice is the only one left this week open to the public at Rams Park.
April, 29, 2013
4/29/13
9:00
AM ET
The NFC West's fiercest current rivals, San Francisco and Seattle, both wound up selecting tight ends from Rice University in the recently completed NFL draft.
How the 49ers and Seahawks selected those tight ends invites a question: Did the 49ers snatch from Seattle a player the Seahawks would have selected?
Tight end was seen as a primary need for the 49ers and a secondary one for the Seahawks based on how each team has run its offense recently.
When NFL teams selected three tight ends between the 21st and 47th selections, San Francisco risked watching more players at the position come off the board before it was scheduled to select with the 61st overall choice. So, with Green Bay on the clock at No. 55 and Seattle scheduled to pick at No. 56, the 49ers traded into the Packers' slot to select Vance McDonald, the more prominent of Rice's tight ends last season.
Seattle then traded back six spots to No. 62 before selecting Texas A&M running back
Christine Michael
. The Seahawks later selected McDonald's teammate, tight end Luke Willson, in the fifth round at No. 158 overall.
To my knowledge, no one asked 49ers general manager Trent Baalke or his Seattle counterpart, John Schneider, about the sequence when San Francisco jumped past the Seahawks to select McDonald. The two men worked together in Washington years ago and could have a good feel for the other's tendencies. However, there is no way the 49ers could have known whether the Seahawks or any other team was going to select McDonald between the 55th and 61st selections.
"There's times when you want to sit tight and there's a lot of times where people will question, 'Well, why did you move up five when he would have been there?'" Baalke told reporters when discussing trades in general. "Well, there's no proof that the player would have been there. So, you do what you need to do to make sure you get the players you want to get."
By trading up six spots, the 49ers moved past Atlanta, New England, Denver, Houston and Seattle in the draft order. Three of those five teams selected tight ends later in the draft. Atlanta used a fourth-rounder for Stanford's Levine Toilolo. Seattle used the fifth-rounder for Willson. Houston used a sixth-rounder for Ryan Griffin from Connecticut.
Baalke could have sized up those teams' needs collectively when deciding to move up for McDonald. He might not have had only the Seahawks in mind.
The 49ers had enough picks to move around the board freely to fill needs at values agreeable to them. The price they paid Green Bay for the 55th choice -- the 61st and 173rd picks -- was lower than the price Seattle commanded for the 56th selection (Baltimore handed over the 62nd, 165th and 199th picks for that one).
[+] Enlarge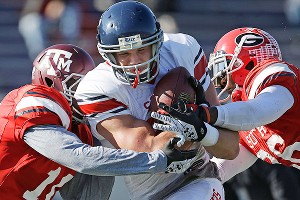 AP Photo/Dave MartinSan Francisco traded up in the second round to select Rice tight end Vance McDonald.
Comparatively, then, the 49ers got a good deal. Why not move up if the price is right? The Packers have long been known as a team willing to move back for additional picks. They simply could have made for a convenient trading partner whether or not Seattle was scheduled to select one spot later.
Teams usually have several players in mind for each selection they hold. They move up when the list of players they consider worthy of a certain value range dwindles, or if a specific player within striking distance is rated far higher than others likely to be available to them. They move down when the list of worthy players is longer.
"I don't know that you ever trade back six, seven, eight picks and hope one player's there," Baalke said when explaining why the 49ers traded back six spots to No. 40. "That's risky business. So, we had a number of players that we were willing to take. And at that time we felt that one of that group of guys was going to be available at 40, and we would have been happy with all of them."
The fact that McDonald and Willson both played at Rice before winding up in the NFC West seems coincidental.
"Vance was obviously the more stout guy, if you will," Schneider said. "Willson was more of the down-the-field threat, but there is no question Vance was much more involved in their offense."
Injuries limited Willson in 2012. He previously played first base on the Canadian national team and spent time in the Toronto Blue Jays organization. According to the Vancouver Sun,
Willson posted impressive numbers
at his pro day: 4.46 seconds in the 40-yard dash, 38-inch vertical leap, 10-plus feet in the broad jump and 23 reps of 225 pounds in the bench press.
"We like the fact that for us he was the second-best tester of all the tight ends in this draft," Schneider said. "He is 6-5 1/2, running 4.51 and great hands, can get down the field. He is quick off the ball, gets his shoulders around quick. He is a really interesting prospect for us."
Baalke said his team valued McDonald's versatility in particular. McDonald also led all tight ends at the NFL scouting combine with 31 reps on the bench press.
"He's 260-plus pounds, he's got a huge wingspan, he's got big hands," Baalke said. "He lines up all over the place. He lines up a little bit in the backfield. He lines up on the line of scrimmage. He lines up in the wing position, off the line of scrimmage. And he also lines up outside. He's smart, he's tough and he is a good fit within our system."