May, 8, 2014
May 8
1:30
PM ET
EARTH CITY, Mo. -- We've finally arrived at draft day and the next few hours will provide our final chances at speculating on what could happen instead of evaluating what has happened.
With that in mind, let's make the most of that time and go through five scenarios that could play out for the
St. Louis Rams
with the No. 13 pick when they come on the clock tonight. Since there are many more possibilities at 13, we'll do our best to narrow them down.
It's been awfully difficult to sift through the smoke in this pre-draft process, but these are the five things I believe the Rams will consider for the 13th pick in order of how I think the team will prioritize them.
1. Trade down
Manziel
Once again, this is general manager Les Snead and coach Jeff Fisher we're talking about here. They have traded every first-round pick they have had since arriving in 2012. There is no reason to think they wouldn't do so again.
It's harder to project who teams could target in a move up here, but if one of the top players falls, there are plenty of teams that could look to move up. A top quarterback such as Texas A&M's
Johnny Manziel
or Central Florida's
Blake Bortles
might draw some attention, as could a top offensive lineman like Notre Dame's
Zack Martin
or Pittsburgh defensive tackle
Aaron Donald
.
If they make a trade, the Rams could still likely have their pick of a top cornerback, safety, linebacker or another position of need.
2. Draft a top player who surprisingly falls
Donald
Much has been made of the potential for the Rams to draft Manziel. While it's likely he'll be gone by this point, if he does fall, don't be surprised if the Rams pull the trigger on him with this pick (though a trade could also materialize). There are other top players who seem destined to go in the 12, but could slide to St. Louis and become intriguing options.
In our
NFL Nation mock draft
, Donald slipped to 13 and I chose him for the Rams. I think they would do the same if he somehow made it to them but again, that is not expected because three-technique tackles capable of rushing the passer are so hard to find.
3. Draft the best player available
Mosley
This isn't much different than the above category with this exception: in this instance, I'm not accounting for a player who would be regarded as a surprise should he fall to this spot. Heading up the list of players worth watching at this spot is Alabama linebacker
C.J. Mosley
. He hasn't been linked to the Rams much in the pre-draft process (though our Todd McShay has mocked him to St. Louis a couple of times) but I've been told the Rams think highly of him and believe he could be the perfect final piece to round out their linebacking corps.
Martin is another player who fits this mold and could be an easy pick for the Rams here, especially if they don't take a tackle with their earlier pick.
4. Draft a top cornerback

Dennard
It is not often that needs meet value perfectly, but this is one spot in the draft where that could happen. The Rams seem content with
Janoris Jenkins
and
Trumaine Johnson
as starters but they have also spent plenty of time vetting the top cornerbacks in this year's draft. Oklahoma State's
Justin Gilbert
, Michigan State's
Darqueze Dennard
and Virginia Tech's
Kyle Fuller
are among the names that paid pre-draft visits to Rams Park, and it's possible all could be available at this point.
If that's the case, the Rams could have a decision to make if they choose to go this direction. Although Dennard is believed to be the best scheme fit, I believe the Rams might view Gilbert as the better player. Adding a top corner here would certainly help a secondary in need but it seems other top players at positions of lesser need would have to be gone first. A first-round corner feels more likely in a trade down scenario but the Rams could go that direction here if there isn't a better value here.
5. Draft a safety

Clinton-Dix
Most signs indicate that the Rams aren't sold enough on either of the top two safeties -- Louisville's
Calvin Pryor
or Alabama's
Ha Ha Clinton-Dix
-- to draft one at No. 13 considering the other options that figure to be available. Again, this seems like an alternative possibility should the Rams find a trade-down partner with this pick. For what it's worth, I believe the Rams actually prefer Pryor to Clinton-Dix, but most indications are that they are more likely to wait until the second or third round to pick this position.
April, 30, 2014
Apr 30
2:30
PM ET
There has been speculation throughout the NFL draft season that the
San Francisco 49ers
could be a prime candidate to move up in the first round next Thursday.
A potential trade partner could be the
Baltimore Ravens
. The Ravens hold the No. 17 pick. Ravens general manager Ozzie Newsome told reporters Wednesday that they have already received calls for the pick.

Let's look at some reasons how the 49ers (who have the 30th overall pick in the first round) and the Ravens could be trade partners.
49ers have done it before:
This move up would be 13 spots. The 49ers did exactly that last year when they went from No. 31 to No. 18 in a trade with Dallas to take safety
Eric Reid
, who became a Pro Bowl player as a rookie. In addition to No. 31, the 49ers gave Dallas No. 74, in the third round.
Teams work well together:
We know these two teams communicate. Of course, Jim and John Harbaugh are the respective coaches of the 49ers and the Ravens. Plus, the two teams have been in contact this spring putting together a joint workout in August. Newsome and 49ers general manager Trent Baalke have had dealings in the past. And the Ravens sent receiver
Anquan Boldin
to the 49ers last year.
Potential targets:
The 49ers' top needs are at cornerback and receiver. The cornerbacks expected to go in the top 20 are Oklahoma State's
Justin Gilbert
, Michigan State's
Darqueze Dennard
and perhaps Virginia Tech's
Kyle Fuller
. The receivers who could be taken in that range include LSU's
Odell Beckham Jr.
and Oregon State's
Brandin Cooks
. The 49ers have been studying both players intensively.
What would it cost?
The 49ers have a few packages to offer. They could offer No. 30 and No. 77, in a similar deal to the Dallas swap. Or they could offer No. 56 and No. 61, and perhaps even those two picks with No. 84 or No. 129.
Have they already talked?
Newsome said they've had preliminary talks with teams, and Baalke said last week it is routine for him to have initial talks prior to the draft with potential trade partners to discuss potential scenarios.
It's already been suggested:
Former Tampa Bay general manager and current ESPN analyst Mark Dominik
suggested a 49ers-Ravens trade for No. 17

in an Insider piece last week.
April, 25, 2014
Apr 25
11:00
AM ET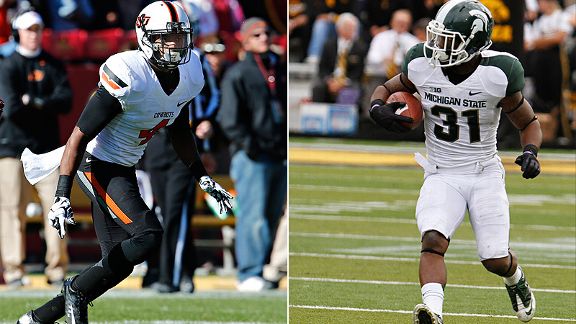 Getty ImagesOklahoma State's Justin Gilbert, left, and Michigan State's Darqueze Dennard are two players who could upgrade San Francisco's defense.
When the May 8-10 NFL draft is complete, the
San Francisco 49ers
will likely have new players at cornerback and wide receiver who will be expected to contribute as rookies.
Those two positions are the 49ers' biggest need areas. They don't have a ton of immediate needs, so filling holes at those two spots is expected. To go along with the fact that they don't have a lot of needs is the 49ers, whose first pick is No. 30, have six picks in the first three rounds, which is the most in the NFL.
So San Francisco is flexible. It can trade up to get a player -- more likely a cornerback than a receiver because receiver is deeper in top-end talent and cornerback is a more pressing need. It can also find a way to trade up and select twice in the first round. Or it can keep its two second-round picks (No. 56 and No. 61).
Let's take a look at some of the players the 49ers could take at each spot. Since the 49ers are more likely to take a cornerback first, we will look at some of the second-tier receivers instead of top options such as Clemson's
Sammy Watkins
and Texas A&M's
Mike Evans
because both players would likely require big trade-ups.
Cornerbacks
Justin Gilbert, Oklahoma State
Why is he a top prospect? He's widely considered the most complete cornerback in the draft by many scouts. He is also a dangerous return man. Of all the players in this draft, he could be worth the 49ers moving up.

What are the risks? There is no sure thing he will be an elite shutdown cornerback. He may just be very good and not worth a high pick.

How could he be the choice? If the 49ers think he is the missing link on their defense and he is worth a trade up of 15 to 18 spots, I could see this happen.

Quotable: "I think I'm a dangerous return man with the ball in my hands, and on an interception there is always a possibility for me to take it back to house," said Gilbert on his playmaking ability.
Darqueze Dennard, Michigan State
Why is he a top prospect? He looks the part and has shown flashes of being a star.

What are the risks? Some teams don't think he is a true No. 1 cornerback. He may not be a perfect fit for every defense, and there are speed questions.

How could he be the choice? If he fell a little bit and if the 49ers have him high on their board, I could see a possible trade up to get him.

Quotable: "I know in the NFL it's a 5-yard radius. I can run with receivers, and I can go get the ball. I don't need to be that aggressive and still play good ball," Dennard said in this interview.
Jason Verrett, TCU
Why is he a top prospect? He is versatile, strong, smart and fundamentally sound. A terrific tackler.

What are the risks? He's small. Many teams want their cornerbacks to be taller.

How could he be the choice? If he is there when the 49ers pick at No. 30, he would be difficult for them to pass up. He'd be a perfect fit in the slot, and the 49ers could go get taller cornerbacks in the second or third round.

Quotable: "If I'm 5-9, I'm 5-9. But I can compete with anybody," said Verrett on his confidence despite his lack of ideal size.
[+] Enlarge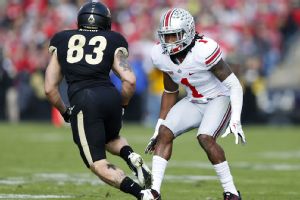 Joe Robbins/Getty ImagesBradley Roby says he learned a lot in his final season at Ohio State.
Bradley Roby, Ohio State
Why is he a top prospect? He's very athletic, and he looks the part.

What are the risks? He doesn't have the greatest ball skills, and he wasn't consistent last season.

How could he be the choice? Maybe if the 49ers want to trade back to the 35-40 range and Roby is still there. I could see value there based on potential.

Quotable: "I think I had a decent season. It wasn't what I expected. The first half of the season didn't go as I expected. Those things happen. I learned a lot from it, and I got better," Roby said of criticisms of his 2013 performance.
Kyle Fuller, Virginia Tech
Why is he a top prospect? He's super fast, and the game doesn't seem too big for him.

What are the risks? There is concern that he might be just a good college player.

How could he be the choice? If he is on the board at No. 30 (no sure thing), I could easily see the 49ers jumping on him. They've scouted him hard.

Quotable: "I moved around in our defensive backfield. I played field, I played boundary. That just shows how versatile I am. I enjoyed playing at Virginia Tech. I definitely consider myself a physical player," Fuller said about the style of play he concentrated on in college.
Receivers
Brandin Cooks, Oregon State
Why is he a top prospect? He is highly productive and polished, complete with top-shelf speed. That's rare.

What are the risks? He is not big and perhaps the NFL game could be too much for him.

How could he be the choice? If he is there at No. 30, the 49ers would have a hard time saying no to him. He could be part of a trade up. I could see the 49ers maybe giving up their two second-round picks to take Cooks at No. 25 and then take a cornerback at No. 30. The Northern California native would look great in a 49ers uniform.

Talking numbers: Cooks led the Football Bowl Subdivision with 32 receptions of 20 yards or longer.
Odell Beckham, LSU
Why is he a top prospect? He is highly athletic, fast and productive.

What are the risks? LSU receivers haven't always had the greatest NFL success.

How could he be the choice? There's a lot to like about Beckham. If the timing is right, I could see the 49ers getting aggressive in their pursuit of him.

Talking numbers: He had an AQ-high 26 receptions on passes thrown 15 yards or longer downfield last season. He had multiple receptions on passes of this distance in seven of 13 games.
[+] Enlarge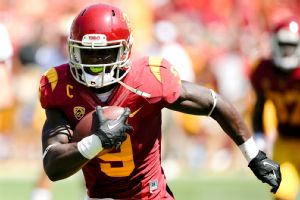 AP Photo/Chris CarlsonMarqise Lee caught 57 passes for 791 yards and four touchdowns in 2013.
Marqise Lee, USC
Why is he a top prospect? He has had success, and he looks the part of a stud No. 1 receiver.

What are the risks? He is not overly fast. He is a bit on the slight side, and he wasn't great in 2013.

How could he be the choice? There has been talk that Lee could fall. If he's there at No. 30, the 49ers may be tempted. Perhaps they could see how far he would drop in the second round and then make a move for him.

Talking numbers: USC quarterbacks completed 69.7 percent of their pass attempts, with 29 touchdowns and just one interception, when targeting Lee in his career.
Kelvin Benjamin, Florida State
Why is he a top prospect? He's a big, strong, impact player.

What are the risks? Some scouts think that he is a bit raw and should have stayed in school for another season.

How could he be the choice? I'm not sure the 49ers would take Benjamin at No. 30 if one of the top cornerbacks is on the board.

Talking numbers: Benjamin gained a first down or touchdown on 83.3 percent of his receptions last season, tied for the third-highest percentage among FBS wide receivers.
Davante Adams, Fresno State
Why is he a top prospect? He is big and strong and was ultraproductive.

What are the risks? Some scouts worry that he hasn't faced great competition and there could be a learning curve in the NFL.

How could he be the choice? If Adams is on the board in the second round, the 49ers could easily take this Bay Area native. Like 49ers coach Jim Harbaugh, Adams played for Earl Hansen at Palo Alto High School. Harbaugh is still close to Hansen, so he has some inside information.

Talking numbers: Adams led the FBS in receptions (131) and receiving touchdowns (24) and ranked second with 888 yards after the catch.
Jordan Matthews, Vanderbilt
Why is he a top prospect? Polished, hard worker who has big upside.

What are the risks? Doesn't have great speed, and some scouts wonder if he will make a big impact in the NFL.

How could he be the choice? He could be a possibility in the second round, although the 49ers might be looking for a receiver with more speed.

Talking numbers: Matthews led all AQ receivers with 44 receptions and 421 yards on screen passes last season. He averaged 9.6 yards per reception on screens, which was 2.5 yards more than the AQ average.
Cody Latimer, Indiana
Why is he a top prospect? Teams are focusing on Latimer. He has top-end length and speed.

What are the risks? Receiver is a high-bust position. There have been good college players like Latimer who have failed before.

How could he be the choice? The 49ers could fall in love with Latimer's speed and try to take him if he is available near the end of the first round.

Talking numbers: In 2013, Latimer caught 72 passes for 1,096 yards and nine touchdowns.
Bruce Ellington, South Carolina
Why is he a top prospect? Small, but strong player who is excellent after the catch.

What are the risks? Not overly polished and doesn't possess great speed.

How could he be the choice? He could be a good value in the second round.

Talking numbers: Ellington had a combed 15 touchdown catches in the past two seasons.
April, 24, 2014
Apr 24
7:50
PM ET
Former Ohio State cornerback
Bradley Roby
was
arrested over the weekend
for OVI -- operating a motor vehicle while impaired -- in Ohio. He is considered a top NFL draft prospect and could be a target of the 49ers at pick No. 30.
However, because of all the off-field issues surrounding the team this offseason, it would create a major stir if the 49ers used an early pick on a player fresh off an arrest.
Roby's problems could make it difficult for the 49ers to grab a cornerback at No. 30 because it lessens the potential options. There are a lot of teams looking for a cornerback in the first round. Along with Roby, the top cornerbacks available are Michigan State's
Darqueze Dennard
, Oklahoma State's
Justin Gilbert
, Virginia Tech's
Kyle Fuller
and TCU's
Jason Verrett
.
All four of those players could be taken before the 49ers choose.