December, 14, 2013
12/14/13
5:20
PM ET
ST. LOUIS -- The
St. Louis Rams
made a seemingly innocuous roster move Saturday afternoon, releasing rookie defensive end
Gerald Rivers
and promoting receiver Justin Veltung from the practice squad to the active roster.
Austin
The move won't make a ripple on the NFL scene as the Rams prepare for Sunday's meeting with New Orleans, but it could well provide a clue into the status of injured rookie receiver
Tavon Austin
for that game.
Austin sat out practice all week with an ankle injury and observed practice Thursday and Friday with a walking boot on his left foot. He's officially listed as questionable on the injury report.
The Rams have plenty of other receivers on the roster capable of filling in for Austin in that role, but what they don't have is a proven punt returner.
Austin Pettis
and
Janoris Jenkins
have done it in the past, but Veltung handled those duties after Austin during the preseason and training camp and showed some ability.
Reading between the lines of the move, the Rams are clearly giving themselves some insurance in case Austin is unable to go. Veltung has spent the season on the Rams practice squad.
Rivers was inactive for all but two games, playing a total of 10 snaps in contests against San Francisco and Jacksonville earlier in the season. He made the roster as an undrafted free agent after flashing pass-rush potential during training camp and the preseason. He is still eligible for the practice squad should he go unclaimed on waivers.
September, 1, 2013
9/01/13
6:45
PM ET
As a follow up to cutdown day on Saturday, the Rams filled out their eight-man practice squad with players who were part of the cut to the 53-man roster.

The team announced the first incarnation of the practice squad Sunday afternoon and each of the members spent the preseason and training camp with the team. Here's the list: receivers Emory Blake and Justin Veltung, cornerback Darren Woodard, defensive ends
Sammy Brown
and
Mason Brodine
, safety Cody Davis, offensive tackle Sean Hooey and fullback Eric Stevens.
Perhaps notable in his absence is quarterback Austin Davis, who spent the 2012 season as the team's third quarterback and was among the 20 cuts the team made Saturday. He's still eligible for the practice squad but for now is not a part of the organization. Right now, the Rams are carrying two quarterbacks on the roster,
Sam Bradford
and
Kellen Clemens
, with none on the practice squad.
Making matters more interesting was the absence of Clemens from Sunday's practice. Coach Jeff Fisher declined to comment on the absence.
"I'm not going to discuss the roster, who is here, who is not," Fisher said. "We'll have an injury report for you during the week in the regular season."
Since the Rams have just five receivers on the active roster, it's no surprise that they opted to bring two back to the practice squad. Hooey was a project the Rams seemed to like early in camp but was sidetracked by injury. Brodine appeared to narrowly miss a spot on the active roster, losing a close battle to
Gerald Rivers
for a likely ninth spot among defensive linemen.
Woodard made a late surge but fell short of winning the fifth cornerback job and Davis did the same at safety. Stevens was the lone true fullback on the roster in preseason and can at least give scout team looks at that position for the weeks when Rams play some of the teams that still carry someone at the position.
Brown spent a big chunk of 2012 with the practice squad and then the active roster the final five games.
More notes:
Safety
Matt Daniels
had his right arm in a sling and was dressed in street clothes for the short portion of practice open to the media. Tight end
Cory Harkey
(leg) was on crutches and also not available for practice.
As the Rams go into regular-season mode, it's unlikely any updates will be available until the injury report comes out Wednesday for Sunday's game against Arizona.
The Rams are not scheduled to have practice again until Wednesday.
September, 1, 2013
9/01/13
11:22
AM ET
Another piece of the roster puzzle will gain clarity Sunday at noon ET, when teams can begin the process of signing players to their eight-man practice squad. More often than not, those players will come from the most recent list of cuts the team made to whittle down to an initial 53-man roster.

Players must first clear waivers before they can be added to the practice squad and players who are already free agents are also eligible.
To meet the criteria to land on a practice squad, players cannot have appeared in more than eight regular-season games in any one season and cannot have been on a practice squad for more than three seasons (three weeks equals a season until the third season when one week counts). If a player who has spent two seasons on the practice squad signs, the team must maintain a full 53-man roster for each game he is on the practice squad.
The practice squad generally serves as the scout team players who provide different looks for the offense and defense throughout the week. Whenever you hear about a player emulating an opponent, it's more often than not someone from the practice squad. For example, Rams DE/LB
Sammy Brown
was a member of the practice squad last year and went so far as to wear a blonde wig to put on the appearance of Green Bay linebacker
Clay Matthews
.
Many of the guys who play on the practice squad never make the active roster but in St. Louis, that's not necessarily the case. Tight end
Cory Harkey
, Brown and center
Tim Barnes
got the call to the active roster in 2012. This year, running back
Chase Reynolds
and offensive lineman
Brandon Washington
made the active roster in the initial cut to 53.
Here's a quick rundown of the players eligible for the Rams practice squad from the most recent list of cuts:
QB Austin Davis
FB Eric Stevens
TE Philip Lutzenkirchen
OT D.J. Young
OT
Ty Nsekhe
OT Sean Hooey
WR Nick Johnson
WR Justin Veltung
WR Emory Blake
DL Garrett Goebel
DL
Mason Brodine
DL Sammy Brown
DL R.J. Washington
S Rashard Hall
S Cody Davis
CB Drew Thomas
CB Darren Woodard
CB Andre Martin
Players released in the first round of cuts are also eligible to land on the practice squad.
Since we've been in prediction mode lately, here's a quick guess (emphasis on guess) at the Rams' eight-man practice squad: QB A. Davis, WRs Veltung and Johnson, OT Hooey, OT Nsekhe, DL Brodine, CB Woodard, S C. Davis.
August, 30, 2013
8/30/13
12:00
PM ET
A few, quick leftover observations from the
Rams' 24-21 win
against Baltimore in Thursday night's preseason finale:
• Rams coach Jeff Fisher was thoroughly disgusted by the continued mistakes of his team in the first half against the Ravens. They finished with 17 penalties for 123 yards and Fisher voiced his displeasure at halftime. Although the bulk of the penalties were coming from players who likely won't make the final roster, it has to be a concern when you fumble three times in the opening five minutes and each fumble came from a player (receivers
Brian Quick
and
Tavon Austin
and running back
Isaiah Pead
) expected to contribute in the regular season.
[+] Enlarge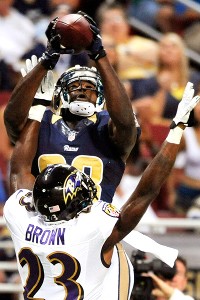 AP Photo/Bill BoyceBrian Quick had a busy night Thursday with five catches on six targets.
• Quick did bounce back with a solid performance in the first half as a repeated target of quarterback
Kellen Clemens
. He finished with five catches for 60 yards while being targeted six times. He probably should have hauled in that sixth catch too as he struggled to drag his feet in bounds and haul it in at the same time. Quick is hopeful that he's done enough to earn a role in the offense when the season starts. I believe he's earned a chance to get worked in but I also believe that Fisher isn't going to put Quick into that role on a more permanent basis until he's convinced that Quick can be consistently successful.
• In the competition for the backup quarterback job, Clemens and
Austin Davis
each probably had his best outing of the preseason though Clemens' effort was probably the best by either during the exhibition slate. He kept plays alive with his legs and was getting the ball downfield on a consistent basis. It still seems logical that the Rams would do what they did last season and release Clemens and bring him back after Week 1 on a nonguaranteed contract but he certainly helped his cause to be the No. 2 guy if the Rams opt to go that route.
• Safety
Matt Daniels
was all over the place in Thursday night's game, coming up with an interception, making tackles on defense and special teams and just being around the ball in general. The competition at safety is an interesting one and Daniels was probably in good shape to make the 53 before last night but Daniels' efforts might have sewed up a spot.
• Competition for a possible sixth receiver spot didn't gain a ton of clarity as
Justin Veltung
and
Nick Johnson
both had their moments. There's still a real chance the Rams will only keep five and Veltung and Johnson could both go to the practice squad.
• Nice night for tight end
Mike McNeill
, who also finds himself in a battle for roster positioning. It's entire possible the Rams keep five tight ends, especially if they only keep five receivers. McNeill would almost certainly be one if they keep five but his two catches for 48 yards probably bolstered his chances to be No. 4 in the pecking order if the Rams opt to keep that many.
• Should the Rams keep nine defensive linemen as they did last season, they have a tough choice between the versatile
Mason Brodine
and rookie
Gerald Rivers
. Brodine scooped up a fumble and generated some pressure against Baltimore. Rivers was active again, coming up with a sack and six tackles. The decision boils down to whether the Rams believe they can sneak Rivers through to the practice squad given the strong film he's put out for other teams to see. If they do, Brodine probably makes it because of his ability to play inside and out. If not, Rivers might make the 53 outright.
• Will the Rams keep four running backs, not including the suspended Pead?
Daryl Richardson
,
Zac Stacy
and
Benny Cunningham
appear locked in for roster spots. I mentioned
Chase Reynolds
as a possibility to make it for at least one week in Pead's absence and he did nothing to hamper that last night. Reynolds had a fumble recovery and scored the winning touchdown on a 17-yard catch and run late. He's been a staple on the first unit special teams throughout preseason and might have earned a job on the initial 53.
August, 28, 2013
8/28/13
6:17
PM ET
For Rams on the bubble trying to steal a last-minute roster spot before final cuts have to be in on Saturday, there's one chance left.
The Rams close out their exhibition slate Thursday night against Baltimore at the Edward Jones Dome. That game represents one final opportunity for players who haven't already secured a spot to either change the mind of the Rams' coaching staff or confirm what coach Jeff Fisher and Co. already know.

"Our focus is on winning the game and in addition to that we still need to continue to evaluate players, finish up strong and work on a few areas," Fisher said. "There could be some jobs decided, yes."
The Rams roster isn't in the same state of flux it was in 2012 when Fisher and general manager Les Snead took over and began a drastic remodeling project. But there are still a handful of jobs that could go either way. Here's a look at six Rams who have a chance to help themselves in the preseason finale.
CB Darren Woodard:
Woodard helped himself in a big way with his performance against Denver last week and not just because of his second interception. Woodard was sticky in coverage and unafraid to come up and tackle. The Rams kept five corners last year and if they do so again this year, Woodard would have to supplant returner
Quinton Pointer
. Pointer didn't play much at all against the Broncos and has been banged up off and on during camp. Another strong showing from Woodard could make the Rams think twice.
OL Brandon Washington:
After working exclusively at guard last year, Washington has been pressed into duty at right tackle during this preseason because of injuries to
Rodger Saffold
,
Joe Barksdale
and others. The good news for Washington is that added versatility equals increased opportunity. If the Rams keep only eight offensive linemen it might be hard for Washington to win a spot, but if he can show something at tackle, he might be able to make a case to be a possible ninth.
WR Justin Veltung:
The first five receivers are a given, leaving a possible sixth spot up for grabs between Veltung and
Nick Johnson
. It's not given the Rams keep six, but Veltung has been a pleasant surprise since the Rams signed him a couple of days into camp. Making some catches wouldn't hurt, but Veltung can punch his ticket with some good special teams work, including some return opportunities.
RB Chase Reynolds:
You'd be hard pressed to find a more selfless player in the locker room than Reynolds, who has been a dutiful contributor on the practice squad and scout team the past two years. With
Isaiah Pead
suspended in Week 1, the Rams already figure to have the three backs to handle the carries but they will have a roster exemption and Reynolds has been heavily involved in first unit special teams in the preseason. Even if only for the first week of the season, Reynolds could follow Veltung's lead and sew up a spot with some contributions on special teams.
DE Gerald Rivers:
Rivers has been the undrafted rookie to catch the Rams' eye in this preseason, following in the footsteps of defensive tackle
Matt Conrath
from last year. When
Eugene Sims
was absent tending to the death of his mother, Rivers got opportunities to work with the first-team defense against Green Bay and held his own. The Rams have eight linemen they'll keep for sure, but pass-rushers are considered a premium by Fisher and staff. A strong performance against the Ravens could help convince the Rams to keep Rivers on the 53 rather than try to pass him through waivers to get to the practice squad.
TE Zach Potter:
Potter helped himself a bit last week with a touchdown catch late in the Denver game but he's not here for his pass-catching abilities. Potter is one of two tight ends (
Cory Harkey
is the other) who will routinely go work with the offensive line in the one-on-one pass-rush drills. While Harkey is considered the team's first option as a true blocking tight end, he's also dealing with an injury that could keep him out for a little while. If that's the case, Potter could cement his spot in the tight end crew with what figures to be plenty of playing time Thursday night.