NFC West:

Kamerion Wimbley
August, 23, 2012
8/23/12
9:47
PM ET
Looking back on three things discussed here before the Arizona Cardinals' preseason game Thursday night at the Tennessee Titans:


1. Skelton's rhythm.
Horrible pass protection from the starting offensive line, notably left tackle
D.J. Young
, made it tough for
John Skelton
to find a rhythm early. Skelton did show an ability to throw on rhythm when given time, including when he found tight end
Jeff King
over the middle. But he also overthrew his target for an interception on the Cardinals' second play. Skelton faced too many third-and-long situations thanks to sacks, a poor running game and a holding penalty. Rookie receiver
Michael Floyd
dropped a slightly off-target pass on third-and-3 to kill another drive. Skelton completed 4 of 10 passes for 41 yards and the one pick. He did not make a strong case for the starting job.
Kevin Kolb
took over and had no chance on his first possession. The pass protection was that bad. Arizona changed out its tackles from that point forward. Kolb responded by showing immediate improvement. He did a good job staying in the pocket initially. That had been a problem for him. Bad habits die hard, however, and Kolb hurt his cause by rolling right and throwing back toward the middle of the field, resulting in an interception.
Kolb didn't let the mistake rattle him, however -- he played freely after the pick. Going to a two-minute offense probably helped. Kolb went out and played without thinking so much, it appeared. Kolb bailed from the pocket a couple times, but he made it work -- especially when finding
Larry Fitzgerald
with an across-the-body deep ball while rolling left. That play gained 53 yards. Kolb capped the drive with a touchdown pass to
Andre Roberts
. He completed 9 of 12 passes for 95 yards in the first half.
Was that drive to end the half enough to boost Kolb into the lead in his race against Skelton? It had to help, but ...
Kolb opened the second half with the starters and promptly threw a pick for a Tennessee touchdown. Arizona gave Kolb another chance, continuing with the no-huddle attack. The approach seemed to keep the Titans' pass rush in check, but this was also a case of Arizona starters working against Tennessee backups. Kolb's pass to
Todd Heap
converted a fourth-and-1, but the drive ended after officials incorrectly administered offsetting penalties instead of penalizing only Tennessee for having 12 defenders on the field.
2. Beanie Wells' debut.
Wells found little running room for the most part. He did accelerate well around the right side, launching himself for extra yardage. Getting through the game healthy had to be the top priority. Wells seemed to come out OK. Gaining 12 yards on six carries won't jump off the stat sheet, but there wasn't much running room for the Cardinals' backs in the first half.
3. The offensive tackles.
The Cardinals found out Young isn't the short-term answer on the left side. Young struggled badly against multiple defenders, including
Kamerion Wimbley
. The Cardinals did not help him.
D'Anthony Batiste
came into the game at left tackle ahead of schedule. The pass protection improved. Rookie
Bobby Massie
took over on the right side. The Batiste-Massie combination appeared far preferable. That could be the combination Arizona considers going with heading into the season, unless coaches decide veteran
Jeremy Bridges
provides a better option.
April, 10, 2012
4/10/12
11:14
AM ET
The
San Francisco 49ers
posted a 5-1 record in the NFC West last season while winning the division by a five-game margin.
Their division rivals did
make up ground
as the season progressed.
The 49ers outscored Arizona, Seattle and St. Louis by a combined seven points in rematches last season, down from a 58-point gap the first time around. The Cardinals defeated the 49ers in Week 14 while winning seven of their final nine games. Two weeks later, Seattle led San Francisco with three minutes remaining in an eventual two-point defeat.
The question this offseason was whether the 49ers' rivals could do enough to close the gap. That quest will continue with the draft, where the 49ers will be picking much later than the rest of the West.
Matt Williamson of Scouts Inc. joined the conversation Tuesday with a look at what NFC West teams have done and the possibilities that await. We begin with the Cardinals.
Arizona Cardinals

Best move:
Using the franchise tag for
Calais Campbell
was smart, but also an easy call once the sides failed to reach agreement on a long-term deal before free agency. Williamson: "After that, picking up
William Gay
was probably their best move. Not that he is great, but he does not embarrass himself, the coordinator is very familiar with him, he can start and he is a solid nickel. I would rather have
Richard Marshall
, but not by leaps and bounds. Both are low-end starters. Signing Gay stops the bleeding a little bit. It means you don't feel the need to take a corner super high in the draft."
Worst move:
Failing to buy insurance at tackle stands out as the obvious one.
Demetress Bell
was one option, but Philadelphia signed him for what amounts to a one-year deal with an option for more.
Levi Brown
's return to a cap-friendlier deal made some sense without upgrading anything. Williamson took issue with the team's decision to sign guard/tackle
Adam Snyder
from San Francisco for a deal including a $5 million signing bonus. Williamson: "The worst move would be an inability to upgrade on the offensive line. I don't like Snyder at all. I watched him and thought, 'Man, he is awful.' I can live with him as maybe the sixth guy because he can play multiple positions, but even then, I'm not thrilled. And the Cardinals played against him twice a year. I'll bet their defensive linemen are rolling their eyes."
Williamson's ideal first-round scenario:
"I don't love where they sit based on their needs. They are a good candidate to trade down, and without a second-round pick, that makes more sense for them. They would jump on
Michael Floyd
, but I think he goes in the top 10. He would fit given their need for a solid receiver opposite
Larry Fitzgerald
, but it almost has to be offensive line. I don't love the tackles who are likely to be available in this spot. I would live with
Riley Reiff
, but he might not be there and he looks like just an average starting offensive tackle. They would be reaching on
Mike Adams
there. He can work out fine.
David DeCastro
would be great, but that is not really the need. They need tackles more than inside guys."
San Francisco 49ers

Best move:
We could single out re-signing
Carlos Rogers
or franchising
Dashon Goldson
or even making sure
Ahmad Brooks
did not reach free agency. Or we could focus on the collective, as Williamson chose to do. Williamson: "I was extremely impressed in their ability to bring back the best defense in the league. They had guys who easily could have left in free agency. You would expect them to take a hit or two. Instead, the 49ers kept their guys. That was the home-run move of the Niners this offseason."
Worst move:
We won't take issue with the 49ers' inability to land
Peyton Manning
. They tried, but in the end, they could not force Manning to make what arguably would have been the best football decision for him. While there was much to like about the 49ers' offseason, Williamson questioned
Brandon Jacobs
' signing: "I just don't think he is all that good of a football player. He needs room to operate and isn't a very good receiver. I would rather use a third-round pick on back than sign Jacobs. He is not consistent. If you just watch his highlights, he's great. But he gets hit in the backfield, it takes him a while to get going and the Giants started using
Ahmad Bradshaw
, a much smaller back, more as the goal-line guy a lot of the time."
Williamson's ideal first-round scenario:
"Addressing the offensive line, I think. They are another team that could trade up or down. I don't see a wonderful fit for them. The guard from Midwestern State,
Amini Silatolu
, might be a really nice player to plug in at right guard. I'll bet
Jim Harbaugh
is high on
Coby Fleener
and I would understand that.
Delanie Walker
is entering the final year of his contract. Fleener would be one more weapon to make
Alex Smith
's life easier. Maybe a
Rueben Randle
type of guy would work, too, but all of a sudden you can't keep all these receivers on the roster."
St. Louis Rams

Best move:
Easy call here. The Rams got good value for the second overall choice, sending it to the
Washington Redskins
for the sixth and 39th choices this year, plus first-round selections in 2013 and 2014. They've got a veteran first-year head coach with the job security to use those selections over the next few seasons. With
Sam Bradford
already in place at quarterback, the Rams were not interested in taking Robert Griffin III second overall, so moving out of that spot made sense.
Worst move:
While the draft choices acquired from Washington help for the long term, the Rams still haven't done much to improve the odds for Bradford in 2012. Williamson and I could not point to any one example of the Rams failing to add a specific player. The team did not have obvious options, in other words. Williamson: "They did not screw up in one instance, but collectively, not doing anything at tight end, receiver or running back beyond signing
Steve Smith
was not good. They will probably use some high picks in the draft on offense, but is that going to help this year? You have to get a guy or two to make Bradford's life a little easier. It wouldn't kill them to get a
Jerricho Cotchery
, a chain-moving veteran. But it is a deep receiver draft and they probably want to go young."
Williamson's ideal first-round scenario:
"
Matt Kalil
will be gone, but I sit there and take
Morris Claiborne
,
Justin Blackmon
or
Trent Richardson
. I probably would take Claiborne first considering their needs, but he is probably not there. Blackmon would be my last choice because he is not as good as those other guys, but he certainly would address the biggest need. Richardson is the best prospect and has the Jeff Fisher mentality. He could be his
Eddie George
for years and years. I love where the Rams sit. I do not want them to trade back. They should not trade to No. 10 and lose one of those stud players. They need studs. They have so many picks in the coming years. They have to stay in the top six and get one of those three players I mentioned. There's a drop after that."
Seattle Seahawks

Best move:
The Seahawks made a few good ones, from keeping
Red Bryant
to re-signing
Marshawn Lynch
before free agency. Adding quarterback
Matt Flynn
at a reasonable price (for a quarterback) stands above the others. Williamson: "I don't love Flynn, but I don't know how you can't commend a team when they get better at quarterback. They are not leaps and bounds better, but they are better and it's such an important position. Of all their moves, I cannot come up with an unimpressive one.
Jason Jones
will be a really good fit as well."
Worst move:
The team did not improve its outside pass rush, watching
Mario Williams
and
Kamerion Wimbley
sign elsewhere. But Williams in particular was not a serious consideration. Williamson pointed to
David Hawthorne
's departure as potentially the worst move. Williamson: "Letting Hawthorne go was probably a mistake. They made a desperation signing with
Barrett Ruud
in the meantime because they need bodies. It is a position you can find in the draft and free agency. It's better than being light at tackle or wideout. Ruud is a very overrated player and I said it a year ago when he left Tampa. He is a decent tackler, but he is not physical, he lacks range and makes a lot of plays chasing guys eight yards downfield. He is a backup now, but people probably look at him as a starter. I just don't agree with that."
Williamson's ideal first-round scenario:
They have to be looking at
Luke Kuechly
. He would be a leader of your defense and a great fit. They have to consider the rush end from USC,
Nick Perry
, if Pete Carroll likes him. He could be the next
Chris Clemons
and line up opposite him on passing downs for now. Carroll would know. You add Jason Jones with a hand on the ground at defensive tackle and
Brandon Mebane
or whoever next to him, and suddenly the front four can get after people. The draft will probably work out well for Seattle. Someone better than Perry will fall to them, whether it's David DeCastro, Kuechly, Michael Floyd or even
Ryan Tannehill
. I think they would jump on Ryan Tannehill if he is there at No. 12 and maybe even consider moving up to seven to get him. To me, he is a franchise quarterback and they do not have one on their roster, even though they got better at the position."
March, 24, 2012
3/24/12
9:00
AM ET
Mackay from Lindon, Utah,
wonders why the
Arizona Cardinals
did not pursue former
Oakland Raiders
outside linebacker
Kamerion Wimbley
in free agency. Instead, Wimbley signed with Tennessee.
Mike Sando:
The Cardinals seem to have it backward at linebacker. They've invested more at inside linebacker (
Stewart Bradley
and
Daryl Washington
) than outside linebacker at a time when teams are
paying for perimeter players
.
Bradley figures to get more comfortable with a full offseason in the Cardinals' defensive system, but even if that happens, he's still going to be a relatively average inside linebacker in a 3-4 defense. Washington is a very good player and an integral part of the defense, so no complaints there.
As for Wimbley, he's projected to play right defensive end in the Titans' 4-3 scheme. I'm not sure he would have been the answer for Arizona. The Cardinals do like their young players at outside linebacker.
Sam Acho
played nearly half the defensive snaps last season.
O'Brien Schofield
was at 38 percent. Those two players do have promise, but the Cardinals need help at that position, in my opinion.
Outside linebacker, offensive tackle and wide receiver are three positions for the Cardinals to consider targeting before the draft. I would want a tackle first.
Demetrius Bell
is one free-agent candidate there. If the Cardinals could address tackle to some degree in free agency, they could feel better about using the 13th overall pick for an outside linebacker type. They cannot expect the unsigned
Clark Haggans
, 35, to play forever.
Axel from Eagle River, Alaska,
suggests that the
St. Louis Rams
should be more active in seeking out higher-quality free agents at outside linebacker, defensive tackle and on the offensive line. He asks why they would bring in
Chilo Rachal
and
Robert Turner
for visits when neither would seem to be better than
Jacob Bell
or
Jason Brown
. Why not check out
Vernon Carey
,
Jake Scott
and
Chad Rinehart
?
Mike Sando:
I'm with you on this one, in theory, but I also see what the Rams are thinking. They are building for the long haul, so they do not want to throw money at too many older players, particularly at non-premium positions. They want to go young.
The Rams had the NFL's youngest roster by average age heading into the weekend. Players around the league are not lining up to play for a team that has gone 15-65 over the last five seasons. The Rams might have to pay a premium to land some of these free agents.
Adding 31-year-old
Scott Wells
in free agency gave
Sam Bradford
a veteran center to lean on. That could be important.
The Rams already invested in right guard
Harvey Dahl
last offseason. Carey, 30, played right guard for the
Miami Dolphins
. His versatility and durability would make him an appealing addition. But if the Rams are going to go the 30-something route at guard, why not bring back the affordable Jacob Bell, who played for Fisher in Tennessee?
The Rams exceeded expectations with their trade sending the second overall draft choice to the
Washington Redskins
. They have fallen short of expectations in free agency to this point by suffering a net loss in the playmaking department (none added,
Brandon Lloyd
subtracted). I expect they will address that area in a big, big way on draft day.
The Rams' current receivers, listed in the chart, have 11 combined career touchdown receptions. Restricted free agent Danny Amendola remains unsigned, but the Rams own his rights.
Kyle from Des Moines, Iowa,
asks what the
San Francisco 49ers
should do at right guard. "Are they better off drafting to fill that gap and having an even younger and less experienced line," he writes, "or filling it with a veteran who might not have the same skill level but can provide leadership with fewer mistakes?"
Mike Sando:
The 49ers have shown a willingness to invested high draft choices in offensive linemen.
Joe Staley
,
Mike Iupati
and
Anthony Davis
were first-round picks. The two right guards last season, Rachal and
Adam Snyder
, were relatively early choices as well.
Now would be a good time for the 49ers to show they can develop a later-round choice at guard.
They are proceeding at right guard as though confident in
Daniel Kilgore
's ability to take the job. Kilgore was a fifth-round pick from Appalachian State in 2011, known for his toughness and tenacity. He played left tackle as a senior in college, but the interior is where he projects in the future. I think the 49ers should sign a lower-priced veteran for insurance, then prove they were right in trading up for Kilgore.
Jeff from Las Vegas
asks what the
Seattle Seahawks
are getting with
Frank Omiyale
. "Bears fans don't seem to think much of him," Jeff writes.
Mike Sando:
The Seahawks are getting veteran depth and a player their line coach, Tom Cable, coached in Atlanta years ago. They are not expecting Omiyale to become a starter, but with
Robert Gallery
gone, they wanted someone with experience.
Bears fans weren't high on Omiyale because Chicago used him as a starter. You might recall
Minnesota Vikings
fans wondering why the Seahawks would sign
Tarvaris Jackson
. Seattle wanted someone to help the team get through the season. The Seahawks were not saying Jackson would become the answer for them. They're not projecting Omiyale as the answer, either.
November, 30, 2011
11/30/11
11:32
AM ET
The
Seattle Seahawks
paid $3.2 million to
Aaron Curry
just so the third-year linebacker would go away.
That was seven weeks ago.
The team, anxious to get anything in return for a failed draft choice from a previous leadership regime, paid the money to facilitate Curry's trade to the
Oakland Raiders
.
The Seahawks presumably have no regrets. Curry wasn't producing for them. He seemed to be getting worse. They picked up a 2012 seventh-round choice and a conditional 2013 fifth-rounder for a player no longer of value to them.
Sometimes, however, a fresh start can help a player revive his career. The plays Curry made Sunday for the Raiders during their 25-20 victory over the
Chicago Bears
were certainly a positive sign for him.
I did not watch the full game, but in making my rounds across the web this week, I noticed Curry's name heading a list of
high-impact NFL defensive players
for Week 12. Advanced NFL Stats listed Curry and teammate
Kamerion Wimbley
just ahead of Denver's
Von Miller
on a list measuring
playmaking
. Arizona's
Sam Acho
was in the top 10.
Curry defended the pass Wimbley intercepted and returned 73 yards, a key play in the game. Curry also hit Bears quarterback
Caleb Hanie
, affecting a pass
Stanford Routt
intercepted. Curry twice tackled
Matt Forte
for 3-yard losses, and again after a gain of only three yards. He brought down Hanie after a 1-yard gain on a scramble.
Coaches would obviously know whether Curry or any other player fulfilled his responsibilities in coverage, against the run, within the scheme overall, etc. Curry, Wimbley, Miller, Acho and the other players listed might have failed in some of those areas, but all made key plays for their teams, at the very least.
That is a change for Curry.
July, 25, 2011
7/25/11
3:08
PM ET
The NFL has not yet distributed its official list of unrestricted free agents for 2011.

ESPN.com has put together the following unofficial list, to be updated, if necessary, once the league produces its list.

Our list shows only those players with four accrued seasons whose contracts expired following the 2010 season. It does not show street free agents (those released following the season).

As PatriotsBeatDown921 noted, the chart does not show all unsigned franchise players. There are eight: Haloti Ngata of the Baltimore Ravens, Ryan Kalil of the Carolina Panthers, Paul Soliai of the Miami Dolphins, Chad Greenway of the Minnesota Vikings, David Harris of the New York Jets, Kamerion Wimbley of the Oakland Raiders, Michael Vick of the Philadelphia Eagles and LaMarr Woodley of the Pittsburgh Steelers.

Teams can begin negotiating with unrestricted free agents from their own and other teams at 10 a.m. ET Tuesday. Teams can begin signing unrestricted free agents at 6 p.m. ET Friday.


August, 30, 2010
8/30/10
10:38
AM ET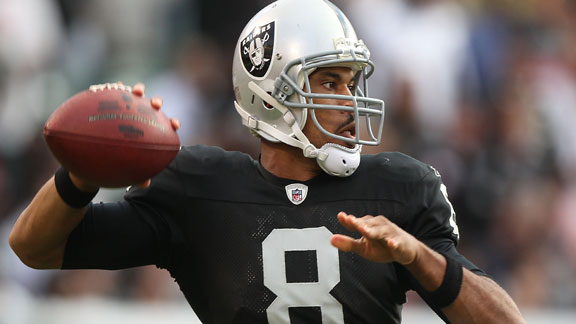 The NFC West is accustomed to catching its share of grief, and then some.
The
St. Louis Rams
own six victories over the past three seasons, the
Seattle Seahawks
own nine over the past two and the
San Francisco 49ers
haven't posted a winning record since
Mike Rumph
was a promising rookie cornerback for them (2002). The
Arizona Cardinals
have been better lately, but now they're reduced to
Derek Anderson
versus
Matt Leinart
.
No wonder AFC West blogger Bill Williamson thinks the new-and-improved
Oakland Raiders
would win the NFC West. But would they? NFC West blogger Mike Sando would put them third, behind the 49ers and Cardinals, even with
Jason Campbell
under center in Oakland.
[+] Enlarge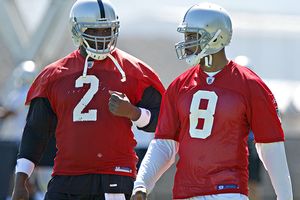 AP Photo/Ben MargotJason Campbell (8) is in, JaMarcus Russell (2) is out and that alone should make the Raiders a better team in 2010.
Bill Williamson:
Advocating for the Raiders is neither easy nor perhaps sane. After all, the Raiders have been the bastion of football futility for much of the past decade. Oakland has lost 11 games or more for the past seven seasons. That is an NFL record for bad, bad times.
The misery has to end sometime and this year may be the year Oakland finally emerges from the dregs of the league and becomes a legitimate, competitive team. The horrendous
JaMarcus Russell
era has ended. Jason Campbell is far from an elite player, but he is an established NFL quarterback who knows what he is doing. That alone should allow Oakland to be much more productive on offense. This is a team that scored just 17 offensive touchdowns in 2009. Campbell could help the team score 20-25 more touchdowns this season.
Mike Sando:
Let's say Campbell posts a passer rating in the mid-80s and the Raiders back him with a defense ranked in the top 10. The Raiders would take that scenario, no questions asked. The reality, though, is that Campbell's passer rating last season was 86.4 and the Redskins -- his old team -- fielded a defense ranked 10th in yards allowed. It all added up to a 4-12 record against a weak schedule. I like some of the Raiders' talent on defense, but 25 teams allowed fewer yards per game last season. It's a stretch to pencil in Oakland for a No. 10 ranking on defense in 2010 and a greater stretch to say they'd win the NFC West.
Williamson:
The defense in Oakland is going to improve. The Raiders have added two potential stars in middle linebacker
Rolando McClain
and defensive end
Lamarr Houston
, both in the first two rounds of the draft. The run defense has been horrible in recent seasons, but it should be much improved.
Sando:
I watched
Frank Gore
carry twice against the Raiders' starting defense Saturday night. He gained 58 yards on those runs, and
Mike Iupati
, the 49ers' rookie left guard, took out McClain pretty easily on one of those Gore carries. Preseason isn't much to go on, but Gore probably could have had 150 yards if the 49ers had left him in the game.
Williamson:
I can see why the 49ers removed Gore from the game. He's always getting nicked up and that probably will be the case again this season. Follow me for a minute here. Oakland should easily compete to win eight games. Sure, it is not the stuff of playoff dreams -- at least in a real division -- and it won't be enough to unseat San Diego in the AFC West, but this isn't about the Raiders' division. It's about the NFC West, which managed a league-low 12 victories outside the division last season (the AFC West had 18). There is no anchor team in the NFC West, unless you count the sinking Cardinals. San Francisco? Come on. These teams are not markedly better than the Raiders. Arizona is a mess as it enters the post-
Kurt Warner
era and San Francisco always seems to fall short of its potential. Put Oakland in the NFC West and you'd have your 2010 division favorite.
Sando:
There's no way Campbell would hold up in the NFC West behind that horrible offensive line. The 49ers roughed him up Saturday night (Campbell has a stinger and wrist injury as a result). A week earlier, the 49ers roughed up
Brett Favre
(the Vikings had to yank him after only four plays). The Cardinals' defensive front also would mangle Campbell. They feasted upon the
Chicago Bears
'
Jay Cutler
when both teams' starting units were on the field Saturday night. Cutler had zero points, four sacks and two interceptions in five drives.
Darnell Dockett
and
Calais Campbell
would feast on the Raiders' offensive line. It'll happen soon enough. The teams meet in Week 3.
Williamson:
Let's get back to the quarterbacks. No legitimate contender in the NFC West has one better than Campbell. Matt Leinart's career is on life support in Arizona and his replacement, Derek Anderson, is the quintessential stop-gap solution.
Alex Smith
is as fragile as a porcelain vase.
Matt Hasselbeck
is very much on the back nine of his career and
Sam Bradford
is just not ready to carry a team on his back. Not this year, at least.
Campbell is the most reliable of all of the above-mentioned quarterbacks heading into this season. He is a smart game manager who is not going to lose games. He will trust his young receivers and his potentially strong running game.
Sando:
Granted, the whole Leinart-Anderson debate isn't helping the NFC West's credibility. But the coaching in Arizona is solid and the team still has good talent throughout its roster. Jason Campbell might be an upgrade for the Raiders, but the Redskins did bench him during an ugly loss to the
Kansas City Chiefs
last season. Last time I checked, the Chiefs weren't good, even by AFC West standards.
[+] Enlarge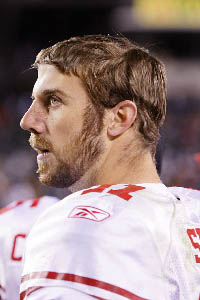 AP Photo/Matt SlocumAlex Smith threw 18 touchdowns and 12 interceptions in 11 games last season.
Williamson:
Campbell might not win games alone, but nine times out of 10, he won't lose them alone, either. The Kansas City game was an aberration. Campbell posted a passer rating of at least 90 in nine regular-season games last season. Kurt Warner did it eight times despite playing with a far superior supporting cast. Campbell has the potential to lead Oakland to around 20 points a game while throwing 20-25 touchdown passes and limiting his interceptions to under a dozen or so. Can any quarterback in the NFC West say that this season? In a league where quarterbacks reign supreme, Campbell would be the best quarterback in the NFC West. He'd give Oakland a strong chance to be the best team in the division.
Sando:
The 49ers had a chance to go after
Donovan McNabb
and they chose Smith instead. I didn't think it was the wisest move, but it's no stretch to think Smith will finish the 2010 season with better numbers than Campbell will post in Oakland. Smith had 18 touchdown passes with 12 interceptions in 10-plus games last season. Campbell was at 20 touchdowns and 15 interceptions over a full season. Smith has a clear edge over Campbell in available weaponry, and he's finally getting comfortable. Don't tell Al Davis this, but
Michael Crabtree
was a better choice than
Darrius Heyward-Bey
. Crabtree had more catches in 11 games last season (48) than any wide receiver for Oakland, and his total would have ranked tied for third on Campbell's Redskins. Better yet for Smith, Crabtree isn't necessarily the best option in his arsenal.
Vernon Davis
is a first-team Pro Bowl tight end,
Josh Morgan
is a decent No. 2 and newcomer
Ted Ginn Jr.
looks like he'll provide a welcome speed element on the outside. It's ironic that the 49ers have the pure burners -- Ginn and Davis -- Oakland usually covets.
Williamson:
Smith and Campbell have both faced tough circumstances in recent seasons. They've gone through coaching changes, gotten knocked around and faced criticism. Campbell has persevered far more impressively. He's held up physically and finished with more touchdown passes than interceptions in each of the four seasons he has played. Smith has done it just once -- last season -- and never as a full-time starter. He couldn't even beat out
Shaun Hill
heading into last season.
Sando:
Drawing the NFC West as part of the NFL's scheduling rotation is going to help Campbell, but it's not like the Redskins played a tough schedule last season. I heard Mike Shanahan call it soft during a recent radio interview. He's right. With Campbell at quarterback in 2009, the Redskins lost to the Lions, Panthers, Chiefs and Giants (twice). They barely beat the Rams, 9-7. They scored 17 points or fewer in 11 of 16 games. That doesn't look very good on a quarterback's résumé.
Williamson:
The Raiders are not all about Jason Campbell. Quietly, Oakland has added some very talented pieces throughout its roster. While Oakland has crashed and burned in the first round lately, it has not gotten enough credit for late-round finds. The unheralded results form the makings of a solid roster.
There are legitimate stars on this team.
Start with left cornerback
Nnamdi Asomugha
. If league observers would take their eyes off Revis Island for a minute, they would realize there is dominant cornerback play on the left coast, sans the snazzy nickname and lengthy contract holdout. Asomugha is one of the brightest, most instinctive players in the NFL. Consider that he plays a premium position and you have a highly valuable player.
The linebacking corps has a chance to be very good with McClain and Cleveland refugee
Kamerion Wimbley
. Wimbley showed his pass-rushing potential with four sacks in a limited role against Chicago in the second preseason game. Three-time Super Bowl champion
Richard Seymour
is anchoring a new-look and potentially outstanding defensive front.
Offensively, Campbell has some young, intriguing weapons to play with. Tight end
Zach Miller
is a blossoming star and one Campbell should utilize often. Young receivers
Chaz Schilens
,
Louis Murphy
and Heyward-Bey all have a chance to reach their immense potential very soon. Running backs
Michael Bush
and
Darren McFadden
could give defensive coordinators fits on a weekly basis because of their varied skills. There's talent in Oakland that teams in the NFC West simply can't match.
Sando:
Asomugha arguably would be the best player in the NFC West, but
Larry Fitzgerald
,
Patrick Willis
and
Steven Jackson
wouldn't be far behind. Kamerion Wimbley? I'll take Dockett,
Adrian Wilson
, Gore, Davis,
Dominique Rodgers-Cromartie
,
Justin Smith
, Matt Hasselbeck,
Marcus Trufant
-- the list goes on, and I've probably missed a few.
This debate will be tough to settle, but we can say the scheduling rotation should help one or more teams from each division pump up their records. NFC West teams eagerly can look forward to facing the Chiefs,
Denver Broncos
and possibly the Raiders. AFC West teams can feel the same way about games against the Rams and Seahawks, at least.
I'll be heading to Oakland in Week 2 for the Raiders' game against the Rams. St. Louis has managed only three victories over the past two seasons, but they're 1-1 against Campbell during that time, losing by two points at Washington in 2008 after suffering a fourth-quarter fumble inside the Washington 10.
If Bradford plays as well as he has recently, I won't be shocked if the Rams make it 2-1 against Campbell over the past three seasons.
March, 22, 2010
3/22/10
8:14
AM ET

Dan Arkush of Pro Football Weekly
says the 49ers have good intentions in their ouster of general manager Scot McCloughan, and that McCloughan's agent could be angling for a confidentiality agreement relating to the "personal issues" behind his demise. Arkush: "While the lack of any official word from the Niners' organization on what actually is transpiring at present is making it look unaccountable -- and, in the eyes of some critics, rather deceiving, with up-and-coming organizational power broker Paraag Marathe rumored by some to be at the forefront of a 'blindside' of McCloughan -- sources tell us the team's murky stance is as much due to its genuine desire to do good by McCloughan, who is genuinely well-liked in the industry and respected as an evaluator, as anything."
Matt Barrows of the Sacramento Bee
explains why he thinks the 49ers haven't resolved the situation involving McCloughan. "If McCloughan were to resign, the 49ers wouldn't have to pay him. The 49ers believe McCloughan will do so because the 'personal reasons' that have been cited in conjunction to his estrangement would be embarrassing to him. McCloughan, however, is holding his ground, an indication that he doesn't feel the reasons for his ouster are as damaging as the 49ers believe them to be."
Matt Maiocco of the Santa Rosa Press-Democrat
sorts through the 49ers' current front-office situation and says Marathe could one day become general manager. Maiocco: "The Eagles in January made 34-year-old Howie Roseman their GM. Roseman's began with the Eagles as their lead figure in salary-cap matters. Some view the Eagles as a template for what the 49ers might ultimately consider with Marathe. Marathe is the 49ers' cap man and their lead negotiator. He also spends game days in the coaches' box, where he assists [head coach Mike] Singletary with game management, challenges and rules interpretations. It's not out of the question to think at some point Marathe could become 49ers general manager."
Tim Kawakami of the San Jose Mercury News
thinks McCloughan's departure from the 49ers could diminish Alex Smith's future with the team. This was going to be Smith's make-or-break year, anyway. If they replace him before the season, they'd better have somebody demonstrably better. Otherwise they wasted the second half of the 2009 season and, arguably, the past five years.

Jim Thomas of the St. Louis Post-Dispatch
says Shahid Khan should know by May whether NFL owners will approve his plan to purchase the Rams. Thomas: "Khan has met on several occasions with Stan Kroenke, who owns 40 percent of the Rams. A league source familiar with the sale said Khan and Kroenke are getting to know each other." Kroenke has the option to keep his 40 percent, sell his 40 percent or move to purchase the remaining 60 percent. The first options appears most likely, but nothing is official yet. Thomas: "Khan must appear before the finance committee to answer any questions that it might have for him. But again, that can't happen until Kroenke declares and the final transaction agreement is in place. Kroenke's 60-day window to make a decision expires on or around April 12."
Bernie Miklasz of the St. Louis Post-Dispatch
says the Rams' affinity for Sam Bradford and the budding Khan-Kroenke relationship could set up the team for a brighter future. Miklasz: "The Rams are genuinely excited by the idea of making Bradford a centerpiece of their rebuilding. And by sending that signal along the NFL information pipeline, [general manager Billy] Devaney is letting it be known that he's dealing from a position of strength. If an NFL team wants to acquire that coveted No. 1 pick, they'll have to make a sweet offer."

John Morgan of Field Gulls
offers five-year follow-ups on Seahawks draft classes. On the 2005 draft featuring Chris Spencer, Lofa Tatupu, Leroy Hill and Ray Willis: "It was not a perfect draft, but it certainly will not screw Pete Carroll and John Schneider quite like the 2003 and 2004 draft screwed Tim Ruskell. If Spencer develops, Hill and Tatupu regain their health, and [Alex] Gibbs helps turn Willis into a good right tackle, Carroll will be accredited the wins, but Ruskell found the talent."
Clare Farnsworth of seahawks.com
revisits a busy week for the team. Farnsworth: "None of the moves made by the Seahawks this week will impact what they might do in the draft -- where they now have the sixth, 14th and 60th picks overall. As (general manager John) Schneider said twice Thursday, during the news conference to announce the addition of Whitehurst, the arrival of the Chargers former backup does not rule out the possibility that the Seahawks will choose a quarterback with one of its two picks in the first round."

Darren Urban of azcardinals.com
says Joey Porter's signing should help the Cardinals' pass rush, and it has already helped in another area. Urban: "The fact his signing has clearly energized guys like (Darnell) Dockett and Larry Fitzgerald inside the locker room can't be discounted either. They have to feel the team is making the effort to stay on top."
Tony Grossi of the Cleveland Plain Dealer
says the Cardinals had interest in Browns outside linebacker Kamerion Wimbley. Grossi: "The big holdup with them, like other teams, was Wimbley's contract. Wimbley has voided the final year of his deal through performance incentives. There are buyback provisions built in, but as things stand, 2010 is his last year under contract. The fact he can be a free agent in one year hurt his marketability. Arizona coach Ken Whisenhunt did not want to give up a high draft pick for Wimbley without a longer-term deal in place."
Joe Fortenbaugh of National Football Post
wonders whether the Cardinals signed Porter only after Wimbley landed in Oakland. Wimbley would have been more appealing if under contract for years to come. That was one of the benefits of the Kerry Rhodes trade. Rhodes was under contract at a reasonable rate.
NFC WEST SCOREBOARD
Thursday, 9/4
Sunday, 9/7
Monday, 9/8