April, 10, 2014
Apr 10
10:00
AM ET
By
ESPN.com staff
| ESPN.com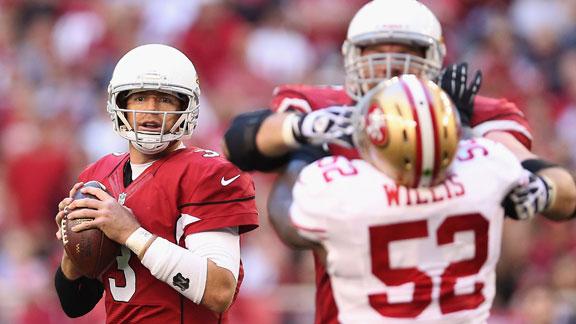 Catch us if you can.
That's a message the
Seattle Seahawks
could send out to the rest of the NFC West.
It is also something the
San Francisco 49ers
might say to the
Arizona Cardinals
and the
St. Louis Rams
. But the Cardinals and Rams might have a statement of their own: We're coming for you.
By almost everyone's estimation, the NFC West is the best division in the NFL. It includes a Super Bowl champion in Seattle along with a team in San Francisco that, arguably, came up one play short of reaching its second consecutive Super Bowl.
It also includes a team in Arizona that won 10 games, one of which was a victory at Seattle -- the Seahawks' only home loss in 2013. And there's a team in St. Louis that won two of its last three games to finish 7-9 while playing most of the season without starting quarterback
Sam Bradford
.
So the question heading into 2014 is whether the Cardinals and Rams are in position to catch the Seahawks and 49ers. Have Arizona and St. Louis closed the gap on what might be the NFL's two best teams?
The Cardinals have been active in free agency, signing cornerback
Antonio Cromartie
, offensive tackle
Jared Veldheer
, tight end
John Carlson
, receiver/kick returner
Ted Ginn
, running back
Jonathan Dwyer
and offensive lineman
Ted Larsen
.
Clearly, the competition in this division keeps getting better.
The four writers who cover the division for ESPN.com's NFL Nation -- Terry Blount in Seattle, Bill Williamson in San Francisco, Josh Weinfuss in Arizona and Nick Wagoner in St. Louis -- take a look at where things stand in the NFC West on four key topics. We also polled our Twitter followers to find how they viewed the issues.

The Cardinals have made significant moves in free agency. The Rams, aside from keeping Rodger Saffold, have mostly stood pat. Which is closer to the playoffs?
Terry Blount: This is a no-brainer for me. The Cardinals are a team on the rise with one of the NFL's best coaches in Bruce Arians. He took a 5-11 team and transformed it to 10-6 in one season. He was 9-3 at Indianapolis in 2012 while filling in for Chuck Pagano. Arizona was 7-2 in its last nine games and won three of the last four, with the only loss being 23-20 to the 49ers in the season finale. The Cardinals could become a serious challenger to the two-team stronghold of Seattle and San Francisco. However, I do believe the Rams will have a winning season if they can hold their own in the division games.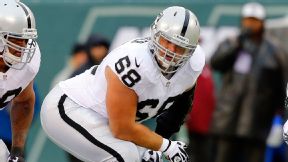 Nick Wagoner: It's hard to evaluate this without seeing what happens in the draft, especially with the Rams having two premium picks. Even then it would be unfair to judge right away. Still, I have to go with the Cardinals. They were trending up at the end of the season and patched a big hole with offensive tackle Jared Veldheer. Losing Karlos Dansby was a blow, but adding cornerback Antonio Cromartie to a talented stable at the position makes them better. The Rams, meanwhile, are clearly counting on a whole lot of in-house improvement and a big draft. Keeping Saffold was important (and lucky), but it seems risky to pin all hopes on a leap to the playoffs on a group of young players all making a jump at the same time.
Josh Weinfuss: Arizona is the easy answer, and that's not because I cover them. The Cardinals were 10-6 last season and the first team kept out of the postseason. All the Cardinals have done this offseason is fix deficiencies and plug holes. Their offensive line got markedly better with the addition of left tackle Jared Veldheer. Their wide receiver corps and kick return game were solidified with Ted Ginn, and they now have one of the best cornerback tandems in the league with Antonio Cromartie coming on board. General manager Steve Keim looked at what went wrong in 2013 and went to work on fixes. It should put the Cardinals over the playoff hump.
Bill Williamson: It has to be Arizona. The Cardinals were so close to making the playoffs last season. They would have likely been dangerous in the postseason too. I like the way this franchise is shaping up. It seems like it is well run and well coached. The roster is also getting deep. Carson Palmer will have to be replaced sooner or later, but the Cardinals are on to something. The Rams certainly have some nice pieces and are probably the best fourth-place team in the NFL, but they aren't close to matching what Arizona has going for it.
@joshweinfuss With the offseason the @AZCardinals have had I'd go with them. The rams are a solid offense away but AZ got the pieces needed.

- Joshua Bodrero (@JBodrero) March 25, 2014
---

The Seahawks and 49ers played for the NFC title in January. Any reason to believe either won't return to the postseason?
Blount: They were the two best teams in the NFL last season, and there's no legitimate reason to think they won't be among the best in 2014. Seattle has lost 10 players who were on the Super Bowl roster, but other than wide receiver Golden Tate, none of them were on the team's priority list to keep. The 49ers move into a shiny new stadium. The only question for San Francisco is the precarious relationship between coach Jim Harbaugh and team executives. Who knows what the future holds there, but it shouldn't matter on game day.
Wagoner: Aside from some debilitating injuries, it's hard to see how either team has taken a major step back. The Seahawks have lost some good players in free agency, but even those players seemingly already had replacements in place. Nobody does a better job of developing talent than Seattle. The Seahawks still have holes to patch on the offensive line and losing receiver Golden Tate is a blow, so there could be some hope the offense will regress. But the defense makes it all go, and it doesn't look like it's going to lose any of its most prized components. As for the Niners, they are the more likely of the two to take a step back, but it's hard to see them taking enough of one to fall out of the postseason. For most of their key free-agent losses they were able to quickly come up with a replacement as good or better than the player lost, and retaining Anquan Boldin says they are looking to make another run at the Super Bowl. Plus, they will have a fully healthy Michael Crabtree ready for the season. Until proven otherwise, these two teams remain the class of the NFC and probably the NFL.
Weinfuss: The only reason either of them won't make the playoffs in 2014 is because the Cardinals or Rams will take their place. The gap between the top and bottom of the NFC West has closed significantly this offseason, making the West much like the Southeastern Conference in college football; everybody will beat up on each other. It's likely the West, if it's anything like last season, can see three teams in the playoffs -- its champion and the two wild cards. If one of the teams between Seattle and San Francisco were not to make it, it's tough, but I think Seattle might slip. The Seahawks lost a significant part of their defensive line and will be going through a Super Bowl hangover. That's risky to deal with and still make the playoffs. On the other hand, San Francisco will be hungry from losing to Seattle in the NFC Championship Game.
Williamson: I believe these are the two best teams in the NFL. So it's difficult to fathom that either team won't find its way into the playoffs, barring major injuries. Arizona, though, could create an issue for the Seahawks and 49ers. The Cardinals are going to win a lot of games, so both Seattle and San Francisco have to be careful or things could get tricky. In the end, I can see all three teams making the playoffs. This is the reason this division is so intriguing and so fun: Every game is critical. There is just not much room for error. Look at the 49ers last year. They went 12-4, but a 1-2 start hamstrung them. They could never fully recover despite having a great overall regular season. The same intensity will be a factor in 2014 in the NFC West.
@TerryBlountESPN The Cards and Rams are pretty good. They'll be fighting for 2nd place behind the Seahawks.

- Danny ®" (@Dah_knee) March 26, 2014
---

Will Rams quarterback Sam Bradford come back strong from an ACL injury, and what effect will he have on St. Louis having its coveted breakthrough year?
Blount: I think Bradford will be fine as far as the ACL goes, but this is a make-or-break year for him in my view. Bradford was playing pretty well before his injury last year, but the verdict still is out whether he can be an elite quarterback. He enters this season with the best supporting cast he's ever had, but playing in this division with teams that emphasize physical defensive play makes it difficult to show improvement.
Wagoner: All indications from the Rams are that Bradford's rehab is coming along well and he's on schedule to make his return in plenty of time for the start of the regular season. He apparently had a clean tear of the ACL, but he has been rehabbing for a handful of months and should resume throwing soon. Bradford's healthy return means everything to the Rams' chances in 2014. Believe it or not, this is his fifth season in the NFL and, much like the team, this is the time to make some noise. The Rams attempted to open up the offense in the first quarter of 2013 with Bradford to miserable results. They switched to a more run-oriented attack in Week 5 and the offense performed better. Bradford also played better as the run game opened up play-action opportunities in the passing game. It will be interesting to see if the Rams choose to go a bit more balanced with Bradford at the controls or if they continue at the same run-heavy pace they played with backup Kellen Clemens. Either way, Bradford's contract has two years left on it. If he wants a lucrative extension, this is the time to prove he's worth it.
Weinfuss: Short answer, yes, Bradford will come back strong. Just look at how he started in 2013. He was on pace for a massive year statistically before he got hurt. If he can pick up where he left off, Bradford will return with a bang and show he's still one of the better quarterbacks in the league. As we've seen, a top-tier quarterback can be the difference between sitting idle in the standings and having a breakthrough year. With the talent that surrounds the Rams, with tight end Jared Cook, running back Zac Stacy and wide receivers Tavon Austin, Chris Givens and Austin Pettis, among others, Bradford may singlehandedly help close the gap between the Rams and the top of the NFC West.
Williamson: I have to be honest: I'm not a big Sam Bradford guy. I think he's just OK. Just OK doesn't cut it in this division, especially considering the defenses he has to play six times a season in the NFC West. He's serviceable, but he's not the answer. Given the state of this division, I cannot envision a scenario where Bradford is the reason the Rams become the class of the NFC West. I think they can get by with Bradford for the short term, but the Rams are going to have to start thinking about the future at this position much earlier than expected when Bradford was the No. 1 overall pick of the 2010 draft.
@nwagoner @Ryan_STL1 he's going to be the reason whether they go to the playoffs or not. If it doesn't happen this year it's time to give up

- Nick Green (@duttynick) March 24, 2014
---

If you had to start a team with either Seahawks QB Russell Wilson or 49ers QB Colin Kaepernick, whom would you choose?
Blount: You must be kidding. Give me Wilson every time, every day in every situation. Yes, Kaepernick is 5 inches taller than Wilson. Is there really anyone left who thinks Wilson's lack of height matters? Wilson also is at his best in pressure situations. He lives for it. And he is a more polished person on the field, and off it, than Kaepernick. That's not an observation. It's a fact. But this isn't a rip on Kaepernick. You would be hard-pressed to find any 25-year-old as polished as Wilson. The 49ers can win a Super Bowl with Kaepernick, and probably will soon. But if I'm starting a team, whether it is in football or almost any other life endeavor, I'll take Wilson without a doubt.
Wagoner: Wilson. For those of us covering other teams in the division, it's hard not to admire what he brings to the table. He presents himself as the consummate professional, and even opponents praise him for his work habits, intelligence and ability. He's already got the Super Bowl ring, and it's easy to see how he could add a few more. He's not all the way there in terms of his potential either, and it's probably safe to assume he's just going to keep getting better as his career goes along. That's nothing against Kaepernick, who is a unique talent in his own right, but there aren't many young quarterbacks in the league worth choosing over Wilson.
Weinfuss: Russell Wilson would be my pick, mainly because of his poise and maturity behind center. Colin Kaepernick is undoubtedly talented, but I get the sense he still has a lot of growing to do as a quarterback. He's tough to bring down, especially in the open field, but when he's pressured in the pocket, Kaepernick seems to panic and I wouldn't want that in a quarterback. I also think Wilson, despite his physical stature, is built to last. He's heady enough to stay out of harm's way, and his poise in the huddle will go a long way in leading a team.
Williamson: I'd take Kaepernick. I know it's a tough sell right now, since Wilson's team has beaten Kaepernick and the 49ers three of the past four times they've met, including the NFC title game, and the fact that Wilson has won a Super Bowl. I respect the value of Super Bowl wins and believe quarterback is the most critical position in sports. I'm sure I will smell like a homer with the Kaepernick pick. But moving forward, I just think Kaepernick has a higher ceiling. I think he can take over games more than Wilson can at a higher rate. Players built like Kaepernick and as athletic as Kaepernick just don't exist. He is special. He works extremely hard at his craft and is well coached. I'd take him, and I wouldn't look back. This isn't a knock on Wilson. He is proven and is going to be great. But if I'm starting a team, I'm taking Kaepernick, and I bet more general managers would agree than would disagree.
@BWilliamsonESPN Wilson. Controls the game & makes all the plays. Kaeps athletic advantage will fade overtime as Wilson's mental edge grows.

- HTB (@HoldenTyler) March 25, 2014
May, 16, 2013
5/16/13
11:30
AM ET
Rolando McClain
's early
retirement from the NFL
comes three years after the
Oakland Raiders
made him the eighth overall choice in the 2010 draft.
While McClain is inviting derision, I wondered whether he was even the most disappointing choice from the first round of that 2010 class. He would fit right in with
the 2009 group
, for sure.
A quick check of games started by 2010 first-rounders showed four players with 48 starts in 48 possible regular-season games. Three of those four players were from the NFC West: Mike Iupati and Anthony Davis of the
San Francisco 49ers
, and Earl Thomas of the
Seattle Seahawks
.
Tyson Alualu, the player Jacksonville controversially selected 10th overall, rounds out the quartet.
St. Louis Rams
quarterback Sam Bradford (42) and Seattle Seahawks left tackle Russell Okung (37) were relatively close behind. Dan Williams, chosen 26th overall by the
Arizona Cardinals
that year, ranked 26th on the list with 21 starts over the past three seasons.
All starts aren't quality starts, of course. McClain ranks relatively high on the list with 38 starts despite his bust status. Anyone familiar with the NFL would rather have
Denver Broncos
receiver Demaryius Thomas (23 starts) than Alualu, who has
struggled with knee trouble
and generally been just OK.
First-round picks from 2010 have combined for 21 Pro Bowl honors.
Maurkice Pouncey leads the way with three. Thomas is one of five players with two. Ndamukong Suh, Jason Pierre-Paul, Eric Berry and Jermaine Gresham are the others.
Iupati and Okung are part of an eight-man grouping with one Pro Bowl. Ryan Mathews, Thomas, Devin McCourty, Gerald McCoy, C.J. Spiller and Trent Williams are the others.
Iupati, Pouncey, Suh, Thomas and Pierre-Paul have been first-team Associated Press All-Pro once apiece.
Bradford was offensive rookie of the year. Suh won defensive rookie of the year.
December, 11, 2011
12/11/11
3:42
PM ET
Officials have not flagged
Arizona Cardinals
cornerback
Patrick Peterson
since calling a 20-yard interference penalty against him in Week 11.
San Francisco was the opponent that day. The 49ers are the opponent Sunday.
Peterson's matchup with the 49ers'
Michael Crabtree
will be one to watch after Crabtree caught seven passes for 120 yards against the Cardinals in Week 11.
The chart shows Peterson ranking second behind Seattle's Brandon Browner in penalty yardage this season. Browner, like Peterson, is an aggressive corner. They appear willing to trade flags for tight coverage that can take a receiver off his game.
November, 11, 2011
11/11/11
5:12
PM ET
Referee Ron Winter waved off one of the interference penalties against
Arizona Cardinals
cornerback
Patrick Peterson
in Week 9.
"There is no foul for defensive pass interference," Winter announced. "The contact and the ball arrived at the same time."
Peterson has incurred nine assessed or declined penalties this season, one behind NFL leaders
Brandon Browner
,
Rodger Saffold
and
Ryan Clady
. Six of the nine were for coverage-related violations on defense.
But as Cardinals defensive coordinator
Ray Horton told reporters
Friday, Peterson isn't the only one making an adjustment. The rookie's aggressive playing style might require officials to adjust as well. Winter's decision to pick up the flag for pass interference might indicate that is happening already. What looks like interference isn't always interference.
The chart shows NFL players with the most penalties for defensive pass interference, defensive holding and illegal contact this season. Peterson ranks tied for second on the list. He has additional penalties for roughing the kicker, jumping offside and illegal use of hands.
Peterson has impressive company on the list, notably
Ike Taylor
and
Charles Woodson
. A few other big names, including
Nnamdi Asomugha
, have three such penalties.
Hank Gargiulo of ESPN Stats & Information provided the penalty info.
.
March, 19, 2010
3/19/10
5:38
PM ET
Eddie from Bellingham, Wash., writes:
Seattle visited with
Brandon Marshall
, but it seems like the Seahawks aren't willing to give up either of their two first-round picks. Their interest in Marshall shows that that are looking to add a No. 1 receiver to their roster. How likely is it that they draft a receiver in the first round? Possibly Dez Bryant with the 14th pick, or maybe even with the sixth?
Mike Sando:
The Marshall pursuit isn't necessarily over. We might find out how motivated the Broncos are to move him. Seattle could conceivably acquire him for less than the value established by the first-round tender.
The Seahawks' decision to trade away the 40th overall choice to San Diego might make it tougher for them to acquire Marshall in the short term, but the price for Marshall is probably headed in one direction -- south -- over the next five weeks. Let's see what Denver gets for Marshall in the end. None of the rumors about teams other than Seattle suddenly bidding on Marshall has come true to this point.
The Seahawks do need playmakers on offense. The philosophy now should be to arm
Matt Hasselbeck
and eventual starter
Charlie Whitehurst
with more weapons. From that standpoint, yes, I could see the Seahawks taking a receiver early (absent a deal for Marshall). New general manager John Schneider comes from Green Bay, where the the Packers used second-round choices for receivers
Jordy Nelson
,
Greg Jennings
and
Terrence Murphy
all in the last five drafts.
---
Ernest from Corpus Christi writes:
Hey Mike, thanks for your time, and love the blog! I'm a long time 49er fan and have been waiting "patiently" for them to return to relevance and "elite" status. With Scot McCloughan leaving, there have been reports saying that the front office and ownership is a mess, and there's no way they will be able to find a reputable GM to come aboard, and basically the team is going to be headed back into a downward spiral. So Sando, very simply, how bad is it? Thanks.
Mike Sando:
We can't know that yet. We need to know why McCloughan is leaving the 49ers. If forced out as part of a power grab, yes, the 49ers have problems. If he really did have personal issues that affected his job or required him to step away, that is different. I think the 49ers are getting a little bit of pass pending the release of additional information. If McCloughan leaves against his will and suddenly we're seeing others in the organization benefit, and it appears as though there are no personal issues of consequence, then the 49ers deserve the same criticism levied against Seattle for its front-office dysfunction during the Tim Ruskell-Mike Holmgren-Jim Mora situations.
---
Will from Sacramento writes:
Hey Mike, first of all, I love your work, it's very thorough and always right on top of all the new information coming out. But my question is where do you see the Rams going with their second pick of the first round if the likes of cornerback Kareem Jackson, receiver Demaryius Thomas or an outside linebacker such as Sean Weatherspoon slips to them. Thanks I appreciate your time.
Mike Sando:
Thanks, Will. That pick should give the Rams a chance to trade back for additional picks. Teams will have all night between the 32nd and 33rd picks. They'll regroup and see players they want badly. The Rams, with so many needs, could then justify losing ground within the second round to help them add multiple prospects. That is one theory.
Some of this depends on what the Rams do with the first overall choice. The assumption is that they'll draft quarterback Sam Bradford. The Rams might want an impact player on defense in the second round if they address quarterback in the first, but I think they also need to arm their next quarterback with more firepower. If the Rams move back, it might become a little harder to target a specific position.
The Rams have so many needs that they could justify using early picks for just about anything: quarterback, receiver, defensive line, linebacker, cornerback. They could use a tight end, too, but that is less of a premium position for teams building almost from scratch. Improving the offense needs to be the top priority for the Rams.
---
Victor from Goldsboro, N.C., writes:
Mike, love the blog. I enjoy knowing I can always come here for the latest news and rumors for the NFC West. My question is about the Cardinals' quarterback of the future. It seems that Arizona doesn't really know where the position will go beyond 2010. Leinart's and Anderson's contracts both terminate after the 2011 season.
Presumably, they will re-sign whichever quarterback works out better for them this season to a new long-term deal and release the other, leaving them with only one quarterback (as things are right now). I'd even assume they will want a third-string quarterback for this season, and they've already signed one veteran. Do you think they would be more likely to sign another veteran, or draft a quarterback this year?
Maybe even a big-name quarterback that might need some polishing (they do have a decent quarterback coach) like Colt McCoy or Tim Tebow? Thanks and keep up the good work.
Mike Sando:
Thanks, Victor. Leinart's contract will probably need to be addressed after the 2010 season. Clauses in the contract will push up the value high enough so that Arizona will have to decide whether Leinart should be paid as a good starting quarterback. Anderson's deal runs through 2011 without needing to be revisited.
If Leinart plays well and commands a long-term deal, the Cardinals could still keep Anderson as their backup in 2011. His deal would not be prohibitive under those circumstances. If Leinart does not play well this season, he's probably gone. Anderson would still be under contract, and he could either take over as starter or remain the backup for whichever starter the team found.
March, 14, 2010
3/14/10
8:00
AM ET
Tom from Orange County, Calif., writes:
Mike, longtime Rams fan. Thanks for the coverage. Trade question for you: What do you think about Adam Carriker and the 33rd pick to Kansas City for Glenn Dorsey? Both players have not lived up to expectations and are playing out of position. Each could use a change of scenery.
Dorsey gives the Rams the potential game-changing tackle that they need, and justifies the Sam Bradford pick at No. 1. Carriker gives Kansas City the end the Chiefs need in the 3-4, and what is turning out to be a very valuable 33rd pick. Thanks for taking the question.
Mike Sando:
Good thinking, Tom. I don't know if the Rams would value Dorsey high enough to make that move, but if they thought he could basically be close to Ndamukong Suh or Gerald McCoy, why not? The quick reaction would be to dismiss any such comparisons, claiming Suh and McCoy are much better prospects. But a lot of prospects look better before they line up against NFL players week after week. Dorsey was considered a top-five talent when he entered the draft.
Here is what Scouts Inc. said about Dorsey when he was coming out of college:
"A squatty defensive tackle prospect with a thick build and very good quickness. Anticipates the snap well, explodes out of his stance and generally will win one-on-one battles with his initial burst. He plays with a non-stop motor. Stays active, using swim and rip moves to get off of blocks when necessary. Displays good upper-body power and the ability to knock linemen back on their heels with initial pop. Does a fine job of locating the ball once he's in the backfield and flashes good change-of-direction skills for his position. A powerful tackler when he can line up a hit. Also does a better job of taking on blocks in the run game than he gets credit for. He can be washed out by some bigger OL, but generally does a good job of staying low and holding his ground when asked to."
Durability concerns were singled out as the primary weakness. Dorsey has played in 31 of 32 games with the Chiefrs, starting 30 of them. The Scouts Inc. report said Dorsey would fit best in a one-gap scheme that would allow him to get upfield and disrupt offenses. The Rams are running that type of scheme. The Chiefs are not. You're right in suggesting that Carriker could fit better at end in a 3-4 scheme. Durability is a big concern with him, but that 33rd overall choice would have to tempt the Chiefs.
---
Michael From Lynchburg, Va., writes:
Why or what is Seattle waiting on? They need running backs, defensive backs, offensive linemen, a wide receiver, but no movement. Is the draft going to be their best bet?
I have been a fan since 1983, and since then I have seen draft pick after draft pick be a bust. Thomas Jones would have been good for us. Chester Taylor could have helped and Brandon Marshall would definitely be an upgrade from Deion Branch and Nate Burleson. I think Darren Sharper or Antrel Rolle would have been good for us, or Anquan Boldin at wide receiver. I would just be happy with some kind of movement.
Mike Sando:
It's human nature for fans to crave action once the signing period begins, but a lot of money has been spent foolishly in free agency over the years. The Redskins will be paying a $21 million bonus to Albert Hayensworth shortly and he might not even fit the scheme they are implementing.
It's also human nature for general manager and coach to undervalue the players they inherit. The Seahawks' previous leadership might have been more aggressive in keeping Burleson. I also think former general manager Tim Ruskell would have been more aggressive in free agency. That doesn't mean being aggressive in free agency would have necessarily served the team well, however.
This was a very weak free-agent class packed with aging, declining veterans. As I
tweeted
Saturday, there were 156 unrestricted free agents left and 139 would be 30 or older come September.
Seattle did finally add a tight end in Chris Baker (not a UFA, but rather a player whose contract was terminated). I thought the Seahawks might have been a little more aggressive in this signing period, given their needs and coach Pete Carroll's desire to improve quickly. But I also realize Carroll and general manager John Schneider want to go young. That's tough to do through free agency when so many of the younger players failed to hit the market as UFAs thanks to the current labor situation.
The team will probably sign an offensive lineman or two. Ben Hamilton could make sense. He lost his job in Denver largely because the Broncos were changing to a scheme that did not fit him. The Seahawks are adopting the scheme Hamilton ran for years.
The Marshall situation could take time to play out. There's no sense in the Seahawks bidding against themselves. They can afford to wait on that one, probably.
---
Edward from Tempe writes:
Sando, you mentioned in your NFC West Draft Watch that selecting Alan Branch in 2007 was a mistake; he was the first selection in the second round that year. He missed a few games his first year but then played the remainder. He might not be what the Cardinals had hoped, but do you see him more now as a situational position player? I mean, he has shown some signs of life this past year, so maybe not all is lost.
Mike Sando:
Drafting Branch didn't give the Cardinals a reliable nose tackle. The pick was a "mistake" from that standpoint. He did show some promise playing defensive end. All is not lost. And when you look at the players drafted immediately after Branch that year -- Paul Posluszny, Arron Sears, Kevin Kolb, Eric Weddle, Zach Miller, Justin Blalock, John Beck, Chris Houston, Tony Ugoh, Drew Stanton -- it's not like all were home runs.
---
Scott from Maryland writes:
Do you think the Niners could trade away their 17th pick this year and first-rounder next year to the Browns for their first-rounder? If the Rams take Sam Bradford, there could be a good chance that Eric Berry falls to the Browns' pick. However, the Browns have so many holes and Mike Holmgren is familiar with the Niners. I think it could benefit both teams.
Mike Sando:
Would that be the best use of draft capital for the 49ers, though? They would have no first-rounder in 2011, just to move up 10 spots? I wouldn't give away that future pick.
---
Joe stationed in Germany writes:
Sando, love the blog. One of the best sources of info on the net. Please keep up the great work. With the Colts releasing Ryan Lilja, can the 49ers maybe use him? I know we really need an offensive tackle, but seems they are in need of depth and talent on the offensive line over all. I Think Lilja has proved the injury is better after a full season of starting and he has experience. My only concern is that the Colts were not a running team, but he has got to be a good pass protector. That and I was hoping for something better than David Carr for us in the free agency. Just some thoughts. What do you think?
Mike Sando:
Thanks for the support, Joe, and your service. Lilja doesn't fit the 49ers' profile for offensive linemen because he's a smaller guy, listed at about 290 pounds. I just don't see him fitting what they want. At quarterback, the 49ers decided to trade what they knew -- Shaun Hill -- for a bit of a wild card in Carr. I understand their desire to shake up the position. They had tried Hill and decided he wouldn't be the starter. Could they have done better than Carr? I'm with you a little bit. Not expecting very good things from him.
---
Cal from Daly City, Calif., writes:
What are the NFL rules on signing multiple restricted free agents? if a team wanted to, could they sign two RFAs, both with a first-round tender attached? If so, how do they work out the draft picks involved?
Mike Sando:
A team could sign more than one RFA only if it had its own first-round choice and a better first-round choice available as compensation.
---
Blazzinhawk from Spokane, Wash., writes:
Why not trade Deion Branch and the 14th to denver for Brandon Marshall and a third-rounder? Sounds good to me.
Mike Sando:
My initial thoughts also focused on a way for Seattle to recoup a third-round choice, given that the team does not own one. Your proposal would allow the Broncos to get back their own first-rounder as well. Your proposal assumes the Broncos would do such a deal. I think Seattle might be waiting to see if the price is lower.
---
Eri from Los Angeles writes:
What would you say percentage-wise is the Rams' chances of landing Michael Vick? And why do I hear Donovan McNabb as an option for the Rams as well?
Mike Sando:
Looks like the Vick-to-St. Louis chatter has gone away. I wonder if the pending ownership change has diminished the team's interest. On McNabb, I still do not believe Andy Reid wants to trade him.
---
Jerry from Mishawaka, Ind., writes:
Mike, I've read that Denver is not negotiating with any team to trade Brandon Marshall. If that's the case, then Seattle should find a team from the 12 to 23 range to trade the sixth overall pick to for that team's first-round pick and a second- or third-round pick, depending on the value of that team's first-round pick.
Then sign Marshall to an offer sheet. Denver gets the pick it wants for him, Seattle comes out on top with Marshall and the Seahawks don't have to pay the cash for a sixth overall player, plus Seattle still has three picks in the first three rounds , and the team that got that sixth pick could get a player to replace what they lost.
Green Bay comes to mind in this scenario becaause most GMs like to work out trades with their former teams. Also, Green Bay could use the sixth overall pick to draft a defensive end to replace Kampan. What are your thoughts?
Mike Sando:
The effort is appreciated, but there would be a few problems with such a scenario. One, rules require teams to possess their own pick or a better pick in the relevant round before signing a restricted free agent. Two, most teams would rather pick 12th through 23rd instead of sixth. Third, Green Bay in particular wouldn't want to move up that high, in my view. Their general manager, Ted Thompson, seems to prefer moving back to add picks (the Packers have drafted a league-high 51 players since Thompson took over in 2005).
---
Michael from Midland, Texas writes:
Hey Sando, As an avid 49ers fan in the heart of Cowboys country, I just want to thank you for your solid coverage of the 9ers. I just wanted to bounce some ideas off of you in terms of draft/free agent acquisitions.
By my way of thinking, the 49ers have three key needs to make them a playoff contender: right Tackle, inside linebacker to pair with Patrick Willis and a cornerback to start opposite Shawntae Spencer. I know a lot of talking is being made of finding a dynamic return man, but I consider that more of a luxury than an absolute need.
Anyway, enough preamble. My actual question is, what do you think are the chances of the 49ers emerging from the first two rounds of the draft with some combo of Trent Williams/Bruce Campbell/Mike Iupati, Eric Berry/Taylor Mays and Devin McCourty/Kareem Jackson?
Also, do you know if the 49ers are taking any looks at Larry Foote or Pisa Tinoisamoa? Seems like either of those guys would be a good fit at will linebacker for the 49ers and we could probably get them relatively cheap.
Mike Sando:
Thanks for the support. Good questions, too. Would Foote be better than Takeo Spikes at this point? That could be a consideration. Tinoisamoa seems too small to fit in a 3-4 defense. He goes about 230 pounds.
I could see Williams and possibly even Iupati. Berry would seemingly be gone by the time the 49ers selected. Mays could be there, but I'm not sure where teams are going to value him. He seems like a higher-risk player, but the measurables could appeal from a pure personnel standpoint.
The corners you mentioned sound promising. Jackson would be the bigger of the two, and that could be important to the 49ers. San Francisco is past due to draft a cornerback somewhere relatively early. General manager Scot McCloughan's teams haven't drafted a cornerback in the first two rounds since 2003 (Marcus Trufant, when McCloughan was with Seattle).
Don't forget about quarterback as a potential need, too. Alex Smith and David Carr aren't exactly perennial Pro Bowl players.
---
Mike from Seattle writes:
Hey Mike, just wanted to say keep up the good work and I really appreciate on how quickly you update your stuff. Well, I have a quick question that you can clear up for me. I thought Mike Holmgren was hired to be the president of football operations, and he retained the current coaching staff. I was just curious why he made a trade for Seneca Wallace, unless he wants him at Wildcat. I was just wondering why there are articles that was written that Holmgren wanted Seneca because he knows the offense.
Mike Sando:
I keep forgetting that Holmgren isn't coaching the team and I have a feeling I'm not the only one. Holmgren is a coach at heart. I even asked him at the combine how in the world he would be able to watch another coach run practice. He joked about having hired two security guards to restrain him in case his instincts take over and he feels the urge to run out there and blow a whistle.
Holmgren does want the Browns to run his offense. His offensive coordinator in Seattle, Gil Haskell, is already onboard in Cleveland. One of his other trusted offensive coaches, Keith Gilbertson, is also there. None of us should be surprised if Holmgren is coaching the team in another year or two.
---
Ryan from Puyallup, Wash., writes:
Hey Sando, here's a kicker question for ya. Are the Cardinals planning on moving on from Neil Rackers? he's a free agent and I figured the cardinals would have resigned him. Minus the playoffs, where I belive his groin injury was still affecting him, he is a really good, reliable kicker. You think that they are just planning on drafting a kicker in the late rounds?
Mike Sando:
The Cardinals would probably go in another direction if Rackers demanded a lucrative deal. Coach Ken Whisenhunt was clearly not happy with Rackers' injury situation in the playoffs, indicating he thought Rackers was healthier than Rackers wound up being. Re-signing Rackers does not appear to be a priority, although I think he could come back for the right price.