NFC West:

Keith Gilbertson
March, 30, 2011
3/30/11
6:32
PM ET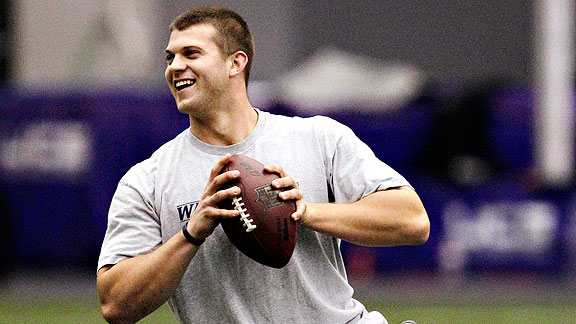 AP Photo/Elaine ThompsonWashington quarterback Jake Locker didn't appear to do anything to hurt his draft status at his pro day on Wednesday.
SEATTLE -- The guest list for
Jake Locker
's pro day at the University of Washington offered up a few surprises.
Former
Seattle Seahawks
running back
Shaun Alexander
, in town on business, dropped by the Dempsey Indoor facility. Former NFL officiating czar Mike Pereira, in town for a meeting related to his role as interim head of Pac-10 officials, also attended.
Former Washington quarterbacks Warren Moon, Damon Huard, Brock Huard (working for ESPN), Hugh Millen, Cary Conklin and Sonny Sixkiller were there.
The quarterback-needy
Tennessee Titans
sent a large contingent featuring vice president of player personnel Ruston Webster, offensive coordinator Chris Palmer and pro scouting director Lake Dawson. Keith Gilbertson (
Cleveland Browns
), Randy Mueller (
San Diego Chargers
), Bob Ferguson (
Indianapolis Colts
) and Mike Sheppard (
Jacksonville Jaguars
) were among the former Seahawks staffers in attendance.
The Seahawks' current decision-makers and most of their coaches drove over from team headquarters, no surprise given the proximity and coach Pete Carroll's ties to Huskies coach Steve Sarkisian, his former USC assistant.
But if the Seahawks' division rivals have any interest in Locker, they hid that interest quite well. The
Arizona Cardinals
and
San Francisco 49ers
did not send representatives, to my knowledge. They certainly did not have any high-profile staffers in attendance. That comes as a bit of a surprise given their obvious needs at quarterback and Locker's potential availability early in the second round, if he slips outside the first.
"I never read anything into which teams attend pro days," Locker's agent, David Dunn, said on the field following the workout. "I've had too many players selected by teams that weren't at pro days or didn't even visit with players."
Fair enough, but teams generally pay closer attention to quarterbacks. The 49ers sent Jim Harbaugh to
Blaine Gabbert
's pro day at Missouri. Cardinals coach Ken Whisenhunt ran Auburn's
Cam Newton
through various throws at a recent workout.
"With quarterbacks, you want to be able to touch and feel and see how they are as people as well as athletes and players," Dunn said.
Locker was not the only Washington prospect performing for scouts, but he was the main draw. He did nothing obvious to damage his draft stock during the workout. He completed all but a couple of passes while showing fluidity in his drops and a short delivery, according to scouts who agreed to speak in general terms and not for attribution.
"I've never nitpicked a guy like I've nitpicked Locker," one of them said. "The guy is a winner, and at the end of the day that has to count for something."
Locker has been working with former NFL quarterback Ken O'Brien to bring his hand over the top more quickly when delivering the ball.
The controlled environment was set up to make him look good. No NFL coaches or personnel people asked Locker to perform unscripted throws. They watched Locker zip the ball with ample velocity and accuracy most of the time, save for a couple high throws that his overworked wide receiver, D'Andre Goodwin, snatched away from his body.
"I'm focusing on the fluidity of the drop, getting my feet in the right spot and just bringing the hand over the top as quickly as I could, rather than dragging my hand," Locker said afterward. "I have a tendency to do that sometimes. I want to bring my hand over the top and really point that finger at my target. I have been spinning the ball a lot better and it's been coming off my hand a lot better."
Locker's relatively low completion percentage at Washington and his inexperience running a pro-style offense have raised questions about his readiness for the NFL. Can he read defenses? Can he throw accurately and on time from the pocket? To what degree did a weak offensive line and receiving corps hamstring him in college?
I've heard differing opinions from scouts as to how well Locker would fit with the NFC West teams that need quarterbacks (Seattle, Arizona and San Francisco).
"A lot of people seem to have him pinpointed to Seattle at No. 25, but I don't think that makes any sense at all," Matt Williamson of Scouts Inc. said. "It works for people who do not know the X's and O's of it all. At 25, he has some value. He went to school in that area. It is easy to say that is a good fit, but I think Seattle is going more and more to a pure West Coast offense, and Locker doesn't fit the West Coast offense at all."
The Cardinals pick fifth and the 49ers pick seventh, earlier than Locker is expected to come off the board. Seattle is one of the few quarterback-needy teams picking later in the first round, when Locker figures to become a more likely selection.
"Jake seems to be an acquired taste," Dunn said. "The more you watch him on film, the more that you are around him, the more you like him."
How well Locker would fit with the Seahawks could hinge on the degree to which Williamson is right in his assessment of how Seattle's offense will evolve.
New coordinator Darrell Bevell comes from the Andy Reid/Mike Holmgren branch of the West Coast offense, a branch that relies more heavily on short, precise passes. Before Bevell replaced Jeremy Bates, the Seahawks had been running Mike Shanahan's version of the West Coast system featuring more quarterback movement, hard play-action fakes and deeper throws requiring greater arm strength.
Carroll, who attended the workout Wednesday, has said the Seahawks do not plan to significantly diverge from the system they ran last season. But it's plausible to think that Bevell's background could steer them away to some degree.
"You do have to be a precise passer in a Bill Walsh, traditional West Coast offense," Rob Rang, senior analyst for NFL Draft Scout, said from the Dempsey Indoor facility. "But I like any offense that is going to use Jake Locker's mobility as an asset rather than just keeping him pinned in that pocket. If you can use his legs as a weapon, that is where he has been his most accurate. He made significant improvements in his accuracy from the so-called pocket in this workout, but at the same time, his strength remains throwing on the move."
Rang said he would draft Locker in the first round as long as the team in question has a veteran starter in place.
I stood next to Moon, the retired Hall of Famer, throughout the workout. Moon said he sees the NFL game evolving to favor quarterbacks with mobility. Life for traditional pocket passers is getting tougher, in his view. Locker's athleticism and scrambling ability separate him from most prospects. He has run the 40-yard dash in 4.52 seconds, a time that holds up against those posted by some wide receivers. But quarterbacks must also succeed as pocket passers to make it in the NFL.
"Locker is pretty accurate outside the pocket," Williamson said, "but as far as going 1-2-3 and getting it out, having good footwork, hitting a guy in stride, he is terrible. I don't see that fit at all. I do not think he is going to be the precise passer Harbaugh is looking for, either. I can see someone like Arizona being really interested in him in Round 2. They might like a more 'toolsy' guy, like a
Ben Roethlisberger
."
Williamson sees Locker appealing to a coach such as Shanahan, who might see Locker as a cross between
Jay Cutler
and
Jake Plummer
, two quarterbacks Shanahan coached in Denver. That's the type of quarterback Seattle was seeking when Jeremy Bates was coordinating their offense. It's the type of quarterback the Seahawks might still value if Bevell installs the type of system Carroll has favored previously.
"I don't know in the NFL right now if people run different offenses," Sarkisian said. "It's so much of a copycat league and everybody runs so many things that are similar that it's hard to say that New England is different than Pittsburgh that is different than Seattle that is different from the Chargers. They all have their focal points, but at the end of the day, there are a lot of similarities. Things will be tailored for him [Locker], like they are for every quarterback, but I just think he fits in as an NFL quarterback."
February, 1, 2010
2/01/10
8:59
AM ET

Bernie Miklasz of the St. Louis Post-Dispatch
says one of the potential buyers for the Rams is from Canada. Miklasz: "One of the three potential buyers is a group of investors organized by St. Louis Blues chairman Dave Checketts. Multiple sources tell me that another group has strong ties to Toronto, which should concern those who want to see the Rams remain in St. Louis. As for the third potential buyer ... candidly, I've been unable to nail down that part. But I know it isn't anyone from St. Louis. And I wouldn't be surprised to learn that the bidder is based in Chicago." That makes Checketts' bid the one most likely to keep the Rams in St. Louis for the long term.
Jim Thomas of the St. Louis Post-Dispatch
quotes Rams owner Chip Rosenbloom as saying the team is closer to being competitive than some people think. "I think fans should be optimistic about the direction of this organization," Rosenbloom told the Post-Dispatch in a rare interview. "We made a sweeping restructuring of the entire organization so that we could be winners on the field — to put us in position to start winning games. Now, this is not a one-season fix. This past season was sort of an interim year in my opinion before we see a more successful on-field product. I think this year it was necessary to get through a lot of stuff."
Also from Thomas
: says Rams coach Steve Spagnuolo expects a good Super Bowl game after facing both participants during the regular season. Rams defensive end Leonard Little: "Drew Brees has great receivers, and he's one of the best quarterbacks in the league. But Peyton Manning is a totally different beast. I'm not saying that because me and him went to school together [at Tennessee]. He's a totally different animal at quarterback because he's so aware of what the defense is doing. I don't know if he calls his own plays, but sometimes it seems like he calls his own plays because he knows where the defense is going. And when he does that, when he gets on a roll like that, he's hard to stop."
Neil Hayes of the Chicago Sun-Times
says Rams and 49ers alumnus Mike Martz flew to Jay Cutler's home following an interview with the Bears, but it remains unclear which candidate the Bears will hire as their offensive coordinator.

Matt Maiocco of the Santa Rosa Press-Democrat
says 49ers safety Dashon Goldson has hired Drew Rosenhaus as his agent, dumping Peter Schaffer. Maiocco: "Rosenhaus also represents Frank Gore, Jason Hill, Demetric Evans, Moran Norris and Marcus Hudson" in addition to guard Chilo Rachal, another recent convert.
Tim Kawakami of the San Jose Mercury News
says the 49ers should make a strong play for Donovan McNabb this offseason. Kawakami: "Instead of cautiously tiptoeing into playoff contention, why shouldn't the 49ers embrace this opportunity and try to make a bold quarterback move that might vault them beyond the confines of their paltry division? By the way, that's exactly what they tried last year when they attempted to steal Warner away from Arizona. Why not check with the Philadelphia Eagles and see what it would take to pry loose Donovan McNabb? Would it cost a second-round pick? More? Would McNabb, whose contract expires next season, want a massive new deal, or would he be OK with a more moderate two- or three-year tack-on?" Going after McNabb should be an easy decision. Whether or not the Eagles would trade him -- within the conference, no less -- is another question.
Tom Pedulla of USA Today
quotes former 49ers receiver Terrell Owens as saying he would be chasing Jerry Rice's records if only he had played with better quarterbacks. Owens: "I know hands-down I'd be close to Jerry Rice's records if I had been with quality quarterbacks like he had," Owens said. "He had Joe Montana and he finished with Steve Young. That wasn't a drop-off. Say I had been with a guy like Tom Brady, Peyton Manning or Drew Brees all of my career. Are you kidding me?"

Danny O'Neil of the Seattle Times
says Pete Carroll is holding his first staff meeting as Seahawks head coach Monday. O'Neil: "Carroll has assembled a staff that includes one of the league's most respected rushing-game architects in Alex Gibbs and a passing-game whiz kid of an offensive coordinator in Jeremy Bates."
Tony Grossi of the Cleveland Plain Dealer
says the Browns have hired former Seahawks offensive coordinator Gil Haskell as a football adviser. With former assistant Keith Gilbertson already on staff in a scouting capacity, Browns president Mike Holmgren has the makings of a future offensive coaching staff in place. No one should be surprised if Holmgren returns to the sideline at some point in the future. He is a coach at heart. Gilbertson and Haskell are coaches at heart, not football advisers.

Bob Young of the Arizona Republic
looks at reasons for worry and reasons for hope as the Cardinals enter the 2010 offseason with Matt Leinart as their starting quarterback. Young: "Maybe the thing we like most about Coach Ken Whisenhunt is that when he came here, entitlement went right out the door along with Dennis Green. Leinart has a team around him that should be able to move the ball without depending solely on his left arm. We expect to see a more run-oriented, grind-it-out offense featuring running back Beanie Wells, especially if the Cardinals can make defensive improvements so that they don't have to depend strictly on piling up the points to win every Sunday. When Leinart shows that he can operate the offense efficiently and protect the ball, then we'd expect Whisenhunt to start letting him open it up. It's sort of an earn-as-you-learn program."
Randy Peterson of the Des Moines Register
says Kurt Warner is probably the best Iowa product to play in the NFL. Ed Podolak: "Without question. Kurt was more of a major factor in a team getting to and winning a Super Bowl than any of us. It makes me proud to be an Iowan, because of the way he's represented our state and what I think is good in an athlete at the professional level today. He seems to be somewhat of a throwback from earlier days in sports -- where good athletes were also good guys."
January, 22, 2010
1/22/10
9:30
AM ET

Kent Somers of the Arizona Republic
says he thinks Matt Leinart's accuracy would improve with time. Somers: "Leinart has to re-gain the trust of his receivers. Everyone can say all the right things about believing in him, but Leinart's inaccuracy this season eroded confidence among the receiving corps. That group loves (Kurt) Warner for many reasons, mainly because the Cardinals are going to throw a lot with him in the lineup. But Warner also did his best to protect his receivers, to keep them from taking big hits. When Leinart is throwing high passes, as has been his tendency, receivers tend to get a little skittish. With more practice time and confidence, Leinart should be able to correct that problem."
Darren Urban of azcardinals.com
explains why he'll miss retiring Cardinals veteran Bertrand Berry. Urban: "Including playoffs, Berry led the Cardinals with eight sacks this season. In the end, I'll remember Bertrand's ability to still have his shining moments on a football field, delivering his trademark whistle pull -- he was the B-Train, after all -- following every sack. I'll remember Bertrand Berry going out on his own terms."
Revenge of the Birds' Andrew602
looks at Neil Rackers' value to the Cardinals. That value is much higher when Rackers is healthy. Coach Ken Whisenhunt sounded frustrated after Rackers' injuries contributed to a poor performance against the Saints in the NFC divisional round, as if Whisenhunt had been told Rackers would be fine.

Greg Johns of seattlepi.com
says former Seahawks assistant and University of Washington head coach Keith Gilbertson has landed with Mike Holmgren in Cleveland. Gilbertson has a job in personnel. He could easily slide over to the coaching staff if Holmgren returned to the sideline or the Browns wanted him to help install Holmgren's offense.
Clare Farnsworth of seahawks.com
checks in with CEO Tod Leiweke, who expresses relief following an organizational overhaul. Leiweke: "I'm satisfied, but I also would say it's been super hard. Tim Ruskell is a friend of mine. Jim Mora is a friend of mine. I think there probably are a few things I might have done a little different, but it also was a different circumstance. It's the kind of stuff that keeps you awake at night."
Danny O'Neil of the Seattle Times
says the Seahawks have hired Sherman Smith to coach their running backs.

Jim Thomas of the St. Louis Post-Dispatch
says an uncapped year would hurt the Rams by making it harder for them to supplement their roster in free agency. Executive Kevin Demoff: "It limits the player pool. It's going to be a challenging dynamic for all teams on how you get better, how you compete for players, and where you find the players that make your team better. Especially if you're a team that's still rebuilding. ... I think everybody can look at what we did last year in free agency and it was a very discernible pattern. Younger players with great character who weren't injury-prone, who we thought had upside."
Also from the Post-Dispatch
: a look at potential free agents who could help the Rams.
More from the Post-Dispatch
: a look at players who would become free agents only if the NFL extended the collective bargaining agreement.
Bernie Miklasz of the St. Louis Post-Dispatch
wouldn't be surprised if Rams minority owner Stan Kroenke decided to sell his 40 percent share of the team, better positioning Kroenke to buy a soccer team. Miklasz: "Once upon a time, Kroenke was accessible and visible at Rams games, but he's completely gone underground in an attempt to stay away from reporters. So no one has been able to determine whether Howard Hughes -- I mean, Kroenke -- wants to keep his 40 percent share of the Rams under new ownership or sell that 40 percent to new owners."

Matt Barrows of the Sacramento Bee
says the 49ers' addition of former Chiefs assistants Jimmy Raye, Kurt Schottenheimer and Mike Solari isn't such a bad thing. Barrows: "The three offenses that Raye ran in Kansas City from 1998-2000 finished No. 19, No. 12 and No. 8 in total offense. They put up some huge yardage totals, particularly through the air. The Chiefs finished fifth in passing in 2000. But as Solari pointed out today in a conference call, he had some sturdy offensive linemen up front. Those Chiefs teams boasted perennial Pro Bowlers in Willie Roaf and Will Shields as well as an up-and-comer in Brian Waters."
Matt Maiocco of the Santa Rosa Press-Democrat
says the 49ers agreed to let Chris Foerster leave for the Redskins after Foerster said he wanted to move closer to family on the East Coast. Having Solari available certainly had to ease the decision. Singletary: "When I talked to Chris this morning, I just told him that I believe things work out for a reason. I told Chris this morning, 'Best of luck to you, and I hope everything goes well.' I had an interview set up with Mike Solari and my wife and I felt like that would be -- everything would work itself out."
Also from Maiocco
: Solari was Singletary's first choice for an offensive line coach when Singletary interviewed for head-coaching jobs in 2006 and 2007.
Daniel Brown of the San Jose Mercury News
says Solari fits what Singletary wants in terms of promoting "physicality" up front. Brown: "Solari said he would continue to evaluate the 49ers' current personnel. He planned on developing a group capable of multiple styles -- wide zones, tight zones and man-blocking -- because opposing defenses bring so many variations. During his 11 seasons in Kansas City, the Chiefs ranked in the top 10 for rushing offense seven times. Solari was one of just six assistant coaches in Chiefs history to record more than a decade of service with the franchise."
David Fucillo of Niners Nation
provides transcripts from conference calls featuring Solari and Singletary.
January, 20, 2009
1/20/09
2:46
PM ET
Posted by ESPN.com's Mike Sando
1. Anquan Boldin, WR, Cardinals. Though Boldin has been the epitome of a team player during his career, he left the opposite impression by feuding with offensive coordinator Todd Haley during the NFC Championship Game and then reportedly skipping the postgame celebration. The Cardinals won't feel pressure to rework Boldin's contract if these perceptions linger.
2. Mike Holmgren's Seattle staff. The Seahawks flushed out both of Holmgren's coordinators, Gil Haskell and John Marshall, plus position coaches Keith Gilbertson and Dwaine Board.
3. Mike Singletary, head coach, 49ers. Scott Linehan turned down his offer to become offensive coordinator, and it's unclear whether Singletary has a viable backup plan.
4. Jim Haslett, former interim coach, Rams. The Rams left the impression Haslett would be a serious candidate to keep the job, but they clearly wanted to hire Steve Spagnuolo or Leslie Frazier. In the meantime, the Packers hired Dom Capers over Haslett as their defensive coordinator.
January, 6, 2009
1/06/09
11:47
AM ET
Posted by ESPN.com's Mike Sando
Steve from Bellingham, Wash., writes: I read something in your column that frightened me. You suggested that the Seahawks are going to let their best RB go and keep the grossly overpaid, unproductive ones. Please say it ain't so. Julius Jones produced very little in games and game situations that mattered, just like in Dallas. TJ Duckett made several million dollars to touch the ball twice a game. Please, please tell me that the Seahawks have learned from their mistakes and will move to improve, not mediocritize, the running game.
Mike Sando: Maurice Morris is eligible for free agency. The Seahawks moved to sign Jones and Duckett even before they released Shaun Alexander. They even brought in Duckett for a visit a year earlier, when they had no spot for him. General manager Tim Ruskell was clearly angling to change up the running game.
Morris lost his most important supporter when Mike Holmgren left the team. Holmgren was GM when the Seahawks drafted Morris. Holmgren played Morris extensively down the stretch. Holmgren did not immediately find a role for Duckett. With Holmgren gone, the Seahawks appear less likely to re-sign Morris.
We also must consider the financial picture at running back.
Duckett's contract carries $800,000 in salary proration for each of the next four seasons after the Seahawks exercised an option to treat a guaranteed roster bonus as a signing bonus (a common tactic that allows teams to avoid initial salary cap consequences). Duckett has a $2.5 million salary in 2009. He will very likely be on the team.
The Seahawks made a similar move with Jones in November. His contract now carries more than $1 million in proration for each of the next three seasons. His base salary in 2009 is nearly $2 million. He will very likely be on the team.
It's tough to see Morris fitting into that financial landscape, particularly if Seattle is open to selecting a running back with the fourth overall choice in the draft.
That's how I see it, based on the evidence.
August, 14, 2008
8/14/08
9:54
AM ET
Posted by ESPN.com's Mike Sando
Lowell Cohn of the Santa Rosa Press-Democrat gets 49ers offensive coordinator Mike Martz to open up about his heart condition, Bill Walsh, the pressure he puts on players and the assertiveness he wants from a quarterback.
Matt Barrows of the Sacramento Bee follows up on his earlier blog item about Alex Smith's best friend, David Edwards, committing suicide. Barrows: "Smith said he would call Edwards whenever he needed to escape football. Edwards ran cross country and played golf with Smith. The two participated in fantasy baseball leagues together. According to Smith, Edwards also could talk about politics, music and other topics. And he always was available."
Matt Maiocco of Instant 49ers answers questions from readers. One reader asked whether general manager Scot McCloughan's reputation would suffer if Smith, the first player drafted in 2005, failed to win the starting job. Maiocco: "Technically, Nolan had the 'trigger' in that draft. McCloughan wanted Smith, but so did Nolan. We'll have to let this thing play out. If Smith never gets another chance with the 49ers, McCloughan's rep will be determined by what Smith does in his next place of employment." I think Nolan's handling of Smith will be the enduring story.
More from Maiocco: The 49ers' receivers are having a hard time keeping up with the pace of Martz's practices. Also: Guard Tony Wragge signed a one-year contract extension with a $175,000 bonus, while Takeo Spikes signed a one-year deal worth $1.68 million.
Tom FitzGerald of the San Francisco Chronicle checks in with 49ers fullback Zak Keasey. A former Ivy League linebacker, Keasey excels on special teams. That could give him an edge on veteran fullback Moran Norris as players fight for roster spots.
Also from FitzGerald: J.T. O'Sullivan keeps getting the first-team reps at quarterback, but 49ers coach Mike Nolan keeps saying the three-man race continues.
SI.com offers a Rams camp overview summing up pertinent developments.
Jim Thomas of the St. Louis Post-Dispatch checks in with players on the fringes of the Rams' roster. Kicker Justin Medlock knows there isn't a roster spot for him, but he hopes to catch on elsewhere.
Bill Coats of the St. Louis Post-Dispatch says tight end Joe Klopfenstein enjoyed perhaps his best camp with the Rams. I noticed the Titans blew up a Rams running play during the exhibition opener after Klopfenstein failed to hold his block, but one play does not make a training camp.
Elizabethe Holland of the St. Louis Post-Dispatch says the Rams are taking steps to liven up their fans on game days: "To that end, the Rams have hired a drumline, are making fan-driven changes in game-day music and plan to have a disc jockey on the field during pregame warm-ups." The Seahawks also have a drumline.
Bob McManaman of the Arizona Republic says the Cardinals' linebackers wear a gaudy championship belt if they lead the team in sacks during a given week. Newcomer Travis LaBoy suggested the idea and even paid for the belt: "According to [Karlos] Dansby, LaBoy paid for the campy hardware, plunking down 'something between $10,000 and $20,000.' With the blessing of the coaching staff, the linebackers will take turns wearing it during the regular season, based on who has the most sacks from game to game."
Brian McIntyre of the Scout.com network updates his Seahawks roster analysis. He puts Ben Obomanu, Courtney Taylor and Jordan Kent ahead of Logan Payne and Michael Bumpus in the receiving race. I'm less certain about that position now than I was two weeks ago.
Dave Boling of the Tacoma News Tribune looks at the Seahawks' move from their old, outdated facility into their palatial digs along the shores of Lake Washington. Former fullback Mack Strong will miss the old place.
Jerry Brewer of the Seattle Times checks in with Seahawks receivers coach Keith Gilbertson, who has officially been around. Gilbertson: "I must be old school, like from the 1920s. I guess I've had a lot of jobs. But I'm 60 years old, too. If you look at most 60-year-old guys, they've been a few places."
Danny O'Neil of the Seattle Times was there when backup Seahawks quarterback Charlie Frye impressed by calling the correct audible. Frye, acquired from the Browns after the 2007 season opener, is getting work with the first team this week while Matt Hasselbeck rests a sore back. Seneca Wallace remains the No. 2 quarterback. Frye could get the start in the second exhibition game. He'll play extensively.
Frank Hughes of the Tacoma News Tribune has more from Frye. He quotes Wallace as saying Frye has definitely improved since last season.
Clare Farnsworth of the Seattle Post-Intelligencer touches on Frye at the bottom of a story about new quarterbacks coach Bill Lazor. The Seahawks hired Lazor after longtime quarterbacks coach -- and franchise icon -- Jim Zorn became the Redskins' head coach. Lazor also offers advice on diaper changing. Seriously.
July, 24, 2008
7/24/08
9:45
AM ET
Posted by ESPN.com's Mike Sando

An editor asked me recently whether I'd like to schedule mailbag columns for a certain day each week. My thought: Why limit them to a single day? Interacting with passionate NFL fans is one of the highlights of blogging for me. I've been in your shoes. I've been a die-hard fan thirsting for information and insight from people lucky enough to enjoy access.

I grew up following the Rams in the 1970s before getting hooked on the Raiders through the 1980s and well into the 1990s. I've been a season-ticket holder who flew to games from two states away to watch his team get pummeled in the pouring rain. Walking out of that stadium a loser hurts, but you keep coming back because it's what real fans do.

Covering sports for a living takes the fan out of you, no question. I have great memories of the players I enjoyed watching years ago, but the loyalties to any one team are long gone. The loyalty I feel now is to all the fans who can't get enough. With that in mind, let's dive into our first NFC West mailbag, dominated by 49ers fans sick of watching their team wallow in sub-mediocrity.