September, 11, 2013
9/11/13
9:41
PM ET
RENTON, Wash. --
Seattle Seahawks
cornerback
Brandon Browner
, who has a hamstring injury and didn't play in the season opener, did not practice Wednesday. But coach Pete Carroll is hopeful Browner can play Sunday night against the
San Francisco 49ers
in the Seahawks' home opener.
Avril
Browner
"He is going to run today and he's going to practice [Thursday]," Carroll said. "He's been running all week. It looks like he's got a good chance to make it back. We will try to do it right and not push it too soon. But tomorrow will be a big day for us to understand [if Browner is ready], and we will go all the way to Friday to see how he responds. So we won't know for a while."
Defensive end
Cliff Avril
, who also missed the season opener with a hamstring injury, practiced on a limited basis Wednesday. Carroll also is optimistic about Avril's chances of playing Sunday.
"Cliff is good possibility if he makes it through the week," Carroll said. "He practiced well enough last week. He was very close to playing [at Carolina]. We are planning on him being part of it this week unless he has some kind of setback we can't foresee. So that would be a nice little boost to get him back in the game.
"But I thought O.B. [O'Brien] Schofield did a very good job playing the Leo [defensive end] spot for us. He rushed well, had a nice sack and a couple of good pursuit plays. He really did a good job starting for us for the first time."
Defensive end
Chris Clemons
, the team's leading pass-rusher last season who is recovering from offseason ACL surgery, returned to practice on a limited basis Wednesday.
"He's still working his way into that position right now,' Carroll said before Wednesday's session. "He's going to practice today and it's the first time that he'll go and get live snaps."
Brandon Mebane
was a bit of a surprise on the injury list Wednesday with an ankle problem. He did not participate in practice.
Wide receiver
Sidney Rice
(knee) was limited in practice, but he is expected to play Sunday. Rookie tight end
Luke Willson
, who is listed with an oblique injury, was a full participant in practice, but the Seahawks signed veteran tight end
Kellen Davis
Wednesday as a third tight end if needed.
November, 5, 2012
11/05/12
8:20
PM ET
The
St. Louis Rams
have allowed the 10th-most yards to opposing tight ends through Week 9 this season.
No big deal, right?
Well, it is if you're
@timstantonx
and you're wondering whether this is the week
Vernon Davis
gets back on track as a receiver for the
San Francisco 49ers
.
Davis will be facing a Rams defense that gave up eight catches for 146 yards and two touchdowns to New England tight end
Rob Gronkowski
in St. Louis' most recent game.
The 49ers, like the Rams, are coming off a bye. I suspect the 49ers will want to reintroduce Davis to their stat sheet after spending the last few games explaining how much they value him as blocker. Davis has five catches for 71 yards over the 49ers' last three games. His 58-game streak with at least one reception ended during that time.
The chart from ESPN Stats & Information shows receiving stats for tight ends against the Rams this season. There's a row showing totals for this season and for the Rams' first eight games last season. Tight ends have been piling up more yards against the Rams to this point in 2012 than last season.
The final row shows Davis' stats this season.
The 49ers completed 13 of 16 passes for 150 yards when targeting Davis against the Rams last season. The Rams' other opponents completed 41 of 74 passes for 384 yards to tight ends over the full season.
January, 16, 2011
1/16/11
8:12
PM ET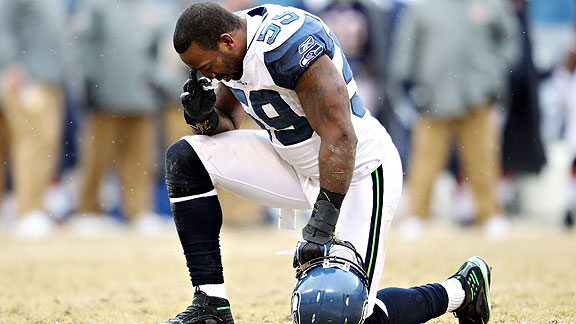 Andy Lyons/Getty ImagesSeattle's Aaron Curry waits as teammate Marcus Trufant is tended to following an injury.
CHICAGO --
Michael Robinson
watched two
Seattle Seahawks
teammates leave Soldier Field on stretcher boards before emerging from a pileup with damaged ribs.
The veteran fullback winced while dressing at his locker following the Seattle Seahawks'
35-24 divisional-round playoff defeat
to the
Chicago Bears
. Losing in the playoffs hurt, no doubt, but the medical implications seemed so much more significant -- particularly with NFL owners determined to extend the regular season by two games.
"They gotta do something to the roster size on game day," Robinson said. "They're going to have to. They're killing us, man."
Seattle played its 18th game of the season Sunday, counting playoffs.
Middle linebacker
Lofa Tatupu
made it through the game despite suffering a concussion that left him staggering during the final stages of a wild-card victory over New Orleans. Tight end
John Carlson
and cornerback
Marcus Trufant
were less fortunate. They remained hospitalized overnight while their teammates traveled home. Both suffered concussions. Neither appeared responsive while doctors huddled around them.
Coach Pete Carroll said he expected Carlson and Trufant to be OK, but this was Trufant's second concussion in nine games -- both suffered while going low to tackle larger players. Of course, hitting opponents too high can cost players in the wallet.
"Look at all the injuries that happen during a 16-game season," Seattle defensive end
Chris Clemons
said. "Eighteen games, yeah, you might have guys make it through the season, but I think it will cause a lot more injuries."
Carlson leaped high to avoid safety
Danieal Manning
following a 14-yard reception along the Seattle sideline. Manning hit Carlson legally. Carlson tumbled to the ground face-first, landing like a diver striking the bottom of an empty pool. He did not move. Carlson's left arm stuck out away from his body in a manner that appeared unnatural.
The play carried immediate physical ramifications for Carlson. It carried psychological and strategic ones for his teammates. Seattle had just fallen behind, 7-0, when
Matt Hasselbeck
found Carlson open in the left flat. The play appeared relatively routine to that point.
Seattle's only other tight end,
Cameron Morrah
, suffered a turf-toe injury later in the game. He returned, but quarterback Hasselbeck said the issues at tight end reduced the Seahawks to exploring only one corner of the giant play sheet coordinator Jeremy Bates prepares each week. Options in the running game diminished substantially.
Another tight end,
Chris Baker
, was already on injured reserve.
Carlson had caught two scoring passes, both after beautifully executed play-action fakes, during Seattle's 41-36 victory over the Saints.
"We had some creative stuff [in the plan] like we had last week with John Carlson," Hasselbeck said. "Because of
Julius Peppers
and because of their blitz, we are a heavy leave-the-tight-end-in and leave-the-running-back-in-to-block kind of team. Obviously, in our run game, short yardage, goal line, all of those situations, we no longer had any of those."
The score was 21-0 midway through the third quarter when Trufant cut down tight end
Kellen Davis
following a 3-yard reception. Again, there wasn't much special about the play. But it was obvious right away Trufant wasn't getting up on his own. Medical personnel hurried onto the field with a stretcher board while Trufant lay motionless.
Like Carlson, Trufant left the field on a motorized cart. Straps immobilized their bodies.
"All indications are that both are OK," Carroll said. "It was a serious concussion on the field for both of those guys."
While labor uncertainty clouds the immediate future for the NFL and its players, owners have been unrelenting in their pursuit of an 18-game season. The idea has appeal for season-ticket holders already paying full price for two home exhibition games. Owners proposed expanding rosters and changing how injured reserve lists operate. Players countered by asking for less contact during offseason practices, among other concessions.
"I think it's a give-and-take situation," Clemons said.
Injuries and long-term labor concerns weren't the only stories for the Seahawks on a cold, snowy afternoon.
The Bears were clearly the better team in all the critical areas. That realization brought clarity and perspective to Seattle's most unusual season. The first team to win its division with a losing record played well enough in Week 17 and in the wild-card round to enter the offseason with signs of clear progress.
"This team has taken big strides within even the last three weeks," strong safety
Lawyer Milloy
said. "Three weeks ago, I couldn't have told you how we would have responded when the world champions were up on us 10-0."
Seattle turned that 10-0 deficit to New Orleans into one of its most memorable victories.
Marshawn Lynch
's 67-yard run became national news. Hasselbeck, with four touchdown passes in that game and three more against the Bears, appeared viable again.
There were nits to pick Sunday. The Seahawks' receivers, notably
Mike Williams
, failed to compete well enough for contested balls. More broadly, the team will need to continue its ongoing roster overhaul. Finding the next quarterback should be a priority.
Those issues can wait for another day.
The Seahawks' late run dragged down their draft status from eighth to 25th in the overall order, a price Seattle will happily pay.
"This is extremely important for us, to feel that we can come together and we can find our level and potential of this team," Carroll said. "We played very well these last couple weeks and we practiced beautifully. ... There were times during the season you would have thought it could have gone another way."
January, 16, 2011
1/16/11
4:24
PM ET
CHICAGO -- Thoughts on the
Seattle Seahawks
'
35-24
defeat to the
Chicago Bears
in the NFC divisional playoffs Sunday at Soldier Field:


What it means:
The Seahawks maxed out against New Orleans in the wild-card round. They played down to outside expectations against Chicago and failed to capitalize on opportunities, including when Bears quarterback
Jay Cutler
threw passes right to them. Another missed opportunity -- a chance to play the NFC Championship Game at home -- stands out in the bigger picture. This performance makes it easier for the Seahawks to honestly assess their shortcomings during the offseason. Advancing to the NFC title game would have invited analysis through rose-colored lenses.
What I liked:
Seattle did not panic after falling behind early. Quarterback
Matt Hasselbeck
did not start forcing passes the way he had after falling behind in some regular-season games. Coach Pete Carroll, admittedly too aggressive at times in his game management, played the field-position game effectively early instead of going for it on fourth-and-1. The decision to kick a field goal after following behind 28-0 also made sense to me. Seattle wasn't threatening the end zone. Might as well avoid the shutout.
Aaron Curry
's fourth-quarter interception off a
Matt Forte
trick pass provided a rare highlight.
What I didn't like:
Lots of little things, and a few big ones. Seattle conceded the conventional ground game from the beginning, opting instead for gimmicky plays to the perimeter. Revisiting "Beast Mode" with
Marshawn Lynch
wasn't part of the plan, and it became impractical once an injury sidelined tight end
John Carlson
and Seattle fell behind. The Seahawks appeared unsure of themselves, particularly early. Hasselbeck went to the sideline as though his headset was not working. The defense was late getting
Raheem Brock
off the field, and then linebacker
Lofa Tatupu
had to scramble just to make sure the front aligned properly. Veteran safety
Lawyer Milloy
, beaten for a 58-yard touchdown on the Bears' first pass play, scrambled to get free safety
Earl Thomas
in position later.
Mike Williams
and
Cameron Morrah
dropped passes. Defenders appeared to have trouble with their footing as they tried to rush the passer. Thomas gave up a touchdown trying to make a spectacular interception. Overall, the Seahawks were too sloppy, making it tough for them to challenge a superior team.
Injurie(s) of note:
Carlson and cornerback
Marcus Trufant
left the field immobilized and on motorized carts. Carlson landed face first following a 14-yard reception. Trufant absorbed a hit to his head while going low to tackle tight end
Kellen Davis
. Both players suffered head injuries, the Seahawks said. Neither returned. Trufant suffered a concussion in Week 11 while tackling another player low. Fullback
Michael Robinson
was able to walk off the field after lowering his head and taking a hard hit in the third quarter. He returned.
Trending:
The Seahawks finished the season with an 8-10 record. Each of their previous nine defeats had been by at least 15 points. This one was closer after Seattle rallied with two late scoring passes. Hasselbeck finished the game with three touchdowns and no interceptions. He had seven touchdowns and one interception in two playoff games.
What's next:
The Seahawks head into the offseason with a long list of potential free agents and the 25th overall choice in the 2011 NFL draft.