NFC West:

Kellen Winslow Jr.
December, 10, 2012
12/10/12
6:30
PM ET
The
Seattle Seahawks
' 58-0 victory over the
Arizona Cardinals
on Sunday was big around here.
Not just for the historic margin, either.
[+] Enlarge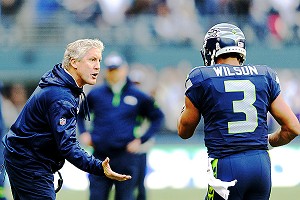 Steven Bisig/USA TODAY SportsNo doubt, Pete Carroll's decision to start rookie QB Russell Wilson has been a key to Seattle's success.
It was big because it killed a running joke on the NFC West blog, one Seahawks fans couldn't escape since the 2011 season finished. No matter how much progress Seattle appeared to be making, fans from other teams could point to consecutive 7-9 records as evidence the team was mired in mediocrity under coach Pete Carroll.
The victory over Arizona left Seattle with an 8-5 record. Even a disappointing finish would leave the Seahawks with a record better than 7-9. This will surely come as a relief to some.
Comments sections have overflowed at times with gratuitous references to the numbers seven and nine. Those in the know would either laugh, roll their eyes or bristle.
We even put together
an entire post
on the subject back in May.
"49ers have won 5 super bowls since '79,"
49ers5bowls
wrote.
"Pete Carroll's drag racing team nailed a 7.9 quarter mile,"
unislaya
added. "Nobody believed it, so they asked him to do it again."
"Pete Carroll finished P90X in 79 days,"
EDTGO
piled on.
"We were 7-9 in year 1, we improved to 7-9 in year 2 and I think we can be an even better 7-9 team in year 3," was how
Lock.Down
put it, claiming to be paraphrasing Carroll.
References to the number 58 might be more appropriate from this point forward. First, though, let's look at 7-9 quick reasons why Seattle is better this season:
The GM: General manager John Schneider led the way as Seattle defied convention by using a third-round choice for quarterback Russell Wilson.

The coach: Carroll had the guts to start Wilson over Matt Flynn when the decision appeared risky.

The QB: Wilson himself has made the biggest difference on the field. He has 15 touchdowns with three interceptions over his past eight games.

Health: Seattle has been healthier this season than in the recent past. Having left tackle Russell Okung and receiver Sidney Rice in the lineup consistently has helped.

Young talent: Middle linebacker Bobby Wagner had two more interceptions Sunday, giving him four on the season. Fellow rookie Bruce Irvin collected his eighth sack. So many other recent draft choices are contributing, including middle- and later-round picks. Cornerback Richard Sherman was a fifth-rounder in 2011, for example.

Big returns: Thanks to Leon Washington, the Seahawks rank third in kickoff return average. That is up from 10th last season. The improvement has been 3.55 yards per return.

Real McCoy: Seattle appeared to miss Kellen Winslow Jr. early in the season. The lesser-known Anthony McCoy has increasingly become a factor as a receiving tight end. He showed up when needed during a victory at Chicago, and again with a 67-yard reception Sunday.

Ryan's impact: Punter Jon Ryan was already good, but he has quite possibly been even better this season. His net average is 41.7 yards, a career high. Seattle has downed 47.4 percent of his punts inside the 20-yard line. That is up from 35.8 percent last season. Other factors can influence the percentage, but the more, the better.
August, 7, 2012
8/07/12
8:50
AM ET
It's homecoming week in the NFC West.
The Tennessee Titans' Matt Hasselbeck, Steve Hutchinson, Mike Reinfeldt, Ruston Webster and other former Seattle Seahawks will be returning to the Northwest for an exhibition opener at CenturyLink Field on Saturday night.
In San Francisco, meanwhile, former 49ers coach Mike Singletary will return to Candlestick Park with the Minnesota Vikings for an exhibition opener Friday night.

Cam Inman of the San Jose Mercury News
caught up with Singletary by phone and found him to be gracious. Singletary: "No. 1, I'll always be indebted to the 49ers. They gave me an opportunity when they could have chosen many others in their organization. I'm grateful to have had the opportunity to get a first-hand look at an organization that really wants to win."
Matt Maiocco of CSNBayArea.com
says Colin Kaepernick remains the No. 2 quarterback despite some inconsistent play. Maiocco: "Veteran Josh Johnson has not closed the gap with some inconsistent play of his own. Johnson threw an interception to Chris Culliver. Alex Smith also threw an interception, as Perrish Cox picked off a ball intended for Randy Moss."
Also from Maiocco
: The 49ers are listing "Randy Moss or Mario Manningham or Ted Ginn" as the starting receiver opposite Michael Crabtree.
Noted:
Moss coming off the bench? That's a tough sell if Moss remains on the roster.
More from Maiocco
: 49ers safety Cory Nelms watched his girlfriend, Olympian T'erea Brown, post a personal-best time of 54.21 seconds in the 400-meter hurdles.
Matt Barrows of the Sacramento Bee
says 49ers coach Jim Harbaugh singled out Kendall Hunter and Ahmad Brooks for having strong camps to this point.

Seahawks.com
has a photo showing Terrell Owens working out for the team.
Clare Farnsworth of seahawks.com
asks Eugene Robinson why Cortez Kennedy wasn't enshrined in the Hall of Fame a few years earlier. Robinson: "If Tez had played in New York or Dallas, oh my goodness. They would have changed the rules. Tez would have been in the Hall before his career was over. He was that good. He was that dominating."
Jerry Brewer of the Seattle Times
thinks the Seahawks are taking a big risk by adding Owens. Brewer: "On a team that already must monitor Marshawn Lynch, Kellen Winslow Jr. and Braylon Edwards (if he makes the team) for various reasons, this is both a dangerous acquisition and a fascinating experiment."
Brock Huard of 710ESPN Seattle
thinks signing Owens is a smart move for Seattle on various levels, including this one: "The signing of Owens clearly shows this receiving group needs help. Ricardo Lockette has a tight hamstring and tighter hands. Kris Durham has lacked separation and suddenness and got banged up once again in Sunday's scrimmage. Sidney Rice will see very little contact on his surgically repaired shoulders all preseason. Baldwin has a tweaked hamstring. Golden Tate is not a legitimate outside receiver down-in and down-out."
Noted:
Huard also points to the minimum salary Owens will be earning. Money defines where a player stands in an organization. Owens and the 49ers' Moss are scheduled to earn relatively low salaries. That's important in giving the team leverage.

Kent Somers of the Arizona Republic
revisits the Cardinals' preseason opener against New Orleans, offering notes on offense and defense. Somers: "Inside linebacker Paris Lenon suffered an ankle injury near the end of the first possession. After the game, he said he was fine. His replacement, Stewart Bradley, played well, batting down a pass near the goal line and registering a sack."
Also from Somers
: finding his bearings in Missouri, where the Cardinals are practicing this week.
Darren Urban of azcardinals.com
says the Cardinals saw good things from Bradley, who must have been having fun to go with the dance he revealed following a sack Sunday night. Bradley: "I've been messing around in camp with the dorkiest dance I could think of, and I came up with that. Guys were like, 'There is no way you will do that, but if you do, it would be awesome.' I said, 'Hey, if I get a sack or a big play, I'm going to put it out there.' "

Jim Thomas of the St. Louis Post-Dispatch
says the Rams are getting healthier, particularly in the secondary. Thomas: "Jeff Fisher's approach when it comes to ailing players seems to be a proactive one, at least as much as possible. After 16 full seasons in the NFL as a head coach, he knows the Lombardi Trophy isn't awarded in August. He's trying to have a healthy team on the field for the regular season, starting with the Sept. 9 opener in Detroit. If that means holding a player out of practice now for an extra day or two, so be it."
Bryan Burwell of the St. Louis Post-Dispatch
checks in with Rams receiver Danario Alexander, who his continually battling to get healthy. Alexander: "Too many knee injuries, too many operations, too many major and minor aches and pains and way too many frustrating rehab stints repeatedly have hit the pause button on a career that once seemed destined for greatness, but now is on the verge of an unhappy ending."
Nick Wagoner of stlouisrams.com
offers Rams notes, including one on rookie receiver Brian Quick getting some reps with the first-team offense.
Erica Sherman of stlouisrams.com
says backup quarterback Kellen Clemens' knowledge of Brian Schottenheimer's offense effectively gives the team another assistant coach.
May, 21, 2012
5/21/12
11:03
AM ET
The
Seattle Seahawks
still need a tight end to replace
John Carlson
.
Visanthe Shiancoe
's name has highlighted a shallow pool of veteran free-agent options. Looks like we might be adding
Kellen Winslow
's name to the list at some point.
Winslow doesn't expect a return to Tampa Bay,
according to Ross Tucker
. While the Buccaneers might
prefer to trade Winslow
, an
outright release
appears more likely. That is because any team acquiring Winslow would also acquire his $4.8 million salary, a steep figure even though Winslow
caught 75 passes
last season.
Winslow, despite knee issues that have limited his practice time, has not missed a game over the past three seasons. He's from San Diego and might welcome a chance to play on the West Coast after five seasons in Cleveland and three in Tampa Bay.
Winslow has kept a low profile in recent seasons after an
eventful
few years
.
Shiancoe, 32, remains the most logical target for Seattle given his ties to Seahawks offensive coordinator Darrell Bevell. Both were together with the
Minnesota Vikings
.
The Seattle assistants with ties to Cleveland and Tampa Bay -- defensive coordinator Gus Bradley and quarterbacks coach Carl Smith come to mind -- were not with those teams when Winslow played for them. But Winslow is obviously talented.
"He is too fast and athletic for linebackers to cover and too big for defensive backs to match up against,"
the Scouts Inc. report

on Winslow reads in part. "He has a wide receiving radius with soft, sure hands that allow him to make tough catches. He is a willing and physical blocker but lacks the size and strength to do much more than get in the way when blocking inside."
Seattle could use such a player after Carlson signed with Minnesota. The Seahawks did not draft a tight end this year.
While the Seahawks have quietly added veteran seasoning to their roster this offseason, they would still prefer to build with younger players. Shiancoe would have to come at the right price. That price might fall with another viable option on the market.
August, 18, 2011
8/18/11
9:33
AM ET
Antonio Gates
finished second to
Jason Witten
in our
offseason power rankings
for tight ends.
Davis
The fourth tight end on the list,
Vernon Davis
, cast his vote for Gates during
a recent appearance
on the
Doug Gottlieb Show
.
"The thing that sets him apart is his consistency to make plays, play after play," Davis said. "Everybody talks about him not being a good blocker, but they don't look at the other side, his consistency."
Davis said he sees the position continually evolving away from bigger tight ends to those with the athletic ability to challenge defenses in the passing game. We're seeing that in the NFC West with Davis,
Delanie Walker
,
Zach Miller
and rookie draft choices
Lance Kendricks
and
Rob Housler
, among others. A quick check through the NFL rosters I maintain showed no more than 10 tight ends listed at 270-plus pounds.
"The position has evolved tremendously," Davis said. "I say that because you don't have these 6-6, 6-7, 275-pound guys any more. We're normally around 6-3, 6-4, 240-250 pounds and can move fast. That is what it's about nowadays. Teams are looking for that tight end that can really stretch the seam and can run with the football in his hand."
Along those lines, I recently asked 49ers receiver
Braylon Edwards
to compare Davis to Edwards' former teammate in Cleveland,
Kellen Winslow Jr
. Edwards offered these thoughts:
They are both extremely talented. 'K2' is, before I got here, the best I played with. Watching him, he was, before his motorcycle accident, probably would have been the best pass receiving tight end of our era. But he is still doing his thing.

"Vernon is faster than Kellen and I think he is a little stronger in the blocking game than Kellen. I think that is the big difference between the two. They both run good routes, they both have extremely good hands, good size, but I think the big thing is, Vernon is a blocker. I've seen him on film and he takes that to heart and he destroys guys play after play after play. I think that is the difference between him and a lot of tight ends."
Davis leads NFL tight ends in touchdown receptions over the past two seasons with 20.
Earlier:
Why I ranked Davis third among NFL tight ends, and what Matt Williamson of Scouts Inc. thinks of him.
March, 30, 2011
3/30/11
10:45
AM ET
Our ongoing
discussion on tight ends
raised questions about which ones possess the best -- and worst -- hands.
"Any way you can add in 'thrown to' and 'drops' in this stat?" Furfanam asked in
one comments section
.
Consider it done.
Jason Vida of ESPN Stats & Information produced the information. I've broken it out in four charts. A few notes on the findings:
The first chart ranks NFL tight ends by most receptions. It also shows number of targets, drops and drop percentage. Witten,
Jacob Tamme
and Gates were the only tight ends with at least 50 receptions and no more than two dropped passes.
The second chart shows lowest drop percentages among tight ends targeted at least 20 times last season. Miller's standing atop the list backs up
James Walker's contention
that the Pittsburgh Steelers tight end was underrated in our power rankings.
The third chart ranks NFL tight ends with at least 20 targets by the highest percentage of dropped passes.
ESPN Stats & Information's totals on Bajema matched my charting. I had Bajema dropping passes against Tennessee, Denver and Arizona.
The final chart focuses only on NFC West tight ends, ranking them by lowest percentage of dropped passes.
December, 18, 2010
12/18/10
11:26
AM ET
Matt from San Bernardino, Calif., writes:
When the Rams beat the Chiefs this weekend, instead of saying how
the Raiders could win the NFC West
, should we be expecting a Rams could win the AFC West? They would have a 3-1 record against the division.
Mike Sando:
Let's see if the Rams can beat the Chiefs before anointing them as AFC West conquerors. Kansas City is 3-0 against the NFC West right now. The Chiefs could become virtual NFC West champs by winning Sunday. The Rams could have a hard time beating Kansas City if
Matt Cassel
returns and plays well for the Chiefs.
My sense, though, is that St. Louis should win this game at home. The Rams already beat San Diego in the Edward Jones Dome.
Of course, the Rams caught the Chargers at the right time (Week 6, as opposed to now). The Chargers usually are tougher late in the season. I don't think the Rams would defeat San Diego if the teams played at this point in the season. But there's no taking away that 20-17 victory in the Edward Jones Dome.
I thought the Rams
should have defeated the Raiders
in Oakland. They went the length of the field and got no points on one drive. They played well enough on defense early to get
Jason Campbell
benched. They were going to have one last shot to win the game until officials threw that somewhat controversial flag against Rams defensive tackle
Fred Robbins
for roughing the quarterback.
That was way back in Week 2. The Rams have improved since then. They've won a couple games on the road.
The Rams need to finish strong in their own division. They are only 2-2 in NFC West games. Seattle (3-2) and San Francisco (3-1) have been better. Let's see if the Rams can win the NFC West before saying they would be good enough to win the AFC West, too.
---
Jay from Kingsport, Tenn., writes:
Love the blog, Mike. After watching the 49ers' pathetic showing Thursday night, I think it's time for major changes at head coach, quarterback and maybe others. What do you think about going after Jim Harbaugh as coach and maybe even
Donovan McNabb
, as it's obvious he's done in Washington? Draft a quarterback, maybe Ryan Mallett, and let him sit a year and learn behind Donovan. Or how about trading for
Kevin Kolb
, as Philly would probably be willing to listen to offers now that Vick has locked up the starting job?
Mike Sando:
Hiring Jim Harbaugh would enliven coverage of this division given the history between Harbaugh and Seahawks coach Pete Carroll dating to Carroll's run at USC.
Harbaugh and Stanford upset USC a couple of times. Harbaugh once controversially cited sources on Carroll's staff as saying Carroll would be leaving USC after one more season. The prediction wound up being wrong. The fact that Harbaugh would speak so loosely about Carroll crossed a line and showed irreverence. Carroll is usually the looser, more irreverent figure in these coaching matchups. Might Harbaugh unnerve him a little or at least get on his nerves? No doubt, the Harbaugh-Carroll dynamic would help fuel the 49ers-Seahawks rivalry.
Should the 49ers hire Harbaugh? I would favor hiring an offensive-minded head coach, so it lines up from that angle. My ideal candidate would have more NFL coaching experience, in part because Mike Singletary was so lacking in that area.
McNabb's demise in Philadephia and apparently in Washington raises red flags about what McNabb has left to offer an NFL team. It's irrelevant to the 49ers whether Andy Reid disrespected McNabb by trading him within the division. It's irrelevant to the 49ers whether Mike Shanahan disrespected McNabb by benching him for
Rex Grossman
. The bottom line is that two Super Bowl coaches with offensive backgrounds thought they might be able to upgrade from McNabb. That is telling.
---
Travis from parts unknown writes:
Do you think
Derek Anderson
would be more effective if the Cardinals were better at the tight end position? When Anderson was effective, he had
Kellen Winslow
Jr. I looked at
Ben Patrick
's stats and he only has 15 receptions for the year, averaging just under 10 yards per catch. If you think those numbers stink, consider he has gone without a catch in six games this year. I was watching the news and Ken Whisenhunt was giving another "team responding to their QB" speech in reference to
John Skelton
and he was acting like nothing was wrong at the position. I warned you in early November that we would see Skelton. I really think the Cards are going to usher Whisenhunt out the door. He looks and talks like he's in another world.
Mike Sando:
There's no way in my mind I could see the Cardinals firing Ken Whisenhunt after one down season. They just signed him through the 2013 season. They are not going to pay him to stay away. He's better than most of the coaches they would probably hire to replace him.
The situation at tight end isn't the big problem. In fact, Anderson has been most efficient throwing from 12 personnel (one back and two tight ends). He has a 99.9 rating from this grouping, according to my charting. He has completed 22 of 33 passes for 335 yards -- that is 10.2 yards per attempt -- from that grouping.
Ben Patrick isn't catching many passes because he isn't playing very much.
Jim Dray
and
Stephen Spach
are taking most of the reps at that position. Neither is a great receiver, but the Cardinals have good options at wideout. Having a strong receiving tight end would help, but it might be a luxury for a team that has
Larry Fitzgerald
,
Steve Breaston
and
Early Doucet
.
Anderson is fundamentally an inaccurate passer. That is his problem. Having bigger targets -- such as tight ends -- could help in theory. But we have seen Anderson miss Fitzgerald quite a few times. Fitzgerald is a huge target in that he can catch passes thrown in his general area, not just right to him.
---
Arneet from Seattle writes:
Matt Hasselbeck
has been off and on this season, throwing for 300 yards one game, tossing four interceptions the next -- despite not being hurt as he has been in past seasons. I'm really beginning to believe that the Seahawks are putting too much faith in their bullpen because, despite his veteran experience, Matt isn't the answer.
Charlie Whitehurst
's inexperience and what he has shown thus far makes him another incorrect answer. And
J.P. Losman
? I really don't see it. Is it time for the Hawks to start shopping?
Mike Sando:
Yes, but shopping means smart shopping. You don't throw out the old before you have the new. The Seahawks need to pursue upgrades at quarterback this offseason. They should not seek change for the sake of change, however. Hasselbeck is better than quite a few options the team might pursue to replace him. Bringing him back might be the best option even if it does not "fix" the position.
Seattle's top priority, I think, should be to improve its offensive line. Restoring the defensive line should be another priority. This team loses along the lines too frequently. The next quarterback -- whether it's Hasselbeck, Whitehurst, a draft choice or another veteran -- needs a stronger running game.
July, 30, 2010
7/30/10
3:50
PM ET
The question in the headline seems misplaced given popular perceptions about the team that subtracted
Kurt Warner
,
Anquan Boldin
,
Karlos Dansby
,
Antrel Rolle
and others.
But all is not lost for the two-time defending NFC West champion Cardinals.
It'll take a team effort for Arizona to pull off another division title, just as it took one to complete this blog entry -- the fourth and final one in
our series
asking whether NFC West teams have improved this offseason. Facebook friend Barrett came through with the portion of our analysis focusing on offense. Branden, a Facebook friend I've tailgated with before Cardinals games, joined fellow Cardinals fans Jack and Jacob in filling out the remaining categories. I'm pleased by the final result and hope you find it thought-provoking.
Thanks to all the others who
answered the call
. My only regret was not being able to use them all.
Quarterback
Barrett:
It's
Matt Leinart
's time to prove capable of leading an NFL team from behind center. If he falters,
Derek Anderson
will be waiting to show that he can return to his Pro Bowl form from 2007 -- when he had targets such as
Kellen Winslow
Jr. and
Braylon Edwards
. Fifth-round rookie
John Skelton
may have the physical attributes Ken Whisenhunt looks for in a quarterback, but he remains a project. Verdict: worse.
Sando:
Max Hall
is another rookie quarterback to watch on the Cardinals' roster. I hear they like what they've seen so far. I also think Leinart can outperform the low expectations his critics have set for him. But there's no getting around the obvious here. The Cardinals were better at quarterback when they had Warner.
Running back
Barrett:
In a pass-oriented offense,
Beanie Wells
and
Tim Hightower
combined to rush for 1,391 yards and 15 touchdowns, but they also fumbled the ball nine times and lost six of those. Both backs are looking to get even more carries this season, with
Jason Wright
and
LaRod Stephens-Howling
perhaps having an increased opportunity to get touches over last season (combined nine attempts for 32 yards last season). Verdict: same.
Sando:
This group should only improve as Wells gets more seasoning and the Cardinals give him more opportunities. The knock on him coming out of college was that he was soft. Cardinals players challenged Wells to prove doubters wrong. Wells responded by running tough and running hard. The prime-time game against the
New York Giants
comes to mind. I think Wells can take it to another level.
Wide receiver
Barrett:
Even with Boldin being traded away to the Ravens,
Larry Fitzgerald
will still be a top receiver.
Steve Breaston
is no stranger to lining up as the No. 2 in Boldin's absence.
Early Doucet
showed what he is capable of during last season's playoff run. Now, let's see if he can produce similarly over the course of a full season.
Andre Roberts
is an excellent draft pick for depth to compete with
Onrea Jones
at the No. 4 spot and I expect him to spell Breaston for punt-return duties. However formidable this receiving corps still seems, the Cardinals will miss what No. 81 brought as a player, competitor, teammate and leader. Verdict: worse.
Sando:
The Cardinals somehow won a higher percentage of games recently when Boldin did not play. I agree they'll miss the toughness he brought. Boldin might have helped an inexperienced quarterback such as Leinart more than he helped Warner. Breaston brings more speed to the offense. Depth is certainly worse without Boldin, but it was also apparent Boldin might be declining some. I'll agree with your general assessment.
Tight end
Barrett:
Anthony Becht
,
Ben Patrick
and
Stephen Spach
are all back from last season, plus
Dominique Byrd
. Tight ends caught a whopping 23 passes for the Cardinals last season. It seems their primary function in Whisenhunt's offense is to offer run blocking and an occasional check-down. However, this may change ever so slightly as the focus shifts to a more balanced attack. Verdict: same.
Sando:
If there's an upgrade, it comes from having Patrick for a full 16 games. He missed the first four last season while serving an NFL suspension. Once Patrick returned, the Cardinals felt more comfortable using two tight ends. Wells had good success running from some of these double-tight personnel groupings. I think we could see more of those now that Warner is gone and the team has fewer front-line options at wide receiver.
Offensive line
Barrett:
With the free-agent additions of
Alan Faneca
and
Rex Hadnot
, starting quality and depth are already improved on a unit that has seen more postseason action in the past two seasons than any other offensive line in the NFL. This lessens any blow the line might take if an overweight
Deuce Lutui
does not return. There's also a second-year man by the name of
Herman Johnson
who just might be big enough to take over his spot. Verdict: better.
Sando:
Faneca is a huge name and I think he's got something to prove after the
New York Jets
dumped him. The word among NFL people is that Faneca has fallen off significantly and he could be a liability. The leadership and toughness he brings will have value, but how well can he play at this stage? I do not know. The Cardinals have in recent seasons stressed the importance of continuity on the offensive line. They'll have new people in three or four of the five starting spots, so the continuity is gone. Throw in a new starting quarterback and there's a lot of work to do. This group is better on paper based on the additions, but I'm not sure it'll be more effective (although the shift to more of a power running game could play to the strength of these linemen, something to keep in mind).
Offense overall
Barrett:
Whisenhunt has always geared his offenses to the players' strengths. With key losses in Warner and Boldin and the acquisition of Faneca, it sure looks like the Cardinals are shifting toward a more balanced attack. But one thing is for certain, and that is the quarterback cannot be expected to produce the way Warner did. Verdict: worse.
Sando:
You're right about Whisenhunt and his staff. They'll rise to the challenge and give the Cardinals their best chance to succeed on offense. The running game should be strong. They'll play to Leinart's strengths as well. But the points will be harder to come by and that'll make it tougher for the Cardinals to win games. The offense will be different and less prolific.
Defensive line
Branden:
The line up front starts and ends with the performance of
Darnell Dockett
. He has become more of a leader this offseason and his play on the field already speaks for itself.
Calais Campbell
has made many lists as one of the breakout players in the league. Whisenhunt has brought many of his rookies along slowly, so
Bryan Robinson
will most likely start at nose tackle, but rookie
Dan Williams
should get plenty of time and I expect him to take over the starting role by midseason. Depth-wise,
Alan Branch
and
Gabe Watson
are in make-or-break seasons, and while Branch showed more ability and versatility last year in his time at defensive end, they will have to step up to strengthen depth at the position.
Kenny Iwebema
is a serviceable backup and special-teamer. Verdict: better.
Sando:
It'll take a while for Williams to hit stride, but his addition can only improve what was already a pretty good situation for Arizona. Having the pressure on Watson and Branch can only help. It's tough for 3-4 defensive ends to get much notice, but Arizona has two of them worth our praise.
Outside linebackers
Branden:
There has been talk about the age of
Clark Haggans
and
Joey Porter
. Both are 33. While they will start, expect to see plenty of others in special situations -- including
Will Davis
, who played well last year as a rookie until suffering a knee injury.
Cody Brown
is practically a rookie and needs to contribute to help this position. Others at the position include
Mark Washington
and CFL star Stevie "Shakespeare" Baggs. Are they better as a unit than last year? Questionable.
Bertrand Berry
and
Chike Okeafor
performed average last year, and I'm not sure how much Porter has left. Verdict: same, but young guys need to step up.
Sando:
Someone pointed out to me that Porter and Haggans are younger than Berry, but it's small consolation for Arizona. You're right about the young guys needing to step forward. I could see Porter getting close to double-digit sacks even though Matt Williamson of Scouts Inc. thinks Porter has declined dramatically. Others have said Porter collected "cheap" sacks in recent seasons. Cheap ones are better than none at all. This group probably isn't going to decline dramatically. It wasn't all that great last season. Okeafor is out of the league, after all, and Berry retired.
Inside linebacker
Branden:
Losing Karlos Dansby will be difficult to overcome because he was a jack of all trades. However, I'm not as high on him as many others were -- Dansby had no Pro Bowls -- and I'm glad the Cardinals did not overpay for him. The addition of
Paris Lenon
as a stopgap and the drafting of
Daryl Washington
should help somewhat, but the injury to
Gerald Hayes
is a major issue. This group is thin and I believe the Cardinals will look to add a veteran when cuts are made. Verdict: worse.
Sando:
There's little getting around the problems Arizona faces at this position. We can talk about the defensive line being strong enough to cover somewhat, and that might be the case once Williams develops at nose tackle, but we're not fooling anyone in the meantime. The Cardinals tried to sign
Keith Bulluck
, but they lost him to the New York Giants. They also claimed
Alex Hall
off waivers, but the Giants beat them to the punch on that one, too, thanks to a higher waiver priority. Expect Arizona to keep monitoring the waiver wire here.
Cornerback
Branden:
Dominique Rodgers-Cromartie
is a Pro Bowler, so that helps with one side of the field.
Bryant McFadden
, traded back to Pittsburgh this offseason, was not much help on the other side last year, but he fared well in run situations.
Greg Toler
has the physical tools to be a good corner, but he is raw and needs to show his ability this preseason.
Michael Adams
is a special-teamer and the others, including
Trumaine McBride
, are OK backups. The Cardinals generally bring multiple safeties on the field in passing situations, so depth isn't a huge concern, but it's a valid question. The performance of this group hinges on DRC's ability to stay healthy and Toler's performance. Verdict: same or better if Toler steps up.
Sando:
The Cardinals aren't afraid to make changes, that's for sure. They could have stuck with McFadden, but his contract was a little steep for what they were getting in return. Whisenhunt seemed quite strong in his praise for Toler and he generally isn't wrong on these things. There's potential for this group to drop off, though. At least McFadden was a known quantity. The Cardinals take pride in developing young players and they'll need to be right on Toler to justify their decisions at the position.
Safety
Branden:
Adrian Wilson
is one of the five best safeties in the league, and it is a shame more people don't realize that. I think
Kerry Rhodes
will actually be an upgrade over Rolle as he knows where he is supposed to be, while Rolle was just learning the free safety position. I think Rolle has the potential to be better in the long run, but the starting tandem should be fine. Second-year man
Rashad Johnson
needs to step up and perform to the high praise from college coach Nick Saban. He just seemed lost last year.
Matt Ware
is a solid backup and plays well in passing situations.
Hamza Abdullah
is also a decent backup. Verdict: same, with the ability to be better in passing situations.
Sando:
I've found informed fans to be a bit overly critical of safeties. I'm not saying that's the case with Branden, but there's definitely a feeling among some Arizona fans that Rolle was overrated and Rhodes will actually provide an upgrade. I don't really see it athletically or for the long term, but acquiring Rhodes showed the Cardinals had a plan once Rolle's contract forced their hand. The Cardinals seem encouraged by what they're seeing from Johnson recently. I heard nothing positive about him last season. Re-signing Ware stood out as an underrated move. He's had some value as one of the first defensive backs off the bench.
Defense overall
Branden:
The Cardinals had more than 40 sacks last season and I think they can achieve that number again this year with their defensive line and some contribution from the outside linebacker position. I'm concerned about their inside linebackers' ability to stop the run, but again, I think much of that hinges on their ability to penetrate up front. The secondary has a chance to be very good, but I'm not sold. This was not a spectacular unit last year as evidenced by their giving up 90 points in two playoff games. They are more acquainted with the scheme and I think Billy Davis is a good defensive coordinator, but he will have to get creative again this year. The offense will not be scoring 50-plus points this year, so this unit will have to perform well for ...
Sando:
Branden's evaluation cut off there for some reason, but that's OK. We've got a deep roster of contributors and I'll lean on them for the rest of this exercise. The last point Branden raised was the one I wanted to touch upon in this space. It'll be tougher getting to 40 sacks again with fewer points on the board. It'll be easier, in theory, for the other team to stick with its running game. That appears problematic for Arizona given the issues at inside linebacker. But if Hayes can return in September, perhaps the Cardinals can stabilize the middle of their defense. They're fortunate to have such a terrific box safety in Wilson. I'll now turn to Cardinals fan Jack for the section on special teams.
Special teams
Jack:
I'm very excited about the special teams of the Cardinals, actually. Stephens-Howling performed quite well as a rookie returning kicks, and he should do even better this year now that he has his feet wet. Breaston didn't do well returning punts last season, so the Cardinals need to make a change, particularly with Breaston as the No. 2 receiver. I hope Andre Roberts gets a shot. As for the kickers, I hope that
Jay Feely
will be more consistent than
Neil Rackers
.
Ben Graham
was great last season, and I expect the same from him this year. Verdict: better.
Sando:
Rackers did some great things during his tenure in Arizona, but seeing him line up in the clutch was enough to make even non-fans nervous for him. Kicker is one position where teams can plug in free agents pretty easily, so Arizona could be fine with Feely. Stephens-Howling is already one of the best special-teams players in the league. He deserves Pro Bowl consideration. Cards fan Jacob is on deck with a look at the coaching.
Coaching
Jacob:
What more can be done by Whisenhunt? He is a proven winner and has taken this Cardinals franchise to heights never before imagined. Russ Grimm is widely considered one of the best head-coaching candidates. People will bang on the fact that the cardinals play in the NFC West and have been inconsistent at times throughout the year. However, they are 4-2 in the playoffs under Whisenhunt with both losses to the Super Bowl champions. Winning in the playoffs comes down to game plans, managing the emotions of the game and players -- and that is where Whisenhunt excels. His best coaching job will be showcased this year if the Cardinals can capture another division title. Verdict: same or better.
Sando:
I'm sure Whisenhunt is relishing the challenge. The Cardinals are being counted out prematurely. Whisenhunt will probably get the most from them. The coaching staff will deserve high praise if Leinart develops into a winning quarterback. Whisenhunt's Arizona legacy is largely established. He can only help it this season. With that, we go back to Jack for the final two sections.
Schedule
Jack:
I'd love to see the Cardinals take advantage of playing the AFC West this season. They still do have some tough games, though, most notably against Dallas, San Diego, Minnesota and New Orleans. Still, if they don't get eight or nine victories out of this schedule, it will be a disappointment.
Sando:
Three of the first four games are on the road. The fifth game is at home -- against the Super Bowl-champion
New Orleans Saints
. Welcome back to the lineup, Matt Leinart. Finishing the season against Dallas and San Francisco gives the Cardinals an opportunity to gain ground in the NFC, but neither game will be easy.
Final thoughts
Jack:
I want so badly to say the Cardinals are better than the 49ers. They can be, but they'll have to prove it. Perhaps the Cardinals' best chance is to take advantage of an easy schedule and snag a wild-card spot. I believe they'll get eight or nine victories, though. I hope for more.
Sando:
The Cardinals won 10 games last season with more talent. It's reasonable to expect them to slip back into the 8-8 range. That's where I see the Cardinals finishing and it'll be no shock if they fail to reach .500 for the first time under Whisenhunt. This is a transition year. They'll find out whether Leinart is their quarterback and if they win more than eight games along the way, or even if they avoid a losing season, I'd consider 2010 a success.

NFC WEST SCOREBOARD
Friday, 8/22
Saturday, 8/23
Sunday, 8/24