May, 21, 2011
5/21/11
12:53
PM ET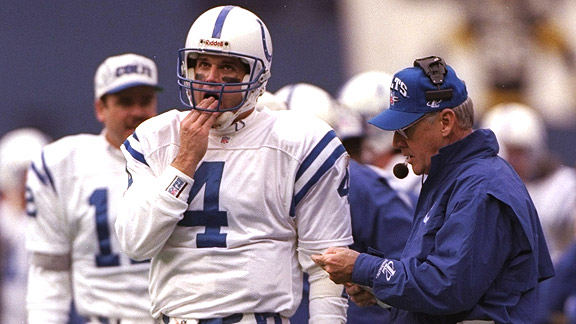 Doug Pensinger/Getty ImagesJim Harbaugh, left, says former coach Lindy Infante, right, had a huge impact on his career.
Jim Harbaugh
's reverence for Bill Walsh has been palpable since the
San Francisco 49ers
named him head coach this offseason.
Harbaugh has sought to round up
old coaching tapes
featuring Walsh installing game plans. He has embraced Walsh's offensive philosophy, pledging to run
a similar version
of the West Coast system. He has paid homage to 49ers tradition. Before Walsh died in 2007, he backed Harbaugh at Stanford, where Walsh was twice head coach. Walsh even
spoke to players
at Harbaugh's first spring practice.
Harbaugh has also been around the NFL long enough to know the league has produced a long list of outstanding coaches, even if few match Walsh in terms of success and overall legacy.
Lindy Infante
was one of those coaches in Harbaugh's eyes.
"Lindy doesn't get near the credit that Bill Walsh does," Harbaugh said this offseason, "but in many ways they are equals in terms of football minds. I never played for Bill Walsh, but there's no question in my mind."
This statement struck me as profound, but context is key. Harbaugh wasn't comparing their careers. He was comparing football acumen. One of the things Harbaugh admires most about Infante, who coached him in Indianapolis and is now retired, applies directly to Harbaugh's current challenge with the 49ers.
"It would be the ability to make a quarterback really play well," Harbaugh said.
Not just any quarterback, but quarterbacks with limitations.
"I went to the Pro Bowl playing for Lindy and up until that point, I wasn't thought of as a good quarterback at all," Harbaugh said. "But coaching made a difference."
Bernie Kosar and Don Majkowski enjoyed their best statistical seasons with Infante coaching them.
[+] Enlarge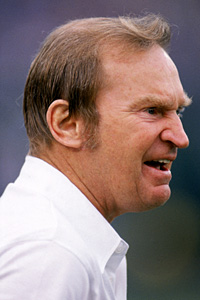 Photo by George Rose/Getty ImagesThe passing concepts taught by longtime NFL coach Don Coryell influenced the coaches who influenced Jim Harbaugh.
All of this came to mind Thursday during our blog discussion measuring
Don Coryell's impact on Walsh
and, by extension, on the 49ers.
Coryell never won a championship as a head coach, but he affected modern football tremendously through his innovative scheming.
Though Walsh and Infante never worked together, Coryell influenced both. Infante expanded upon Coryell's innovations while serving as offensive coordinator for the
Cincinnati Bengals
during the early 1980s. The concepts became staples within offenses around the league, including the one Infante taught to Harbaugh while both were with the Colts during the 1990s.
Infante, reached by phone at his Florida home, spoke specifically of the option routes Coryell used in San Diego to make Chargers tight end Kellen Winslow more dangerous.
The way Infante tells it, he was studying the Chargers' offense under Coryell when something unusual stood out on film. San Diego would run what appeared to be the same play from the same formation, but Winslow seemed to be acting on his own.
The first time, Winslow might run 12 yards and break toward the outside right. Ten or 12 plays would pass, and then the same play would come up again, but this time Winslow would run a tight hook to the inside, getting open for a first down. A quarter might pass and the same play would appear, with Winslow breaking across the field to his left.
"I kept writing these things down and diagramming them and I sat back and said, 'It looks to me like they are giving Winslow the right to go where he wants to go,' " Infante said. "We started playing around with what we call the 'Y' or tight end option. The first day out on the practice field, we had a full scrimmage and I said, 'Here goes, we're going to find out whether this thing is going to work.' "
It worked.
"By about the third or fourth time we ran it, Kenny Anderson and the tight end, Danny Ross, ended up on the same timing-type situation, but the quarterback got to the point where he could tell where the receiver was going to go way before he went," Infante said. "He was trying to get the ball there early and we had the ball hit Danny Ross in the face because he couldn't get turned around fast enough. We had to do some on-the-job training, but that is what got us thinking."
If the tight end could make such adjustments, Infante thought, why couldn't wide receivers do the same? If wide receivers could do it, why not the running backs? Before long, receivers could have as many as five options on a particular route based on the coverage, blitzes and the other factors.
Ross caught 71 passes for 910 yards and five touchdowns in 1981. He was on pace for even bigger numbers a year later, finishing the strike-shortened 1982 season with 47 catches for 508 yards in just nine games. Ross went to the Pro Bowl that season.
"It evolved to the point where we were doing a lot of option-route running, a lot of route adjustments after the snap of the ball and the quarterback would have the right to change certain plays if certain things were going on," Infante said. "It was exciting because it was inventive and you had to feel free to go and try to invent something. When I started coaching with Harbaugh, they brought me in to Indianapolis and the idea was I would bring my offense with me."
Harbaugh finished his playing career under Ted Marchibroda (
Baltimore Ravens
), Mike Riley (
San Diego Chargers
) and Marty Mornhinweg (
Detroit Lions
). He coached under Bill Callahan in Oakland before becoming a head coach at the University of San Diego and then Stanford.
The lockout has prevented Harbaugh and offensive coordinator Greg Roman from installing their offense with the 49ers. The coaching staff has used the time to refine exactly how they'll present information to players once the lockout finally does end.
Players might not know it, but former coaches will influence the process, at least indirectly.
"For this offense, there's a lot of Lindy Infante principles," Harbaugh said, "but I don't think it's exclusive to this offense. You talk about the option routes. The
smash route
now is a universally run route, but that was Lindy Infante.
"From a quarterback standpoint, I learned from him that there were more ways to read a route than just through a progression. I learned how to throw people open from him, that covered did not mean covered. That is a huge part of football now. The whole option game, the option routes, the smash concepts -- all those things I learned from him. He was very technical, very detailed. Just a
different way to understand the passing game
is what I learned from him."
Update:
This item originally said Coryell and Walsh worked together with the Chargers. Walsh predated Coryell in San Diego.
November, 10, 2009
11/10/09
11:00
AM ET
»
NFC Stock Watch
:
East
|
West
|
North
|
South
»
AFC
:
East
|
West
|
North
|
South
Posted by ESPN.com's Mike Sando
Falling
1. Anquan Boldin, Cardinals WR.
The Pro Bowl wideout nearly overshadowed the Cardinals' victory Sunday by essentially calling out his head coach for not being "man enough" to tell him about his deactivation in person. On the field, Boldin is as manly as any wide receiver to play the game. In this instance, Boldin should have been man enough after the game to take his case directly to Ken Whisenhunt instead of reporters crowding around him in the locker room at Soldier Field. Don't get me wrong: I've got nothing against players popping off after games. It's good blog fodder. It's also bad form, particularly for a player with Boldin's credentials. The Cardinals had just improved to 4-0 on the road while taking a two-game lead in the NFC West. Their offense had just played its best game. That wasn't the time for an inactive player to hog the spotlight.
2. Alex Smith, 49ers QB.
Let the record show that Smith played a good game against the Titans. That was the word from coach Mike Singletary, anyway. The bottom line, of course, is that the 49ers lost another game with Smith as their starter, and the other team caught three of Smith's passes. The 49ers have lost both of his starts this season and seven of his last nine. When they needed Smith to rally them in the fourth quarter Sunday, Smith locked onto receiver
Josh Morgan
without enough regard for safety
Chris Hope
, who picked off the pass. Smith needs a victory over the Bears on Thursday night for Singletary's words of support to resonate with fans.
3. Jim Mora, Seahawks coach.
Seattle's performance in falling behind the Lions by 17 points at home suggested Mora's harsh words for the team failed to gain traction following a blowout defeat at Dallas a week earlier. That seems like a bad sign. Yes, Seattle is learning new systems on both sides of the ball. Yes, the team has dealt with significant injuries this season. That's life in the NFL. The Lions are also learning new systems. They are even breaking in a rookie quarterback (the Lions probably would have won that game if
Daunte Culpepper
had been the quarterback). The Seahawks were as healthy for this game as they've been all season. Falling behind 17-0 at home to the laughable Lions is simply inexcusable. Perhaps this is the week Seattle responds to Mora's challenges.
Rising
1. Kurt Warner, Cardinals QB.
With five touchdown passes against the Bears, Warner passed Ken Stabler, Steve DeBerg, Joe Ferguson, Bobby Layne, Norm Snead and Ken Anderson on the all-time list. He needs two more to reach 200 touchdown passes for his NFL career. Warner's fifth and final scoring pass against the Bears killed any chances for a Chicago comeback. Whisenhunt had prematurely handed over the offense to
Matt Leinart
, whose interception helped fuel a Bears rally. The Cardinals were on their heels when Whisenhunt sent Warner back into the game. Warner immediately connected with
Larry Fitzgerald
for a 13-yard gain. A penalty for leg whipping against left tackle
Mike Gandy
negated the play, but Warner had nonetheless proved his head remained in the game.
2. David Hawthorne, Seahawks LB.
Lofa Tatupu
's legacy as a middle linebacker remains secure in Seattle. He was a three-time Pro Bowl choice and the key addition to a defense that helped the Seahawks reach Super Bowl XL following the 2005 season. Hawthorne has somehow outperformed Tatupu when given chances this season. That's a tremendous credit to Hawthorne. With Tatupu on injured reserve, Hawthorne picked off two passes against the Lions. He had two sacks against Dallas the previous week. He had a 16-tackle game against the Bears earlier in the season. The Seahawks will need to find a place for Hawthorne beyond this season if he builds on what is already an impressive start to his career.

3. Cardinals tight ends.
You know the Cardinals' offense is functioning at a high level when tight ends
Anthony Becht
and
Ben Patrick
are catching touchdown passes in the same game. The Arizona passing game goes through Fitzgerald and the other wide receivers, but the tight ends could get more chances as the Cardinals embrace two-tight end personnel groups. The Cardinals averaged 6.3 yards per rushing attempt against the Bears when playing with one back and two tight ends. Similar groupings could become more common in the longer-term future if Boldin talks his way out of Arizona -- particularly if the tight ends show they can catch the ball.
May, 11, 2009
5/11/09
11:35
AM ET
Posted by ESPN.com's Mike Sando
| | | |
| --- | --- | --- |
| NFL QB Coach | Team | NFL Passing Yards |
| Ken Anderson | PIT | 32,838 |
| Jim Zorn | WAS | 21,115 |
| Chris Miller | ARI | 19,320 |
| Wade Wilson | DAL | 17,283 |
| Frank Reich | IND | 6,075 |
| Matt Cavanaugh | NYJ | 4,332 |
| Alex Van Pelt | BUF | 2,985 |
| Bill Musgrave | ATL | 402 |
| Tom Clements | GB | 77 |
| Mike McCoy | DEN | 0 |
Kurt Warner loves football, but not enough to dive into coaching once he retires as a player. The hours are too long, Warner told Darren Urban, a the quarterback has other priorities.
It's tough convincing millionaire athletes to work 80-hour weeks for a fraction of what they earned as players. Warner will pocket $19 million in salary and signing bonus this year, considerably more than an entire NFL coaching staff earns in a season.
Most former NFL quarterbacks coaching the position played before huge salaries proliferated (see chart). I remember a prominent offensive lineman informing his team upon retirement in the late 1990s that he would be willing to serve as an assistant for $400,000 a year. The team tried not to laugh. The player never went into coaching.
Warner's new position coach, Chris Miller, is one of the more accomplished former NFL quarterbacks coaching the position. I counted 10 former NFL passers coaching quarterbacks. The figure includes Redskins head coach Jim Zorn, who oversees the position. The Broncos' Mike McCoy spent one game as the 49ers' third quarterback in 1997.
Another 14 NFL quarterbacks coaches played the position in college, including the Seahawks' Bill Lazor (Cornell), the Rams' Dick Curl (Richmond) and the 49ers' Mike Johnson (Akron).
Ken Zampese (Bengals), Kyle Shanahan (Texans) and James Urban (Eagles) were college receivers. The Saints' Joe Lombardi, grandson of Vince, was a college tight end. The Chargers' John Ramsdell was a college running back. The Patriots' Bill O'Brien and the Vikings' Kevin Rogers were college linebackers. The Lions' Jeff Horton did not play in college.
The Chiefs do not list a quarterbacks coach, but offensive coordinator Chan Gailey, once a quarterback at Florida, is overseeing the position.
January, 20, 2009
1/20/09
11:10
AM ET
Posted by ESPN.com's Mike Sando
David from Scottsdale writes: Mike: how things have changed from August when you had actively solicit for Cardinal questions and comments. My question: From your experience following the Seahawks up close, did their first playoff run provide benefits that showed up in subsequent regular seasons? It seems the Cardinals have finally learned the degree of discipline and preparation necessary to get the full utilization of their talent. Regardless of what happens in the Super Bowl, I hope they dont forget next year what has made them successful in the postseason. Your thoughts?
Mike Sando: The Cardinals' success this season will help them to the extent that it reinforces coach Ken Whisenhunt's credibility in building a winning program. I do think that will help for the long term. Players do not automatically buy into what a coach is selling. They eventually need strong evidence that their coach has them on the right track. Advancing to the Super Bowl provides that evidence, a huge boost for Whisenhunt and his staff.
Arizona's playoff run differs from Seattle's initial playoff appearances under Mike Holmgren in that the Seahawks needed multiple appearances to win in the playoffs. For that reason, I'll limit the comparisons to the 2005 season, when Seattle advanced to the Super Bowl.
One lesson the Seahawks learned was that one great season doesn't guarantee results for the next season. The feeling a team has one season can dissipate in a hurry. Sometimes a key player leaves in free agency. Seattle lost Steve Hutchinson. Sometimes a key player begins a sharp decline. Shaun Alexander comes to mind.
The Baltimore Ravens won a Super Bowl in Brian Billick's second season. They failed to win a playoff game for the next seven seasons, and Billick was fired.
The Cardinals still have to prove they can handle success for the long term. We sometimes fall into the trap of assuming a team's strong finish will carry over into the next season. Within the division, the 49ers felt strongly about their 2007 prospects after showing positive signs to end the previous season. The 49ers also emerged from the 2008 season with optimism, but each season has its own separate life.
Also, the Cardinals' opponents might be gunning for them. The Seahawks thought some opponents gave their best efforts against them after the Super Bowl season.
July, 24, 2008
7/24/08
11:25
AM ET
Posted by ESPN.com's Mike Sando
| | |
| --- | --- |
| | |
| | Andy Lyons/ALLSPORT |
| | Ricky Watters rushed for 10,643 yards and caught 467 passes. |
Former 49ers and Seahawks running back Ricky Watters made NFL Network's list of the 10 best players not enshrined in the Pro Football Hall of Fame. The list includes only players who have been retired long enough to become eligible. Roger Craig didn't make the cut. Would you rank him ahead of Watters among all-time backs?
Watters was a terrific every-down player. He played and practiced with emotion and energy. He was exceptionally durable, at one point starting 116 consecutive games -- the longest streak for any running back who was active at the time (LaDainian Tomlinson leads current running backs with 48 consecutive regular-season starts).
Watters rushed for 10,643 yards and caught 467 passes. He ranks 14th in NFL history for yards from scrimmage. He respected the players who came before him and earned the respect of his peers. In 2000, his Seattle teammates named Watters the Steve Largent Award winner, presented to the Seattle player who best illustrates the spirit, dedication and integrity of the team.
NFL Network's list also includes Ken Anderson, Cris Carter, Bob Hayes, Alex Karras, Jerry Kramer, Jim Marshall, Ken Stabler, Steve Tasker and Derrick Thomas. Carter will almost surely enter the Hall of Fame in the near future. Hayes' supporters point to how he forced defenses to change their approach entirely to account for his speed.
I can think of a few Hall-eligible players from NFC West teams -- Craig among them -- who deserve strong consideration for enshrinement:
Seahawks: Cortez Kennedy was defensive player of the year on a 2-14 team that featured one of the worst offenses in NFL history. He was an eight-time Pro Bowl player. At his best, Kennedy could not be blocked.
Rams: Henry Ellard averaged nearly 17 yards per reception on 814 catches. He averaged 19.5 yards per catch while putting up more than 1,000 yards with Washington at age 35.
49ers: Craig topped 1,000 yards rushing and 1,000 yards receiving in the same season. He caught more than 566 passes and topped 8,000 yards rushing. The numbers only begin to explain how he played. The high-kneed running style helped him bull over defenders.
Cardinals: Help me out here. Larry Centers caught all those passes out of the backfield. Roy Green? There has to be someone I'm missing. Perhaps on defense.