June, 30, 2011
6/30/11
9:47
AM ET

Darren Urban of azcardinals.com
looks at the unsettled nature of the Cardinals' offensive line. Center
Lyle Sendlein
and guard
Deuce Lutui
do not have contracts for 2011. Urban: "Free agency will determine the path of the line. Sendlein remains a favorite of the coaching staff and figures to stay in the spot he has had since 2008. Lutui is a much bigger wild card, given his disappointment in the past to not have his contract extended and his desire for a large payday. [Brandon] Keith is a work-in-progress, but the Cards think he can still develop into a solid tackle (and he spent the 2009 season as a backup guard, so he is able to play both positions if necessary). That flexibility could help depending on who the Cards sign and/or re-sign." There were signs Keith was improving before an injury ended his 2010 season. Overall, however, the Cardinals simply haven't invested much in young offensive linemen since selecting
Levi Brown
fifth overall in 2007. They
have not drafted one
in the first three rounds of the past four drafts.
Also from Urban
: Cardinals staffer Rolando Cantu recently assisted at the scene of a car accident that left a young man with serious injuries.

Clare Farnsworth of seahawks.com
revisits Chuck Knox's final season as head coach, explaining why Knox fell out of favor with ownership despite a successful run. Farnsworth: "Call it a clash of strong personalities between Knox -- who was old school, yet still cool -- and owner Ken Behring. After the Seahawks' early success under Knox, the team never won more than nine games in his final five seasons. His philosophy had morphed into keeping games as close as possible and then trying to make a play to win them in the fourth quarter. Behring wanted more bang for his buck, not bang the drum slowly." That led Behring to push for selecting
Dan McGwire
in the first round of the 1991 draft, a move that never sat well with Knox.
Eric D. Williams of the Tacoma News Tribune
checks in with Seahawks safety
Lawyer Milloy
, who is putting on a football camp for kids in the Tacoma area. Williams: "Partnering with Sports International Football Camps, Milloy hosted his first camp in Parkland this week, with Seahawks teammates
Deon Butler
and
Marshawn Lynch
chipping in to make appearances in order to teach kids the ins and outs of the game. But Milloy didn't just pop in to show his face and talk for five minutes. He spent quality time working with kids in individual drills." Butler and Lynch also helped out. Butler has recovered from his season-ending knee injury well enough to run routes and catch passes.

Matt Maiocco of CSNBayArea.com
says quarterback
Alex Smith
is taking a stronger leadership role than ever as the
San Francisco 49ers
hold player-organized practices. Tight end
Vernon Davis
: "He's more of a leader than he's ever been at this point. I've never seen Alex like this, 'taking charge' is what I call it. It's Alex taking charge. He's in the classroom walking us through everything, talking about all the plays. He's taking all the snaps. And he's really being a leader out there. That's what Alex should've been doing. But it takes time for some guys to get to where you need to be."
My thoughts
.
The 49ers' website
catches up with former player
Gordy Soltau
, a candidate for the team's Hall of Fame. Soltau: "I was excited when I got traded out here in 1950. I was with Cleveland at the time when Coach Paul Brown told me, 'You can stay here, but Buck Shaw wants you so badly. I'm going to let you go if you want to go.' Then he said, 'You know you probably won't play much for us this year, but if you go to San Francisco, you can play right now.' So I said, 'I'll go.' "
Tim Kawakami of the San Jose Mercury News
offers thoughts on the 49ers' practices.
Daniel Brown of the San Jose Mercury News
says draft-day stories about
Colin Kaepernick
using Andrew Luck as a resource never really panned out.
Eric Branch of the San Jose Mercury News
checks in with undrafted center Chase Beeler, who played for Jim Harbaugh at Stanford. Beeler: "I can tell them what my experience was at Stanford in terms of pairings of plays, particular packages that you might see -- a power paired with a particular pass or what have you. But still I have to assume the circumstances in which they're implementing the playbook are a little different at the next level in the NFL. So there's going to be some variance there. I'm sure a certain percentage of whatever I'm able to tell them is ultimately going to be useful, but I don't know that I'm able to give them some kind of grand insight that's going to bring the whole offense together."
Matt Barrows of the Sacramento Bee
says finding a center must be a priority for the 49ers after
Eric Heitmann
's neck surgery. Barrows: "
David Baas
, who played guard his first five seasons in the league, filled in last year at center and remains the team's top option at the position. Baas, an unrestricted free agent, attended one day of the 49ers' previous player-run minicamp -- a good indication he plans to re-sign with the team -- but has not attended the current camp. The 49ers, who have known since last year that Heitmann's status was uncertain, drafted accordingly. They selected Appalachian State's
Daniel Kilgore
in the fifth round and Montana State's
Mike Person
in the seventh round, and they plan to see what each can do at both center and guard."

VanRam of Turf Show Times
notes that ESPN.com has made
Steven Jackson
the Rams' highest-ranked player for fantasy purposes. We've spent a fair amount of time this offseason discussing
whether Jackson has lost a step
and what he might offer for the future. Matt Williamson of Scouts Inc. put it this way earlier in the offseason: "He struggles to run away from tacklers and break long runs. And he just isn't as nifty as he once was. This sounds like I am a Jackson 'Hater,' which I am not. In fact, I think that the new offense being installed by Josh McDaniels could do Jackson a world of good, as could the maturation of
Sam Bradford
."
July, 26, 2010
7/26/10
2:10
PM ET
The
Seattle Seahawks
weren't worried about losing CEO Tod Leiweke to the NHL until the Tampa Bay Lightning offered an ownership stake in the team.
The Lighting made the ownership offer and Leiweke could not resist, taking a CEO job with equity in the team in a move announced Monday.
[+] Enlarge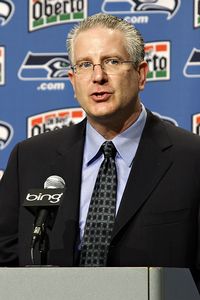 AP Photo/Ted S. WarrenReplacing CEO Tod Leiweke will be an important hire for the Seahawks.
Leiweke's departure from his role over the Paul Allen-owned Seahawks, Portland Trail Blazers and Seattle Sounders has the potential, at its worst, to destabilize those franchises. But the Seahawks said Leiweke would stay onboard to help choose a successor and if that is the case, the organization can come out of this OK. Leiweke's involvement in hiring a replacement is critical because Allen's other advisers have proved less skilled in the processes used to identify management talent.
Leiweke leaves a strong legacy despite the Seahawks' recent on-field struggles and their front-office implosion earlier this offseason. Former coach Mike Holmgren has called Leiweke the best thing to happen to the organization. And while I suspected Holmgren sometimes intended the statement as a dig toward former team president Tim Ruskell, Leiweke was indeed a person the organization could trust. He always had the Seahawks' best interests in mind and he knew how to build a brand.
The Seahawks already had their new stadium when Leiweke arrived in June 2003, but their season-ticket base was around 30,000 and the organization had not reconnected with its fan base following Ken Behring's tumultuous ownership run. Allen, despite good intentions, didn't enjoy success as Seahawks owner until Leiweke came aboard. That was not a coincidence. Leiweke's people skills and business sense made an immediate impact.
Leiweke overhauled the business side of the Seahawks' organization and changed the team's marketing focus. The team became friendlier, for sure, and the results are easily quantified. The Seahawks expect to have 62,000 season-ticket holders for the 2010 season after making available additional tickets beginning last week. Leiweke has similarly remade the Blazers' image after taking control of that organization in 2007. Separately, the Sounders quickly became profitable under his watch.
Those three Leiweke-operated franchises -- the Seahawks, Blazers and Sounders -- have enjoyed a combined 201 consecutive sellouts under his watch, according to a news release.
It's not yet clear who Leiweke might suggest as a replacement. Chief operating officer John Rizzardini could be a logical choice if the team makes a hire from within. Senior vice president and general counsel Lance Lopes helped coordinate the hiring of Pete Carroll from USC, so his name might be worth keeping in mind.
Making the wrong hire could undermine the legacy Leiweke has built. In the short term, it could undermine Carroll and new general manager John Schneider. The Seahawks and their fans can feel better about Leiweke's successor if Leiweke himself signs off on the hiring.