September, 14, 2014
Sep 14
7:40
PM ET
EAST RUTHERFORD, N.J. --
Kenny Demens
forgot for a second that he had a kickoff to cover.
The
Arizona Cardinals
' backup inside linebacker was too busy celebrating
Ted Ginn
's 71-yard punt return for a touchdown early in the fourth quarter when his breath -- or lack thereof -- finally caught up with him. Panting, Demens went to the sideline after realizing he was needed on the ensuing kickoff. There he found linebackers coach Mike Caldwell, who saw Demens was gassed but told him he needed to make a play regardless.
[+] Enlarge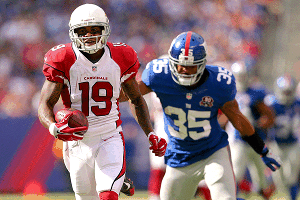 Brad Penner/USA TODAY SportsTed Ginn's fourth-quarter punt return for a touchdown rallied the Cardinals past the Giants on Sunday.
Demens raced down the field on the kickoff with a freshly minted 19-14 lead and stripped
New York Giants
returner
Quintin Demps
. The fumble was recovered by Arizona's
Robert Hughes
and in a matter of two plays, the Cardinals went from a team that had an excuse for losing -- because it started a backup quarterback -- to a team with a clear road to a 2-0 record.
"It was one of those things that we were trying to get a spark going, trying to get a spark and then we got one," quarterback
Drew Stanton
said after the Cardinals'
25-14
win on Sunday. "From my standpoint, we were trying to push the ball downfield. They were just doing a good job of being stingy in the red zone. They showed us a couple different techniques. We were trying to do some different stuff against them that it wasn't happening the way we wanted it to."
Stanton, who replaced
Carson Palmer
as the starter because of a nerve injury in Palmer's right shoulder, led the Cardinals to a touchdown on the opening drive. In the 45 minutes that ticked away between that TD and the Ginn return, Arizona's offense was abysmal.
The Cardinals had two three-and-outs to start the third quarter before a 13-play drive yielded three points on a 37-yard field goal by rookie kicker
Chandler Catanzaro
, bringing them to within 14-13. Four plays later, Ginn broke loose and swung the momentum.
Ginn said he didn't remember the specifics of what sprung him for the touchdown, except that he made one Giant miss immediately after he caught it. Demens credited the type of blocking scheme called by special teams coordinator Amos Jones, which required the special-teamers to hold their blocks a few seconds longer. It worked. Once Ginn got through the scrum, he was in a foot race that he wasn't going to lose.
It was Arizona's first punt return for a touchdown since
Patrick Peterson
did it in 2011.
"We actually needed a touchdown," Ginn said. "It couldn't have come at a better time than then. You know, like I said before, you just let the game come to you. You just play the plays."
With momentum swinging toward the team from the desert, Ginn could see the Giants beginning to deflate. But New York's
Eli Manning
, who had carved up the Cardinals' secondary to that point, had enough time to orchestrate a comeback. It continued on the Giants' drive following Demens' forced fumble. Manning took the Giants 53 yards to the Arizona 17 when New York running back
Rashad Jennings
slipped and fell, losing the football, which was recovered by Arizona safety
Rashad Johnson
.
Arizona's defense responded to the momentum swing even as Arizona's offense managed just another field goal. The Cardinals held New York to two three-and-outs late in the fourth, as linebacker
Larry Foote
picked off Manning on New York's final play. Even though it didn't happen until the fourth quarter, the momentum delivered by Ginn and Demens was noticeable throughout the team.
"The team wins and it's always the special teams, they set the tempo," Cardinals coach Bruce Arians said. "That kickoff return, getting that fumble was huge."
August, 24, 2014
Aug 24
11:25
PM ET
GLENDALE, Ariz. -- For much of the first half, the
Arizona Cardinals
' starting offense looked too familiar. It played like last year's offense, especially quarterback
Carson Palmer
, who threw one interception that was returned for a touchdown in the Cardinals' 19-13 loss to the
Cincinnati Bengals
and had two others go either off or through the hands of Bengals' defenders.
With impressive protection from the offensive line, Palmer threw for just 92 yards on 7-of-19 passing while not leading the first-team offense on a scoring drive for the first time all preseason.
Here are some other thoughts on the Cardinals' third preseason game of the season:
August, 9, 2014
Aug 9
2:00
PM ET
GLENDALE, Ariz. – With the
Arizona Cardinals
' first preseason game approaching Saturday against the
Houston Texans
, the starters have been written about, dissected and analyzed plenty during the first two weeks of camp. The coaching staff knows what they're capable of. It's the guys behind them who will be fighting for their jobs.
Here's a breakdown of five defensive reserves to watch Saturday against Houston:
Williams

Teddy Williams, CB: Williams isn't just returning from an Achilles' tendon injury, he's making his debut at cornerback. Last season he displayed his speed at wide receiver but was moved across the line of scrimmage due to added depth at receiver. He's a special-teams dynamo, especially at gunner, but Williams will need to prove starting Saturday that he could be a reliable backup for an already deep cadre at cornerback. Mistakes are expected, but he's confident he'll make this team.
Kenny Demens, LB: After spending all but two games either on practice squad or injured during his rookie season, Demens returned in 2014 in the middle of a stiff competition at inside linebacker. He's the youngest of the trio competing for one spot alongside Kevin Minter, and while Larry Foote and Lorenzo Alexander have the experience, Demens has youth, quickness and durability on his side. The biggest knock on Demens has been his size but he can start proving Saturday that's irrelevant.
Justin Bethel, CB: He made the Pro Bowl last year as a gunner on special teams, but since returning from Hawaii, Bethel has been making major strides as a defensive back. He'll starting showing his new skills – which Cardinals coach Bruce Arians said this offseason could end up be being better than Patrick Peterson's – on Saturday. Expect him to have a solid game because he's a relative unknown as a cornerback and the tape that's out on him isn't strong, but in practice he's been light years better than he was a year ago, getting his hands on passes and making plays. But there's still work to be done.
Kareem Martin, DE: Like Ed Stinson, the other defensive lineman drafted in May, Martin will be charged with proving he's a viable backup on a defensive line that finished last season as No. 1 against the run. Martin's reputation to get to the quarterback will follow him this year. Saturday will be his first chance to show any improvement to his pass-rushing techniques. With John Abraham still not in camp, Martin could be working toward a pass-rush role.
Ed Stinson, DE/DT: The rookie will get his first shot as a backup on the Cardinals' vaunted defensive line, a role he and Martin will share all season. And this will be coaches' and fans' first chance to see the guy who Darnell Dockett tweeted will be the next Dockett, if not better. The pressure is on.
October, 11, 2013
10/11/13
8:43
PM ET
TEMPE, Ariz. --
Arizona Cardinals
wide receiver
Larry Fitzgerald
is questionable for Sunday's game at San Francisco with a hamstring injury, head coach Bruce Arians said Friday.
Fitzgerald
Arians said it's the same left hamstring Fitzgerald tweaked Sept. 11, but the injury is in a different spot.
"We'll wait and see by game time," Arians said.
Fitzgerald was limited Wednesday and Thursday but practiced in full Friday. After seeing how the hamstring hampered him during the Lions game, Fitzgerald will be cautious Sunday.
This is just the latest setback for Fitzgerald, who has 24 receptions. That's fewest through the first five games of a season since 2004, his rookie year, when he had 22, according to ESPN Stats & Information.
Fitzgerald hasn't lived him to his Hall of Fame standards in his last 21 games. He has just two games with at least 100 receiving yards during that span and has a total of 1,086 yards, far less than the 1,411 yards he had in 2011.
Other injury news"
Rookie LB
Kenny Demens
(hamstring) was also listed as questionable.
Listed as probable were LB
John Abraham
(shoulder), LB
Jasper Brinkley
(groin), G
Daryn Colledge
(shin), DT
Darnell Dockett
(groin), S
Rashad Johnson
(finger), LB
Kevin Minter
(hamstring), DE
Ronald Talley
(wrist), LB
Daryl Washington
(knee).
September, 26, 2013
9/26/13
6:57
PM ET
SARASOTA, Fla. -- Amos Jones has been around for a long time and he's seen his fair share of oddities in football.
And that includes Arizona coach Bruce Arians with hair.
But Jones, the
Arizona Cardinals
'special teams coordinator, had never seen 11 substitutions on special teams in one game, the number Arizona totaled last weekend against New Orleans because of injuries. Jones' previous high was nine.
Already down one special teams starter, rookie linebacker
Kevin Minter
(hamstring injury), Jones lost one of his special teams captains, linebacker
Lorenzo Alexander
, who ruptured his Lisfranc ligament, and another stalwart, linebacker
Sam Acho
, who broke his fibula. If that wasn't enough, backup rookie linebacker
Alex Okafor
tore his left biceps and is out for the season. He played the second-most snaps on special teams against the Saints.
"I compared it to coaching in the Canadian League or coaching in high school ball where somebody gets hurt, you gotta go," Jones said. "Same thing in the NFL when you only have 53 men. You just got to be prepared for those scenarios. Luckily our guys have accepted that from Day 1."
It didn't take long for their losses to impact the Cardinals.
Without Alexander and Acho, Arizona's punt-return defense suffered. It came into Sunday's game allowing 0.8 yards, in large part because of second-year gunner
Justin Bethel
. But without Alexander, who would command a double team, thus opening lanes for his teammates to streak down field, the Saints could focus more on Bethel and slow the downfield stampede. After their 31-7 loss to the Saints, the Cardinals are allowing eight yards per punt return, still impressive, but 10 times what they were previously giving up.
Assuming the roles vacated by Alexander, Acho and Okafor will be the Cardinals' three most recent additions:
Dontay Moch
,
Vic So'oto
and
Kenny Demens
.
Their first challenge will be a top-10 punt return unit and the third-best kickoff return team. Tampa Bay averages 7.8 yards per punt return and 31.3 per kickoff return. The Bucs have had three players return kicks this season and all averaging at least 25 yards per return.
Arizona, meanwhile, has allowed 17.3 per kick return.
"We [are] ready with the backups," Jones said. "Some of those backups will be starting this week. We went out and acquired three guys that have unique skill sets so we'll utilize them the best we can.
"So, it'll be a bunch of unselfish guys who'll step up and fill in. Some guys will get a little bit more playing time at other positions, and some of these guys we just acquired will come in and put a hand in the pile."
Alexander was the NFC's Pro Bowl special teams representative last year with the
Washington Redskins
and Acho was starting to hit a stride on special teams, but it's not their physical skills Amos will miss most.
It was their leadership, their dependability, their experience. Amos could look at Alexander and bounce ideas off him.
"Those guys had great presence in the room," Jones said. "We have other guys. We're not just about one or two guys, that's not how we're built, but it was always a pleasure."
September, 25, 2013
9/25/13
8:00
AM ET
SARASOTA, Fla. -- Handling a loss is part of the game. And waiting on a star to return from an injury also comes with the territory.
Having to rebuild an entire position because of injuries, well, that might have been coach Bruce Arians' "Welcome to the NFL" moment. And how he responds could spell out the rest of the season for the
Arizona Cardinals
.
A depth chart is built with this type of situation in mind. Both of Arizona's starting outside linebackers,
Lorenzo Alexander
(Lisfranc) and
Sam Acho
(fibula), left Sunday's 31-7 loss to the
New Orleans Saints
with season-ending injuries. It was a blow to the defense, but it's not the end of the world. Enter the backups. Rookie
Alex Okafor
filled in for Acho, but saw only five plays. Which, Arians said on national radio Tuesday night, was all he needed to tear a biceps tendon.
Okafor is out for the season, too.
Enter … well, nobody.
Teams aren't built to back up the backup. Anyone who posits otherwise simply doesn't understand the dynamics of football. With a 53-man roster, 22 spots are slotted for starters. Give each one a backup and that's 44 players, with nine openings left for special teams and specialists.
[+] Enlarge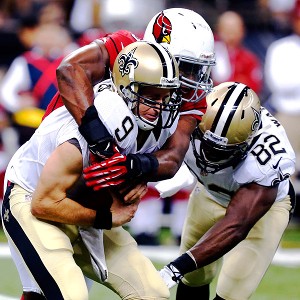 AP Photo/Bill HaberSam Acho recorded a sack of Saints QB Drew Brees before leaving with a broken fibula.
The only two outside linebackers to survive Sunday were
John Abraham
and
Matt Shaughnessy
, both of whom tend to play as outside rushers off the line, or, in Shaughnessy's case, sometimes in the middle of the line.
Losing three of a unit's five players, no matter what team it is, can bring panic. But the Cardinals have reacted swiftly, trying to piece together a competitive outside-linebacking unit.
They filled out the roster with a couple of internal promotions,
Dontay Moch
and rookie Kenny Demens, from the practice squad (the latter move according to Arians) and signed
Vic So'oto
to the active roster. It's a solid start to a process that may last the rest of the season. The outside linebackers could be liability until at least two of the injured players return next year.
Arians likes Moch's speed, which can help this defense improve its pass rush. Arizona has recorded just one sack off the edge this season, by Acho, against the Saints.
The Cardinals have three primary options at this point: Stay with the new outside linebackers, revamp the entire unit -- inside and out -- when
Daryl Washington
returns Monday or change the defense, putting more men at the line of scrimmage and keeping the inside guys at their natural position.
If Arizona stays in a 3-4 with its current players, there's a good chance the outside backers will be rotated throughout the season because of general manager Steve Keim's penchant to comb the waiver wire. If Moch produces, he can earn himself a consistent starting job because of how Arians operates. Arians works with who's in front of him, and if Moch can prove he's worthy of staying on the field, Arians will leave him there.
But if the Cardinals decide to revamp the entire unit, the new faces on the roster may be relegated to the sideline. There'd be a learning curve, however. With Washington returning, Arians and defensive coordinator Todd Bowles could play him,
Karlos Dansby
and
Jasper Brinkley
together. Herein lies the problem. All three are inside backers -- and so is rookie
Kevin Minter
, who's out with a hamstring injury and isn't expected back for a few weeks. If one is willing to convert to outside and the Cardinals want to keep their 3-4 scheme, they could move Moch or another addition to the outside until Minter returns.
If Arizona decides to change schemes, it could keep Washington, Dansby and Brinkley as the linebackers, although two would have to learn outside-LB tendencies. Then the Cardinals could bring Abraham off the edge more often, especially against pass-happy offenses -- of which the NFC West is full. According to Pro Football Focus, Abraham led Arizona with five quarterback hurries on 29 pass rushes.
There's a lot to be decided in the next couple weeks, although most of the major decisions that would affect the rest of the season won't likely happen until Washington returns.
This is the equivalent of a vacation gone wrong but you can't leave. The weather is bad. Nothing seems to go right. But the Cardinals are just trying to get through this week, miles away from home, and salvage their trip by getting back to .500.