April, 25, 2013
Apr 25
10:28
PM ET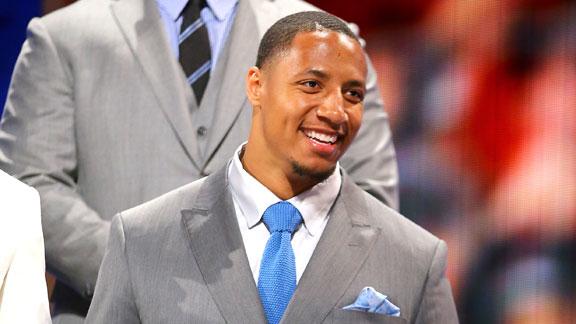 LSU safety
Eric Reid
was an increasingly popular projection to be selected by the
San Francisco 49ers
as the 2013 NFL mock drafts piled up late this week.

The assumption was that the 49ers might get him at No. 31, but with the
New Orleans Saints
taking safety
Kenny Vaccaro
at No. 15, the 49ers put their considerable draft capital to use. They traded up to No. 18 and selected Reid in that spot, filling a need created when the team allowed Pro Bowl free safety
Dashon Goldson
to leave in free agency.
The 49ers traded the 31st and 74th overall choices to the
Dallas Cowboys
for the 18th pick. This trade favored San Francisco slightly on the traditional draft-value chart, which dates to the early 1990s. Dallas came out ahead by some of the more recently developed value charts, including those
calculable on Steve Drake's site
.
Value is in the eye of the beholder, of course. The 49ers obviously loved Reid, who projects as a player versatile enough to play either safety spot. Veteran strong safety
Donte Whitner
is entering the final year of his contract. With Goldson gone, the 49ers needed to address the position for the longer term, even with
Craig Dahl
arriving as insurance through free agency. Reid could start right away.
San Francisco entered this draft with a league-high 13 picks. That gave the 49ers ample flexibility to move up the board for a specific player. Reid was that player. He fills an immediate need. The 49ers still have two second-round choices, one third-rounder and two fourth-rounders. They could still use a defensive lineman; only two defensive tackles came off the board in the top 19 picks.
San Francisco is just getting started.
April, 25, 2013
Apr 25
10:40
AM ET
The list of projections for NFC West teams in 2013 mock drafts includes
Chance Warmack
,
Jonathan Cooper
,
Dion Jordan
,
Lane Johnson
,
D.J. Fluker
,
Tavon Austin
,
Eric Reid
,
Kenny Vaccaro
,
Cordarrelle Patterson
,
Justin Hunter
,
Alec Ogletree
,
Matt Elam
,
DeAndre Hopkins
,
Montee Ball
,
Kawann Short
,
Margus Hunt
,
Zach Ertz
,
D.J. Hayden
and
Jesse Williams
.
The chart below lists those players by which mock drafters projected them to land with NFC West teams. I've attempted to order the mocks by when they were posted.
Some mock drafters try harder than others to get the picks correct exactly. Those accepting the futility of such a pursuit settle for projecting the highest possible number of players in the first round, regardless of team. Rob Rang takes that approach. Others project based on what they think teams should do. Howard Balzer has taken that approach.
Update:
Don Banks has subsequently filed a new mock draft in which NFC West teams traded two of their selections. The chart still reflects his April 17 mock. To view his final mock, filed Thursday,
check out the link
.
Second update:
Mel Kiper Jr. has updated his mock to show the 49ers selecting Reid.
April, 24, 2013
Apr 24
5:25
PM ET
Predicting which teams will draft specific players can be tough work.
Last year, for instance, the
seven-round mock draft

from Scouts Inc. went 0-for-28 in projecting players to NFC West teams. Some of the projections lined up from the standpoint of position. For example, the
Seattle Seahawks
did select a linebacker in the second round, but it was
Bobby Wagner
, not
Lavonte David
. The
St. Louis Rams
did take a receiver in the second round, but it was
Brian Quick
, not
Rueben Randle
.
One unexpected turn in a draft can throw off subsequent projections. The 2013 draft appears particularly tough to handicap. John Schneider, the Seattle Seahawks' general manager, recently said he could not recall a draft quite like this one from that standpoint.
So, good luck, mock drafters.
The Scouts Inc.
seven-round mock for 2013

provides a conversation starter as we navigate the final day before the real draft begins.
A run through the picks for NFC West teams (with a head nod to similar pieces from
Kevin Seifert
and
Jamison Hensley
for the divisions they cover):
Arizona Cardinals
Jordan's availability at No. 7 might come as a surprise. The Cardinals would, in theory, improve their outside pass rush with that selection.
The Barkley projection might catch you off-guard after
Carson Palmer
's arrival changed the subject away from quarterbacks.
Drew Stanton
has some salary guarantees, too. I'm skeptical.
The Scouts Inc. projection would extend to six the streak of drafts without Arizona selecting an offensive lineman in the first three rounds. Jordan Mills, the projected choice in the fifth round, wouldn't help the situation at guard, where the team has a need, in my view.
The Cardinals would also come away without immediate help at safety and without a speed receiver. The offense wouldn't improve enough right away through this draft.
St. Louis Rams
Safety, running back, receiver, guard and outside linebacker might be the five top needs for the Rams, not necessarily in that order.
The Scouts Inc. mock addresses each of those needs with the Rams' first five picks.
The Rams will have to balance clear needs at safety and elsewhere against a big-picture desire to continue building the roster for the long term with additional choices secured from the
Washington Redskins
.
At 231 pounds, Lacy would fill the Rams' need for a bigger back after the team allowed
Steven Jackson
out of his contract. Lacy,
Isaiah Pead
and
Daryl Richardson
would give the Rams a talented young committee at the position.
San Francisco 49ers
There's very little chance the 49ers will hold onto all 13 of their selections, of course. They'll have the flexibility to move forward, move back or even trade into the 2014 draft.
The projection for Brandon Williams in the third round caught my attention.
Williams is a 335-pounder from Missouri Southern State. He cranked out 38 reps in the bench press at the scouting combine, most among defensive tackles. Scouts think he projects to multiple positions across multiple schemes in the NFL. That would appeal to a team such as the 49ers.
Williams played at the NCAA Division II level. Would the 49ers use a third-round choice for a Division II prospect? They used a sixth-rounder for Western Oregon's
Jason Slowey
last year, the only time San Francisco has selected a Division II player over the past two drafts.
It's an interesting thought. The 49ers do have a need for a big, talented, versatile defensive lineman. They could bring along a prospect such as Williams with an eye toward 2014.
Seattle Seahawks
The Seahawks are one of two teams without a first-round selection after sending theirs to Minnesota in the
Percy Harvin
deal.
The second-round projection, Sio Moore of Connecticut, would give the Seahawks a weakside linebacker to play with Wagner (middle) and
K.J. Wright
(strong side).
The team also has plans for
Cliff Avril
at linebacker, at least in some capacity. There's room for a standard weakside linebacker after the Seahawks allowed
Leroy Hill
to reach free agency.
Tavarres King
, the Georgia receiver projected in the fifth round, is known as a vertical threat. He averaged 22.6 yards per reception last season.
April, 24, 2013
Apr 24
10:15
AM ET
Every NFC West team but the
Seattle Seahawks
could use a safety in the 2013 NFL draft.
With that in mind, I wanted to pass along the "Sports Science" video for Texas free safety
Kenny Vaccaro
, who ranked in the 90th percentile among past participants in the various athletic challenges. With a running start and a leap off two feet, Vaccaro was able to catapult his body 19 feet downfield to snare a football before hitting the ground.
We discussed
Vaccaro as an option
for the
St. Louis Rams
during the recently concluded
blogger mock draft
.
April, 23, 2013
Apr 23
1:26
PM ET
What's going on:
Our eight divisional bloggers are participating in
an ongoing mock draft
Tuesday. Each blogger can make selections or trade picks for the four teams in his division.
Vaccaro
How to access:
Blogger mock console
, and via
#bloggermock
on Twitter.
The latest:
I used St. Louis' initial first-round pick, No. 16 overall, for Texas safety
Kenny Vaccaro
.
My rationale:
The Rams must emerge from this draft with a starting safety, in my view. That led me to force this selection a little bit. I wasn't sure which safety should be rated first in the draft. Nolan Nawrocki of Pro Football Weekly listed LSU's
Eric Reid
as his 14th-rated prospect in his draft preview guide, seven spots higher than he ranked Vaccaro. However, I wasn't going to over-think the situation. Scouts Inc. is among those ranking Vaccaro No. 1 among safeties. That was good enough for me to make a selection that addressed a glaring need for the Rams. St. Louis could have had its choice of running backs here, but that didn't seem like the right move for a team planning to go with a committee approach at that position -- particularly in the absence of obvious candidates.
What's next for the NFC West:
The Rams are scheduled to pick 22nd, followed by the San Francisco 49ers at No. 31.
April, 17, 2013
Apr 17
12:45
PM ET
Three of four starting NFC West left tackles have been named to start a Pro Bowl over the past few seasons.
The fourth,
Levi Brown
, was drafted fifth overall in 2007.
From 2009 through 2011, NFC West teams used five first-round selections for offensive linemen, more than any other division.
Results have been mixed. Overall, however, the lines in this division should be on the rise. There is still quite a bit of variance top to bottom.
Matt Williamson, who scouts the NFL for ESPN.com, picks up the conversation from there as part of our
ongoing series
ranking NFC West position groups.
Williamson:
San Francisco has the best offensive line in the league. The 49ers bring back all five starters. They are loaded. Arizona has one of the worst lines in the league, although I think it will be better. Brown is back from injury.
Bobby Massie
and
Nate Potter
will be better in their second seasons. All the draft analysts seem to think the Cardinals need a tackle. They really need a guard. That is the weakest spot on the line, right guard.
Sando:
I was pretty surprised when the Cardinals gave decent starting money to
Adam Snyder
in free agency last offseason. He's most valuable for his versatility and would be ideally suited as the sixth man for any line.
Williamson:
Snyder is terrible. I don't think they'll draft
Chance Warmack
seventh overall. They need an outside pass-rusher. Still, they should strongly consider Warmack. He would help their line more than anybody.
[+] Enlarge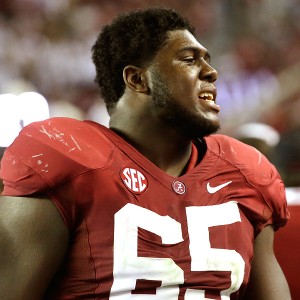 AP Photo/Dave MartinESPN's Matt Williamson says Alabama guard Chance Warmack would fill a glaring need for Arizona.
Sando:
Arians and general manager Steve Keim think the line will be vastly improved this season for some of the reasons you outlined. I tend to agree. The line already improved once
D'Anthony Batiste
left the lineup. Beyond Arizona, you've got Seattle with the second-best line in the division. Was that a tough call for the second spot?
Williamson:
I think you could make an argument between the Seahawks and the Rams O-lines. The Rams' line has been so bad for so long that it's easy to say they stink. But look at them player by player. They have four quality starters now that
Jake Long
is the left tackle. Age and/or injury is a big issue for three of the four. I think they should draft Warmack on
Jonathan Cooper
over a wideout. Add one of those guards to the line and you'd have five solid starters. Not many teams can say they have that.
Sando:
There is definitely a tendency for people to pencil in a wide receiver for the Rams in the first round. If there is a truly elite WR prospect available, I'd have no problem with that. But there's absolutely no need to force a wideout in the first round. The Rams already have developmental prospects at the position. Using a first-round pick for another
Brian Quick
really wouldn't make sense if an immediate starter were available for the line.
Williamson:
Guard is a bigger need than wideout, with safety being the biggest need. Rams fans will go crazy if they end up with Cooper and
Kenny Vaccaro
, but to me that would be a home run.
Jared Cook
is a wideout. Quick will be a good player. Givens already is good. He emerged. And if you can protect, Givens will be that much better.
Sando:
Let's get back to the debate between Seattle and St. Louis for the No. 2 line in the division. The Seahawks have two Pro Bowlers on their line in center
Max Unger
and left tackle
Russell Okung
. They're not all that great elsewhere on the line.
Williamson:
Seattle has the two best guys from either team's line. If you asked 100 people to rank these guys, 98 would put Seattle over St. Louis, but it's much closer than people think. That right side of the offensive line in Seattle scares me. Before the
Percy Harvin
trade, I would have said
D.J. Fluker
was who I would add to Seattle -- the biggest, nastiest pure right tackle and guard to compete with the physicality of the Niners.
Sando:
The Seahawks don't have a first-round pick now, and I'm not sure they see the line as a primary need. For reference, NFC West teams have drafted 10 offensive linemen in the first three rounds over the past five drafts.
Mike Iupati
,
Anthony Davis
, Okung, Unger and
Rodger Saffold
became starters.
Chilo Rachal
,
James Carpenter
,
John Moffitt
,
Jason Smith
and
John Greco
haven't produced and have moved on in some cases.
Williamson:
No picks for Arizona in there.
Sando:
Right. That will presumably change this year. To your point about the right side of Seattle's line scaring you, we should note that right tackle
Breno Giacomini
gives the Seahawks a physical, nasty presence. He has played to negative reviews, but I think Seattle likes him.
Williamson:
Breno has been serviceable.
Marshawn Lynch
has room to run. I think they have two good players and then a bunch of guys. I do think the whole is greater than sum of the parts. There is some truth to that in Seattle, which goes to coaching.
Sando:
That really was true for the Rams last season as well. Adding Long lets them move Saffold to right tackle, an upgrade from
Barry Richardson
last season.
Scott Wells
' return to the lineup for the final seven games last season went under the radar a little bit. His presence for a full season could help
Sam Bradford
. But there are injury concerns across the board for the Rams on their line. Adding a starting guard through the draft would certainly improve the outlook.
April, 13, 2013
Apr 13
1:15
PM ET
Mel Kiper Jr.'s fourth mock draft

for 2013 covers two rounds. After
a look at projections
for the
San Francisco 49ers
, we continue with the
St. Louis Rams
.
First round

16. Tavon Austin, WR, West Virginia
Kiper's give:
Danny Amendola
will be catching passes from
Tom Brady
in 2013, so the Rams can certainly afford to place a high priority on a slot weapon. Austin is one of the true home run threats in this draft, and while he's perfect to work in the slot, given his speed, route-running skills and soft hands, this is a player you can get creative with. The loss of Amendola leaves a void, but Austin could even be an upgrade.
Sando's take:
There's a tendency to overstate the Rams' need level at wide receiver after the team parted with Amendola and
Brandon Gibson
in free agency.
Chris Givens
and
Brian Quick
could grow into a productive combination. Free-agent addition
Jared Cook
will help the receiving game even though he's listed as a tight end. The same goes for
Lance Kendricks
. The Rams have already invested quite a bit in their efforts to arm quarterback
Sam Bradford
. Quick and Kendricks were second-round picks.
Austin Pettis
was a third-rounder. Cook cost $19 million in guaranteed money. There are still question marks about this group, however. Austin's presence would only improve the odds for St. Louis. He would probably help in the return game right away even if he needed time to develop as a receiver. Kiper had Austin going 14th overall in his previous mock. He did not project Austin as a first-round selection in either of his two previous mocks for 2013.
22. Kenny Vaccaro, S, Texas
Kiper's give:
The departure of
Craig Dahl
for San Francisco isn't what I'd call a personnel emergency, but there's not a lot left behind him.
Darian Stewart
and
Rodney McLeod
are currently penciled in as the starters, so drafting Vaccaro guarantees you an upgrade at safety in a division where safeties are vital. San Francisco, Seattle and Arizona all can test you deep, and in a couple of cases, you need safeties who can fly up to make plays on QBs who are willing to run.
Sando's take:
Dahl's departure tells only part of the story. The Rams' move to release
Quintin Mikell
reduced Mikell's cap charge to $6 million for 2013, a substantial savings, but it also increased the team's need at the position overall. The Rams need young talent at safety whether or not Mikell re-signs at a lower rate sometime in the future.
Second round
46. Montee Ball, RB, Wisconsin
Kiper's give:
Minus
Steven Jackson
, their depth chart at running back is set with this addition.
Sando's take:
Scouting reports on Ball suggest he runs like the big running back Rams coach Jeff Fisher wants to add. While Ball isn't especially large by NFL standards at 5-foot-10 and 214 pounds, the Rams could use him in committee.
Isaiah Pead
, a second-round choice in 2012, projects as the change-of-pace back.
Daryl Richardson
was a revelation as a seventh-round choice last year. Kiper's partner in draft analysis, Todd McShay, thinks the Rams could consider drafting a bigger back after the first couple rounds. He pointed to Michigan State's
Le'Veon Bell
and Stony Brook's
Miguel Maysonet
as players to consider if Ball weren't the choice in the second round. Neither was selected during the first two rounds of this latest mock from Kiper.
Eddie Lacy
, a running back Kiper projected to Green Bay at No. 26, would be a reach for the Rams in the first round, according to McShay. "This running back class is not very good," McShay said, "but I think you can get a Le'Veon Bell, who can catch the ball out of the backfield very well, or a Miguel Maysonet. There are other guys you could bring in to help at the running back position, even if it's Montee Ball in the second round."
April, 13, 2013
Apr 13
11:30
AM ET
Mel Kiper Jr.'s latest mock draft

, this one spanning two rounds instead of the usual one, appeared while I was away.
A quiet (so far) Saturday provides an opportunity to run through Kiper's projections for NFC West teams. As usual, I'll sample from Kiper's analysis before offering a few thoughts, beginning with a look at the
San Francisco 49ers
.
First round

31. Margus Hunt, DE, SMU
Kiper's give:
Justin Smith
will be 34 in September, and the 49ers need to think about who could take over for him long term, and spell him in the interim. Pound for pound, Hunt is as good an athlete as you'll find in this draft, and the 49ers currently have a roster that allows them to draft for ceiling at this slot. Hunt could add a little bulk and could become a rotation player behind Smith this season, with the potential to become that rare kind of impact pass-rusher in a 3-4 scheme from the defensive end position.
Sando's take:
Kiper has projected a defensive lineman to the 49ers at No. 31 in each of his four mock drafts to this point. The three defensive linemen he projected to them previously --
Sharrif Floyd
,
John Jenkins
and
Datone Jones
-- are all over the map in this latest mock. Kiper has Floyd going third overall to Oakland. He has Jones going 38th overall to Arizona. He has Jenkins going 57th overall to Houston. Bolstering the defensive line rotation makes obvious sense for the 49ers in this draft. Smith, a physical specimen known for his relentless work in the weight room, will presumably bounce back strong from his triceps surgery. However, his contract runs only through the 2013 season.
Second round
34. Matt Elam, S, Florida
Kiper's give:
They added
Craig Dahl
, but safety is still a need. A deep class offers options.
Sando's take:
Kenny Vaccaro
was the only safety off the board when Kiper sent Hunt to the 49ers at No. 31. Florida International's
Jonathan Cyprien
went 32nd to Baltimore under this scenario, leaving Elam to the 49ers as the third safety selected in 2013. Again, the reasoning makes sense. Defensive line and safety are two positions just about any 49ers fan would like to see the team address in this draft. Elam could project as a long-term replacement for
Dashon Goldson
, who departed in free agency. Also, strong safety
Donte Whitner
is entering the final year of his contract.
61. Gavin Escobar, TE, San Diego State
Kiper's give:
A huge target for
Colin Kaepernick
, Escobar can keep the two-tight end look intact.
Sando's take:
Hunt, Elam and Escobar would fill arguably the 49ers' top three needs this offseason. Escobar is known more for his receiving skills than for his blocking. The Scouts Inc. report on Escobar's blocking calls him "mostly a position-and-wall-off type blocker" who "frequently struggles to sustain and rarely drives defenders backwards." Of course, it's unrealistic to expect teams to land finished products in the second round. The 49ers' former No. 2 tight end,
Delanie Walker
, grew into his role over time. Under Kiper's scenario, Escobar would be the third tight end selected behind
Tyler Eifert
(17th overall) and
Zach Ertz
(39th). Ertz played under 49ers coach
Jim Harbaugh
at Stanford.
March, 13, 2013
Mar 13
12:00
PM ET
Mel Kiper Jr. is back

with his third 2013 NFL mock draft for the first round.
Our look at projected picks for NFC West teams continues in reverse order. Kiper had the
San Francisco 49ers
selecting UCLA defensive lineman
Datone Jones
at No. 31. We now move ahead to the
St. Louis Rams
. They have two picks in the first round: their own (16th overall) and one acquired from Washington (22nd).

16. St. Louis Rams:
Kenny Vaccaro
, S, Texas
Kiper's give:
With two first-round picks, the Rams can target maximum value ahead of top need, but Vaccaro offers a check in both boxes. Extremely versatile, Vaccaro is sound in coverage, takes great angles and makes very good reads. But he's a physical player who can assist in run support and be effective near the line of scrimmage. Play
Colin Kaepernick
and
Russell Wilson
four times a year, and versatility at safety can't be overstated.
Sando's take:
Kiper had the Rams taking tackle
Lane Johnson
in his previous mock. Johnson was off the board to San Diego at No. 11 in this updated mock. The Rams are visiting with free-agent tackle
Jake Long
on Wednesday. Signing Long would diminish the need for a tackle in the draft. Kiper has the Rams taking Vaccaro over guard
Chance Warmack
. The need at safety does appear more acute after the Rams released
Quintin Mikell
. However, there are several options in free agency.
Louis Delmas
is one option under consideration. He played under new Rams defensive coordinator Tim Walton when both were with the
Detroit Lions
. Injuries are a concern with Delmas, however.

22. St. Louis Rams:
Justin Hunter
, WR, Tennessee
Kiper's give:
Even if the Rams land a wide receiver in free agency, they should be looking for some young talent at the position in the draft. Hunter has size, speed and creates a home run threat on the edge. He's got some wiggle, given his height, and can create separation with his feet outside of simply running away from people. Where Hunter must get better is in the ability to deal with physical defenders; he's not very strong, which could make press coverage a problem at the next level.
Sando's take:
Wait, Hunter isn't very physical? Good luck with that in the NFC West, where cornerbacks such as
Brandon Browner
,
Richard Sherman
and
Patrick Peterson
are waiting to take your lunch money. Kiper's previous mock had the Rams taking California receiver
Keenan Allen
in this slot. This time, Allen falls to Minnesota at No. 23. I'll be watching to see what happens with
Danny Amendola
in free agency. So far, not so much. Could the Rams get him back at a reasonable price? How badly do they need him? The team has already invested heavily in a receiving tight end, committing $19 million in guaranteed money for 25-year-old
Jared Cook
. Cook,
Lance Kendricks
,
Chris Givens
,
Brian Quick
and
Austin Pettis
give the Rams young targets to build around.
February, 19, 2013
Feb 19
5:30
PM ET
With NFL prospects descending on Indianapolis this week, I've gathered pre-combine mock draft projections from Mel Kiper Jr., Todd McShay, Rob Rang and Gil Brandt.
Their first-round picks for NFC West teams appear in the chart.
Mock drafts tend to make sense from a need standpoint. That is the generally the case here. The four analysts have Arizona seeking help at quarterback or on the offensive line. All four have Seattle targeting help for its defensive line or receiving corps. Defensive line and receiver are the positions projected for San Francisco.
The
St. Louis Rams
own two first-round selections, providing greater flexibility. Offensive line, receiver, running back, safety and defensive line were the positions targeted for the Rams by these four analysts.
Brandt, the NFL.com analyst and former
Dallas Cowboys
executive, has the Rams taking Alabama running back
Eddie Lacy
. That pick would give the Rams two highly drafted young backs (Lacy and 2012 second-rounder
Isaiah Pead
), plus
Daryl Richardson
, who was a find in the seventh round last year.
The Rams' all-time rushing leader,
Steven Jackson
, would not return under such a scenario. Jackson has a $7 million salary for 2013 and the ability to opt out of his contract.