May, 30, 2014
May 30
8:00
AM ET
RENTON, Wash. -- Here are a few observations on the defense from the first day of organized team activities (OTAs) this week for the
Seattle Seahawks
, along with some comments from coach Pete Carroll.
The media's only access was Tuesday, but a few things stood out:
Whoa Mayowa:
I think those 15 pounds guard
James Carpenter
lost were transferred over to defensive end
Benson Mayowa
, and that's a good thing. Bigger and stronger (possibly 265 now) is just what was needed for Mayowa to step up and make an impact as a Seahawks pass-rusher.
He was really active in the Tuesday practice and looks up to the challenge he will face from rookies
Cassius Marsh
and
Jackson Jeffcoat
, along with
Greg Scruggs
, who is healthy again after missing last season with a torn ACL.
Scruggs gets praise from Carroll:
Speaking of Scruggs, he had an interception on Tuesday and played with a lot of intensity.
"He's really determined," Carroll said. "He's worked so hard through this offseason. He's ready to go physically. It's been a long haul for him. I feel really good about him being back out with us.
"It seems like he's been a part from this for so long. I think he's ready to max it out and he's going to get a great chance to be a big part of it. Our expectation is he will be a factor right there in the rotation."
Toomer the boomer:
Linebacker
Korey Toomer
stood out in the rookie minicamp and kept it up on Tuesday in the first OTA. He had a stop in the backfield and another at the line of scrimmage on a run up the middle. Toomer was playing inside and outside, and looked good in both spots. After spending his first two years on injured reserve, it's obvious why the Seahawks kept him around.
A battle at defensive tackle:
Brandon Mebane
has one defensive tackle spot locked down, but Carroll mentioned three players who are in the mix for the DT spot -- returning starter
Tony McDaniel
and 2013 rookies
Jesse Williams
(who missed last year with a knee injury) and
Jordan Hill
.
"I'm excited to get Tony re-signed and get him back here," Carroll said. "He had a very good year for us in doing the stuff that we wanted him to do. I think he comes in here trying to own that 3-technique spot. That's what he came here to do. I was really proud that he was able to accomplish that, but guys are nipping at his heels here.
"Jesse Williams will be back out in the next couple of days and working with Jordan Hill. Those guys are battling for that spot. It's going to be really competitive and it's going to take a long time to figure that out. There's no rush. We'll have to get into pads and through the preseason before we really know what's going on with that."
Injuries a small concern:
Two of these three are on defense, so I'm listing them here as a group. Not having strong safety
Kam Chancellor
(hip surgery), right tackle
Russell Okung
(toe surgery) and outside linebacker
Malcolm Smith
(ankle surgery) on the field was noticeable to everyone.
All of them are expected back for training camp, but no one knows for sure until it gets here. All three men are key players for the Seahawks.
July, 26, 2013
7/26/13
7:59
PM ET
Two of the NFC West's top receivers,
Michael Crabtree
and
Percy Harvin
, headline a list of players declared physically unable to perform (PUP) as training camps gain momentum.
PUP designations carry different meanings at different times of the year. With that in mind, now is a good time to freshen up on the implications.
Players on PUP lists entering camp continue counting against the 90-man roster limit. They cannot practice while on the list. However, their teams can activate them from the list at any time before the mandatory roster reduction to 53 players, provided the players pass a physical exam.
This year, teams must reduce to 53 players by 6 p.m. ET on Aug. 31.
Players remaining on PUP lists at the reduction to 53 players must remain on the list for their teams' first six games. They do not count against the 53-man roster limit during that time. After six games have passed, players on PUP have a three-week window to resume practicing. Once a player begins practicing within that window, the team has another three weeks to activate the player from the PUP list onto the 53-man roster.
In effect, a player on the PUP list at the reduction to 53 players could return after his team's sixth game or as long as six weeks after that. The NFL had discussed expanding the three-week window for practicing by two weeks. I'm checking on the status of that proposal, which would have required collaboration with the NFL Players Association.
Update:
The window has indeed been extended from three weeks to five weeks, according to the NFL.
Thirteen players from the NFC West are on PUP lists. Five others are on non-football injury (NFI) lists. The rules for NFI mirror those for PUP, the difference being that players on NFI lists suffered injuries unrelated to football. For example, the
San Francisco 49ers
recently activated defensive lineman
Lamar Divens
from the NFI list. They did not disclose the source of his injury, but teammate
Ahmad Brooks
had struck him in the head with a bottle in June, according to authorities.
Separately, the 49ers have also activated linebacker
Darius Fleming
and receiver
Kyle Williams
from their PUP list.
July, 24, 2013
7/24/13
3:16
PM ET
News
that the
St. Louis Rams
planned to release guard
Rok Watkins
suggests the 2012 fifth-round pick failed to hold up his end of a bargain with his head coach.
In May, Jeff Fisher had
strongly disagreed
with the NFL's decision to levy a one-game suspension against Watkins under the NFL's substance-abuse policy. Fisher had Watkins' back. The Rams thought Watkins had a future with the team. But Watkins, who reported to camp out of shape in 2012, needed to keep his weight in check to maintain his standing with the team. Releasing Watkins just as players are reporting for training camp invites questions about Watkins' reporting weight.
Watkins was a candidate to start at left guard, but the team wasn't betting big on him. Shelly Smith and
Chris Williams
remain leading candidates to start at that position.
None of the NFC West's fifth-round picks from 2012 has produced much to this point. The other three remain on their teams' 90-man rosters.
April, 3, 2013
4/03/13
5:10
PM ET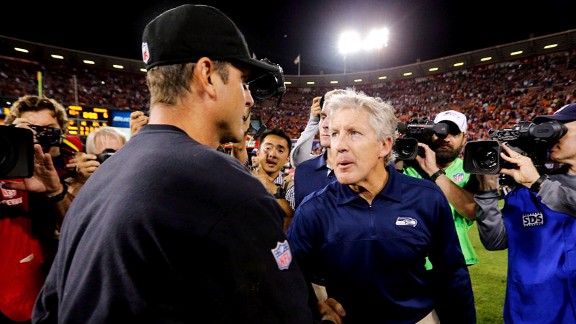 Ric Tapia/Icon SMIPete Carroll's Seahawks and Jim Harbaugh's 49ers have continued their rivalry into the offseason.
The 2012 battle for NFC West supremacy between the
San Francisco 49ers
' and
Seattle Seahawks
' has turned into
a perceived battle
this offseason.
"It just feels like the Seahawks make a move, then the Niners make a move," former NFL quarterback Damon Huard said Wednesday during
our conversation

on 710 ESPN Seattle. "The Seahawks sign
Percy Harvin
, then the Niners go get
Anquan Boldin
. The Niners just signed
Nnamdi Asomugha
, they signed
Colt McCoy
, and now it's the Seahawks' turn to sign a quarterback. It really feels like this competition that was so fun to watch last fall has carried over into the offseason between the Niners and the Seahawks."
That's what it feels like from this angle, too. So, when ESPN's Bill Polian listed 49ers general manager Trent Baalke among his
top six executives

without a mention of Seattle counterpart John Schneider, I knew some Seahawks fans would take offense.
"Schneider should be on there," SamW9801 wrote in commenting on the Polian piece.
I'm going to ratchet up the discussion with
an assist
from Tony Villiotti of draftmetrics.com. Tony identified
ranges of picks
by how frequently teams have found five-year starters within those ranges.
Using those general ranges, displayed at right, I've put together a chart at the bottom of this item comparing the 49ers' and Seahawks' draft choices since 2010.
Baalke took over the 49ers' draft room roughly a month before the 2010 draft. Schneider became the Seahawks' GM that offseason. The 49ers then underwent a coaching change after the 2010 season, at which point Baalke assumed the GM title officially. We might cut Baalke some slack for selecting
Taylor Mays
, a player then-coach Mike Singletary valued. There were surely other times when both GMs followed their coaches' input, for better or worse.
Seattle has drafted 28 players during this period, three more than San Francisco has drafted. The Seahawks had more to work with from a qualitative point as well. Their median choice was No. 130 overall, compared to No. 165 for the 49ers.
It's pretty clear both teams know what they are doing in the draft.
Aldon Smith
,
Anthony Davis
,
Mike Iupati
and
NaVorro Bowman
have earned Pro Bowl and/or All-Pro honors for the 49ers.
Russell Okung
,
Earl Thomas
,
Russell Wilson
,
Kam Chancellor
and
Richard Sherman
have done so for the Seahawks.
Both teams have found franchise quarterbacks after the first round.
Colin Kaepernick
was chosen 36th overall in 2011. Wilson went to Seattle at No. 75 last year.
Neither team has missed in that first category, which includes players taken among the top 13 overall picks. Smith and Okung are elite players at premium positions.
Both teams have unanswered questions in that 14-40 range. The 49ers are waiting on receiver
A.J. Jenkins
to produce. The Seahawks haven't gotten much from guard
James Carpenter
. But in Iupati and Thomas, the 49ers and Seahawks, respectively, found players among the very best at their positions. Kaepernick's selection puts this group over the top for San Francisco. Seattle got eight sacks from
Bruce Irvin
as a rookie in 2012, so the Seahawks aren't far behind. It's just impossible to overlook the value a franchise quarterback provides.
Seattle has the edge in the 41-66 range. Mays is long gone from the 49ers. That leaves
LaMichael James
for the 49ers against
Bobby Wagner
and
Golden Tate
for Seattle. Wagner was an instant starter at middle linebacker and a three-down player who commanded consideration for defensive rookie of the year. Tate blossomed with Wilson at quarterback.
The Seahawks also have an edge in that 67-86 range, having selected Wilson.
Seattle holds a 7-3 lead in number of picks used between the 87th and 149th choices, a range producing five-year starters 16 percent of the time, according to Villiotti.
Both teams used picks in that range for players whose injury situations dragged down their draft status:
Joe Looney
in San Francisco,
Walter Thurmond
in Seattle. Both teams found starting linebackers in this range: Bowman to the 49ers,
K.J. Wright
to the Seahawks. Both teams found developmental running backs in that range:
Kendall Hunter
to the 49ers,
Robert Turbin
to the Seahawks. Both teams found Pro Bowl players: Bowman in San Francisco, Chancellor in Seattle.
Sherman, arguably the NFL's best cornerback, gives Seattle an edge in the 150 through 189 range of picks. Both teams found backup tight ends there.
Anthony Dixon
(49ers) and
Jeremy Lane
(Seahawks) have the potential to expand their roles.
The 49ers found starting fullback
Bruce Miller
in the final pick range, which runs from 190 to the end of the draft. Seattle found a projected starting guard there in
J.R. Sweezy
.
Malcolm Smith
is a candidate to start at linebacker for Seattle. Miller and Sweezy both played defense in college. Miller already has successfully transitioned to offense. Seattle believes Sweezy will do the same.
Summing it up:
Both teams can feel good about their draft performance in the past three seasons. I doubt either team would trade its picks for the other team's. That makes sense. Teams draft the players they like best. The 49ers have six projected 2013 starters to show for their choices. The number is eight for the Seahawks, not counting Irvin or Tate. Seattle has had more choices and higher choices, and more openings in the lineup to accommodate those players. I think that shows in the results.
January, 10, 2013
1/10/13
11:16
AM ET
The
Seattle Seahawks
added defensive end
Chris Clemons
and kicker
Steven Hauschka
to their injured reserve lists this week.
Rookie
Bruce Irvin
, the 15th overall choice in the draft, will start in Clemons' place. Recently signed veteran
Ryan Longwell
will handle kicking duties for Hauschka.
Those moves led me to compile IR lists for remaining NFC playoff teams. I used the reserve lists at Ourlads.com, which updates its rosters daily.
October, 16, 2012
10/16/12
7:45
PM ET
San Francisco 49ers
fans periodically ask when the team's 2012 draft class might begin contributing on the field.
Like other top teams, the 49ers drafted late in the order. Their roster was already quite strong. That combination has made it tougher for the 49ers' rookies to earn playing time. It doesn't necessarily mean their draft choices are falling short. It just means they're not playing yet.
With an assist from Hank Gargiulo of ESPN Stats & Information, I've put together charts showing games played, games started and offensive/defensive snap counts for every 2012 NFC West draft choice through Week 6.
The 49ers are the only team in the league with zero snaps from their 2012 class. The 6-0
Atlanta Falcons
' draft choices have played 25 snaps, the second-lowest total. The 30 remaining teams have gotten at least 215 snaps and an average of more than 700.
Seattle ranks fifth with 1,092 snaps from 2012 draft choices, followed immediately by St. Louis at 988. Arizona ranks 14th with 806. Right tackle
Bobby Massie
has played 424 of those, more than any team has gotten from its fourth-round choices. Seattle leads the league in snaps from seventh-rounders while ranking second in snaps from third-rounders. The Rams are second in snaps from second- and seventh-rounders.
Arizona Cardinals

Quick notes:
Michael Floyd
is getting work as the fourth receiver. He had a 24-yard reception Sunday. He has seven catches for 84 yards and a touchdown. ... Massie is getting valuable experience. He's been a liability in pass protection against some opponents. That was to be expected. ... Cornerback
Jamell Fleming
's playing time has fluctuated based on
Greg Toler
's availability. ...
Ryan Lindley
becomes the No. 2 quarterback behind
John Skelton
now that
Kevin Kolb
is injured. The team could conceivably re-sign
Rich Bartel
in the future. The Cardinals do like Lindlely's potential, however.
Seattle Seahawks

Quick notes:
Bruce Irvin has 4.5 sacks, including one to help preserve a victory at Carolina. ... Second-round choice
Bobby Wagner
has provided a significant upgrade at middle linebacker. He opened the season as a starter and member of the base defense. His has become an every-down player over the past two weeks, with positive results, including when he ran down
Cam Newton
for a loss. ...
Russell Wilson
owns two fourth-quarter comeback victories in his first six starts, two more than Seattle managed last season. He is the first rookie since the 1970 merger to throw winning touchdown passes in the final two minutes of two games. ... Robert Turbin's speed and power have impressed. ... J.R. Sweezy impressed in camp and started the opener, but he wasn't ready. ... Greg Scruggs is healthy again and figuring into the pass-rush rotation.
San Francisco 49ers

Quick notes:
Trenton Robinson has played on special teams, but he has been inactive recently. A.J. Jenkins has been active without playing. The 49ers have established players ahead of him at wide receiver. They also use two backs and/or two tight ends frequently, diminishing opportunities for wideouts to get on the field.
Michael Crabtree
,
Mario Manningham
,
Kyle Williams
and
Randy Moss
are competing for those limited snaps. ... LaMichael James' arrival provided incentive for
Kendall Hunter
, who has met the challenge. Might there be a role for James later in the season? So far, the 49ers haven't even activated veteran
Brandon Jacobs
. ... Joe Looney projects as a potential future starter at guard, but there might not be an opening if
Alex Boone
continues playing well. Boone seized the job while Looney was recovering from foot surgery. ...
Darius Fleming
suffered a knee injury and remains on the physically unable to perform (PUP) list. ... The team released sixth-rounder Jason Slowey. ... Seventh-rounder Cam Johnson is on the practice squad.
St. Louis Rams

Quick notes:
First-round defensive tackle
Michael Brockers
has recovered from an ankle injury well enough to become a big part of the Rams improving run defense. ...
Brian Quick
made a key reception over the middle to help the Rams beat the Seahawks, but fourth-rounder
Chris Givens
has made a bigger impact among the Rams' rookie wideouts. Givens has a reception of at least 50 yards in each of the Rams' last three games. That is a first for any NFL rookie since
Willie Gault
in 1983. ...
Janoris Jenkins
has been a playmaker at cornerback all season. He suffered a significant lapse in coverage at Miami, but overall, Jenkins has shined. ... Fifth-rounder
Rokevious Watkins
reported out of shape and landed on injured reserve. ... Sixth-rounder
Greg Zuerlein
has transformed the Rams' offense with his extended field-goal range, although he struggled some in Week 6. ... Seventh-rounder
Daryl Richardson
has a 5.2-yard average per carry and 246 yards rushing. He has won playing time from second-rounder
Isaiah Pead
, who has not been a factor.
September, 2, 2012
9/02/12
11:44
AM ET
The
Seattle Seahawks
hit the 53-man roster deadline as one of 12 NFL teams with only two quarterbacks on their active roster.
They did re-sign third quarterback
Josh Portis
to their practice squad. But with rookie third-round choice
Russell Wilson
starting and backup
Matt Flynn
scheduled to earn $19.5 million over the next three seasons, the team appears set atop its depth chart at the position.
Placing Portis on the practice squad, where he could sign with another team, appealed less when
Tarvaris Jackson
and
Charlie Whitehurst
were the top two quarterbacks last season. Portis was a bigger part of the team's plans for the position at that time.
The Seahawks are carrying one more running back and one more defensive back than they did for Week 1 last season. Seattle is one lighter at quarterback and on the offensive line. The team went into last season with 10 offensive linemen, one more than usual, while left tackle
Russell Okung
was returning from injury.
Seattle announced having added seven players to its practice squad: Portis, safety DeShawn Shead, receiver
Ricardo Lockette
, guard Rishaw Johnson, tight end Sean McGrath and two linebackers, Korey Toomer and Allen Bradford. All were with the team in camp. One spot on the practice squad remains open.
For download:
Seahawks roster
featuring 27 columns of info on the 53 active players, seven practice-squad players and every player on the team since roughly 2007.
This file also includes summary information comparing the Seahawks' roster to league averages in various categories. Note that defensive end
Chris Clemons
, 30, is the only Seattle starter in his 30s. Linebacker
Leroy Hill
will join Clemons on the list Sept. 14.
I do not have a jersey number for new tight end
Evan Moore
. You'll find his name atop the roster for now. Moore began his career with Green Bay in 2008. Seahawks general manager John Schneider was with the Packers then.
September, 1, 2012
9/01/12
12:33
PM ET
NFL teams can begin forming practice squads once eligible players clear waivers Saturday.
A look at which players released by NFC West teams have eligibility:
Arizona Cardinals

Eligible:
Crezdon Butler
,
Antonio Coleman
,
Blake Gideon
,
Ricky Lumpkin
,
Colin Parker
,
Larry Parker
,
Steve Skelton
,
Quan Sturdivant
,
Everrette Thompson
,
Martell Webb
,
Scott Wedige
,
Brandon Williams
,
Isaiah Williams
,
D.J. Williams
.
Not eligible:
DeMarco Sampson
,
Alfonso Smith
,
Ronald Talley
,
Stephen Williams
,
Clark Haggans
,
Russ Hochstein
St. Louis Rams

Eligible:
Cornell Banks
,
Tim Barnes
,
Tom Brandstater
,
Mason Brodine
,
Aaron Brown
,
Sammy Brown
,
Kendric Burney
,
Ben Guidugli
,
Cory Harkey
,
T-Bob Hebert
,
Jamaar Jarrett
,
Nick Johnson
,
Joe Long
,
Deangelo Peterson
,
Chase Reynolds
,
Scott Smith
Not eligible:
Vernon Gholston
,
Bryan Mattison
,
Jose Valdez
,
Kellen Clemens
,
Ovie Mughelli
San Francisco 49ers

Eligible:
Derek Hall
,
Joe Holland
,
Tony Jerod-Eddie
,
Cam Johnson
,
Matthew Masifilo
,
Anthony Mosley
,
Kyle Nelson
,
Al Netter
,
Chris Owusu
,
Nathan Palmer
,
Mike Person
,
Konrad Reuland
,
Kenny Rowe
,
Michael Thomas
,
Kenny Wiggins
,
Michael Wilhoite
Not eligible:
Eric Bakhtiari
, Ikaika Alama-Francis,
Rock Cartwright
,
Josh Johnson
,
Brett Swain
Seattle Seahawks

Eligible:
Pierre Allen
,
Allen Bradford
,
Kris Durham
,
Cooper Helfet
,
Rishaw Johnson
,
Jermaine Kearse
,
Kyle Knox
,
Cordarro Law
, Pep Levingston,
Ricardo Lockette
,
Sean McGrath
,
Kris O'Dowd
,
Josh Portis
,
DeShawn Shead
,
Vai Taua
,
Korey Toomer
,
Lavasier Tuinei
Not eligible:
Phillip Adams
,
Deon Butler
,
Paul Fanaika
Note on eligibility
Straight from the collective bargaining agreement:
"The Practice Squad shall consist of the following players, provided that they have not served more than two previous seasons on a Practice Squad:

"players who do not have an Accrued Season of NFL experience;
"free agent players who were on the Active List for fewer than nine regular season games during their only Accrued Season(s).


"An otherwise eligible player may be a Practice Squad player for a third season only if the Club by which he is employed that season has at least 53 players on its Active/Inactive List during the entire period of his employment.

"A player shall be deemed to have served on a Practice Squad in a season if he has passed the club's physical and been a member of the club's Practice Squad for at least three regular season or postseason games during his first two Practice Squad seasons, and for at least one regular season or postseason game during his third Practice Squad season.

"(For purposes of this Section, a bye week counts as a game provided that the player is not terminated until after the regular season or postseason weekend in question.)"
August, 31, 2012
8/31/12
11:04
PM ET
Click
here
for the complete list of
Seattle Seahawks
' roster moves.

Most significant move.
The Seattle Seahawks emerged from last season with high hopes for
Josh Portis
as a developmental quarterback. The arrival of
Matt Flynn
in free agency and new starter
Russell Wilson
through the draft left Portis on the outside. The Seahawks released him, leaving Wilson and Flynn as the only quarterbacks on the initial 53-man roster.
Some teams with rookie starters brace themselves for what they know will be a long season. The Seahawks think Wilson upgrades the position immediately. They appear unworried by rookie walls and all the other ominous metaphors that typically pop up with inexperienced players behind center. The team could always consider adding a third quarterback in the future, but the value wasn't there given what Seattle thinks about its top two quarterbacks.
Onward and upward:
Portis, cornerback
Phillip Adams
, guard
Rishaw Johnson
, linebacker
Korey Toomer
and defensive tackle
Pep Levingston
(injury settlement) have all shown positive signs. Toomer in particular appears to have practice-squad potential, at least.
The cut list also included
Pierre Allen
,
Cordarro Law
,
Allen Bradford
,
Paul Fanaika
,
Jermaine Kearse
,
Kyle Knox
,
Sean McGrath
,
DeShawn Shead
,
Lavasier Tuinei
,
Cooper Helfet
(injured) and
Vai Taua
(injured).
Receivers
Deon Butler
and
Kris Durham
lost out as former mid-round draft choices. They remain young and could carry appeal, as could speed receiver
Ricardo Lockette
. But with veteran
Braylon Edwards
playing well enough to earn a roster spot comfortably, there were fewer spots for less-proven prospects at the position.
Note that the unspectacular but steady
Ben Obomanu
stuck on the roster, at least for now. Seattle hasn't fared as well upgrading depth at receiver as it has at other positions. Obomanu's continued annual presence as a 2006 seventh-round choice reflects that, in my view.
What's next:
The Seahawks could use depth at linebacker, one reason I was a little surprised to see the team release Toomer, a rookie fifth-round choice with speed. Another linebacker,
Matt McCoy
, landed on injured reserve.
Seattle also could consider pursuing a slot receiver as insurance against lingering injury concerns for
Doug Baldwin
.
It's looking like running back
Marshawn Lynch
will avoid, for now, a suspension stemming from his DUI arrest earlier this offseason. That was a potential concern, mitigated some by rookie
Robert Turbin
's emergence.
While cornerback
Walter Thurmond
went on the reserve/physically-unable-to-perform (PUP) list, offensive lineman
James Carpenter
did not. With Carpenter available early in the year, the Seahawks appear relatively set on their offensive line. Rookie
J.R. Sweezy
's emergence as the potential starting right guard was another factor there, even with guard
Allen Barbre
going on the reserve/suspended list.
May, 16, 2012
5/16/12
10:13
AM ET
Calais Campbell had many things on his side heading into contract negotiations with the Arizona Cardinals.
Campbell is young (25 years old). His career appears to be ascending. He can rush the passer. He can play the run effectively. He's smart and, by all accounts, a good teammate.
Those qualities added up to $31 million in guaranteed money. Update: Thanks to
Diehard49er
for pointing me toward
a PFT item
noting that Campbell's deal could work out to $17 million over one year. I'm not sure of it, but that sounds even better than $31 million guaranteed for an ascending young player.

Kent Somers of the Arizona Republic
made me chuckle by noting that Campbell's new contract "is front-loaded and back-loaded." Can there be any better kind of contract than that? Somers: "I noted the salaries defensive end Calais Campbell is due to receive over the five years of his new contract ($2 million, $3 million, $5.5 million, $9 million, $9.5 million). Here are the bonuses Campbell will earn: $15 million signing bonus and a $10 million option bonus that's due to be paid in 2013. Campbell's base salaries in his first two years are fully guaranteed. In year three, $1 million is guaranteed. The total deal is worth $55 million with $31 million guaranteed -- $25 million in bonuses, plus $6 million of guaranteed salary."
Darren Urban of azcardinals.com
says Campbell was happy to rejoin his teammates for offseason workouts.

Stu Durando of the St. Louis Post-Dispatch
says new Rams quarterback Austin Davis worked with Brett Favre during the offseason. Davis: "Just to have the opportunity to meet him and for him to almost mentor me after the season was a huge plus. He lives there, so the connection just kind of happened. The biggest thing is that he was with coach (Brian) Schottenheimer, so he knew the system and helped me out with that as soon as I figured out I was coming (to St. Louis)."
Bryan Burwell of the St. Louis Post-Dispatch
explains why he thinks the Rams' stadium proposal is reasonable.
Jim Thomas of the St. Louis Post-Dispatch
chats about the Rams with team executive Kevin Demoff, who has this to say about stadium funding: "The new G-4 provision allows for funds to go to renovations, which is a positive change for all clubs looking to upgrade their stadiums. However, NFL owners must approve all G-4 requests, so it's impossible to predict whether those funds would be available."
Also from Thomas
: The Rams hope Mario Haggan can help their run defense. General manager Les Snead: "We targeted him earlier in free agency, but we went with Jo-Lonn (Dunbar) and then we were just going to see how the draft went. Obviously, in the draft we didn't take a linebacker early, so we felt like we needed veteran help."

Matt Maiocco of CSNBayArea.com
looks at possible ramifications if Dashon Goldson waits til the last minute before signing his one-year franchise offer. Maiocco: "The 49ers have had two protracted holdouts from franchise players in the past eight years. And neither ended well. In 2004, linebacker Julian Peterson reported to camp on Aug. 26 with the 49ers set to open the regular season Sept. 12. He started the first five games of the regular season before sustaining a season-ending ruptured Achilles' tendon. And two years ago, nose tackle Aubrayo Franklin signed his franchise tender on Aug. 28 -- just two weeks before the 49ers' season opener. Franklin did not play well. The 49ers did not want him back last season, and he signed a one-year deal with the New Orleans Saints. He struggled with the Saints, and remains a free agent and looking for work."
Noted:
The 49ers could always withdraw the franchise tag, then attempt to re-sign Goldson for less. They would risk losing Goldson to another team in that scenario, and depth at safety might not allow them to go that route comfortably. It is an option, however.

Clare Farnsworth of seahawks.com
passes along thoughts from newly signed offensive lineman Alex Barron: "I just wanted to get somewhere. I'm pretty confident in my play. I've made some mistakes in the past, also. But I've gotten to the point where after last season, and coming into the offseason as a free agent, all I want to do is come in and just show that I can play. Because it can't be talked about, it always has to be shown."
Also from Farnsworth
: Korey Toomer wasn't invited to the combine, but the Seahawks liked the linebacker enough to draft him. Coach Pete Carroll: "Korey Toomer did very well, probably more comfortable than we thought. We thought he might be a little bit more raw and it would be a process where he could show that he could fit in. But we played him at the SAM (strong side) spot, played him at WILL (weak side) and nickel, and he had some very good rushes. He looked like we had hoped, so we're excited about him getting into it."
Eric D. Williams of the Tacoma News Tribune
sizes up the Seahawks' offensive line after Barron's addition.
May, 12, 2012
5/12/12
10:30
AM ET
A quick spin around NFC West rookie camps in search of notes to file away:
These are day-one impressions, so they come with all the usual disclaimers. It'll be interesting to revisit them during the season.
May, 11, 2012
5/11/12
7:15
PM ET
RENTON, Wash. -- Thoughts and observations after watching the
Seattle Seahawks
open their rookie camp Friday:


First-round pick Bruce Irvin impressed coaches with his ability to grasp defensive concepts. That can be a concern for any rookie and particularly for one with Irvin's unusual background (out of football for two years while living on the streets). Irvin practiced with intensity. He did not get great results immediately and it was easy to see why. Alex Barron, who has practiced against Leonard Little and DeMarcus Ware over the years, was one of the few veterans in camp. While Barron's career has faltered, he remains a first-round talent and it showed in the first practice. The Seahawks are giving him a tryout. Barron, a first-round pick for St. Louis in 2005, is 29 years old and spent last season on injured reserve with New Orleans. He looked healthy and was obviously more talented than the free-agent offensive linemen in camp.
Coach Pete Carroll raved about running back Robert Turbin. He loved Turbin's quickness and feel for the zone running game. Turbin has huge biceps, but his lower body looks like it belongs to a smaller man.
Third-round quarterback Russell Wilson took twice as many snaps as any rookie and made a resoundingly positive first impression. Wilson threaded perfect passes all over the field, hitting receivers and tight ends in stride. Height, not talent, is the concern for the 5-foot-11 Wilson. He did have three passes tipped near the line of scrimmage, by my count. A couple deep balls failed to find their targets, Carroll noted. Wilson is going to get the attention of the veteran quarterbacks, it looks like.
Fourth-round pick Jaye Howard, a defensive tackle from Florida, impressed Carroll with his quickness.
The Seahawks invited draft choices' families to watch practice. All 10 picks had family in attendance on a spectacularly sunny day on the shores of Lake Washington.
Linebacker Korey Toomer, a fifth-round pick from Idaho, appeared athletic. He picked off a batted pass and headed for the end zone with it.
The Seahawks fared well with undrafted receiver Doug Baldwin last season. Phil Bates from Ohio was the undrafted receiver I noticed the most during this practice. He made a leaping grab on a deep ball. He also made a one-handed grab in traffic. He also dropped a pass later in practice. Overall, though, he looked good. Bates is 6-foot-1 and 220 pounds.
Players were wearing helmets, but no pads. It's tough to make lasting judgments from a camp such as this one. First impressions will have to suffice.
April, 28, 2012
4/28/12
7:26
PM ET
The 2012 NFL draft has finished.
I've put together a chart showing all the NFC West picks.
Seattle drafted an NFL-high eight players on defense. One, defensive tackle
J.R. Sweezy
, projects as a guard. No other team drafted more than six defensive players, by my count.
Total draft picks: Rams 10, Seahawks 10,
Arizona Cardinals
7,
San Francisco 49ers
7.