April, 11, 2012
4/11/12
4:56
PM ET
The latest NFC West chat went into overtime, but there's more ground to cover.
Joe from Fort Worth
asked about the
Arizona Cardinals
' chances for acquiring a second-round choice to replace the one they sent to Philadelphia in the
Kevin Kolb
trade.
"I'd like to hear your thought process regarding your answer -- the philosophy of the decision makers, needs of the team, depth and/or positional strength of this draft, etc.," Joe wrote.
The Cardinals hold the 13th overall choice, so we start there.
In 2001, Buffalo traded the 14th pick to Tampa Bay for the 21st and 51st picks.
In 2010, Denver traded the 13th overall choice (acquired from San Francisco) to Philadelphia for the 24th choice and two third-rounders (70th, 87th).
In other cases, teams moved back five or six spots from No. 13 for packages including a pick in the 70s or 80s overall, plus lesser considerations.
Sliding back five or six spots would be a realistic expectation for the Cardinals.
San Diego picks 18th and Chicago 19th, to name two potential trading partners in such a scenario. Both teams have acted aggressively and with urgency this offseason. That could indicate a willingness to move up in the draft for a specific player.
The Chargers' front office and coaching staff narrowly averted getting fired following a disappointing 2011 season. The Bears replaced general manager Jerry Angelo with Phil Emery, who traces some of his philosophy to New England's Bill Belichick via Atlanta's Thomas Dimitroff.
Dimitroff, who orchestrated the Falcons' bold trade to acquire the sixth overall choice of the 2011 draft, described Emery as "aggressive" and part of a new wave of GMs.
"I believe this is indicative of where we are as team builders in this league as far as making bold, aggressive moves if we deem they'll be impactful for our team,"
Dimitroff told the Chicago Sun-Times
, speaking of Emery's move to acquire receiver
Brandon Marshall
.
Arizona needs a tackle and might see little choice but to select one if, say,
Riley Reiff
or another highly rated prospect were available. But if the tackle-needy Bears were willing to part with the 19th and 50th choices for a chance to move up, would they consider it?
San Diego could use a guard to replace the recently retired
Kris Dielman
. Would the Chargers part with the 18th and 49th choices for a shot at, say,
David DeCastro
? Might they consider moving up for other players, as AFC West blogger Bill Williamson suggested
they might
? And what might they pay to do so?
We cannot answer such questions definitively. The teams themselves might not know the answers. But we can have fun considering the possibilities, and hopefully learn something along the way.
Thanks, Joe, for advancing the conversation.
August, 28, 2011
8/28/11
12:38
PM ET
At least three physically impressive NFC West linebackers qualify as "emerging" this season.
[+] Enlarge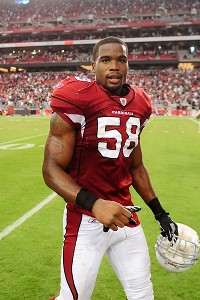 Mark J. Rebilas/US PresswireArizona Cardinals linebacker Daryl Washington seems on the cusp of a big season.
The
Arizona Cardinals
'
Daryl Washington
is one of them. Teammate
Jay Feely
called Washington a "breakout" player
no one is talking about
. Feely called Washington fast, powerful and well positioned for a big year.
Washington led the Cardinals in tackles with seven against San Diego on Saturday night. Four of those tackles came on rushing plays that gained six yards combined. Against the pass, Washington made tackles well downfield (after a 31-yard gain by receiver
Vincent Jackson
) and nearer the line of scrimmage. I've gone through each play and made the following notes:
First quarter, 7:41 on clock, first-and-10: The Chargers run Ryan Mathews up the middle. Washington moves before the snap, settling over the center and four yards off the ball. Calais Campbell prevents the left guard from reaching Washington. When the center guides Dan Williams to the side, there's a lane for Washington to charge through. Washington and outside linebacker Clark Haggans meet Mathews in the backfield for a loss.

First quarter, 5:24 on clock, first-and-10: Washington lines up in the same spot before the snap. Center Nick Hardwick and left guard Kris Dielman double-team Williams at the snap. Hardwick tumbles Washington's lower body, but does not make contact. Dielman comes off the double team and locates Washington, but he's off-balance and can't make the block. Washington sidesteps through traffic and brings down fullback Mike Tolbert following a 6-yard gain.

First quarter, 3:06 on clock, second-and-5: Washington lines up over the left tackle (weak side) and four yards off the ball. The Chargers send receiver Richard Goodman across the formation from Washington's side, as if to give him the ball on a handoff. Washington stays put. No one blocks him. He tackles Mathews for a loss.

Second quarter, 14:22 on clock, third-and-6: Philip Rivers finds Jackson open outside the right hash for a big gain up the sideline. Washington takes the best angle among several Cardinals defenders giving chase. He catches Jackson after a 31-yard gain and blasts him out of bounds with a big hit. Cornerback Patrick Peterson had slipped twice in coverage on the play.

Second quarter, 3:32 on clock, second-and-9: The Chargers had faced a first-and-20 on this drive after Hardwick essentially tackled Washington while the linebacker was shooting a gap. Officials called holding on that play. On the second-and-9 play, Washington lines up three yards off the ball and over the left tackle (weak side). He shifts over the outside of the center and creeps toward nearer the line of scrimmage before the snap. Washington diagnoses the play at the snap, dropping into coverage and tagging receiver Malcolm Floyd, who had beaten Peterson on what had to have been a quick slant. Washington hit Floyd only a moment after Floyd caught the ball for a 7-yard gain.

Second quarter, 2:51 on clock, third-and-2: This is the very next play. Washington lines up five yards off the ball and over the left tackle. Rivers is in the shotgun. Rivers throws quickly to Bryan Walters for a 5-yard gain. Washington is there and he's not happy with the result, although it's not clear what more he could have done. He pounds the grass with his hand after the play.

Third quarter, 14:20 on clock, second-and-7: Washington lines up five yards off the ball and over the left guard and fullback. The Chargers are in an offset-I formation. The men in front of Washington occupy their blockers long enough for Washington to chase down Mathews on the perimeter. Dielman tries to reach Washington but does not come close. Mathews tries to stiff-arm Washington, who strings out Mathews and forces him toward the sideline. Mathews follows up his stiff-arm with a jab to the head area. Washington slugs Mathews with a roundhouse right to the head area as Mathews' momentum carries him out of bounds. Washington throws up his arms as if to indicate he hadn't done anything against the rules. Officials throw a flag. Washington slips on the slick apron between the field and stands. Mathews seems to enjoy this, offering a wave. Referee Pete Morelli waves off the flag.
Thank you, Jay Feely, for
reaching out
on Washington's behalf. It was helpful watching these plays a little more closely.
As for those other two physically impressive NFC West linebackers who could be emerging?
NaVorro Bowman
(
San Francisco 49ers
) and
Leroy Hill
(
Seattle Seahawks
) were two I had in mind. Bowman is a regular starter heading into a season for the first time in his career. Hill is trying to regain his career footing after a couple rough seasons.
August, 23, 2009
8/23/09
1:53
PM ET
Posted by ESPN.com's Mike Sando
Thoughts and observations from the Cardinals' game against the Chargers on Saturday night:
I previously noted
LaRod Stephens-Howling
's excellent
performance
. I'm now watching the second half of the game on replay. Rookie linebacker
Will Davis
made a positive impact. He had a quarterback hurry after quickly sniffing out a play. Rookie right tackle
Herman Johnson
still looks good from what I am seeing. He has made significant improvement since minicamps, more evidence of Russ Grimm's impact as line coach.
February, 26, 2009
2/26/09
2:29
PM ET
Posted by ESPN.com's Mike Sando
Those who followed Steve Hutchinson's messy departure from the Seahawks following the 2005 season might be interested in this cautionary tale about $7 million guards.
Five NFL guards were making that much money on average heading into this offseason. Their teams have won zero playoff games since agreeing to those contracts. The players are not to blame, obviously. Hutchinson has upgraded the Vikings' offensive line. But the next time you get excited about adding a guard in free agency, think of the Bills' decision to release Derrick Dockery two years into the seven-year, $49 million deal he signed.
Guards are important. They might not be that important, however. A quick look at the four remaining guards earning at least $7 million per year:
Alan Faneca, Jets: Good player, average team. His former team (Steelers) won the Super Bowl in its first season without him.

Leonard Davis, Cowboys: Good player, underachieving team. His former team (Cardinals) advanced to the Super Bowl with Reggie Wells and Deuce Lutui at guard.
Eric Steinbach, Browns: His former team (Bengals) is still struggling.
Hutchinson, Vikings: His former team has struggled without him.
A couple other guards are earning just short of that $7 million figure annually. The Giants'
Chris Snee
and the Chargers'
Kris Dielman
have rewarded their teams for re-signing them. The Rams invested more than $6 million per year in
Jacob Bell
last offseason, but
Richie Incognito
was their best guard.

NFC WEST SCOREBOARD
Friday, 8/22
Saturday, 8/23
Sunday, 8/24