NFC West:

labor impact 2011
August, 4, 2011
8/04/11
10:04
AM ET
FLAGSTAFF, Ariz. -- The
St. Louis Rams
have joined their NFC West rivals and other teams around the league in moving back their Thursday practice to later in the day.
The scheduling changes are designed to allow newly signed players a chance to practice with their teams for the first time since the lockout. If all goes to plan, formal ratification of the new labor agreement Thursday would allow for an official start to the 2011 league year. Without a new league year, the NFL is preventing players with new contracts from practicing, in part because injuries to those players in the absence of a ratified labor agreement would raise questions the league would prefer to avoid.
Coaches, frustrated by having so many key players unavailable to them early in training camps, have been looking forward to this day with great eagerness. They were willing to move back practices if it meant gaining an opportunity to get additional players onto the field.
I'm at
Arizona Cardinals
camp and plan to attend their practice at 6 p.m. ET Thursday. The Rams have moved their 2:50 p.m. ET practice to 4 p.m. ET. The
San Francisco 49ers
are scheduled to practice at 8 p.m. ET, four hours later than previously planned. The
Seattle Seahawks
plan to practice at 4:45 p.m. ET.
June, 30, 2011
6/30/11
6:38
PM ET
By
Jason Wright
| ESPN.com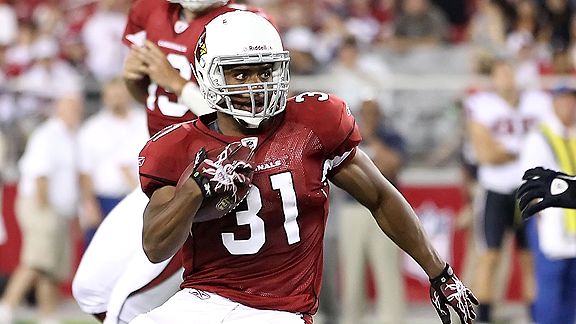 Christian Petersen/Getty ImagesJason Wright is an eight-year veteran of the NFL and was an undrafted free agent out of college.
Arizona Cardinals fullback Jason Wright entered the NFL as an undrafted free agent with the San Francisco 49ers in 2004. He played for the Atlanta Falcons and Cleveland Browns before signing with Arizona for the 2009 season. His lockout-related thoughts follow:
We are all glad that consistent discussions are happening between the NFL Players Association and league ownership. Especially because it means that resolution is on its way, and resolution is the only news any of us really wants to hear at this point.
By now, we've all read far too many stories about secret meetings and court-ordered mediation. It's so nauseating that if I see another story promoting some obscure piece of information from some "source" I will likely vomit. There's been so much coverage that even non-sports enthusiasts feel like they can confidently wax philosophic on the situation. The inevitable result is the frustrated cynicism that comes from information overload. Last week, Cardinals wide receiver
Steve Breaston
captured the sentiments shared by fans, players, coaches, and even some owners in
a witty spoken word
. He breathed life back into the story by providing a fresh perspective. Here, I endeavor to do the same.
As the lockout has dragged on through the last few months, a common phrase has come to express the annoyance of the general public with CBA disagreements: "It's millionaires versus billionaires." This is obviously an oversimplification, but the gist is this: Most of America is struggling financially, and a group of people whose "poorest" make well into six figures should NOT make waves. Again, this argument lacks nuance, but I get it. Everyone gets it. There is, however, a group of guys that everyone can feel for. They are the group that suffers the truest "irreparable harm" from the NFL lockout. They are the undrafted college free agents.
I was still in school at Northwestern when the San Francisco 49ers signed me as an undrafted free agent in 2004. I decided to stay in school and finish my degree instead of participating in the offseason program. I had NO IDEA what a disadvantage I placed myself at from a football standpoint.
I am admittedly not the most talented guy to ever come through the league, but my play was terrible during that first training camp. I couldn't understand why a guy as smart as I considered myself to be was struggling to understand the offense. Well, the other guys had spent a minimum of four months doing nothing but studying the playbook and repeating plays! My play on special teams was probably the worst part, which is ironic considering that's what ended up defining my seven-year career.
The 49ers cut me at the first opportunity. By God's grace, I landed on Atlanta's practice squad under Jim Mora and finally had a chance to catch up. That following offseason, I was able to rapidly improve through the Falcons' offseason program. I was able to make the necessary gains in physical strength. I became supremely comfortable in the offense. And, probably most importantly, I gained the foundations of being a good special-teams player. I performed very well that next preseason, but still fell prey to the numbers game. The difference was that I had a fair shot that time. And in the long run, I landed in Cleveland with the ability to actually compete at the NFL level and enjoyed four great years with the Browns.
None of it would have been possible without my full participation in an offseason program during my second year. Staying away that first offseason nearly cost me my career (although I'd risk it again to secure my degree). The lockout threatens to put the current undrafted free agents at risk.
Undrafted college free agents are some of the best NFL success stories because they are also the most unlikely.
Josh Cribbs
, Cleveland's superstar utility man, started off as a rookie tryout for the Browns.
Tony Romo
went from "cap-and-clipboard" unknown to the face of the NFL's most popular franchise. And the Steelers'
James Harrison
was cut numerous times before becoming the Defensive MVP.
There are too many others to mention. We love these stories because we can relate. At one point or another, almost all of us have felt forgotten or insignificant. These stories tell us that our small beginnings are not the final word. They say that a combination of hard work, opportunity and providence can improve our standing. They are odds-defying, feel-good narratives that make us feel like there might really be something redeeming in watching hours of sports.
The lockout has lengthened the odds against this newest crop of undrafted free agents. The lack of an organized offseason makes the road toughest for all rookies, in fact. All but the very best will be hard-pressed to make a mark in their first season. For many it will be difficult to even make the team. They won't get the valuable repetitions of minicamps and organized team activities. They'll miss valuable classroom time with the coaching staffs. Linemen won't have time to adjust to the significant speed difference of the NFL line of scrimmage. Skill players will only have a few days to become great on special teams in order to secure jobs.
The drafted guys, at least, know what team they will be on and have had a chance to see what's in that team's playbook. The undrafted guys will likely see the playbook only moments before having to physically compete with the best players in the world! The steep hike these guys take to NFL success has become a vertical climb.
So, let's remember that these guys are innocent victims of this litigious offseason, along with the fans. Let's also keep our eyes on this year's crop of college free agents because those that make it may have the best stories yet. The seemingly insurmountable odds stacked against them may very well produce an inspiring story to rival Kurt Warner's rise from the grocery store to the Super Bowl. I certainly hope they do. We all need the encouragement that no obstacle is too great to alter a destiny. And as life inevitably throws crappy circumstances our way, it's great to be reminded that the guy who starts out with nothing can sometimes end up with everything.
April, 25, 2011
4/25/11
7:04
PM ET
Life in the NFC West and the NFL in general would change dramatically if
a judge's decision to end the lockout
results in
free agency
before the draft.
The league says it will
seek from the courts a stay
keeping the lockout in place pending an appeal. In the meantime, the decision produces more questions than answers:
How quickly might there be a ruling on a stay?
What happens before there's a ruling on a stay?
What happens if a stay is denied?
Is the league right when it says putting in place rules for free agency could open itself to additional antitrust claims?
We're accustomed to
seeking direction
from the league on such matters, but the with attorneys and the courts involved, answers could come elsewhere. More to come.
Earlier:
Would the lockout end immediately
?
Update:
League executive Greg Aiello tells Andrew Brandt the league will
wait for a response
on its stay request before opening the league for business.
March, 11, 2011
3/11/11
6:22
PM ET
»
NFC labor impact
:
East
|
West
|
North
|
South
»
AFC
:
East
|
West
|
North
|
South
A team-by-team look at how a continued labor impasse and extended NFL freeze on transactions would affect the division:

Arizona Cardinals:
A prolonged stoppage would prevent the Cardinals from lining up a veteran quarterback before the draft, putting the team in position to repeat what happened last offseason.
A year ago, the Cardinals wanted a shot at signing
Marc Bulger
in free agency. The St. Louis Rams didn't release him right away, however, and the Cardinals felt as though they couldn't wait. They made a play for
Charlie Whitehurst
, then signed
Derek Anderson
.
Bulger could make sense for the Cardinals again this offseason, but they will not be able to sign him, or anyone, with a freeze on transactions. They hold the fifth overall choice in the 2011 draft, which will unfold as scheduled. But with no quarterback and three of their five starting offensive linemen headed for free agency, the Cardinals would head into the draft with too many acute needs to address.
And if the stoppage continued into the summer, the Cardinals' new defensive coordinator, Ray Horton, would be working at a severe disadvantage.

Seattle Seahawks:
The Seahawks put themselves in position to wheel and deal during their second offseason under coach Pete Carroll and general manager John Schneider.
They have more than two dozen players with expiring contracts. That was by design in quite a few cases. Seattle showed little hesitation in making player trades and other transactions last season. A stoppage would prevent the Seahawks from addressing their many roster needs aggressively.
Getting a labor agreement at the last minute would threaten to compress the signing period, making it tough to assimilate new players.
The Seahawks have a new offensive coordinator, Darrell Bevell, and a new assistant head coach/offensive line coach in former
Oakland Raiders
coach Tom Cable. A transaction freeze would prevent them from promoting the scheme and mentality they want to establish.
The quarterback situation would remain unsettled. Seattle could feel additional pressure to consider one with the 25th overall choice in the draft.

San Francisco 49ers:
The 49ers arguably have more at stake than any NFL team because they have no starting quarterback, plus new schemes on offense, defense and special teams.
That combination would be difficult to overcome during a normal offseason. Regular league rules would have allowed the 49ers additional minicamp practices. A stoppage would give them no practices at all and no chance even to hold meetings involving players.
A prolonged shutdown could leave the 49ers with fewer realistic options at quarterback heading into the season. Re-signing
Alex Smith
could make more sense at that point. He would at least have some familiarity with the players on the 49ers' roster, and his price would be reasonable.

St. Louis Rams:
The Rams are eager to sync up quarterback
Sam Bradford
with new offensive coordinator Josh McDaniels. That could not happen during a stoppage.
Bradford and teammates have said they'll gather for informal workouts. That cannot hurt, but teams with new coordinators need organized time together.
Ideally, the Rams would have addressed a few positions in free agency to narrow their needs heading into the draft. Signing a veteran receiver or acquiring a veteran outside linebacker would have given the Rams additional flexibility in the draft.
Every team in the league will experience those kinds of inconveniences during an extended shutdown. The situation with McDaniels stands out as the clearest threat to the Rams.