August, 10, 2012
8/10/12
8:00
AM ET
Ted Ginn Jr. impressed at San Francisco 49ers training camp when I visited there in 2010.
The speedy receiver suffered an injury in Week 1 that year. He caught only 12 passes all season.
Ginn will start opposite Michael Crabtree in the 49ers' exhibition opener against Minnesota on Friday night. He has, by all accounts, enjoyed a strong camp. But with six receiving touchdowns in five NFL seasons, it's tough to project a significant role for him. He has three starts over the past two seasons, all in 2011.

Matt Maiocco of CSNBayArea.com
passes along Jim Harbaugh's thoughts on Ginn: "Ted's had a great camp -- really pleased with Ted. He's catching the ball, he's blocking, he's playing all the positions -- the X, the Z, the slot. He's doing it all. He's running good, getting in and out of his cuts."
Also from Maiocco
: a look at the fastest 49ers.
Matt Barrows of the Sacramento Bee
says Cory Nelms, Demarcus Dobbs and other players appeal to the 49ers for their versatility.
Mike Rosenberg of the San Jose Mercury News
provides details on a settlement over $30 million in disputed stadium financing money. Rosenberg: "The agreement lets the Santa Clara Unified School District balance its budget -- avoiding teacher layoffs -- by taking in more than $7 million over the next three years from the pot of property tax money previously earmarked for the stadium. ... The 49ers, meanwhile, will get whatever redevelopment property tax money is left over, meaning it will take about a half-decade to get the $30 million it was promised, instead of only a few years like it had planned. City of Santa Clara voters had originally approved a $40 million down payment on the stadium in 2010, and $10 million was paid before the funding spat began."
Eric Branch of the San Francisco Chronicle
sees a new attitude from linebacker Ahmad Brooks.

Darren Urban of azcardinals.com
explains the unlikely connection between Cardinals running back Ryan Williams and Chiefs general manager Scott Pioli. Football isn't the only link. Williams' father, serving a life sentence in prison, serves as another.
Kent Somers of the Arizona Republic
looks at concerns for the Cardinals coming out of their first exhibition game of the season. Defensive coordinator Ray Horton: "Here's what the biggest concern was for me. With what I call our starters, our first and second groups, that's where the most of errors were. Were they too hyped up? Well, I hope not, they were veterans playing in a preseason game."
Also from Somers
: a chat transcript in which he says Adam Snyder didn't play so poorly against the Saints.
More from Somers
: five things to watch in the Cardinals' second exhibition game, this one against Kansas City.

Clare Farnsworth of seahawks.com
focuses on the team's depth after Seattle practiced without three starters Thursday.
Also from Farnsworth
: a look at Matt Hasselbeck's return to Seattle as the Titans' quarterback. Farnsworth: "The Titans' front office includes senior executive vice president Mike Reinfeldt, general manager Ruston Webster, VP of player personnel Lake Dawson and scout Tim Ruskell. And Jerry Gray is the defensive coordinator. All were with the Seahawks before joining the Titans. Then there's Jake Locker, the former University of Washington QB who is from Ferndale."
Noted:
Ruskell to the Titans? Guess I missed that one while on vacation in July. Gray's departure from Seattle to Tennessee was a bit unusual. He left the Seahawks to take a job at the University of Texas, only to accept the Titans' offer a month later. Gray replaced Chuck Cecil, now with St. Louis.
Tim Ryan of Sirius NFL Radio
says via 710ESPN Seattle that Earl Thomas spends more time as a "box" safety than people might realize. Ryan: "The dynamic ability of Earl Thomas, who everyone thinks is a free safety on the back end; he's in the box shooting his gun more than Kam Chancellor is."
Bill Swartz of 710ESPN Seattle
saw good things from Terrell Owens at Seahawks camp.

Jim Thomas of the St. Louis Post-Dispatch
sizes up the Rams' receivers. Offensive coordinator Brian Schottenheimer downplays the importance of a No. 1 wideout. Schottenheimer: "I've been other places where you have a so-called No. 1 receiver and it's easy to double that guy. We're looking for a bunch of weapons. They're hard to find. We put 'em in different spots all over the field. That way, we can take advantage of matchups."
Noted:
Not buying this one. Having a dominant receiver could only help the Rams or any team, all else being equal. Attracting double coverage would leave fewer defenders to cover the remaining receivers.
Nick Wagoner of stlouisrams.com
offers post-practice notes, including one about Barry Richardson continuing to work ahead of Jason Smith at right tackle.
January, 18, 2012
1/18/12
3:05
PM ET
The likelihood of the
St. Louis Rams
hiring Ruston Webster or Lake Dawson from the Tennessee Titans diminished Wednesday.
The Titans
promoted Webster
to general manager and Dawson to vice president of player personnel. Those moves suggest both men are likely to stay with the organization.
Under NFL rules, the Titans could deny other teams permission to speak with "high-level club employees" (presidents, GMs and persons with equivalent responsibilities and authority). The Rams could conceivably come after Dawson, but I would take the Titans' moves to suggest all parties plan to move forward under terms outlined in the announcement.
Tennessee also promoted Mike Reinfeldt from GM to senior executive vice president/chief operating officer. These moves come off as a concerted effort to keep the Titans' management team together.
Dawson interviewed with the Rams for their GM opening. Webster was also considered a candidate. Both worked with new Rams coach Jeff Fisher in Tennessee.
January, 16, 2012
1/16/12
8:00
AM ET
This is going to be a fantastic week, probably the best for the NFC West since Arizona's Super Bowl appearance three years ago.
It could get a whole lot better with a San Francisco 49ers victory over the New York Giants in the NFC Championship Game.
Fans for other teams in the division will have a hard time pulling for a despised rival, of course. But if you think criticism of the division has too often overlooked NFC West postseason successes, another 49ers victory could provide additional relief.

A 49ers victory over the Giants would give all four current NFC West teams one Super Bowl appearance since February 2002, right before the league realigned into eight four-team divisions. The NFC South is the only other division with more than two during that time (Carolina, Tampa Bay and New Orleans).
Tim Kawakami of the San Jose Mercury News
thinks the 49ers would have had an easier time against Green Bay than against the Giants. Kawakami: "I think Eli Manning is a very scary playoff QB -- when he's throwing it well (like now), and has confidence in his receivers (like now), he is very tough to beat. The Giants are red-hot right now and they showed in 2007 that when they get red-hot, they're nearly impossible to beat. It seems odd to say this, but I think Manning is a tougher out in the playoffs than either Drew Brees or Aaron Rodgers. Can't exactly say why I think this, but I do."
Noted:
Manning's arm and size allow him to make throws other quarterbacks cannot make. I would expect the 49ers' defensive front to get much more pressure than Green Bay mounted, however.
Mark Purdy of the San Jose Mercury News
says the 49ers should be happy to play at home, but not necessarily against the Giants. Purdy: "This is going to be a fascinating reboot, with lots of coaching brain power involved. The Giants have the NFL's oldest coach, Tom Coughlin, who is known for the right calls at the right times. The 49ers have rookie head coach Jim Harbaugh, who has made almost no wrong moves over the past three months."
Noted:
The 49ers fooled the Giants with an onside kick when the teams played in Week 10. They caught the Giants' front line retreating a little too quickly.
Grant Cohn of the Santa Rosa Press-Democrat
expects the Giants to double-cover Vernon Davis, load up against the run and find out whether the 49ers' wide receivers can do enough for San Francisco to win. Cohn: "Here's some good news for the offense. Delanie Walker wrote on Twitter that he worked out Sunday and he's ready to play next weekend. Alex Smith needs a secondary receiver to complement Davis and Walker can be that guy. Last time the Niners played the Giants, Walker led all Niners with six receptions for 69 yards."
Matt Maiocco of CSNBayArea.com
updates the 49ers' injury situation. Maiocco: "Ray McDonald was noticeably limping throughout the game with a right hamstring strain, which he sustained in the regular-season finale against the St. Louis Rams. Earlier this season, McDonald missed a game with a left hamstring strain. McDonald, who typically plays every down, played just 44 of the 49ers' 80 defensive snaps. Backup lineman Ricky Jean Francois played 36 snaps. However, McDonald was on the field for the 49ers' final 12 defensive plays of the game."

Bernie Miklasz of the St. Louis Post-Dispatch
assesses what Jeff Fisher's hiring means for the Rams under owner Stan Kroenke. Miklasz: "Kroenke is financially committed. Kroenke edged out another billionaire, Miami owner Steve Ross, in the tense competition for Fisher. When Fisher's contract is finalized, he'll be among the NFL's highest-paid coaches with an annual salary that should average at least $7 million. Fisher was also granted a generous budget for hiring assistant coaches. Kroenke undoubtedly agreed to bankroll other football-related hires made by Fisher. Kroenke is doing more than paying a head coach; he's funding a new football operation. That's a major investment."
Jim Thomas of the St. Louis Post-Dispatch
updates where the Rams stand after hiring Fisher. On the general manager search: "Dawson may look like the front-runner because he has worked with Fisher in Tennessee. But he has less experience than most on the Rams' candidate list, including another Tennessee personnel department exec, Ruston Webster. The Rams have yet to interview Webster, although they have received permission to do so from Tennessee. The same holds true for Steve Keim of Arizona, Joey Clinkscales of the New York Jets, Brian Gaine of Miami and Tom Telesco of Indianapolis."
Also from Thomas
: Brian Schottenheimer is among the candidates to become offensive coordinator for the Rams.
Noted:
I'll have more on this one later Monday morning.
Kathleen Nelson of the St. Louis Post-Dispatch
polls Rams players for thoughts on Fisher. One theme: That Fisher's background as a player helps him understand the physical demands of the game.

Kent Somers of the Arizona Republic
updates the Todd Haley situation in relation to the Cardinals. He also serves up a couple other coaching-related tidbits. Somers: "As far as I know, line coach Russ Grimm and tight ends coach Freddie Kitchens have not re-signed with the Cardinals. They have been offered contracts. Grimm worked with Jaguars coach Mike Mularkey in Pittsburgh, so maybe Jacksonville is a possible landing spot for him. But will the Jags be willing to spent the $1.5 million or so to hire Grimm? That's what he makes in Arizona. With Kitchens, word is Rams coach Jeff Fisher thinks Kitchens is an excellent coach. Kitchens name has also been tied to openings at Alabama, his alma mater."
Noted:
The potential for Grimm's departure would have been big news in Arizona a couple years ago. Does it still have that feel?
Darren Urban of azcardinals.com
checks in with Cardinals running back Ryan Williams, who is rehabilitating from the knee injury he suffered as a rookie during the 2011 preseason. Williams: "No injury is going to stop me, unless one of my legs is (cut) off somewhere and I only have one leg. I am too self-motivated to be the best player I can be. I want my career to last 10 to 14 years. Ten is the least for me. I won't stop. I want my career to be here … but if something happens where it isn't, all 31 other teams will have to stand in front of me and tell me no for me not to be a football player and even then, I'd probably have to hear it again. That's how much football means to me."

Brady Henderson of 710ESPN Seattle
passes along thoughts from former Seahawks quarterback Jon Kitna, who is entering into retirement. Sounds like Kitna will do some coaching at the high school level in the Tacoma area. Kitna: "Football was great, but as you get to the end of your career you kind of realize that it's more than just football. It's relationships that you form and things like that. So I consider myself awfully, awfully blessed to have played 16 years in this league. ... There's a lot of things that, for me, I'm excited about doing after football, and that would be teaching and coaching and pouring into the lives of inner-city kids here in Tacoma. So I'm definitely looking forward to that. ... I'm really excited about the next phase of life for me and my family."
January, 13, 2012
1/13/12
5:45
PM ET
NFL teams generally would not welcome a proven winning coach to a division rival.
The
Arizona Cardinals
won't mind seeing Jeff Fisher land in St. Louis, however, because the move eliminates their defensive coordinator, Ray Horton, from consideration for the job. Horton interviewed for the position and could have been appealing relative to the other candidates beyond Fisher.
A look at other potential beneficiaries of Fisher's hiring, beyond the Rams:
Gregg Williams, New Orleans Saints defensive coordinator. Williams worked under Fisher in Tennessee. He had chances to reunite with Fisher previously, but stayed with the Saints. His contract is set to expire after this season, however. That could clear the way for Williams to leave if Fisher decides to target him for the job in St. Louis.
Lake Dawson, Titans vice president of football operations. Dawson interviewed for the general manager's job in St. Louis while the Rams were trying to land Fisher. Dawson worked with Fisher in Tennessee. A former NFL receiver, Dawson's personnel roots run back to Ted Thompson when both were together with Mike Holmgren in Seattle. Fisher's hiring improves Dawson's chances.
West Coast-based offenses. Fisher is not known for having strong opinions on specific offensive schemes. I would expect him to take into account input from Rams quarterback Sam Bradford. Bradford fared well as a rookie while running a West Coast offense. Fisher's teams in Jacksonville ran a Mike Shanahan-based variation of the West Coast scheme, similar to what the NFC West last saw when Jeremy Bates was Seattle's offensive coordinator in 2010 (Bates worked under Fisher's former coordinator in Tennessee, the late Mike Heimerdinger, when both were under Shanahan in Denver). ESPN's Mark Schlabach and others have noted that Jacksonville Jaguars offensive coordinator Dirk Koetter, the former head coach at Boise State and Arizona State, could be a consideration as coordinator for the Rams.
Fisher has had time to formulate plans in his mind. We should see signs of clear direction on the GM and coaching staff fronts before long.
January, 13, 2012
1/13/12
2:41
PM ET
The
St. Louis Rams
can finally exhale with
news
that Jeff Fisher has agreed to become their head coach.
With all due respect to the other candidates the Rams dutifully considered, the organization needed to secure its top choice to proceed with confidence.
Replacing Steve Spagnuolo with another unproven coordinator candidate wasn't going to give the Rams the credibility they need to win over a skeptical St. Louis market. Fisher also stands a better chance to make the Rams competitive on the field. His
Tennessee Titans
teams posted double-digit victory totals six times in his final 12 seasons, including as recently as 2007 and 2008.
[+] Enlarge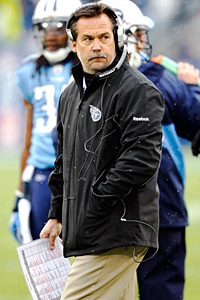 AP Photo/Paul SpinelliJeff Fisher chose the St. Louis Rams over the Miami Dolphins.
Fisher is not the perfect candidate.
Critics will conveniently ignore his five 8-8 seasons when they say Fisher posted only six winning seasons in 17 years. How good would 8-8 look to the St. Louis Rams after they went 10-38 under Spagnuolo and 15-65 since 2007? Even if Fisher brings mediocrity to the Rams, the franchise will be better off exponentially.
The NFC West now has four head coaches with playoffs on their résumés. At their best, Fisher's teams in Tennessee played with a nasty edge on defense. They ran the ball on offense and still managed to produce a co-MVP at quarterback in the late Steve McNair.
We should expect Fisher to draw on his vast experience in assembling a quality staff. Concerns about his choice for offensive coordinator appear valid. Les Steckel, the late Mike Heimerdinger and Norm Chow were his coordinators in Tennessee. Fisher will need to find a coordinator to help quarterback
Sam Bradford
bounce back from a rough, potentially damaging second NFL season.
Fisher clashed with
Vince Young
in Tennessee. Bradford is easy to get along with, a coach's dream. The stability Fisher projects should allow Bradford to grow from a solid base.
The Rams' ability to beat out Miami reflects poorly on the Dolphins and their ownership, particularly after stories emerged suggesting owner Stephen Ross would not be outbid. Similar stories circulated before the Dolphins fell short in their pursuit of Jim Harbaugh last offseason.
Landing Fisher also reflects favorably on the Rams, who have their own stadium issues and, as a result, cannot be certain of their long-term viability in St. Louis. Fisher is a credible coach. He has succeeded under difficult circumstances, including when the Houston Oilers moved to Tennessee. He does not flinch easily.
Fisher made the smart choice. He'll be able to participate in the hiring of a general manager. That seems counter to the old ideal calling for teams to hire GMs, who then hire coaches. But smart coaches with Fisher's experience and leverage wisely insist upon making sure the right GM is in place.
Pete Carroll, having learned the hard way in New England, participated in John Schneider's hiring as GM in Seattle. The Carroll-Schneider relationship has worked well so far. The team has acquired young talent that has fit well with what Carroll wants to do on the field. In San Francisco, the 49ers had already hired Trent Baalke as GM when they landed Harbaugh, but the two felt comfortable with one another. They were also hired at roughly the same time, allowing them to start fresh together.
Fisher will get that opportunity in St. Louis. We should expect the Titans' Lake Dawson to emerge as a leading candidate for GM. Fisher worked with Dawson in Tennessee. Dawson is already familiar with the NFC West, having worked for the Seahawks during the Mike Holmgren years.
I see no real negatives for St. Louis here based on the options available to the team. The Rams were justified in firing Spagnuolo based simply on the 10-38 record. But they needed to find someone as good or better. Fisher passes that test, but he'll need better players to win. Holding the second overall choice in the 2012 draft gives Fisher and the team's next GM a head start.
January, 11, 2012
1/11/12
9:06
AM ET
Conventional wisdom says the San Francisco 49ers need to score touchdowns, not field goals, to defeat the New Orleans Saints in the divisional playoffs Saturday.
But if the 49ers play the game their way, on their terms, they'll win with David Akers hitting at least a couple field goals — perhaps even the game-winner. After all, Akers set a 49ers franchise record for scoring on his way to the Pro Bowl this season.

ESPN's Rick Reilly
explains why that would be a fitting scenario after all the Akers family has been through over the last year. Just one year ago, doctors discovered that Akers' 6-year-old daughter had a cancerous tumor. Akers himself had lost most of his career earnings to a fraudulent investor. He missed two field-goal attempts during the Eagles' 21-16 playoff defeat and soon found himself out of work. Reilly: "So there it was, the trifecta — nearly broke, a sick kid at home and silently dumped by the team he'd given 12 terrific years. Akers is a guy who's insecure about his footing in the NFL anyway. He'd been a waiter at a Longhorn Steakhouse in Atlanta, a substitute teacher and a kicker for NFL Europe in Berlin, where he nearly died during a one-month hospital stay for salmonella. The man who saved him from that life was then-Philadelphia special teams coach John Harbaugh, who called him up for a tryout in 1998. Akers stuck. And he's been terribly fond of Harbaughs ever since."
Daniel Brown of the San Jose Mercury News
goes back in time with 49ers legends as they reminisce on the 30th anniversary of Dwight Clark's winning catch from Joe Montana in the NFC title game against Dallas.
Lowell Cohn of the Santa Rosa Press-Democrat
says Clark sees parallels between that 1981 team and the current one. Clark: "It's way similar. We shocked everybody that year and this team has shocked everybody. I see similarities between Bill Walsh and Jim Harbaugh. Bill was a genius. Harbaugh comes up with some schematic thing on the field and I shake my head and say, 'Where the hell did he come up with that?' They have a similar way of creating plays."

Jim Thomas of the St. Louis Post-Dispatch
updates the Rams' search for a coach and general manager. Tennessee's Lake Dawson interviewed for the GM job, Atlanta's Les Snead was on his way to do so and Arizona's Steve Keim was also expected to interview. Thomas: "Meanwhile, the Rams expressed interest in Cincinnati offensive coordinator Jay Gruden, but Gruden quickly let it be known that he's staying put with the Bengals and would not interview for any head-coaching jobs."
Noted:
Keim would fit best if the Rams hired Cardinals defensive coordinator Ray Horton as head coach. Dawson would fit best if the Rams hired Jeff Fisher.
Also from Thomas
: a chat transcript with a different take on how much money the Rams will save now that Josh McDaniels is working for New England. Thomas: "As I wrote about today, McDaniels will receive $1.5 million from the Rams next season. But whatever the Patriots are paying him gets subtracted from that total. Say the Patriots are paying him $1 million, then the Rams are on the hook for only $500,000 and they get $1 million freed up to hire the new coaching staff. Also, whatever McDaniels gets paid for the rest of this season with New England gets subtracted from McDaniels' $1.5 million he earned from the Rams this season."
Noted:
I thought that would have been the case if the Rams fired McDaniels, and that the Patriots would assume the full salary given that St. Louis never did fire him. I'll follow up on this.
Bernie Miklasz of the St. Louis Post-Dispatch
says the Rams should hire an offensive-minded head coach if they fail to land Fisher. Miklasz: "If the Rams hire a defensive coordinator, what kind of staff would he be able to put together on offense? Again, it's imperative for the Rams to expedite Bradford's progress, ratchet up this offense, and join the NFL's modern age. An offense-oriented HC would have the necessary acumen to supervise the development of the QB and the offense. He would have a better feel (and a better chance) for putting together a quality staff on offense. NFL people will tell you that it's easier to find a defensive coordinator than an offensive coordinator."

Darren Urban of azcardinals.com
says the team knows it must improve on offense. Urban: "The Cardinals' first drive of the season went for a touchdown, starting at the Cards' own 46-yard line and ending with Beanie Wells' seven-yard run for a score. The next week, a first-quarter interception set up a short (37 yards) drive for another early touchdown. But the Cardinals didn't score a first-quarter touchdown after than until the final game of the season against Seattle, far too long a drought. The Cards only scored 36 first-quarter points all season, putting them in a near constant hole. The flip side, of course, was the often strong finishes, especially once the defense became stout. In the fourth quarter and overtime, the Cards outscored opponents by 54 points. The big plays would pop up — 22 total on the season of more than 40 yards — and the Cards did gain 4.2 yards per rush attempt, but it didn't happen enough. During the Cards' 7-2 closing kick to the season, the most points they scored in a game was 23."

Brady Henderson of 710ESPN Seattle
says NFL analyst and former quarterback Rich Gannon does not expect improvement from Tarvaris Jackson. Gannon: "I think what you see is what you get. I don't know if it's going to get a whole lot better with Tarvaris Jackson, and that's really my concern. Is he a good player? Certainly. Is he ever going to be a dominant player at his position? Is he ever going to be one of the elite players? Is he going to be a Pro Bowl player? I don't think so."
Noted:
Gannon might be right. That was the sort of thing people thought about Gannon years ago. Gannon went from Chiefs backup and sometimes starter to league MVP with Oakland. That path is obviously unlikely for Jackson, but it seemed unlikely for Gannon as well.
January, 3, 2012
1/03/12
4:27
PM ET
Paul Kuharsky's take
on former
Tennessee Titans
coach Jeff Fisher should help better inform
St. Louis Rams
fans.
The most interesting part, to me, centers around possible candidates for general manager if Fisher became the Rams' next head coach.
Kuharsky mentions two names, both familiar to NFC West followers:
Ruston Webster: Webster is the Titans' vice president of player personnel under former Seahawks executive Mike Reinfeldt. While with Seattle, Webster seemed to get along well with everyone on both sides of the Tim Ruskell-Mike Holmgren. The fact that he arrived in Seattle with Ruskell and left to join Reinfeldt's staff attests to that (Reinfeldt was Holmgren's top confidant in Seattle). Webster would work well with Fisher.
Randy Mueller: Mueller has been a senior executive with the San Diego Chargers since 2008. He predated Holmgren in Seattle and worked well with Holmgren before leaving to serve as general manager in New Orleans. Kuharsky mentions Mueller because the Titans tried to interview Mueller during the process that culminated with Reinfeldt's hiring. Rams fans might know that Mueller was instrumental in bringing Jim Haslett to New Orleans as Saints coach.
Webster would be an obvious candidate because he has worked with Fisher recently. Kuharsky also mentioned Fishers' relationships with Bill Polian and Rich McKay from their days together on the NFL's competition committee. McKay hasn't worked directly in personnel recently. He and Webster were together in Tampa Bay previously.
Fisher also worked in Tennessee with current Titans vice president of football operations
Lake Dawson
. Dawson, the team's former pro personnel director, worked with Reinfeldt and Webster in Seattle.
August, 20, 2011
8/20/11
6:01
PM ET
ST. LOUIS -- The view from high above the field at the Edward Jones Dome can be disorienting enough without sights such as this one:
Matt Hasselbeck
, dressed in
Tennessee Titans
powder blue cap and game pants, chatting with one of his longtime former
Seattle Seahawks
coaches, Nolan Cromwell, now of the
St. Louis Rams
.
Several other Seahawks alumni -- Mike Reinfeldt, Ruston Webster and Lake Dawson among them -- will be settling into their press box seats when their current team, the Titans, kick off against the Rams in a couple hours.
These sorts of pregame meetings are standard fare in the NFL. Players and coaches switch teams regularly. In fact, as I look down on the field again, Hasselbeck is reconnecting with another former Seattle teammate, Rams kicker
Josh Brown
.
Hasselbeck's departure from the Seahawks this offseason represented the final significant break from the Mike Holmgren era in Seattle. Seeing Hasselbeck in person wearing Titans gear provided visual confirmation.
The Rams won't mind seeing Hasselbeck leave the division. He won eight consecutive starts against them from 2005 to 2009.
March, 30, 2011
3/30/11
6:32
PM ET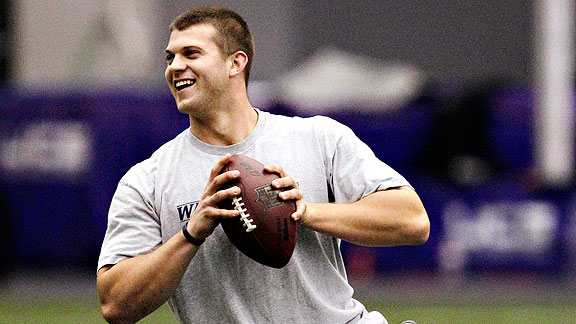 AP Photo/Elaine ThompsonWashington quarterback Jake Locker didn't appear to do anything to hurt his draft status at his pro day on Wednesday.
SEATTLE -- The guest list for
Jake Locker
's pro day at the University of Washington offered up a few surprises.
Former
Seattle Seahawks
running back
Shaun Alexander
, in town on business, dropped by the Dempsey Indoor facility. Former NFL officiating czar Mike Pereira, in town for a meeting related to his role as interim head of Pac-10 officials, also attended.
Former Washington quarterbacks Warren Moon, Damon Huard, Brock Huard (working for ESPN), Hugh Millen, Cary Conklin and Sonny Sixkiller were there.
The quarterback-needy
Tennessee Titans
sent a large contingent featuring vice president of player personnel Ruston Webster, offensive coordinator Chris Palmer and pro scouting director Lake Dawson. Keith Gilbertson (
Cleveland Browns
), Randy Mueller (
San Diego Chargers
), Bob Ferguson (
Indianapolis Colts
) and Mike Sheppard (
Jacksonville Jaguars
) were among the former Seahawks staffers in attendance.
The Seahawks' current decision-makers and most of their coaches drove over from team headquarters, no surprise given the proximity and coach Pete Carroll's ties to Huskies coach Steve Sarkisian, his former USC assistant.
But if the Seahawks' division rivals have any interest in Locker, they hid that interest quite well. The
Arizona Cardinals
and
San Francisco 49ers
did not send representatives, to my knowledge. They certainly did not have any high-profile staffers in attendance. That comes as a bit of a surprise given their obvious needs at quarterback and Locker's potential availability early in the second round, if he slips outside the first.
"I never read anything into which teams attend pro days," Locker's agent, David Dunn, said on the field following the workout. "I've had too many players selected by teams that weren't at pro days or didn't even visit with players."
Fair enough, but teams generally pay closer attention to quarterbacks. The 49ers sent Jim Harbaugh to
Blaine Gabbert
's pro day at Missouri. Cardinals coach Ken Whisenhunt ran Auburn's
Cam Newton
through various throws at a recent workout.
"With quarterbacks, you want to be able to touch and feel and see how they are as people as well as athletes and players," Dunn said.
Locker was not the only Washington prospect performing for scouts, but he was the main draw. He did nothing obvious to damage his draft stock during the workout. He completed all but a couple of passes while showing fluidity in his drops and a short delivery, according to scouts who agreed to speak in general terms and not for attribution.
"I've never nitpicked a guy like I've nitpicked Locker," one of them said. "The guy is a winner, and at the end of the day that has to count for something."
Locker has been working with former NFL quarterback Ken O'Brien to bring his hand over the top more quickly when delivering the ball.
The controlled environment was set up to make him look good. No NFL coaches or personnel people asked Locker to perform unscripted throws. They watched Locker zip the ball with ample velocity and accuracy most of the time, save for a couple high throws that his overworked wide receiver, D'Andre Goodwin, snatched away from his body.
"I'm focusing on the fluidity of the drop, getting my feet in the right spot and just bringing the hand over the top as quickly as I could, rather than dragging my hand," Locker said afterward. "I have a tendency to do that sometimes. I want to bring my hand over the top and really point that finger at my target. I have been spinning the ball a lot better and it's been coming off my hand a lot better."
Locker's relatively low completion percentage at Washington and his inexperience running a pro-style offense have raised questions about his readiness for the NFL. Can he read defenses? Can he throw accurately and on time from the pocket? To what degree did a weak offensive line and receiving corps hamstring him in college?
I've heard differing opinions from scouts as to how well Locker would fit with the NFC West teams that need quarterbacks (Seattle, Arizona and San Francisco).
"A lot of people seem to have him pinpointed to Seattle at No. 25, but I don't think that makes any sense at all," Matt Williamson of Scouts Inc. said. "It works for people who do not know the X's and O's of it all. At 25, he has some value. He went to school in that area. It is easy to say that is a good fit, but I think Seattle is going more and more to a pure West Coast offense, and Locker doesn't fit the West Coast offense at all."
The Cardinals pick fifth and the 49ers pick seventh, earlier than Locker is expected to come off the board. Seattle is one of the few quarterback-needy teams picking later in the first round, when Locker figures to become a more likely selection.
"Jake seems to be an acquired taste," Dunn said. "The more you watch him on film, the more that you are around him, the more you like him."
How well Locker would fit with the Seahawks could hinge on the degree to which Williamson is right in his assessment of how Seattle's offense will evolve.
New coordinator Darrell Bevell comes from the Andy Reid/Mike Holmgren branch of the West Coast offense, a branch that relies more heavily on short, precise passes. Before Bevell replaced Jeremy Bates, the Seahawks had been running Mike Shanahan's version of the West Coast system featuring more quarterback movement, hard play-action fakes and deeper throws requiring greater arm strength.
Carroll, who attended the workout Wednesday, has said the Seahawks do not plan to significantly diverge from the system they ran last season. But it's plausible to think that Bevell's background could steer them away to some degree.
"You do have to be a precise passer in a Bill Walsh, traditional West Coast offense," Rob Rang, senior analyst for NFL Draft Scout, said from the Dempsey Indoor facility. "But I like any offense that is going to use Jake Locker's mobility as an asset rather than just keeping him pinned in that pocket. If you can use his legs as a weapon, that is where he has been his most accurate. He made significant improvements in his accuracy from the so-called pocket in this workout, but at the same time, his strength remains throwing on the move."
Rang said he would draft Locker in the first round as long as the team in question has a veteran starter in place.
I stood next to Moon, the retired Hall of Famer, throughout the workout. Moon said he sees the NFL game evolving to favor quarterbacks with mobility. Life for traditional pocket passers is getting tougher, in his view. Locker's athleticism and scrambling ability separate him from most prospects. He has run the 40-yard dash in 4.52 seconds, a time that holds up against those posted by some wide receivers. But quarterbacks must also succeed as pocket passers to make it in the NFL.
"Locker is pretty accurate outside the pocket," Williamson said, "but as far as going 1-2-3 and getting it out, having good footwork, hitting a guy in stride, he is terrible. I don't see that fit at all. I do not think he is going to be the precise passer Harbaugh is looking for, either. I can see someone like Arizona being really interested in him in Round 2. They might like a more 'toolsy' guy, like a
Ben Roethlisberger
."
Williamson sees Locker appealing to a coach such as Shanahan, who might see Locker as a cross between
Jay Cutler
and
Jake Plummer
, two quarterbacks Shanahan coached in Denver. That's the type of quarterback Seattle was seeking when Jeremy Bates was coordinating their offense. It's the type of quarterback the Seahawks might still value if Bevell installs the type of system Carroll has favored previously.
"I don't know in the NFL right now if people run different offenses," Sarkisian said. "It's so much of a copycat league and everybody runs so many things that are similar that it's hard to say that New England is different than Pittsburgh that is different than Seattle that is different from the Chargers. They all have their focal points, but at the end of the day, there are a lot of similarities. Things will be tailored for him [Locker], like they are for every quarterback, but I just think he fits in as an NFL quarterback."
March, 11, 2011
3/11/11
8:00
AM ET

Jim Wyatt of the Tennessean
says the
Tennessee Titans
could have interest in
Seattle Seahawks
quarterback Matt Hasselbeck this offseason. Wyatt: "I have no doubt
Matt Hasselbeck
is one name on the Titans' radar. The long-time Seahawks quarterback, scheduled to be an unrestricted free agent, has ties to a Titans front office that includes GM Mike Reinfeldt, VP of Player Personnel Ruston Webster and Director of Pro Scouting
Lake Dawson
." Quarterback drama continues to dominate the NFC West outside St. Louis. It's tough to envision Hasselbeck moving to Nashville for the final couple seasons of his career, but we should expect to hear more about potential suitors as long as Hasselbeck doesn't have a deal with Seattle.
Clare Farnsworth of seahawks.com
explains why
John Carlson
earned a spot on the team's 35th anniversary team despite playing only three seasons. Farnsworth: "He already has posted the club single-season records for a tight end in receptions (55 in 2008), receiving yards (627 in '08) and touchdown catches (seven in 2009). Even more telling, his three-season totals in each category (137 for 1,519 and 13) are just off the career marks that belong to
Christian Fauria
(166 catches in 10 seasons),
Itula Mili
(1,743 yards in seven seasons) and
Jerramy Stevens
(15 TDs in five seasons)."
Brian McIntyre of Mac's Football Blog
provides updated salary information for Seattle's
Chris Clemons
,
Marshawn Lynch
,
Earl Thomas
and
Russell Okung
.

Kent Somers of the Arizona Republic
says the
Arizona Cardinals
are dropping ticket prices without raising prices for other seats. Somers: "About 3,700 seats will decrease in price, including 2,300 that went down from $40 to $25. ... An additional 1,400 tickets were reduced by $5 (from $60 to $55)." The Cardinals' 5-11 record last season and the NFL's labor issues will make it tougher for the team to continue its sellout streak.
Darren Urban of azcardinals.com
sits down with team president Michael Bidwill for details on the ticket changes and more.

Matt Maiocco of CSNBayArea.com
expects
San Francisco 49ers
nose tackle
Aubrayo Franklin
to have considerable options once he hits the free-agent market. Backup
Ricky Jean-Francois
might not be the projected starter if Franklin does depart. Maiocco: "Line coach Jim Tomsula is the only holdover from last year's defensive coaching staff, so he would have a lot of input. But, based on the film of the 49ers' game against the Packers last season when Franklin left the lineup, I'm sure the 49ers would not feel comfortable with Jean Francois as the primary nose tackle. The Packers repeatedly moved Jean Francois off the ball during a 17-play game-clinching drive. Jean Francois later said he made errors with his technique, as his stance was too wide."

Tim Klutsarits of examiner.com
says the
St. Louis Rams
have something significant going for them heading into a potential lockout. They play in the NFC West. Klutsarits: "The Rams' schedule is more difficult in 2011 and you have a rookie quarterback that needs to make bigger strides in the upcoming season, but everyone else has problems too. The best scenario would be for this to be resolved in the next few days and everyone can begin the 2011 season for real, but even if it doesn't happen it is not the end of the world from a football perspective. What saved the Rams in 2010 will save the Rams in 2011. The mediocrity of the NFC West is the Rams' lifeboat during this current work stoppage. They don't have to jump the
Green Bay Packers
or the
New Orleans Saints
they just need to be better than the Seattle Seahawks and San Francisco 49ers."

NFC WEST SCOREBOARD
Friday, 8/22
Saturday, 8/23
Sunday, 8/24